How to Use Zoom: A Complete Guide for Beginners (2023)
Being one of the best video conferencing tools that rose to popularity during the recent pandemic, many people have heard of Zoom before.
However, many wonder whether they are using Zoom to its full potential.
If you're a beginner or just unsure of using some of its features, this guide will teach you everything you need to know about using Zoom.us.
Knowing what your Zoom account can allow you to do during virtual meetings will ensure that everyone in your meeting is on the same page and crystal clear communication can occur.
Keep reading to learn about Zoom and what it can do for your business (or even personal) communication as a meeting management software.
Joining a Zoom Meeting
You can use your web browser and the invite link that the host sends you to get started.
Simply click on the meeting link and follow the prompts to join a meeting.
Inside the desktop app (or even the Zoom mobile app), you can join a meeting by inputting the Meeting ID sent to you by the host.
The host will find this in the upper-left corner of their Zoom window when they start or schedule the meeting.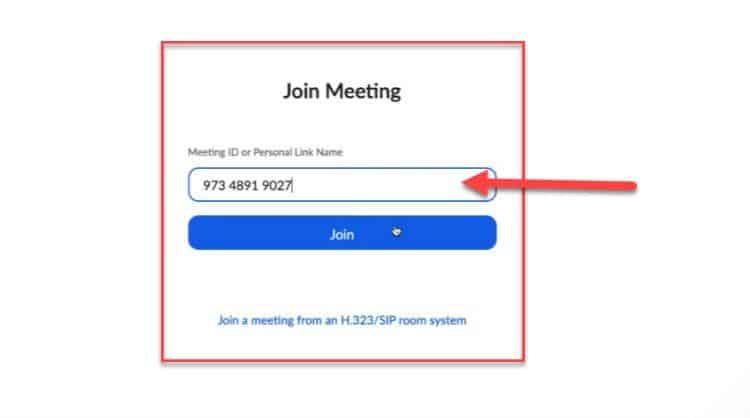 One great feature about meeting IDs is that once a host sets a recurring meeting as the meeting option, participants will always be able to join the same meeting room by inputting the same personal meeting ID number.
Basic In-Meeting Navigation
Some of these items depend on whether you're an admin or a participant in a meeting.
As an admin, you will be able to control certain features that participants cannot, such as muting other people, starting/stopping video, and recording the meeting.
However, as standard, there are features that everyone when present during a meeting in the Zoom meeting room:
The mute icon defines your computer or mobile device and its audio input sources used to record audio. You can also use this icon to mute/unmute your microphone if it's already on.
The video camera icon is used to turn on the webcam and change the background in your account settings.
You can chat and send files to specific people or everyone during group meetings.
The screen-sharing icon allows you to share your screen with the other participants in the meeting. This is useful for presentations or if you need to show something specific on your screen.
You can also enable a whiteboard in the share screen menu, which is excellent for those who want to brainstorm, annotate, or take notes during their meeting.
The recording icon is used to start/stop recording the session. This will be saved as a video file on your local computer or even in the cloud (when one is on a paid membership).
One can also enable closed captions during the meeting, which is helpful for those who are deaf or hard of hearing – or even if you're trying to understand someone with a heavy accent.
Next, one can use breakout rooms to create additional rooms to break up meeting participants into smaller groups.
Request remote control – enable participants to control someone else's computer if they need help with anything.
Zoom apps – One can use various integrations from the Zoom marketplace to accomplish multiple tasks.
End meeting button – This is used to end the meeting for all one (or all) participants.

Zoom In-Meeting Chat and Reactions
Nonverbal feedback is a great way to show your reaction to something being said in the meeting without interrupting the person who is speaking.
Zoom offers a few different options for this, which one can find in the bottom toolbar of the Zoom window.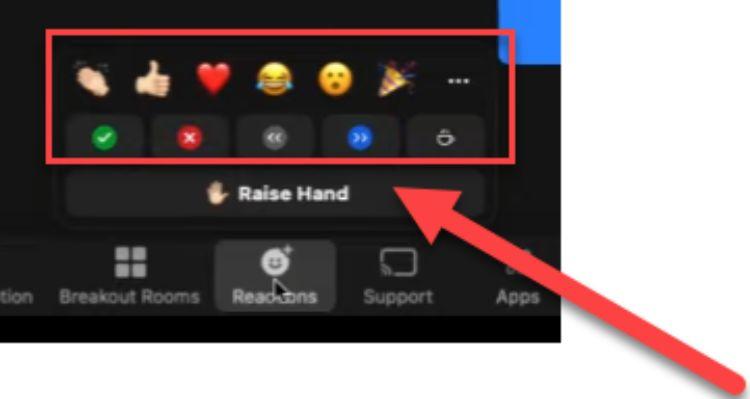 You can type out various emojis or "reactions" to show how you're feeling in the chat.
You can also use the appropriate icon to "raise hand" virtually, which is helpful if you want to ask a question but don't want to interrupt the meeting till you can ask away.
If you host a meeting, you can change settings during the session to enable/disable reactions or the hand raise icon.
Speaking of chat, it's good to know that anyone can send/receive files during the meeting (if enabled).
However, opening a file doesn't download it automatically, so you'll need to click "save as" first if you want to keep this file locally on your computer.
More About Sharing Your Screen, Video, or Audio
If you want to collaborate with others in the meeting, you'll likely need to share your screen.
Screen sharing is helpful for presentations, showing something on your screen, or even co-browsing a website.
On a video call:
Click the green up arrow for Share Screen.
Choose the screen to share your Android, Mac, or Windows device.
You can always stop sharing by clicking the red stop button.
You can also share audio files to play music or other sounds during the meeting.
If you share your whole desktop, consider closing all programs that might generate notifications or include confidential information, as everyone on a call will be able to see these on your screen.
On a separate note, it's good to know that you can also share your Apple iOS iPhone screen if you are hosting a meeting on an iPhone.
The same applies if you use an Android phone.
You can also share slides as virtual backgrounds, share a portion of your screen, and share content from a second camera.
Finally, you can also share files from third-party integrations such as Dropbox and Google Drive.
As the host, there are various settings you can control about who can / can't share screens – these can be restricted in the account, group, or user settings.
Pinning And Spotlighting Participants
While on Zoom calls, you can keep the focus on one / more people during the meeting by "pinning" or "spotlighting" them.
Click the video camera, choose the three dots, and select 'Pin' to get started.
If a person is pinned, they will still be shown even if they are not speaking.
The meeting host can pin up to 9 people, while attendees can pin one person by default.
On the other hand, the spotlight feature allows someone's video to be shown the largest on the screen, even if other people are talking.
Spotlighting can only be done by the host/co-host and overwriters individual's pin.
To remove the spotlight feature, the host can click the option that appears on the camera frame when this is no longer needed.
Zoom Meeting Layouts And Views
Various Zoom meeting layouts and views allow you to customize how you see people on your screen.
The main views are gallery view and speaker view, which can be accessed by clicking the icons in the appropriate toolbar.
The gallery view will show all participants' video feeds in small tiles, while the speaker view will only show the person who is currently speaking.
It's good to know that if you record meetings in gallery view, the recording will only show the speaker view, not the gallery view chosen during the live meeting.
It's also interesting to note that the gallery view can display up to 49 participants.
Moreover, you can choose to only see video feeds of other meeting participants that have their cameras on, meaning that you won't see a black feed of anyone who has their camera turned off.
Schedule A Meeting From The Web Or Desktop
To schedule meetings from the Zoom web portal or the Zoom desktop app, start by opening the Zoom application and signing in.
Once you're signed in, click "Schedule a Meeting" from the homepage.
Enter all relevant information such as the meeting topic, date and time, duration, and whether or not to require a password.
One can also download the Zoom client for easy access.
Using the Zoom app means that you won't have to go through your web browser every time you want to start or join a meeting.
Here's more information on how to schedule Zoom meetings for your specific needs.
Inviting Participants Before and During Zoom Meetings
During a session, you can invite participants from the web portal, desktop application, or the meeting toolbar.
When using the web portal, click copy invitation to share the URL with participants.
You might also have the password included in the information, so be sure to look out for this and double-check it's included when you invite people to your meetings.
You can also add the meeting invitation to your Microsoft Outlook, Google Calendar, or Yahoo calendar.
You can then invite others from the specific calendar as you normally would for any other event.
If you are inviting someone from the desktop client, click on meetings, choose the upcoming meetings tab, copy the invitation, and paste the information into an email or message it directly to the person you want to invite.
While a meeting is live, you can use the pop-up information menu to invite people using the join link in the Zoom meeting.
You can also open the participant's window, and you'll see various options pertaining to inviting people to join the meeting.
Zoom Security Basics
ZoomBombing is a word that has been created to describe the malicious act of someone interrupting or disrupting a live Zoom meeting – typically a meeting that the host did not invite the person to.
While one can crash a meeting or share offensive and inappropriate images or words, Zoom focuses on three measures to ensure the security of their meetings.
Prevent
When you start a new meeting, using a waiting room means everyone will see a message until you're ready to start.
You can also use a passcode that people will need to enter or ensure that people have to log in to a specific account before joining.
This can help you prevent people from joining your meeting uninvited – you can also refuse entry to any person you don't recognize.
Act
Hosts can use the shield icon during the Zoom meeting to lock the session so that no one else can join.
You can also use this icon to remove a participant or even suspend all participant activities in case things get out of hand.
Report
By clicking the shield icon, you can also find the report button, which you can use to report a user (or multiple Zoom users) for inappropriate behavior.
You'll need to choose which participant to report, enter specific meeting details about what happened, and then submit the report.
You can also report participants after the Zoom meeting is over.
Using Breakout Rooms During a Meeting
One can use the main Zoom room options to create breakout sessions during a meeting.
One can do this by clicking on the appropriate icon and selecting breakout rooms.
You'll be able to choose how many Zoom rooms you want, and then you can either manually move people into the room or automatically assign them.
The host will be able to move between different rooms and also broadcast a message to all rooms at once.
When the breakout session is over, everyone will be brought back into the main meeting.
Wrap Up.
Running a meeting or a webinar through Zoom is a relatively simple process, but there are a few things you should keep in mind.
Be sure to test your audio and video before starting the meeting to ensure that everything is working correctly.
If you're inviting people to join your meeting, be sure to send them the information ahead of time so that they can be prepared.
And finally, be aware of security risks that could happen and take measures to prevent them.
Finally, if you want more features than those offered on a free account, consider the Zoom enterprise (Pro) version to get the best possible experience with one of the most powerful video conferencing tools around.
Further reading on AdamEnfroy.com: Did you know that various Zoom alternatives exist that might provide a better solution for your specific needs?
Moreover, if you'd like a more in-depth comparison between Zoom and some of its top competitors, here are some articles to check out:
Disclosure: I may receive affiliate compensation for some of the links below at no cost to you if you decide to purchase a paid plan. You can read our affiliate disclosure in our privacy policy. This site is not intending to provide financial advice. This is for entertainment only.