7 Best HR Outsourcing Companies of 2023 (Ranked & Reviewed)
HR outsourcing refers to hiring a third-party company to manage one or more human resources functions on behalf of one's business.
It's a popular solution for small businesses that don't have the internal resources to effectively manage their HR needs and larger companies that want to outsource non-core functions to focus on their core business.
While the list of best HR software continues to grow, the need for comprehensive HR outsourcing services remains strong.
This led to some companies specializing in specific HR niches, such as remote HR software, where the company provides software and services to manage a workforce that's not based in a physical office.
In this article, I'll introduce you to the best HR outsourcing companies that are currently available.
Whether you're getting to know more about how to choose HR software or are ready to make a purchasing decision, you'll find the information you need.
Let's get right into it.
What Are The Best HR Outsourcing Companies?
The following are the best HR outsourcing companies to consider.
1. Gusto.
Best Overall For HR Outsourcing.
Gusto is the best overall HR outsourcing company because of its comprehensive HR platform and full-service offering.
If you want to set up your business with a full-service HR solution, Gusto is a great option.
They can help with everything from recruiting and onboarding to benefits administration and payroll processing.
You can also manage your growing team with Gusto by having a successful team of HR experts in your back pocket.
You can then use Gusto's accessible platform to empower your team members to help themselves with HR-related needs.
Key Features:
Full-service payroll helps you manage your employee compensation from start to finish.
Employee benefits give your team members access to health insurance as well as dental and vision coverage.
Time and attendance tracking ensure that employees are correctly paid for their work time.
Talent management tools help you identify and develop top talent
Insights and reporting give you visibility into your team's HR performance
User Experience:
Quickly running payroll and accessing comprehensive HR data from one platform is a huge time-saver for busy business owners.
Team members also appreciate the self-service HR capabilities that Gusto offers.
Pricing:
The following plans are available with Gusto:
Core: $39/mo + $6/mo per person
Complete: $39/mo + $12/mo per person
Concierge: $149/mo + $12/mo per person
You can also contact their sales team for specific pricing.
What I Like/Dislike About Gusto
Like:
The new hire onboarding checklist is beneficial
Various Gusto reminders make it easy to stay on top of HR deadlines
Dislike:
Rare glitches on specific pages can be frustrating.
Product Updates:
The new Gusto plans were recently introduced to address market needs.
2. ADP.
Best For Day-To-Day HR.

ADP provides day-to-day support for all your HR needs.
ADP is one of the most comprehensive HR outsourcing companies on the market.
They can help with everything from payroll processing and tax filing to employee benefits administration and compliance.
If you want to scale your company but have limited internal HR resources, ADP can be a great solution.
They have the experience and expertise to help you manage your HR needs so you can focus on growing your business.
With options to outsource parts or even all of your HR functions, ADP can be customized to fit the specific needs of your business.
Key Features: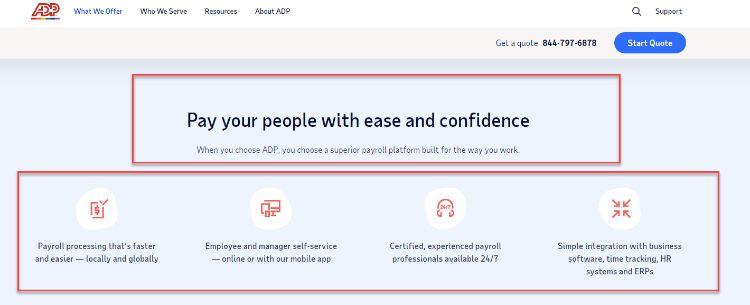 Take administrative tasks off your plate and focus on your business.
Reduce time spent resolving HR issues while saving money in the process.
Reduce onboarding and training time for new employees.
Receive support for compliance with employment laws and regulations.
User Experience:
See the upcoming payroll dates and access employee data from the ADP portal.
You can also get a calendar view of everything related to your employees, from birthdays to performance reviews.
Pricing:
Answer a survey to get started.
What I Like/Dislike About ADP
Like:
Critical notifications help ensure all the correct information is communicated promptly
Ease of use when starting out and at each new stage of company growth
Dislike:
Customer service sometimes takes a relatively long time to resolve issues
Product Updates:
Quick HR answers available in the ADP Knowledge Center
Employee handbook wizard to help create custom policies
3. BambooHR.
Best For Adding Optional Services.
BambooHR can help you build a foundation of excellent HR practices with their comprehensive HR platform.
BambooHR is an excellent option for small to medium businesses that want to establish best practices in HR from the start.
There are various optional services that you can add to their platforms, such as performance reviews and employee engagement surveys.
You can also opt for a dedicated HR Project Manager to help you get the most out of their platform.
With a robust support system and a user-friendly platform, BambooHR can help you streamline your HR processes and improve your team's performance.
Key Features:
Customer success webinars ensure you make the most of your BambooHR experience.
BambooHR Product Pulse video series offers tips, tricks & how-tos from our product experts.
Partner integrations extend the value of your HRIS with leading payroll, time tracking, & benefits providers.
User Experience:
With a desktop and mobile app, you can access your HR data from anywhere.
The platform is also very user-friendly and easy to navigate.
Pricing:
Set up a free trial of BambooHR to explore the features and pricing options.
What I Like/Dislike About BambooHR
Like:
Tasks can be completed in a few clicks
BambooHR makes it easy to follow up on PTO and stay compliant
Dislike:
Searching in candidates' resumes can be improved
Product Updates:
Employee Wellbeing is now supported in 3 additional languages so you can support your employees no matter where they are.
Missing Tax ID alerts ensure you have all the information you need for your employees.
4. Paychex.
Best For Ease Of Use.
Paychex HR Services help simplify administration so you can focus on your business.
With various challenges that businesses face nowadays, it's more important than ever to have a dependable HR partner.
With their average HR professional having eight years of experience, Paychex can provide the support you need to manage your HR effectively.
Paychex can become a valuable partner in growing your business by helping you uncover trends in your data and providing expert advice.
They can also help you compare data against various industry benchmarks to make the best business decisions.
You can also give your employees the power to manage their HR data with Paychex's self-service portal.
Moreover, employees can also use their portal to perform real-time tasks such as requesting time off or viewing their payslips while also being able to ask questions when they need assistance.
Key Features:
Use data-driven insights to make better business decisions
Put more control at your employees' fingertips with a self-service portal
Connect with employees in real-time using various communication tools
Maintain workplace safety and compliance with guidance from Paychex HR professionals
Automate HR efficiency with their online platform
Receive advice from a dedicated Paychex HR professional
put more control at your employees' fingertips to manage their HR data.
User Experience:
A dashboard that's easy to navigate gives you all the information required about your human resources, including data visualizations to help you make better decisions.
You can also get a quick headcount, turnover rate, and other quickly digestible charts.
Pricing:
Get started with a free quote to learn more about their pricing.
What I Like/Dislike About Paychex
Like:
A well-organized dashboard that contains all the information one needs
Easy to access platform whether you're on mobile, desktop, or tablet
Dislike:
Setting up time clocks is not the most straightforward task to accomplish.
Dislike:
Product Updates:
Paychex surpasses the 100,000 milestone for the number of 401(k) clients served, indicating businesses' trust in Paychex.
5. Rippling.
Best For Global Workforce.
Rippling is an excellent platform for those that want to simplify their HR processes and focus on their business goals.
Rippling integrates with all the popular HRIS platforms and can help you manage your HR data in one place.
Managing your employee data effortlessly can free up time to focus on other areas of your business.
If you're building a global workforce and must comply with various country regulations, Rippling can help you stay compliant.
You can also use pre-built templates to help you get started with setting up your employee data.
Key Features:
Go beyond simple IF/THEN automation that only works within one system
Automate workflows across systems to save time and minimize errors
Unify and uplevel your analytics for better decision making
Create any report imaginable to track your company's progress
Centralize and streamline your company's policies in one place
User Experience:
An easy-to-follow to-do list allows you to keep track of your HR tasks and ensure nothing falls through the cracks.
The interface is also clean and user-friendly, making it easy to find what you're looking for.
Pricing:
Rippling starts at $8 a month per user.
However, you can request specific services, and the team will provide you with a custom quote.
What I Like/Dislike About Rippling
Like:
Viewing and signing paperwork is super easy and user-friendly
It has all the tools you would want in an HR platform
Dislike:
A chat function would be helpful
Product Updates:
You can now manage equity data and employee salary in one single platform using Rippling + Carta.
6. Insperity.
Best For Eliminating Liabilities.
Insperity is a complete HR platform that can help you get the relief you want when managing your employee data.
Eliminate liabilities and keep your business compliant with the latest employment laws and regulations.
Insperity gives eligible employees access to an online benefits portal, which is excellent for small and medium-sized businesses looking for a comprehensive HR solution.
This makes it easy for employees to view and enroll in the benefits that are available to them.
The platform also helps with recruitment, creating solid job descriptions that attract suitable candidates, as well as onboarding new hires.
If you're looking for a proactive and reactive solution to your HR needs, Insperity is a great platform to consider.
Key Features:
Risk management and HR-related compliance ensure that businesses are up-to-date with the latest employment laws and regulations.
A talent management system helps businesses attract, hire, and retain the best talent.
HR support provides expert guidance on a wide range of HR topics.
HR technology offers a convenient online portal for employees to access their HR data.
Pricing:
Fill out the form on their website, and one of their representatives will contact you to discuss pricing.
7. Bambee.
Best For Autopilot HR.
Bambee is an excellent HR autopilot for small businesses that want to focus on their business goals and leave the HR management to the experts.
By assigning you a dedicated HR Manager, Bambee can help with payroll, benefits, compliance, and more.
With more than 10,000 American Businesses using their services, Bambee is an excellent option for those that want to outsource their HR needs.
By running HR audits identifying potential risks, Bambee can also help you avoid costly penalties and fees.
They aid businesses with their internal communications, ensuring everyone is on the same page.
This can help reduce the chances of miscommunication and misunderstandings.
When it comes to training employees, Bambee can also run virtual or in-person sessions to help with onboarding or continued education.
Key Features:
Your dedicated HR manager ensures that you always have someone to help with your HR needs.
HR compliant policies help you stay compliant with the latest employment laws and regulations.
Employee onboarding & automated staff training help you get new employees up-to-speed quickly and efficiently.
Relief from complex HR tasks allows you to focus on your business goals while Bambee takes care of the HR management.
Comprehensive HR audits identify potential risks and help you avoid costly penalties and fees.
Pricing:
Fill out a quick questionnaire to get started, and one of their representatives will contact you to discuss pricing.
What Are HR Outsourcing Companies?
Outsourcing HR services help businesses that do not have an in-house HR department or want to supplement their current HR staff.
Many human resources outsourcing services help businesses with compliance, payroll, and benefits administration.
Benefits Of HR Outsourcing Companies
Let's look at the benefits that the top HR outsourcing services provide.
1. Cost Savings
Cost savings is one of the biggest reasons businesses outsource their HR.
When businesses use an outsourcing company, they can save on costs such as:
Recruitment
Training
Employee benefits
Compensation
Payroll taxes
This all adds up if businesses had to run it all internally, so often, outsourcing makes more sense.
2. Time Savings
In addition to costs, HR solutions that deal with payroll, benefits, and compliance can also help businesses save time.
With HR consulting also being provided, there can even be further time savings with outsourcing.
3. Improved Efficiency
When it comes to payroll taxes, companies that outsource HR benefit from having someone else handle the paperwork and filings.
Many providers also offer a mobile app that allows employee self-service, which can help reduce the time HR staff spends on administrative tasks, which also improves efficiency.
4. Increased Quality Of Service
Whether it's dealing with payroll services provided by a service provider or having an expert on call to answer any HR questions, small companies and big ones alike usually experience an increase in quality of service when they outsource HR.
With this increased quality in human resource management, an improvement in employee retention rates is not uncommon.
5. Access To Experts
Performance management is a crucial area where outsourced experts can help businesses improve.
Having a full-time HR team that can help with retention, retirement plans, and employee relations (amongst other things) can be costly for small businesses.
HRO (human resource outsourcing) provides access to experts without needing to hire a full-time staff.
6. Ability To Focus On Business Goals
A business that provides a specific service will usually want to focus on its core competencies when it comes to its internal operations.
For example, let's say that a business is in the IT services niche and provides consulting services to other companies.
Having to focus on providing internal human resources services might be the last thing the business needs.
This logic can be applied to any company, from a nonprofit to a Fortune 500 company.
An HR company does the heavy lifting regarding human resources and can free up a business to focus on its goals.
7. Stay Compliant With Employment Laws
Most HR outsourcing services for a small business have experts working on the latest compliance regulations.
Depending on the country's employment laws, various items such as healthcare, staffing, benefits packages, co-employment, and more must be considered.
The same applies to personal time off (PTO) and workers' compensation – whether dealing with startups or more established businesses, it's essential to be on top of the current compliance landscape.
An outsourced HR solution can do just that.
8. Onboarding And Training Employees
Having an employee handbook updated with the latest compliance regulations is essential, but it's also critical to have a system for onboarding and training new hires.
At the very least, this training should go over company culture, values, and expectations.
It can be difficult for small businesses to create (and more importantly, maintain) an effective onboarding program, but luckily there are HR outsourcing companies that can help.
9. Conduct HR Audits
An in-house HR team might not have the time or expertise to do comprehensive HR audits for every employee.
Outsourcing HR can help fill this gap by providing access to experts who can objectively every team member.
The best HR outsourcing services provide all these benefits to businesses of all sizes.
As such, finding the right HR service that can provide a comprehensive solution is critical for businesses that want to improve their HR operations – and their business as a consequence of this.
PEO vs. HR
A professional employer organization (PEO) is an HR outsourcing service.
The difference between a PEO and an HR company is the breadth of services offered.
While the best outsourcing service can provide a comprehensive solution, it's important to note that not all PEOs are created equal.
HR administration can be a complex and time-consuming task, so finding a PEO who can offer the services you need is essential.
The best PEOs will work with businesses of all sizes and industries to create a custom solution that fits the unique needs of each company.
Wrap Up.
When it comes to human resources, there are a lot of moving parts.
There is much to track, ranging from compliance to employee relations, and everything in between.
This is where human resources outsourcing companies come in.
These companies can provide a comprehensive solution to help businesses save time and money.
When choosing an HR outsourcing company, finding one that can provide the services you need is essential.
The best HR outsourcing companies will be able to provide a comprehensive solution that can help your business save time and money while enhancing all employee relationships.
Have you ever considered outsourcing your human resources?
What are the main features you look for when choosing an HR outsourcing company?
Let me know in the comments below.
Further reading on AdamEnfroy.com: Have you heard of HRIS solutions as part of an HR outsourcing strategy?
The best human resources information systems (HRIS) help businesses automate and manage their HR processes.
In addition, if you want to ensure your employees are trained and up-to-date, knowing how to choose a learning management system can help.
Disclosure: I may receive affiliate compensation for some of the links below at no cost to you if you decide to purchase a paid plan. You can read our affiliate disclosure in our privacy policy. This site is not intending to provide financial advice. This is for entertainment only.