11 Best HRIS Systems of 2022 (Ranked & Reviewed)
Choosing the right HRIS systems is crucial for every organization. From organizing your human resources efficiently to reducing unnecessary costs, the best HRIS systems can help you meet your goals. In this guide, I ranked and reviewed the 11 best HRIS systems, along with my top 5 choices, so that you can pick the best one for you.
---
We're reader-supported. When you buy through links on our site, we may earn an affiliate commission.
Want to get started with the best HRIS software today? Freshteam, Monday HR and Rippling are my top recommendations.
HR operations are critical to any medium to larger business.
Proper management and HR practices benefit administrations in more ways than one. However, it can be very complicated to manually tackle the HR needs for large teams.
This is where Human Resource Information System (HRIS) software is super helpful. These are tools that can help you manage every aspect of your employees – from recruitment and onboarding to training management and benefits analysis.
Sometimes working closely with professional employer organizations, these systems share some similarities to standard HR software but tools in this category will have more features available.
Naturally, there are many options available on the market in this category, so today I'll be your personal HRIS analyst and present the best options.
What Are The Best HRIS Systems?
Here is my vetted list of the best HRIS systems on the market.
Best Overall.
Adam's Take
I like Freshteam because it is backed by powerful analytics, reporting tools, and data management capabilities. Freshteam is the perfect HRIS solution for businesses looking to streamline their recruiting and hiring processes. Whether you're a small or large company, Freshteam has all the features you need to effectively manage your workforce and ensure employee success.
If you're looking for an HRIS solution that is powerful, easy to use, and backed by industry-leading data analytics, look no further than Freshteam.
Whether you're a small or large business, Freshteam can help you manage your workforce effectively and ensure employee success.
With various modules related to applicant tracking, onboarding, employee information system, time off and mobile capabilities, and more, Freshteam has everything you need to streamline your HR processes and improve efficiency across the board.
Plus, with a free option for up to 50 employees, you can try out Freshteam with no risk and see for yourself how this comprehensive HRIS solution can benefit your business.
Features:
One of the great features of Freshteam is that it allows you to collect structured feedback. This means that you can target specific areas that need improvement and get actionable insights that can help you make better decisions.
The following are some of the features that Freshteam can help you with:
Roll out offers with ease which is great for attracting and retaining talent.
Strategic HR reporting is another powerful feature that Freshteam offers.
Freshteam's virtual onboarding capabilities are also an excellent way to streamline the onboarding process for new employees.
Follow-up with one-click reminders ensures that no task falls through the cracks.
Last but not least, Freshteam's capture vital employee information function is a great way to keep track of employee data.
Pricing:
There are four plans you can go for with Freshteam, as follows:
Free: $0 up to 50 employees
Growth: $1.20 per employee per month
Pro: $2.40 per employee per month
Enterprise: $4.80 per employee per month
There's also a flat fee based on the plan you're on. This is $71, $119 and $203 respectively for the various plans.
Get started with Freshteam.
Best For Automated Employee Management.
Adam's Take
Rippling is great for automating onboarding processes. With Rippling, you can add new hires to your company's email lists, automatically generate employee ID numbers, and much more. I like RIppling because it makes the whole process much easier and faster. Off-boarding is also a breeze with Rippling so if you're looking for a complete HR solution, I recommend you check this platform out.
Offering a soothing UI and complete employee management tools, Rippling helps recruiters automate a wide range of HR processes. From onboarding to off-boarding and everything in between, Rippling can act as your complete HR solution.
Despite being new on the HR software market, Rippling has captured user interest due to its intuitive usability. The software works well not just for HR professionals but can also help anyone from a team member to the CEO.
The software can easily integrate with other business tools such as Github and Slack and over 500 more tools. In this manner, you can enhance the capabilities of Rippling and ensure that it can integrate with any business tools you're currently using.
Features:
When it comes to features, Rippling puts a combined focus on HR as well as IT. Using it, you can enable or disable an employee's access to company systems with fewer clicks. And as it provides you with a single underlying employee database, changes get reflected seamlessly.
Take a quick look at the features provided by the tool:
Payroll, benefits, and talent management
Attendance and time tracking
Detailed, customizable reports
Digital document management and signing
Automated onboarding of new employees
Process automation and task management
Integrated LMS (Learning Management System)
Centralized app and device management
Pricing: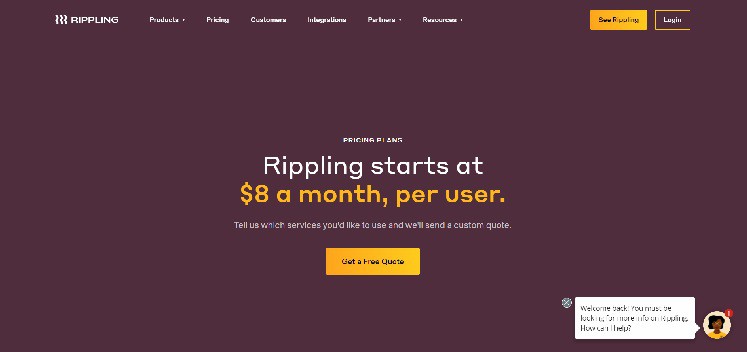 Rippling's pricing plans start at $8 per user per month and increase according to the number of people you want to include and the modules you need for your business. The Employee Management Platform is the base plan, and you can add HR and IT management to it.
Along with the core platform, you can also choose to purchase each plan and module separately.
Get started with Rippling.
Best For Ease Of Use.
Adam's Take
I like Monday because it's very visual and easy to use, while also being focused on those businesses that are scaling their employee headcount. In addition, the platform has various features that you would only expect to find in bigger, more expensive software. Overall, it's one of the best tools for small to medium-sized businesses.
Monday HR provides some of the employee experience that larger enterprise HRIS systems offer, focusing on flexibility and scalability. This system provides an exemplary interface for employees who need to manage benefits enrollment and tracking.
If you want to track your talent pipeline and measure hiring efficiencies, Monday HR offers customizable dashboards that let you track metrics relevant to your company's recruiting efforts.
In addition, you can keep track of your employees well-being and development by creating a custom benefits package and tracking the usage of your chosen wellness resources.
Features:
Monday HR is more than just an HRIS system. It has many features that help you manage your onboarding, recruiting, training and development, benefits packages, documentation, employee engagement, compliance, social collaboration, and more.
The following are some of the features that Monday HR can help you with:
Plan, organize and monitor all of your team's activities in one location.
Managers and their direct reporters can converse confidentially within the platform.
Visual super tables help with the analysis of data in the system.
Streamline your onboarding process with new recruits
iOS and Android apps help with real-time data sharing.
Using Monday work docs, you can digitize all of your company's important documents and provide instant access to them from anywhere.
Pricing:
There are five different pricing plans available for you to choose from:
Individual: $0 free forever
Basic: $8 /seat/month
Standard: $10 /seat/month
Pro : $16 /seat/month
Enterprise: Contact them for a custom quote
Get started with Monday HR.
Best For Payroll Solutions.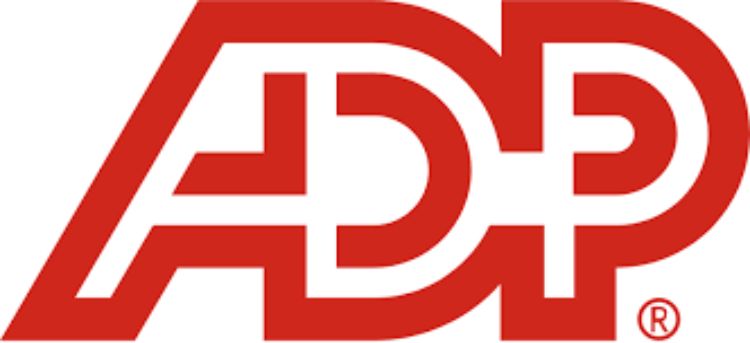 Adam's Take
One key thing I like about ADP PEO is that they help manage your HR needs with ease – whether you have a few employees or a few thousand. This can save business owners a lot of time and energy, which can be better spent on other areas of the business. With various features included in their services (such as payroll, benefits, and compliance), ADP PEO can help take some of the burdens off business owners when it comes to HR.
Whether your business has a handful of employees or a few thousand, ADP PEO can help manage your HR needs with ease. It's a company with a rich history of putting out quality HR products and has suitable ones for all sizes and kinds of businesses.
With over 70 years of experience under its belt, ADP is one of the pioneers in the payroll management software niche. It doesn't matter if you're looking for a PEO company or an HRIS; ADP can help you get there.
ADP's HRIS solutions seamlessly integrate with other popular business software and financial systems. With it, you can manage essential HR operations such as time tracking, scheduling, benefits management, and even retirement accounts.
Features:
ADP is more than a simple HRIS provider; it's a complete HRMS (Human Resource Management System) equipped with artificially intelligent automation. Using it, you can lessen your administrative tasks, streamline employee workflows and enhance engagement.
The following are some of the features that ADP can help you with:
Applicant tracking and recruitment
Onboarding functionality
Employee data management
Time tracking
Employee benefits management
Payroll management
HR outsourcing and PEO
Dedicated app marketplace
Resource center for all business sizes
Pricing:
Similar to BambooHR, ADP's pricing plans are also not disclosed publicly on its website. You'd need to contact the company for its pricing plans and decide which of its offerings would best suit your business. You can also request a demo for each product.
Get started with ADP Payroll.
Best for Ensuring Employee Happiness.
Adam's Take
If you're looking for a comprehensive yet affordable HR solution, Namely is definitely worth considering. Its user-friendly interface and intuitive design make it a breeze to use, even for those with little to no HR experience. Plus, its robust feature set ensures that you'll have all the tools you need to manage your workforce effectively.
Namely HR makes employees' life easier by offering a single platform for document management, benefits, time off, and payroll.
It also lets you manage compliance training and employee engagement simultaneously. In addition, Namely offers intuitive HR technology that simplifies many of the tasks that your HR department has to do every day.
Employee engagement is prioritized in Namely, so it offers features to help you build positive relationships with your employees.
Key Features:
Enhanced payroll services mean that day-to-day tasks are handled automatically, reducing your HR team's time on payroll administration.
The system also makes onboarding easier with its guide for new hires, which helps them get up to speed quickly on company policies and procedures.
Other features that Namely can help you with:
Save time when searching for documents by organizing them in a searchable library.
Avoid errors that can cause compliance issues with new hire documentation.
Stay on track of employee requests for time off, resulting in better planning.
Build a culture of transparency across your organization with messaging features.
Stop missing out on top talent because of a difficult-to-use application process.
Pricing:
You'll have to request a call to get a quote for Namely's HRIS system.
Best HR Software For Business Leaders.
Paycor HR comes in at various stages in the HRIS evolution. It is a good option for businesses just starting with their HR software, but it is also flexible enough to help more established companies implement new systems in their organization.
Paycor helps executives create outstanding workplaces by assisting them in all stages of the employment process, from recruiting to onboarding and beyond.
Paycor also builds up the firm's culture and performance, focusing on individual and organizational learning, engagement, and development.
Key Features:
Providing a single source of truth, Paycor HR helps you get connected to your employees.
Help new hires hit the ground running with a new hire portal, which helps them get up to speed quickly on company policies and procedures.
An intuitive dashboard offers an at-a-glance overview of everything happening in your organization.
Additional features that make Paycor HR a top-notch software include:
Talent management allows you to identify the best employees, retain them and develop them to the best they can be
A personalized onboarding experience that engages employees to deliver right from the start.
Actionable insights help you align your strategies with your business priorities.
Workforce management capabilities keep track of all critical data, including FTEs, absences, and turnover.
Employee experience management features that let you track engagement and satisfaction.
Benefits administration streamlines your benefits system, giving you more time to focus on what's truly important.
Pricing:
You can take a guided tour or contact their sales team to learn more about Paycor HR.
Get started with Paycor HR.
Best For Customizability.
BambooHR is a fully customizable HRIS solution that can benefit organizations of all sizes. Whether you're working with an on-site team, a remote one, or a hybrid model, this HR software can get the job done efficiently.
The most significant advantage of using BambooHR is that you can modify the tool according to your business needs instead of making procedural changes to suit the software. It spans the entire lifecycle of employees, from applicant tracking to performance analysis.
If that doesn't seem suitable enough for you, then I recommend you check out the vast number of apps that integrate with it. Overall, it's an easy-to-use tool that lets you safely and securely organize your HR data, and use it for any purpose.
Features:
Apart from the many customizations and integrations, BambooHR has several other exciting features. It provides options for employee self-service, a dedicated manager view, and even helps you generate custom reports.
Here's a list of some excellent BambooHR features:
Applicant tracking
Automated onboarding
Centralized database for all employee records
Dedicated HR reporting and analytics
Objective performance management
Employee satisfaction management
Time tracking
Electronic signatures
Paid time off (PTO) tracking
Customized workflows
Optimized mobile app
Intuitive user interface
Job post syndication
Dedicated customer service
Pricing:
As for pricing, BambooHR does not disclose its plans upfront, and you'll have to request a price quote according to your needs. However, you do get the option of trying the software out for free before you can settle on a paid plan that suits you.
8. Workday.
Best For Human Capital Management.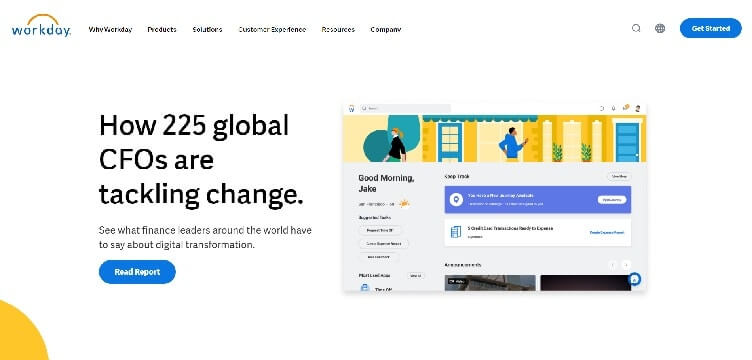 Workday is a company that provides you with complete HCM solutions, along with all of the tools your business needs for people management. It's a cost-effective and highly efficient method of organizing your staff and enhancing employee engagement.
Its range of products spans every aspect of a business, from HRIS to financial management and enterprise planning. Using it, you can create automated workflows to pay salaries, manage the entire employee lifecycle from hiring to retirement, and much more.
Workday also lets you analyze employee performance based on many criteria such as designation, salary, and employment history. No matter your business niche, Workday has a solution for it.
Features:
One of the significant differences between Workday and other traditional HR systems is that it is entirely cloud-based. This means you can break free of data silos and manage your HR functions from anywhere and any device.
Workday equips your business for success with the help of the following essential features:
User-friendly interface
Large number of financial and HR-related integrations
Easy-to-navigate organizational charts
Intuitive navigation
HR task management
Ability to adapt to multiple business processes
Cloud-based ubiquitous access
Easy-to-use feedback management system
Available as a mobile app
Detailed reporting and analytics
Pricing:
Again, Workday continues the practice of not revealing its pricing plans on the website. To get access to custom quotes for your business, you need to reach out to their sales team. You can also call the company representatives on the dedicated phone number.
9. Zenefits.
Best For Small And Medium Businesses.
Widely known among HR professionals due to its modern user interface and extreme ease of use, Zenefits is a Human Resources Information System designed for SMBs. If you're a small business that's looking to automate HR processes, Zenefits is ideal.
It can easily take care of multiple HR department functions such as on and off-boarding, payroll management, and performance reviews. Employees can sign documents electronically; managers can track performance and scale operations as they need it.
But perhaps the essential benefit of Zenefits is that it's a highly affordable software solution for talent management. And despite being so affordable, it doesn't skimp on the number of features needed to manage everyone from new hires to veterans.
Features:
Zenefits provides SMBs with the exact tools they need for scaling their HR operations at the lowest possible costs. Using its features, you can ensure that your workforce remains engaged, and at the same time, improve your HR department's operational efficiency.
Please go through the features Zenefits offers to small and medium businesses:
Easy HR administration
End-to-end onboarding
Payscale insights and workforce alignment
Built-in performance management tools
Advanced time tracking and scheduling
Easy payroll administration
Documentation management
Automated tax compliance
Integrated reporting tools
Seamless benefits management
Pricing:
Unlike the previous options on my list, Zenefits offers a fixed number of pricing plans for its HR platform. You can choose any of the base plans that offer core HR features and then get add-ons per your needs. Plans are billable monthly as well as yearly.
Here's a list of the annual pricing plans that Zenefits offers:
Essentials plan at $8/month/employee
Growth plan at $14/month/employee
Zen plan at $21/month/employee
If you're a larger organization that needs enterprise-level plans, please contact the Zenefits sales team. You can also schedule a customized demo or try out the tool for two weeks, entirely free of cost.
10. UKG Pro.
Best For Large Organizations.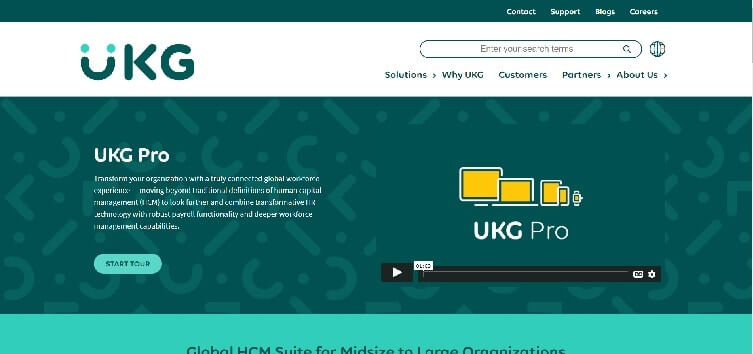 If you're a business with more than 100 employees, then UKG (Ultimate Kronos Group) Pro HR Solution is the best option for you. With over seven decades of HR experience, UKG Pro provides an impeccable user experience, along with all essential HR tools.
Although the software focuses on Core HR management, it also doubles as a suitable Human Resources Management System. It has been tested extensively along its years of performance and has customizable modules for most workforce management tasks.
From payroll and benefits management to time-tracking, employee information management, and an applicant tracking system, UKG helps make your HR processes simple and effective. It's also suitable for all industry verticals, regardless of the niche your business serves.
Features:
HR managers usually look for HRIS solutions centered around the people. And UKG Pro offers precisely that. It has innumerable features that make Human Capital Management an experience that helps your business grow better.
The following are some of the features that UKG Pro offers its users:
A comprehensive view of employee data
Simplified payroll and tax management
Personalized recruiting
Effective onboarding
Centralized and secure employee file management
Intuitive benefit administration
Robust workforce management
Automated, scalable timing and scheduling
Fully configurable compensation management
Detailed performance review metrics
Real-time employee sentiment analysis
On-demand people assistance
Predictive analytics
Ability to leverage AI and ML
Pricing:
UKG Pro's pricing plans are not available on the website. Like most SaaS-based HRIS solutions, you can obtain the price by directly contacting the sales teams.
11. Sapling.
Best For Distributed Teams.
In the era of remote work, distributed teams are the norm rather than the exception. And Sapling is made for managing distributed teams. It's best suited for businesses that work with a global footprint across multiple locations and offices.
Sapling allows you to automate the entire recruitment and onboarding process. Using HR technology that spans across systems, you can assign automatic workflows based on several criteria such as employee designation, department, and location.
It lets team members create, store and manage employee data along with organizational charts. Sapling also integrates with most applicant tracking, employee training, and payroll systems on the market, ensuring you can save time on processes, not to mention money.
Features:
Apart from the above features, Sapling also provides a webhook and API for advanced integrations. Its assorted feature list makes it a popular choice for multiple industry verticals such as software, financial services, and healthcare.
Here are the features that Sapling has to offer:
Seamless onboarding
Unique employee record templates
Fast access to team member information
Ability to manage complicated time-off policies
Fully accessible via mobile
Consistent and efficient onboarding
Faster e-signatures
Bulk data changes
Automated team management
Smart emails, surveys, and webhooks
Automated workflows
Pricing:
Similar to its peer software, Sapling also doesn't reveal its pricing plans. I got from the website pricing page that there are essentially three packages that you can choose.
These are the three packages that Sapling offers:
People Operations Platform
Essential Modules
Premium Modules
Of these, the People Operations Platform is the base plan, and you can add the other modules for better flexibility. The starting annual agreement value is $4000 for the People Operations Platform.
What Are HRIS Systems?
An HRIS integrates HR functions with information technology. These tools allow better and efficient data entry, performance tracking, and employee management across the organization.
In short, an HRIS allows you to manage and track all your employee data from a single, comprehensive interface.
What Are The Advantages Of Using HRIS Systems?
The right HRIS system can help your business in a number of ways.
Just like choosing the right HR system can help your business, there are also a number of advantages to using HRIS systems.
1. Better Organization
When you're using an HRIS, you'll never have to sift through old filing cabinets or reams of spreadsheets distributed across computers. All your employee data can be collected, tracked, and modified from a single place with just a few clicks.
2. Enhanced Compliance
A large amount of employee data needs to be stored for compliance and legal purposes in any organization. This can include materials for theft and fraud identification, unauthorized access, and other related misdemeanors.
Employee data storage might also be required for other purposes such as tax compliance, first contact information, and certification expiry dates. Storing such disparate data using traditional database systems can lead to the task becoming unmanageable.
An HRIS can come in handy here. As these systems use a centralized database for all employee data, you can use it to ensure that data is always accessible.
3. Saved Time
Time savings is one of the natural outcomes of using HRIS software. Cumbersome HR processes can be automated and simplified using HRIS. For instance, time-offs and leaves can take just seconds to get approval.
HRIS also ensures that leave accruals and balances get tracked and managed automatically. Once the HR professionals have set up the required policies in the system, they don't have to spend time over them anymore.
4. Strategic HR Management
Since HRIS tools free up the time of your HR professionals, they can use their people skills to formulate HR strategies that help refine the performance of your workforce. Such strategic management only leads to improved business outcomes.
At the same time, it also increases employee retention and productivity.
5. Enhanced Employee Experience
A suitable employee experience is essential for business success. Stellar employees prefer to work in a stellar work environment, and a lack of it can lead to performance drops. A suitable HRIS can help enhance your employees' organizational perception.
Be it better onboarding, app-based training on the go, or sharing information with co-workers, HRIS software can help boost the employee experience.
Overall, I think it's safe to say that HRIS tools can help take your HR processes to the next level.
Frequently Asked Questions
1. Who Is An HRIS Analyst?
At the very beginning of this discussion, I'd mentioned that here I'll play the role of your personal HRIS analyst. Now, it's time that I explained what that role entails.
Long story short, an HRIS analyst helps your business make sense of and use the HRIS data in a better way. HRIS analysts are usually responsible for HR research and HR team problem solving based on the data and insights provided by the HRIS.
2. Is SAP An HRIS Software?
SAP is an ERP (Enterprise Resource Planning) tool that has a dedicated HRIS module. You can use the tool to keep track of the company's resources, financials, and employee data.
3. How Many Employees Can Be Managed By An HRIS?
The number of employees your HRIS of choice supports depends on the capabilities of the tool you've selected. Different HRIS tools target different sized organizations and their needs.
After all, the requirements of a company with 30 employees are entirely separate from that of one with 3000.
To increase the sales of their software, many companies peddle one-size-fits-all HRIS solutions. However, I recommend that you go with a tool that specifically provides support for your business size.
4. Why Are HRIS Tools Important For Any Business?
Managing people can be tricky, and most HR professionals struggle to make sense of the vast amounts of employee data manually. An HRIS helps to separate the wheat from the chaff and streamline your HR processes.
These tools help reduce human error and take data redundancy out of the equation by providing a single data store. HRISs also provide real-time information that can be invaluable in tracking employee performance.
Also, using HRIS automation functionalities, you can create better workflows that enhance the efficacy of your workforce. In short, an HRIS gives you all of the tools you need to get a bird's-eye-view of your organization and identify what needs to change for betterment.
5. Is HRIS The Same As HRMS?
As far as functionality goes, there's no difference between an HRIS and an HRMS. Both tools perform the same operations and have similar functions and features.
Wrap Up.
Similar to choosing the right employee for a designation, choosing the right HRIS systems for a business is not an easy task. But after going through my detailed guide, I hope you can make a suitable choice.
If you're confused regarding which HRIS solution to go with, take a pick from the following ones:
Freshteam: Best Overall
Rippling: Best For Automated Employee Management.
Monday HR: Best Ease Of Use.
Namely HR: Best for Ensuring Employee Happiness.
Paycor HR: Best HR Software For Business Leaders.
BambooHR: Best For Customizability
ADP: Best For Payroll Solutions
Workday: Best For Human Capital Management
Zenefits: Best For Small And Medium Businesses
UKG Pro: Best For Large Organizations
Rippling: Best For Automated Employee Management
Sapling: Best For Distributed Teams
I'm sure you'll find a suitable HRIS from among the above options.
Disclosure: I may receive affiliate compensation for some of the links below at no cost to you if you decide to purchase a paid plan. You can read our affiliate disclosure in our privacy policy. This site is not intending to provide financial advice. This is for entertainment only.