13+ Best Inventory Management Software of 2023 (Free Guide)
Choosing the right inventory management software is vitally important to your business. From reducing stock-outs to improving customer satisfaction, the best inventory management software can help you meet your goals. In this guide, I ranked and reviewed the 13+ best inventory management software, along with my top 5 choices, so that you can pick the best one for you.
---
We're reader-supported. When you buy through links on our site, we may earn an affiliate commission.
Keeping track of your inventory from manufacturer to warehouse to point of sale can be a complicated process. With as much as $1.1 trillion in cash being tied up in inventory at any point in time, this supervised flow of goods needs to run like clockwork to keep your customers happy – and your profit margins healthy.
Luckily, plenty of new inventory management software has entered the market, helping supervise and automate this complex process.
Inventory management tools help businesses keep track of order fulfillment, purchase orders, sales, incoming stock, and product levels so that they can seamlessly run operations. Like ERP systems and CMMS software, it gives you a 360-degree view of your business operations in one SaaS tool.
But that's not all.
By helping you meet your customers' expectations and control your inventory, the software helps you make better business decisions and gives you an edge over your competition.
This guide will cover the best inventory management software to try this year based on features, pricing, ease of use, pros, cons, and more.
Let's get started.
What Are The Best Inventory Management Software?
Here are my picks for the best inventory management software to try this year:
Best Overall Inventory Management.
Sortly provides simple inventory management software that is both affordable and easy to use.
If you want to stay on top of your inventory without spending a lot of money, Sortly might just be the right solution for you.
With a smarter way to organize and keep track of your inventory, Sortly can help you save time and money.
You can use QR codes to scan and update your inventory which makes tracking inventory quick and easy.
You can also set up alerts to notify you when items are low so you can reorder before you run out.
Key Features:
Track items using QR or barcodes so that updating inventory is quick and easy.
Stay updated anytime, anywhere with alerts that notify you when items are low, so you can reorder before you run out.

Rolled access ensures that anyone can track user and inventory activities.
Pros:
Effortlessly create reports to share with your team.
Get low stock alerts and date reminders so you never have to worry about running out of inventory.
Cons:
Filtering through multiple tags is not possible.
Sometimes, notifications take a little bit of time to come through.
Pricing:
Sortly offers these pricing plans:
Free: $0 per month
Advanced: $29 per month
Ultra: $71 per month
Enterprise: Custom quote based on your specific needs.
You can try the limited version (100 entries) for free or start a 14-day trial of the Advanced or Ultra plan.
Get started with Sortly.
Best for businesses looking for a cost-effective inventory management tool.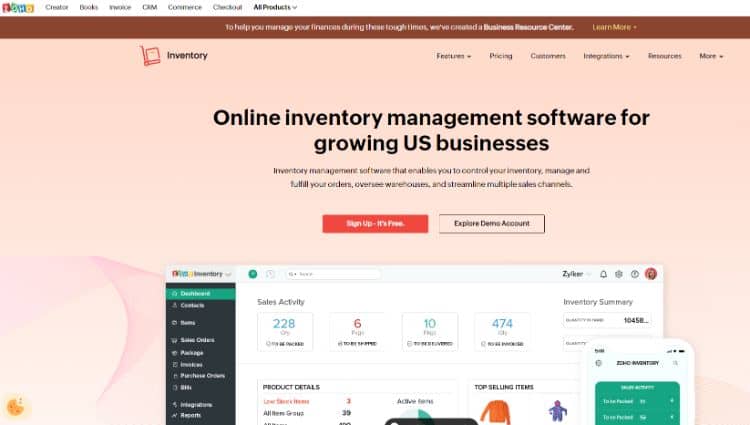 Zoho Inventory is a well-known inventory management tool that provides effective management across various channels. Additionally, Zoho helps you keep track of every unit with features like stock management, accounting & CRM integrations, multiple shipping integrations, and more. Also, the software is most suitable for small and mid-sized retail businesses.
Key Features:
Stock Management – It allows the bundling of items and helps in tracking the stock-flow of different items.
Extensive Integration – It enables seamless integration with the top ecommerce platforms for easy monitoring of stock-flow.
Order Management – This feature allows you to manage orders easily, record deliveries, create sales and purchase orders, and so forth.
Shipping Options – It allows you to select the most financially as well as logistically capable shipping carrier.
Customer and Vendor Management – It enables the recording of vendor and customer information and makes personalized communication easy.
Customization – You can add the required field to payment receipts, invoices, and orders.
Pros:
Works best for trading businesses
It offers easy integration across popular channels like eBay, Amazon, and more
Provides updates quickly
It has country-specific versions, providing more convenience to the businesses
Provides customer support all round the clock
Provides one of the best shipping carriers for easy order fulfillment
Zoho Inventory provides an intuitive and easy to use UI
The inventory module of Zoho makes handling your taxes easier
The warehouse option enables tracking of every unit in each warehouse you have
Cons:
It lacks the forecast option
Zoho is only suitable for the businesses that follow the FIFO (first in first out) method for the tracking of items
Requires separate integration with the accounting systems like production management system, Point-of-Sale (POS), and more
Pricing:
Zoho Inventory is an affordable inventory management platform. The paid plans start from $39 per month and range up to $239 per month billed annually.
You can get started for free with a 14-day trial.
Best for medium-sized businesses requiring tracking sales, inventory, and assembly.
QuickBooks Commerce offers a powerful and flexible solution and integrates fully with the QuickBooks accounting tool. As a result, you can track your inventory and, at the same time, work on things like invoicing.
All in all, with features like tax calculation, sales reporting, expense tracking, and invoice management, QuickBooks Commerce simplifies accounting and enhances financial management.
Key Features:
Advanced Inventory – This feature enables the live tracking of inventory levels and offers a powerful view of inventory management.
Order Management – Streamline your order management effectively and enhance your business growth.
Advanced Pricing – This feature offers you the flexibility to customize, automate, and control your pricing.
Field Service Management – Provides live updates from the field.
Accounting – Easily track invoices, taxes, expenses, sales, bills, and more.
Advanced Reporting – The software makes all the essential reports available at your fingertips.
Pros:
Simplifies the complex tasks and helps in saving both time and money
Offers web-based as well as on-premises deployment options
It eliminates the chances of double data entry and ensures error-free data
Generates detailed reports about your sales and inventory
Automatically creates the packing and invoicing list
Instead of typing the product information, the software uses the barcode scanning method which enhances data accuracy
Enhances order fulfillment by supporting effective pick, pack, and the shipping option
Cons:
It proves to be ineffective for the businesses having their branches in multiple locations
QuickBooks Commerce is not scalable beyond the maximum limit of 30 users
Pricing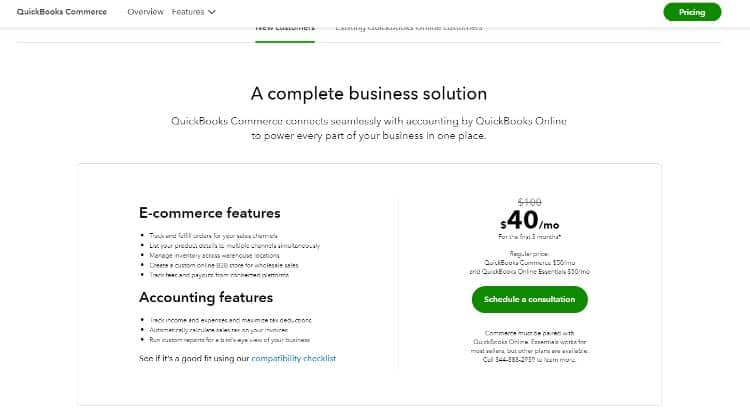 QuickBooks Commerce starts from $40 per month for the first three months.
Best for online retailers or businesses with multi-channel selling operations.
SellerCloud is another good inventory management system. It is one of the top names amongst the inventory management tools for ecommerce businesses with some of its most prominent features including shipment handling, scheduled listings, management of customer feedback, and a lot more.
It also offers extensive third-party integrations with various payment gateways, shopping carts, ecommerce apps, and more. For instance, it's best known for its connection ability with multiple channels such as eBay and Amazon for doing better business.
Key Features:
Creates Catalog – The SellerCloud makes a catalog for all your products and inventory items, which will help you find the product specifications of all the items in a single catalog.
Inventory Management – It allows you to manage your inventory across multiple sales channels. You can also track your order right from the beginning until its shipment.
Order Management – It manages all the incoming orders and other functions associated with it. It also drops an alert for low stocks.
Generate Reports – SellerCloud helps in genucts when it comeserating in-depth business reports to check the performance of the business products across multiple channels.
Pros:
Provides a single entry point for all multi-channel listings
Keeps you updated with revised inventory and alerts in case of low stock
It has amazing customer support to handle the queries and questions of the customers
Provides various third-party plugins to meet all your business needs
The user interface is straightforward and easy to understand
Cons:
The GUI of SellerCloud requires a little update
Pricing:
The pricing plan starts from $1000 per month. However, the pricing might increase if you require more services for your business management needs.
5. ChannelAdvisor.
Best for posting product information to bring new customers to your business.
ChannelAdvisor is another popular inventory management tool on this list. It not only works as inventory management software but also acts as a digital marketing assistant for your business.
From streamlining sales across 100+ platforms to tracking the buyer's journey, ChannelAdvisor is appropriate for all your ecommerce needs.
Channel Advisor is suitable for businesses looking for an inventory system that works as a digital marketing assistant as well.
Key Features:
Syncing with multiple channels – ChannelAdvisor works as a digital marketing tool that helps you distribute your products and content on platforms like Google, Bing, Yahoo, Facebook, and more.
Paid Marketing – ChannelAdvisor supports paid search marketing to help your business grow and improve the conversion rate.
Analytics & Reporting – ChannelAdvisor creates in-depth analytical reports to give you better business insights and keep a better track of your inventory.
Digital Marketing Channels- ChannelAdvisor comes with digital marketing benefits to promote business sales on multiple channels to generate better profit.
Pros:
It has an excellent ability to organize & sell your products
Provides summary reports of the product performance
Helps you build presentations of the products for better management
It's a one-stop-shop for your marketing, ecommerce, and inventory management needs
Provides accurate inventory forecasts and supports post-sales tracking
You can seek expert advice over the application services
Cons:
Doesn't monitor price change in real-time
The performance of the software needs to be a little faster
Pricing
To get a pricing quote with Channel Advisor, you need to design your package or solution. The prices vary depending upon your business needs and requirements.
6. Fishbowl Inventory.
Best for dropshipping tracking and inventory bar-coding.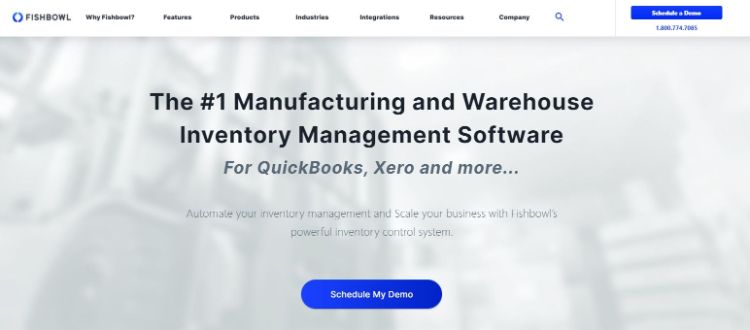 Fishbowl Inventory is another top-notch inventory and warehouse management system. It not only handles inventory tracking but also manages accounting systems and FIFO tools.
Though Fishbowl Inventory is not as popular as Zoho and Quickbooks, it's still gaining a good impression in the market of inventory management tools.
All in all, it's an affordable inventory management tool that can help you streamline all your operations, including distributing, manufacturing, selling, servicing, and more.
Fishbowl is appropriate if you want to integrate it with Quickbooks for handling accounting and shipping more efficiently.
Key Features:
Multiple Locations – You can use all its services at multiple locations of your business without any hassle.
Asset Tracking – It regularly monitors and tracks all the assets in your inventory.
Service Management – Fishbowl gives better service management schemes for business profit.
Vendor Management – Fishbowl also helps in storing information and managing the vendors for better business outcomes.
Pros:
Fishbowl supports wholesale & distribution along with landed cost calculations
Solves the problems associated with inventory tracking using excel
Real-time inventory management & intuitive user-interface offers excellent ease of use
It also saves time by implementing production automation
Fishbowl streamlines all your operations such as selling, shipment, distribution, and so forth
Generates custom reports to give you an insight into your business
Cons:
Doesn't offer any accounting software
Report modification is very challenging
Plugins are expensive.
Pricing
The pricing of the Fishbowl Inventory starts from $4,395, and the price increases depending upon the type of user license you acquire.
7. nChannel.
Best for big enterprises with multiple locations and touchpoints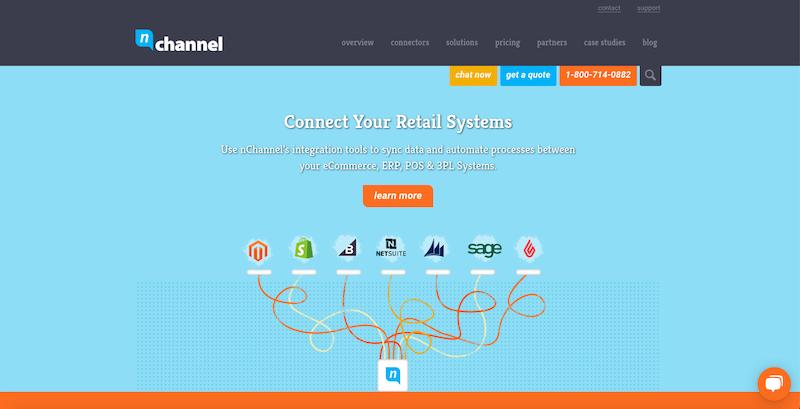 nChannel is a cloud-based inventory solution that helps you integrate your sales with your fulfillment channel. It helps you avoid overselling by updating your inventory instantly to create a better customer experience.
While inventory management is a prominent part of nChannel, you can also use it to:
Integrate 3PL companies and dropshippers
Reduce data processing time
Integrate all your retail platforms
Customer experience management
Supply chain management
nChannel integrates the front-end channels of sales along with the back-end systems such as MS Dynamics, NetSuite, and more.
Key Features:
Product Information Management – It manages the information about the products and stores them in a separate section so that you can access it easily.
Multi-Channel Listing – You can list the business products in multiple channels to improve business sales.
Drop Ship Management – The nChannel inventory also supports dropshipping management without losing any financial control.
Order Management – The nChannel Inventory also deals with order management services to manage product data, catalogs, and more.
Pros:
Comes with a straightforward user-interface and makes it easier for you to navigate
It supports integration with multiple channels from multiple locations
Reduces data processing time by eliminating manual entry
Helps you automate all your online B2B processes
The nChannel has excellent customer support to handle all the customer queries
It goes through regular improvements and upgrades
Cons:
It's a bit challenging for a novice to operate nChannel
Doesn't provide pricing plan on the official website
Pricing
You'll have to fill out a form with your business information to get a customized quote.
8. Katana.
Best for small and medium-sized manufacturing businesses.
Unlike other inventory management tools on this list, Katana specifically focuses on small manufacturers or business owners to help them with scheduling or planning of production.
If you are looking for features like raw material tracking, priority-based production planning, and automated book engine, then Katana is a perfect tool for you.
Plus, it compiles all the business-related data for you, including sales status, warehouse status, low stock alerts, and more.
Key Features:
Better Productivity – It increases work efficiency and generates more sales, resulting in better productivity. With efficient management efforts, you can also put more focus on bringing in a more targeted audience.
Instant Control over Inventory – Katana offers Inventory control software in real-time to keep track of products that are in stock as well as for the products that are out of stock. The stock information helps you bring in new products back in stock.
Order Management- Like other inventory management tools, Katana also manages the order cycle to help you with the entire sales process. It also allows you to keep a close eye on the transit of the order until its delivery.
Pros:
Provides extensive customer support for handling customer problems
It comes with a free trial for the users to try the services before buying the subscription
Katana supports the casual planning of production
It supports integration with numerous third-party apps
Provides modern and intuitive user-interface
Allows you to easily manage your orders, inventory, raw materials, and more, at multiple locations
Cons:
Comes with a per-user pricing scheme
There is no feature for multiple currency or multi-language use
Comes with a hefty price tag
Pricing:
The price of the Katana Inventory tool starts from $99 per month for Essential and $299 per month for Pro. They also provide a 14-day free trial.
9. 4PSite.
Best for small-scale business owners wanting to manage their inventory at a low cost.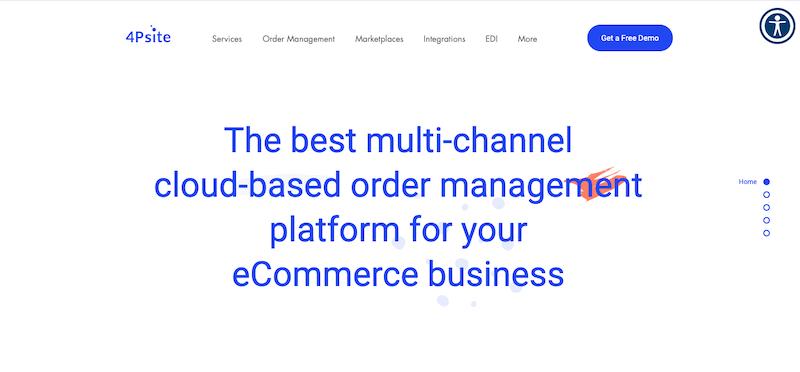 4PSite is a cloud-based multi-channel when using inventory management software. It provides a single dashboard for handling all the functions related to inventory management, and you can control it entirely through the web. It also integrates with some of the most prominent online platforms such as Volusion, Shopify, and others.
Key Features:
Inventory Management – It offers quality management of your complete inventory to handle your business burden. It takes care of your stock alerts, invoicing, shipment tracking, and provides third-party integrations to help your business grow.
Tracking Order – 4PSite also helps in monitoring the order for tracking the shipment's actual location. Order tracking is essential when you have to address customer queries about their delivery. It also allows you to share exact tracking information to your customers.
Order Management – It takes care of all the incoming orders along with other processes associated with it. When order inflows are high during the peak seasons, 4PSite can handle the load without any lags or glitches.
Pros:
The interface is modern and easy to understand
The ticketing system of the orders is quick and efficient
Helps you manage sales across 40+ carts and channels
Enables you to manage all your orders easily
Provides built-in CRM to help you communicate with customers, track customer info, etc.
Offers in-depth reports on customers, the status of your inventory, order shipping, and more
Cons:
The initial setting of the software is a bit troublesome
Pricing
You'll have to get in touch with theme for a free demo and a quote about what their services cost.
10. Dear Systems.
Best for supporting ecommerce start-ups interested in improving their production rate.
Dear Systems is another popular name amongst several business inventory management tools. It's ideal for various industries, including ecommerce, food manufacturing, wholesale, distribution, and more.
Plus, it automates all the time-consuming functions such as tracking warehouse productivity, eliminating manual data entry with accounting, and more.
Key Features:
Stock Adjustment – Dear Systems looks after the stock adjustment and triggers an alert when there is a low stock of any product.
Product reports – It creates in-depth reports of sold-out or expired products to keep track of the business investments on inventory goods.
Multiple Channel Integration – It allows integration with various third-party apps to help you manage your business from anywhere, at any time.
Real-Time analysis – Provides instant analysis and gives accurate information about the stock-related queries.
Shipment Tracking – It not only manages the order but also keeps track of the shipment until it gets delivered to the doorstep of the customer.
Pros:
Automates the entire online ordering process, including pick, pack, and ship
It's a cloud-oriented management system
It has an adaptable interface with loads of features
Streamlines your team efforts by providing automated alerts
Helps you make smarter purchasing decisions by forecasting accurate costs and supplier history
Cons:
Some of the functions are a bit complicated to understand
Comes with a hefty price tag
The analytical reports need improvement
Pricing
The paid plan for Dear Systems are as follows:
Standard: $3575 per year (billed monhtly)
Manufacturing: $5575 per year (billed monhtly)
Retailing: $5225 per year (billed monhtly)
11. Veeqo.
Best for growing brands that require help with inventory, orders, and shipping.
Veeqo is a great inventory management solution for small businesses to keep track of the inventory works, shipping, and order processes. It integrates with up to 16 channels and also manages multiple warehouses, supports wholesale order tracking, and more.
Key Features:
Order Management – Veeqo offers order management feature to keep track of all inflow as well as the outflow of orders.
Fast Notifications – It provides almost instant notification of inventory stocks and other information.
Product Comparison – Veeqo has a single page that gives product comparison information for better business management.
Multi–Location feature – Veeqo offers services that help the users track their inventory and manage the services in multiple locations of the businesses without any additional charges or hassle.
Accounting integration – In the long run, it will also help your business with accounting integration for better productivity and an increase in sales.
Pros:
Integrates with numerous website platforms such as Shopify, eBay, Amazon, and more
Helps you sync online marketplace with Quickbooks desktop
Supports multiple warehouses and provides in-depth analytical reports related to your inventory
The user interface is easy to navigate
Offers excellent help desk support
Provides a 14-day free trial
Cons:
The paid plans are a bit expensive
Pricing
Based on the number of orders processed per month, the pricing changes. At a minimum of 50 orders, there are three plans that are price as follows:
Accelerator: £120 per month
High Growth: £156 per month
Premium: £200 per month
12. Ordoro.
Best for dropshipping businesses wanting to conduct route optimization.
Ordoro is the time-saving inventory management software for small businesses to run the selling process smoothly. It supports dropshipping and handles all the operations associated with it. Inside Ordoto, you'll also find unique features like batch-print shipping labels, kitting capabilities, barcode scanning, and more.
Key Features:
Multi-user – Ordoro is one of the popular inventory management tools that enable more than one user to use the software.
Multi-Location – It also helps the businesses operate from various locations with a single inventory management tool.
Dropshipping – It has special features for dropshipping, such as automatically routing dropship requests to your vendors, supporting custom API-integration, and more.
Order Management – This software tracks all the incoming orders and also sync and track all the updates related to your inventory.
Order Tracking – Helps you track and get accurate location details of your products.
Stock Alerts – It gives alerts in case of low stock and also helps you prevent overstocking of the warehouse.
Pros:
Provides excellent customer support
The interface is intuitive and easy to understand
Provides comprehensive shipping options, multiple warehouse tracking, reasonable shipping rates, and more
Offers integrations with third-party sites like Amazon, Shopify, Etsy, and more
Provides a free trial to help you check the product before making the final purchase
Cons:
The software has some small glitches
Pricing
For a limited time, the plans are as follows:
Express: Free for up to 1000 orders per month
Pro: Starting at $499 per month
Enterprise: Starting at $999 per month
13. Cin7.
Best for a custom-made solution.
Cin7 provides a customized way to sell, help you with inventory and order management when you clearly know what you want.
Take advantage of the bulletproof systems in place to establish and manage your company for greater sales, more profits, and continuous expansion.
CIN7 connects your items, sales channels, stock locations, and customers so you can simplify your business and increase profitability.
From greater control over how you sell to more visibility into your inventory, Cin7 offers a proprietary automation platform that streamlines what most merchants do manually.
Cin7 provides an end-to-end solution for eCommerce and retail companies by connecting all aspects of their business in one place.
Give all your company departments (including finance, warehouse, managers and marketing) everything they need to close orders with greater accuracy, reduce errors, and minimize hassles.
Key Features:
Connect your company's order, inventory, shipping, and accounting procedures to Cin7.
Make buying from you as simple as possible by offering a wide variety of payment options to customers.
Manage your eCommerce business from one place using automated procedures to help you increase sales and profits.
Create a pricing and quotation system that helps your clients choose the plan that is ideal for them.
Show off your products using Cin7's beautiful catalogue system.
Market to customers using newsletters, social media posts, and direct messages through your store.
Enjoy end-to-end control over the selling process.
Pricing:
There are two pricing plans available, depending on the size of your business:
Small business: $299 per month
Business: $539 per month
14. Upserve.
Best for restaurant inventory management.
Upserve is a restaurant management software that makes it easy to streamline your business.
From inventory management, custom POS workflows, and customer profiles, Upserve helps you boost service while ensuring the accuracy of orders.
Upserve's restaurant management software is your one-stop-shop for running a successful restaurant.
With payment processing, reporting, custom POS workflows, and real-time customer profiles, you'll get everything you need to run your restaurant.
24/7 U.S.-based support from the Upserve team, as well as round-the-clock access to live chat and a web portal that makes it easy to manage your business.
With a cloud-based Restaurant POS, you can simplify your operations, boost productivity and profits.
Key Features:
You'll save 30-50 hours each month by eliminating processes that don't necessarily add value to your business.
Increase sales by upselling, cross-selling, and sending personalized offers in real-time.
Treat every customer like a VIP with Upserve's beautiful guest profiles.
Multiple locations? No problem. Easily manage and oversee multiple locations from a single account.
Pricing:
There are three pricing plans, as follows:
Core: $59
Pro: $199
Pro Plus: $359
What is Inventory Management Software?
Inventory management software are web-based applications that help both businesses manage and track inventory from the manufacturer to warehouse to point of sale. They also help with other processes such as accounting, invoicing, making reports, fulfillment, keeping track of shipments, and a lot more.
These inventory management tools also keep track of price changes. For instance, if you purchase a product for $100 and the price shoots up to $200 after a month, then your inventory will be worth more. Then there are cases where the products in your inventory might get lost or stolen. That's why you need inventory management software to keep track of all these things.
With inventory management tools, you can also expect a full-time stock tracking to ensure that no demanding product goes out of stock.
What Should You Look for in an Inventory System?
Look out for the following features when choosing the best inventory software system for your business.
1. Easy to Use.
Inventory management systems only work as well as you understand them. Look for a tool you can navigate and operate with ease and without any hassle. It should have all the features you require to manage your inventory count and align with your business size and employee count.
Most tools on this list have helpful resources including customer support and knowledgebases. As tools get more advanced, workflow automation helps make these tools easier and easier to use.
2. Accessible in Multiple Locations.
If you own multiple warehouses or plan to expand to more warehouses in the future, then you may want to use a manual inventory management tool that can support inventory optimization at various locations at any time. Customer support is also an essential factor to consider before you invest your money in an inventory management app.
3. Reports & Analytics.
Data is one of the most essential parts of a good inventory management system. It gives you in-depth information on your stocks and all the products when it comes to warehouse management.
That's why it's essential to choose a tool that can collect data and present it to you in concise analytical reports. It's also a great idea to look for a tool that can eliminate manual data entry tasks.
Gone are the days of using multiple spreadsheets for the various providers and trying to make everything make sense at the end of the month.
4. Third-Party Integrations.
Chances are that you're using more than one software to run your growing business – whether it's online or offline. That's why it's best to choose software that can integrate with numerous types of other tools throughout its lifecycle, such as inventory data, asset management apps, accounting tools, and more apps available on mobile devices, desktops or anything in between. If not today, in the near future, your business might require all these tools to attain better warehousing productivity.
Your software solution should interact with and understand the following:
Barcode scanners
SKUs and serial numbers
Work orders and bill of materials
Reorder points for replenishment
Controls for inventory and stock levels
Customizable sales orders, reorders and stockouts
Works with smartphones through its mobile app (iOS and Android)
5. Customer Service & Training.
No matter how amazing the inventory software tool is, it would be of little use if you are unable to operate it properly. That's why make sure to choose a tool that comes with quality customer support to help you operate it and leverage all its inventory management features.
6. Reliability & Security.
It's essential to pick inventory management software with strong security features to make sure that all your data is kept safe and secure. Make sure to check the software's features in regards to encryption, password management, etc.
Another great way to ensure reliability and security is to look for a tool that offers cloud-based access. With it, you can be sure that your inventory data will always be accessible – no matter where you are or what device you use.
Cloud-based technology helps you reduce downtime, increase productivity and encourage easy scalability.
7. User-Friendly Interface.
Leverage a software solution that is user-friendly and can be seamlessly integrated with how your business already runs its inventory management process.
A user-friendly interface is one of the most sought-after features of an inventory software solution. Make sure to check out its features, whether it can import data from other tools or not, ease of use, etc.
It's also important to consider if the software solution you are interested in has all the best practices needed to get started with the system and how easy it is to train new employees on its usage.
8. Field service management
This is the process of managing field service technicians – also called "mobile workers" or "field agents" – who work outside a traditional office environment.
Field service management (FSM) software gives organizations the ability to see where their technicians are at any given time, what work needs to be completed, and how to optimize route efficiency.
Executive Summary.
To recap, this list provided some of the best inventory management platforms to help you keep track of your products from manufacturer to warehouse to retail location. The reviews consisted of the main details about their key features, pros, cons, and pricing.
Whether you're running a retail location or successful ecommerce business, you don't want to go another day before you start managing your inventory and keeping track of every unit properly. After all, it's your product – you should be able to control it to your advantage.
However, the choice of the best inventory management tool can be subjective. It entirely depends on your business needs, budget, number of team members, types of products, number of locations, and more.
If you are running a small business, then I recommend tools like Katana or Dear Systems.
However, if you have a mid-sized business or a large scale enterprise, then you might want to try more popular options like Zoho Inventory or QuickBooks Inventory Management.
Do your research and make a thorough comparison before making your final purchase.
Which of these inventory management tools did you like the best? Let me know your feedback in the comment section below.
Disclosure: I may receive affiliate compensation for some of the links below at no cost to you if you decide to purchase a paid plan. You can read our affiliate disclosure in our privacy policy. This site is not intending to provide financial advice. This is for entertainment only.