What Are ITSM Tools? The 7+ Best ITSM Tools for 2023
Choosing the right ITSM tool is vitally important to your business. From accessibility and cost to the number of integrations they offer, the best ITSM tools can help you meet your goals. In this guide, I ranked and reviewed the 7+ best ITSM tools so that you can pick the best one for you.
SysAid
SysAid offers an expansive suite of features like ticket management, incident resolution and patch management to help streamline IT operations.
Wrike
Wrike is ideal for anyone juggling multiple projects at once; its true strength lies in the fact that you can manage all your assignments from one central place.
---
We're reader-supported. When you buy through links on our site, we may earn an affiliate commission.
Having proper IT service management (ITSM) in your business is vital.
The right management processes in place can help you be proactive in your IT management instead of reactive, allowing you to reach your business goals and keep moving in the right direction.
Similar to the importance of having the right combination of business processes management software and workflow management software working efficiently in a company, the right ITSM will ensure that your company is efficient, effective, and productive.
In addition to understanding what ITSM is and how it's being used by businesses worldwide, knowing which features and tools you require for your business is key.
With such a wide variety of tools available in the marketplace, in this post, I rank and review the best ITSM tools right now, helping you find the one that's just right for your business.
Let's get right into it.
What Are the Best ITSM Tools?
The following are the best ITSM tools available for businesses right now.
Best Overall.
SysAid simplifies service delivery for businesses of all sizes with its comprehensive ITSM software.
SysAid offers expansive features to improve productivity, efficiency, and customer satisfaction.
From ticket management and incident resolution to asset tracking and patch management, it covers all your ITSM needs in one place.
It also provides streamlined user onboarding processes, automated workflows, and self-service portals so employees can quickly find answers to their questions.
Plus, it provides detailed reports on key performance indicators (KPIs) like time to resolution or time between tickets that help you measure the success of your service desk operations.
SysAid is designed to integrate seamlessly with the most popular third-party tools you use daily.
This ensures that all your data is always up-to-date across all platforms, so there's no need for manual data entry or redundant tasks.
Plus, it offers advanced automation capabilities so complex tasks can be completed faster than ever, saving precious time and money.
You can even set up custom scripts to automate routine processes like password resets or software updates – ensuring they are completed without errors or delays.
Key Features:
Use their patch management solutions to keep all your systems up-to-date and secure.
Regarding incident management, they have you covered with capabilities that allow
you to track and quickly resolve any issue.
SysAid's IT asset management features help you keep track of all the hardware in your network and ensure it remains in top condition.
You can also use their service level management to improve response times, prioritize tasks, and automate processes.
Finally, their problem management feature helps you detect, analyze and solve complex issues quickly and efficiently.
Pricing:
Fill in the form on their website to get a quote tailored to your specific needs.
Best For Collaboration.
Wrike is great for those that want to remove the hassle of collaboration and breakdown of tasks.
Wrike is also useful for those with several different projects going on at once, with managing them from one place being its vital strength.
If you want to exceed goals in your business while finding clarity in your projects, then Wrike is an excellent ITSM tool for you.
Wrike may be customized to best suit your needs, meaning that you can make the most of its various features.
A single source of truth will ensure that everyone is working to the same schedule, helping you to become more efficient – and this is what Wrike provides.
Whether you're looking for a dashboard that fits your needs or the ability to set deadlines for your projects, Wrike is an excellent choice for your business.
Key Features:
Make the most of your existing IT resources by integrating information within tasks.
Visualize how each job is connected to others, helping you to prioritize the most critical tasks.
Make the most of industry-leading data security and privacy.
Always be ready for the next thing, ensuring that resources and assets are available when you need them.
Collaborate in real-time with everyone in your organization, ensuring that your company is always on the same page.
Pricing:
The following are the pricing plans for Wrike:
Free: $0
Professional: $9.80/user/month
Business: $24.80 /user/month
Enterprise
Pinnacle
For Enterprise and Pinnacle pricing points, contact their sales team for more information.
Get started with Wrike.
Best for those that want a modern ITSM solution.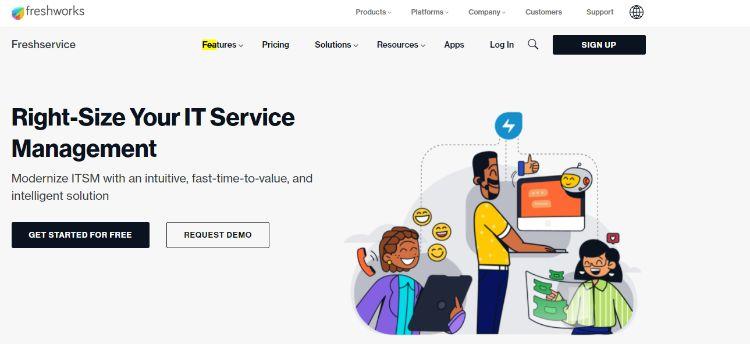 Freshservice helps modernize IT service management and accelerate your company's digital transformation.
Providing an integrated platform that enables companies to optimize their IT service delivery, Freshservice helps companies improve operational efficiencies through cloud service software and produce more value from technology.
They also provide a modern approach to ITSM through simple and intuitive tools anyone can use.
If you're looking for a unified service management solution, Freshservice is one to consider – with increased efficiency, you'll be able to deliver a better service.
In addition, with robust automation and integrations, Freshservice keeps your business running smoothly.
Key Features:
Use no-code workflows and powerful automation to eliminate the need for manual processes, freeing up your time to focus on more strategic initiatives.
Integrate service management features to ERP, help desk software, and other systems using web services.
Understand incident management and SLA management to ensure quality service at every turn.
Automate time-consuming tasks, increase visibility and make data-driven decisions.
Provide extra resources to address any required regulations while ensuring compliance issues are being tackled.
Pricing:
There is a 21-day free trial, where you'll be able to try out all the features with no obligation.
After that, pricing plans are as follows:
Starter: $19
Growth: $49
ITSM + ITOM + Project Management: $89
Enterprise: $109
All of these are billed per agent per month and billed on an annual basis.
Get started with Freshservice.
4. EZOfficeInventory.
Best for seamless ITSM integration.
EZOfficeInventory allows you to run your IT service management process seamlessly across your entire company.
Well-known for its simple yet effective processes, EZOfficeInventory is best used by smaller companies that may not have the means to manage their infrastructure.
If you currently spend too much time on asset tracking, then this is the tool for you since one of its key features is that it allows end-users to track company assets in just a few clicks, with the ability to find items quickly when needed.
When it comes to the complete asset lifecycle, EZOfficeInventory provides you with the complete picture, ensuring that nothing is missed.
With simplified operational workflows, EZOfficeInventory ensures that the asset lifecycle is handled quickly, with few errors along the way.
In addition, you can also manage assets across locations and vendors, ensuring that your company's data and information are secure.
Key Features:
A web-based system with advanced reporting, monitoring, and analytics.
Comprehensive built-in workflows to optimize efficiency.
Asset stock & inventory tracking solutions allow you to know where your company's assets are.
Mobile apps for Android and iOS help with on-the-go data requirements.
Pricing:

Essential: $35.00 per month, annual billing
Advanced: $45.00 per month, annual billing
Premium: $50.00 per month, annual billing
Enterprise: custom prices as needed
5. HaloITSM.
Best for ITSM lifecycle management.
Expert-led ITSM Software, HaloITSM provides IT service management and life cycle management software to businesses of all sizes.
HaloITSM will transform your business by helping you reduce the required effort while increasing productivity.
By gaining actionable insights across your organization, HaloITSM provides clear views of what is working well and why errors happen when they do.
HaloITSM can also provide your business with better service using the latest technology in outsourcing than ever before, so if you currently give work to contractors, this tool can enhance your operations.
If you want to work with up-to-the-minute workflows while also making life easier for both your IT team and other departments, HaloITSM is definitely a tool to check out.
The modular framework of the integrated haloITSM allows your IT department to standardize your operations while customizing them in the most user-friendly manner possible.
Finally, HaloITSM gives you a clear picture of how your business is working with valuable analytics.
Key Features:
HaloITSM's incident management module distinguishes itself from other tools on the market and provides a new and compelling approach to on-premises, building service and desk operations.
The unique problem management capabilities of haloITSM ensure maximum uptime, maximum performance, and minimum risk.
A knowledge base is included with haloITSM to reduce the number of unnecessary incidents.
SLA management ensures that you will have the quality of service that you have specified, whether it's an internal or external provider.
A Release Management portal is also included with haloITSM to provide you with a complete picture across your IT systems.
Pricing:
With two straightforward plans, it's easy to get started with HaloITSM:
ITSM System: $69 per agent, per month, billed annually.
Enterprise: Contact them for more pricing information.
6. SolarWinds MSP.
Best for small to midsize businesses.

SolarWinds MSP helps maximize the value of your IT resources by providing you with an unprecedented level of integration.
Using the various SolarWinds MSP Tools, you can streamline your processes and ensure a positive customer experience.
With all of the tools in one virtual dashboard, SolarWinds MSP is easy to use for small to midsize businesses.
In addition, the powerful reporting features provide actionable insights that allow you to monitor your company's performance.
If you want to reduce costs and save labor hours while maintaining regulatory compliance, then the SolarWinds service desk and MSP is the right choice for you.
Key Features:
Easily access and analyze machine data to help you identify faster the source of IT difficulties.
Essential up/down and network performance monitoring ensures your company's uptime.
Database management systems help you assess databases and monitor them quickly.
Application management tools report on various statistics and give you a chance to manage your networks.
Pricing:
You'll have to get an online quote to get the complete costs involved with this solution.
7. Zendesk ITSM.
Best for exceptional customer service.
Zendesk ITSM makes customer service exceptional by providing a straightforward management platform that combines customer service and IT into a single, easy-to-use solution.
Gain quick access to in-depth research, problem management, changes requests, and service requests, as well as knowledge articles that will help you to take care of all of your client needs and demands.
If you want to meet customers at the stage of their journey in which they're at, Zendesk ITSM is an excellent option for you.
Through powerful insights and analytics, Zendesk ITSM gives you the ability to identify critical trends and patterns that can help your business.
Key Features:
A ticketing system that lets you receive IT support requests and track issues creates reports and automates tasks.
Messaging & live chat provide the quickest and simplest way for customers to get in touch.
A user interface that's easy to navigate and simple to understand is provided – making it an excellent choice for any company.
Community forums are included to allow your customers quick, easy access to amazing support content.
An answer bot helps your customers find the information they need without having to manually reach out.
Pricing:
There are three pricing plans for you to choose from:
Team: $49 per agent/month billed annually
Growth: $79 per agent/month billed annually
Professional: $99 per agent/month billed annually
8. BMC Remedy.
Best for reducing IT costs.
BMC Remedy is a next-gen service management solution that provides a complete ITSM solution to help you manage operations and increase efficiency.
The BMC Remedy suite gives you the power to reduce costs and transform IT, giving your employees deeper visibility into their work and better tools for doing it.
Using a sophisticated, people-centric tool that optimizes IT, BMC Remedy can help you improve your IT services' overall performance and reliability.
Artificial intelligence (AI) and machine learning are at the heart of this platform. You can expect BMC Remedy to provide many benefits and features.
With more than 6,500 IT organizations that trust and use BMC's ITSM suite, you can be assured that BMC Remedy will deliver the right results.
Key Features:
Combine all IT service support functions into a single workspace.
Gain direct insight into business goals by viewing the impact of IT on business service levels.
Create and integrate self-service portals, knowledge bases, and chatbots to provide your customers with a better user experience.
Lifecycle management helps reduce complexity, control costs, and increase agility.
Collaborate effectively with third-party providers to diagnose and resolve issues quickly.
Pricing:
You'll have to request the pricing to discover BMC Remedy's available packages.
Other ITSM products not mentioned above include Microsoft Managed Desktop and ITIL processes, ServiceDesk Plus, SysAid, Jira, ServiceNow, and ManageEngine.
What are ITSM Tools?
ITSM Tools play a significant role in all IT organizations.
They provide the means for businesses to support their customers – from incident resolution, change management, problem management, and anything in between can be handled using the right ITSM tools.
Information technology is a vast area that provides solutions to different areas of business, providing more flexibility within an organization's toolset.
It used to be that you had only a couple of options for the service catalog provided by ITSM tools.
Still, over recent years the range has grown considerably, so now you have plenty of opportunities for choosing what best suits your business needs.
This is excellent news for those burned in the past by solution providers with limited offerings and/or high prices, as now, more than ever before, ITSM is a buyer's market.
Top Features of ITSM Tools
Let's now look at some of the key features you should look for when looking at ITSM Tools.
Asset management
IT asset management helps you keep track of all hardware and software within your business.
In simple terms, this comprises all things that make up your business technology, including servers, desktops, mobile devices, and more.
The primary purpose of asset management is to improve awareness of IT assets. This ensures you get the proper notifications to know what you have and understand its value over time.
It also allows you to manage your assets effectively, providing information about the hardware (such as warranty or warranty status), software (licensing information), and even installation history.
Configuration Management
A CMDB (Configuration Management Database) is essentially a depository of all known information about your business's hardware and software elements.
The primary purposes are to improve efficiency, track devices, and software licenses, and ensure that all the information is easily accessible.
When done correctly, the CMDB provides you with critical information about all aspects of your IT assets.
Service management tools
Service management software helps you answer the question, "What is my customer experience like?"
This helps IT organizations improve their ability to address issues, identify problems, and quickly make better use of support staff.
Service management solutions are typically made up of various tools used for monitoring services in all locations across your organization.
Knowledge management
Providing continual service improvement is not easy, but you can make this easier by embedding knowledge management practices in your IT organization.
ITSM knowledge management software is designed to help organizations share best practices and lessons learned throughout the business.
This means that staff can look at what has happened before and quickly resolve issues without contacting external parties for assistance when an incident occurs.
Desktop management tools
The primary purpose of desktop management tools is to keep track of all desktops across your entire business, including managing updates, locating hardware, installing applications, and securing desktops.
Any ITSM tool for desktops must integrate with other ITSM tools to easily manage these processes from a single console.
This will reduce complexity while also helping improve overall efficiency.
Mobile device management tools
With the increasing number of employees bringing in their own devices to the workplace, Mobile Device Management (MDM) is becoming increasingly important.
Being able to manage mobile devices easily allows IT organizations to make sure that they are in control while at the same time allowing users access to all of their applications and data.
ITSM tools for MDM also help you keep track of status messages, location information, and running processes on these devices so that support teams can quickly respond when required.
As with desktop management, any ITSM solution should integrate with other related products where possible making it easy for you to manage your entire technology portfolio from a single console.
Incident management
Many IT service management tools have been designed to include incident management tools and capabilities.
Incident management is a crucial feature of ITSM solutions as it provides the ability for you to identify and resolve problems as soon as they occur.
This ensures that users can continue working without interruption while also helping your business stay compliant with statutory obligations.
The right IT service desk solution should allow you to prioritize incidents based on impact so that the most critical issues are resolved first.
Self-service portal
The right IT service management software should also give users access to a self-service portal that will allow them to resolve some issues without the need to contact the service desk.
A self-service portal will often allow users to update their own profiles, reset passwords, and access all of the information they need to do their job successfully.
This functionality typically requires integration with your HR software to make changes quickly.
Managed service providers
If you provide managed services to your clients, any ITSM solution must have the ability to integrate with MSP software.
This allows service desk agents to make quick changes about which company a client belongs to – all without losing information or causing problems.
This integration will typically allow you to quickly identify when a client is due for a review and automate many of these processes so that they are completed in a timely fashion.
Devops considerations
While DevOps might not directly affect the design of your ITSM tools, it should be considered during the development process.
DevOps is all about ensuring that software testing can be completed more quickly while also ensuring that your developers can work closely with the support team.
This ensures that everyone is aware of any problems that may arise as soon as they are identified and helps fix these issues quickly.
Key terminology to know about ITSM Tools
Let's have a look at some of the most common ITSM terms so that you can better understand what these tools are capable of.
Routing: This is the process of automatically assigning an incident to a specific service desk agent. This should be completed as soon as possible to prioritize incidents by business criticality.
SaaS: Software as a service is software hosted by a third party and delivered over the Internet.
Metrics: These statistics show how well your IT service management solution is performing. Good metrics will help you identify problems quickly and keep track of your entire service desk.
Endpoint: An endpoint is a user's device, including their desktop, laptop, or mobile phone. These items can be managed by an IT service management solution and should be monitored closely for any suspicious status changes.
Enterprise solutions
Enterprise service management is becoming increasingly important as organizations look to streamline their IT operations and provide a single source of truth for managing all aspects of this.
As with many enterprise solutions, an integrated approach will often be required so that you can have a clear view of your entire business from a single console.
This gives you the ability to identify new issues before they become serious problems.
Wrap Up
The importance of customer satisfaction can never be overstated. Customer satisfaction is the only difference that will eventually make your business stand out from your competitors.
An ITSM tool should therefore have the ability to track their satisfaction levels so you can quickly identify areas where improvements are required.
ITSM software like this often allows you to track specific incidents and follow these through until they're resolved to ensure that users aren't forced to keep asking when they need something or even wait for assistance unnecessarily.
Have you ever used an ITSM tool before?
Which one do you recommend?
Let me know in the comments below.
Further reading on AdamEnfroy.com: Here's my favorite list of business intelligence tools that one can use to simplify their business processes.
In addition, check out these data visualization tools if you want to make your BI reporting even more effective.
Disclosure: I may receive affiliate compensation for some of the links below at no cost to you if you decide to purchase a paid plan. You can read our affiliate disclosure in our privacy policy. This site is not intending to provide financial advice. This is for entertainment only.