7 Best Kanban Software: Tools to Use in 2023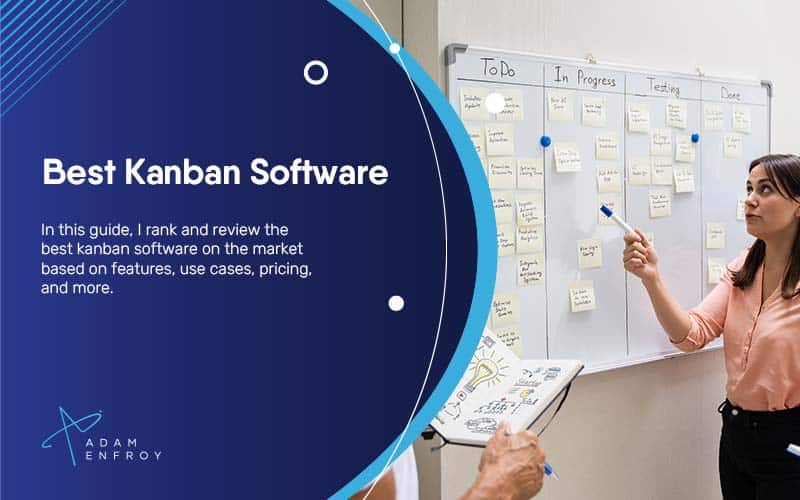 The term project management isn't one that conjures up images of fun and excitement in the workplace.
At the same time, many understand that without the right project management in place, there is not much that can be accomplished in a business situation.
In fact, only 35% of project managers interviewed in 2020 said that they were somewhat satisfied with their system in place at that time – a statistic that leaves something to be desired.
Kanban was created as a project management technique that helps keep projects on track, and within budget.
In fact, it's good to know that in recent years, this process has been adopted worldwide by organizations of all types to help them manage their work more efficiently and with better results.
Without the right Kanban project management tool, people will feel lost, demotivated and start to lose focus – and that is when things start going downhill quickly.
The only problem with implementing a Kanban solution to your workflow is that there's a ton of options for you to choose from, which in my opinion, makes it harder to settle on the best one for you.
Whether your company runs on sales management software, contact management software or any other type of software, you will find that the Kanban methodology will make your process run better – if implemented correctly.
With so many options available to choose from, we decided to do some research and came up with this list of the 7 best kanban software tools for 2021 based on real user reviews, usability, and features offered – let's get right into it.
Disclaimer: I may receive compensation for some of the links below at no cost to you. However, these are the best tools I have used and tested that I believe are most effective. You can read our full affiliate disclosure in our privacy policy.
Looking to compare some project management software tools?
What is the Best Kanban Software?
Here are my top picks for the best Kanban software.
Best for managing resources and collaborating with your team
Zoho Projects is a cloud-based project management software that helps organizations plan, track, and collaborate on projects.
Zoho Projects streamlines all the workflow activities for an organization such as planning projects, assigning tasks to members in real-time, and track who has completed what task.
The best part? It can be accessed from anywhere – on desktop or mobile – so you can stay home without missing a beat.
The company's goal is to make it easier for users to stay productive from anywhere in the world with an intuitive interface. With Zoho Projects, companies can get work done on time.
Features
With Zoho Projects, you'll be able to break your projects down into simpler work items. These work items can be assigned to members of your team and you'll be able to see their progress.
You can set up checklists so that everyone knows exactly what to do to complete the project.
Here are the key features to look out for:
You can track bugs and issues to make sure they're fixed quickly so that your team can move on with their work.
Collaborate on documents and access them from any computer anywhere in the world. This means you'll be able to focus more on your work without worrying about losing track of what's being said by your team members.
With Zoho Projects, if another member in your team is working on a particular project with you, you'll be able to see what's being done and by whom.
You'll be able to see the status of every project in real-time so that you know what stage your team is on.
Pricing
With 3 different plans, you'll be able to choose the one that suits your needs.
Free Plan:
Up to 3 user
Features:

2 Projects
Attach files up to 10MB
Premium: $5/user/month
Up to 50 users
(10-DAY TRIAL available)
Features:

$3/client user/month
Unlimited projects
20 Project Templates
Attach files up to 100GB
Enterprise: $10/user/month
No upper limit
(10-DAY TRIAL available)
Features:

$3/client user/month
Unlimited projects
30 Project Templates
Attach files up to 120GB
Get started with Zoho Projects.
Best for building workflows on one platform
Monday.com is a software company that creates and sells project management tools for teams of all sizes.
The company's mission is to give people the power to work without limits, so they can build, run, and scale their dream workflows on one platform with ease.
Monday.com provides an easy-to-use interface where employees can plan, track and deliver their team's best work in real-time from anywhere in the world. This can be done with just a few clicks of their mouse or swipes of their finger on tablets or smartphones.
Features
Monday.com is a Kanban project management system that focuses on what matters without getting wrapped up in an excess of details.
Here are the key features to look out for:
Improve your time management skills by automating repetitive tasks so you can spend more time focusing on your projects and important deadlines.
Improve customer satisfaction by having a single version of the truth that provides up-to-the-minute visibility into project status, upcoming milestones, and other key information.
Visualize your work in different views to see what's happening in the moment and anything that's coming right up, understand your team's backlog and how you can change the course of action if needed.
As a result, you'll feel more confident because you won't have to worry about forgetting anything.
Pricing
With 5 different packages to choose from, Monday.com offers you the freedom and flexibility to pick the best package for your needs.
Individual Package: Free Forever
Basic Package: $8 / seat / month
Standard Package: $10 / seat / month
Pro Package: $16 / seat / month
Enterprise Package: Contact Monday.com for more information.
Get started with Monday.com.
Best for creating a custom workflow based on your specific needs
Asana is the world's leading team productivity software. Asana helps teams organize their work, connect and collaborate better, and get things done without wasting time on busy (yet unproductive) work.
With Asana, you can create a project from scratch or import your existing projects from other tools such as JIRA, Basecamp, or Trello.
Once your project is set up in Asana, you can break it down into tasks with due dates and assign them to specific members of your team. You'll always know who's working on what task at any given time and how close they are to completing it.
This is a project management software created specifically for teamwork: from small stuff to big picture. The company's engineers are on a mission to make sure people can work together more effectively to solve the right problems.
If you want to see an in-depth comparison of Asana and Monday.com take a look at my Asana vs Monday post.
Features
Stay on top of your work and never miss a deadline. With Asana, you can organize your team's work into projects and tasks, giving you multiple views including swimlanes.
Share files, notes, or messages directly from Asana to keep you informed without having to leave the interface.
Here are the key features to look out for:
Less time wasted on repetitive tasks: You can create custom checklists, follow specific steps, or add your questions as a task progresses.
A single place to keep track of what everyone is working on: No more emailing back and forth about which project team members are assigned to or where you left off in a document.
With Asana, you can see your team's progress and get a bird' eye view of what needs to be done.
With Asana, you can set up a task to be completed more than once, add members to a project at any time and drop files into your tasks to make sure nothing gets lost in the email abyss.
Pricing
Basic: $0
Free forever
Perfect for individuals or teams just getting started with project management.
Premium: $13.49 per user per month
or $10.99 per user, per month billed annually)
For teams that need to create project plans with confidence.
Business: $30.49 per user per month
(or $24.99 per user, per month, billed annually)
For teams and companies that need to manage work across different initiatives.
Best Kanban board for having all work apps in one place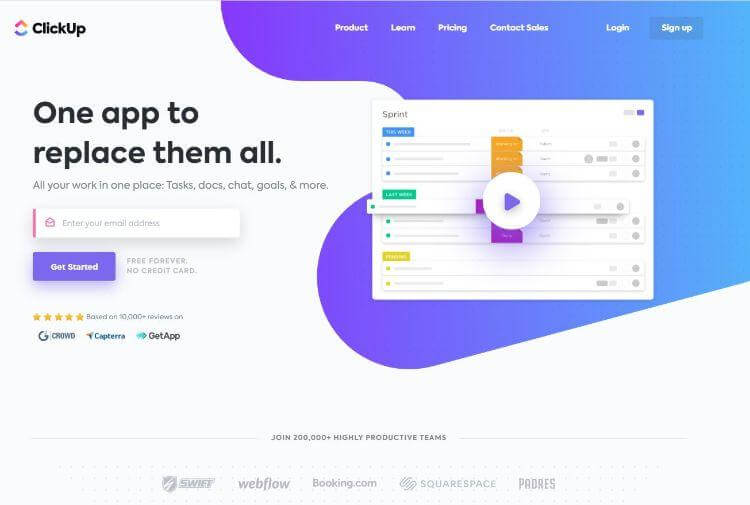 ClickUp is a web-based project management software that allows teams to collaborate in one place.
The company prioritizes simplicity, making it easy for anyone to organize their work and communicate with team members.
The app has been designed specifically for modern, remote teams who value collaborative teamwork.
It also provides features like time tracking, resource management, comments & chat which allow users to share what they're working on and stay in touch without the need for email or phone calls.
ClickUp's goal is to provide you with everything you need so you can focus on what matters: your work.
Features
Here are the key features to look out for:
Easily find anything you need, no matter where it lives on your systems, so you can focus on getting work done.
Organize your tasks, projects, and files into a customized complex or basic kanban board view to keep you and the team on track and in sync.
Integrate other tools for even more functionality by clicking one button – No need to switch between different software or apps.
Manage your entire company in a single view so you can see what everyone is doing without jumping between different software or apps.
Pricing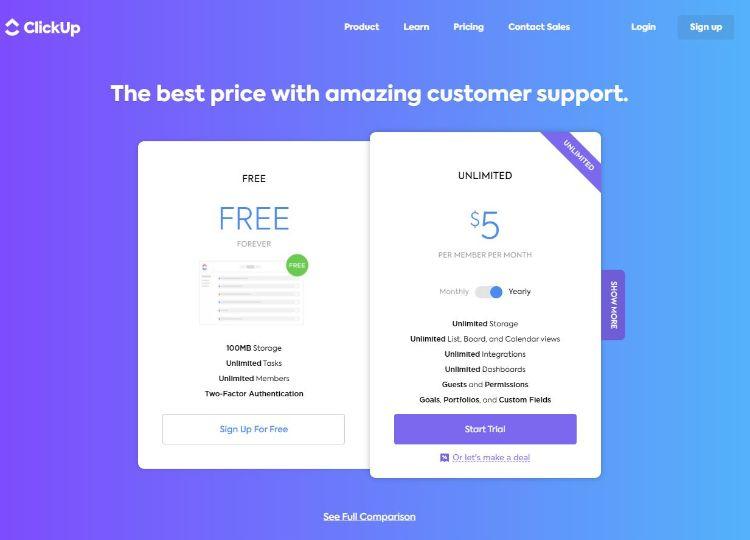 Offering two types of packages, ClickUp is a highly customizable platform that caters to businesses of all sizes and industries.
Free Forever Package
This includes 100MB of storage, unlimited tasks, unlimited members, and two-factor authentication.
Unlimited Package: $5 per month
With the Unlimited Package, you can enjoy viewing multiple Kanban boards and calendars in your account.
With this package for just $5 per month, you won't have any worries about running low or maxing out your quota because they offer unlimited storage, unlimited dashboards, unlimited integrations as well as advanced features such as goals, portfolios, and custom fields.
Get started with ClickUp.
Best project management tool for streamlining your processes and gaining visibility
Wrike is the world's most powerful work management platform. With Wrike, you can power your modern agile teams and enterprise and accomplish more than ever before.
Their flexible, collaborative solution that integrates with existing systems enables everyone to stay on top of work at a global scale – and crush their goals this year and beyond.
With Wrike's simple yet flexible interface, your team can organize their projects in one place and collaborate effectively to achieve success on all of their goals.
Whether you need help managing tasks or keeping track of time spent on specific tasks, Wrike has the tools to get the job done right.
In addition, with its powerful automation features like repeatable schedules and integrations with other apps such as Slack, Trello, Jira, and Google Drive/Docs – it's never been easier for your team to be productive while working together.
Features
If you want to understand what needs to be done – before you start working – then Wrike is the one to try out. It's as simple as that.
The process breakdown feature on Wrike makes sure that the entire project duration's flow and status are visible at all times. With just a glance, you can make informed decisions about your projects moving forward.
Here are the key features to look out for:
The project manager can manage multiple projects with increased control over each project to meet deadlines and get work done faster.
You'll be able to launch your product on time because it will no longer be a last-minute rush to make sure everything is complete.
Reduce stress and burnout for your team to keep them working at peak performance.
Ensure that no missing parts are left out from a project by having all stakeholders involved at the right moments
Pricing
With 4 different packages for you to choose from, Wrike has the right pricing plan for your business.
Free: For teams getting started
Professional: $9.80 per user/month

For fast-growing teams, this plan offers project planning and team collaboration

Business: $24.80 per user/month

For all teams across an organization, this plan offers a customized platform for any team or use case

Enterprise: Get in touch to learn more about this

For large teams, this plan offers enterprise-grade security and scalability
Get started with Wrike.
Best for enterprise-class features in one economical project management solution
Celoxis is the all-in-one Kanban project management software that will simplify your life.
With Celoxis, you can manage every part of your work life – from project requests to deadlines and everything in between. You'll never be stressed out again with their meticulous engineering, beautiful user interface, and unparalleled simplicity.
Celoxis is an all-in-one system when it comes to project management tools. With Celoxis, you can get enterprise features, dynamic dashboards, and tons of customizations in one economical solution.
Track requests from various sources and sort them based on your KPIs while building a dynamic plan that automatically adjusts to changing real-world conditions.
Features
With Celoxis, you'll be able to gather information about your projects with their fully customizable portfolio dashboards.
Here are the key features to look out for:
Easily allocate resources to tasks based on availability, demand, and skills so that you can complete projects faster and maximize profits.
Widen visibility to stakeholders by sharing updates and letting them ask questions via their preferred communication channel.
Ensure that a project that's a work in progress is visible at all times for better decision-making and governance.
Get real-time visibility into budget spends, receivables, and profitability across projects and portfolios so that you can make smart and strategic business decisions.
Pricing
These are the 2 packages available for you to choose from:
Cloud: $22.50 Per User-Month (Billed Yearly)
This package offers:
Free Support
Free clients & virtual users
2GB file space per user
There are also various options when it comes to the billing cycle for this package. These include:
Billed Monthly
Billed Yearly
Billed 2-Yearly
Billed 3-Yearly
On-Premise: $450 Per User (Billed Once)
This package offers:
Free support for 1 year
Free clients & virtual users
Includes all upgrades
Get started with Celoxis.
7. Jira.
Best Kanban tool for allowing your software team to plan their work, track where they're at, and finally release software
Jira Software is a powerful agile Kanban project management tool used by the world's best software teams. Jira Software was designed to make it easy for your team to plan, track and release great software every day.
With high-fidelity work tracking and real-time data visualizations, Jira helps you understand what needs to be done, who's doing it now, and how they're progressing – so you can make the right decisions with confidence, knowing the information you have is always up-to-date.
Gain real-time insight into team activity and improve collaboration with Jira's boards, sprints, Kanban views, and more.
Plus, Jira comes with hundreds of pre-built integrations that enable you to connect to your existing tools. With everything you need to plan and track software projects in one place, Jira Software is the best agile project management tool available.
Features
With Jira, you'll be able to track progress against project metrics to better understand the health of your work.
Here are the key features to look out for:
Keep your team focused on delivering increasing and incremental value and at the right speed
Communicate plans with stakeholders and use the roadmap software portion of Jira to connect to your team's workflow in a few clicks.
Save time with automated tasks and processes in Jira Software Cloud so that you can focus on the work that matters most.
Track progress with a wide range of flexible charts and built-in reports, designed to be highly intuitive for everyone – from PMs to business users.
Pricing
With 4 different plans to choose from, Jira will be able to fit your budget and needs.
Free: Always free for 10 users
Standard: $7 per user
Premium: $14 per user
Enterprise: Billed annually. Enterprise plan pricing is available when you enter 801 or more users above
There are monthly or annual payment cycles available for all plans (apart from the free one).
What is Kanban Software?
According to the Kanban method software development process, prioritization of work is crucial when it comes to the delivery of items.
The goal of this method is to create more continuous flow within an organization. This means that it should be easy for a work item to move from one stage to another and tasks shouldn't get stuck in any given phase.
The good thing about this method is that it's easy to understand so even those who aren't very familiar with project management can follow its steps easily.
That being said, not all organizations can afford to use kanban software to manage their projects because this type of kanban system can be quite expensive depending on the features you need and which plan you choose.
To do well using Kanban software, you'll have to put time and effort into developing your workflow process. This will ensure that you're able to plan your work well and assign the right tasks for each team member.
In addition, when choosing a kanban tool, you need to understand that some features can be more important than others depending on what your organizational needs.
For example, a tool that's meant for managing projects might not have a customer relationship management solution included. This is why it's best if you compare different kanban software solutions so you'll be able to find the one that has exactly what you need and nothing more.
There are other things to think about as well such as price tag, scalability (if your company continues to grow), personal preferences, add-ons, ease of use, and the learning curve.
A good kanban tool should allow users to manage their entire workflow and all its dependencies without any issues. It should also include all the essential features to do well in keeping track of work items as they move through each stage of a project.
Kanban software FAQ.
What's the best kanban software?
To do well using Kanban software, you'll need to know exactly what your organization needs. Since there are so many different options available on the market, it's easy for work items to get stuck and become bottlenecks in the wrong phase or for them not to be completed efficiently.
You'll have a better chance of succeeding if you base your decision on what features you need ahead of any other factor.
This is why it's best to connect with other people who use kanban software already or reach out to companies that offer this service and see which one would make more sense based on your specific requirements.
Should I customize my own kanban software?
If you're looking for something simple but at the same time flexible so that you can adapt to a growing company, then it might be time to take your kanban software development into your own hands.
If you decide to create customized kanban software, you'll have more control over the final results. However, there are some things you need to keep in mind if you want this process to go smoothly since this isn't an easy task at all.
Not only do you typically need technical knowledge but also design skills as well – so this is something that shouldn't be rushed or done by someone who's just getting started with programming languages and tools.
Is Kanban a software?
Not exactly. It's more of a process that uses certain tools to help make the most of your resources.
In other words, it's not just one application but rather a methodology that works together to complement the way that you work and improve the processes you currently use.
What is Kanban program used in combination with?
Kanban can be used to manage different kinds of projects, not just software development. It's sometimes used in conjunction with other methods like Scrum, XP, and Lean.
The goal is to help the project succeed by making sure that everyone understands what's allowed within their roles and responsibilities.
Some things are easy to do while others take more effort so it's important for team members to know where they stand because if you don't communicate well, this could negatively affect your results.
Is Kanban the same as Jira?
Jira is a tool that's often used with Kanban, but they're not the same thing.
Jira is often considered to be one of the top software development tools and it works great for managing different tasks within projects while Kanban helps keep track of work items as they progress through individual stages.
Other features to consider in a Kanban software.
Some other features to consider when it comes to choosing the right Kanban software for you are the following:
Includes/integrates efficiently with a CRM
Drag-and-drop features are available
API integration to make it easier to access the right data
Mobile apps to access data on the go
Access to the right cumulative flow diagram to understand where a project is at
Ways to automate and move tasks to the right category at different stages
When it comes to software development teams, they often rely on items such as Gantt charts and workflow management in order not to burnout with the many items that need to be delivered.
Using some of these best kanban tools is a great way to ensure that nothing gets left behind – in fact, a calendar view is often employed to keep everyone aware of any deadlines that are coming up.
WIP limits are also often set in order to help with the simultaneous tasks that are happening and to limit work on items that are not a high priority. At the end of the day, a team's workspace needs to be kept as focused as possible.
Keep in mind that being organized often means creating subtasks to break down the main ones in manageable chunks as well as to decrease cycle time as needed.
Finally, creating clear kanban cards and task cards that keep all stakeholders organized is a great way to decrease lead time – this applies to both small teams and to bigger ones.
Wrap Up.
As you can see, Kanban software is a popular option that's used by many organizations today. It's easy to use and works well when it comes to making the most of your available resources.
It helps keep track of work items as they move through different stages and is also great for helping your applications and projects succeed.
Here are my choices for the Best Kanban Software:
Zoho Projects: Best for managing resources and collaborating with your team
Monday.com: Best for building workflows on one platform
Asana: Best for creating a custom workflow based on your specific needs
By using the best Kanban-based software in your organization, you'll be able to see the project management process in a whole new way.
This might help you become more effective and efficient with your overall workflow, which means that you achieve better results with each project that comes your way.
Disclosure: I may receive affiliate compensation for some of the links below at no cost to you if you decide to purchase a paid plan. You can read our affiliate disclosure in our privacy policy. This site is not intending to provide financial advice. This is for entertainment only.