7 Best Knowledge Management Software of 2023 (Ultimate Guide)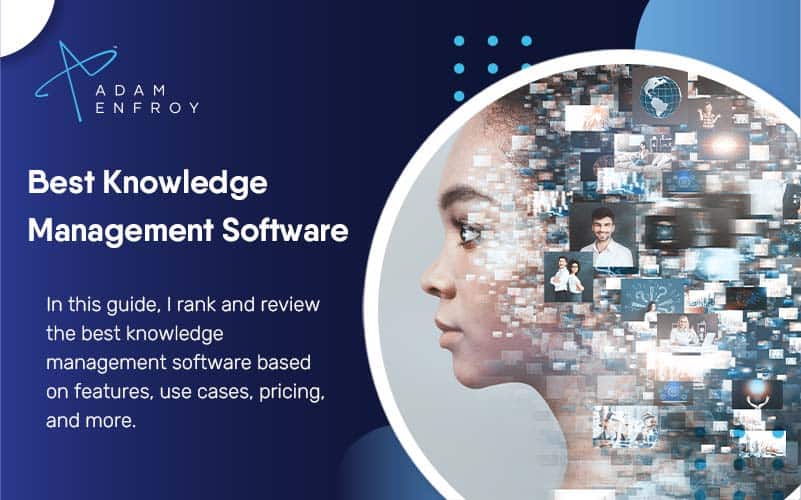 Knowledge management is the process of ensuring that the right people (either employees or clients) have access to the right knowledge, at the right time.
In a conducted survey, 91% of customers said that an online knowledge base would be something that they would use if it was available, giving them the answers they were looking for.
It's safe to say that using the right online software to grow your business is crucial to success. If the right stakeholders have the access to the right data, things tend to work well within a company. If they don't, things might go downhill really fast.
The problem is that it's hard to keep track of your employees' knowledge, let alone harness it in a way that makes sense. There are lots of knowledge management solutions out there, but most aren't great.
I've spent a lot of time researching them and we've found top-notch intuitive knowledge management software that can help you manage ideas, processes, and everything in between, more effectively at work.
The best thing about this software is that they're easy to use – even if you don't have much experience with software like this before.
The companies make it simple to organize information on any topic or project so everyone involved has easy access to what they need when they need it.
Let's get right into it.
What is the Best Knowledge Management Software?
Here are my top picks for the best knowledge management software.
Best for ensuring that customers get the attention they deserve – effortlessly.
Freshdesk is a customer service software that helps companies empower their agents to deliver a world-class customer experience.
Freshdesk's cloud-based Customer Service Software, designed for speed and simplicity, allows businesses of all sizes to provide the best care possible across every channel.
This product comes with many features that can help you shorten your support times while at the same time offer your customers faster resolutions.
Key Features
By speeding up the delivery of exceptional customer service, customers can see service productivity gains within 3 months.
Freshdesk also makes agents more aware of their customers' needs and enables them to offer the best option automatically so that customers get what they need all the time.
Companies will also be able to reach out to Freshdesk at any time through real-time chat – 24/7 as needed. Customer support is available 365 days a year via Freshdesk Chat.
Pricing
A 21-day free trial is available so you can test out the product before you buy it. They also have a free plan that helps small businesses get started with knowledge management systems. Once the trial is over, you can select one of their available pricing plans:
Growth: $15 per agent per month (billed annually)
Pro: $49 per agent per month (billed annually)
Enterprise: $79 per agent per month (billed annually)
Get started with Freshdesk.
Best for providing the customer with knowledge on multiple channels.
Zoho Desk is a knowledge management solution designed to provide clients and agents with the right information at the right time.
It is used by more than 50,000 organizations across the world to enhance agent productivity, increase client happiness, and foster loyalty. It optimizes your workflow and brings the power of artificial intelligence to help you answer customer inquiries faster.
On top of that, Zoho Desk is available on mobile and desktop for maximum productivity. It's a great option if you're looking for software that can give your customers support across multiple channels.
With the world's first context-aware help desk, you can allow your customers to self-help themselves and then turn to you if needed – all within a single contact point.
Key Features
Deliver dependable, high-quality assistance to your consumers, regardless of the goods or services you provide.
Accelerate the responsiveness of your customer care team to deliver assistance at any time.
Maintain the ability to improve customer satisfaction and ticket resolution time.
Offer an extensive array of customization options so you can delight your consumers with the specific help they require.
Give agents access to advanced reporting features that display historical data about tickets for more thorough information gathering, analysis, and problem-solving abilities.
Pricing
With a free trial on any of their plans for 15 days, you can check out how Zoho Desk can help your team.
There is also a free plan for up to 3 agents that you can work with. After that, there are 3 plans that you can go for, based on your needs:
Standard: $14 per month per agent (billed yearly)
Professional: $24 per month per agent (billed yearly)
Enterprise: $40 per month per agent (billed yearly)
Best for transforming good conversations into great experiences.
ZenDesk's mission is to make clients ecstatic by providing them with personalized, conversational interactions in any channel they choose.
Zendesk offers sophisticated, seamless support that flows across channels, allowing companies to serve their customers wherever they are online.
Moreover, it gives agents the power to put customers at the center of their support, which leads to faster resolutions and happier customers. This makes Zendesk a great option if you're looking for software that can help you have better interactions with your clients.
Key Features
Treat everyone as an individual by delivering contextual messages that are optimized for every interaction.
Use advanced reporting to better understand what's happening on your support team and within your customer base.
Create custom workflows so you can automate common scenarios based on response times, agent performance, or other triggers.
The Zendesk developer platform provides your developers with everything they need to create bespoke experiences for your mobile, web, and social apps.
Pricing
Zendesk has a large variety of pricing and plans to cater to different needs.
When it comes to their plans, they have something that can benefit many different types of businesses. Here are the three packages on offer:
Sell Team: $19 per agent per month (billed annually)
Sell Growth: $55 per agent per month (billed annually)
Sell Professional: $115 per agent per month (billed annually)
However, there are also plans for enterprises that start from $150 per agent per month, billed annually.
If you want to use Zendesk for sales, they also have plans to cater to that. These start from as little as $19 per month (billed annually) for each sales agent.
4. HelpCrunch.
Best for an all-in-one knowledge management solution platform.
HelpCrunch helps you scale your support with the appropriate agents for each client while also monitoring real-time analytics on their interactions. This helps tailor future responses using HelpCrunch's live chat.
You may boost website conversion rates by gathering important information from visitors with surveys or polls. By doing so, you'll be able to acquire and keep customers more easily than before.
You can also use HelpCrunch for sales to get rid of the tedious lead generation and management processes by using their automation capabilities that allow you to consolidate various data sources including customer data, contact information, and activities performed.
While there is great lead generation software out there on the market, HelpCrunch can help with that aspect by using the software itself.
Use the appropriate information to group consumers into categories based on their responses with a single click.
Key Features
Automate your sales process with their smart automation knowledge management tools, and increase the number of leads you convert by adding call-to-action buttons to emails.
Use auto messages and forms to automatically convert visitors into prospects, connect with pre-qualified leads immediately, and automate email follow-ups to close more deals faster.
At every stage of your funnel, use beautiful newsletters, targeted deal promotions, and automated behavioral-based campaigns to boost conversions.
Through chat, email, and a self-service knowledge base that is accessible 24 hours a day, seven days a week, assist both your customers and potential ones while offering a customer self-service option.
Pricing
With different payments options (including the possibility of choosing between having live chat, email support, or both), HelpCrunch offers 3 different pricing options:
Basic: $12 per month per member (billed annually)
Pro: $20 per month per member (billed annually)
Unlimited: $396 per month per member (billed annually)
5. Intercom.
Best for having a business messenger both businesses and customers will love.
Intercom is the all-in-one customer knowledge management platform for companies of any size. Intercom lets you communicate with your customers in a personal way while driving business growth with measurable results.
Intercom's customer communication platform is built on top of a powerful analytics engine that connects marketers, salespeople, product managers, and support staff more effectively with their customers.
With its messaging, live chat, and help desk tools suite, Intercom provides an end-to-end service that combines CRM software, marketing automation, and sales enablement into one complete package.
Key Features
Unique experiences are an excellent way to create positive word-of-mouth about your brand, and with Tour Builder, you can create personalized itineraries for each of your customers.
With their tool, you may design customized tours that cater to the onboarding process of new users and help them discover what they want.
Intercom lets you define custom triggers that'll take specific actions based on the type of message sent, who sent it, and when it was sent.
You can get more done by using your knowledge to answer repetitive questions. The majority of those recurring inquiries are handled automatically by their bots, so you may put your expertise to better use in your business.
Pricing
While Intercom does state that it offers 3 different pricing plans (as well as mentioning the different features that come with such plans), they do not show their prices directly on their site.
You will have to schedule a demo to get to know their prices.
6. Helpjuice.
Best for scaling customer support and helping your team succeed.
Helpjuice is a knowledge base that makes customer support fast, easy and scalable. With Helpjuice, your team can collaborate better with the help of their powerful search engine.
Plus, you can easily boost customer engagement with helpdesk software for creating a knowledge base, managing conversations, and helping customers answer frequently asked questions you define.
Helpjuice comes with a public knowledge base, where customers can find information about the product they're using. It's great as a SaaS help desk software used to deal with the most common business inquiries.
Also, employees and agents have access to their customer self-service portal, where they can track all their interactions and connect better with customers.
Key Features
Use the Helpjuice Analytics to figure out which knowledge base articles require improvement so that you can create a knowledge base that engages your customers.
When you have the power to reach out to every single customer in real-time, you're able to create stronger relationships and your customer's experience with your brand.
With multi-language support for your knowledge base, you can assist your growing worldwide network of clients in their knowledge.
Helpjuice comes with a set of design templates so you can create beautiful internal and external knowledge bases. While they do offer multiple options, these templates are easy to use and compatible with the different file types you may wish to upload.
Pricing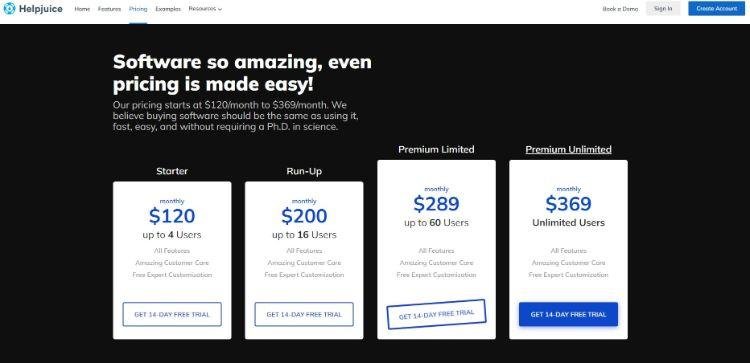 With plans that help when scaling your organization, HelpJuice is great if you want to increase in users as time goes by. Also, Helpjuice ensures that your knowledge management system doesn't fail you when you scale.
They offer 4 different price plans:
Starter $120 per month – up to 4 users
Run-Up: $120 per month – up to 16 users
Premium Limited: $120 per month – up to 60 users
Premium Unlimited: $369 per month – unlimited users
There is also a 14-day trial for each of the plans.
7. Confluence.
Best for ensuring that your customer service team accomplishes more together.
Confluence is a team collaboration tool that helps you share ideas and make connections with customers, employees, and partners. With Confluence, you can create and centralize a place where your team can work on projects and get them done more effectively.
This product, brought to you by the world-known Atlassian (also known for their Jira service management), features bookmarks, comments, task boards, and much more.
Confluence knowledge base software has a great feature in its ability to use spaces – public or private areas for each of your brands or departments.
With Confluence Spaces you can easily create a workspace where your team can share information about product updates, company announcements, and much more.
It also comes with an integrated wiki for internal experts to answer your team's questions.
Key Features
Encourage all teams, from marketing to engineering, to communicate news and promote company culture at all levels so that your company is more productive.
The Confluence Activity Stream alerts you of what's happening in real-time – whenever someone edits a page, adds to the discussion, or publishes new content. This means that your team is more efficient and keeps the conversation going.
Confluence lets you use snippets to save time when posting frequently used pieces of content such as legal disclaimers or marketing links. Just add them to a snippet library and get lightning-fast access to helpful information whenever you need it.
Confluence helps with document management by automatically indexing your important docs and uses an intuitive business knowledge management software dashboard for searching them.
Pricing
With pricing that changes based on the number of users, storage, and how data is stored, Confluence is one of the most affordable options out there.
Their always-free option allows for up to 10 users to collaborate and share files on the cloud.
If you need more storage, users, or features, their pricing plans are as follows:
Standard: $500 per year (for the 1-10 user tier).
Premium: $1000 per year(for the 1-10 user tier).
Enterprise: Contact them to get a custom quote.
As we mentioned, pricing depends on the number of users as well as the storage type. They do offer a data center option if an organization requires a self-managed solution.
What is Knowledge Management Software?
A knowledge management software (KMS) is a system that allows employees (both new and veteran) to find, share and store information in a user-friendly way with the aim of improving efficiency.
While some KMS systems are focused on software engineering alone, others extend into the realm of general knowledge management or enterprise content management (ECM).
The main benefits of knowledge management lie in the fact that such systems allow employees to share best practices, training materials, and common questions with other teams so that they don't have to figure it out by themselves.
That's why KMS has become an integral part of many organizations' strategies for success.
A knowledge-sharing software allows you to generate more ideas by allowing employees to upload, store and share information easily with their colleagues. In fact, one of the main benefits is productivity gained through improved communication.
This all happens since employees can access files faster.
The first step for implementing a KMS in your company is to understand exactly what problems you are trying to solve.
Benefits Of Knowledge Management Software
Customer interactions are one of the most important aspects to consider in any business. Whether it's on social media, forums, or even when someone finds your website through SEO, customers expect to get fast answers to their questions.
Gone are the days when customers dialed into a call center to ask questions – nowadays people want answers as soon as the questions form in their minds.
The benefits of a KMS depend on the type of business – this is why I'd like to focus on the main questions to ask before making a final KMS choice.
Questions to ask before choosing a KMS
The following are questions that you should ask yourself before choosing a KMS.
What type of organization are we a part of?
Depending on the size and structure of your business, you might want to consider implementing a KMS that supports collaboration across departments. By doing so, you can share information with different teams and have better inter-company knowledge sharing.
Do we need a platform that focuses on software development?
Some organizations might be interested in a KMS that only supports the engineering department. This means it is easier to maintain all of your information in one place, but it doesn't allow any other type of collaboration outside of engineering.
Who are our competitors?
Consider which companies are your main competitors and what kind of KMS they use as their internal knowledge base.
This will help you determine if something is missing within your organization or if another company has already implemented an effective solution for your industry.
Who are our customers?
If you sell products or services to other businesses, there's no point in choosing products that serve consumers since they likely won't work for you. What works better is using an enterprise-grade solution that provides features such as company directories and knowledge sharing with managers and employees.
Customer support tickets are a good example of how KM software can benefit your company.
The process of creating tickets, routing them to relevant departments, and following up with the customer is time-consuming for employees.
With an effective knowledge management system in place, multiple business processes are automated by using the right API along with custom fields so every conversation is tracked automatically.
What multiple third-party integrations are needed?
By using an external system, companies can extend the functionality of their KMS and automate processes such as ticketing.
If you already use other tools like Slack or Trello, it makes sense to try and find a system that integrates with those services through integrations.
What type of security do we need?
There are different levels of security depending on what information you're storing within your KM software. Depending on the nature of your business and customer base, you might want stricter permissions and controls in place for users.
For instance, if your company deals with sensitive financial data, then choosing an enterprise-grade solution is a must since the system should be more secure. This means that users should have limited access in terms of control management.
How do we want to search for information?
There are two ways you can easily find specific content. The first is through using the search function by entering in keywords, and the second way is via tags that allow users to tag their files with different keywords that will make them easy to find.
The right KMS software should be able to do both.
What kind of storage space do we need?
Choosing an Enterprise KM software means less worry about running out of storage space since they often include unlimited cloud storage for all employees.
Ensure that you look at all of the features included within each system before making a final decision on which one to use.
Best Knowledge Management Software – FAQ
What is the top knowledge management software?
Every company is different when it comes to what they're looking for in terms of features. This is why there isn't a one-size-fits-all solution when it comes to KMS.

The list above will give you a great starting point when choosing the right KMS for your needs. However, the list is by no means exhaustive. In fact, you might also want to consider solutions such as ProProfs or even Bloomfire as part of your KMS search.
What are the most important KM software capabilities?
The top knowledge management software offers custom fields, workflows, and dashboards that make it easy for employees to collaborate on projects via files or conversations.

For example, file sharing is a big one to consider when it comes to capabilities. If your company focuses on project management, you might want an option allowing employees with various levels of access to upload images and videos related to their tasks.

The opposite of this would be employees having to upload such media into personal storage space where they won't be accessible by others due to restrictive permissions settings.
How much does the top KM software cost?
The price for this type of software will vary based on the company's needs and size. This is why it's important to find a solution that offers a free plan or trial since you can test it out before making a final decision.

If you're only looking for basic capabilities, then there are options available for under $50 per month.

On the other hand, if your organization requires more features such as integrations or advanced security measures in place, then you could pay around $150-$250 (or more) per month depending on what industry you're in and which tier your business falls under., you
What are the four types of knowledge management?
The four types of knowledge management are social learning, collaboration, communities, and engagement.

Social Learning is the process in which people can share their knowledge with other members through classes or lessons.

Collaboration software allows employees to work together on various projects while engaging in conversations about them within the system.

Communities allow users to set up private groups for sharing files, images and videos.
Finally, engagement tools provide employees with access to live chats, polls, and surveys for better feedback on products or services.
Is Knowledge Management Software still relevant?
Yes, although many companies neglect to implement an effective and efficient system, investing in a knowledge management software solution is still important.

This way, employees can easily find information, learn about processes and work more efficiently together as a team.
How is Knowledge Management different from Knowledge Sharing?
Knowledge Management: The process by which knowledge is collected, stored, and shared with other people within the company so that they can access it whenever needed.

Knowledge Sharing: Giving team members access to the same data you have so that they can collaborate on projects via files or conversations.

This means less emailing or formal chats between colleagues who are working on the same project since everything is available within the system.
What is a knowledge management program?
A knowledge management program allows employees to find and create information within their company's system instead of relying on physical filing cabinets.

This type of software also makes it easy to store and access previous discussions, images, videos, or other media related to the project at hand.
What does a knowledge management system do?
The top KM systems collect all of an organization's knowledge in one place so that everyone can quickly access important information whenever they need it.

The benefits of this software include reduced training costs, a boost in productivity, and improved communication between employees to avoid unnecessary errors.
Wrap Up.
In conclusion, a knowledge management software solution is a great investment for any business that wants to streamline processes and help employees work better together.
The top KM systems collect all of an organization's knowledge in one place so that everyone has quick access to critical information whenever they need it.
Using this type of software will also prevent wasting time, money, and resources associated with searching for various pieces of data across various platforms while avoiding costly mistakes due to poor communication.
To recap, the 7 Best Knowledge Management Software is:
Zoho Desk: Best for providing the customer with knowledge on multiple channels.
ZenDesk: Best for transforming good conversations into great experiences.
HelpCrunch: Best for an all-in-one knowledge management solution platform.
Intercom: Best for having a business messenger both businesses and customers will love.
Helpjuice: Best for scaling customer support and helping your team succeed.
Confluence: Best for ensuring that your customer service team accomplishes more together.
Freshdesk: Best for ensuring that customers get the attention they deserve – effortlessly.
I hope that you have found this article on best knowledge management software helpful.
Which one of these solutions would you use for your company? Let me know in the comments below.
Editorial Process:
Our reviews are made by a team of experts before being written and come from real-world experience. Read our editorial process here.
Some of the links in this article may be affiliate links, which can provide compensation to us at no cost to you if you decide to purchase a paid plan. These are products we've personally used and stand behind. This site is not intended to provide financial advice. You can read our affiliate disclosure in our privacy policy.