ClickFunnels vs Leadpages vs Unbounce vs Instapage (2023)
When choosing the best landing page builder, the decision most often comes down to four industry leaders: Clickfunnels, Leadpages, Instapage, and Unbounce.
In this guide, we'll cover the main differences between all four to help you decide between them.
The best landing page tools allow you to:
Build landing pages without any coding.
Create forms and calls-to-action to collect email addresses.
Integrate your landing pages with helpful tools, such as email service providers and webinar software.
View analytics data and conversion metrics.
Perform advanced tactics like webinar funnels, upsells, downsells, and more.
Looking for other options? Check out my post about the best ClickFunnels alternatives.
First, let's cover each landing page tool and what they're known for.
Disclaimer: This article contains affiliate links where I may receive a small commission at no cost to you if you decide to purchase a paid plan. You can read my full affiliate disclosure in my privacy policy.
Overview: Leadpages vs ClickFunnels vs Instapage vs Unbounce.
Instapage helps you deploy unique landing pages for your ads and boost your conversion rate. Their official site claims that their customers get up to 400% more from their total ad expenditure.
It is one of the easiest tools to use.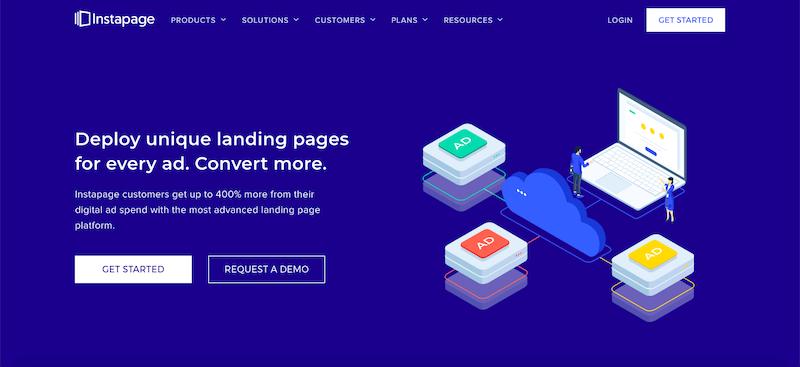 Here's a quick overview of some of its key features:
It creates mobile-responsive, on-brand, and high-converting landing pages.
Over 500 attractive templates by industry and use case.
Built-in AMP support.
Fast page-load speed.
Detailed heatmaps and A/B testing.
Powerful analytics to keep track of performance.
Real-time visual on-page collaboration.
Leadpages helps you create landing pages, websites, pop-up forms, alert bars, and more. It provides pre-designed and highly-customizable templates that work as lead magnets.
It is one of the cheapest options on the list but has some powerful features.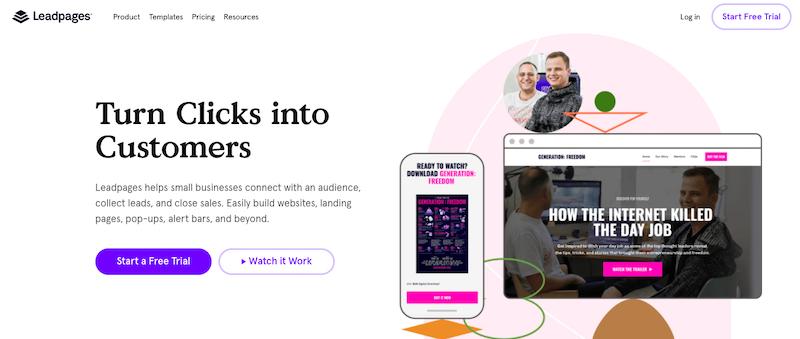 Here are some of its key features:
Conversion-optimized templates.
Easy-to-read analytics dashboard.
Real-time conversion tips.
A/B split tests.
Easy-to-use drag & drop builder.
Live Chat support.
Instant digital file delivery.
Built-in checkouts and secure online payments.
Unbounce lets you create high-converting, custom landing pages without any technical or coding requirement. It also comes with a unique AI-based 'Smart Traffic' tool that redirects customers directly to the pages they're most likely to convert.
Unbounce is a high-end tool with the most advanced landing page features.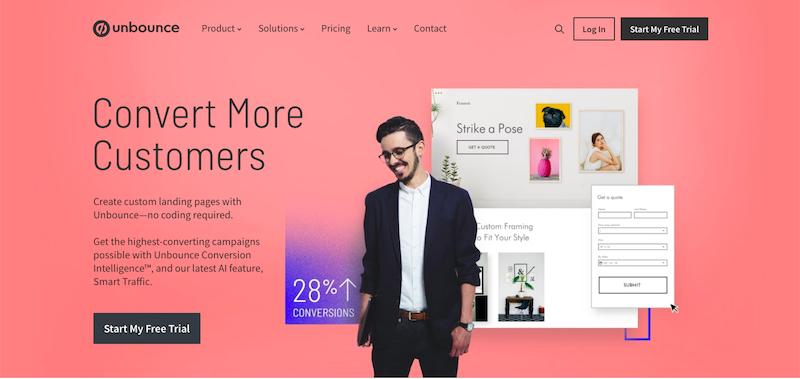 Some of its features include:
Over 100 landing page templates.
Straightforward drag-and-drop builder.
A/B testing.
Clone and edit entire pages.
You can add custom JavaScript, CSS, and HTML to any page.
AMP landing pages with fast page speed.
You can create custom thank you messages and gated content to increase leads.
Real-time data dashboard.
Two-step opt-in forms.
ClickFunnels is a funnel builder that helps you create sales funnels, including squeeze pages, sales pages, order pages, and thank-you pages. It's also popular for its profitable affiliate program where they provide affiliate commissions for any sign-ups.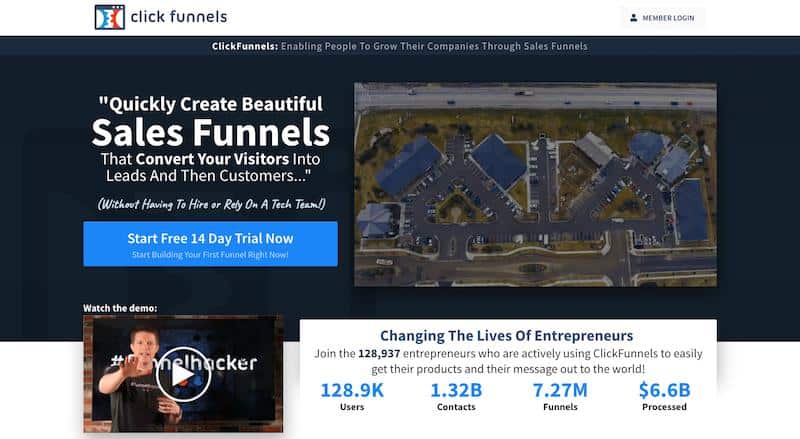 Some of its essential features include:
Simple drag & drop web page editor.
Build highly-converting marketing funnels.
Smart shopping cart with 1-click upsells.
Integration with email auto-responders for email campaigns.
Control everything from one single dashboard.
Email and Facebook marketing automation.
Highly-targeted "Actionetics" follow-up funnels.
ClickFunnels vs Leadpages vs Instapage vs Unbounce: Which One is Best?
While comparing these four tools, you need to consider a lot of key differentiators and features.
In this guide, we'll cover the best options based on 8 different areas:
Drag-and-Drop Editor
Landing Page Hosting
Themes & Templates
Uptime
Third-Party Integrations
A/B Testing
Analytics
Pricing
1. Drag-and-Drop Editor/Builder.
A great landing page design can make a huge impact on your customers.
According to statistics, websites with more than 40 landing pages generate up to 12 times more leads than those that have around five.
And drag-and-drop editors can make it easy to create attractive landing pages. In most cases, you just have to pick the elements and drop them anywhere you want on the landing page.
The good news is that all of these tools (Leadpages, ClickFunnels, Instapage, Unbounce) have highly responsive editors.
Let's review each of them.
Instapage has a powerful landing page builder that helps you build personalized, mobile-responsive, and conversion-optimized post-click landing pages in minutes.
You don't need any prior coding experience since it's very easy to use. What's more, you can add elements like videos, photos, author biographies, and much more. It further enables you to add CSS, HTML, and JavaScript elements and carry out extensive font customization concerning colors, size, and shapes.
You also get over 500 customizable layouts that you can filter using industry type.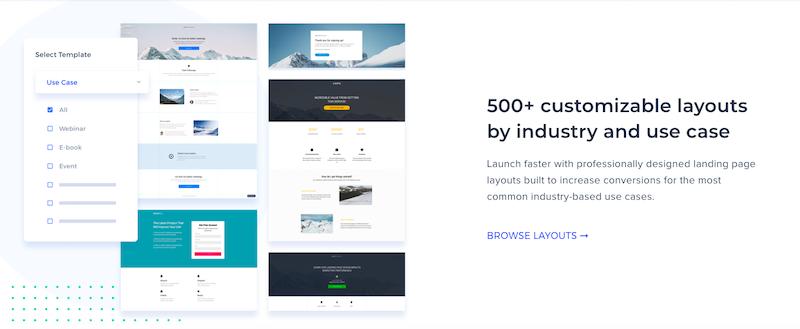 Leadpages is the market leader when it comes to having an intuitive drag-and-drop editor.
With its focus on DIY features, the editor from this tool is mobile-responsive, user-friendly, and boasts of rich functionality.
It offers some unique features like:
Build-in lead conversion guidance
Unlimited lead collection & traffic
Unlimited landing page publishing
One of the fastest page load speed
Code-free drag-and-drop customizations
Leadlinks: one click-sign-ups
Leadboxes: sign-up pop-ups
Leaddigits: get sign-ups via text messages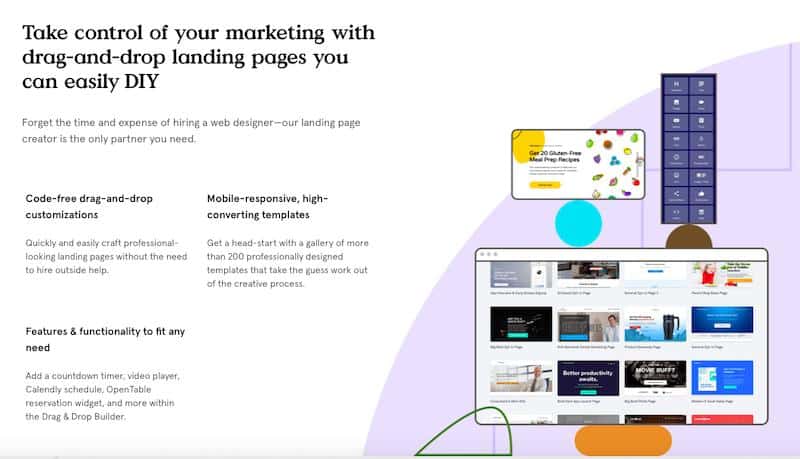 It also allows you to add icons for countdown timers and video players. What's more, the editor lets you add widgets from third-party applications like Calendly schedules and OpenTable. The good news is that the drag-and-drop editor is suitable for beginners with no coding experience.
The editor from Unbounce is also extremely user-friendly and laced with impressive features.
The editor lets you:
Add or remove anything with a single click
Rearrange content with simple drag-and-drop functions
Add custom HTML easily
What's more, it adds or moves any element on landing pages, pop-ups, and sticky bars for superior customization. It also allows you to drag-and-drop landing page elements like page sections, text boxes, images, CTA buttons, forms, and social widgets. You can also use almost any type of custom HTML.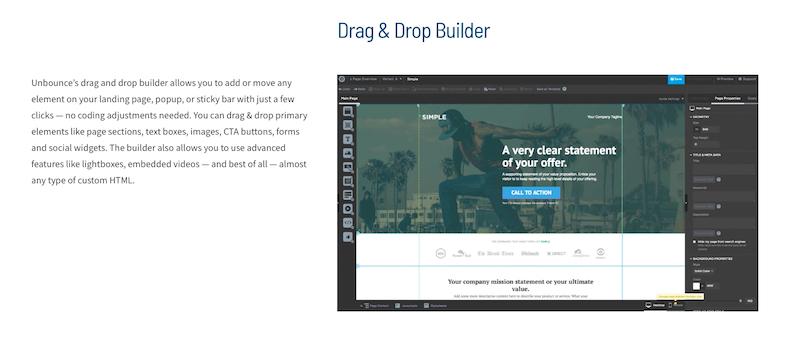 ClickFunnels' drag-and-drop editor also lets you design websites and landing pages without any programming knowledge or experience.
With the Etison Editor, you just have to:
Pick a template
Understand the page division (sections, rows, columns, elements) for straightforward customization
Add page elements like paragraphs, widgets, headlines, and more
The good news is that ClickFunnels provides numerous types of pages, including, optin pages, sales pages, survey funnels, upsell pages, and more.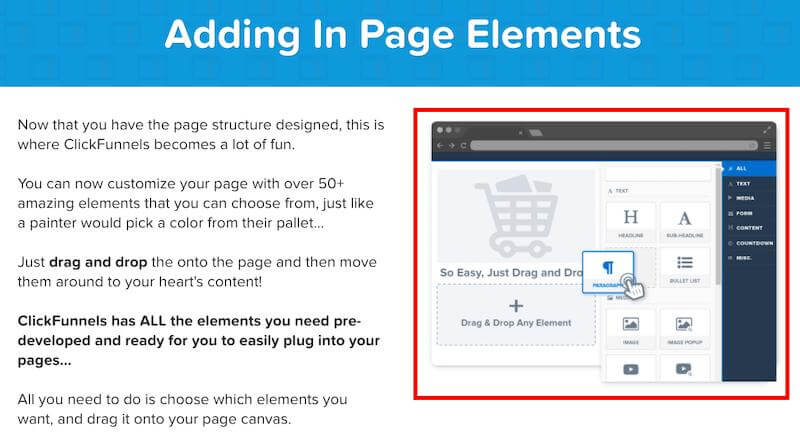 You can also create large CTAs, add videos, images, countdown clocks, and more.
Winner: Leadpages.
Although all the tools have drag-and-drop editors, Leadpages is the winner in this category. Its ease of use, focus on DIY, and extensive customization gives it an edge over other tools.
2. Website & Landing Page Hosting.
With a breakthrough in online businesses, there are over 154,608,000 domains and 338,000 web hosting services. Naturally, it's easy to get overwhelmed while choosing one.
Selecting a hosting service for your landing page can be even more intense. Only 50% of landing pages are mobile-friendly, and a 1-second delay in page loading reduces conversions by 7%. But the right ones can boost conversion rates by 300%.
Therefore, it's essential to understand which host works best for you:
Instapage hosts your landing pages on the powerful Amazon Cloud Servers, which effectively eliminates downtimes.
The good news is that they don't charge anything extra for the hosting services. And you even get unlimited access to cloud hosting.
Statistics suggest that 75% of the global population will access the internet through smartphones by 2015. But with Instapage, you don't have to worry about missing out on the target audience since all built landing pages are smartphone-optimized.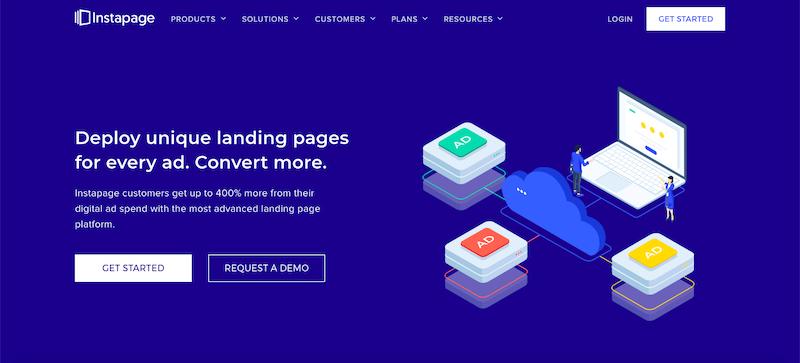 It also offers personalized post-click landing page experience to boost conversions up by 400%, again without paying anything extra.
Leadpages provides unparalleled customization capability. You can start from scratch with a blank page or use one of the 130 templates in-built. Its unique 'sub-accounts' feature also allows a single business to use various sub-accounts for different purposes within its parent account.
Another advantage is that it provides free hosting and will automatically host your landing pages. However, you can still use your own domain name.
The 14-day free trial of Leadpages also makes it a lucrative tool. You can test out your landing page by hosting it for free initially. However, the free plan doesn't offer custom domains. For that, you'd need to purchase the pro plans.
Nonetheless, you still get to see beforehand how your landing page appears online and whether the hosting service is working fine.
The focus here is to get your landing page market-ready to publish it faster. Unbounce continually nudges your customers down the sales funnel via pop-ups and sticky navbars. It opens up more opportunities to collect email addresses and build an effective email list. All the landing pages are AMP-ready mobile pages, which is another advantage.
Just like Leadpages and Instapages, Unbounce also takes care of your hosting. You don't have to pay any additional fee to host your landing pages, pop-ups, and sticky bars.
ClickFunnels offers a wide range of templates to choose from. Like other landing page builders, it offers mobile and tablet-optimized display. You can then optimize the landing pages whichever way you want. You even get holistic control over the colors, fonts, and texts.
Your landing pages will get hosted on the largest public cloud cluster in the world:
Powered by Amazon
And backed up by Cloudflare Security + CDN
However, you can't host your landing pages yourself. It's essential to provide you with all the updates and new features.
All-in-all, ClickFunnels is essentially a sales funnel building software focused on generating leads and increasing revenue.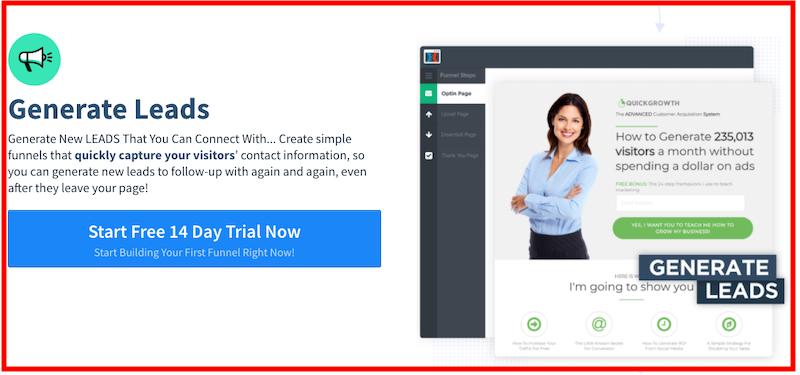 Winner: ClickFunnels.
With its powerful Amazon hosting and Cloudflare security, ClickFunnels has the edge over every other landing page software.
3. Themes & Templates.
Research reveals that people decide to stay on or leave a page within 7 seconds. Clearly, first impressions are essential when it comes to landing pages. People are also 80% more likely to devour content that includes pictures and colors.
Therefore, your website's theme can make or break deals since it's the first point of contact between the business and a prospective customer.
Thus, the variety of themes available is of paramount importance while choosing a builder:
Instapage.
Instapage offers over 500 templates and 1000 Instablocks built after studying billions of instances of landing page conversions.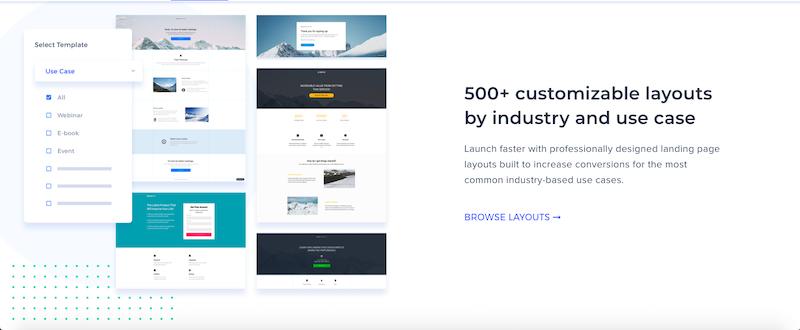 It also segregates the templates in different categories like demo requests, enrolment applications, product launches, and product reviews.
Leadpages.
Leadpages provides over 100 high-converting templates for landing pages and websites to immediately attract and influence visitors. Moreover, all the templates are mobile-friendly and highly-customizable.
What's more, Leadpages categorizes the templates based on industries. This is also a plus point since it makes it for you to pick what you want.
Some common categories include:
Agency
Consulting & Coaching
Finance
Food & Beverages
Lifestyle Blogging
Startup
Travel
You can also sort the templates with parameters like the 'Newest' and 'Highest-converting.'
Unbounce.
Unbounce has a great variety of over 100 high-converting, mobile-responsive landing page templates.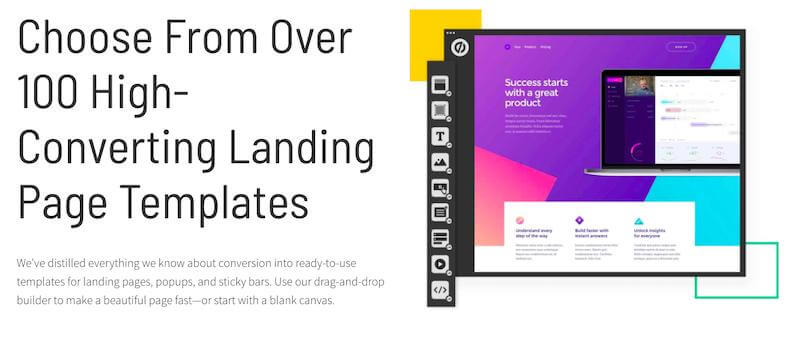 When it comes to user-friendliness, it stands above all the other landing page builders. However, it's up to you if you want to start from scratch or use a pre-designed template.
There are special filters for templates, such as:
Tools (landing pages, pop-ups, sticky bars)
Campaigns
Types
Special Features
The 'Special Features' filter creates specific effects like parallax effects, video backgrounds, and light-boxes to enhance customer engagement. Naturally, these functions also help in maximizing landing page conversions.
You can also choose from an extensive range of campaigns, including lead generation, events, sales pages, webinars, and more.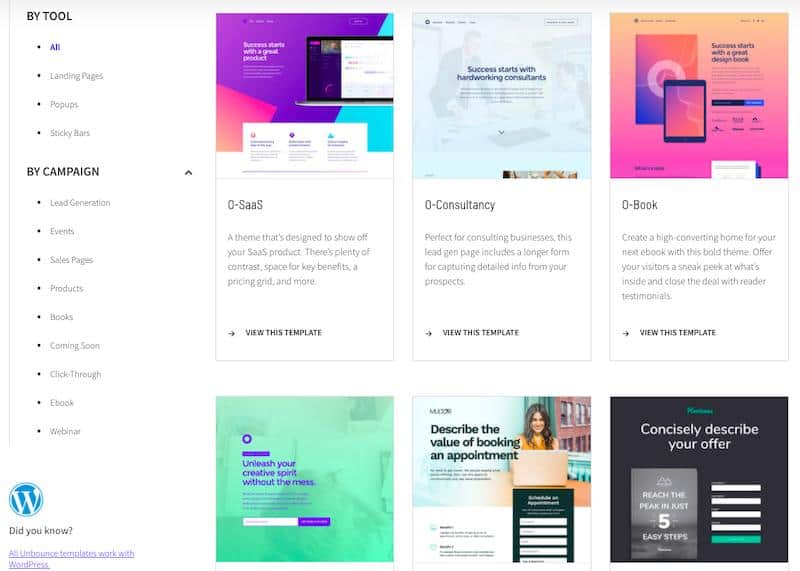 What's more, you can choose based on industry-type like e-commerce, travel, real estate, SaaS, Consulting, education, and travel. All of its templates come optimized to work with WordPress.
ClickFunnels.
ClickFunnels provides a multitude of expert-designed and market-proven templates to enhance conversions.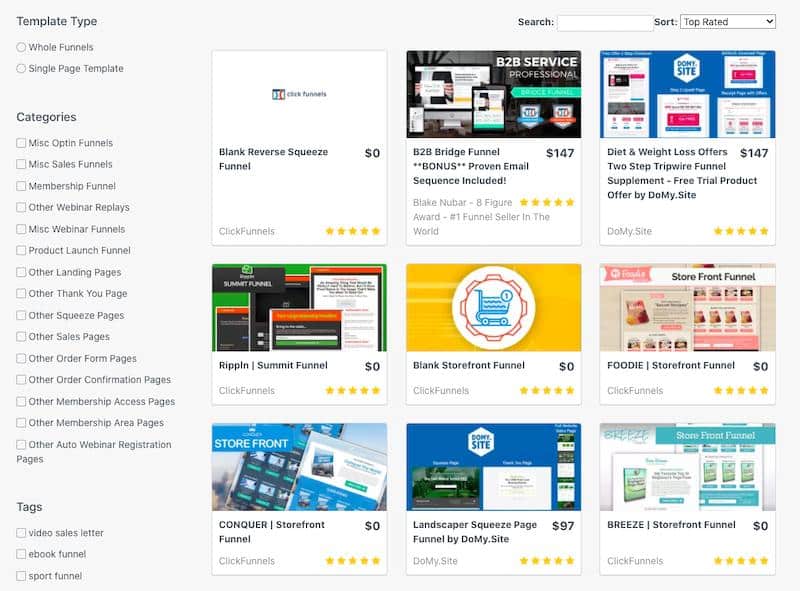 And not just landing page templates, ClickFunnels provides templates for the entire sales funnel. The templates are pretty diverse and attractive. You can customize them further to give a more professional look.
The landing page builder lets you search for templates using three categories:
Template Type (Whole funnels or single page template)
Categories (optin funnels, membership sites/funnels, Thank You funnels, "Actionetics" follow-up funnels, and more)
Tags (video sales letter, ebook funnel, sport funnel, and more)
Winner: Unbounce.
In this category, Unbounce and Clickfunnels offer templates with the best value-for-money, customer engagement, and sales conversion rates. However, on account of its flexibility, user-friendliness, and choice of templates, Unbounce is the winner.
4. Uptime.
While most page builders offer excellent website uptime, nobody is immune to bad luck. And a downtime even for as much as 3 minutes can affect your business' bottom lines.
That's why it's essential to pick a tool with the best possible uptime.
Instapage.
Instapage prides itself on its uptime.
Instapage's 'Enterprise' plans use a dual Amazon and Google Cloud server. It helps the tool consistently maintain the uptime of 99.99% and above every month, which roughly equals 4 minutes of downtime per month.
In fact, it provided a full 100% uptime for May, June, and July 2020 for all of its plans.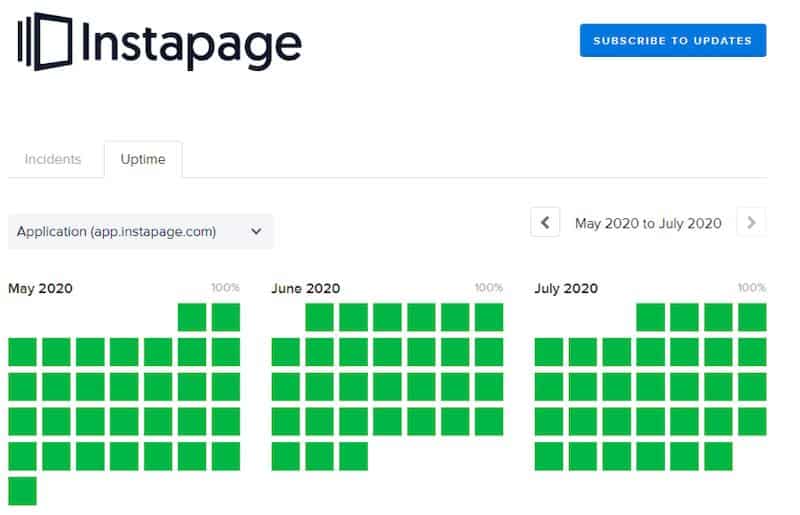 When it comes to uptime, Instapage is definitely a market leader.
Leadpages.
Leadpages hosts your websites and landing pages on Google Cloud services. While it lacks the support of the AWS server, it provides 24/7/365 customer service with rare downtime incidences. Its page loading speed is also one of the best among other landing page builders.
What's more, all the changes get automatically saved online and in cloud backups.
Unbounce.
Unbounce promises an uptime of at least 99.96% every month. In fact, it consistently meets a 100% uptime with all elements of its website.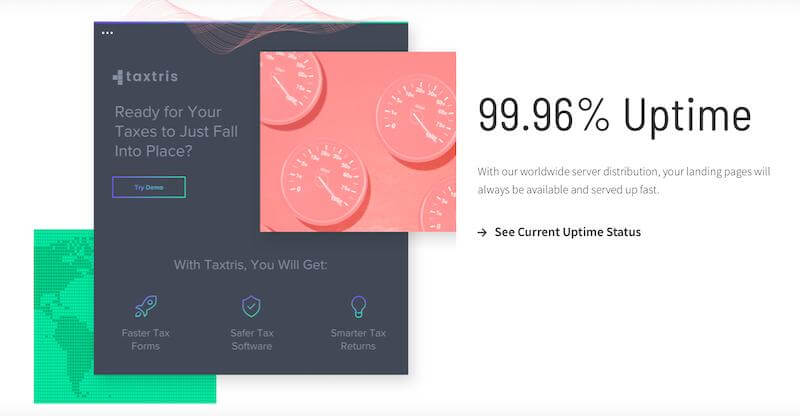 Here is a screenshot from the last 90 days:
Unbounce also places a keen emphasis on page load time. This helps businesses convert more customers and enhance their revenue.
ClickFunnels.
ClickFunnels also meets the highest standards for the uptime of websites. It not only displays its uptime but also mentions the geographical areas that are currently experiencing downtimes.
For instance, right now, Kuala Lumpur is experiencing a downtime:
You can also view the uptime metrics each month. Usually, ClickFunnels offers an uptime of 99.96% at all times. In recent times, the only notable exception was a 99.46% uptime in June 2020.
Winner: Instapage.
All the tools provide excellent uptime, customer support, and turnaround time. However, Instapage is the winner due to its powerful dual servers and the best uptime in the market.
5. Third-Party Integrations.
While over 68% use attractive landing pages to generate leads, only 56% review the leads' authenticity. No wonder only 21% of all marketing leads ever convert into sales.
Unless you use proper tools to generate leads and validate them, your profit margins are unlikely to improve. That's why it's a great idea to pick a landing page builder with extensive third-party integrations to get things done from a single dashboard.
Now the good news is that all the four tools have extensive third-party integrations.
Instapage.
Instapage provides integrations with a multitude of tools like CRM software, marketing automation solutions, call tracking, ecommerce platforms, email marketing, analytics, and more. This variety of tools come in handy to collect and sync the leads directly from your landing page.
What's more, the in-built Zoho environment further provides integration with hundreds of other platforms and plugins.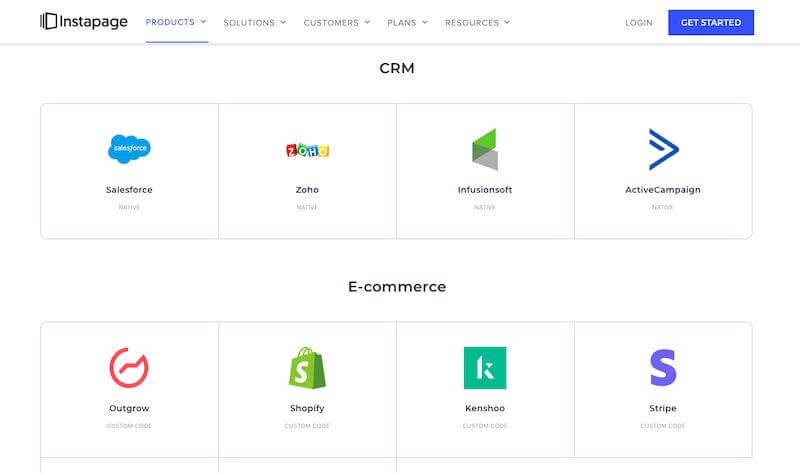 You can also choose from various categories like:
Advertising
Analytics
Call Tracking
CRM
E-commerce
Email Marketing
Live Chat
Webinar
And more
Some of the most popular integrations include Shopify, Infusionsoft, Strike, Mailchimp, PayPal, Google Analytics, Google Ads, and Constant Contact.
Leadpages.
Leadpages offers the most comprehensive integrations out of all the tools. You can directly choose from a range of categories like analytics tools, CRM, digital marketing tools, ecommerce platforms, and more.
Its USP is the social media integration with sites like Facebook, LinkedIn, LinkedIn Ads, and Twitter.
Its integration with Zapier also provides access to 2000+ applications, far more than its counterparts.
Some of the most prominent integrations include:
Google Analytics
SendOwl
Shopify
AWeber
GoToWebinar
Constant Contact
Drip
HubSpot
ConvertKit
Mad Mimi
Drift
Unbounce.
Unbounce's competitive advantage is the variety of integrative options it offers to its users. You can choose the applications you want based on the alphabetical order or the specific category.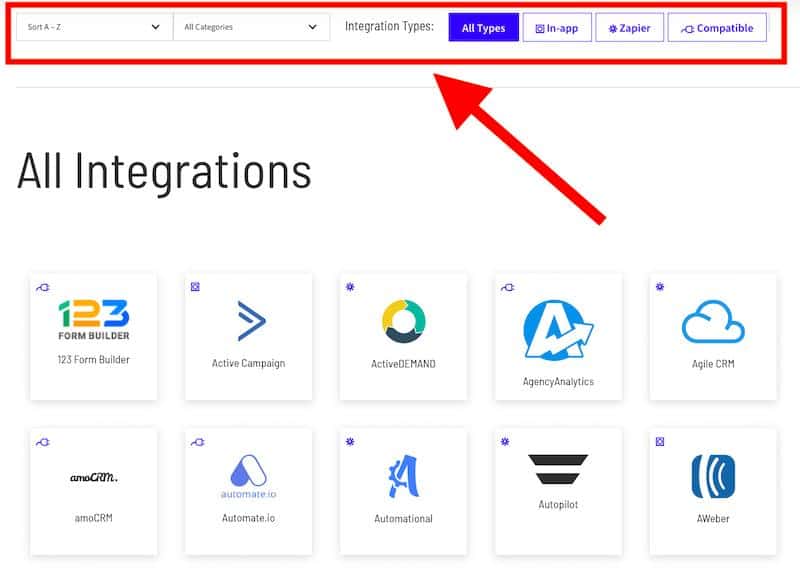 Some of the categories include:
Popular integrations include Active Campaign, Agency Analytics, Agile CRM, AWeber, Base, and Benchmark.
Even if you can't find the tool you need, Unbounce has the solution. It lets you sync your Unbounce account with WebHooks. WebHook syncs all the data between your Unbounce account and your marketing tools.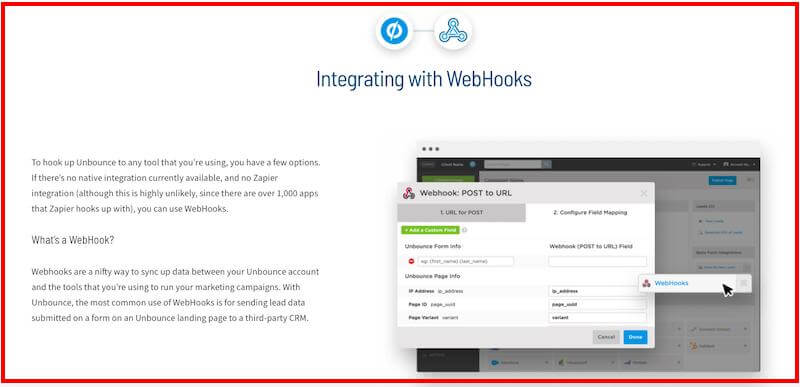 Apart from this, you can also search from over 60 direct additional applications upon integrating your account with Zapier.
ClickFunnels.
ClickFunnels doesn't reveal all the integrations it provides unless you're a member. As such, it's difficult to get an idea if you're only a visitor.
However, it provides integrations with applications like MailChimp, Twilio, Stripe, WebinarJam, Constant Contact, GetResponse, and Clickbank.
Winner: Leadpages.
It's difficult to choose between Instapage, Leadpages, and Unbounce. But if you look at diverse categories and integration with multiple applications, including social media, Leadpages is the winner.
6. A/B Testing.
Businesses need to track areas like lead generation, customer engagement, marketing, and after-sales services, and meet their expected ROI.
A/B testing displays different versions of the same page or element to the customers and displays the comparative interactive outcomes. This helps businesses choose the right versions.
For example, an A/B test demonstrated that red CTA buttons outperformed green ones by 21% for 2000 page visits.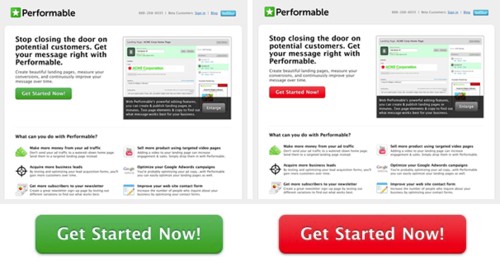 Instapage.
Instapage lets you create A/B tests very easily.

It allows seamless tests for the most important facets of a website like:
Headlines
Page layouts
Page length
CTA
Video/ infographic elements
It lets you test one or more elements at a time to get a holistic view of the impact.
Additionally, it creates heatmaps to understand what you should A/B test in the first place. The heatmap function also tracks mouse movements, clicks, scroll depth, and more.

You can also study the areas where your customers spend the most time and make changes.
Leadpages.
Leadpages amplifies campaign effectiveness by highlighting the elements that drive business revenues. The A/B test is available for the 'Pro' plans and above.
It lets you compare areas on a before-and-after basis of the landing page like:
Various templates
Headlines
Sub-headings
Button colors and positioning
To identify and keep tabs on the changes you make, you can add specific split test labels.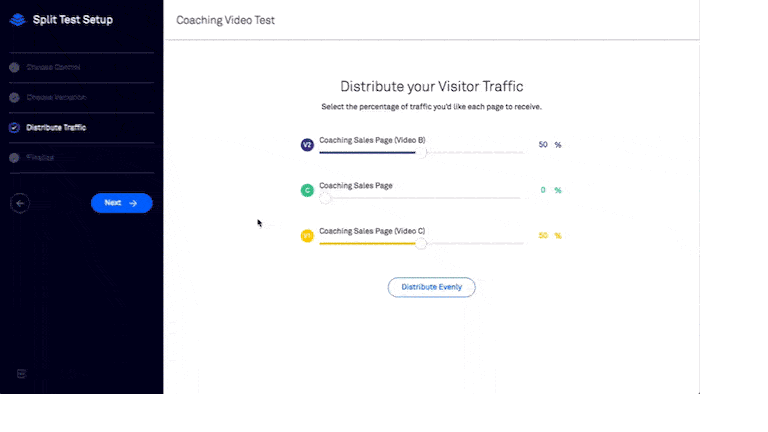 You can also distribute traffic among the various versions and measure the relative conversion rates.
Unbounce.
Unbounce's basic 'Launch' plan doesn't include the A/B testing features, but all the others do.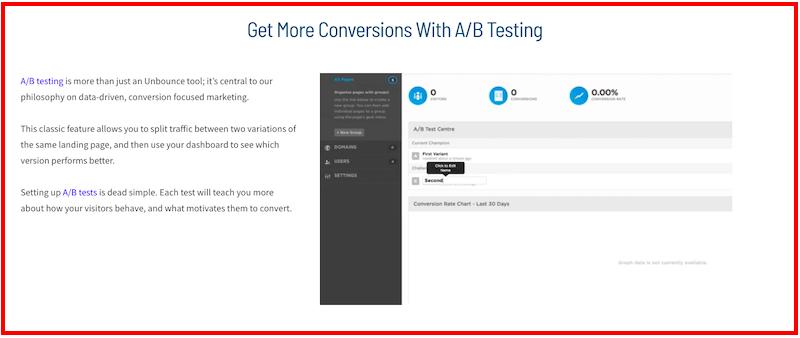 You can easily launch the tests by duplicating the page and enabling the changes you want to try out and test.
You can carry out multiple manipulations and select the page that delivers the best results.
Unbounce measures elements like:
Headings and subheadings
Page lengths
Button positioning, shapes, sizes, and color
ClickFunnels.
ClickFunnels is one of the few tools that directly measures opt-in and opt-out rates, making it excellent for A/B testing.
However, you need to have a test funnel to run these tests. Although it doesn't allow price split testing, businesses can overcome this drawback by testing different channels with the required pricing. One unique feature of this tool is that you don't even require a ClickFunnel landing page to run A/B tests.
Winner: Instapage.
While all the other A/B testing features are somewhat similar, Instapage's heatmaps function makes it a winner.
7. Analytics.
Without in-depth knowledge about the customers' needs, businesses often invest more in unimportant areas and neglect the important ones.
Website analytics help you draw statistical inferences and align your landing page with the customer requirements.
What's more, it helps you make relevant changes to boost customer engagement and help increase customer traffic.
Instapage.
Instapage provides real-time insights with intuitive analytics dashboards.
You can get detailed insights about your mobile as well as desktop viewers.

You can even segregate your visitors between Desktop visitors, Mobile visitors, Paid, Organic traffic, and more.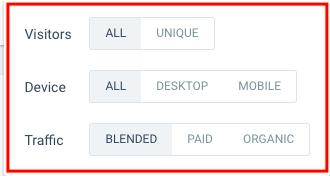 You can also review metrics like:

Number of visitors
Conversion rates
Aggregate conversions
Performance graph
Cost-per-visitor
Cost-per-lead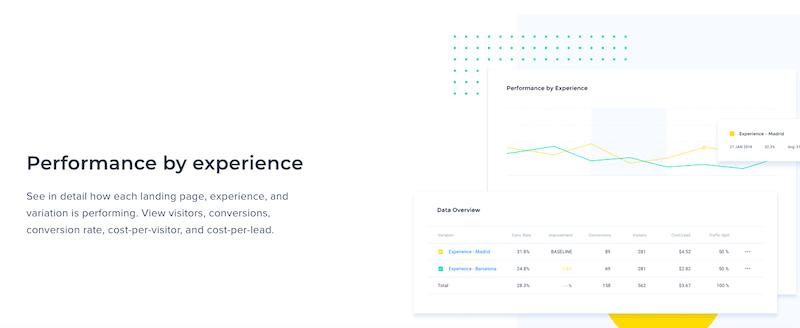 Leadpages.
Leadpages' analytics tools provide a power-packed experience.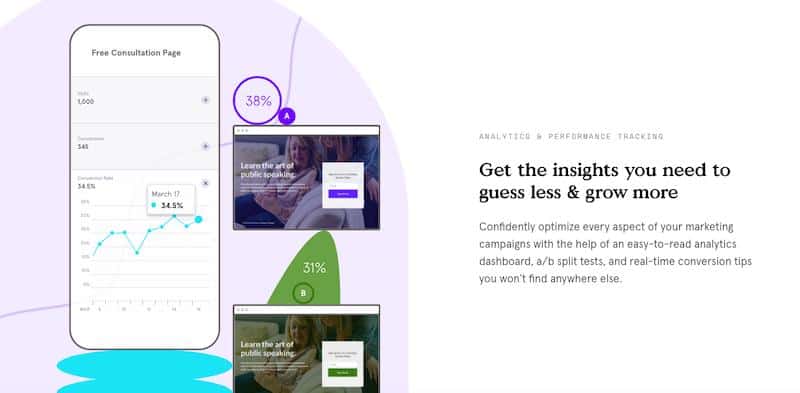 The analytics for every page and pop-ups contain metrics like:
Total number of views
Unique views
Conversions
Conversion rate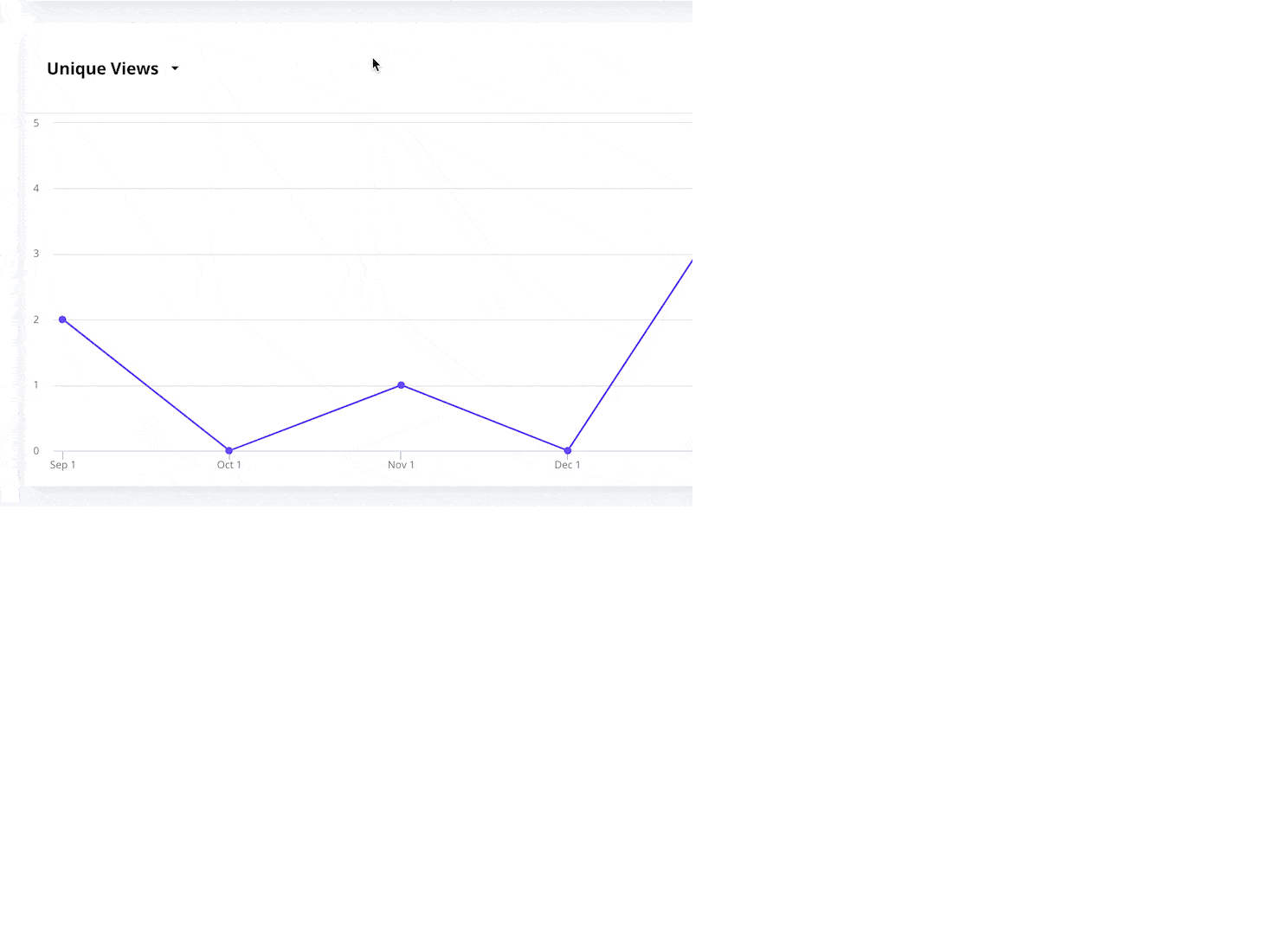 You can hit the 'Reset Analytics' button if you want to redesign the analytics metrics.
The tool also displays hourly analytical details of the previous week and daily details of the previous 90 days. You can also view results for a specific period or opt for a cumulative view.
Unbounce.
Unbounce provides a real-time data dashboard to check how your landing pages are performing.
It also offers an AI-based "Smart Traffic" feature for one of the best data analytics experiences.
It automatically gauges the visitors' preference and directs them to the pages they're most likely to convert. It starts optimizing performance in fewer than 50 visits.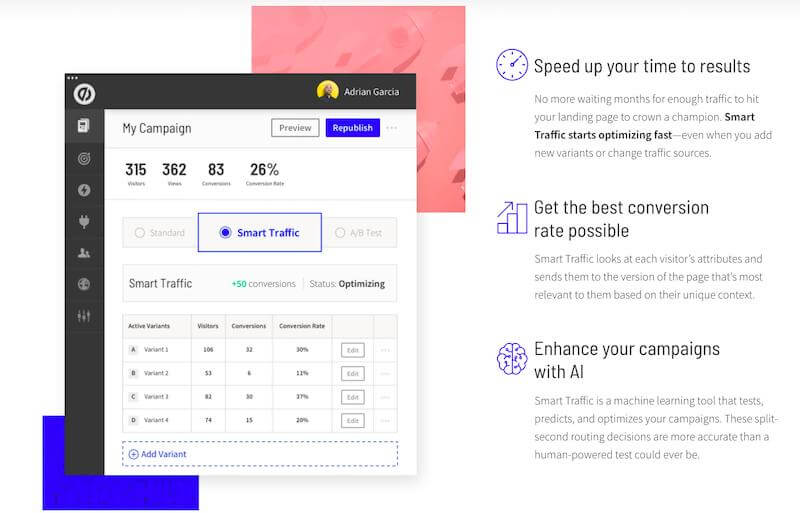 As a result, landing pages using the 'Smart Traffic' usually witness an average conversion increase of 20%.
ClickFunnels.
ClickFunnels operates based on a lot of funnels. It comes with an in-built analytics feature to provide a holistic analytical view.
You can review all the detailed stats using simple steps:
View all the funnels from your dashboard
Click on the "Stats" option from within your funnel
Finally, click on the filter button to adjust your metrics accordingly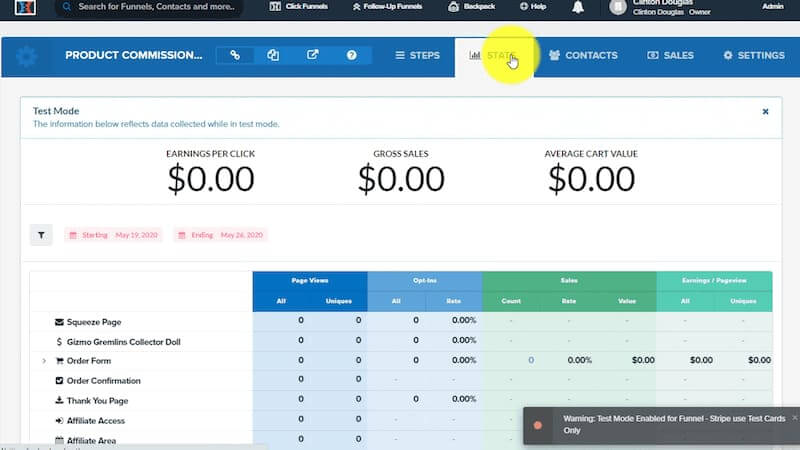 You can view a variety of metrics. You can also reset and start from scratch with a new set.
Winner: Leadpages.
There is stiff competition between the first three tools. But due to the various features like multiple device optimization and diversity in the graphical representation of statistical data, Leadpages is the winner.
8. Pricing Plans.
Landing pages are essential to generate new leads and boost revenue.
However, an ideal landing page build should offer a flexible pricing structure to cater to all types of audiences. It should also have a free trail or 30-day money back guarantee so you can test out its features.
Let's cover the pricing structure for these four tools.
Instapage Pricing.
Instapage offers two pricing plans, the 'Business' plan, and the 'Enterprise' plan.
The Business Plan: $149 per month billed annually
Enterprise: Quote-based plan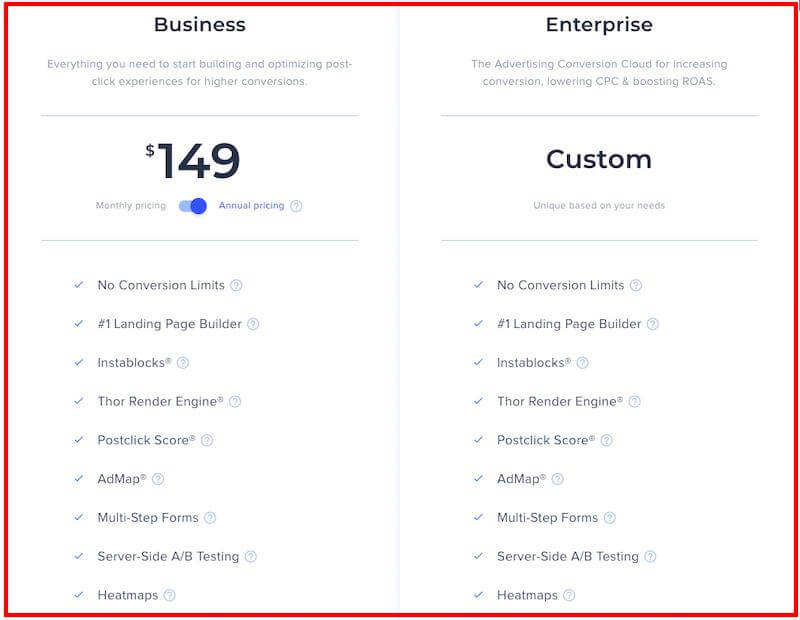 The former is a 'one size fits all' type of plan. On the other hand, the Enterprise plan suits the needs of all types of businesses and follows quote-based pricing.
The tool also offers a 14-day free trial period for prospective users to try out the interface. You also get a 25% discount on the 'Business' plan for an annual subscription. However, there's no free version.
Leadpages Pricing.
Leadpages offers a flexible price structure – each plan has something for everyone.
It offers three pricing plans:
Standard Plan: $25 per month billed annually
Pro Plan: $48 per month billed annually
Advanced Plan: $199 per month billed annually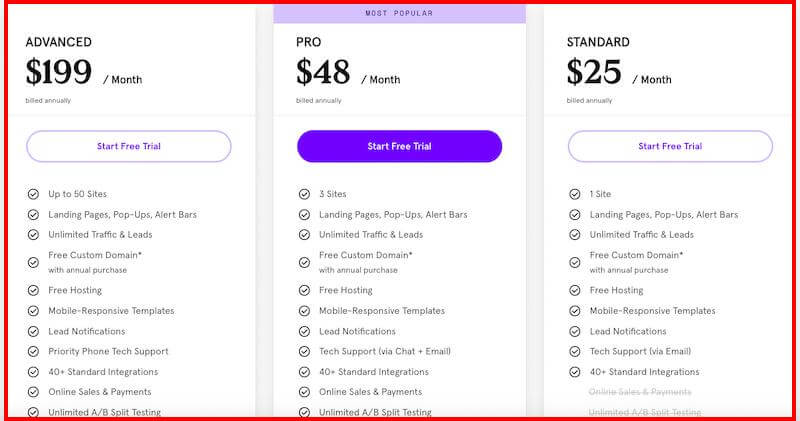 Although the tool doesn't have a free version, you get a 39% discount on an annual subscription. The good news is that all the plans come with a 14-day free trial period.
Unbounce Pricing.
Unbounce is one of the most expensive landing page builders.
It provides four pricing plans:

Scale (Basic plan for beginners and small businesses): $72 per month paid annually
Accelerate (To start optimizing your page): $108 per month paid annually
Optimize (For growing companies): $180 per month paid annually
Launch (To increase traffic volume): $270 per month paid annually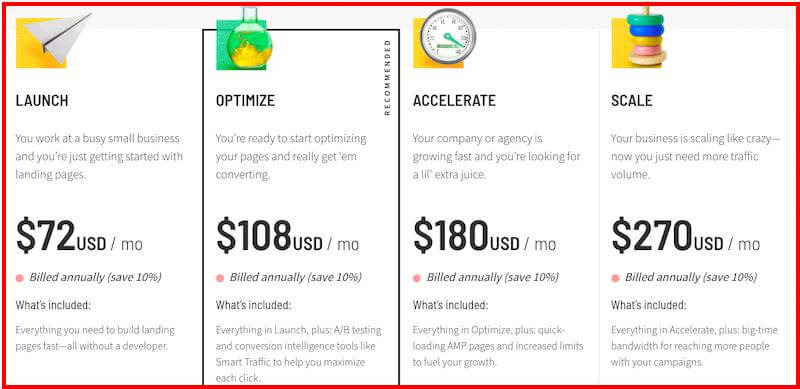 You get a 10% discount on an annual subscription. Although the tool offers a 14-days free trial, the hefty pricing makes it difficult for small companies to use it.
ClickFunnels Pricing.
ClickFunnels is also a bit costly as compared to other landing page builders.
It offers three advanced plans:
Standard: $97 per month
Platinum: $297 per month
Collective: $2497 per month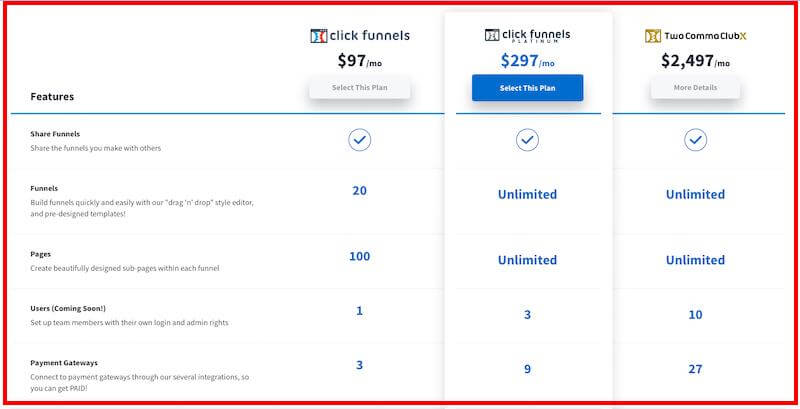 The 'Platinum' plan is aiming to gather more subscribers by enforcing user-friendly policy changes. For example, three Platinum users will be able to share a single account. It also offers a 14-day free trial period but doesn't have a free plan.
Winner: Leadpages.
Unbounce and Clickfunnels are quite expensive for small businesses. And Instapage's paid plans are limited in scope. On the other hand, Leadpages provides affordable, feature-rich plans suitable for both large and small businesses. Therefore, Leadpages is the winner here.
ClickFunnels vs. Leadpages vs. Instapage vs. Unbounce: Pros & Cons.
Here's a quick overview of each of these landing page builders' pros and cons.
Instapage Review.
Instapage Pros:
Create personalized landing pages quickly without any coding or technical know-how.
It offers over 200 optimized and use-case based templates.
AMP-powered landing pages to reduce bounce rate.
Built-in heatmaps and A/B testing.
Integrate seamlessly with Marketo, Salesforce, and over 40 other platforms.
It provides real-time analytical insights.
1:1 Ad-to-Page Personalization for better ROI.
Instapage Cons:
The templates provide limited creative options.
Leadpages Review.
Leadpages Pros.
Create and publish professional-looking designs with its simple drag-and-drop builder.
It offers optimized pages, alert bars, pop-ups, and A/B tests.
It provides integration with in-built payment gateways.
Over 200 high conversion templates.
A built-in delivery system to send PDFs, white papers, ebooks, and more.
It offers real-time guidance and analytics.
Leadpages Cons.
You can't use custom fonts.
Limited native integration.
Unbounce Review.
Unbounce Pros.
It offers over 100 landing page templates.
Easily customize templates with JavaScript, HTML, and CSS.
Built-in AI-powered 'Smart Traffic' feature for automatic A/B tests for better ROI.
Easily copy and paste elements of landing pages to create a new one instantly.
Over 850,000 high-resolution images from Unsplash for free.
Use Dynamic Text Replacement (DTR) for more relevance.
Send Unbounce leads to over 1,000 marketing tools.
Unbounce Cons.
Fewer landing page template options.
The mobile editor could be more efficient.
ClickFunnels Review.
ClickFunnels Pros.
Design landing pages with a simple drag-and-drop editor.
Use its 'Smart Shopping Cart' to enable 1-Click Upsells.
Simple and intuitive dashboard to monitor analytics from one place.
Send highly-targeted messages through its Follow-Up Funnels.
Facebook and email marketing automation.
Frequent updates.
Easily track data from the dashboard.
Step-by-step flow to high converting sales funnels.
ClickFunnels Cons.
No ownership of the page.
You won't be able to create a blog page to rank organically.
Executive Summary.
Instapage, Leadpages, Unbounce, and ClickFunnels are some of the most popular landing page builders. However, each landing page tool has its own unique selling points.
If you're looking for attractive landing page templates and themes, Unbounce is an excellent choice.
When it comes to 100% uptime, Instapage is the winner.
ClickFunnels is a great choice, especially when it comes to building professional sales funnels.
However, Leadpages emerges as the best overall option. It's a landing page builder with the most well-rounded features and the best price point. With powerful analytics tools, extensive third-party integrations, reasonable pricing, and more, Leadpages is the clear winner.
Which of these landing page builders are you planning to use, and why? Let me know in the comments below.
Editorial Process:
Our reviews are made by a team of experts before being written and come from real-world experience. Read our editorial process here.
Some of the links in this article may be affiliate links, which can provide compensation to us at no cost to you if you decide to purchase a paid plan. These are products we've personally used and stand behind. This site is not intended to provide financial advice. You can read our affiliate disclosure in our privacy policy.
---
Last Updated on December 8, 2022 by Adam Enfroy