Are you a new WordPress user that is wondering what is managed WordPress hosting?
You may have started your research and come across managed WordPress hosting companies that offer shared hosting from around $3-30 per month. What is with the price difference?
With managed WordPress hosting, all the technical aspects associated with running a website or blog are managed by the host. These include crucial elements such as security, updates, backups, uptime monitoring, and scalability. This allows you to focus on building the site and creating content. Due to this, the backend of a managed hosting service is simpler and easy to operate.
Managed hosting gives people who are not tech-savvy a chance to start and run WP sites without much hassle. The hosting services offer great support, and it is an excellent option for WordPress users who get traffic and need server resources.
With the plethora of web hosting services, it can be overwhelming for one to pick the best one. We have reviewed several managed WordPress web hosting services based on their performance, usability, features, prices, support, and many more essential features to give you a list of top options to pick from.
You will also find out why EasyWP is my top choice and what the rest have to offer as well.
What Is the Best Managed WordPress Hosting?
With WordPress being the most popular content management system (CMS) in the world, many web hosts realized that they needed to offer custom-tailored service to make managing a WordPress site as easy as possible.
There are two types of WordPress hosting, and they are the shared and managed options. Shared WordPress hosting is the cheapest of the two, and here, your site will share server resources with other sites. The server will be optimized for WordPress sites, but you won't have it all for yourself.
Here are my picks for the best managed WordPress hosting in 2019.
1. EasyWP

Namecheap is one of the leading domain and hosting service providers on the internet. This company has offered clients hosting services for many years, and EasyWP is their latest managed WordPress hosting service, something that has been missing from their collection. I have used this hosting service, and it is very reliable and best from the rest.
After diving into the platform, I can truly say that they are living up to their name. 
EasyWP offers a one-click WP setup, and you do not have to deal with control panel and complicated configurations. By using it, you will save money, time and have a better user experience. The support is top notch, and you can always get information on how to go about any issue you get with this service. The cloud servers are modern and can handle heavy visitor storms. The speeds are also optimized to ensure that your site does not lag.
The services are sold in three different tiers which are the EasyWP Starter, EasyWP Turbo, and EasyWP Supersonic. The starter plan is the most cost effective and it gives you 10GB storage and can handle up to 50k followers every month.
One pays $1 for the first amount and then follow up with $3.88 monthly. The Turbo plan costs $34.88 when billed yearly and $2 followed by $7.88 monthly. It comes with 50 GB of storage and can handle 200 k visitors per month.
The supersonic plan comes with 100 GB storage and can handle 500k visitors per month. You pay $11.88 monthly after an initial price of $3 and $49.88 if you pay for the whole year: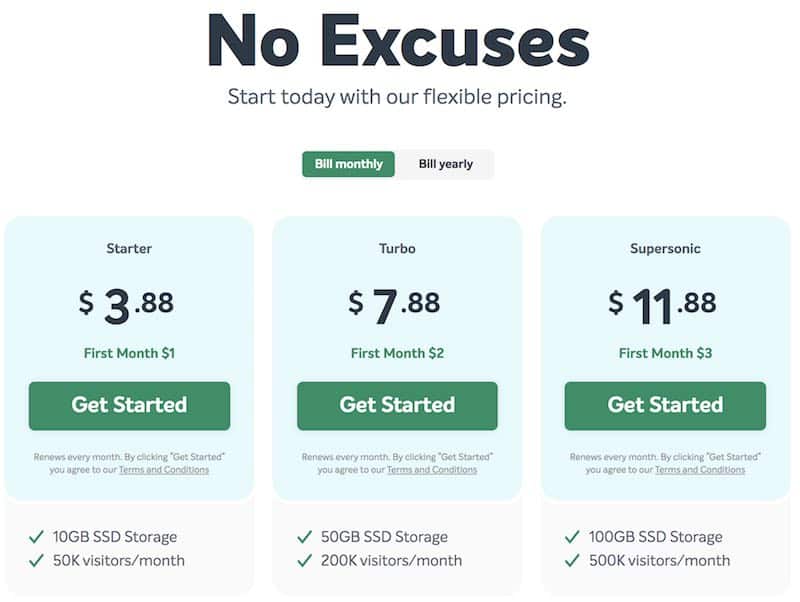 To get started, you login with your Namecheap account, or create a new one. Then simply pick a domain name you own or create a new one: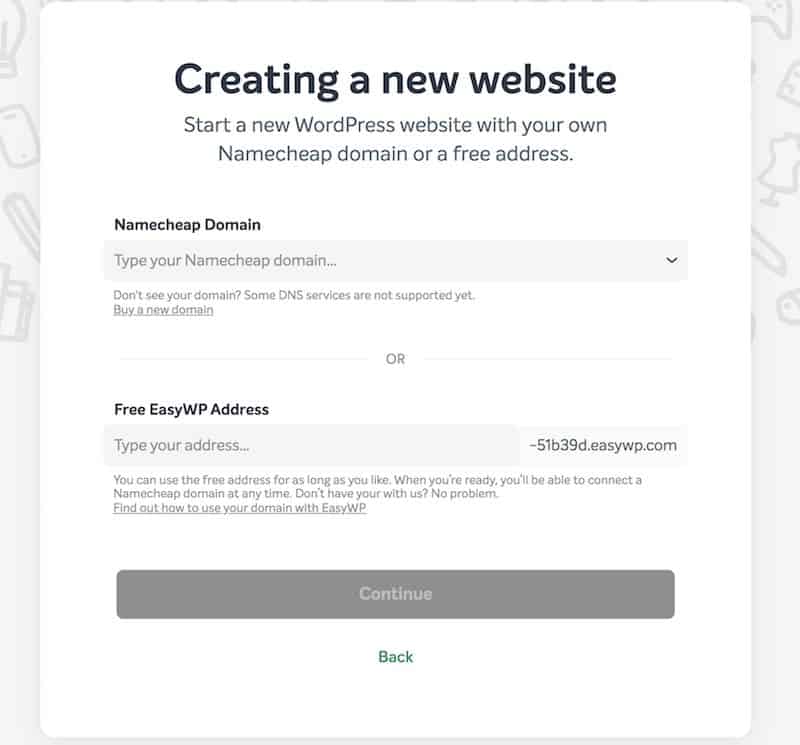 Next, you simply click continue and your site is launched – it's truly living up to its name. There are also a few advanced options you can choose from like the theme you're using, but it's truly one-click. I literally got my WordPress site up in under 30 seconds: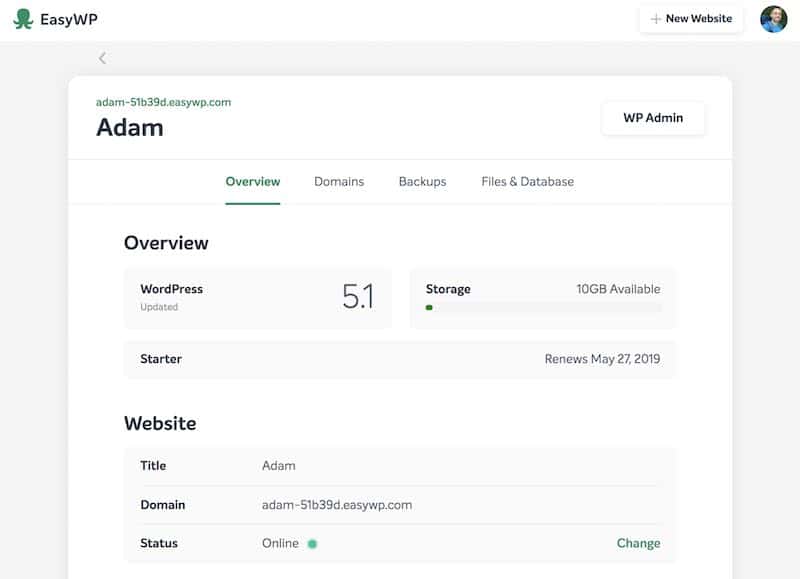 EasyWP is my best choice for managed WordPress hosting because of its simplicity. As good as hosts like Bluehost can be, there are some issues I've run into with logins, creating new users, and connecting to WordPress. That simply isn't the case with EasyWP. Plus, the Namecheap cloud is one of the best, and you're guaranteed strong site performance. This cloud provision facilitates the backups and restoration features.
You will get a temporary domain for free and sFTP files access. Lastly, it has a single dashboard that can be used to manage all your sites.
Additionally, you can use the Easy WP Optimizer WordPress plugin to optimize, backup, and restore your database easily inside of WordPress if you choose to do so:
Source: coothemes.com
Bases on the price and simplicity, EasyWP is my choice for the best managed WordPress hosting in 2019.
With an offer I got my site up for $1 and in 30 seconds. You can't beat that.
Try EasyWP today.

Bluehost is one of the mainstays in the web hosting niche from when it was established in 1996 before growing on to become one of the largest web hosting services in the world. It hosts more than 2 million sites today. It has a good rapport with the WordPress community and has been recommended by them since 2006.
It offers fast and secure managed WordPress hosting at affordable rates that start at $2.95 per month. The basic plan allows 100 million visits per month, offers 30 GB storage, 2 GB RAM and 30 GB backup storage. It has an advanced cPanel, 24/7 support from the experts and you can manage up to five different websites.
The security is enhanced as it comes with a SiteLock CDN and SiteLock Pro. Once you sign up for the service, you get a 30-day money back guarantee in case you are not impressed by what BlueHost offers.
You can always get storage upgrades if your needs supersede what is offered. The hosting is based on a VPS platform which makes the speeds faster, something that justifies the load times being below 2s.
It integrates well with other software in their marketplace and it's the web host that I started my blog with.
Try Bluehost.
WP Engine might not be the first company to offer WordPress hosting, but they have grown to be giants in this niche. They provide high performance hosting environments for WordPress sites and take care of essential tasks needed to run a secure and efficient site.
With this hosting service, setting up your WordPress site is one click away as they handle most of the technical aspects of it. Their servers are optimized to manage enterprise-level demands which are significantly high. These faster speeds are not reserved for the top paying customers as everyone under any plan under their pricing tiers benefits from it.
Their architecture is based on EverCache which is one of the best scalable systems for caching WordPress on the web. Traffic spikes won't be an issue for your site with WP Engine. Other speed enhancements include their global CDN and protection from the lagging in speed when bots crawl your site.
WP Engine offers three standard plans starting from $35 per month, but you can always have a custom one designed to fit your needs. All the plans come with an SSL certificate which is critical for sites that have the e-commerce feature. You get access to 24/7 support but note that telephone support is not available for the startup plan.
WP Engine plans offer a staging server feature which allows you to back up a copy of your site when making changes, rather than doing it live. This way, updating the website or making changes won't have any effect on your visitor experience.
As a bonus, WP Engine recently acquired StudioPress, the theme development company which means clients have access to the famed Genesis Framework and other themes at no extra cost. This is excellent value since these themes used to sell at $129.
Try WP Engine.
4. DreamHost
DreamHost is a giant in the hosting niche, and it offers services to over 1.5 million blogs and sites worldwide. One has the option of picking a shared hosting service or a more exclusive managed hosting plan called DreamPress. The service is aimed at providing simple setup options, round the clock support and automatic updates to sites.
DreamHost also offers a 100% downtime guarantee for all WordPress websites it hosts. It also has one of the longest money-back guarantee which stands at 97 days. I doubt if there is a hosting service that beats that. This time is enough to let you decide whether DreamHost is the right managed hosting service for you or not.
You are free to use any themes and plugins you want, and your files can be stored on the SSD storage provided. It comes with a pre-installed SSL certificate, and the security is enhanced by a WordPress firewall that covers known vulnerabilities and resists brute force attacks.
This managed hosting plan allocates two private virtual servers for each customer to improve performance, reliability, and scalability. The multiple caching layers, isolated server resources and auto-scaling memory improves the speeds and performance making them way better than the other usual hosting plans offered by DreamHost. You can get this managed hosting plan starting from $16.95, which is at par with other high-end managed hosting services.
While the plan is performance-savvy, one drawback is the lack of a customized control panel that is needed by people who are not well versed with web development. The support is also limited as customers are forced to pay for an upgraded call service for them to reach out to the technical support staff.
Try DreamHost today.
5. HostGator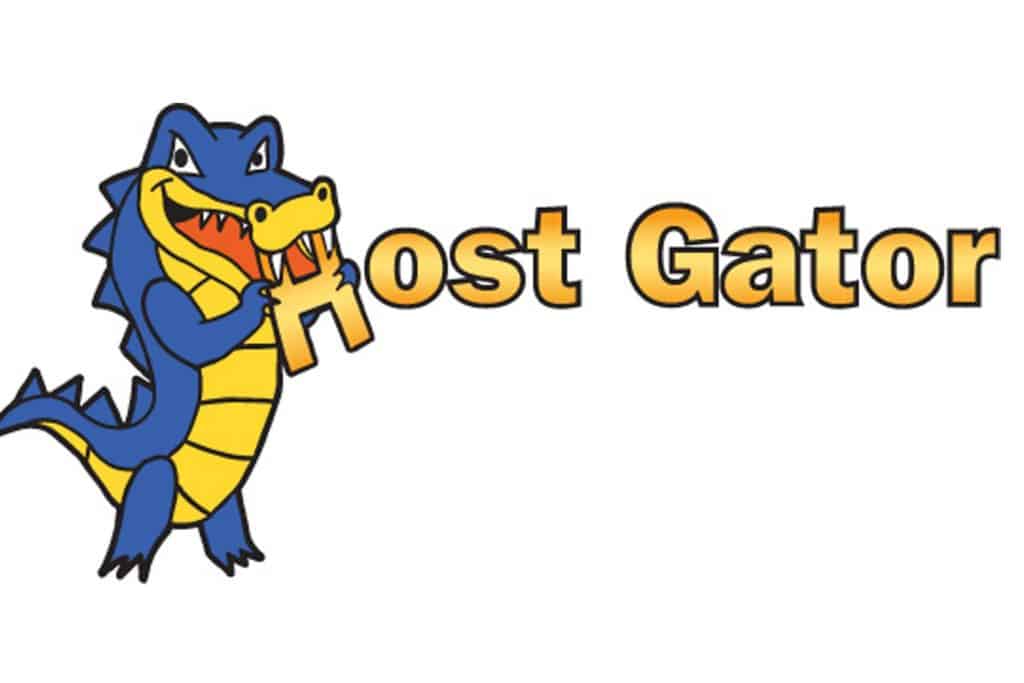 HostGator is a renown player in the web hosting niche, and it is fair to say that their WordPress hosting is way better than their regular one, that is if you have used it before. They offer a free WordPress migration service with the purchase of any plan, and you get access to various themes on the MOJO marketplace. You get a free backup service, and one-click site restore options plus free shared SSL certificates.
It is worth noting that while HostGator offers a few free features to make the deal good, their functions are light and not suitable for sites that have huge demands. On the positive side, they offer one of the cheapest managed WordPress hosting around, and this justifies the lack of advanced capabilities.
HostGator support is pretty impressive, and you can reach out to their staff via email, live chat or even fax. They are available 24/7, and will probably reply to your messages within ten minutes. While the support was not very confident with their responses, especially ones concerning complex issues, they offered helpful resources that can be used to solve most problems. They can provide higher speeds thanks to their low-density servers and custom CDN solutions. Users also have an option to increase their cloud settings when experiencing unexpected traffic spikes.
HostGator offer their hosting in three plans which are the starter at $7.96 per month, standard at $9.56 per month and business at $14.36 per month. While the provider offers light features, you still get value for money and going for it might not be a bad idea after all.
Try HostGator today.
6. SiteGround
SiteGround has emerged as one of the top contenders for anyone looking for affordable managed WordPress hosting options. This service is decent and most of the features you get vary significantly with the different hosting plans offered which are the StartUp, GrowBig, and GoGeek. Setting up an account on SiteGround is straightforward and will take you a few minutes. Once this is set up, you can set up your site and get things going.
The StartUp plan starts at $3.95, GrowBig at $5.95 and GoGeek at $11.95 and are all billed per month. One downside is that there is an additional $14.95 billing fee if you pick the monthly plan making it more suitable to sign up for the more extended billing periods. The advantage is that you get a 30-day money back guarantee, so you will get a refund if you are not impressed by what they offer.
You will get a free SSL certificate that should work just fine for a blog, but if your site has an e-commerce feature, it is advisable to get a higher-level certificate. This free one will improve your site's speed and security, things which will be experienced the moment you set it up.
SiteGround claims to offer a free CDN service, but it is a smooth integration with Cloudflare. You can set this up without having to go to Cloudflare's website even if it is not actually what they advertise.
The support offered by SiteGround is impressive, and you will get responses to your tickets within thirty minutes at most. Their servers are located in three different continents, and you can choose your preferred server location when setting up an account.
Try SiteGround.
7. GoDaddy
GoDaddy is one of the largest web services company offering a plethora of services in the web development niche. They were associated with slow servers and bad support in the past, but they have improved things significantly in recent years, especially with their managed WordPress hosting services.
One thing that stands out about them is that they live up to their promise of handling all the technical aspects of your site, unlike other hosting services. They handle all the software updates, setups and security patches, leaving your website running optimally. Their support has tremendously improved and will help if you are having problems with anything.
GoDaddy has a couple of impressive features needed to learn more about WordPress site management. While the features might not be sufficient for large scale companies with huge demands and security requirements, they will serve most of the individuals and small businesses perfectly well.
You get a multisite management console and SSD storage depending on your plan of choice. Your site is protected from DDOS attacks, and interactive walkthroughs should help you solve simple WordPress problems.
If you but the annual plan, you get a free domain name registration plus a staging environment to test any changes available on specific plans. They offer a library of tutorial videos to help beginners get around amateurs who are not conversant with web hosting.
GoDaddy guarantees 99.9% uptime which is the standard with most hosting service providers. You Can get the hosting for a minimum of $15 per month, but there is more to be desired when you look at the storage offered.
Their starting price of $3.66 is quite fair. Their support is powered by Media Temple which was acquired by GoDaddy back in 2013. The team is available via email, chat or phone and will take you through any problems you might have.
Try GoDaddy.
8. InMotion Hosting
InMotion Hosting is a popular independent hosting service that is fast emerging as an excellent option for people seeking managed WordPress hosting. The service starts at just $10.99 per month, but you can always pay less due to the discounted rates for people seeking the service for the first time.
The load times are pretty fast comparing to the affordability of the service. The plans come with some SSD storage and server level caching which are behind the impressible loading speeds.
The company offers 99.9% uptime on their Terms of Service and SLA conditions, and this minimizes the chances of your site being down. With a BBB accreditation for several years, InMotion hosting has an excellent support service. They will offer technical advice over phone, email or live chat.
There is always someone to address your issues, and they will typically reply within a few minutes. One downside with their support system is that you have to manually key in your contact information rather than being automatically signed in. They also offer a ton of technical articles and useful educational channels that can be a good resource center if you wish to learn more about web development.
Comparing it with other hosting plans, there is some concern with the hosting limits where you are limited to only two websites on the WP-2000S plan. If you want to host a few sites, this should not be a huge issue, but if you are running several of them, the costs can quickly become high.
However, the Pro plan offers unlimited website hosting, and this should be your preferred option. You can opt to have a pre-installed WordPress website on your server, and this is ideal for beginners who are getting to terms with web development. You can also activate a free SSL/TLS account on your site by switching a button on the Account Management panel.
Try InMotion Hosting.
9. WordPress VIP
WordPress VIP is an enterprise-level content platform that hosts some of the biggest content sites like CNN, People, Time, and Spotify. It truly lives up to the second part of its name, and it has several things that most hosting services do not.
Aside from all the standard features such as one-click setup, enhanced speeds, and customized panels, this hosting plan offers advanced features such as integration with Facebook Instant Articles and Google AMP. You will also get an integrated A/B testing, multilingual support and many more.
That said, this hosting service is tailored for the top sites that are already popular and need the advanced tools to stay ahead of the game. Due to this, their service is quite selective, and you cannot just sign up for an account anytime. You have to submit an application that will be reviewed by the technical team before getting back to you.
The hosting service has no outright prices indicated since the service is tailored for a specific website's requirements. This way, the price plan will depend on what is best for that particular site. From the knowledge we have, standard setups range from $2,500 to $5,000 per month and support up to five sites with unlimited resources.
Aside from that, they charge a one-time installation fee for new websites which is about $10,000.
WordPress VIP offers everything that a web developer would want, but all these advanced functionalities and amazing features can be regarded as overkill for an average website owner. The price is also a huge obstacle, and no small business would be willing to pay that. It is simply a VIP option for WordPress users that takes them to the next level of web services.
Check out WordPress VIP.
What is the Best Free WordPress Hosting?
While the paid WordPress hosting plans have been listed, you can get a couple of free ones as well. They may offer you limited features and I typically recommend going with a paid hosting plan rather than going with a cheap or free plan and getting charged for upgrades.
Here are my picks for the best free WordPress hosting in 2019:
1. X10 Hosting
X10 Hosting offers free WordPress hosting with great benefits and limited restrictions. Their free plan allows you to set up 2 add-on domains, 1 parked and 3 subdomains. You get free hosting with no advertisements. You get up to 2500 MB disc space and various upload options.
Their uptime is better than most of the free hosting options, and the bandwidth is unmetered. However, this service suffers from plenty of abuse since people misuse the resources and it is hard to get any help from the support as they spend most of the time dealing with abuse.
2. Accuwebhosting
Accuwebhosting has been offering hosting services for over ten years. They have a vast customer base and offer their services based on advanced technology. Their WordPress hosting comes with a 2GB storage and a 30GB bandwidth. The service is perfect for sites that receive around 5000 visitors per month, and the speeds are quite impressive.
The hosting service comes with cPanel and HTTP/2 support. Their uptime and customer support is brilliant, but the automated management settings may work against the seasoned WordPress developers.
3. Freehostia
Freehostia is another household name when it comes to providing free WordPress hosting services. It offers two different types of free hosting. The two options are the chocolate basic hosting plan and the cloud-based hosting service. Installing your site is very straightforward, and you get terrific features plus a range of disc space and bandwidth to start your online business.
If you are not content with the free plans, you can sign up for their premium plans anytime. The security is top notch, and customer service is available 24/7 to address your issues. The downside with this service is that the bandwidth and disc space are limited, as well as the access to the MySQL database.
4. AwardSpace
AwardSpace is a completely free and ad-free WordPress hosting service that offers you a perfect place to grow your experience online. You are allowed to create your site and host one domain with three different subs. It provides a one-click installer and setting up an account should take you about 5 minutes. You also get 1 GB disc space and 5 GB monthly traffic.
The uptime guarantee is 99.9% which makes it one of the best free hosting services for WordPress. Its web-based file manager makes it easy to upload content, and the environment has the necessary security measures to protect your site from viruses and spam.
What is the Cheapest WordPress Hosting?
My choices for the cheapest managed WordPress hosting services are listed below. While the prices may vary a little bit, my options were based on the value offered for that price. Read on:
EasyWP
BlueHost
SiteGround
NameCheap
GoDaddy
DreamHost
What Is WordPress Hosting?
Before we explain exactly what WordPress hosting is, it helps to state what hosting is. Web hosting is a service that is provided by servers that allow you to post a website online. This is a requirement for setting up a site, and you will come across several hosting services online.
Source: wpbeginner.com
WordPress hosting is not any different as it's simply hosting that has been set to perfectly meet WordPress technical specifications and security requirements. It also includes a set of quick one-click WordPress installations that can help get users set up and running quickly.
The technical specifications required to host a WordPress site are relatively low, and most hosting services can host these sites. But this does not render the WordPress optimized hosts null and void.
They won't offer you the best as they will "just host" your site and nothing more. Going for a WordPress hosting service will provide you with the best user experience for both the site owner (you) and your visitors.
What is the Fastest WordPress Hosting?
Speed is an essential factor when picking your preferred hosting plan. You might find an averagely fast hosting service that handles your regular traffic well but what happens if you hit a favorite day and your traffic spikes? Not all hosting plans can handle that well. This way, it helps to look at some few factors when picking the fastest WordPress hosting.
Your audience is a vital determinant as they have a direct impact on the speed. The plans that offer you unlimited allowance are not very practical, and you can only get the truth once their unlimited space has been tested to the limits. Traffic spikes can make your site go down if the server capacity cannot handle the numbers. This way, always pick a hosting plan that can handle your traffic even during the peak days.
The server location is another thing that affects the speed. It is easily overlooked but make sure that the server you select is close to the audience's general location. Going for a cheaper option that is on the other side of the globe will affect your site's speed.
Here are my picks for the fastest WordPress hosting services, but always conduct an in-depth analysis before picking one that will be fast for your site and audience:
EasyWP
SiteGround
WPEngine
InMotion Hosting
BlueHost
Pagely
Can You Start Hosting WordPress on AWS?
Amazon is known for being one of the largest ecommerce platforms in the world, but were you aware that it offers one of the best web services in the world today? Well, Amazon Web Services is a secure cloud services platform that provides computing power and other functionalities to help businesses scale up. Out of all these services, we will be more interested in their hosting services and whether you can start hosting WordPress on AWS.
You can host your WordPress site on AWS as it is known for its top-notch reliability and uptime. Almost all of its data center locations have close to 100% uptime, and websites hosted there never go down. It is fast becoming a popular cloud hosting option for businesses owing to how giants such as Facebook host most of their business infrastructure on their cloud.
It is worth noting that setting up your site on AWS is not easy. You will have to learn complex codes to set up and manage the site. However, they also have a managed option which reduces the technical work you are required to do and allows you to focus on your website. The security services provided by AWS are awe-inspiring, and your site will always be safe from attacks.
AWS charges for their hosting service on a pay as you go basis. This means that you will be billed based on your traffic and spikes will increase your bill.
Summary
Ultimately, if you're running a WordPress site, managed hosting is better than shared or free services. By paying a little extra, you get better site speed, which impacts your customer experience, SEO, and ability to make money online. With managed WordPress hosting, you need to check out reliability, speed, ease of use, uptime, and more.
Are you using managed WordPress hosting? What are your thoughts?