7+ Best Market Research Tools of 2023 (Ranked for Business)
Choosing the right market research tool is vitally important to your business. From primary research to surveys and polls, the best market research tools can help you meet your goals. In this guide, I ranked and reviewed the 7+ best market research tools, so that you can pick the best one for you.
---
We're reader-supported. When you buy through links on our site, we may earn an affiliate commission.
Market research is the heart and soul of any successful product/service launch. Most humans are habitual creatures, and we like to stick with what we know. As a result, getting someone to switch to a new product or service takes proper research by marketers.
Thankfully today, market research isn't as challenging as it used to be in the days of door-to-door surveys. Now you can take advantage of online tools and get the job done efficiently.
There are multiple disciplines (and tools) when it comes to market research. There's:
Social media surveys and real-time analytics can do more to help your market research than all of the offline surveys in the world.
That's why I'm here to help you out with seven of the best market research tools that you can use today. Using a thoughtful combination of these tools, you'll be able to understand precisely what your target demographic wants in a new product or service.
What Are the Best Market Research Tools?
Here are my top picks for the best market research tools.
Best Overall For Market Research.
QuestionPro is great to get started with when designing the right survey for your brand.
With multiple question types and branching, you can create surveys that are both simple and complex.
There are also as many as 88 customizable templates that you can choose from, so you can create surveys that are tailored to your needs.
From MaxDiff and A/B Testing to Research Services, you will be able to gather actionable insights that empower both your business and your customers.
If you want to solve your hardest market research challenges, QuestionPro is the tool for you.
Features:
QuestionPro gives you access to tons of professional survey themes so that you are able to design beautiful, on-brand surveys.
With QuestionPro, you also get the following features:
Skip logic branching allows you to customize the survey experience for each respondent. This feature is great if you want to create more complex surveys.
Google Sheets integration allows you to easily export your survey data into a Google Sheet for further analysis.
The customizable thank you page lets you brand the end of the survey experience with your own logo and message.
Raw data export lets you download all of your survey responses in a CSV file so that you can manipulate the data however you need to.
24/7 email support means that someone is always available to help you if you have any questions about using QuestionPro.
Multilingual surveys let you reach respondents in their native language. With QuestionPro, you can reach a global audience and get insights from around the world.
Pricing:
QuestionPro offers three pricing plans:
Essentials: Free
Advanced: $99 per month
Team Edition: Request pricing for more information.
Get started with QuestionPro.
Best for Creating In-Depth Online Surveys
If you're worried about whether your customers are satisfied with your offerings, then SurveyMonkey can be your best friend. It's a powerful software that lets you create quick surveys to gauge your target market's response.
Using this tool, you can easily create advanced surveys, run online opinion polls, and conduct detailed marketing research. It even provides you with many pre-built survey templates and nifty features that help speed up the entire process.
The platform is extremely user-friendly and supports advanced survey logic, and all its questions are framed to eliminate any form of customer bias. Despite offering so much in terms of features, the software leaves a lot of room for customization of surveys.
Features:
One of the best things about SurveyMonkey is that you can also create surveys from scratch despite the presence of pre-built templates. With over a dozen question types ranging from MCQs to rating scales and more, you're sure to find what you need here.
The following is a list of the essential features that SurveyMonkey offers:
Ability to create quick surveys
Fully optimized for mobile users
Over a dozen pre-built question types
Easy integration with other software
Advanced reporting features
Over 200 customizable survey templates
AI-powered questions selection
Supports advanced logic functions
Automatic scoring and gradation for quizzes
Easy-to-use interface
Pricing:
As far as pricing is concerned, SurveyMonkey offers enough flexibility to customers. The Basic Plan is entirely free, and you can use it with reasonable limitations. In case you're a professional or team leader looking to upgrade, you can always opt for one of the paid plans.
Here's a list of the paid plans that SurveyMonkey has to offer:
Standard Monthly Plan at $99/month
Advantage Plan at $32/month
Premier Plan at $99/month
Team Advantage Plan at $39/user/month
Team Premier Plan at $75/user/month
All plans are billed annually. In addition to the above plans, SurveyMonkey provides discounts for students and educators. They also offer Enterprise Plans at custom rates.
Best for Keyword Research
Google Trends is a keyword research tool offered by Google that you can use to make your content more friendly for search engines. The tool offers SEOs and marketers deep insights into what audiences around the world are searching for.
The one thing that's different about Google Trends as compared to other keyword research tools is that it shows you relative search volumes. Relative search volume results allow you to understand how a particular search term performs against other comparable terms.
Using Google Trends, you can get detailed insights into the most popular search topics. You can segment the results according to region, time, and even search network type. This is the ideal tool for checking out seasonal keyword trends.
Features:
You can use the tool to gauge spikes or dips in search volume that specific events have triggered, along with comparative keyword research. Such data can be used in a wide variety of marketing campaigns, from SEO and paid search to content marketing.
With Google Trends you get access to the following features:
Comparative keyword research
Coverage across multiple search networks and types, such as image search, YouTube search, and Google Shopping
Data segmentation based on temporal and geographic parameters
Allows you to recognize market trends and areas of high customer interest
Easy competition analysis
Pricing:
Google Trends differs from other market research tools in that it's completely free to use. You don't have to purchase a subscription for using it to its full capacity. You can just visit the website and get started with your research without even logging in to Google.
Best for Real-time Social Media Research
Social Mention is a dedicated, real-time search engine that's focused on social media mentions. The tool lets you glean insights about what your present and prospective customers are talking about online.
Using Social Mention, you can gather valuable insights about social media activities across websites. You just need to type in a search term, hashtag, or website URL, and you get to see all mentions across social media for that particular brand or product.
This tool's unique advantage is that you can use it to get actionable insights for a brand from multiple social media sites. Such an approach makes the task easier for marketers and makes engaging with social media conversations a real-time experience.
Features:
Tracking mentions across social media is one of the essential tools for brand success. Social Mentions helps you do just that by providing a better understanding of how customers interact with your brand.
Here's a list of the primary features that make Social Mention useful:
Real-time brand monitoring
Detailed competitor analysis
Online reputation management
Covers all popular social media platforms
Helps find the right influencers
Sentiment, keyword, and hashtag analysis feature
Pricing:
Social Mentions is a free-to-use tool, and you can use it without any form of subscription. However, the results you get will be limited; if you're looking for detailed social media analysis, you can get a paid subscription to BrandMentions, its parent platform.
Here's a breakup of the paid plans for BrandMentions:
Growing Business Plan at $99/month
Company Plan at $299/month
Enterprise/Agency Plan at $499/month
5. Qualtrics
Best for AI-based Experience Management
Qualtrics is an AI-based experience management platform that helps more than 11,000 brands across the world manage customer experience. Using the tool, you can perform high-quality market research at a fast pace.
Qualtrics takes care of all your customer experience management needs from one single location. From market segmentation and competitive benchmarking to gathering customer feedback on new services and products, Qualtrics helps you do all this and more.
With this platform, you can get detailed insights into all aspects of market research. It uses advanced statistical methods to uncover details about your target audience. And you get all this at a mere fraction of the time it takes to do the same using traditional methods.
Features:
As far as features are concerned, Qualtrics is up there with the best market research tools. Whether you're looking to develop a marketing strategy or understand purchase behaviors, this is the platform to use.
Here's a list of the top features that Qualtrics has to offer:
Market trends analysis
Conjoint analysis to optimize the customer experience
A/B testing for effective change management
Online panel management
In-depth ad testing across vital customer segments
Fully optimized for all screen sizes
On-demand access to millions of respondents
Brand tracking across online channels
Academic research options
Pricing: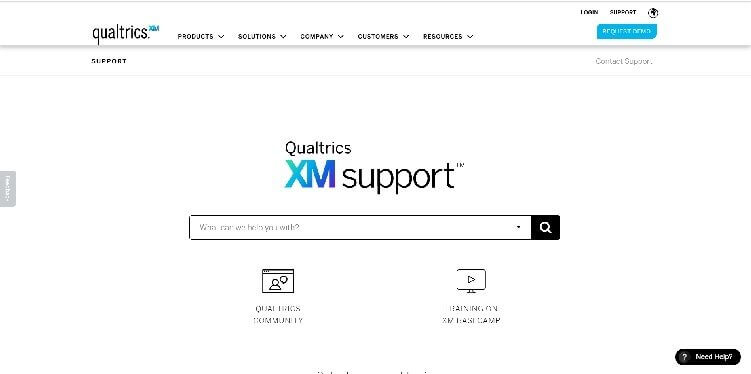 Qualtrics doesn't publicly display its pricing plans for everyone. However, you can request a demo from the official website.
6. Statista
Best for Statistical Data Analysis
Anyone who has ever engaged in online research is familiar with Statista. It's an online statistical data analysis portal that collates market data from over 600 industries. The service is present in over 50 nations, which means you get a global data perspective.
The interface for using the tool is relatively straightforward. You visit the site, type in any relevant topic or keyword for which you want to see stats, and the tool will do the rest. All the data is presented in the form of blue-colored data charts that are easy to understand.
Here you can get market research data for creating buyer personas, building online questionnaires, and even content marketing purposes. In short, if you're a marketer looking for reliable statistics backed by research, Statista is the platform to go with.
Features:
In terms of features, Statista has a no-frills approach. It provides users with a clutter-free interface, and the result charts are simple to understand. You also get a plethora of reporting tools.
Here's a list of some other essential features that Statista offers:
Detailed statistics across several industries
Digital trend reports for significant brands and businesses
Downloadable data in multiple formats
Related data and statistics
Marketing outlook tools
Infographics
Global surveys
Pricing: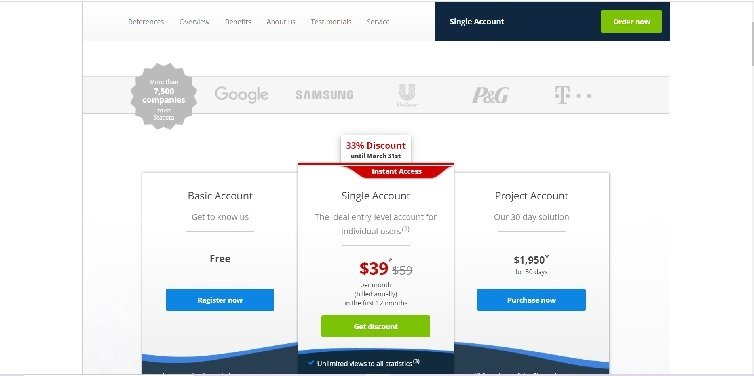 Statista's pricing plans are spread across three tiers, of which the first one is entirely free to use. With the free plan, you get access to basic statistics, and can even download charts in PDF or PNG format.
For unlimited statistics and advanced features, sign up for any of the paid plans:
Single account plan at $39/month, billed annually
Project account for corporate solutions at $1950/30 days
Corporate account at $700/month
Enterprise account at custom pricing
Campus license at custom pricing
7. Tableau
Best for Visual Data Analytics
Tableau is a visual data analytics platform that helps startups and established businesses make sense of complex data in a simplified manner. Using it, businesses can analyze critical data items easily and glean essential insights.
The tool allows you to collect and collate data from multiple sources like excel sheets, relational databases, and Google Analytics. You can then combine these data items to create collective datasets that deliver a more cohesive picture of the market.
You can use Tableau to segment and analyze data based on many criteria such as geography, demographics, and much more. You can also create interactive visualizations for sharing with your target audience.
Features:
Tableau uses a simple drag-and-drop interface to create reports and visualizations and requires little to no coding knowledge. It comes in multiple versions such as Desktop, Server, and Online, and is also available on mobile.
The following is a list of the significant features that Tableau has to offer:
Programming-free data collection and collation
Simple switching between live and extracted data
Secure sharing and collaboration
Fully optimized for mobile
Easy embedding of dashboards in applications such as SharePoint and Salesforce
Unlimited number of data connectors (both on-site and cloud)
Multiple levels of analysis granularity
Dedicated customer service
Pricing:
One of the exciting aspects of this software is that it doesn't provide pricing for its products. Instead, Tableau's pricing depends on users' needs, and each plan includes all essential features that you need, from product upgrades to maintenance.
Tableau's pricing plans are divided across the following tiers:
Tableau Creator at $70/user/month
Tableau Explorer at $35/user/month
Tableau Viewer at $12/user/month
Tableau also offers add-ons for data and server management at $5.50 and $3.00 per user per month. For Enterprise level plans, you'll need to contact the service for details. All plans are billed annually.
8. Typeform
Best for Building Feedback Forms
Typeform is a feedback and survey creation tool that's entirely cloud-based. Using it, you can create quick and easy surveys for collecting customer data in engaging, meaningful, and exciting ways.
Typeform's user interface is intuitive and straightforward, and you get to use a drag-and-drop system for creating customized surveys. It also offers detailed analytics and reporting features, along with the ability to view real-time survey responses.
One of the aspects of this software that I like is its ability to customize surveys according to your brand image. And the variety of surveys that you can create is also enticing, ranging from short-text quizzes to picture-based surveys and more.
Features:
Every feature that Typeform offers revolves around a simple premise: the quality of the answers you get depends on how you ask the questions. That's why this tool makes it easy to create trending surveys that users can't have enough of.
Here's a list of some significant features that Typeform offers:
Desktop as well as mobile surveys
Tools for data analysis
Entirely cloud-based operation
Detailed documentation
Live online training
Codeless form development
Easy integration with over 500 business apps
Pricing: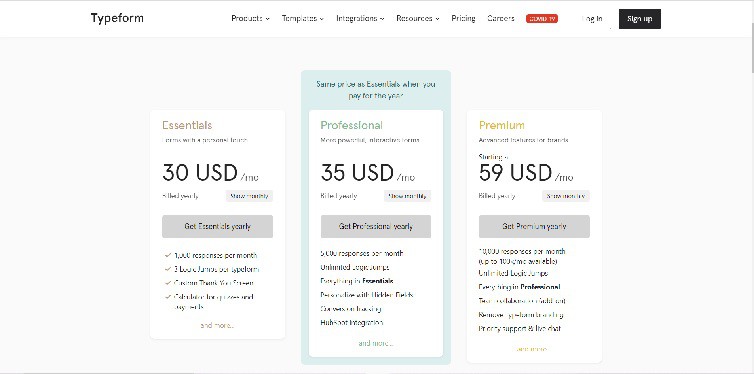 Typeform offers a Free Plan that lets you get a taste of the platform and its capabilities. In case you find that your requirements are not being fully met by the Free Plan, you can opt for any of the paid plans.
Paid plans for Typeform are distributed as below:
Essentials Plan at $30/month
Professional Plan at $35/month
Premium Plan starting at $59/month
You can also opt for custom plans that exactly suit your business needs. For this, you'll have to contact the Typeform sales team to get exact details. I recommend you opt for the yearly plans as that way you get to save a bit.
What is Market Research?
Market research is an in-depth analysis of your target market that you must complete before launching a product or a business. Inadequate market research is one of the top reasons why new businesses fail to make a cut.
Without the proper research backing your products or services, you're likely to make mistakes in creating a suitable marketing strategy. Market research can be based on a number of factors such as census data, research reports, and data collected online.
Wrap Up
Whether you're a small business or a research firm trying to establish customer behavior patterns, market research tools can be your best bet. These software take the hassle out of the process and ensure you can get the job done effectively.
In case you're looking to conduct thorough market research for your business, opt for any combination of the tools mentioned here:
Just take a pick from among any of the above and get started with your market research.
Disclosure: I may receive affiliate compensation for some of the links below at no cost to you if you decide to purchase a paid plan. You can read our affiliate disclosure in our privacy policy. This site is not intending to provide financial advice. This is for entertainment only.