7 Best Meeting Management Software of 2023 (Ranked)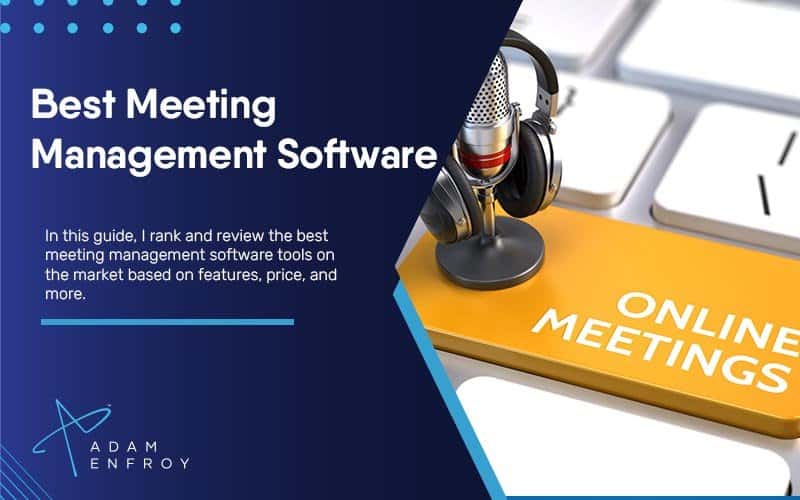 Let's face facts: the average manager spends 50% of their work time in meetings.
And even if you're not a part of the upper management, you need to spend a considerable amount of time attending meetings.
Now that remote work is more common, meetings have primarily moved to the virtual space.
And to cater to that market, a large number of meeting management software tools have popped up.
Whether you are running a meeting with your internal team or have an organization that features meetings between a cross functional team, the right meeting management tools will come in handy.
But the real question is: how do you choose the right one?
To help you answer that question, today, I've curated a list of the seven best meeting management software.
Once you've gone through these, I'm sure you'll be able to make a suitable pick.
What Is The Best Meeting Management Software?
Here are my top picks for the best meeting management software on the market.
Best For Managing Video Meetings
When it comes to an all-in-one video meeting tool, Zoom is the option most professionals turn to. It's designed to cater to video meetings and provides a host of features that can help you get the desired outcomes from your meetings with ease.
Using Zoom, you can manage your online meetings, sync with Google calendar and take care of meeting scheduling from any location in the world. It also lets you record meetings and automatically generate searchable transcripts for easy information retrieval.
Zoom also provides real-time screen sharing and co-annotation facilities in addition to video conferencing. This helps you to edit and collaborate on shared documents seamlessly. The tool also allows you to create private as well as public groups for segmented team chats.
Features:
When it comes to features, Zoom doesn't hold back any punches. Along with the above features, it lets you create online polls, manage team members, and even host webinars. You can also set it up to integrate with third-party tools such as Slack.
Let's take a quick look at the list of features that Zoom offers:
HD audio and video calls
Up to 1000 meeting participants
Public as well as private groups and team chats
Screen sharing and co-annotating
Meeting minutes and auto-generated transcripts
Custom background settings
Integration with third-party calendar tools
Powerful end-to-end encryption and role-based security features
Android, as well as iOS mobile apps, are available
File sharing functionality
Integrations with numerous third-party apps
Pricing: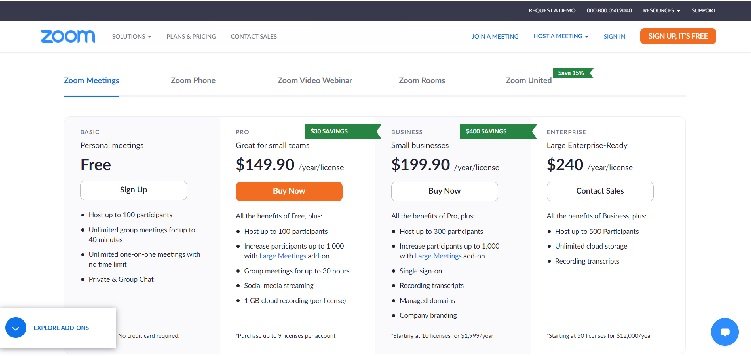 When it comes to pricing plans, Zoom keeps it simple and distributed across four tiers. Each upper tier plan comes with progressively increasing feature sets, so you can select the one that's best suited for your business's requirements.
Here's a quick break up of Zoom's pricing plans:
Free Plan at $0/year
Pro Plan at $149.90/year/license
Business Plan at $199.90/year/license
Enterprise Plan at $240/year/license
Apart from the above base plans, you can also opt for the optional add-on plans for cloud storage, audio conferencing, and large meetings.
If you are not sold on Zoom as your video conferencing software of choice, check out my Zoom alternatives roundup post for more options.
Best For Feature-Rich Meeting Management
Lucid Meetings is a tool that's packed with all the essential features for online meeting management. From setting meeting agendas to taking meeting notes, this tool has something for small businesses and large enterprises alike.
Using the tool is simple, as it comes with detailed instructions for setting up audio and video conferencing. You can use the tool to assign action items and follow-ups, keep meetings streamlined, and prevent overlapping conversations using speaker queues.
One of the significant advantages of using Lucid Meetings is that it allows you to define the meeting agenda right down to the smallest details. The meeting host can even set up specific meeting roles for the participants to ensure easy streamlining of the process.
Features:
What I like about Lucid Meetings is the fact that it offers several pre-built meeting agenda templates that help to save time when planning meetings. At the same time, the UI is extremely user-friendly, which is undoubtedly a bonus.
Feature-wise, Lucid Meeting offers the following facilities for efficient meeting management:
Real-time note taking and sharing
Ability to record meetings in multiple formats
Searchable records for previous meetings
Agenda and meeting templates
Built in screen sharing software and meeting timers
Built in call recording and audio transcription software
Pre and post-meeting preparation tools
Attendee management and role assignment
Invitation, minutes, and voting management
Automating meeting minutes
Post-meeting reports
Online conferencing and documentation features
Easy screen sharing
Pricing:
Lucid Meetings pricing plans are distributed across three tiers, based on the organization's size that needs catering to. All prices are available monthly and payable annually, based on the number of hosts you need it for.
Here's a quick breakup of the Lucid Meetings pricing plans:
Teams Plan for $12.50/host/month
Business Plan for $249/month
Enterprise Plan at custom rates
In case you have more questions, you can schedule a private call with the customer service team.
Best For Larger Enterprises
WebEx is a meeting management software system that's dedicated to helping larger enterprises host effective meetings. Using the tool, your business can host high-quality video meetings without any caps on the number of participants.
The best aspect of using WebEx is that you're not going to get video, audio, or connection problems, unlike other meeting management solutions. And even though it is rather heavy in terms of design and UI, it works like one of the most lightweight meeting management tools.
When using WebEx, you can easily schedule meetings and host them in a busy environment. It allows you to send meeting invites via email, and you can also save the contact information for future use.
Features:
WebEx lets you schedule meetings with two scheduling options: the Quick Scheduler and the Advanced Scheduler. As the names suggest, the Quick Scheduler is for planning a meeting fast, while the Advanced Scheduler is best suited for recurrent meetings.
Here's a list of the other essential features that you can avail of when using WebEx:
Private communication rooms
Video as well as audio recording
Playback and screen sharing
Send meeting invites via email, SMS, and phone
Easy file sharing and editing
Ability to switch devices in-meeting
Integration with project management tools
Easy to use and detailed UI
Customizable collaboration tools
Global screen sharing
Cross-platform usability across PC, Mac, iOS, and Android
Desktop integrations with software such as MS Outlook
Easily scalable for all sizes of enterprises
Pricing:
WebEx offers four pricing plans according to the size of the organization which needs to use the tool. All plans can be billed monthly and annually, although I recommend the annual billing cycle so that you can save 10% on fees.
Here's a quick breakup of the pricing plans that WebEx offers:
Free Plan at $0/host/month
Starter Plan at $13.50/host/month
Business Plan at $26.95/host/month
Enterprise Plan at custom rates
4. Boardable.
Best For Board Meetings
If you're a mission-driven business looking for a board meeting platform and task management tool at affordable rates, then Boardable is the solution you need. This is a tool that focuses on improving meeting management and ensuring focused outcomes.
With Boardable, you can choose to hold virtual meetings, assign tasks to the meeting attendees and manage the same, all from a single interface. You can also share all agendas that are relevant to the meeting.
The one essential aspect where Boardable stands apart from other meeting management solutions is that it helps you hold productive meetings and streamlines workflows between them. This is a feature that enables seamless team collaboration.
Features:
Feature-wise, Boardable is a relatively simple tool that's user-friendly yet feature-rich. It's easy to set up and start using, not to mention highly affordable. The service also comes with a great customer support team ready to help you around the clock.
If you're interested in the features of Boardable, take a look below:
Dedicated agenda builder
Automated meeting schedules
Boardable Spotlight collaboration feature
Document Center for easy and seamless document management
Faster e-signatures for legalizing documents
Task manager for improved accountability and productivity
Advanced reporting features
Goal tracking and measurement
Virtual polling and votes
Pricing:
Boardable has a transparent pricing policy that makes it easy to select the plan you need. Plans are divided across four tiers based on the number of users you need to include. Billing is done monthly as well as yearly, though the latter gives you a 10% discount.
Here's a quick break up of Boardable's pricing plans:
Grassroots Plan starting at $79/month
Essentials Plan starting at $149/month
Professional Plan starting at $249/month
Enterprise Plan at custom rates
5. Microsoft Teams.
Best For Globally Distributed Teams
Microsoft Teams is one of the newer entrants on the meeting management tool front but has quickly made a name within just a few years of its release. And because it's a free tool, there's no need to think twice about using it.
The advantage of using Teams is that it helps bring and keep all your team members on the same page. With enterprise-level meetings that allow up to 10,000 participants, I'm sure you'll be able to accommodate all your team members and then some.
The tool lets you conduct meetings through shared workspaces, host video/audio conferences and even set up webinars. You also have the capability to use features such as note-taking, screen sharing, and even forwarding attachments.
Features:
The wide range of audio/video conferencing features that Microsoft Teams provides helps make team meetings seamless. It allows all your meeting attendees to participate in the decision-making process, ensuring complete transparency across the meeting room.
If you're thinking about using Microsoft Teams, then take a look at its feature-set:
High-quality audio/video features
In-meeting screen sharing and note-taking capabilities
Team chat feature for seamless communication
Ability to forward file attachments and garner feedback
Audio-conferencing via phone
Dedicated meeting rooms for granular, segmented meetings
Live web-conferencing features for a large number of participants
Easy integration with third-party apps and extensions
Suitable for small as well as large-scale meetings
Unlimited messages and searchability
Virtually unlimited amount of cloud storage
Fast and simple design
Pricing:
The Microsoft Teams software is available for free, basic use. However, if you're a larger business in need of advanced capabilities involving massive team sizes, you can opt for one of the paid Microsoft 365 Plans, with which Teams come bundled.
Here's a simple and easy breakup of the Microsoft Teams pricing plans:
Microsoft Teams Free Plan (with no commitment)
Microsoft 365 Business Basic Plan at $5/user/month (annual commitment)
Microsoft 365 Business Standard Plan at $12.50/user/month (annual commitment)
Both the paid plans come with a one-month free trial period.
6. Skype.
Best For Free Meeting Management
Up next is Skype, another team meeting management tool from Microsoft. Businesses with a globally distributed workforce still prefer Skype as the best and most affordable tool for remote communication and meeting management.
One of the essential features of this tool is the whiteboard capability to visualize ideas effectively. You can also share screens, create streamlined workflows and ensure real-time collaboration, thereby eliminating information silos.
Skype also comes with a presentation feature with annotation and highlighting built-in. All this allows you to make an impact with your presentation and ensure that stakeholders remain on the same page.
Features:
Like Microsoft Teams, Skype can host multiple participants through its broadcast feature. It also supports instant messaging, in-time feedback, and much more.
Here's a quick overview of the features that Skype can help you with:
Screen sharing for better collaboration
Whiteboard feature for real-time ideation and editing
Auto-cropping and facial tracking for improved visualization
Ability to upload PowerPoint presentations and annotate the same
Fast meeting invites through personalized URLs
Instant messaging and feedback sharing
Video conferences with mass attendance
Polls, Q/A sessions, and Surveys
Integration with Office 365 apps
Meeting recording feature
Easy syncing with multiple devices
Mobile app for Android/iOS
Pricing:
Skype is available for free on multiple platforms, such as tablets, mobiles, and desktops.
7. Fuze.
Best For Cloud-based Meeting Management
Fuze is a meeting management tool that's suitable for any business environment and business size. It's a fast, light, and simple meeting management software system ideal for any business communication: audio, video, or chats.
You can also use Fuze for hosting webinars, sharing screens, and disseminating content. The tool is extremely customizable, which means you can modify and adapt it according to the needs of your business.
Another significant aspect about Fuze is that the developers are focused on attention to detail. With a neutral color palette and simple design, you're sure to love working in the environment. At the same time, you also get enterprise-level security.
Features:
Since Fuze is entirely cloud-based, you can use it from any device and location you want. This provides your employees with added flexibility for communicating across and within teams.
Here's a list of the features that Fuze boasts of:
Suitable for all sizes and types of businesses
Superior security features
Clean and user-friendly interface
Works with most devices
Easily integrable with most popular browsers
HD video and audio quality
No limits on the size of files that can be shared
Available on desktop and mobile both
Pricing:
Based on your needs, Fuze has multiple plans that you can combine to get the right mix for any business. Along with the base plans, you can also include several add-ons for enhancing your team-meeting capability.
Take a look at Fuze's pricing plans and select the one you need:
Fuze Meetings at $15/user/month
Fuze Calling at $25/user/month
Fuze Pro at $35/user/month
Fuze International at $45/user/month
Fuze Unlimited Global at $65/user/month
Wrap Up.
Without the right meeting management software, working remotely with a global workforce can be challenging. These tools help you get the most out of your meeting time and ensure that all agenda items are taken care of.
If you're in search of a suitable meeting management software, then take a pick from among my choices below:
Zoom: Best For Managing Video Meetings
Lucid Meetings: Best For Feature-Rich Meeting Management
Cisco WebEx: Best For Larger Enterprises
Boardable: Best For Board Meetings
Microsoft Teams: Best For Globally Distributed Teams
Skype: Best For Free Meeting Management
Fuze: Best For Cloud-based Meeting Management
I'm sure you'll be able to find a suitable choice from among the above options.
If you are looking for other tools to help you with your meetings or managing your team check out these roundup posts:
Disclosure: I may receive affiliate compensation for some of the links below at no cost to you if you decide to purchase a paid plan. You can read our affiliate disclosure in our privacy policy. This site is not intending to provide financial advice. This is for entertainment only.