17+ Best Money Making Apps For Fast Cash in 2023 (Ranked)
Choosing the right money making apps for fast cash is vitally important to your business. From micro-investing to getting cash rewards, the best money making apps can help you meet your goals. In this guide, I ranked and reviewed the 17+ best money making apps for fast cash, along with my top 5 choices, so that you can pick the best one for you.
---
We're reader-supported. When you buy through links on our site, we may earn an affiliate commission.
Did you know there are a lot of easy ways to make money online directly from your smartphone? Money making apps help you do just that.
The average smartphone user spends 4 hours and 30 minutes on their device every single day.
While you could spend this time browsing social media and news sites, you could instead take some of your time back and earn some cash.
These rankings cover different types of money making apps:
iPhone apps where you perform simple tasks for free money.
Money-saving apps that help you save money.
Personal finance apps for automated investing and passive income.
New apps to earn cashback on everyday online purchases.
Let's get started.
What Are the Best Money Making Apps?
Here are my top picks for the best money making apps to use this year.
Best for paid surveys and online gift cards.

Adam's Take
I advise you to check out Swagbucks if you are looking for a quick and easy way to make money online. This unique platform gives users opportunities to earn 'Swagbucks,' which can be redeemed for gift cards or cash. Combine online shopping, paid surveys, watching videos, and more to earn money.
Swagbucks helps you earn quick bucks while shopping online, browsing the internet, and watching videos. You can also participate in online surveys, polls, or just play online games to earn more. You can redeem the rewards in the form of specific merchandise, gift cards, or cash.
Here are the ways to earn gift cards with Swagbucks:
Shop online at online retailers like Amazon, Walmart, Target, and Starbucks.
Answer surveys and earn gift cards.
Watch videos.
Earn points & gift cards with exclusive deals and offers.
Browse the with Swagbucks's Yahoo! powered search engine.
Play games and make in-game purchases.
Swagbucks operates in the USA, India, Canada, Australia, France, Germany, Spain, Portugal, and the UK (Britain, Ireland, Australia, New Zealand). What's more, you can register on Swagbucks for free through Facebook or your personal email. You can also earn through referrals and make some extra points.
Key Features:
Gold Surveys – Gold Surveys reflect the time it would take to complete a survey and the points you can earn from it.
Daily Poll – You can answer one poll regularly to earn 1 Swagbucks point daily.
Cash Out Early – Swagbucks lets you transfer as little as $3. This means you don't have to wait for long for your paycheck.
Pros:
It offers gift cards for Amazon, Freecharge, Walmart, Expedia, PayPal, and more.
For every 20 minutes of video, you can earn around 2 Swagbucks points.
It also offers featured stores and shopping deals from Groupon.
Pricing:
It's free to sign up and you get a $10 bonus.
Get started with Swagbucks.
Best for earning extra bucks by taking online surveys.
Adam's Take
Are you a fan of surveys and earning extra cash? If so, Survey Junkie is definitely a platform to check out. By sharing your opinion on various brands and products, you can make money with Survey Junkie. It's easy to get started, and you can start earning extra cash right away.
Survey Junkie enables you to influence brands by sharing your opinion to earn extra money with surveys.
It helps you take surveys based on your profile and rewards you with virtual points. You can then redeem your virtual points for e-Gift Cards or transfer them to PayPal.
You can transfer your money directly into your bank account. Or you can receive cashouts via PayPal, Amazon gift cards, and more.
Key Features:
Extensive Gift Cards – It offers gift cards of several brands, including Amazon, Sephora, iTunes, Starbucks, Walmart, Target, and Groupon.
Quick Estimate – You can check the time required to complete a survey and how many points you can earn.
Pros:
You can view all the available surveys on a single dashboard.
The user interface is easy-to-use.
The answers will be completely anonymous.
Pricing:
You can register and participate in surveys for free.
Get started with Survey Junkie.
Free investment platform for building wealth.
Adam's Take
For those that like investing, I recommend M1 Finance. M1 Finance is an investing platform that helps you grow your money while taking on minimal risk. If you're looking to save by making small, regular investments, M1 could be a good option.
M1 Finance provides a range of financial tools to help you manage your spending, investing, and borrowing.
It also assists you in managing and rebalancing your portfolio. What's more, its intelligent automation gives you the best instruments to invest and cheapest options to borrow money.
With just $10,000 investment, you can open a credit line where you can borrow for as low as 2 percent.
It also enables you to earn 1 percent on every dollar spent. M1 Finance also offers a 25x the national average APY. It helps you earn the same amount in 2 weeks that you would otherwise earn after a year from a big bank.
Key Features:
Afternoon Trade Window – Once you have over $25,000 in your investment portfolio, you can invest in both morning and afternoon.
No Investment Commission – It offers services without any management fees or investment commission.
Pros:
Pay back your loans according to your own schedule.
It automatically transfers the settled funds into your bank account.
It lets you borrow money on very low base rates.
You get handsome cashback on specific debit card purchases.
Pricing:
You won't have to invest until your account reaches $100. Other than that, there are no commissions or broker charges.
Get started with M1 Finance.
Best for investing your spare change ($1 per month).
Adam's Take
Do you want to make your money work for you but don't have a lot to start with? Look no further than Acorns. This app helps you invest your spare change from everyday purchases into a diversified portfolio of stocks and bonds. I like it because all you need to get started is to consider your day-to-day spending and how you can adjust it to start saving.
Acorns is a micro-investing platform that helps you invest your spare change left from your day-to-day purchases.
Set up your account within minutes and build your own diverse portfolio by investing in stocks or bonds. You can invest as low as $1.
With Acorns, you can invest in:
Exchange-traded funds
Asset classes
Over 7000 stocks & bonds of top companies
Don't worry about security either. To keep your money safe, it provides bank-level security, 256-bit encryption, and two-factor authentication. It also helps you understand the nuances of investment through its detailed articles and videos.
Key Features:
Acorns Later – It helps you automate your investment and build a healthy corpus for your retirement in just a few minutes.
Advisory – Acorn's support team has qualified advisors to help you achieve your financial goals by investing in the right funds.
Pros:
It provides bank-level security.
Earn cashback at some specific retailers.
It allows you to earn bonus investments by shopping with over 350 brands.
You can register by investing as low as $1 per month.
Pricing:
Acorns has three pricing options:
Lite: $1 per month. The Lite plan includes only an investment account.
Personal: $3 per month. The Personal plan comes with an investment account, a retirement account, and a checking account.
Family: $5 per month. The Family plan provides an investment account, a retirement account, a checking account, and an early investment account for kids.
Get started with Acorns.
Make money through better online deals & cash rewards.
Adam's Take
Capital One Shopping provides shoppers with a personalized shopping experience by giving them access to discounts, coupons, and deals on the products they love. With Capital One Shopping, you can save money on your favorite brands and products, while also earning rewards points that can be redeemed for future purchases.
Capital One Shopping enables you to shop from websites and stores at the cheapest rates. After installing it on your browser, its database connects you to eCommerce stores offering the best discounts and offers on your purchase.
Capital One Shopping's intuitive mobile app lets you scan the barcodes and find stores offering the same product at a lower price. It also adds coupon codes automatically and provides credits for your purchases on sites like Walmart and eBay.
On top of that, you can also earn rewards by shopping from its partner merchants and vendors.
Key Features:
Browser Add-On – Capital One Shopping's browser add-on automatically sifts through thousands of websites to provide the best deals and prices.
Mobile App – It also offers iOS and Android mobile apps to help you scan barcodes and find the best deals and shop on the go.
Pros:
It informs you about retailers that can help you earn bonus rewards.
While shopping online, Capital One Shopping notifies you if the same product is available at a lower price on another website.
Capital One Shopping also finds out the best promo code to save some extra cash during the checkout.
Pricing:
It's 100% free to register and use.
Best for making money by renting out extra space in your home (listing your home is free).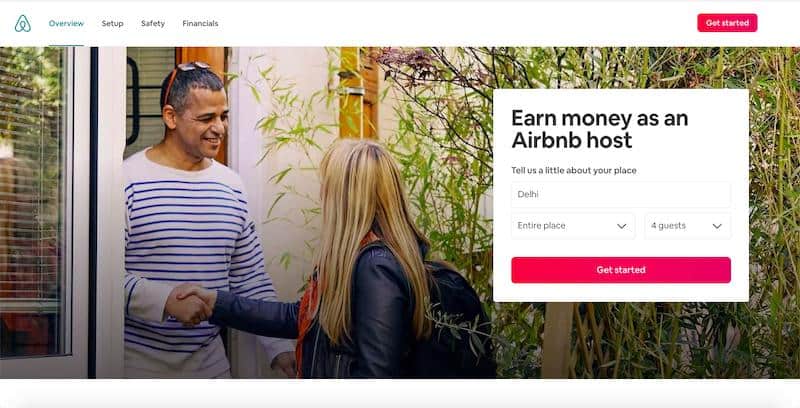 Airbnb provides you with the platform to rent out your room, condo, or any other property lying empty to make instant cash. The accommodation aggregator allows you to list your property on its website and reach billions of people globally.
Since Airbnb is a vastly popular platform, you don't have to worry about marketing or promotion. From marketing to securing bookings, Airbnb does everything for you. You can easily get a booking and earn some money from your empty real-estate.
To keep your home and belongings secure, Airbnb covers every booking with $1M in property damage protection and $1M in insurance against accidents.
Airbnb also allows you to share your experiences and take people on local tours. You can also make extra money by offering additional services like dining, transport, and cultural activities.
Here's more information on what it takes to start your own Airbnb business.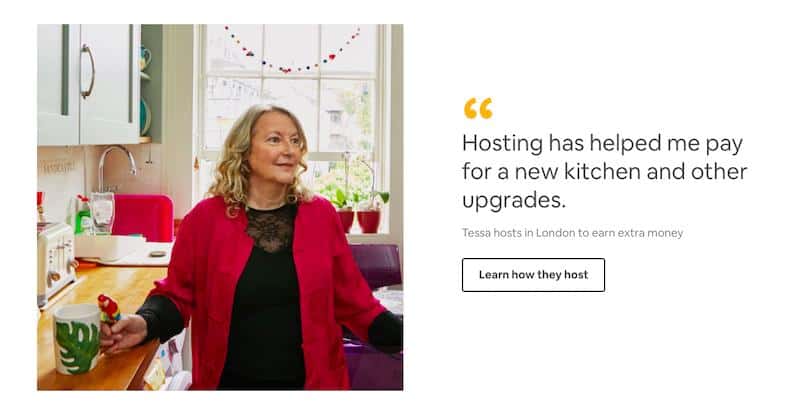 Key Features:
Online Experiences – You can help people take a tour of your local tourist spots, culinary experience, and culture virtually.
Control Hosting Days – Unlike hotels, you can control your hosting days. You can switch off the bookings on its app for the days you don't want to host.
Pros:
Get access to billions of visitors through this global platform.
You can set your own prices to derive the true worth of your property.
Airbnb releases the booking amount 24 hours before the arrival of guests.
It also gives pricing advice to attract more bookings.
Pricing/Fee:
Listing your property on Airbnb is free. However, you'd have to pay 3% generally upon reservation to cover the business's cost.
Get started as an Airbnb host.
Rent out your car for free.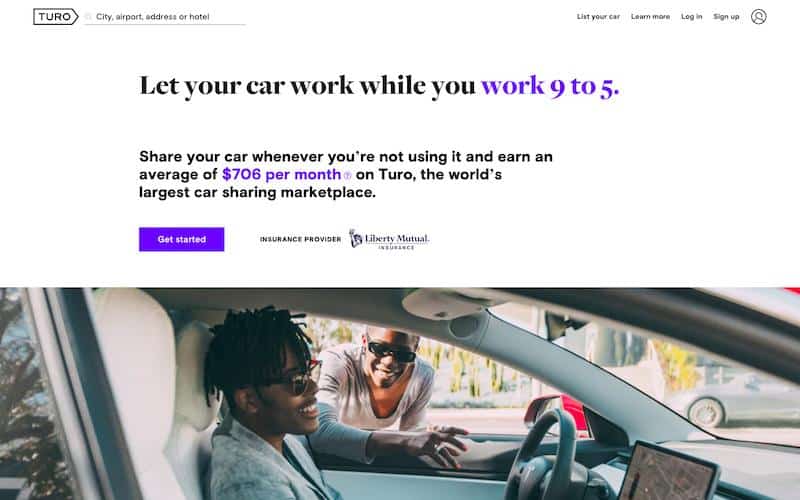 Turo is an American peer-to-peer car-sharing company that lets you rent out your sports car, truck, or anything else. Turo can make you some extra cash if your car is spending more time in the garage than on roads. You can list your car on the Turo app and rent it out to Turo users.
You can use its "calculator" to determine your monthly earning potential by renting out your car. The site claims that you can earn an average of $706 per month.
Turo is available in 5500 cities across Canada, the US, and the UK. To help you feel safe about your car, it offers protection against theft and physical damage in its contract. On top of that, it also covers $750,000 in liability insurance.
Key Features:
Two-way Reviews – Turo displays both guests and hosts reviews. It helps you select suitable guests for your car.
Set Your Price – Turo allows you to set the daily price of your car. To attract more bookings, you can also allow Turo to set the most suitable price.
Pros:
It allows you to earn up to 85 percent of the trip price.
No listing fees or signup charges.
It offers 24/7 customer support and roadside assistance.
You can also write a review of your guests.
All the guests get properly screened and verified.
Pricing:
There are no registration charges. After that, you'll earn 65% – 85% of the trip price.
Best for building long term wealth by investing in stocks.
Robinhood is a commission-free investing platform that helps you invest in stocks, ETFs, and crypto trading. It offers you a free stock after you sign up and link your bank details to help you build your portfolio.
With Robinhood, you can own blue-chip stocks like Google and Microsoft partially. Let's say even if you have $10, you can invest partially in Google and own a piece of its stock.
Robinhood is also an excellent option if you want to tap into the cryptocurrency market. You can buy and sell Bitcoin, Ethereum, Dogecoin, and other cryptocurrencies.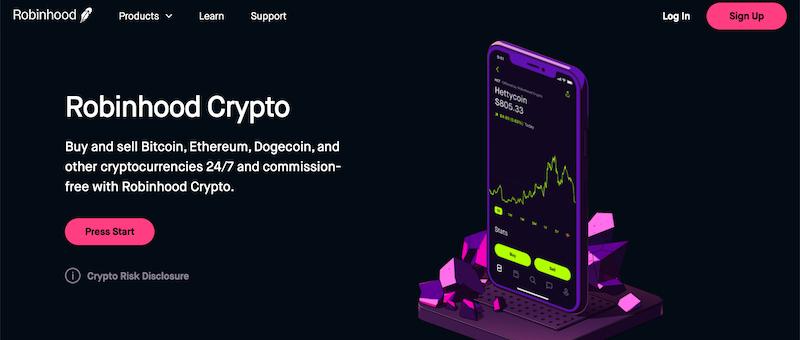 You can execute cryptocurrency trades in minimal quantities. On top of that, it offers a user-friendly experience to help you trade equities easily.
Key Features:
Instant Cash – You can get instant access to the cash redeemed from your sales.
Trade in Real-Time – It offers an intuitive iOS and Android mobile app to help you trade and invest in real-time from anywhere you want.
Pros:
Invest partially in over 7000 stocks and mutual funds.
Open your account with zero balance.
It offers its Gold Service free of cost for 30-days.
Pricing/Fee:
It's a free trading and investing app. However, the gold plan with extra perks cost $5 a month.
For further reading about Robinhood, check out my direct comparison post on Webull vs. Robinhood.
Secure extra cash through surveys, coupons, and shopping.
MyPoints helps you earn reward points for both online & in-store shopping, dining out, and taking paid surveys. Other options to make extra cash include watching movies, reading emails, playing games, etc.
Once you collect enough points, you can redeem them in the form of gift cards or even cash. You can easily redeem the rewards earned from MyPoints with its over 70 partner brands. You can also redeem the points via Amazon and Visa gift cards.
You can register for MyPoints in a few simple steps. However, the website is available in the USA and Canada only.
Key Features:
Joining Bonus – MyPoints offers a $10 sign-up bonus. And you can create an account for free.
PayPal Transfer – You can transfer your earned points to the PayPal account. Around 3970 points account for a PayPal payment of $25.
Pros:
You can also use your MyPoints rewards as travel miles through your United Mileage Plus account.
Earn a large number of rewards points by shopping from its featured store.
It also applies the best coupon code at the checkout to help you earn more.
Pricing:
Registration is 100% free.
Earn cashback on your daily purchases.
Earny works like a personal assistant to help you secure automatic refunds when prices of the products drop. It offers a Chrome extension to make sure you never miss out on the best deals and right coupon codes.
You can also track the price history and get real-time notifications of price updates.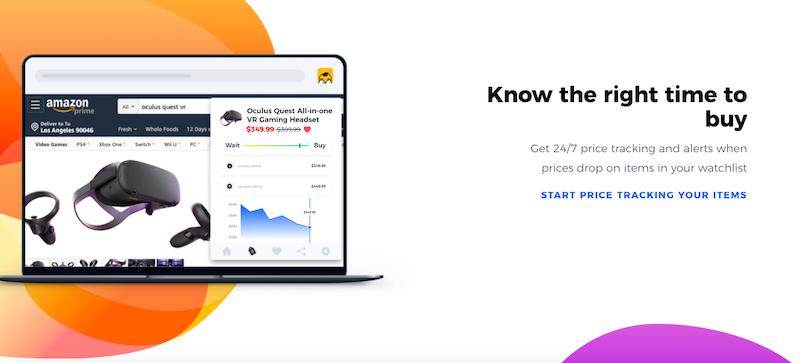 Put your items in the watchlist and buy them when their prices decrease. You can also earn cashback by sharing links with your friends who frequently shop online.
Key Features:
Hotel Deals – With over 5,000 partners, Earny also offers access to the best hotel deals and offers across the globe.
Referral Program – Get extra cashback by referring Earny to other users.
Pros:
Get the money back whenever the package doesn't get delivered on time through its Amazon Late Shipping.
Use its ShopRunner Membership to get 2-days shipping and returns.
It offers a free version that tracks your shopping.
Earny comes powered with two-factor authentication and data masking for added security.
Pricing/Fee:
Earny collects 25% of the total refunds accrued.
Best for earning fixed returns by supporting small businesses.
Worthy Bonds is an investment platform that lends money to small businesses. You can invest in company bonds and earn a fixed 5 percent interest.
The simple investment instrument helps you earn by investing as low as $10 without any extra charges. It uses your money to offer the best secured loans to American businesses. A win-win for both the partied – you and small businesses.
Here's how Worthy Bonds works:
You can use Worthy Bonds' app to watch your interest grow in real-time. There is a lock-in period of 36 months. However, you can cash in your bonds whenever you want to fuel your financial needs and goals without any fees or penalties.
Key Features:
Secure Loans – Worthy Bonds mitigates the risk to your investment by securing company assets to back up the loaned amount.
Automated Investment – You can automate the investment of your loose change. It keeps on collecting the loose change until it reaches $10 and automatically buys a bond for you.
Pros:
It secures all its transactions through 128-bit SSL encryption.
It provides a user-friendly mobile app with an intuitive interface.
Live chat and phone support.
It credits interest every week.
Easily liquify your assets with no time limit.
Pricing/Fee:
The service is free.
Best for earning extra money by filling Google surveys.
Google Opinion Rewards is a rewards-based program by Google, where you get paid for taking Google surveys. It offers short surveys and pays up whenever you fill them up.
It pays out the rewards in the form of Google Play or PayPal credit. You get surveys on multiple topics, including opinion polls, hotel reviews, and merchant satisfaction surveys.
It normally offers local surveys based on your locations. Each survey can take anything between 10 seconds to 1 minute. The credits are valid for 12 months, and the app would notify you if your credits are about to expire.
Key Features:
Use Play Store credits to buy apps, books, movie rentals, or games.
Its mobile app is also available on iOS, and you can receive the payout on your PayPal account.
You get 24 hours to complete a survey.
Pricing:
Install the smartphone app for free and get started right away.
Best for earning cashback through your linked cards.
Dosh is a cashback app that provides cash back at specific stores or restaurants every time you shop or dine with your linked cards.
Dosh helps you earn money while paying for shopping, dining, and traveling. You just need to download the app, register, and link your card. The cashback you earn automatically adds up in your wallet.
Dosh has over 100,000 partners to help you earn cash conveniently through their cash back apps. It offers a secure platform that doesn't sell your data and never stores your credit card information.
Key Features:
Bank Transfer – It allows you to transfer cashback in your bank account or getting PayPal cash when the amount is $25 or more.
Earn From Fuel – If you own a car, you can easily earn a handsome cashback every time you fill up your car's tank.
Pros:
After you link your first credit card with the app, it automatically rewards you with $5 in your wallet.
It offers a lot of cashback on in-store purchases.
Dosh provides a referral bonus of $5.
You can also transfer the cashback in your PayPal account.
Pricing/Fee:
Dosh takes a cut on each transaction.
Best for earning rewards based on the steps you walk daily.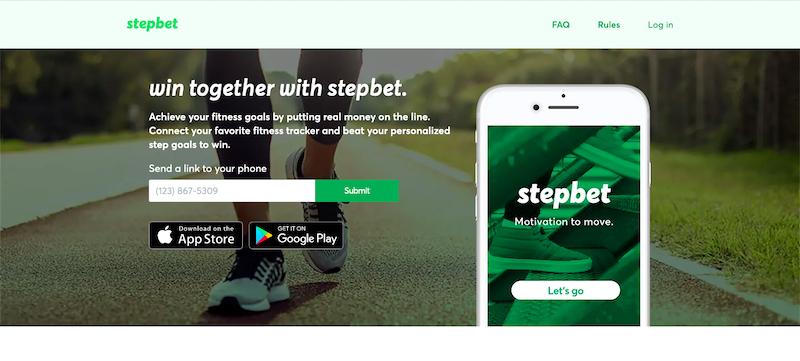 StepBet is a fitness app that lets you set personalized goals and earn rewards for meeting those goals. It also encourages you to walk more steps regularly and earn money while doing it.nStepBet comes with multiple games where you need to clock a certain number of steps to earn rewards. The app tracks your history to decide the number of steps you need to walk.
You need to place a bet based on the game and win prize money and bet money after meeting the goal successfully. It works with Apple Watch, Google Fit, Apple Health, FitBit, Garmin, and Samsung Health.
Key Features:
Warm-Up Week – Each player gets the first week to get used to the format and their goals.
Step Verification – It connects directly to your activity tracker to count steps accurately and get a valid step count.
Pros:
It lets you set up personalized and unique step goals.
You instantly become eligible for the new game after the disqualification.
You can use the earned points for your future games or simply request a PayPal payout.
Pricing/Fee:
StepBet takes a cut of 15% of your total winnings. It also charges an additional $5 fee if you cash out with a paper check.
Best for earning cashback on grocery shopping.
Ibotta is a free app that provides real money for everyday purchases from select brands, both online and in-store. When you sign up on Ibotta, it instantly rewards you with a $20 welcome bonus.
On top of that, you can earn $5 more when your friends register on the app through your referral. With great offers on groceries, you will never stop earning.
The Ibotta app integrates with a variety of retailers, including Banana Republic, Amazon, and Kohl's. You also stand a chance to earn on shopping from delivery services like Walmart Grocery, Instacart, and Shipt.
You can also install its browser extension to gain access to the best deals and cashback all the time.
Key Features:
Ibotta App – The app allows you to sneak into your preferred stores and browse their offers. You can also purchase the app directly.
Loyalty Card – Link your loyalty card while shopping in stores to avoid manual scanning of receipts.
Pros:
Make purchase directly from the Ibotta app through your linked credit card.
You can submit receipts up to seven days after the purchase.
Use Ibotta's 'Teamwork' function to work as a team, reach milestones, and earn more.
Pricing/Fee:
Ibotta is free to use, although they deduct some fees from inactive accounts.
Best for earning money while playing mobile games.
Mistplay is a loyalty program that rewards you for playing mobile games. Install the app, pick a game, and start earning points.
With Mistplay, you can earn gift cards on iTunes, Amazon, Nintendo, and Xbox. The app allows you to kill time in a fun way and also earn some extra cash. The loyalty program for games also enables you to win credits in the form of Visa Cards and Steam Credit.
The app is available for free, but it is only available on the Google Playstore. To make money, you'll have to play different games for a specific time and achieve a milestone. When you reach a select feat, the app rewards you with credits.
Key Features:
Easy Signup – It offers free 15 points on signup. You can sign up through Facebook or your email.
Point Redeem – You can redeem the points for multiple gift cards, including Amazon, GameStop, Xbox, PlayStation, Google Play, and Facebook.
Pros:
You can earn points in Units, GXPs, and PSPs.
It offers $5 for every 1500 points earned.
You can earn 100 bonus points after reaching the milestone of 200 points.
Pricing/Fee:
Mistplay is entirely free.
Earn up to $10,000 while losing weight.
HealthyWage is a wellness app that provides cash prizes for completing fitness and weight loss challenges. It gives you the perfect motivation for losing weight. The website offers financial incentives and cash prizes, positive peer pressure, social motivation, and competitions to help you lose weight.
You can use its HealthyWage calculator to identify the amount of weight you should lose. The calculator also determines the amount you can earn from losing weight or by finishing other fitness challenges. After you sign up, all you need to do is place the bet and start your weight loss journey.
Key Features:
Team Challenge – If you are not feeling motivated alone, you can join a team to lose weight. You can also bet big within a team and earn more.
Corporate Challenge – You can use its free program (built for employers and government contractors) to start weight loss along with your office teams.
Pros:
It pays a $40 referral bonus every time your friend joins the challenge.
You can participate in multiple challenges to increase your earning potential.
Bet any amount based on your financial ability.
Pricing/Fee:
HealthyWage takes the money you lose to support their business.
Best overall for making money through an app.
If you want to make money by using an app, Arrived Homes is my top pick.
The idea behind it is that the app allows you to buy property shares and then earn a rental income as a shareholder.
In addition, when the property appreciates in value, you'll see a return on your investment.
Arrived also manages everything when it comes to the maintenance and upkeep of the property, so you don't have to worry about a thing.
If you want consistent monthly income without investing in a long, overwhelming project, Arrived is the app for you.
Go through their portfolio to find a property you're interested in and start earning today.
Key Features:
Get Started Quickly – Browse through various properties and get started in minutes.
Earn Passive Income – One of the best passive income apps to earn rental income as a shareholder
REIT Qualification – As a REIT, Arrived is fully qualified to offer you all the benefits associated with this investment strategy
Pros:
A better way to invest in real estate means that you don't have to put in a lot of money or time.
A team with decades of experience in real estate, technology, operations, and finance ensures that Arrived is a safe and profitable investment.
Backed by a world-class group of investors so that you can trust in the long term success of the company
Get started with ArrivedHomes.
Top Money Making App Considerations
There are a few key considerations to keep in mind when choosing a money-making app. Here are the three most important factors to think about:
1. How Much Money Can You Make?
This is probably the most important consideration, as you want to make sure that you are using an app that will actually pay you a decent amount of money. Do some research and read reviews to get an idea of how much money you can expect to make with each app.
2. What Are the Requirements?
Some money-making apps have very specific requirements, such as owning a car or having a certain level of physical fitness. Make sure that you understand what is required before signing up for an app.
3. How Much Time Will It Take?
While some money-making apps can be quite profitable, they may also require a significant amount of time. Consider how much time you are willing to commit before choosing an app.
By considering these three factors, you should be able to choose the best money-making app for your needs.
Money Making Apps – FAQ
Are money making apps a scam?
There are a lot of money making apps out there, and it can be hard to determine which ones are scams and which ones are legitimate.
However, by doing your research and reading reviews, you should be able to identify the right money making app and avoid everything else.
Do money making apps pay through a direct deposit?
Some money making apps do pay through a direct deposit, while others may use a different method such as PayPal or a gift card. It is important to read the terms and conditions of each app to determine how you will be paid.
Are Lyft and Uber a good way to make money through an app?
Lyft and Uber are two of the most popular money making apps available. Both allow you to use your car to give rides to people in your area, and you can make a decent amount of money this way. However, it is important to note that you will need to have a car that is in good condition and meets the requirements of Lyft or Uber.
What are the benefits of using money making apps?
Money making apps offer a variety of benefits, including the ability to make money from home, the ability to work on your own schedule, and the ability to choose which jobs you want to do. Additionally, many money making apps offer bonuses and rewards for completing tasks or referrals.
Some apps even have widgets that you can access through your lock screen, which can give you the latest information on earnings, jobs available, and more.
Money Making Apps: Summary.
That was my list of the best money making apps. I didn't just cover survey apps – I included a variety of side hustle apps on the list to capture everyone's interest.
Wikibuy is for online shoppers to save some extra cash. And Survey Junkie can help you earn more by simply filling up surveys in your free time.
Other popular money-making apps I didn't cover yet include eBates, iPoll, Foap, BookScouter, Shopkick, and Slidejoy.
So take your pick based on your interests and start making money in your spare time. Or pick more than one of these money making apps and start earning more today.
Further Reading on AdamEnfroy.com: If you're looking for other ways to make money, check out my guides on how to start a profitable blog and the best online business ideas.
If you are looking to start investing in precious metals check out my roundup post on the best precious metals IRA companies.
Which of these best money making apps did you like the most? Let me know by commenting below.
Disclosure: I may receive affiliate compensation for some of the links below at no cost to you if you decide to purchase a paid plan. You can read our affiliate disclosure in our privacy policy. This site is not intending to provide financial advice. This is for entertainment only.