7 Best NFT Marketplaces of 2023 (Easy to Buy and Sell)
Choosing the right NFT marketplaces is vitally important to experience successful investment. From finding unique crypto collectables to global trading, the best NFT marketplaces can help you meet your goals. In this guide, I ranked and reviewed the 7 best NFT marketplaces, so that you can pick the best one for you.
---
We're reader-supported. When you buy through links on our site, we may earn an affiliate commission.
NFTs are the new craze, allowing people a way to buy a piece of digital art that lasts forever.
NFT marketplaces are the websites one goes to when it comes to investing in the best NFT tokens.
Some might also want to use graphic design software to create and mint their own NFTs (more on this later).
The great news when it comes to NFT is that the people that are getting in early (and we are still in the early phases), are profiting wildly from some massive increases in value over a short period of time.
In fact, on March 11th 2021, the artist known as Beeple, sold his first NFT for $69 million.
This sparked a huge interest in investing in these non-fungible tokens and is currently all the hype in the crypto market.
Gone are the days people invested in a physical painting – now, it's all gone digital in this NFT craze.
Many NFT marketplaces provide a good entry point for anyone that's either looking to get started with NFT or even veterans looking to learn more about digital real estate.
Let's get right into it.
What are the Best NFT Marketplaces?
The following marketplaces have been ranked based on their popularity among users, numbers of listed items, inventory growth, and more.
Leading NFT marketplace marketplace for finding extraordinary NFTs
Adam's Take
If you're looking for the best NFT marketplace, you need to check out OpenSea. They have a huge selection of different items for sale, as well as the best prices around for new asset classes. You won't find a better place to shop for digital goodies!
OpenSea is a major general marketplace for user-owned digital items (including JPGs and GIFs), with different categories included.
In addition, one finds the best pricing for new emerging asset classes in this top NFT marketplace.
These classes all support numerous blockchains which makes buying and selling easier than ever.
As OpenSea continues to develop its most user-friendly marketplace for buyers, sellers, and creators, the core infrastructure is constantly being upgraded to support the future of NFTs.
Powered by smart contracts that allow for safe and secure transactions between buyers and sellers, this marketplace supports users in freely trading their assets.
In addition, this allows authors to release new digital NFT artwork, and developers to create various virtual worlds for everyone to get together and share art and collectibles.
​With the ability to see the top NFTs ranked by volume, OpenSea is the best choice if you want to discover exclusive digital assets to invest in.
Best for exploring new NFT categories
Adam's Take
Rarible is a great marketplace for NFTs where users are able to buy, sell, and trade their tokens with each other. With the ability to connect with others who share the same interests, collectors and creators are able to form a community. This allows for the exchange of new ideas and collaboration on projects.
Rarable's goal is to become a decentralized autonomous organization (DAO), allowing the NFT platform users have all decision and governance rights.
By allowing collectors and creators to come up with and vote on platform upgrades, Rarible ensures the platform is not only a place where buying and selling NFTs is a possibility but also a public infrastructure that is responsive to its people.
Being a fully decentralized finance (defi) platform allows for transparent and secure transactions between those that want to collect NFTs and creators in this crypto space.
In addition to showing the top NFT connections over the last few days, users are also able to form part of a community with other collectors and creators, all sharing the same interests.
In addition to the NFT marketplace, Rarable has also introduced RARI, the native governance token of the platform. The end goal of the token is to provide a voice in the future of the platform for active users.
With more users making use of this marketplace, Rarable has a great deal of potential.
Best for finding digital art from the top NFT artists
Adam's Take
If finding the right artists and exchanging ideas with them is important to you, SuperRare is the right place for you. SuperRare will always be a safe and secure place for creators and collectors to buy, sell, and trade digital art. Their focus on quality and community are the best two things I like about SuperRare.
SuperRare is designed to endure the test of time so that collectors and creators can buy and sell as well as trade digital works with confidence.
By using blockchain technology behind its marketplace, SuperRare allows users to promote and curate rare art directly from the digital artist themselves.
All trades on SuperRare are conducted between peers without the need for expensive third-party intermediaries.
Similar to other marketplaces, SuperRare shows its users which NFT's have been trending in terms of transactions in the last week, month, and year.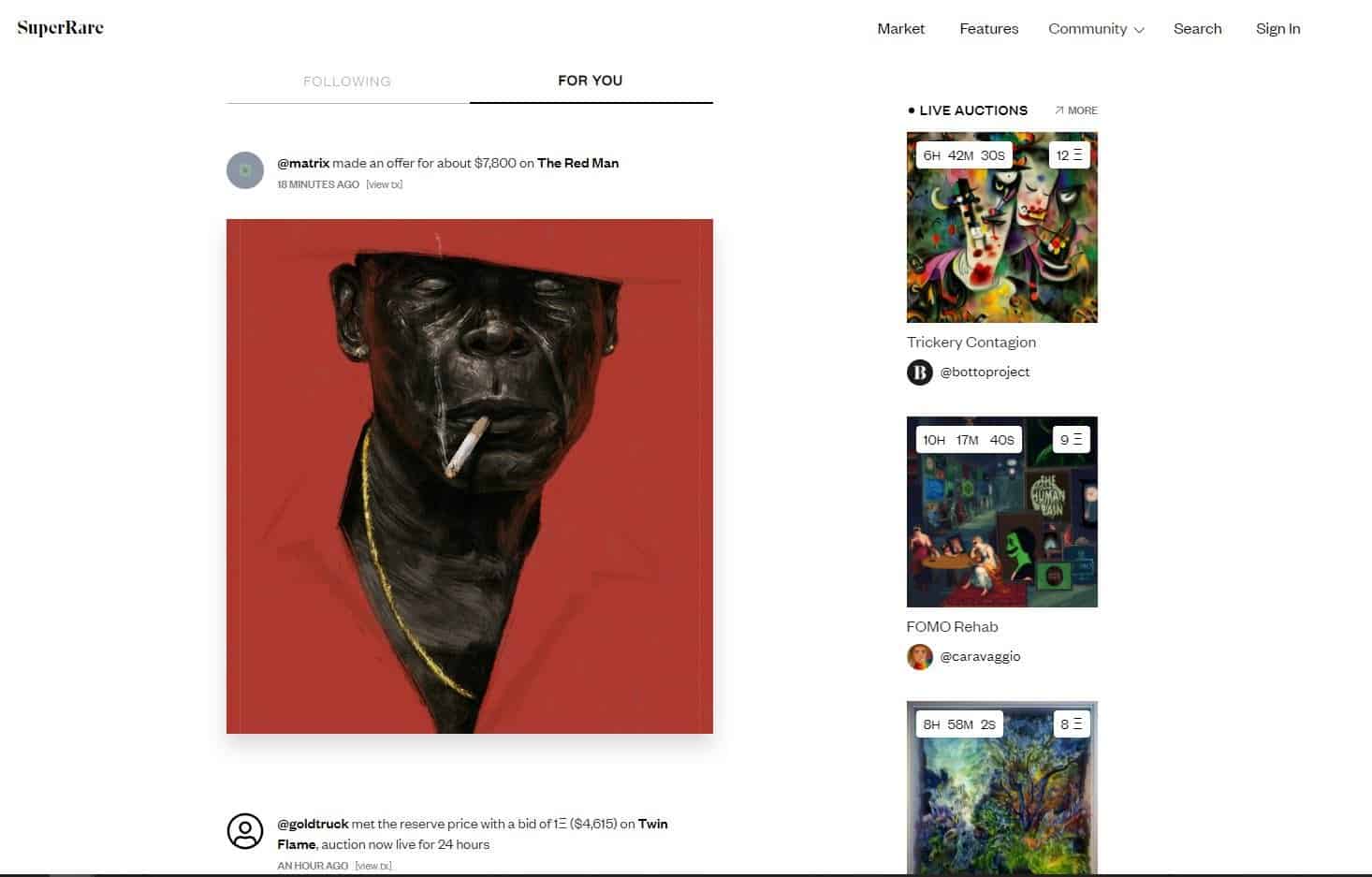 For all subsequent NFT sales of their work, artists receive residual earnings – for the rest of their lives.
This paves a new way for a new creative economy, rather than the industry-standard model of licensing and paying royalties.
Every transaction is recorded on the blockchain, assuring a tamper-proof history filled with NFT digital artworks.
4. Mintable.
Best for minting your own NFTs
Adam's Take
Want to learn how to mint your own digital assets? Mintable makes it easy! They provide simple, step-by-step tutorials through the Mintable Academcy, that show you how to mint your own limited edition assets. I suggest starting with their tutorials to get a hang of the whole process.
Mintable is not only a great marketplace to buy your NFTs, but it's also a powerful tool to mint your own NFTs.
Mintable's mission is to make the production of limited edition digital assets simple and accessible for everyone, allowing artists from all walks of life, to become entrepreneurs or even interested people to collect scarce digital goods to hold or sell.
By choosing Mintable as their marketplace, users will be able to make their ideas come true, without the need for technical knowledge.
Additionally, finding the right NFT to buy is made easy with the sorting of crypto art, music, video, collectibles, sports, and other collections presented on the website.
You can start minting your NFTs for free (a process known as gasless minting) which means that you don't have to pay a fee when you start creating your own NFTs.
You can use Mintable's advanced trading volume and selling features to maximize the value of your NFTs. This means that trading cards is also something that's becoming more popular.
With social features and well the right analytics, this NFT marketplace offers everything an NFT creator needs to bring their ideas to life.
5. Nifty Gateway.
Best for finding curated drops sold directly by the creators
Adam's Take
If you want curated, one-of-a-kind NFTs, be sure to check out the Nifty Gateway. They work with some of the top artists and companies in the world to produce limited edition pieces that are only available on their site for a short period of time. Whether you're looking for something special for yourself or a unique gift for a loved one, the Nifty Gateway is a great option.
Nifty Gateway has the aim of seeing at least one billion people that have collected Nifties.
If you're wondering what a Nifty is, it is simply Nifty Gateway's answer to creating digital assets that can never go away.
No matter what happens in the future, any assets that you buy will always remain yours, even if the creator decides to shut down shop.
Nifty Gateway collaborates with top artists and companies to produce limited edition, high-quality Nifties that are only available on their site.
Nifty has collaborated with well-known artists such as Michael Kagan, who is a world-renowned artist, to create special Nifties on their site.
Each collection will be opened at a certain time (known as a drop), and only be accessible for a short period.
New drops are released every three weeks or so. This makes the platform a great place to find rare digital goods.
6. MakersPlace.
Best for rare and authentic digital art projects
Every digital product on MakersPlace is the real and unaltered work of the creator, who has signed and issued it.
This makes owning the original NFTs as authentic as owning a Picasso painting.
MakersPlace is an immersive marketplace for digital products, i.e. trade programmable art pieces that can be bought and sold with cryptocurrency.
Even if the digital product is duplicated, it will not be the genuine and properly signed version. This is where MakerPlace really shines.
To start, all digital products are vetted and approved by MakersPlace curators to guarantee their quality.
Products must adhere to certain standards of quality (such as the ERC-20 and ERC721) so customers know what they're getting.
Every digital production is published as a one-of-a-kind digital edition. A creator can use blockchain technology to guarantee that a specific number of genuine copies are available, ensuring the scarcity and uniqueness of the digital good.
7. NBA Top Shot Marketplace.
Best for exploring the top NBA NFTs.
NBA Top Shot Marketplace brings a new era in sports fandom.
It's not just about showing your favorite teams and athletes; for the first time, you may also own some of the NBA's greatest moments.
Every so often, an NBA star performs something incredible that people all over the world watch over and over – now you have the ability to own that moment forever.
The NBA officially licenses and produces these NFTs in limited quantities, making this a perfect place to find rare and unique NBA NFTs.
Because only a small number of Top Shot Moment™ digital Collectibles are made available, collecting them requires a sharp eye and commitment from the buyer.
This allows you to build your collection by purchasing in-demand packs when they go on sale, and get the full experience of the most exciting moments in NBA history.
What is an NFT Marketplace?
An NFT marketplace is a platform where you can buy or sell non-fungible tokens.
Non-fungible tokens are created for specific purposes, making each NFT unique.
This makes it different from other cryptocurrencies where there are in theory, an infinite number of the same coin.
Buying NFTs is also different from other types of investment apps since the concept of buying digital art is quite a new one.
Many NFTs are also crypto-collectibles, which means you can only buy them with currencies such as bitcoin.
Factors to consider when looking for the best NFT marketplace
Here are some of the top factors to keep in mind when choosing the right marketplace to buy NFTs from.
Marketplace information
The right NFT market needs to give you good information about the items listed on its platform.
You need to be able to see how many NFTs are available, the price of each NFT, and more advanced information such as the number of bids, owners, history of the piece, and more.
Having the right data at your fingertips is important when looking to buy NFTs on an online marketplace as it allows you to make the right decisions.
Digital Wallet Convenience
The right NFT marketplace needs to be simple and easy to use no matter where you are or what device you're using.
It should also offer support for multiple NFT wallets as well as payment options, which is helpful if you want to purchase NFTs using different payment methods in your crypto wallet.
Security of the marketplace for digital creators
The right NFT art marketplaces need to have a high level of security so your items are safe wherever you store them.
There should be advanced encryption for privacy, while also offering protection against fraud by requiring identity verification or having insurance for transactions.
More Advanced Search Functions
Getting quick, solid and accurate data is important when buying NFTs. Data visualization tools should also be used to allow you to visually understand what is happening in the marketplace and which NFTs might make more sense to invest in.
The right marketplace should offer different search functions to suit your needs, whether you're looking for specific names, types, or digital creators of the NFTs along with timely information that goes with this.
Gas Fees
To complete a transaction on the Ethereum blockchain platform (which is where NFTs are stored), energy is used and fees are incurred.
These are known as gas fees.
The right NFT marketplace should offer competitive gas fees, making it easier for you to complete transactions.
You can use a website such as https://pumpmygas.xyz/ to understand how much gas fees you'll be paying when using specific marketplaces when compared to others.
Marketplace Ratings
Most NFT marketplaces are those that give you all the information you need about their own platform.
This includes ratings from other users, analysis of the platform, and specific data about the items being sold there.
This allows you to make an informed decision about whether to use these leading NFT marketplaces to buy NFTs or go somewhere else.
You can also get a better idea of the experience others have had through their reviews, and what you can expect if you make the decision of buying NFTs from the particular marketplace.
Single vs. Multiple Projects
Depending on what you're looking for, you may prefer a marketplace that specializes in a single project or one that offers multiple projects.
While both have their pros and cons, a single-project marketplace may be more trustworthy as they're focused on one thing.
However, a multiple-project marketplace offers more variety.
Striking the balance between trust and variety is important when finding the best NFT marketplace for you.
Finding and flipping the best NFTs by volume
Finally, let's speak about how you can look for, find, and buy the best NFTs out there.
Before you can flip an NFT, you need to know what type of item it is and how much volume is available.
For example, if an NFT is associated with an NBA celebrity or has recently been featured in front of a large audience, then it may have a lower volume and be worth more than other similar NFTs.
Knowing how this process works allows you to look for specific NFTs that others may not be aware of when buying them at a specific price.
By using the largest NFT marketplaces, looking out for and buying such hidden gems, you can then hold onto them for a higher profit down the line.
I'll be using OpenSea's ranking information to get this data.
On the homepage, go to Stats and choose Rankings.
Then, you'll get a list of the top NFTs on OpenSeas in the last 7 days.
These are the ones that have the most traffic, interest, and hype.
You'll then notice that some of the NFTs have a green dot next to them.
This means that these are the newly minted NFTs available on this marketplace and are the ones that you should pay the most attention to.
Opening up an NFT, you'll be able to see different versions of it, along with important information such as the "Buy Now" price.
Opening up any of the specific NFT versions, you'll be able to either buy the NFT right there or you could make an offer for it.
Over time, you'll be able to see the price history along with the different properties that the NFT has.
NFT Marketplace – FAQ
What is a digital asset?
NFT assets, sometimes known as digital assets, are NFT collections that exist on a blockchain.
They are unique and identifiable digital assets that can be stored, transferred, and traded.
NFT platforms and marketplaces provide a space for users to buy, sell, and trade digital assets.
What are crypto wallets?
The right crypto exchange for you offers wallets that store your NFTs.
These wallets keep track of your assets and allow you to send and receive them.
Different platforms offer different types of wallets, so be sure to research the one that's right for you.
Why does NFT art sells?
The aspiring NFT collector wishes to hold something that cannot be found in the physical world, and the rarity of some NFTs drives up prices.
Additionally, some rare NFTs may have been used in artwork or other creative projects, making them even more desirable to collectors.
The biggest NFT marketplaces sell this art to the public.
Wrap Up.
Buying, selling and trading NFTs is something that's going to grow as time goes by.
In a few years, NFTs might become mainstream with many wishing they had understood these NFT tokens in much more detail sooner.
The right marketplace can help you find the best items available and also help you flip them for a high return when the demand is higher.
In addition, choosing from the best crypto portfolio trackers ensures that your purchases are safe long-term.
To summarize, these are the top NFT marketplaces right now:
OpenSea: Best marketplace for extraordinary NFTs
Rarible: Best for exploring new NFT categories
SuperRare: Best for finding digital art from the top NFT artists
Mintable: Best for minting your own NFTs
Nifty Gateway: Best for finding curated drops sold directly by the creators
MakersPlace: Best for rare and authentic digital art projects
NBA Top Shot Marketplace: Best for exploring the top NBA NFTs
As a final note, some other NFT marketplaces to consider (not mentioned above) include Cryptopunks, Axie marketplace, Decentraland, and Knownorigin.
Right now, there are also different types of crypto gamers that are buying digital goods from their favorite games and becoming the permanent owners of such digital real estate forever.
These games include those developed by Dapper Labs and Axie Infinity – both of which used the blockchain network and ETH (ethereum) to power their ecosystem.
Another game you might want to look into (if you're interested in learning more) is Cryptokitties.
In addition, when it comes to buying and selling cryptocurrencies (which you can then use to buy and sell NFTs on the ethereum network), you can check out Binance NFT Marketplace, Nifty Gateway account, Coinbase and Metamask.
In closing, while owning NFTs can't be considered the same as buying or selling an online business, there might come a day (maybe even sooner, rather than later) when the two become comparable to each other.
What do you think? Will NFTs become mainstream? Which marketplace do you think is best for your NFT buying needs? Let me know in the comments below.
Further reading on AdamEnfroy.com:
Want to make the most out of the NFT hype? Check out the best NFT stocks to buy into right now.
Furthermore, have you ever wondered what NFT statistics say about the industry? For example, did you know that on average, every minted NFT emits as much as 211 kilograms of CO2?
Also, with more people interested in learning more about NFTs and crypto-related subjects, check out the best online course platforms and keep your eyes open for new courses on NFTs as they are being released.
Disclosure: I may receive affiliate compensation for some of the links below at no cost to you if you decide to purchase a paid plan. You can read our affiliate disclosure in our privacy policy. This site is not intending to provide financial advice. This is for entertainment only.
---
Last Updated on December 8, 2022 by Adam Enfroy