7+ Best No Code Development Platforms & Software of 2023
Choosing the right no-code development platforms and software is crucial if you want a viable option for your business development. From the visual development interface to the close integration with other existing tools, the best no-code development platforms can help you meet your goals. In this guide, I ranked and reviewed the 7+ best no-code development platforms so that you can pick the best one for you.
---
We're reader-supported. When you buy through links on our site, we may earn an affiliate commission.
No code and low-code development platforms are ruling the coding industry.
The Forrester report estimates the global low/no-code business will grow to $21.2 billion by 2021.
It's evident that coding platforms and code review tools still have a place in the market when building a new product and ensuring it works as intended.
However, no code platforms are hard to beat when generating quick builds.
Today, I'll be discussing the most popular no-code platforms for you to try out. I'll highlight what each of them is best for, their features, and pricing plans.
What Are The Best No-Code Platforms?
Here are the best no-code platforms on the market.
Best Overall No Code Platform.

Adam's Take
No coding knowledge is no longer a barrier to entry into development platforms. With that said, I suggest you check out Appy Pie if you're looking for an excellent no-code mobile and software development platform.
Appy Pie is among the best no-code platforms that make mobile app development ten times faster.
Anyone can use this platform to create applications irrespective of their coding knowledge, technical skills, and budget restrictions.
It also lets you drag and drop features into the application, making it ready to go live within a few minutes.
The platform will give your business an edge over the others as it lets you create chat boxes, websites, and more.
It also helps with intelligent workflow automation and integration using Triggers and Actions to manage mundane tasks efficiently.
You can even connect 300+ apps to simplify tasks and eliminate manual work.
Another significant aspect of Appy Pie is that it allows you to develop attractive images and graphic designs.
You can use the visuals on business cards, websites, flyers, posters, and other mediums.
Key Features:
Appy Pie has solutions for businesses of all budgets and scales.
As a no-code development and digital publishing platform, it makes mobile app development easy.
You needn't worry about syntax errors or bugs; pick a color theme and the right features, and it will build the app in minutes.
Here are some of the features Appy Pie has to offer:
Quick and friendly customer support
Connects 300+ apps for free
Democratizes application development and design
Automates tasks to enhance productivity
Build and launches chatbots
Live chat software
Custom mobile application development
User Experience:

Quickly choosing a category and building a mobile app from scratch is fantastic.
Many users report they can create an app in as little as a few minutes.
The simple drag-and-drop interface is user-friendly and requires no coding knowledge.
Pricing:
Appy Pie is a free no-code platform, but you'll have to upgrade to one of its payment plans to continue enjoying its services. It has a three-tier plan to consider.
Here's a breakup of Appy Pie's payment plans:
Basic plan at $16/month
Gold plan at $36/month
Platinum plan at $60/month
Google Play Store charges a one-time fee of $25, while the Apple App Store charges an annual developer fee of $99.
What I Like/Dislike About Appy Pie:
Like:
The support team is always willing to help with any issues.
The app is very user-friendly and doesn't require any coding knowledge.
Dislike:
Having a web view button added to the main menu would be helpful.
Product Updates:
NFT Generator helps you create non-fungible tokens to use in your app, which adds value to your app and keeps users engaged.
Get Started With Appy Pie.
Best For Productivity.

Adam's Take
If you're looking for an excellent solution for project management tasks, document management, and much more, I recommend Clickup. With features that cater to every single need, you won't be disappointed.
ClickUp is the best overall no-code platform that solves multiple business problems.
They tout themselves as "the one app to replace them all" and offer software for project management, tasks, docs, timelines, reminders, collaboration, remote team management, and more.
Over 100,000 major brands use ClickUp, including Google, Airbnb, Nike, Netflix, and Uber.
It is a no-code tool that is highly customizable, allowing users to create custom dashboards for any project, including remote tasks and projects that are in progress, under review, or completed.
ClickUp also offers resource planning that brings together business units.
ClickUp has so many use cases it's hard to put them all into one article, including CRM software, project management tools, sales management applications, and so much more:
Key Features:
Offers a ton of pre-built templates.
The ability to drag and drop within all tools.
Great contact management features.
Allows time and goal tracking for teams.
It can automatically import documents from other applications.
It can also organize tasks, subtasks, timelines, and more.
All without any coding required.
User Experience:
With everything being so visual in ClickUp, it makes sense that the user experience is fantastic.
I love how easy it is to see what needs to be done and when things are due.
I also really appreciate being able to comment on tasks.
This feature allows for clear communication between team members and helps to keep everyone on the same page.
Pricing:
ClickUp offers a forever-free plan that provides 100 MB of storage, unlimited tasks, and unlimited members.
Besides the freemium plan, they offer the following:
Unlimited Plan ($5 per user per month): Adds unlimited dashboards, integrations, views, boards, and lists.
Business Plan ($9 per user per month): Adds all dashboard widgets, private views, goal folders, Google SSO, custom exporting, mind maps, and advanced time tracking.
Enterprise (custom pricing): MSA and HIPAA compliant, increased API limits, a dedicated account manager, all advanced features, white labeling, and custom onboarding and training.
Overall, if you're looking for the best no-code platform on the market today, give ClickUp a try.
What I Like/Dislike About ClickUp:
Like:
Tasks in multiple lists help to keep me organized, and I always know where to find what I'm looking for.
I also really appreciate how ClickUp is constantly updated with helpful features.
Dislike:
The time-tracking feature is pretty basic, so I don't always know how long I've spent on a task.
I also wish there was an admin panel to see how my team is doing.
Product Updates:
Speed and Performance Improvements make it so that ClickUp can handle more processes without slowing down. This is always a good thing in terms of productivity.
The Dashboard filter is also a great addition because it lets you see what's most important to you at a glance.
Get started with ClickUp.
Best For Project And Team Management

Adam's Take
Looking for the best when it comes to software that focuses on project management? Airtable would be my recommendation. With in-built solutions for teams and individuals to get organized, there is very little software in the market that can compare to Airtable.
Any business or marketer can use Airtable to manage their data.
It helps create spreadsheets and databases where you can add checkboxes, links, attachments, and barcodes.
Almost acting as a workflow and project management tool with many other uses.
The platform allows teams and individuals to organize tasks by grouping, filtering, and sorting.
It can even create visuals for different use cases and save them for easy access whenever needed.
You can add its 50+ prebuilt apps to the data and connect your integrated workflow for easy management.
These apps have a mobile and web-friendly user interface to collaborate in real-time across every device.
Airtable can also automate tasks and create custom notifications to help your team focus on what matters.
Key Features:
The functionality of Airtable makes it ideal for all kinds of projects and businesses. It allows you to create spreadsheets as simple or complex as you need them to be.
Here is a list of features Airtable offers:
Robust API for easy access to content
Creates project and content calendars
Data and content management
Mobile and desktop-friendly
Built-in integrate tools
Real-time edits and comments
User Experience:
With the ability to create forms like the look and feel of a spreadsheet, it's no wonder that Airtable's user experience is so popular.
I love how easy it is to input data and then manipulate it to create beautiful charts and graphs.
The collaboration features are top-notch and allow easy editing and commenting on projects.
Pricing: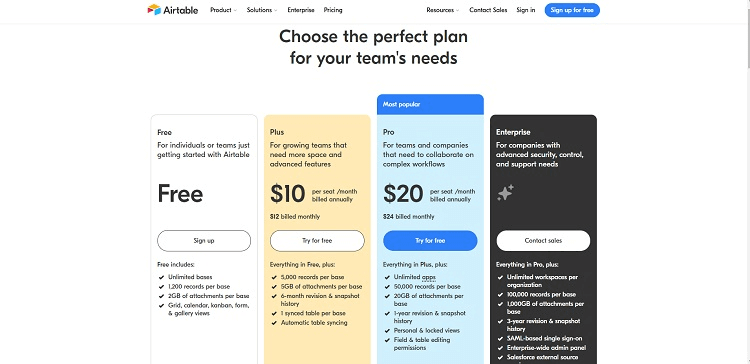 Airtable offers a free plan, including unlimited bases with 1,200 records and 2GB of attachments per base. You can then upgrade to the following paid plans based on your team and business needs.
1. Plus Plan at $10 Per Seat/Month
5GB attachments/base
5,000 records/base
Automatic table syncing with one table per base
Six-month revision and snapshot history
2. Pro Plan at $20 Per Seat/Month
Unlimited applications
20GB attachments/base
50,000 records/base
One-year revisions and snapshot history
3. Enterprise Plan
Unlimited workspaces/organization
1,000 GB attachments/base
100,000 records/base
Three-year revision and snapshot history
What I Like/Dislike About Airtable:
Like:
A fantastic tool for cross-collaboration makes Airtable an excellent choice for teams. I also really appreciate the substantial project management toolkit that comes with this product.
A substantial project management toolkit is also available with Airtable.
Dislike:
No different themes or layouts to choose from can make projects look a bit the same.
Product Updates:
A sleek automation interface now helps you see what's possible with Airtable and how to use it to automate your work.
Discoverability improvements on mobile make it easier to find the features you need on the go.
Brand new view helps you see your projects in a whole new way.
Get started with Airtable.
4. Kintone.
Best For Collaborative Teamwork
Adam's Take
Having a team that works together can lead to tremendous long-term success. If you're looking for a solution that promotes teamwork and collaboration, I recommend checking out Kintone.
Kintone is an all-in-one, no-code application development platform that supports collaborative teamwork.
It helps engineers and software developers create potent apps and databases for their organizations and teams, automating custom workflows.
The platform can design CRM apps for sales teams, accounting teams' expense reports, and marketing teams' social media calendars.
This helps you see your data in a central dashboard instead of spread across twenty different platforms.
It also offers collaborative tools to track, send, and recall team conversations.
You'll never have to search for any project conversation in your chat box or inbox.
Key Features:
Business users just getting started will benefit from Kintone's dynamic database, which can be assessed at any time, anywhere. It also provides a variety of development tools for various use cases.
The following is a list of the features Kintone has to offer:
Workflow and development process automation for data-driven results
Uninterrupted view of data
Collaborative tools
Smooth user experience
CRM web apps
Streamlines business process
User Experience:
With a customizable interface that allows you to change the look and feel of your app on the fly, Kintone's user experience is one of its best features.
You can have widgets about threads, apps, people, and more when you first open the app and then move them around wherever you want.
Widgets make it easy to find what you're looking for and start your work immediately.
Pricing:
Kintone offers pricing plans for everyone, be it startups, government organizations, or enterprises. You can choose a plan after calculating your ROI by entering the required metrics.
Here are its four payment plans:
Professional subscription plan at $24/month
Enterprise subscription plan (request quote)
Education and government subscription plan at $15/month
Nonprofit subscription plan at $15/month
What I Like/Dislike About Kintone:
Like:
Alerts by email are outstanding, allowing you to keep track of what's happening in your app even when you're not using it.
The support team is also very knowledgeable and patient, always willing to help with any issues you may have.
Dislike:
More fluid flow from one task to the next would be great.
The current GUI is also not that aesthetically pleasing.
Product Updates:
Improved Graph Setup Filtering helps you create better-looking graphs by allowing you to filter the data.
Building Graphs with drag-and-drop is a great way to quickly create graphs without going through many steps.
5. Quickbase.
Best For Business Empowerment
Adam's Take
Adapting and growing without using code is difficult, but Quickbase does a great job of accomplishing this. If you want to find new (and better) ways of doing things in your business over the next few days – not weeks or months – then I suggest you check out Quickbase.
Quickbase is the number one low-code application development platform.
It ensures the digital transformation of data to empower citizen developers, delivering real-time insights from a unified platform.
The no-code app development platform also offers flexibility by connecting people, data, and ideas safely.
It provides no-code solutions and automates development processes and workflows across complex, disparate systems to adapt and grow through challenges.
Quickbase has helped operationally agile organizations like Gartner and Forrester grow, with the former having the highest score in citizen development.
TrustRadius was also awarded for rapid application development thanks to this platform.
Key Features:
Quickbase can help unlock the potential of businesses by transforming their ideas into web apps efficiently. Regardless of their technical background, anyone can use its features to create and share no-code or low-code applications.
I'll now be listing some of the features Quickbase offers:
Responsive customer support
Data migration and security
Workflow automation
Customized branding
Web app templates
Easy-to-use tools
Low-code flexibility
User Experience:

I like how Quickbase lays out the process step-by-step, making it easy to follow.
Using dropdown menus, you can quickly select what you want to do without having to search through long lists of options.
Seeing various parts of the same project simultaneously is also beneficial.
Pricing:
Quickbase has three tiers to its pricing plan, as follows:
Team: $600 per month
Business: $2000 per month
Enterprise: Contact them for more information.
However, you'll have to select the "contact us" option to get a quote. I'll be highlighting each plan with its standout features.
What I Like/Dislike About Quickbase:
Like:
Integrating with the third-party application allows you to have your process down the way you want.
Managing workflows is a great way to optimize your productivity. Y
ou can customize many things when building an app, making it unique to your needs.
Dislike:
Some things are a bit complicated to set up and may require assistance from the Quickbase team.
It can be slightly more modern with displays and interactions.
Product Updates:
Report Caching so you can see your reports faster
New audit log activities to give you more visibility into what's happening in your app
6. Webflow.
Best For Web Design
Webflow is way more than just a website builder.
It allows designers and web developers to create responsive software and websites with complete web design freedom.
Non-coders with advanced technical and designing skills can use Webflow to represent a company efficiently and scalably.
It offers more customization options than traditional app development platforms. You can even build custom databases for CMS and e-commerce online stores.
Another significant aspect of Webflow is its reliable and hassle-free hosting network that scales with your business.
You needn't even think about maintenance or your site going down.
Features:
The features and built-in SEO tools of Webflow let you create and launch marketing campaigns without distracting teams. It also allows you to share projects with your team while permitting them to suggest or edit content.
Here I've listed some of the features Webflow offers:
Flexible integrations and custom code
99.9 percent uptime
Reliable hosting provider
Zero maintenance with no updates to run
Creates immersive animations and interactions
No-code custom website builder
Pricing:
Webflow's Site And E-Commerce Plans are as follows:
Basic at $14/month
CMS at $23/month
Business at $39/month
Enterprise at custom pricing
7. AppSheet.
Best For Multi-Platform Apps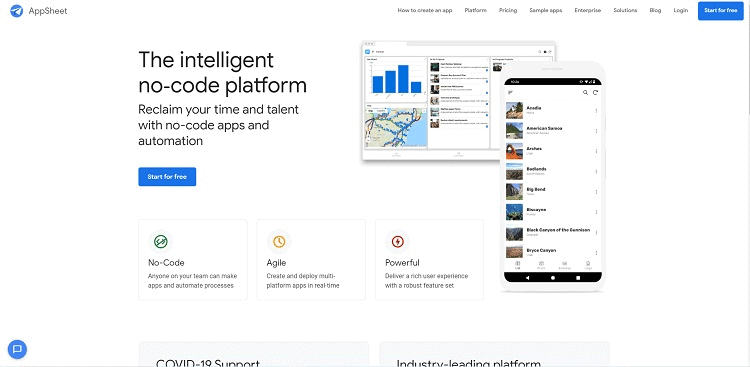 AppSheet easily integrates with Excel and Google Sheets to collect data with efficiency.
This integration allows mobile and web application developers to be flexible in multi-app creation and remain up-to-date on information.
The platform enables anyone from your team to create and deploy multi-platform apps in real time.
There are no coding skills or knowledge of programming languages required.
It automates the processes, while the robust features deliver a smooth user experience.
Features:
I consider AppSheet to be one of the most user-friendly no-code platforms.
To use it, you don't need to be a professional programmer or software developer.
The following is a list of AppSheet's features:
Supports cloud-hosted data sources
Rich user experience
Sample apps and templates
Data integration and automation
Access Controls help you give the right permissions
Pricing: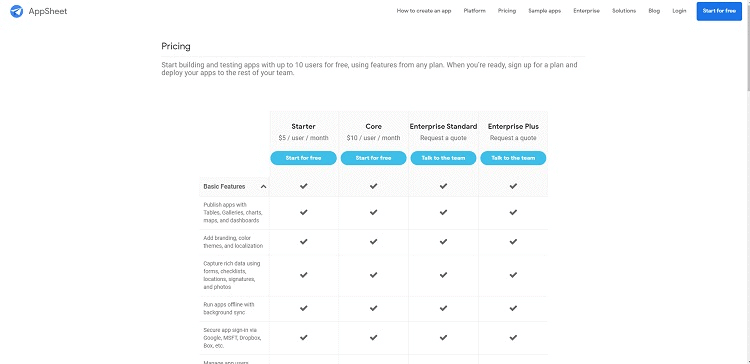 Start creating and testing applications for free with up to ten users. You can sign up for any of its plans when ready.
Here are the pricing plans offered by AppsSheet:
Starter plan at $5/user/month
Core plan at $10/user/month
Enterprise Standard and Plus plans at custom pricing
8. Bubble.
Best For Digital Products
Bubble ensures complete design freedom to create dynamic, mobile-friendly content and app layouts for polished digital products.
You needn't have the knowledge of CSS or HTML for the same.
The platform manages the deployment process and web hosting as well.
There's no limit on data storage, traffic volume, and the number of users. It's fully customizable, providing a scalable infrastructure for multi-user apps.
Features:
Bubble allows you to demonstrate your idea as a prototype before making investments. That's why small businesses rely on it for web-building.
I'll now list the features offered by Bubble:
Drag-and-drop editor
Scalable and secure data storage
Fully customizable
Supports prototype demonstration
Can be used with external software
Pricing: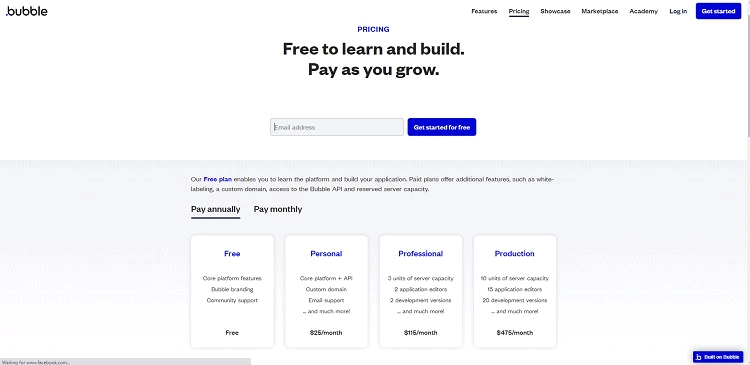 Here are the pricing plans provided by Bubble:
Personal plan at $25/month
Professional plan at $115/month
Production plan at $475/month
What Are No-Code Platforms?
NCDPs are web services allowing developers with no coding skills or experience to create web and mobile-friendly applications and software.
The software development environments integrate and automate digital processes.
They'll allow you to drag and drop configured building blocks or components to create advanced apps for your business or enterprise.
Top Questions To Ask Before Selecting A No-Code Development Platform.
Does It Provide Dynamic, Interactive Features?
Dynamic, interactive features like drag-and-drop builders, user-friendly interface, and real-time analytics are essential to no-code development platforms.
They allow users to create powerful applications with minimal effort quickly.
The best no-code development platforms will offer pre-built templates, visual editors, customizable database fields, interactive charts and graphs, and more.
Will It Save Time And Cost?
Time is money!
No-code development platforms can help you save time in the development process by providing access to ready-made components that you can quickly customize for your specific needs.
Additionally, these platforms reduce the costs associated with hiring developers or agencies as they provide basic capabilities at a fraction of the cost compared to coding from scratch.
How Easy Is It To Use The No-Code Development Platform?
No-code development platforms are designed to be user-friendly and straightforward, allowing anyone with basic knowledge of computers to get started quickly.
Look for a platform that offers tutorials and resources for learning how to use its features.
It allows users to quickly drag and drop elements to create custom applications without any coding experience.
Is There Enough Customer Support Available If Needed?
You'll want access to fast and reliable customer service if you encounter issues while using your no-code development platform.
Check the vendor's support options, such as chatbot support, email or phone support, forums, or even an online knowledge base.
Does The Platform Offer Enough Integrations With Other Tools And Software?
Integrating your no-code development platform with existing tools and software can add significant value to your project.
From project management tools like Trello and Slack to payment processors such as Stripe and PayPal, a sound, no-code development platform should be able to integrate with all the tools you need seamlessly.
What Kind Of Results Can Be Achieved Using This No-Code Development platform?
The right no-code development platform should allow you to create complex applications quickly and efficiently.
Look for platforms that provide analytics and insights into how users are interacting with your app so you can make changes accordingly.
Additionally, search for platforms that offer features such as data visualization, AI and machine learning capabilities, and the ability to scale your applications quickly.
Frequently Asked Questions
What is a zero code platform?
A zero code platform is a new way to create websites by connecting backend development with front-end design.
A Zero Code Platform combines two things: Front-End Design and Back-End Development.
It allows you to skip coding when building your website, so no technical knowledge is needed for this process!
How do you make a no-code platform?
What can you do when there are no instructions? You get creative!
A "no-code" platform is a great way to learn how coding works. These platforms offer different programming languages and allow users of all levels to create programs that solve problems in fun ways.
What are low-code platforms?
Low-code platforms are similar to no-code platforms, but the significant difference is that they are not entirely free from understanding code.
A tool like Webflow is genuinely a no-code platform, but a low-code platform will still require at least a basic understanding of code.
Wrap Up.
Programmers and non-programmers depend on no-code development platforms to create software because of their efficiency.
Consequently, you don't need coding skills to develop mobile apps for iOS and Android.
If you need no-code tools or wish to create applications for your business, choose from the list provided below:
Appy Pie: Best Overall No-Code Platform.
ClickUp: Best For Productivity.
Airtable: Best For Project And Team Management.
Disclosure: I may receive affiliate compensation for some of the links below at no cost to you if you decide to purchase a paid plan. You can read our affiliate disclosure in our privacy policy. This site is not intending to provide financial advice. This is for entertainment only.