7 Best OKR Software of 2023 Reviewed (Ultimate Guide)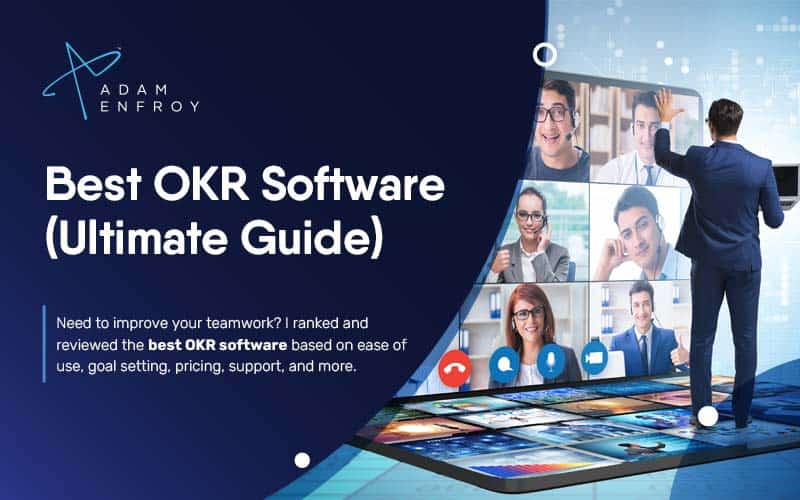 Looking to integrate an OKR management software into your team's project management and BPM tool stack?
Objectives and key results (OKR) software allow teams to track, communicate, and measure business goals. Managers looking to keep track of their goals can easily create and monitor goals for both individuals and teams in real-time.
And there are a lot of different OKR software tools to choose from.
To make your decision easier, I ranked and reviewed the best OKR software based on features, ease of use, goal tracking, teamwork capabilities, pricing, support, and more.
Let's get to the list.
Disclaimer: This article contains affiliate links where I may receive a small commission at no cost to you if you decide to purchase a paid plan. These are products that I fully recommend. You can read my full affiliate disclosure in my privacy policy.
What is the Best OKR Software?
Here is my list of the best OKR software solutions on the market today.
Best OKR Software Overall
Zokri helps you establish objectives and key results so as to know where every effort should be directed. Once the OKRs are defined, Zokri will remind users of ticking off their daily tasks and report them back at night when they finish work for the day.
Zokri also provides automation tools like automatic notifications whenever someone moves or completes an objective/key result (or both).
Key Features:
Nudge and alert system to keep everyone on track.
Define KPI and OKR's owners along with their KPIs using the key results dashboard.
Connect projects to tasks so you can track every task's day-to-day progress across departments.
Schedule meetings and check-ins right within the platform so you can manage every step of the process for each task.
Pros:
Email support for any issue you encounter using the platform.
SSO user management for easily adding and removing users securely.
Complete meeting management built-in. From scheduling to notifications, everything is covered.
Ability to create a knowledge base right within the platform so you can make tasks efficient for every employee.
Pricing:
Zokri's pricing is broken down into two tiers:
Simple Pricing – $12.50/per month
Enterprise Support – Contact Sales for more information
Both of the paid plans offer no credit card needed 14 day free trials.
Overall, I highly recommend Zokri as an OKR software solution. It's affordable, flexible, and easy to get started with.
Best for setting quarterly objectives and weekly planning (Free for up to 3 users).
Weekdone is an (Objectives and Key Results) OKR software that helps you with goal tracking and status reporting. It also helps you set structured goals, provide feedback to your team members, track weekly progress, and work seamlessly with your team.
Weekdone's OKR also lets you set quarterly goals to organize and improve team coordination. You can further track the progress of your team and goals with their real-time dashboard and weekly check-ins.
It lets you communicate with your colleagues or employees, have one-on-one discussions, and provide real-time feedback. You can even give recommendations to your employees and guide them to the finish line on projects. Plus, you can use a one-click 5-point rating system to get insights into your team's feelings each week.
The visual OKR platform also helps you set goal hierarchies to align the work of all departments together into a cohesive unit.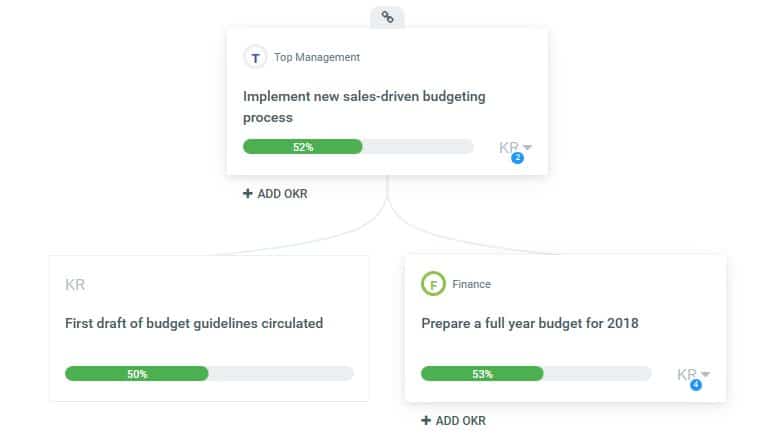 Key Features:
PPP Reporting – Weekdone keeps you updated with your team members' PPP (plans, progress, and problems) and helps you plan your work status and weekly goals. Plus, PPP reporting enables you to track your achievements and add transparency to your organization.
1:1 Personalized Discussions – Support and guide your team with one on one or group discussions.
Analytics – Weekdone provides visual and real-time dashboards to help you understand your work status at a glance. You can also analyze the changes in your team's weekly progress.
Pros:
Get over 1,500 integrations, including Slack, Jira, Google Task, Zapier, etc.
15-days free trial for up to 3 users.
Team Training and dedicated OKR coaching.
Free demos, live webinars, live chat, and implementation consulting.
Free set-up and onboarding.
Pricing:
Weekdone lets you choose your pricing plan based on your company's size. Their program starts from $0 per month for up to 3 members and goes up to $2,250 per month for 500 users at $4.50 per user.
Best for feedback and one-on-one coaching ($10 per month).
Paycor Talent Development, formerly known as 7Geese, is a performance management platform that helps you with OKR progress, goal-setting, feedback, performance review, and create career development plans.
The OKR software helps you set daily goals for your employees and team, making them focus on the right priorities. Not only this, but you also get updates on your employee's progress in real-time.
Paycor's primary OKR functions include:
Managing remote teams
1:1 OKR coaching and weekly check-ins
Drive measurable results for better accountability
Providing data-driven reviews to manage employees
Set company objectives to make everyone work towards aligned goals
Paycor also provides a survey tool that helps you create and share your surveys with your employees and gather feedback. This feature comes in handy to enhance your employees' experience. Plus, you can design your surveys with drag-and-drop survey designers. Not only this, but you also get pre-built templates to design your surveys.
Other OKR functions include people analytics, career management, planning & automating your programs in one place, etc.
Key Features:
1-on-1 Coaching – Train and engage your employees to discuss your work order and goals with the 1-on-1 coaching feature.
Performance Management Automation – Paycor helps you send recurring notifications to your team to complete performance management activities. You can also create easy-to-follow workflows and analyze employee activity data.
Gather Feedback – The OKR platform provides ToDos, widgets, and archived reports to gather employee feedback. It also lets you gather continuous feedback from managers, peers, stakeholders, and share with whoever you want.
Pros:
Import reports containing your team's activity data.
It provides pre-designed templates to help you create workflows.
Paycor provides integration with communication and business apps like Slack, Gmail, Google Docs, Salesforce, etc.
Conduct performance reviews for any group of people at any time.
Enterprise-grade security.
Calendar and feedback management.
Value-based peer recognition.
Pricing:
Paycor provides two options with different plans depending on your business's size:
Below 50 Employees
50-100+ Employees
Some standard features include automated program management, organization chart, mobile app for Android and iOS, etc.
Best for small teams and receiving and providing direct feedback ($1 per month).
Quantive is an OKR coaching and status platform that helps you align your remote workforce. It helps you with goal management, progress tracking, business strategy, and more. To give you an overview, Quantive leverages critical metrics to create goals, predict outcomes, and make better decisions accordingly.
It provides two different modes – namely presentation mode and tree view – to organize and monitor your goals and objectives.
Additionally, you can set goals and collaborate across the company, departmental and team levels without roadblocks.
Apart from monitoring your employees' progress, Quantive also helps you collect your team's direct feedback. Share feedback and weekly status report further with your team to sort major issues in time.
Key Features:
Tree View – Tree view makes it easier for you to track the relationship between objectives and key results.
Link Goals – Link goals with one another to determine how they align across the organization. After you link two goals, you'll automatically see how they fit together or whether they even fit or not.
Quantitative Data & Qualitative Insights – Automatically gather your team's direct feedback and identify bottlenecks before they occur. You can also track your progress from the beginning and apply filters by groups to narrow down the data.
Pros:
Quantive provides easy-to-share weekly status reports.
Qualitative insights to monitor progress and discover issues in time.
Integrates with task management software and communication tools like Jira, Slack, and Zapier.
Predictive analysis and goal management.
Works as a Performance Management software.
Google and Office 365 authentication.
Free demo and 30-days free trial.
Pricing:
Quantive provides the following three pricing plans:
Essentials: Free Forever
Scale:$18/user/mo (for 11-100 users)
Enterprise: Contact sales for a custom quote
All the plans provide features for OKR best practices, goal tracking, weekly status reports, Google and Office 365 (Azure) authentication, etc.
Best for reviewing employees' progress using overview reports ($3 per month).
Lattice is a cloud-based OKR software that helps you engage your remote team and manage employee performance.
It comes with an in-built review system that helps you monitor your employees' performance and get feedback from your colleagues and managers. You can also set goals and OKRs (objectives and key results) into the workflow to manage performance and track key results.
What's more, Lattice gives you an overview of the progress done by the other teams of your company. This feature helps you empower your team to stay ahead of other teams.
Other performance management centric features include:
Creating custom questions for better performance reviews
Sharing performance reviews with your team
Sending constant reminders to your team to fill reviews
Creating performance reports
Giving and receiving feedback
Additionally, Lattice keeps data encrypted and undergoes regular penetration testing and security reviews. They use Amazon web service, and AWS data centers that have biometric scanning, video surveillance, 24×7 security, and are SOC 1, SOC 2, and SOC 3 certified. Not only this, but only a few authorized employees have access to customer data.
Key Features:
The Praise Wall – Lattice lets you praise your staff in front of the whole company. You can also display the recognized employees at the praise wall, in Slack, in Lattice, etc. This feature motivates your employees to work harder and more effectively.
1:1 Meetings – Interact with your employees individually or collectively to discuss your work using reports. You can take notes during the meetings, set goals, provide feedback, and make growth plans.
Analytics Dashboards – Lattice helps you measure and compare past industry benchmarks, conduct surveys to gauge how employees feel, identify low and high performers – all under a single dashboard.
Pros:
Mobile app for both iOS and Android.
Prioritize essential tasks and pressing issues with updates.
Track the adoption and ROI of your employee programs.
Integration with several business apps like Slack, Outlook, Google apps, etc.
Regular business review.
Goal and OKR analytics.
Pricing:
Lattice comes with the following four plans:
Performance Management: $11/user/month
Engagement: $4/user/month
Growth: $4/user/month
Compensation: $6/user/month
Some standard features include a research-backed question bank, engagement reporting, goals & OKR analytics, etc.
Best for evaluating KPIs along with OKRs (Free).
Perdoo is a free OKR goal management platform for all kinds of businesses of various sizes. It helps you share your strategies in real-time, set company goals, align your resources in one place, and evaluate reports to identify achievements and create accountability.
The drag-and-drop editor also helps you design and plan your roadmap and workflow.
Plus, Perdoo helps you get everyone on a centralized platform – where your entire team can monitor all your weeks' achievements within minutes.
Perdoo also provides detailed analytics to help you identify achievements and see what needs your attention the most.
For security, they use data encryption, SAML-based SSO, etc.
Key Features:
Slack Integration – You can share all your accomplishments and keep your team in the loop with Perdoo's integration with Slack.
Ambassador Bot – Ambassador Bots runs your OKR program for you and sets and monitors your goals automatically.
Combine KPIs and OKRs – Combine both Key Performance Indicators (KPIs) and Objectives and Key Results (OKRs) to get a complete overview. It also saves you from buying another tool for KPI measurement.
Pros:
API access to integrate with any third-party app you want.
It helps you create custom views to identify goals.
Google sheet integration.
Custom dashboard and graphs & visualization.
KPIs, OKRs, and Initiatives
Perdoo offers a freemium plan and free demos.
Pricing:
You can choose your plan according to your need for licenses or coaching hours.
Free: $0
Premium: Starts from $7.20 per user, per month (for up to 100 Licences)
All the plans include weekly check-ins, unlimited goals, Slack integration, and more.
Best for employee engagement using badges and public recognition (Quote-based).
Engagedly is a SaaS-based performance management system that assists you with the review cycle, feedback, goals setting, rewards, and more. You can also communicate, collaborate, ask, share business ideas, answer questions, solve problems, and more.
The OKR platform also helps you engage your employees by publicly providing recognition, praises, award points, badges, and rewards. Plus, it lets you conduct surveys to exact employee feedback and recommendations.
Additionally, standard performance management features include:
Performance Reviews and Competency Assessments
Set and check OKR progress and goals in real-time
Connect with your team and drive conversations during check-ins
Give and receive feedback
Receive recommendations directly from your mobile phones
Besides, Engagedly provides workforce planning, analytics, and insights from different teams, roles, and departments. You can also set team and goals and track their progress collectively or individually.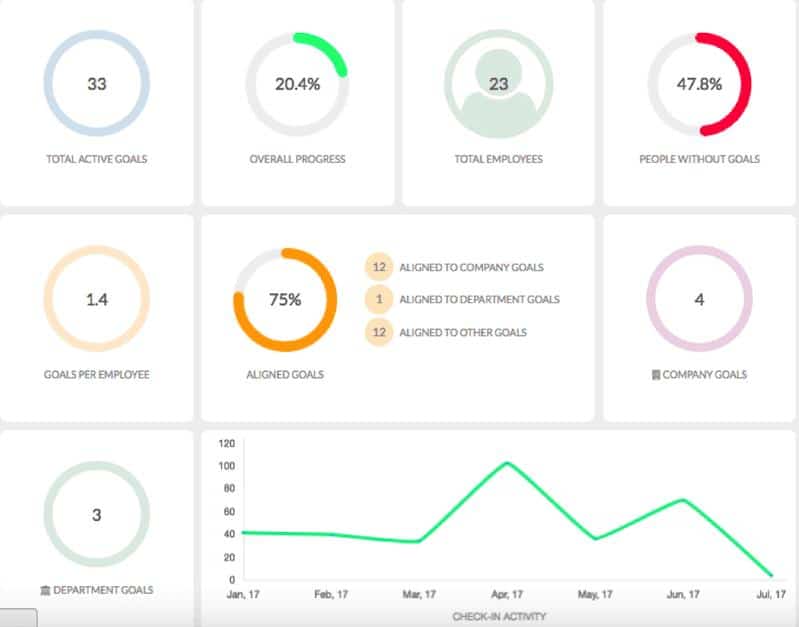 Key Features:
Employee Surveys – Engagedly helps you create custom surveys using pre-designed templates and share them with your employees. You can also analyze the results to make appropriate changes.
360-Degree Feedback Tool – This tool helps you run multiple review cycles simultaneously and receive anonymous feedback from employees, managers, etc.
Customizable Analytics lets you identify your goals' effectiveness, progress, and status across the organization.
Pros:
Engagedly mobile app is available on both iOS and Android.
24/7 live support and webinars.
Customizable templates to create surveys and workflow.
You can update goal progress in real-time.
Utilize comments and discussion threads to engage with managers and team members.
Pricing:
You'd have to get in touch with the vendor for pricing details.
Best for tracking your team's time in real-time ($8 per month).
Timely is an OKR software that helps you monitor and keep track OKRs and your team's time and performance against essential metrics and KPIs. It also helps you to capture your work activity, track your expenses, track project activity, connect with your team in real-time, etc., in a single dashboard.
It also helps you identify information like employees' missing hours, overtime, activity across workflow, capacity, and more.
Now, you can also track all your activities from anywhere you want. You just need to download their mobile application and enable GPS tracking.
Key features:
Report Templates – Use templates to create timesheets or reports for payroll, performance reviews, and invoicing.
Fill Timesheets – Timely helps you fill incomplete timesheets to notify your team about the missing hours.
Tagging System – The customizable tagging system helps you identify precisely how your team is spending their time.
Pros:
A mobile application is available on both iOS and Android.
Integration with numerous third-party tools like Jira, Zoom, etc.
It creates reports of daily activities.
Automated notification.
14-days free trial.
Report templates available.
Pricing:
Timely comes with the following pricing plans:
Starter: $9 per user, per month
Premium: $16 per user, per month
Unlimited: $22 per user, per month
Enterprise: Quote-based plan
The Starter plan provides access to 3 teams for up to 50 projects – while all the other plans give access to unlimited teams to handle unlimited projects. You also get a 14-days free trial with all the plans.
What is OKR Software?
OKR stands for objectives and key results and is a goal-setting system that helps you streamline your company's work, track tasks, and measure their outcomes.
Essentially, OKR tools are dedicated platforms for setting, tracking, communicating, and gauging goals and results within any business process. A company's management can leverage such tools to easily set and monitor goals for teams and individual professionals across numerous departments.
Plus, OKR platforms serve as excellent alternatives to instant messages or comments, where it's cumbersome to keep track of the progress. They provide team members with a specific and centralized space to record road blockers, goal progress, and completion.
In a nutshell, it enables the management to measure the overall productivity of the business.
Here are some of the features of a professional OKR software:
It includes recognition and feedback capability
Enables professionals to categorize, create, and prioritize tasks or goals
Update and check-in tools
Leverage tracking and reporting to gauge the team's productivity
Which Features Do You Need in OKR Management Software?
Here are a few essential features that you must look for before selecting your OKR software.
Enterprise Level Flexibility – Look for a flexible OKR platform that lets you adopt different OKR best practices and approaches anytime you want and make necessary tweaks in your business process.
Scalable – If you are a growing business, then it's essential to have an OKR software that can handle your growing team size and business process without roadblocks. For example, with unlimited OKR coaching.
Tracking Real-Time Progress – It should offer built-in tools and appropriate integration with other tools to help you track the progress of tasks in real-time. It will save you from monitoring multiple small tools separately.
Actionable Dashboards – Your OKR software should be able to convert hard data and numbers into actionable insights. It should be easy for you to read and understand the actionable data so you can take swift actions in time.
User-Friendly – Make sure that your OKR software offers easy integration with your existing tools, has an easy on-boarding process, and doesn't require any special efforts from your team while using the software.
SSO user managment – Make sure that your users can self-manage their account access, permissions and access to different tools – the right SSO provider will make the entire process easier for everyone involved including admins.
How Do You Use OKR Software Tools?
All the OKR platforms have different work processes, although the overall functions may have similarities.
Here, I'm using Engagedly to help you understand how some basic features of the OKR software work.
Step#1. Post or Upload Documents.
The first step should be to post or upload your documents to get started with OKR tracking.
For that, first, click on the 'My Workspace' option in your dashboard and go to the 'Drive.'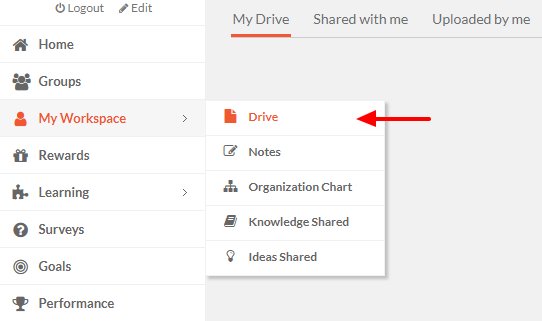 Here, you'll find an option to upload your file. Simply click on the 'Upload File' option to upload your file.
Note that you can use the keyword "Everyone" to share the document with all the employees in the organization.
Step#2. Create And Assign Jobs.
Go to 'Settings' and click on the 'Job Titles' option to add any job title you want.
After creating the job title, follow these steps: Setting > Users > Update the Job Title > Save.
Here are the screenshots to demonstrate the process:

It's a great idea to integrate your Stagedly dashboard with ADP Workforce to keep employee information in sync.
The user syncing procedure from ADP can work just with the ADP Workforce Now. To integrate it efficiently, you need to buy the Engagedly Data Connector Edition from the ADP Marketplace.
After the purchase, a default SSO gets enabled for the Engagedly site.
You just have to log in via the ADP screen.
Step#4. Navigating The Dashboard.
You should know how your Engagedly dashboard functions to make the most out of the OKR platform.
The Dashboard has three major tracking options:
My Dashboard – click on 'My Dashboard' to track your own goals.
Team Dashboard – You can click on the Team Dashboard to track the goals of your team members.
Org Dashboard – It will help you gauge the stats of the entire organization.
Next, there's a 'Goals' page that reflects the list of goals based on the filters you select.
You can click on '+New Goal' to add a new goal. Fill up all the relevant goal details, including Goal Information, Title, Start Date, End Date, Goal Notes, and Measurement Type, and more.
Executive Summary.
There you have it – the best OKR software to help you manage your team's time and set clear goals.
All these tools will help you align your organizational goals in some way or the other.
For example, if you're keen to set new objectives every quarter and check your team's weekly status, I'd suggest Zokri.
Opt for Paycor and Lattice for one-on-one meetings with your team and managers. On the other hand, I'd recommend Timely and Perdoo if you want to track KPIs along with OKRs.
Which OKR software are you planning to use, and why? Let me know your feedback in the comments below.
Editorial Process:
Our reviews are made by a team of experts before being written and come from real-world experience. Read our editorial process here.
Some of the links in this article may be affiliate links, which can provide compensation to us at no cost to you if you decide to purchase a paid plan. These are products we've personally used and stand behind. This site is not intended to provide financial advice. You can read our affiliate disclosure in our privacy policy.