7 Best Online Legal Services of 2023 (Ranked for Business)
Choosing the right online legal services is crucial if you want to ensure your business runs as smoothly as possible. From ensuring contracts are in order to protecting your intellectual property, the best online legal services can help you meet your goals. In this guide, I ranked and reviewed the 7 best online legal services, so that you can pick the best one for you.
---
We're reader-supported. When you buy through links on our site, we may earn an affiliate commission.
Want to get right to my top picks? The best online legal services are LegalZoom and RocketLawyer.
"Where there is a will, there is a lawsuit." – Addison Mizner
If you Googled "online legal services" to get here, first of all, sorry. And second of all, you've come to the right place.
As a business owner, it's hard to avoid being a part of one of the 40 million lawsuits per year in the US.
Take it from someone who has a 7-figure blog and has been sued on more than one occasion.
Online legal services are the best solution to any legal challenges.
They work entirely online, give you peace of mind, and can help you with filing corporate documents, dispute resolution, legal defense, copyright claims, and more.
And when it comes to legal matters, you can't go with just any service.
What is the Best Online Legal Service?
Here are the best online legal services available today.
Let's get started.
Best Full-Service Legal Platform

Adam's Take
LegalZoom is the best overall online legal service because of its comprehensive approach to legal services. It has a wide range of offerings, but it also has a global reach, making it a good choice for businesses with international operations.
LegalZoom is a versatile online legal service that has a global presence and a wide range of offerings. It can look after your business, as well as personal legal needs.
Whether you're on the market to launch a business or make a will, LegalZoom can handle it. The service has been around since 2001, making it one of the oldest I've come across. It has helped over four million businesses to date, and has a presence in multiple locations.
The following are some of the services that you can get with LegalZoom:
All business paperwork filing for startups
Creation of customized legal documents with electronic signature
Intellectual property protection
Legal consultations
Legal advice
Business advice and business planning
In short, it's a complete solution for all of your legal needs.
It's important to understand that LegalZoom is a legal service provider and not a traditional law firm. As a result, it won't be able to represent you (or your business) in court.
However, you can hire expert lawyers through it for affordable fees. It has a well-connected network of lawyers across the country.
I must mention LegalZoom's Intellectual Property service, which is extremely comprehensive. So, if you're looking to file a patent, LegalZoom's expert team of lawyers can help protect your invention and ideas.
The website offers one-time pricing for individual services, as well as annual membership programs.
Pricing:
The following is a snapshot of their pricing structure:
Economy package: starting from $79
Standard package: starting from $79
Express Gold package: starting from $79
You'll have to pay additional amounts for the state filing fees and the exact service you're opting for.
Whether you're a musician looking to protect your creations or a businessperson launching the next great idea, LegalZoom has something for you.
Best for Legal Documents
Adam's Take
Want to make the best of your business, but need assistance with legal documents? RocketLawyer is the online service for you. With an impressive library of legal forms and documents and access to experienced lawyers to help you with any issues that may arise, this platform is a good one to check out for businesses looking to ensure they are on the right side of the law.
If you're a business that needs to handle a large number of legal forms, then RocketLawyer is your best option. This service is well known for an extensive legal document library.
Whether you're about to start a business, want to patent an idea or get a property on rent, RocketLawyer can help you out.
The following are some of the significant services that RocketLawyer provides:
Services for new business formation
Small business legal advice and document review
Creation of NDAs and business agreements
Property documentation such as lease agreements and eviction notices
The service even provides advice on personal property matters. It can even take care of health-related legalities.
The one aspect of RocketLawyer that I'd like to highlight is its readymade collection of legal documents. For everything from estate planning to intellectual property rights, the service has something to offer.
In case you can't find exactly what you're looking for, RocketLawyer provides a document customization tool. It's highly intuitive and includes the incorporation of state-specific laws. So, your documents hold up in court should they need to.
Another benefit of RocketLawyer is their ease of use – you don't have to deal with any legal jargon. No matter your needs, all that you have to do is answer a few questions in simple English. The platform takes care of the rest.
Pricing:
The service's pricing has two tiers: Premium Member and Non-Member.
If you become a premium member, you'll get access to the following services:
Free creation of legal documents and online signatures
Free and discounted online attorney services
Free incorporation filing for new members, 25% off after the first time
RocketLawyer also provides affordable registered agent services at a 25% discount for premium members. At just $39.99 per month, the service is definitely worth it.
For those looking for single-time a-la-carte services, RocketLawyer charges $39.99 per document.
The price of other services are staggered as below:
DocumentDefense for RocketLawyer documents at $9.99 per document
Legal questions answering at $49.99 per question
30-minute legal consultations at $59.99 per consultation
Incorporation filing at $99.99
Registered agent services at $149.99
The service also provides a dedicated mobile app that allows you to take care of legal documents on the go. You can even sign documents from the app.
To start with RocketLawyer, you can opt for the 7-day free trial and get a feel of the service.
Best for Business Formation
Adam's Take
Ensuring that your business takes off smoothly is essential, and to do that, you need the proper legal services. At Incfile, they work with business owners every day to help them grow their companies. Whether you're looking to form an LLC or non-profit organization, Incfile can provide the assistance and guidance you need to succeed.
Incfile looks after the legal needs of those who want to start a business. Whether you're forming an LLC, non-profit, or corporation, Incfile can help you with the required legal assistance.
Even if you don't know about the kind of business that's best suited for you, the service helps you choose. As a result, it's ideal for first-time entrepreneurs and small businesses looking for a fast launchpad.
Incfile's website even provides a comprehensive library of legal documents. These documents can help you start your business and grow it quickly. These resources are available for free, proving the service's commitment to its clients.
With Incfile, you get access to the following services:
Checking for company name availability
Help with document preparation and filing
Faster processing
Free Registered Agent Service (only for the first year)
Free tax consultations
Online document access
Lifetime alerts and supports
Pricing:
Incfile is an affordable online legal service provider.
Their pricing structure is divided into the following three tiers:
Silver, which offers all of the core features for free
Gold, which offers all features needed to launch a new business
Platinum, which gives you access to the complete services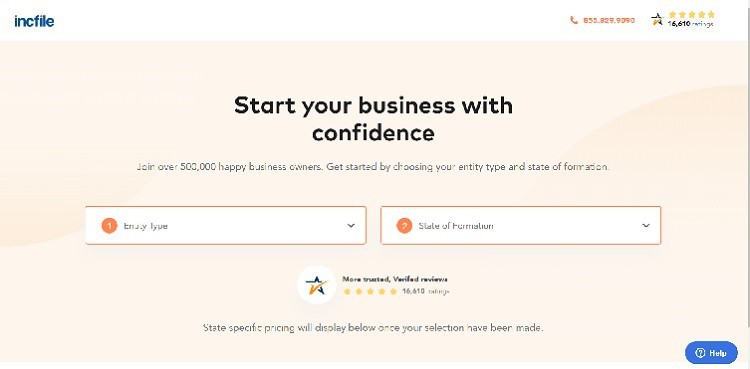 The Silver package is free, and you only have to pay the state fees. For the Gold and Platinum packages, you need to select the business type and state for a ready quote.
So, if you want to fast-track the launch of your business and tax planning, get started with Incfile right here.
Best for Outsourcing Legal Departments
Adam's Take
With a few thousand qualified lawyers waiting to take on your case, you're bound to find the right fit for your legal needs on UpCounsel. I advise you to check out this leading online legal marketplace today if you're looking to get top-notch legal services at affordable prices.
UpCounsel is an online legal marketplace that takes care of any complex legal topics you need to resolve. It's a network of over 5,000 fully vetted lawyers with a minimum of 14 years of experience. As a result, you can fully rely on this service for any legal needs.
UpCounsel's operating principle is simple: you just post your legal issue or legal problem and wait for lawyers to bid. The platform's intelligent algorithm then matches your job with the best bids and provides you with the right pitches.
Here's a list of some services that UpCounsel provides:
Starting a business
Forming agreements
Intellectual Property law
General legal representation
Employment and labor issues
Financial law
You can get a free consultation with the lawyers before signing the dotted line. This way, you get a feel of what your prospective legal representation is like, and can decide accordingly.
All hiring is done through the platform, so you don't have to worry about hidden fees. Posting a job to UpCounsel is also entirely free, which means you only pay when you hire legal help.
This model is most suitable for one-time legal consultations. You can even choose to create an entire team of freelance lawyers to help your business in the long term.
And all this comes with zero worries about confidentiality since everything is done from within the platform.
Pricing:
The only problem is that since it's a bid-based marketplace, they don't have any fixed pricing structure. But that can also be considered a positive for those who're looking for flexible pricing.
To get started with UpCounsel, just post a job here.
Best Legal Directory for Specific Cases
Adam's Take
Getting your legal questions answered in due time is not always an easy task, as many people might not know where to start looking. Avvo is a great online resource for finding legal services and advice. With its online lawyer directory, you can search for lawyers based on practice areas, location, or even ratings from other users.
Even after you've got your business up and running, several legal situations might arise. Especially for small business owners, footing large legal bills is challenging. In such a situation, Avvo can come to your rescue.
It's an excellent platform to start looking into various legal problems and their solutions. The service is an online lawyer directory that you can use to get your legal questions answered.
Whether it's a problem related to the power of attorney, real estate, or financial law, Avvo has you covered.
The platform operates on a Q/A-forum model: you simply post a legal question, and qualified lawyers answer it for you. You can also post anonymously and protect your identity.
Following are some of the topics that Avvo covers:
Debt and bankruptcy
Business law
Family law
Criminal law
Immigration and employment law
Real estate law
Personal injury issues
Avvo even allows you to browse through past questions posted by others. This way, you can get your queries answered even without posting a question.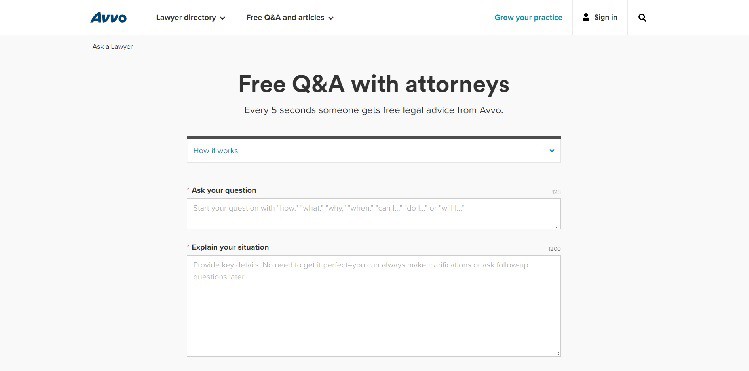 Pricing:
Posting and asking questions on Avvo is completely free. Keep in mind that the information you'd get will be general information and not legal representation.
In case you want more personalized service, you can hire lawyers through the platform. Then you have to pay for their services according to their hourly rates.
That's about the extent of Avvo's service. But considering that you can get legal advice for free, I'd say it's an excellent place for business owners to get their legal queries answered.
Best for Finding Local Attorneys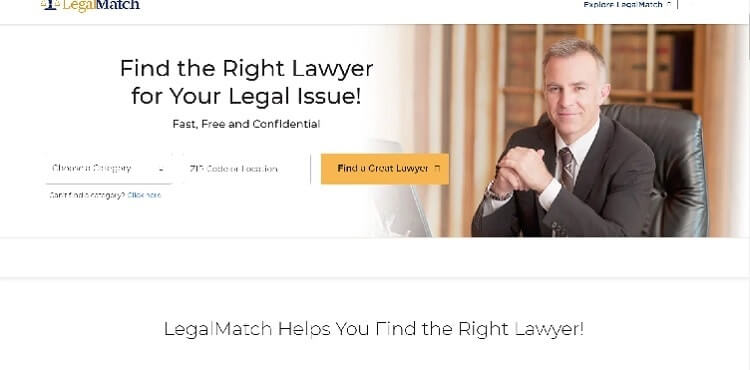 Online legal services can only do so much for you. It's best to opt for a local attorney with whom you can work directly in some situations. LegalMatch helps you find just that at affordable rates.
LegalMatch's operating model is similar to that of UpCounsel. It's a legal marketplace where you can connect with on-demand lawyers who take care of your legal issues. The only difference is that here the focus is on matching you with local lawyers.
As you're matched with a lawyer in your area, you can directly walk into their office and get your job done. To use LegalMatch, you just need to post your legal requirement on the website. Then you need to wait for suitable lawyers to respond, usually within 24-hours.
Lawyers will share their proposals and contact details with you. After you've got a few good matches, you'll get access to their full details.
LegalMatch provides you with data about:
The lawyer's complete practice history
Their relevant legal experience
Reviews from past clients
The above data lets you get a comprehensive idea about your prospective lawyer. The platform allows you to explore local attorneys without any commitment pressures.
This way you can also discuss your requirements first and get an idea of which attorney will serve you the best.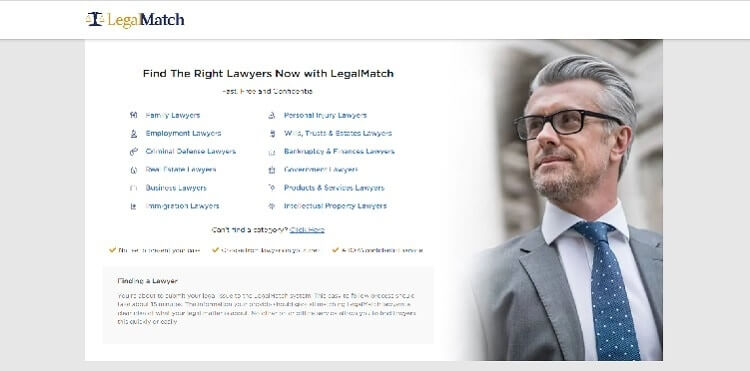 Another great thing is that the platform hosts pre-vetted lawyers. As a result, you'll only get relevant and qualified proposals. According to the company website, they've handled over five million cases with over 90% customer satisfaction.
Pricing:
And you get all this entirely free; you just have to pay for the lawyer whose services you hire. It doesn't matter whether your legal issue is business-related or personal. LegalMatch can help you get the job done.
To start with the service, just present your case here.
Best for Cheap Monthly Plans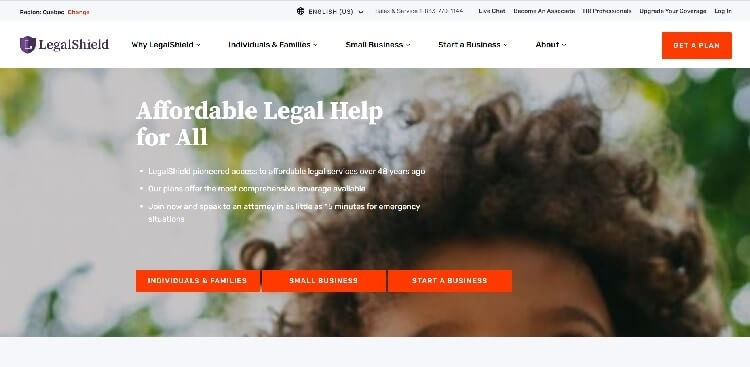 LegalShield provides family and small business legal help for a flat monthly fee.
The service has an easy-to-use website and app that's available on most major platforms. It has a range of free tools that help you answer your legal questions. They also provide custom legal services at heavily discounted rates.
With a LegalShield membership, you can expect legal support in the following areas:
General and designated consultations
Business-related legal requirements
Assistance with debt collection
Support for trial defense
Intellectual property laws
Immigration issues
Apart from the above, LegalShield also offers support for antitrust issues, legal agreements, and taxes.
Other perks that you'll enjoy with a LegalShield membership is 24/7 customer support. If you're using the mobile app, there's a dedicated customer service option there as well.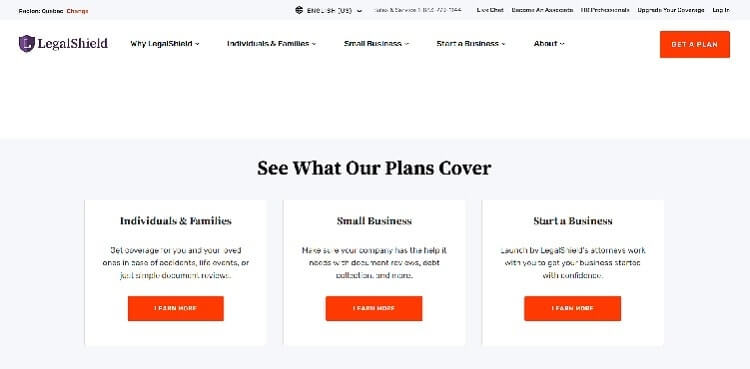 Pricing:
LegalShield's pricing structure is as follows:
Personal Legal Plans starting at $24.95 per month
Small Business Plans starting at $49.00 per month
Business Memberships starting at $145 per month
In short, LegalShield provides a complete set of features at affordable prices. It has multiple plans and packages that help you at personal and business levels.
It isn't the most advanced service and should only be used for small legal issues.
Factors to Keep in Mind When Choosing the Best Online Legal Service
Here are some factors you need to keep in mind when choosing an online legal service:
1. Understand Your Legal Requirements
You need to decide which online legal service you should go with based on your individual legal needs.
Not all legal services are created equal, and most of them specialize in specific legal areas. So, if you need help with creating corporate documents, you won't get much assistance from a service specializing in family law.
That's why it's best first to research the services you've chosen. I recommend you go through the websites and past case histories of the services. Then you can select the one which meets your particular requirements.
And if you think you're in need of legal assistance across multiple domains, then go with a diverse service such as LegalZoom.
2. Be Sure to Check their Reputation
The next aspect that you need to keep in mind is the reputation of the service you're going with. Some legal services have low or below average ratings; it's best to steer clear of these. I suggest you check the past work history of the service and meet with a few past clients.
From this, you'll be able to get an unbiased view of the service's track record. Look whether the lawyers on the platform are appropriately vetted or not. After all, you're trusting them with your business's legal needs.
3. The Stage of Your Business Matters
The size and level of your organization are essential in deciding the legal service you'll go with. The needs of a startup are not the same as that of a large conglomerate. So, make sure to select your service accordingly.
For instance, if you're a startup that needs help with incorporation, then Incfile is the best solution. In the case of larger businesses that need a full on-call legal team, opting for UpCounsel is your best bet.
4. Think About Service Frequency
Some businesses might need one-off legal assistance, while others require ongoing legal help. If your needs fall in the former category, select an online service that offers the best one-time plans.
For the latter case, you need a service that readily provides a lawyer on demand for ongoing needs whenever you need it. In this case, you're better off with a service like RocketLawyer, which offers long-term membership plans.
5. Lawyer Location is Important
The next factor that you need to keep in mind is the location of the lawyer. In most cases, online legal services can take care of most documentation needs. However, a situation might arise when you need to visit an attorney.
That's where services such as LegalMatch come into play. These can match you with local lawyers based on your state and zip code. Once you're matched with the right lawyer, you can visit them directly and make use of their legal resources.
6. Factor in Your Budget
Finally, keep an eye on your budget. Legal services can be expensive, and for new businesses, footing the bill is challenging. That's why always be sure to check out the pricing plans before committing to a service.
Wrap Up.
Legal needs can arise anytime when you're running a business. In many situations, you can try the DIY route by searching and using legal resources like Nolo.
However, if you are a serious business owner, it's important to use the best online legal service.
These services give you peace of mind and I think it's always better to tackle problems before they arise.
That's why I recommend going with an online service like LegalZoom or RocketLawyer.
Further reading on AdamEnfroy.com: Did you know that even the legal industry has gone online when it comes to doing research into cases and getting evidence organized?
Check out my list of the best eDiscovery software for more information about the top platforms in this space.
If you're a lawyer that wants to combine your knowledge with blogging, check out my blogging for lawyers post to learn how to get started.
I'll walk you through all the steps of launching and running a successful blog.
Disclosure: I may receive affiliate compensation for some of the links below at no cost to you if you decide to purchase a paid plan. You can read our affiliate disclosure in our privacy policy. This site is not intending to provide financial advice. This is for entertainment only.