7 Best Order Management Systems of 2023 (Ultimate Guide)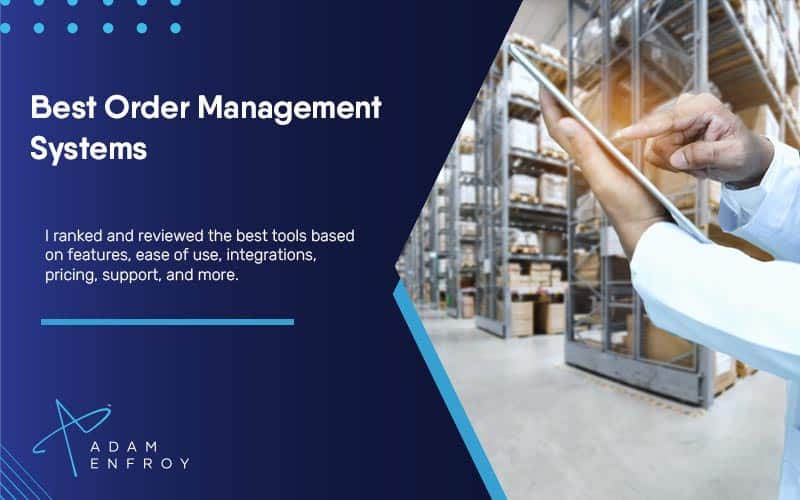 Want to jump straight away to my top picks? The best order management systems are Oracle NetSuite and Orderhive.
Getting a lot of online orders is a good thing. Getting so many that you can't manage them is another problem entirely.
If you're looking for the best OMS to centralize and process your orders, this guide is for you.
I ranked and reviewed the best systems based on ease of use, features, integrations, pricing, support, and more.
What is the Best Order Management System?
Here are my top picks for the best order management system:
Best overall order management system (Quote-based).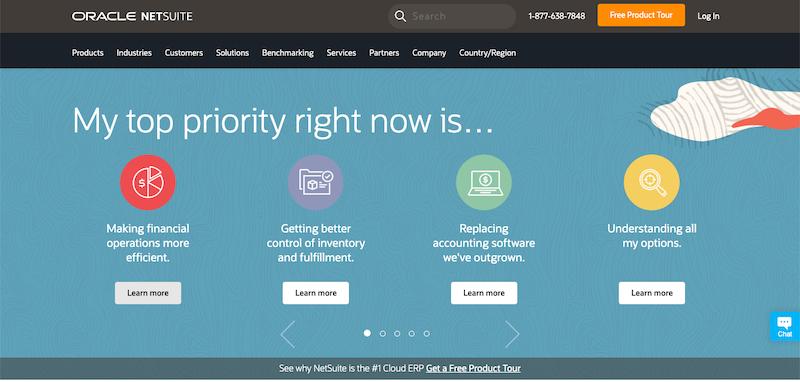 NetSuite is a cloud-based order management tool that helps you automate order-to-cash processes and streamline orders without any manual errors. The system integrates sales, financial, and fulfillment teams to eliminate billing errors and increase fulfillment efficiency.
Most prominent services include accounting, invoicing, billing management, quote accuracy, revenue recognition processes, returns management, sales order management, etc. It also performs costing and profit analysis, along with multi-currency pricing management.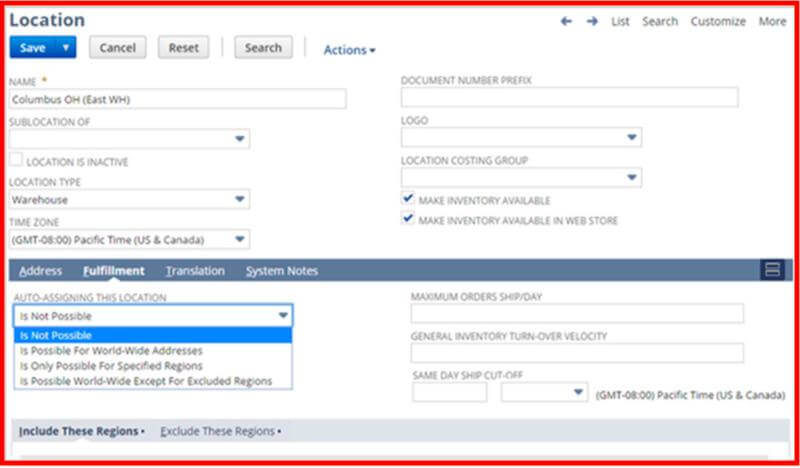 The ability to manage, control and optimize pricing and promotions is one of its other prominent features. It helps you streamline customer lifecycle workflow, establish multiple pricing tiers, monitor past billing records, perform gross profit analysis, and more.
The tool also offers an in-built return management system and integrates it with customer support. You can assist your customers with a return policy where they can communicate, raise a ticket for any repair work, warranty issues, or a speedy refund.
Key Features:
Approve Orders – You can approve orders based on the company policy and calculate commissions based on the sales team's performance.
Built-in CRM – Establish a personalized relationship with your customers with a proper CRM system.
Establish Pricing Levels – It helps you establish pricing levels based on your user base and provides insight into your pricing efficiency.
Identify optimal shipping location – It helps you identify optimal shipping location and shortens the time frame between order placed and shipment fulfillment.
Pros of Netsuite:
Drag-and-drop interface.
Cross-channel inventory.
It reduces the shipping cost by shipping the order from the closest location.
Automated and pricing updates with previews.
Centralized promotions management.
Real-time approval handling and monitoring.
You can customize the dashboard to align with your business flow.
Pricing:
Pricing information is not available on the official site. Get in touch with the vendor for a custom quote or to schedule a free consultation.
Best for shipping and inventory management (Free – $269.99 per month).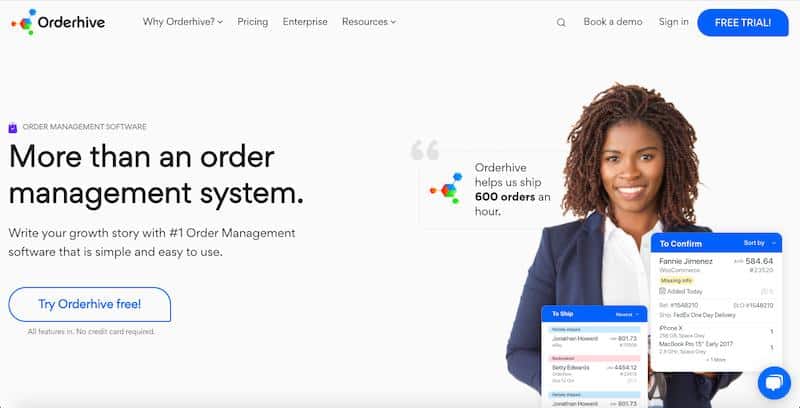 Orderhive is a multi-channel order, shipping, and inventory management software that helps you track, sell, ship, and analyze your business. The SaaS-based platform maintains a cloud business and enables you to manage all business processes, both on and off-premises.
It streamlines all orders in a single dashboard and processes customer orders through FBA, dropshipping, and 3PL. It also lets you perform actions like re-order, backorder, or partial order fulfillment. You can even tweak "Warehouse settings" or set priorities to fulfill orders.
Additionally, you can integrate multiple sales and over 300 shipping channels like FedEx, UPS, etc., under one roof. Other standard features include managing bulk orders, barcode enabled product scanning, maintaining return policy, custom invoice templates, etc.
It also helps with ecommerce automation and managing day-to-day business deals. Plus, it offers Amazon MCF automation, dropshipping facilities, and the ability to create automated folders of customer dealings, emailing, shipping, etc.
Key Features:
Inventory Management – It helps you maintain a proper inventory and keep a tab on particular products' demands, prevent any stock-outs, and segment operations.
Custom Views – You can add or delete custom fields and tags to orders.
Analytical Report – It provides an analytical report that tracks all the business dealings. You can get access to real-time trends, weaknesses and strengths, order status, etc.
Bulk Actions – Confirm, cancel, import, export, or clone orders in bulk.
Pros of Orderhive:
Offline and online order syncing.
List and Kanban view options.
Invoicing/payment management.
Custom order workflows.
Multi-piece shipments.
Multi-currency conversion.
Create, download, and print invoices and shipping labels.
Access workflows based on availability, geography, and shipping costs.
Inventory management with FIFO-LIFO inventory rules.
Pricing:
Orderhive offers five pricing plans (including one freemium and four paid plans):
Free: free plan for Shopify users
Lite: $44.99 per month
Starter: $134.99 per month
Growth: $269.99 per month
Enterprise: Tailor-made for your business
All of the plans include all orders, shipping and inventory management features, Shopify integration, onboarding support, and more.
Best for automated order and shipping workflows ($20 per month).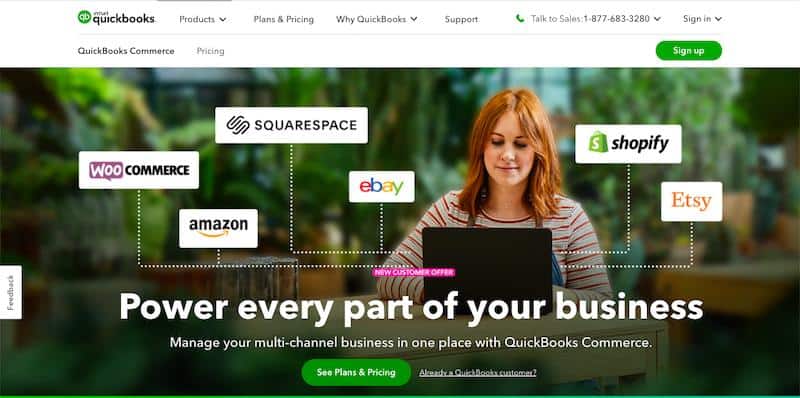 QuickBooks Commerce is an automated cloud accounting system that helps regulate, fulfill, and monitor your business orders. It syncs and integrates all your orders, inventory data, supplier, and customer data on one system.
It helps you organize bills in one folder and customize reminders to pay or get paid on-time. You can also choose how your vendors and distributors get paid – either by cheque or direct online deposit.
QuickBooks also provides access to loans with low-interest rates and easy payout solutions. You can create an account with QuickBooks for easy cash transactions and perform multi-channel business activities to increase brand awareness.
It also lets you maintain sales orders workflow with different sections like Draft, Active, Finalized, Fulfilled, Invoice Status, etc.
The order management tool also lets you integrate and maintain an inventory with major ecommerce platforms like Amazon, eBay, Etsy, etc.
Key Features:
Employee Collaboration – You can coordinate with your employees and hide sensitive information or share limited data.
Access Sales Reports – Keep track of the KPIs and get insights into metrics like profits and cash flow.
Automated Payrolls – QuickBooks helps you calculate, file, and pay federal and state tax compliance on time. You can also set up alarms for automatic payrolls.
Pros of Quickbooks Commerce:
Automatically list orders across multiple channels.
Custom reporting and insights.
You can hire expert bookkeepers virtually at your own convenience.
Store receipts of your past transactions to file tax returns efficiently.
Suitable for small businesses.
Pricing:
Quickbooks Commerce starts at $20 per month for the first 12 months. This plan allows you to track and fulfill orders, control inventory, sync Quickbooks to control accounting, and more.
4. Skubana.
Best for cross-channel reporting ($1000 per month).
Skubana is an ecommerce operations platform that lets you manage all operations in one place, including order processing, shipping, inventory management, etc. It also allows you to integrate all your orders, products, fulfillment centers, and sales channels into one dashboard.
Skubana's in-build automation tools provide a detailed insight into your dealings and suggest the best deals. It also generates POS (point of sale) and forecasts and identifies areas for cost-cutting to maximize the profit. This, in turn, helps you save time and manual errors.
Automated Orderbots is one of its unique features. The built-in automated tool handles functions like real-time rate-shopping, routing orders to suitable fulfillment centers, checking on your savings, etc.
Additionally, it integrates with multiple commerce systems, marketplaces, and popular 3PL companies like Zapier, SPS Commerce, Scout, etc. There's also an App Store that allows you to create, add, or customize other solutions.
Key Features:
Omnichannel Operations – Multichannel functions ensure customer satisfaction, on-time delivery, and personalized customer support. It also provides data across multiple sales channels.
Cross-channel Reporting – It provides detailed data on every individual SKU (stock-keeping unit), revenue, orders, and units sold.
Smart Recommendations – It identities your order and inventory replenishment patterns to make recommendations.
Inventory allocation – Set inventory allocation rules to prevent overselling.
Amazon Multi-channel Fulfillment – You can route your orders from various channels to Amazon FBA warehouses.
Pros of Skubana:
Real-time inventory updates.
Split bundled products into core components
Predictive analysis and forecasts.
Track pricing, production lead, minimum order quantities, etc.
Keep track of your stocks, sales, and shipments.
Establish automatic shipment and return labels.
The dashboard allows your whole team to work simultaneously and in sync.
Suitable DTC (Direct to Consumer), wholesale, or marketplaces.
Pricing:
Price starts at $1000 per month, for up to 1000 orders. Contact the sales team to request a personalized demo & quote.
5. Odoo.
Best for tracking order and manufacturer history ($6 per month).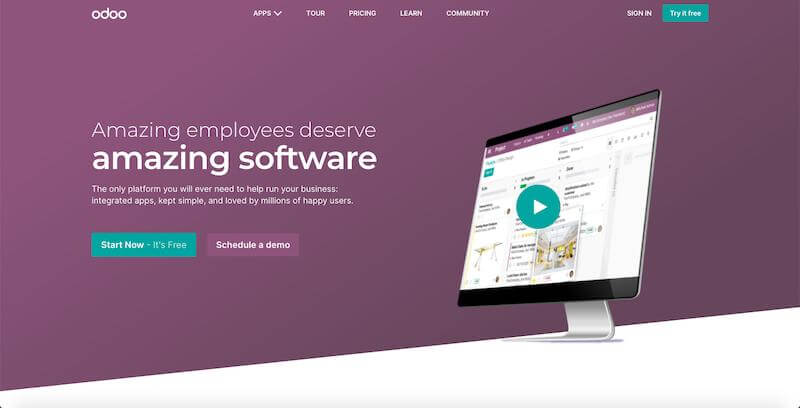 Odoo is an open-source business management software that provides solutions for CRM, ERP, billing, accounting, order management, inventory management, etc. It enables the centralization and automation of all such business processes.
Odoo's "double-entry inventory management" facilitates complete traceability of orders. Modern UI allows product scanning using barcodes, updating posted transactions, and managing multi-warehouse environments through on-demand features.
Custom dashboards allow real-time reporting with product availability forecasts based on sales, purchases, manufacturing orders, and internal moves.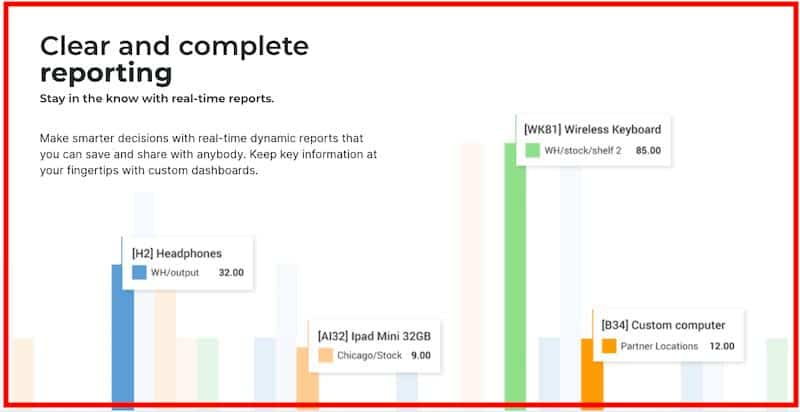 It also allows you to prepare orders with and without barcodes, make inventory adjustments, and arrange warehouse stock hierarchically. Odoo also verifies supplier orders, manages manufacturing or repair orders, transfers stock between locations, etc.
Other standard features include quotation alerts, document search, order confirmation through barcodes, order scheduling based on product availability and forecasts. Customer Portal is
available to customers for tracking orders.
Key Features:
Automated Order Replenishment – You can use order points and automated RFQs (Request for Quote) to maintain your supply chain.
Inventory Valuation – It helps you evaluate your inventory by re-incorporating landing costs and setting up automated perpetual inventory evaluations
Advanced Routing – Customize order fulfillment strategies (LIFO, FIFO, etc.) and route products back and forth from the warehouse.
Tracking of Operational History – It provides activity logs, serial numbers, and barcodes to track the operational history of order details.
Pros of Odoo:
Dropshipping, cross-docking, and multi-warehouse management solutions.
Inventory visibility and evaluation for Balance Sheet.
Ability to add custom fields, expiry dates, and various measuring units.
Odoo supports all types of physical and digital products, consumables, and services.
Create quotations for purchase orders based on stock forecast and needs.
Integration with various Accounting, Sales, Shipping apps, and APIs.
Pricing:
Pricing starts from $6 per month/per user.
6. Brightpearl.
Best for workflow automation (Quote-based).
Brightpearl is an order management platform that supports omnichannel retailers and wholesalers to manage digital operations, orders, inventory, shipping, etc. It helps centralize and manage all significant post-sales operations like order management and invoicing workflows.
It also offers configurable workflow automation to automatically allocate inventory, redirect orders to the warehouse, and invoicing sales orders. You can also set rules to match the desired fulfillment workflow, including partial or multi-location fulfillment or dropshipping.
Plus, it lets you raise purchase orders for out-of-stock items to allocate inventory automatically when the products are available again. There are options to apply specific price lists, discounts, payment terms, credit limits, and account ownership to wholesale customers.
Brightpearl enables fulfillment on orders from channels like Shift, BigCommerce, eBay, or Magneto. You can also configure your automation workflow to trigger shipments to Amazon.
Key Features:

Data-Driven Reports – It generates detailed analytical reports to identify customer potential, product sales, and sales channel performance.
Integrated POS App – The Point of Sale app helps you capture orders, customer details, and payments from offline stores or events. It also provides inventory level and product information.
Custom Fields – Customizable order statuses to determine order processes, allocate inventory, set up fulfillment services, receive payment, and generate invoices.
Clone Orders – Clone sales orders to raise new orders for refund or exchange. There are options to update, write-off, or quarantine the Inventory.
Pros of Brightpearl:
Accounting software to procure real-time financial insights.
It manages all online and offline sales orders from one place.
The system offers a free customized demo.
Create and send order quotes, proformas, confirmations, invoices, and statements.
Updates for orders placed across all sales channels and inventory locations.
Integration with ecommerce and shipping solutions like ShipStation and Shiptheory.
Pricing:
Brightpearl offers two custom pricing plans based on your specific business requirements.
7. Freestyle Solutions.
Best for multichannel order management (Quote-based).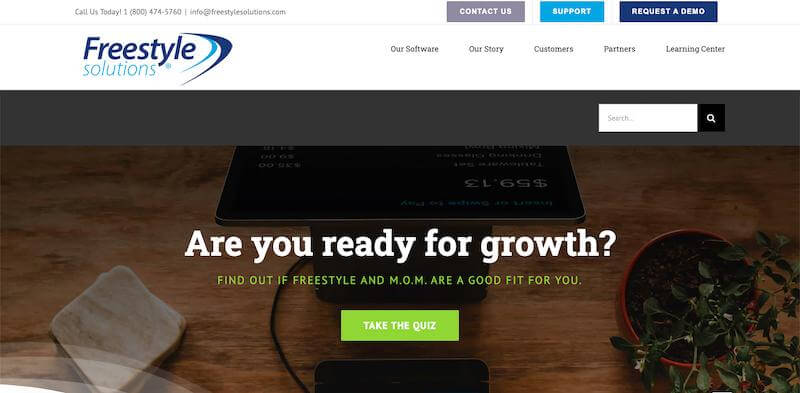 Freestyle Solutions is an order and inventory management platform that centralizes and manages order processing, inventory tracking, and fulfillment processes. Standard features include order processing, real-time inventory updates, and inter-channel inventory transfers.
The built-in Multichannel Order Management (M.O.M.) software enables you to automate, track, control, and unify your back office. The M.O.M platform also centralizes operations like orders, inventory, and customer management and automates data entry and system logins.
There's a Point of Sale (POS) module that unites orders from direct entry, ecommerce stores, and cash registers. Plus, open API integrates technical resources with any ecommerce or third-party system to streamline multichannel sales processes.
It also provides detailed reports to identify orders based on their shipment, packing, credit card approval, etc. Tools are also available to manage order efficiency, facilitate up-selling and cross-selling, and display pop-up recommendations during order entry.
Key Features:
Order Promotions – It lets you integrate promotional offers with individual orders to accelerate sales orders.
Status Reports – It provides up-to-the-minute status reports to select and review orders by status.
Order Tracking – Real-time order status reports are available based on order stage, order payment status, stock item, and more.
Pros of Freestyle Solutions:
Auto-sync with sales channels.
Merchant account services.
PCI compliant payment gateway.
You can request a free demo.
Multiple payment solutions like card authorizations and direct bank transactions.
Integration with third-party shipping solutions like Harvey's CPS and Endicia.
Manage orders from at most fifty companies simultaneously.
Pricing:
Contact the vendor for custom pricing plans.
What is an Order Management System?
An order management system is any tool or software that manages order entry and processing. An OMS also tracks orders, fulfillments, shipments, sales, etc., and centralizes all the processes involved in the order management process in a single dashboard.
To summarize, it's an integrated system that offers end-to-end order processing services, connecting the customers, sales channels, and shipping solutions.
Key benefits of an order management tool include:
It eliminates paper-based processes.
Stock and inventory control.
Centralized customer support.
Omnichannel store fulfillment.
Works as a CRM solution that provides access to the entire order history.
What Features Do You Need in an Order Management System?
Here are some standard features to consider in an order management solution:
1. A Centralized System.
The system should be able to streamline data from all your sales channels and culminate it under one roof. Centralization also helps you maintain customer records from multiple channels.
2. Inventory Management.
Inventory management is crucial to monitor stock levels. An OMS can save time by maintaining a proper inventory and providing insights into orders placed and the stocks present.
Plus, the system should prevent products from going out-of-stock items and calculate the stock based on the customer's cart record.
3. Fulfillment Center Synchronization.
The fulfillment center overlooks order receiving, processing, and subsequently order completion. OMS helps businesses sync all the fulfillment services and centers and receive notifications about the order status.
It should also help dropshippers keep track of when the order got processed and gated for shipment.
4. Integrates Shipping Services.
Your OMS should establish communication between the dealers and the customers. After the shipping, the system communicates with both parties to let them know the status and actual delivery date.
This feature comes in handy if you use multiple shipping providers. It should also provide assistance for the COD system and track payments received by the shipment company.
5. CRM Functions.
You need to select an OMS that integrates with CRM software. An order management tool should be able to notify stakeholders regarding order status, from confirmation to delivery.
The system's effectiveness also depends on the auto-generated emails to the customers about the latest products or services.
7. Order Processing Scalability.
The success of any system depends on its scalability. Whether you're a small enterprise receiving 1000 orders or a conglomerate with 100,000 orders per day, your OMS should be fully scalable.
8. Multiple Payment Options.
It's a good business strategy to provide buyers with many payment options. Your system should sync with all prominent payment channels and ensure a secure mode of payment processing.
9. Refund Processing.
An ideal OMS should be able to process any return or refund request properly. The system should also ensure that the customers get back their money without any delay.
Besides, your OMS should be cost-effective, identify bottlenecks, provide a reliable customer experience, and integrate with third-party ERP systems.
How Do You Use Order Management Software?
Most OMS platforms have similar functioning. I'm using Skubana to demonstrate the process in this article. After creating an account, it all comes down to the settings.
Let's get started.
Step 1. Select the "Inventory" option from the left column in your dashboard. You can set the address to the location your customers are placing orders from. Skubana connects every 3PL with FTP and also has an API.
Step 2. Sync With Sales Channels.
Head to the sales channel after setting up the warehouse. You'll find a tab on the top left corner, 'New Channel,' where you'll get the option to select your sales channel. You can choose from top channels like Amazon, Shopify, Magento, and more.
For example, if you want to be an Amazon seller, click on the icon, put in your credentials, and enable FBA. Skubana will create an FBA warehouse on the inventory screen. You can create such screens for all the sales channels similarly.
You can use the API to integrate any third-party sales channel if it's not listed in the dashboard.
Step 3. Next, Click on the Shipping Providers.
Skubana supports all the leading shipping providers, including FedEx, UPS, Amazon Seller-Fulfilled Prime, etc. You can create as many warehouses as you want with the Amazon Seller-Fulfilled Prime service and use it for 2-days shipping without spending a penny.
You can integrate and synchronize all such shipping service providers similarly.
Step 4. Next, you can input the names of all your vendors by selecting the vendors' option.
Step 5. Set Up Orderbots.
The next step is to set up Orderbots to program your business for different scenarios. You can set conditions for your multi-channel order fulfillment under this section. You can also set up an auto split in between your warehouses.
Step 6. Next, you can set up email, packing, and PO (purchase order) templates to create customized messages for different channels.
You can also get access to analytics and provide viewing access to your team members. You can also leverage Skubana's API to integrate other solutions, such as CRM, ERP, Zapier, and more.
Executive Summary.
An order management platform interconnects several touchpoints and stakeholders to enable smooth sales order transactions. In addition to enabling smooth order-to-cash flow, the system also provides maximum outreach with CRM services.
Consider these platforms if you want to bring multiple sales channels, warehouses, and stores together:
Disclosure: I may receive affiliate compensation for some of the links below at no cost to you if you decide to purchase a paid plan. You can read our affiliate disclosure in our privacy policy. This site is not intending to provide financial advice. This is for entertainment only.