7 Best Org Chart Software of 2023 (Ranked and Reviewed)
Choosing the right org chart software is vitally important to your business. From executing workforce planning to providing role-based access, the best org chart software can help you meet your goals. In this guide, I ranked and reviewed the 7 best org chart software, so that you can pick the best one for you.
---
We're reader-supported. When you buy through links on our site, we may earn an affiliate commission.
Want to get right to it? The best org chart software right now are Monday.com and Freshteam.
Creating an organization chart as part of a business plan can be a time-consuming and complex task. You need to understand the organizational structure of your business, and then create a chart that reflects it.
An org chart shows the hierarchy in the form of a pyramid with the leadership team at the top of the pyramid and various lines connecting other employees. This allows everyone to know who's who in an organization.
The problem is that creating an org chart from scratch is too much work for most businesses. They either don't have the resources or they don't know how to do it right.
To help solve this problem, I've created this list of the 7 best org chart software tools in 2021 so you can quickly find what you're looking for and get back to running your business without wasting any more time on research.
Most of the organizational chart software products also have other functionality that allows businesses to run their operations more smoothly.
Let's get right into it.
Disclosure: I may receive affiliate compensation for some of the links below at no cost to you if you decide to purchase a paid plan. You can read our affiliate disclosure in our privacy policy.
What is the Best Org Chart Software?
The following is my pick of the best org chart software right now.
Best Overall Org Chart Software.
Monday.com allows you to get started quickly by building your first workflow in minutes, and scaling it across departments and teams of any size with a single click – all from one place.
Hundreds of visual and customizable templates are available to get going or, if you prefer, you may build your own from scratch.
With Monday, you can visualize and manage your company's business processes – whether they're simple to-do lists, events in a calendar, complex approvals, or multi-stage milestones.
And if the process is too long for one screen, no problem. Just scroll down or click on any step to reveal more detail.
Building an org chart with Monday is as easy as integrating it with your existing business applications in a simple and quick process.
Manage everything from one workspace – from the smallest details to the entire workflow.
This means you can focus on what matters – your business. Stop worrying about your process management software and focus on the value that your business is providing customers.
Key Features:
The team at Monday provides you with unique and outstanding service which means that you can use this software even if you don't have any experience
Monday allows you to integrate your org chart directly into Slack or HipChat – so your team is always in the loop.
Manage your data as a map, calendar, timeline, kanban board, and more.
Trello board templates for Monday give you an insight into how your team is collaborating so you can make smart decisions faster.
Pricing
With 5 pricing plans to choose from, Monday has something for everyone's specific needs. The plans are as follows:
Individual: $0 free forever
Basic: $8 per seat per month
Standard: $10 per seat per month
Pro: $16 per seat per month
Enterprise: Contact them for a custom quote
Note that the minimum number of seats is 3 per plan. On the flip side, you can go up to 200+ seats on each plan.
Get started with Monday.com.
Best For Drag and Drop.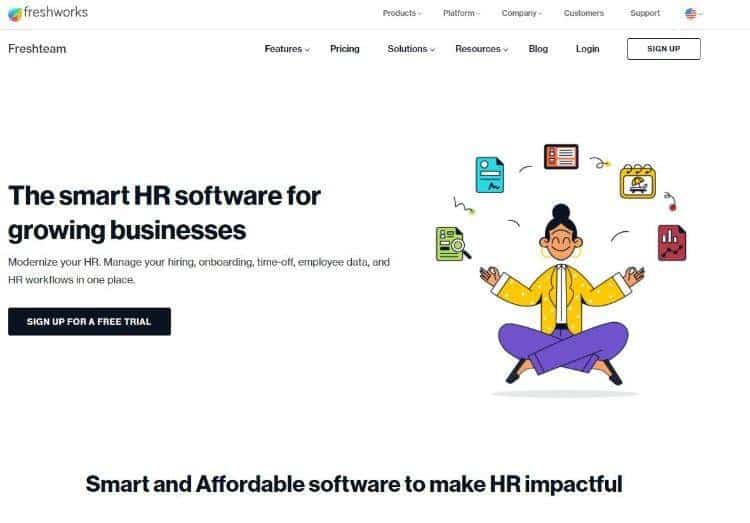 Freshteam makes lightweight of creating org charts and other HR functions.
Freshteam is a product of Freshworks and aims to help small businesses by increasing their efficiency through the use of technology.
With Freshteam, you can create org charts with ease so that your company structure is clear to everyone involved. Organize positions with teams and individual people so that the entire enterprise is working in sync on what needs to be done next.
Make your HR more efficient in one place, manage your recruiting, onboarding, time-off, employee data, and HR workflows. This way, everyone in your company is on the same page and knows what's happening.
If you want to reduce repetitive and boring work, Freshteam can help you automate it. This way, you are allocating your time to what's important in the business, not doing trivial tasks that will take up hours of your day.
Key Features:
'Who's Who' chart is required for every growing organization – using Freshteam's org chart creator, you can create your own in minutes.
Integration is crucial for businesses – with Freshteam, you can integrate with 100+ apps to make sure everyone is on the same wavelength.
Allow team members to create a timeline of events, arrange interviews, invite panel members, leave comments and feedback for one another
Automate resume screening and collect all candidate records: emails, interaction histories, interview scores, comments, and notes in one location.
Create a candidate tracking system that includes job-specific details, applicant tracking forms, and workflows, interview scorecards, referrals, onboarding processes.
Pricing
With both monthly and annual plans available, Freshteam offers 4 pricing plans for you to choose from:
Free: $0 forever for up to 50 employees
Growth: $1 per employee per month + $59 platform fee per month
Pro: $2 per employee per month + $99 platform fee per month
Enterprise: $4 per employee per month + $169 platform fee per month
Get started with Freshteam.
Best For Structure.
Microsoft Visio transforms the way businesses use visual data and bring it to life. With dozens of ready-to-use templates and thousands of customizable shapes, Visio makes it fun and easy to create visuals that are both powerful and easy to understand.
Once you create your chart, it can be saved as an image or even an HTML web page.
You can then use other features to communicate the company's organizational structure with stakeholders by simply emailing or saving it to SharePoint where everybody has access to the latest version of the organization chart.
In addition to organizational charts, network diagrams, flowcharts, and more can all be created with this software.
Key Features:
Create flowcharts and diagrams on your local intranet to communicate processes, procedures, and steps.

Quickly build and update lists and libraries that everyone can access and easily edit, such as policies and procedures manuals.
Visio's robust flowchart capabilities can help you bring your concepts to life by transforming numbers and information into impactful stories using the large variety of shapes, stencils, and templates available.
You can also use a Visio stencil to draw a simple chart; choose from a variety of pre-made templates, starter diagrams, and stencils accessible in the desktop and online versions of Visio.
Pricing
There are two plans available with Microsoft Visio. You can pay on a subscription basis or you can buy the lifetime license. When it comes to a subscription basis, the prices are as follows:
Plan 1: $5 per user per month (monthly or annual payments)
Plan 2: $15 per user per month (monthly or annual payments)
You can also buy the lifetime license as follows:
Visio Standard 2021: $309.99 one time purchase
Vision Professional 2021: $579.99 one time purchase
4. Lucid.
Best For Customization.
With Lucid, you can go from visually imagining something, to the process of building it and then ensure it's ready to go live. From thinking about the future to building it, Lucid gives you the tools to get there.
Lucid is dedicated to building an accessible and inclusive future, so you can imagine the great things you'll be able to accomplish as a team.
Creating an org chart in this environment is as easy as dragging and dropping items on a screen. You can change colors and labels to make sure your team understands what they're working on.
Create innovative ideas as a team, no matter where you are: in the same room, across the world, or anywhere in between. This means that you can effectively build a team from scratch and collaborate on an international level.
Lucid enables you to create visual roadmaps that show everyone involved where your company is going, what you'll be accomplishing as a group, and how everyone will contribute to the mission along the way.
When it comes to hiring, Lucid aims to help you find creative talent. That's why they provide creative recruitment marketing tools so that you can find the best person for the job, no matter where they are.
Visualize who you want to bring on board and then collaborate with everyone else to make the goal a reality.
Key Features:
Ignite ideas in the intuitive virtual whiteboard. This makes it simple for your employees to generate and bring forth their greatest ideas.
Unite recruitment around a shared purpose – search for the right employees and then create high-quality video interviews to find the right matches.
Work as a team and create milestones to show everyone what you're doing and how it will help your business grow.
Lucid enables you to connect your team members and customers across the global value chain, from concept to reality.
Make things happen more quickly even as your operation scales. Whether you're a startup or an enterprise, your business will always have a vision for the future.
Pricing
You'll need to contact their sales team to find out more information on pricing for your business.
5. Gliffy.
Best For Ease Of Use.
With Gliffy, creating an org chart is easy. You can create your team, choose the right size and shape for your company's structure, then start adding in who you need to get started.
Any team may use Gliffy's enterprise-grade diagramming solution to visually communicate ideas. This means that you can create a visual organization chart, a process map, or a website wireframe to perfectly communicate your team's vision.
If you need to change up the company structure, then Gliffy lets you edit org charts with drag-and-drop simplicity – just drag their avatar to a new position, and your org chart will come together that much more quickly.
Gliffy was created by two engineers who wanted all of the convenience of drawing on a whiteboard into a powerful, business-grade diagramming software.
It's perfect for creating a company org chart, and even includes features such as revision history to help you maintain records of changes.
Gliffy's enterprise-grade diagramming software, which has over 16 million users and an intuitive drag-and-drop interface, allows teams of all kinds to create diagrams and communicate visually.
Key Features:
Act as a document management software, allowing you to review the changes made in prior versions of a document so that you can adjust accordingly.
Collaborate effectively with other team members, no matter where they are located.
Work at your own pace to ensure everything is done the right way the first time around.
You can also add images to Jira and Confluence right away which means that it's even easier to create org charts and other diagrams.
Pick who gets to see, edit, and comment on your content with granular permissions settings.
Pricing
Gliffy offers two types of pricing based on your company's needs. When it comes to their online diagramming app, the pricing is as follows:
Professional: 1-9 users: $8 per user per month (billed annually); 10-50 users: $6 per user per month (billed annually)
Enterprise: A custom quote will be given when you contact their sales team
There is also pricing included for Gliffy's Atlassian's apps. These are:
Up to 10 Users – $10/mo (monthly flat fee)
11 – 100 Users – $3.80/mo (billed annually)
These apply to both Gliffy Diagrams for Jira and Gliffy Diagrams for Confluence.
6. Organimi.
Best for those looking for a solution that does much more than a simple org chart.
Organimi provides a broad range of services for thousands of small and large businesses, both in the public and private sectors.
Organimi's org chart tool is used in a variety of sectors, including government organizations, educational institutions, non-profit groups, and other public service organizations.
You'll find your most important information, organized in charts that are easy to read and interact with. You may connect with all of your favorite applications and tools so you can spend less time on your chart and more time working on your business.
Organimi goes beyond just being an org chart software, it's also a communication hub that allows you to provide everyone with all the most important information in the easiest way possible.
It has powerful communication features combined with easy access to all of your favorite apps and tools for less time spent creating charts and more time doing what you love.
Key Features:
Create a Photobook for each employee using the Personal Portrait feature. This is an effective method to connect with the person behind the title. Photo Boards may be used to identify a person's face.
Organimi's SmartChart™ Legend feature can be used to show information on your chart and attach conditions to custom fields, allowing you to make your chart more attractive.
You may share your organization charts privately with a few people or across the company in one click. In addition, you can allow users to modify or view your data and select which fields you want to display (while hiding others).
Create a chart from scratch using their drag-and-drop interface. You can also data import a CSV or Excel file with your company information and have the chart come to life.
Pricing
Starter: $10 per month, charged annually. Caters for up to 250 employees
Growth: $30 per month, charged annually. Caters for up to 500 employees
Pro: $50 per month, charged annually. Caters for up to 1000 employees
Enterprise: For organizations with more than 1000 employees. Contact them for a custom quote.
7. Built For Teams.
Best for those that want to plan, manage and retain their workforce.
With Built For Teams, you can build teams based on the way you work. Built For Teams focuses on daily tasks and teamwork by transforming how managers, employees, and customers interact with each other. You can visualize talent data in an easy-to-use platform that is extremely intuitive.
Built For Teams goes beyond org charting, allowing you to manage all of your human resources data in one place. The platform allows managers and employees to connect by organizing day-to-day tasks based on how work gets done.
Use PTO tracking to quickly see who's coming to work and who's not. Then, communicate with your team about time-off requests directly on the platform.
Built For Teams takes care of the details so managers can focus on what matters most: growing their business.
Key Features:
Simplify the applicant tracking procedure by automatically sorting resumes based on relevant keywords.
Build reports that help you monitor your team's performance over time. Take advantage of Built For Teams' robust reporting suite, which includes custom reports for demos, onboarding, PTO tracking, workforce data, and more.
Use PTO tracking software that is precise and adaptable so that team members can plan their time off with ease.
Manage all your HR data in one place, including your core business processes such as hiring, performance management, retention, and more.
Built For Teams automates the tedious manual tasks that typically eat up valuable hours each week.
Pricing
You will need to book a 15-minute demo to experience the product and get a quote.
What is Org Chart Software?
An organizational chart is a diagram that shows the structure of a company, depicting how it is divided into smaller groups or departments.
Org chart software helps create organizational charts whenever they are needed within an organization. It allows companies to model their workforces in any way they see fit for maximum effectiveness and efficiency.
In essence, organograms provide a visual representation of an organization's structure, who reports to whom, and job roles in a given department. Org chart software makes creating this graph simple.
The best org chart software offers important functionalities such as:
Interactive and easy-to-use interfaces.
Sharing of charts via a secure cloud platform.
Customization by modifying things such as the number of levels, node layout, and shape styles.
Integration with existing systems such as Gmail, Outlook, etc., for increased automation.
Ability to create and maintain multiple charts within an organization.
Content management and hierarchical categorization of nodes are a big advantage as well.
The above-mentioned functionalities can be offered by the org chart software you choose, which makes it easy for managers and employees alike to understand the company hierarchy and reporting structure with just a few clicks.
This helps improve productivity within an organization as knowledge transfer becomes easier than ever before due to such intuitive interfaces.
The org chart software market is growing rapidly for this reason, with some of the best software on offer being an invaluable asset to any business.
Why Do You Need Organizational Chart Software?
Let's now have a look at the main reasons why organizations need to generate org charts in their workplace.
Data visualization
Data visualization tools that form part of an org chart software create a visual workplace hierarchy structure that helps companies better comprehend and deal with their data internally.
A visual workspace enables them to map out complex departments and divisions for easier understanding, leading to better management of resources.
Managers can use this software to streamline processes such as performance reviews and increase accountability within teams because everyone is aware of who reports to whom.
It becomes easy for employees to share knowledge in an organization when they see things represented visually.
With org chart software, it becomes very easy for managers to identify where the bottlenecks are at any point in time based on a visual representation of how work flows through a company.
They will know exactly what tasks should be prioritized first depending on the current workflow.
Workforce management
The best organizational chart software allows companies to automate complex processes such as hiring, firing, workforce planning and might even take on some of the tasks handled by project management tools.
The structure of the company is represented in the form of an org chart which enables managers to not only better understand their employees but also plan for future growth.
This makes it easier than ever to manage resources so that they are always utilized efficiently. For example, if team members are overloaded or underutilized it becomes very easy to reallocate tasks to get maximum productivity out of all resources available.
Having easy access to information about your entire workforce allows you to effectively manage your business without any issues whatsoever.
Employee Directory
The employee directory feature helps you keep track of all your employees and their contact information, making it easy to reach out to each team member. Such a data source feature can be used as a simple database or linked directly to Outlook with real-time updates.
An employee directory helps companies gain insight into their workforce and make appropriate changes where required, from hiring new members to reallocating tasks within teams.
Profile management
To effectively monitor the performance of an organization at all times, managers can use profile management features that offer tools such as:
Performance ratings – These allow managers to prioritize work depending on current workloads. This also enables them to give important feedback to employees about how they can improve.
Key competencies – Such tools help managers quickly identify talent gaps in their workforce and take steps to resolve them by focusing on new hires or training existing ones accordingly.
Stay on top of HR processes
For small companies, in particular, it becomes very important to have the right HR tools to manage employees.
Organizational chart software offers a host of tools that can be used for hiring new members (such as a searchable database) or more efficient on-boarding of existing ones.
Managing external candidates becomes easier than ever before when you get features like HR software, applicant tracking, background checks, and custom reporting.
HR managers will get alerts from the task management tool being used (which can be part of the org chart software) whenever specific employees get assigned to any task, making it easy to monitor performance for better workforce planning.
Track key metrics
Whether you use a CSV file, excel spreadsheets, or importing data into a system, you must build org charts that help with organization charting. This information should provide real-time data that you can use to track key metrics for your entire workforce like turnover rates, project management times, hiring rates, and much more.
Increase workplace productivity with software
Every enterprise must make optimal use of its resources to maintain maximum efficiency. For HR professionals, it becomes very easy to improve the working conditions of their team members by implementing features like employee engagement surveys.
Organizational chart software offers an array of worker reports that managers can access at any time – from quarterly feedback reports to daily updates ensuring work is being done efficiently without delays.
Other Software To Consider
While the above list refers to my personal preferences when it comes to the best org chart software right now, there are obviously other chart solutions.
These diagramming tools will allow you to improve various items such as decision-making, mind maps, chart templates as well as organizational design.
Some of the other software that you might want to check out include:
Lucidchart
Canva
Powerpoint
Salesforce
The above software solution might not have all the functionality when compared to the above collaboration tools but they might still get you moving in the right direction when creating actionable succession planning and relationship maps.
Finally, keep in mind that if you want to optimize the way your organization works, you should consider software that works on any platform – whether it's a Mac, Windows, Android, or even iOS.
Wrap Up.
In conclusion, having an organizational chart helps you keep track of the entire workforce. There are lots of options available for creating beautiful and functional org charts that can help you manage your team better.
The Best Org Chart Software in the market right now are:
Microsoft Visio: Best for organizations that want a visual overview of the work that's being done.
Monday: Best for those that want to scale any type of workflow from one interface.
Freshteam: Best for those that want a modern solution for their HR.
Lucid: Best for companies that want to build a beautiful future together as a team.
Gliffy: Best for ensuring team collaboration and communication is at an all-time high.
Organimi: Best for those looking for a solution that does much more than a simple org chart.
Built For Teams: Best for those that want to plan, manage and retain their workforce.
By using the above-mentioned software, you can create and manage your organization in a better way. So go ahead, try them out and let us know in the comments below how they worked out for you.
Editorial Process:
Our reviews are made by a team of experts before being written and come from real-world experience. Read our editorial process here.
Some of the links in this article may be affiliate links, which can provide compensation to us at no cost to you if you decide to purchase a paid plan. These are products we've personally used and stand behind. This site is not intended to provide financial advice. You can read our affiliate disclosure in our privacy policy.