Vimeo OTT Review: Pros and Cons, and Alternatives (2023)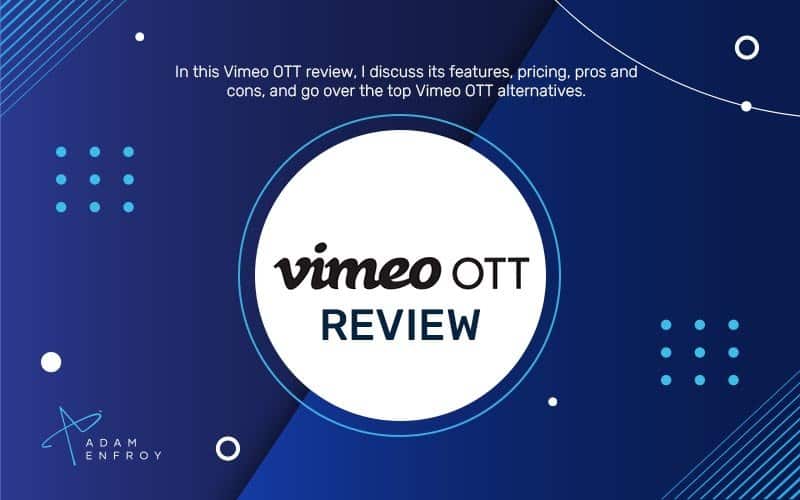 You're here.
You've made it to the place you've always wanted to be.
Reading a Vimeo OTT review post…
I'm kidding, but I figured I would ingest some humor into a topic that isn't super fun; choosing an OTT platform.
For this post, I have researched and dug up every shred of information you need about Vimeo's OTT offering.
So without further ado, let the reviewing begin.
What is the Vimeo OTT Platform?
An OTT allows consumers to:
Stream content anywhere you want.
View ads-free content.
Avoid paying for channels you would never watch.
Customize your viewing experience. You don't have to stick to what's "on the air" anymore.
OTT is equally valid for content creators.
Now you can manage video content, monetize it, customize your online player, distribute your content worldwide, and record live streams – all in one place.
Aside from VOD (video on demand) and live streaming content, some OTT platforms offer services like messaging, audio streaming, VoIP (Voice over Internet Protocol), etc.
Some famous OTT platforms include Netflix, Vimeo, Uscreen, Dacast, Muvi, and more.
Vimeo OTT Overview.
Vimeo OTT is a New York-based OTT platform that helps you launch a video subscription service and channel.
You focus on creating content, and the platform will do the heavy lifting for you, including managing, promoting, and monetizing your content.
The platform has the tools and tech to create, record, publish, and monetize videos. Subscribers can access your videos either for free, purchase your subscription, or as a rental.
The platform accounts for 1500+ apps created 100% in-house, over five million end users, and 3.5M+ live streams annually.

Here's everything you can do with Vimeo OTT:
Record and share videos from your browser.
Live Stream events.
Launch your own streaming app.
Create custom websites to host your content.
Upload, host, and manage video files.
Monetize your videos using three monetization models.
Create videos using Vimeo's built-in templates.
Discover and watch videos.
Track viewer growth and churn.
Manage your video library with Vimeo's content management system (CMS).
Some of these features are only available with the Enterprise plans, such as live streaming and branded apps.
Its Enterprise plan also provides migration assistance, which is convenient if you're moving from another OTT service. You'll get complete in-house support to transfer your existing videos and customer data.
Vimeo OTT Features.
1. Uploading and Selling Content.
Vimeo provides a white-label HTML5 video player, which means you can customize everything keeping your brand in mind.
The content will have your branding, while Vimeo will give you all the tech and tools to display your content.
Uploading your video content with Vimeo is easy.
Head to the "Content" tab from your video streaming service dashboard. Click on the Upload option from the upper left corner.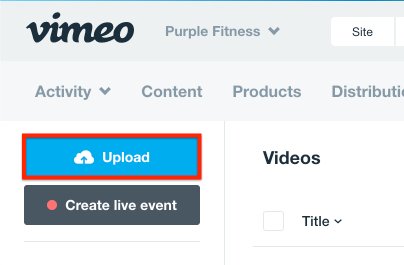 The OTT platform gives you various options to upload your content.
You can upload a single video or in bulk using the drag-and-drop functionality.
Another option is to choose a file from your browser or upload content from your Dropbox account.
Once uploaded, you can edit video details like titles, descriptions, thumbnails, distribution, and discovery settings.
You can also move it to the collection it belongs to, such as movies, series, playlists, etc.
To sell your video as a product or create a subscription product, head to the "Product" tab in your OTT admin.
You can set a rental cost, a subscription cost, or both.
The entire setup requires the following steps:
Basic Info – You'll enter your product details like title, description, and thumbnail.
Distribution – Select your distribution regions and publish your product immediately. Or you can let customers pre-order.
Content – Add your main videos and an optional trailer.
Pricing – Set your prices and choose if costumes can buy, rent, or both. You can set recurring, monthly, or yearly payments. You can even enable free trials for up to 30 days.
Extras (optional) – You can add files like MP3s or PDFs to support your video content.
Advanced (optional) – Add translations and custom email receipt messages.
Your videos on Vimeo get indexed and surface across prominent search engines and social media channels.
Add a keyword-rich and relevant description, title, metadata, and tags.
2. Distribution Platforms.
Vimeo allows you to distribute your content using websites and apps.
You can also power your custom applications using their API.
Websites:
Vimeo OTT provides multiple features, customization options, and five built-in themes to help you set up your website.

You can edit and customize almost every aspect of your site's theme, including your site's settings like title, primary color, translation options, etc.
Other customization options include:
Global Settings – You can edit background color, background image, button colors, text colors, nav images, etc.
Browse Options – Toggle the visibility of automatically created categories showcasing your Movies and Series collections.
Hero Options – Choose from monthly or annual pricing plans. You can also choose to blur your background image.
Footer Links – Add new pages.
Custom Styles – Custom CSS code.
You can also see how your site looks beforehand using the Preview Mode.
You can also add your Google Analytics ID, Facebook Pixel Pixel ID, Twitter Pixel ID, and Adwords Pixel ID to track and measure the effectiveness of different ads on your site.
Other features include:
Subscription service support.
Customizable navigation.
Content browsing.
Forums.
Search option.
Custom CSS.
Analytics and reporting.
The only downside is that the website theme editor isn't visual.
It may even appear entirely archaic to some.
On the other hand, newer OTT platforms like Uscreen are doing better in this department.
For example, Uscreen's website builder is more delightful to work on; you can make changes and preview them simultaneously.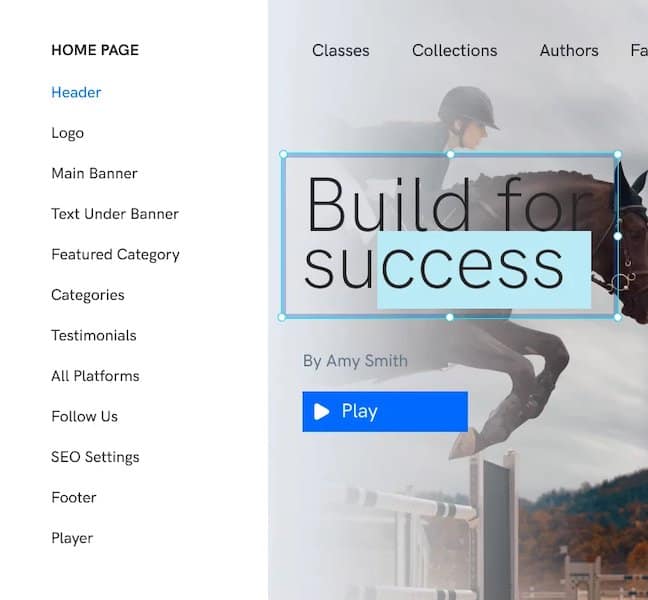 The interface is also more soothing to the eyes, and the customization options are more intuitive.
They also have a separate column for SEO settings, missing from Vimeo's editor.
If you can ignore the website editor, Vimeo OTT is a decent tool for creating a website to host your OTT content.
Apps:
Vimeo's OTT video hosting platform allows you to create and launch branded apps across all major app stores.
Their team also handles customization, analytics, and regular updates.
Here are the devices that Vimeo OTT supports:
iOS
tvOS
Android
Android TV
Roku
Amazon Fire TV
XBOX ONE
Tizen TV
The mobile app feature is only available with $500/month and above plans.
They do everything for you, including app development submission and management.
You have to focus on your content.
The apps are also completely branded and align with your product.
Here are all of the app-based features:
Free migration.
Branded apps (with in-app purchases).
Live streaming with auto-archive.
Real-time insights to help you analyze your app's performance.
24/7 support for you and your subscribers
Additionally, Vimeo natively integrates multiple promotional tools to help you reach a wider audience.
Vimeo's promotional tools include:
Subscription Promos – To create codes to offer discounts on customer subscriptions.
Transactional Coupons – Announce flash sales using coupons and free copies.
Screeners – Create time-sensitive copies to promote your videos.
Embed Your Trailer – Embed your trailer into your other existing sites.
API Docs – Build a custom app with Vimeo's API technology.
3. OTT Monetization.
Selling your content is as easy as uploading it. Vimeo OTT supports three monetization models: Subscription Video On Demand, Transactional Video On Demand, and Ad-Supported Video On Demand.
Here's a brief overview of these monetization models:
1. Subscription Video On Demand (SVOD).
SVOD model requires subscribers to pay a recurring fee – usually monthly or annually – to watch premium content.
It's one of the most common and well-known monetization models, as evidenced by the success of OTT platforms like Netflix, Disney+, etc.
According to Statista, revenue growth in the global SVOD market will likely exceed $87 billion by 2025.
SVOD will give you a steady income stream and allow your viewers to watch as much content as they want.
2. Transactional Video On Demand (TVOD).
Transactional Video On Demand is another famous model to monetize your OTT.
The TVOD model entails selling your videos or series to consumers on a pay-per-video or pay-per-series basis.
Besides this one-payment model, you can rent your videos for a smaller fee but for a limited time.
Most prominent examples of this include Apple iTunes, Amazon store, etc.
3. Ad-Supported Video On Demand (AVOD).
This model isn't as popular for monetizing your OTT content.
With the Ad-Supported Video On Demand model, advertisers buy an ad slot on your video shows to place ads in front of your audience.
Your viewers can watch your videos without paying fees – they must watch some ads while streaming.
One of the most prominent examples of AVOD models is YouTube.
Monetizing with Vimeo also has other benefits, such as:
You get complete control over subscriber data and brand.
There are no hidden bandwidth fees.
It allows you to promote your videos in every market, language, and currency.
4. Streaming Live Events.
Vimeo allows ad-free, broadcast-level live streaming, albeit only on their Enterprise-level plan.
Live streaming suits events like webinars, community engagement, product launches, virtual conferences, etc.
The best part?
You can even sell access to those events through individual transactions using a live Pay-Per-View (PPV) model.
Setting up a live event on your branded app or site is straightforward, and you can do it right from your dashboard.
Simply head to the Content >> Create live event tab.
Afterward, you must enter essential details like the event's title, Date, and time.
Like your regular video content, you must add details like a short description, full description, content type, thumbnail, media type, etc.
Again, the entire process will be mostly similar to when you uploaded your video content.
One of the differences is that you can notify your subscribers when the Livestream begins by sending email notifications.
However, it's not something you have to worry about since Vimeo will do it automatically.
You can customize notification settings, though.
Vimeo also allows you to distribute your Livestream event to destinations like Facebook, YouTube, LinkedIn, etc.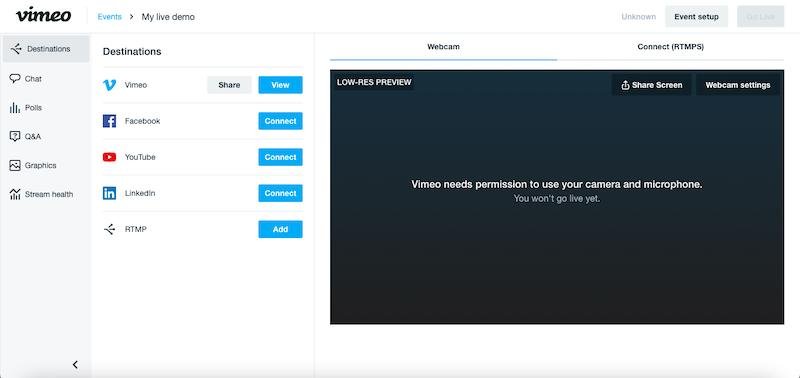 Customer engagement features are another plus. You can conduct polls, Q&A sessions, display graphics, and more to interact with your audience amidst the live event.
You can customize the video player with your colors and full-screen graphics, add your logo, add playback speed controls, etc.
There are options to capture the prospect's email address and opt for domain-level privacy.
Other live-streaming features include:
Ad-free streams.
In-depth analytics in real-time.
Set up a backup stream.
The ability to monitor and control your stream quality.
Seamless delivery with eCDN.
Auto-archiving in up to 4K.
Remote training, on-site production, dedicated support, and SLAs.
5. Analytics and Reporting.
Analytics and reporting are some of Vimeo's most essential features.
Vimeo provides access to in-depth analytics to help you determine viewer behavior, subscriber growth, free trial performance, customer churn, and more.
To start, Vimeo's "Activity" Dashboard consists of your monthly summary, including gross revenue, expenses, and more.
You can filter the real-time sales and revenue data by dates or products.
Other options include:
Top Videos – You can view your top-performing videos, video plays, finishes, user location, platforms, etc.
Comments – Option to sort and view all your comments.
Blocked Users – View your blocked users, who they were blocked by, when they were blocked, and other notes.
Customers – It will give you insights into your audience's most recent activity.
The "Customer" section also provides customer and transaction data, including email addresses and location of purchase.
There's an option to export customer reports that you can add to your CRM.
All of these statistics will help you identify:
The reasons subscribers are joining.
Build your content around what your subscribers watch and where.
Grow your gross revenue and customer lifetime value.
Integration with Google Analytics is another plus point.
This functionality allows you to combine video analytics with website analytics and get a deeper analysis.
The only downside is that the custom analytics option is only available with the pricier plans – starting at $500/month.
Vimeo OTT Pricing Plans.
Vimeo offers three plans to help you grow your OTT business:
Starter – $12 per seat per month
Standard – $20 per seat per month
Advance – $65 per seat per month
Enterprise – Quote-based plan
The Starter plan only gives you access to web-only apps or sites – you can't use branded apps with this plan.
You can also monetize your content using only two models: TVOD and SVOD.
The Standard plan gives you access to branded apps, all monetization models, live production services, dedicated customer support, live streaming feature, and custom analytics.
The Advanced plan has everything you'll need as you scale, allowing up to 240 videos per seat per year.
The Enterprise plan has everything the previous plans have, along with more security, control, and support.
Vimeo OTT: Pros and Cons.
Here's a quick overview of Vimeo's downsides and cons.
Vimeo Pros:
Easy video upload from your browser, Dropbox, and Google Drive.
Comes with a paywall for subscription payments.
Integrated payment processing allows secure payments via credit cards.
Multiple monetization methods.
Complete migration assistance.
Manage your content library and customer data from a central dashboard.
Video creators can customize their websites, apps, and video players.
In-depth performance and viewer analytics.
Vimeo Cons:
No free trial period.
The website editor is archaic.
Playback is not available in certain countries like China and Indonesia.
Live streaming is only available with $500/month and above plans.
Vimeo OTT Alternatives.
Now that you know about Vimeo's various features, pros, cons, and pricing plans, it's time to see its alternatives.
I reviewed top Vimeo OTT alternatives to give you an idea about how it fares against competitors.
Here's a complete breakdown of three main alternatives – Uscreen, Muvi, and Dacast.
Uscreen is an all-in-one, SaaS-based OTT platform allowing you to launch your branded OTT multi-screen apps.
The platform has numerous built-in marketing and automation tools to help you launch and promote your branded streaming platform and OTT apps.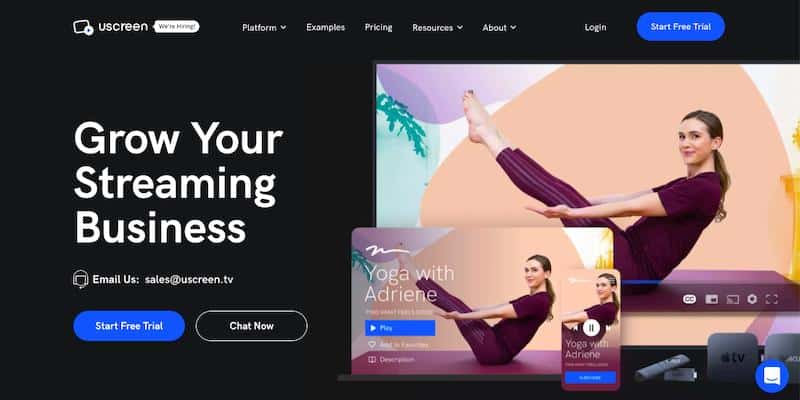 Here's a brief overview of all features you get with Uscreen:
Video CMS – Uscreen lets you upload and organize your video content in bulk. You can even categorize content, add custom tag filters, and upload extras.
Live Streaming – You can schedule your live events in advance and build excitement with a countdown overlay. You can display your live stream for free, pay-per-view, or subscription.
Monetization Options – Offers subscription service models, videos on rent, or one-time buys to access your videos and live streams. Uscreen will help you to create exclusive experiences for your subscribers with coupons and promotions. You can accept payments via credit cards, Stripe, and PayPal.
In-depth Analytics – Uscreen's sales and video analytics will help you identify what your audiences like and how your content performs.
Launch Branded Apps – The OTT tool helps you create and launch branded apps to display your content across multiple devices. Their team does the heavy lifting for you, including publishing and updating regularly.
Built-in Marketing and Automation tools – Uscreen's built-in marketing tools and integrations help you set up complete sales and marketing funnels. You can generate leads and turn your audience into paying subscribers.
Community Feature – Uscreen's community feature lets you spark conversations using comments and live chat. You can either grow an existing community or build a new one.
Additionally, you can leverage the Knowledge Base to get familiar with the tool. It also provides access to strategies like how to maximize the use of Uscreen's built-in retention tool.
Pricing:
The quote-based "Enterprise" plan only provides OTT apps and features.
Muvi is another all-in-one OTT platform that helps you launch streaming services across web, mobile, and TV ecosystems.
All services are end-to-end and fully managed, and you can control everything from a central content management system.
Here's a brief overview of all features you get with Muvi:
Live Streaming – It lets you stream live events, conferences, meetings, TV channels, games, and more. The OTT platform provides an end-to-end live streaming solution that delivers your content worldwide with low latency.
Launch a multi-screen video-on-demand (VOD) platform – It helps you launch your branded multi-screen video-on-demand (VOD) platform. End-to-end OTT video features include a video player, CMS, billing engine, website, mobile, and TV apps.
Monetization Options – Muvi helps you monetize your content on all fronts, including Subscription, Pay-Per-View, or Ad-Supported Model. The money will get directly linked to your bank accounts without any transaction fee or commission.
Analytics and Reports – Muvi's tools for analytics and reporting let you identify your customers' habits. You can also determine which content is driving more views and higher engagement.
Audio / Music Streaming Service – The platform also lets you launch your branded audio or music streaming service. You can stream audio or music tracks across numerous devices.
Live Broadcast – You can launch your own Live Broadcast Radio channel and start streaming talk shows.
Pricing:
Payments plans start from $399/month + $299/app + infrastructure cost, making it more expensive than Vimeo and Uscreen.
3. Dacast.
Dacast is a live-streaming online video platform that allows you to broadcast and host live and on-demand video content.
It also helps you distribute and monetize streaming videos across multiple platforms.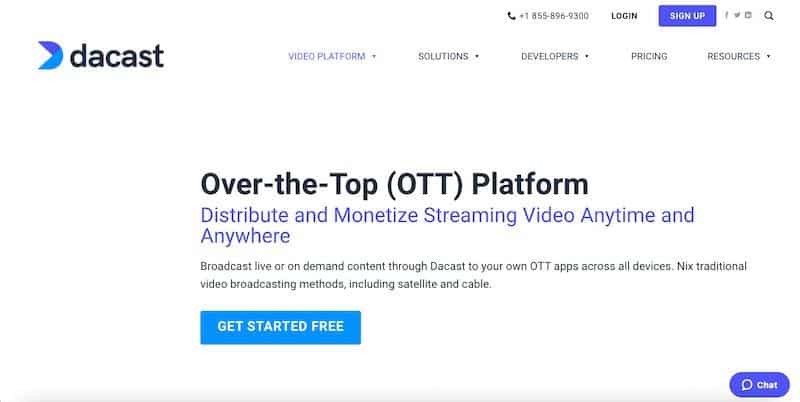 Here's a brief overview of all features you get with Dacast:
Live Streaming – It allows you to live broadcast your content with the help of top CDN partners and 24/7 online and phone support. You can also host live streams with unlimited viewers worldwide.
Custom Branding – You can incorporate logos, color palettes, and fonts for an on-brand viewing experience.
Intuitive content management system (CMS) – The video hosting platform allows you to upload, organize, monetize, analyze, and share your content (whether it's articles, videos or anything in between) from a single admin. It also helps you with transcoding and creating automated workflows with video APIs.
Video Monetization – Dacast provides several monetization options, including subscription VOD, transactional VOD, or ad-based subscriptions. Pay-per-view and subscription options are also available to monetize live channels.
Integrated Paywall – It has a built-in paywall that lets you accept payments via credit card or PayPal. You can also facilitate control rates and promos via an advanced paywall built into the player.
Real-time Analytics – Dacast's real-time analytics help you measure the performance of your online video streaming live.
Social Media Streaming – You can stream live video across all social media networks, such as Facebook, YouTube, etc.
Live Countdown – Build your audiences' interest with Live countdown and ensure your viewers don't miss the big event.
Digital Rights Management – Dacast helps protect your digital content by providing a secure, encrypted platform with DRM that is password protected.
Dacast's special "China Video Hosting" function is one of its most prominent features.
It helps you deliver your content in China without buffering, allowing you to reach millions and billions of viewers.
However, Dacast doesn't have built-in app-building functions. You have to use its APIs and SDKs to develop an OTT app of your own.
Pricing:
Pricing plans start from $39 per month and go up to $188 per month.
How to Optimize Your Video Content with Vimeo
If you're a video maker looking to build an audience, you'll want to ensure the right people see your videos.
Vimeo is committed to helping its video-makers reach their audience by leveraging the power of Google's top search engine optimization (SEO) strategies.
Through structured data submissions, titles and keywords, chapter markers and transcripts, and thumbnail images, Vimeo provides a comprehensive toolkit for optimizing videos to be more visible online through relevant searches.
Structured data submissions are one of Vimeo's most powerful SEO tools.
With structured data submissions, vidders can add additional information about their videos to make them easier to find and rank higher in search engine results pages (SERPs).
This includes submitting titles, descriptions, tags, and other metadata that can help define the content of the video more accurately.
Potential viewers can easily find your content when searching for similar topics or related keywords.
Chapter markers and transcripts also provide a great way of making your videos more discoverable on SERPs.
When these features are used correctly, viewers can quickly navigate between scenes of a longer video without watching it from start to finish.
They also allow viewers who may be deaf or hard of hearing access to all of the essential parts of your video without missing out on any crucial points or messages you're trying to convey.
Furthermore, transcripts can help improve the ranking of your video on SERPs since it gives Google a detailed description of what is being said in each part of the video, which will help with keyword optimization.
Summary.
Hopefully, this in-depth review of Vimeo OTT will help you decide on the best OTT platform.
Let's quickly summarize this Vimeo review.
Vimeo is one of the best OTT platforms on the market and has impressive features to make creators right at home.
It has an excellent video player, fully-branded apps, solid reporting tools, versatile monetization options, and more.
Overall, the Vimeo OTT platform suits creators, advertisers, and individuals who want to create high-quality content without restrictions.
However, it's slightly expensive, and its user interface and website editor leave much to be desired.
The web interface has a lot of redundant whitespaces, is a bit disorganized, and has inconsistent color highlights.
There's another department that Vimeo lacks, i.e., marketing and automation tools.
When paying as much as $500/month, you expect more solid lead generation features like email automation, landing pages, upsells, etc.
Again, you have to look elsewhere for these advanced marketing features.
If these are some areas you don't want to compromise on, I'd suggest you go with an OTT platform like Uscreen.
Editorial Process:
Our reviews are made by a team of experts before being written and come from real-world experience. Read our editorial process here.
Some of the links in this article may be affiliate links, which can provide compensation to us at no cost to you if you decide to purchase a paid plan. These are products we've personally used and stand behind. This site is not intended to provide financial advice. You can read our affiliate disclosure in our privacy policy.
---
Last Updated on March 7, 2023 by Adam Enfroy