7 Best Peer to Peer Lending Sites for Investors (2023)
Choosing the correct peer-to-peer lending sites is crucial if you want to invest your money safely and earn a good return. From better ROI to more security, the best peer-to-peer lending sites can help you meet your goals. In this guide, I ranked and reviewed the 7 best peer-to-peer lending sites, so that you can pick the best one for you.
---
We're reader-supported. When you buy through links on our site, we may earn an affiliate commission.
Investing your money can be tricky.
With so many investment apps and choices out there, it's hard to find an investment that will give you decent returns without taking too much risk.
Horror stories abound of inexperienced investors losing their hard-earned money due to poor decisions.
However, most people don't realize that peer-to-peer loans might offer them something unique.
In an industry expected to reach $558.9 Billion by 2027, most peer-to-peer lenders allow you to start investing with as little as $25.
In this article, I'll share the best peer to peer lending sites to help you get started.
I'll also explain how peer-to-peer lending works and why it could be a great fit for you.
What Is The Best Peer To Peer Lending Site?
The following is a list of the best peer-to-peer lending sites right now.
Best for growing your consumer loan portfolio as an investor.
Adam's Take
Upstart is the best overall P2P lending platform for several reasons, including the easy application process, quick processing time, and high potential returns. Upstart makes a great platform to get started with P2P lending.
Upstart allows you to diversify your loans across different risk profiles.
Upstart is one of the best p2p lending platforms that allows for an easy application and quick processing and offers relatively high returns.
With up to 75% fewer defaults at the same approval rates when compared to banks, Upstart is one of the top places where you can make good returns with minimal effort when investing in small business loans.
Borrowers also love their experience on Upstart, rating it at 81+ in NPS, providing a significantly higher rating than traditional banks, that rank at an average of 30 or less.
Key Features:
People may borrow money from anywhere and anytime, so they can put your investment in Upstart to work immediately.
Upstart allows you to diversify your loans across different risk profiles, helping you minimize the downside in case borrowers stop repaying their loans.
Safely access creditworthiness to give money to borrowers with lower risk, which means you can choose who to invest in on Upstart.
You can request a demo to fully understand how Upstart works and how you can benefit from their program.
Customers get to enjoy a convenient and secure platform that allows them to quickly access credit and cash loans to improve their financial situation.
Best for understanding the risk with each loan that you invest in.
Adam's Take
If you want higher returns on your investment, I suggest you check out Prosper as a potential solution. Prosper offers a unique service that can help you create a more diverse portfolio by adding alternative assets.
Prosper is a great peer-to-peer lending platform for those that care about investing in others and making a difference in their lives.
Create a diverse portfolio by adding alternative assets to your existing holdings, which can lead to higher returns.
You can use their Auto Invest tool to construct a bespoke portfolio on their website. This automation ensures you put your money to work as quickly as possible.
You'll also be able to use their app (Prosper Invest) to track the performance of your money and, at one glance, see how your investments are doing.
Key Features:
With average historical returns of 5.6%, Prosper is a tried-and-true platform for excellent returns.
Prosper loans are graded from AA (less risk, lower interest rates return) to HR (more risk, more returns). As a result, you have total control over which loans you invest in.
Apart from their automation, investors can manually select which loans they want to invest in using their tools.
You assist genuine people when you invest in a personal loan with Prosper.
Till now, Prosper has aided more than 1,165,000 customers in achieving their goals.
Best for both the individual investor and institutions.
Adam's Take
With a market of individual and institutional investors, Lending Club is one of the more well-known online credit marketplaces. Lending Club offers a wide range of investment options, so whether you're looking for a short-term or long-term investment, there's a good chance you'll be able to find what you're looking for.
Lending Club caters to both individual investors and investment institutions. Whether you are an individual investor or an institution looking to invest in others, you get the best of both worlds with Lending Club.
With this platform, you'll benefit from the experience of working with one of the top peer-to-peer lending sites. Lending Club has a vast network of lenders, offering more opportunities to use your money.
LendingClub is one of the most well-known online credit marketplaces in the United States and the first bank to link borrowers with investors.
LendingClub has facilitated billions of dollars in loans for investors each year since its inception, offering institutional investors a track record, the most data points, sophisticated risk management, and easy-to-use tools to build and modify loan portfolios.

Key Features:
LendingClub has billions of data records, where you can find all the information you need before deciding on investing in a particular loan over another.
With solid customer loyalty, people who take out loans from LendingClub have positive experiences, which means that defaults will be lower than other peer-to-peer lending sites.
LendingClub has excellent tools which allow you to embark on your investing journey with minimum effort. The simple interface of their website makes it easier for new users to get started.
On your first $20,000 in savings, the Founder Savings account pays a market-leading 0.75 percent APY.
The website offers an automated investing service, simplifying the investment process and helps you reach your goals promptly.
4. Peerform.
Best for offering attractive, steady returns on your investments.

Adam's Take
With a risk-adjusted return, you can expect to earn a higher return on your investment than if you had invested in a traditional fixed-income investment. Peerform can offer you the potential to make more money on your investment than other platforms.
The Peerform marketplace platform promises attractive risk-adjusted returns and consistent monthly payments deposited directly into your business bank account. They offer a very transparent and straightforward process, which is why they are so popular.
The Peerform marketplace platform allows you, the investor, to profit from having access to intriguing investment opportunities and make a difference by funding personal loans to people that need them.
Peerform has developed a cutting-edge fraud prevention system (FPS) to address the issues caused by this ever-changing business environment.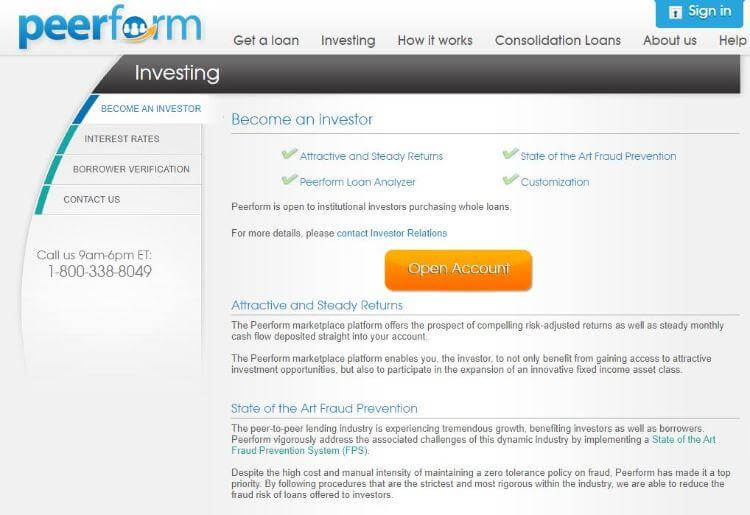 Key Features:
Peerform can minimize the fraud risk of loans offered to investors by following strict industry standards, ensuring your investment is safeguarded.
Peerform has a steady and reliable repayment schedule allowing investors to estimate when borrowers will repay their investment.
You may select from various investment loan options using Peerform, allowing you to diversify your portfolio beyond commonly accepted assets and customize it as you see fit.
Each loan is backed by a statistical model that calculates the risk of default and provides investors with the highest available return on their investment.
Additionally, Peerform offers an online platform to facilitate communication between borrowers and investors to ensure every detail of the loan agreement is agreed upon.
5. Kiva.
Best for investors that want to change their entrepreneurial lives.
Adam's Take
Business owners and financial services providers can access Kiva and get the correct financing for their businesses. Kiva offers various financial services, from loans and lines of credit to working capital.
Kiva is dedicated to creating access to financial services for business owners that are in the early stages of their businesses.
Kiva's website describes itself as a non-profit organization, and it is one of the most popular peer-to-peer lending sites among entrepreneurs.
You may lend as little as $25 on Kiva and start to impact someone's life. Supporting causes you believe in are painless with Kiva, and you can make a difference each time you log on.
On the plus side, Kiva borrowers have a 96% repayment record, much higher than other peer-to-peer online lending sites.
Kiva makes it clear that even though you'll be helping others make a difference in the world, it is still a loan, not a donation.
You can also withdraw your money anytime you want, which lives up to the transparency of this peer-to-peer lending company.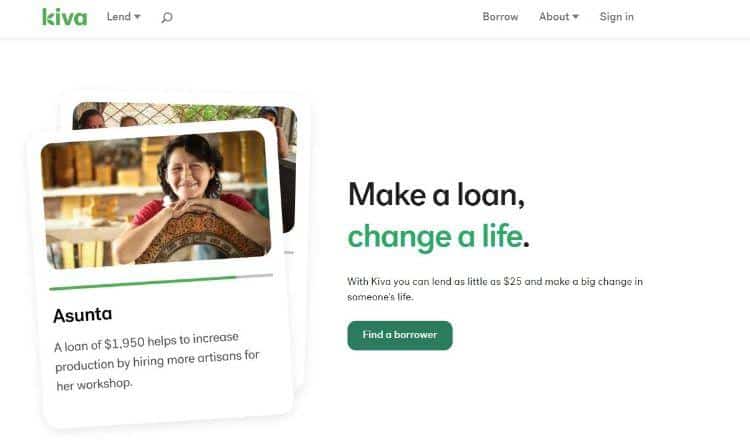 Key Features:
Help entrepreneurs in the early stages of their business who may lack access to traditional financing.
You get repaid your money if you no longer want to extend your loan or investment on Kiva. You may withdraw your principal at any time.
With a community span of 77 countries and 1.9M lenders, you'll join an international community of people who want to change the world.
Kiva offers a safe way to invest in businesses you care about. Borrowers are carefully vetted and verified by Kiva staff before receiving loans on Kiva's platform.
Through Kiva, you'll have the opportunity to make a difference in hundreds of entrepreneurs' lives who need financial support to get their businesses off the ground.
6. Funding Circle.
Best for giving borrowers a clear idea of how much money they can obtain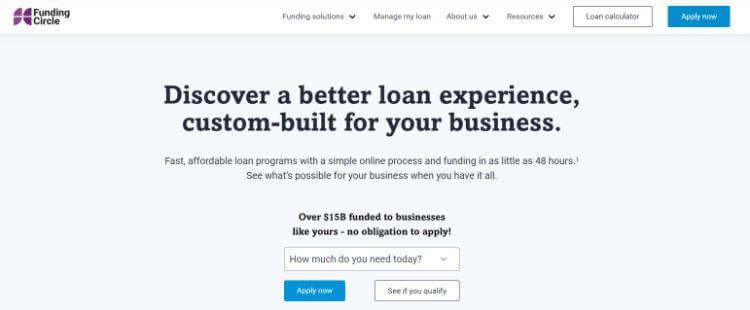 Funding Circle allows borrowers to check on their website how much money they can borrow. With loan amounts of $500,000+ and up to 10 years in repayment terms, they can get a loan that's perfect for you.
Getting a loan is easy, with a quick online application process and speedy approvals. Finishing a loan application in less than 6 minutes is possible with this platform.
Best of all, applications won't affect credit scores, so they can still get a loan elsewhere even if the borrowers' score is not in their best state.
All of this means that as an investor, you'll be able to see what's involved and what's expected from the borrowers.
Other types of loans are available on Funding Circle, including business term loans, SBA 7(a) loans, and business lines of credit.
Key Features:
Side-by-side comparisons and contrasts of their loan programs make it easy for borrowers to understand better which loan suits their needs.
With Funding Circle's help, borrowers can apply confidently without risking their credit score, making the process easier.
Borrowers can talk with their account manager about their choices to ensure that you're pleased with their decision – which also means that your investment is better protected.
Funding Circle takes care of the underwriting process, so a borrower doesn't spend extra time having to do so.
Additionally, borrowers can find out exactly how much their loan will cost with clear, accurate repayment details from the very beginning.
7. Payoff.
Best for allowing borrowers to improve their FICO score quickly.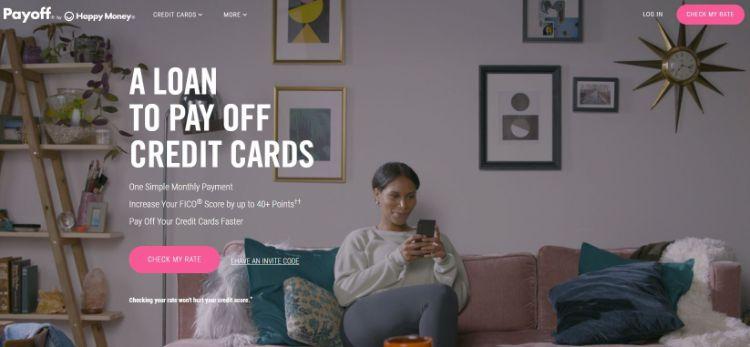 Payoff allows borrowers to get a FICO score boost as soon as they finish paying off their loan balance. Credit scores can go up by 40+ points, meaning borrowers can get approved for other types of loans and financial products.
Giving borrowers support that is tailored towards their situation along the way, Payoff helps borrowers to repay their debts faster and get the credit score that they want.
With their easy-to-follow tools, online support, and live help whenever needed, borrowers can rest assured that they're being taken care of at every step. As an investor, the same can be said about your needs.
Their member experience team can assist their borrowers and investors with any questions.
Key Features:
Committed to transparency and clarity, their website has no hidden terms or conditions.
They have a team of specialists who will help borrowers plan the borrowers' repayment schedule with fixed monthly payments where possible.
Simple explanations on their website make the complicated loan process easier to understand and follow.
Borrowers can check their rates online on their website without affecting their credit score, which makes it easier to get the loan process rolling.
They provide a wide range of loan products and services, from emergency cash loans to consolidation loans.
What Is A Peer To Peer Lending Site?
A peer-to-peer lending site for investors is a web platform where borrowers and lenders meet to provide loans. In other words, it is a community of people that want to lend their money without going through banks, business credit card companies, or any form of financial institution.
The person who lends their money on this platform usually gets better interest rates than what they would get from traditional financial institutions. In turn, the borrower also gets access to a direct online lender who can approve loans faster than traditional methods.
In short, it helps both sides cut out the middleman so they can save time and money when applying for loans, borrowing money, or investing their funds in various ways.
How Does Peer To Peer Lending Sites For Investors Work?
P2P lending sites work just like any other online platform. You can sign up, log in and search for prospective borrowers who want to borrow from investors like yourself.
After getting all the terms set and agreed upon by both parties, money is exchanged and deposited directly between them, so no one has to use a bank anymore for this transaction.
It's pretty straightforward because everything works through an online platform, so no face-to-face contact is needed, reducing wasted time on logistics.
What Are The Benefits Of Peer To Peer Lending Sites For Investors?
As an investor, you can sometimes select the interest rates you would like to earn. Like any financial investment, investors can go for conservative or risky investments based on what they feel comfortable with.
In addition, this is a great way to diversify your portfolio with loans with minimal risks for things like defaulting, late payment, or bankruptcy.
A diverse portfolio is always better than becoming too reliant on one source.
Particularly if you're a beginner, this is one of the best ways to start learning how to invest since the risk is much lower than choosing stocks or other traditional methods.
What Are The Risks Of Peer To Peer Lending Sites For Investors?
Peer-to-peer lending sites pose a few risks for investors.
First of all, since you're dealing with borrowers, there is a chance that they don't pay on time.
Defaulting can happen if they have bad credit scores or financial hardship, affecting interest rates and even the capital they initially put in.
Moreover, there are cases where lenders may not be able to retrieve their money back if the borrower defaults.
It's essential to know your customers and why they need a loan before lending.
Setting up your transactions can also affect how much money you can earn through these investments, so it pays to research more about the platform providers before trusting them 100%.
The type of lending site that you choose to invest with plays a massive part in how you earn (or lose) money.
Factors To Look For When Choosing A Peer To Peer Lending Site As An Investor
It would be best if you always considered the following criteria before joining any peer-to-peer lending site as an investor.
Fees
The fees imposed by the platform provider can affect your earnings; these costs vary between P2P lenders. You must find out what they are and compare them based on how much savings they can give you in return.
Reputation
It helps if the company has been around for more than five years and has a solid track record.
It would be best if you diversified your investments without worrying about the company you choose running out of business anytime soon.
Security
Security measures taken by the platform provider are crucial in safeguarding your data and money on-site. Ensure they have several levels of protection so any malicious attacks can be immediately prevented without compromising user privacy.
This way, you won't risk having your account hacked or compromised, which could mean losing everything you invested.
Customer Support
Having a reliable customer support team is critical for resolving issues that may arise from time to time. Technical difficulties and glitches are unavoidable, so it's best to have a trusted contact you can reach out to when needed.
Loan amounts
A peer-to-peer loan site is generally best for investors looking to invest in small amounts.
Your initial investment should have a minimum of $25, so you can get started immediately without spending too much capital at once.
Larger loan amount requests are not advised for beginners since there are platforms that require substantial investments on their part before allowing you to start lending out your money.
Loan Term
The term length of each borrower's loan varies from one peer-to-peer lending service provider to another. Usually, the longer the term, the higher the interest rate – and vice versa.
It helps if you're familiar with how long it takes to get a return on your money, considering specific interest rates.
Customer Protection Policies
It benefits everyone if your investments are protected by a clear policy that shows how the site handles fraudulent transactions and identity theft to avoid any issues with other users on the site.
Auto Investing
Having an auto-investing function on your account is excellent for those not keen on doing all the work themselves. With this program, you can set up your criteria and let it do its thing without manually approving every borrower and loan amount.
The more tedious parts of lending money can be assigned to a trusted bot or computer, so you don't have to spend time monitoring P2P loans and sending reminders to borrowers.
You should stick with companies that offer this feature since they're already serious about their services and typically stand by their word. With some of the best AI investing software taking over this industry, this is a great feature.
The Specific Of What You're Investing In
Some peer-to-peer lending sites allow you to invest in student loans, helping to fund education-related expenses. Other unsecured personal loans might be used for those who want to start their own business.
These loans can be used for any other purpose as long as it's legal and doesn't go against the terms and conditions of the provider. Such conditions are usually stated clearly on the website, so you know what kind of borrowers you're dealing with beforehand.
Access To Individual Data
Sometimes, understanding factors such as someone's credit history through a credit report will allow you to assess the borrower better.
Not all peer-to-peer lending sites will allow you access to such information. However, some would – as long as it isn't confidential and doesn't violate client privacy policies. With that said, it never hurts to ask as you are doing your research.
Knowing someone's debt-to-income ratio will also help you better understand how much you should invest in their loan.
A borrower with a high ratio may be too risky for your standards, so you should adjust them accordingly to avoid any issues later on.
Be sure to take into account all of these additional features when you're looking out for the best company to work with.
Your capital is an investment that can either reap great rewards or bring nothing but headaches, so it's best not to leave things up to chance.
Origination fee
Knowing what origination fees are involved and how much the site will take from your loan before distributing it to borrowers can help you better manage your money.
The origination fee amount varies depending on each provider you work with and should be stated in their rules.
If you plan to keep this up for a long time, then working with companies with lower fees is advantageous since they're returning more of your investment over time.
Some websites give origination fee ranges for different types of loans. Knowing such an origination fee range will allow you to plan your investments better and avoid any surprises later on down the line.
Peer-to-Peer Lending – FAQ
Does Peer-To-Peer Lending Work?
Yes, peer-to-peer (P2P) lending is a viable source of financing for both borrowers and investors.
P2P lending works by connecting borrowers with lenders via an online marketplace.
Borrowers post loan requests on the platform and review offers from various lenders competing to offer the most attractive terms possible.
Through this process, borrowers and lenders can benefit significantly by accessing a larger pool of potential partners than they would have access to in their local markets.
Can You Lose Money On P2P?
Like any investment, there are risks associated with peer-to-peer lending; however, many platforms provide built-in protections that help mitigate some of these risks.
For example, most reputable P2P platforms offer loan diversification features, allowing investors to spread their investments across multiple loans, and reducing the risk of default.
Additionally, many platforms provide borrower screening processes that help reduce fraud and other risks associated with investing in P2P lending.
How Do You Qualify For Peer-To-Peer Lending?
Most P2P lenders use a variety of criteria to determine eligibility, including credit score, employment history, debt-to-income ratio, and income level.
Borrowers usually need to have good or excellent credit scores. They must be able to repay the loan with regular income or verifiable assets such as property or savings accounts.
How Much Can You Make With Peer-To-Peer Lending?
Returns on P2P investments can vary and depend on your investment size and the loan's risk profile platform you are investing with.
What Happens If You Don't Pay Back A Peer-To-Peer Loan?
Lenders may take legal action or employ debt collection agencies to recoup their losses if a borrower fails to make payments.
The borrower's credit score may also be affected negatively, impacting their ability to obtain credit in the future.
As such, both borrowers and lenders need to understand all terms of the loan before agreeing.
Wrap Up.
A loan through a peer-to-peer lender is like any other personal finance credit given to borrowers. It follows the same protocol banks and government institutions follow when processing these loan requests, meaning that everything is legal and above board.
As long as you play by the rules, there's nothing to worry about when it comes to the legalities of becoming a peer-to-peer lender on your chosen site. These sites usually have specific terms of service that outline acceptable behavior between users and what is not. Going through these rules and regulations before putting out any money is very important.
With all these tips in mind, finding a reliable peer-to-peer lending site can be a breeze if you take your time and research beforehand.
To summarize, the best peer-to-peer lending sites for investors are:
Upstart: Best for growing your consumer loan portfolio as an investor.
Prosper: Best for understanding the risk with each loan you invest in.
LendingClub: Best for both individual investors and institutions.
Peerform: Best for offering attractive, steady returns on your investments.
Kiva: Best for investors that want to change entrepreneurial lives.
Funding Circle: Best for giving borrowers a clear idea of how much money they can get.
Payoff: Best for allowing borrowers to improve their FICO score quickly.
The above sites will offer you the best and safest ways to invest in peer-to-peer lending, help others and grow your money simultaneously.
Have you ever invested in using peer-to-peer lending sites? What was your experience like? Let me know in the comments below.
Further reading on AdamEnfroy.com: Want to learn more about investing? Check out my post on the best precious metals IRA and gold IRA companies to invest in and the best real estate loans and rates you can take advantage of now.
In addition, if you want to expand your business, here's a list of the best small business loans available.
Disclosure: I may receive affiliate compensation for some of the links below at no cost to you if you decide to purchase a paid plan. You can read our affiliate disclosure in our privacy policy. This site is not intending to provide financial advice. This is for entertainment only.