7 Best Photo Scanning Software of 2023 (Ultimate Guide)
Not everyone might remember the good old days of having a pen drive so small in size, that you could only store five photos on it.
If you ask any person over the age of thirty, they might just remember the time when taking pictures, storing them, and even transferring them used to take time, effort, and sometimes even sweat and tears.
After 1998, when the first pen drive was created, scanning progressively got easier, storage got bigger and the devices used for photos and other documents became even smaller.
The great news is that today, in 2021, scanning multiple photos or documents shouldn't be a tedious process.
It's something that you should be able to do quickly, while you're waiting for that espresso to be ready. There are many apps for your desktop or phone that scanning should be a breeze.
The good thing is that after you're done with scanning your photos, the sky is really the limit. You can use cloud storage services to store your scans for future reference, share them with your colleagues, or even use video editing software to create breathtaking videos.
In this article, we'll cover the 7 best photo scanning apps and their features, so you can make the scanning process as quick and painless as possible. Let's dive deep into this topic.
What is the Best Photo Scanning Software?
Here are my top picks for the best photo scanning software.
Best for compatibility with more than 6500 models
VueScan is software that captures images using old scanners. The software scans the scanner and finds the right drivers for it, so you can still use your old scanner without having to buy a new one.
VueScan provides a cost-effective, high-quality scanning solution for everyone while being compatible with more than 6500 scanner models.
Features
This software is easy to use and does not require any special training. It has support for a wide range of scanners. You can save your memories for the future by scanning documents, photos, or slides whenever you want.
Here are the key features to look out for:
Simple to use, no special training required so that anyone can use the software.
Supports a wide range of scanners and cameras so that you can use an existing device.
Gives you the freedom to explore old memories on your terms so that you can preserve precious memories for the future whenever and however you want.
You'll have an easier time scanning documents, photos, and slides so that you can share them digitally.
Pricing
VueScan is advanced scanning software that can be downloaded and used for free. It's easy to use and is probably compatible with any scanner you may have around the house or office.
Beyond the free version, VueScan then offers the following editions:
standard edition: At $39.95, it offers flatbed scanning but not much else.
professional edition: At $99.95 the professional edition of this scanner is great for the individual who needs to scan documents so they can be analyzed and converted into searchable data.
The flatbed scanning and OCR (optical character recognition) features will enable your scans to become more accurate and efficient which means you'll get better results in less time.
Both come backed by a 7-day money-back guarantee if it doesn't meet your standards.
Best for optical character recognition
Readiris 17 is the PDF and OCR solution for Windows. It's perfect for people who have to manage large quantities of paper documents or PDF files on a computer, as it converts them into editable text formats in just one click.
Readiris 17 also offers an intuitive interface that makes the process of reading and editing documents fast and efficient. It converts paper documents to digital format easily, intuitively, and quickly.
The intelligent engine recognizes characters in scanned or photographed documents with high accuracy.
This means that Readiris 17 offers the best in class when it comes to document reading thanks to its highly accurate text recognition, full-text search, table of contents management, annotations support, and more.
Features
You can do more than just scanning your documents with Readiris 17.
Here are the key features to look out for:
Readiris 17 for Windows is a global solution to convert, edit and transform all your paper documents into a variety of digital formats.
It's also an intuitive program that allows you to aggregate, split, edit and annotate your PDFs with just a few clicks.
With the OCR intelligence in this software, you can scan large numbers of documents.
Save time and money with one powerful solution by streamlining processes for an efficient workflow.
Pricing
There are 3 versions of Readiris 17 to consider:
Readiris PDF 17: this allows you to create PDFs and add annotations over them. You will also be able to combine PDFs together.
Readiris Pro 17: in addition to the above, you will have more features such as editing your PDFs, converting them to Microsoft Office formats, and working within Microsoft Excel.
Readiris Corporate 17: All of the above features are included plus a whole host of other features including splitting your PDFs, protecting them once created, and batch processing for multiple documents
Best to scan multiple photos faster, easier, and more cost-effective
ScanSpeeder is a scanner application that doubles as a photo management software that's easy to use and perfect for anyone who wants to digitize their old photos. With ScanSpeeder, you can scan batches of photos simultaneously with your scanner – in just seconds.
You don't have to deal with messy processes and one-by-one scans anymore. The platform also offers many different features like auto separation and straightening which make the whole process much faster, easier, and more cost-effective than other options out there.
Features
When scanning, you can have different pictures that will go into a separate image file immediately. That saves time, and it is easier to scan photos than to do it by hand.
Here are the key features to look out for:
Scan multiple photos at once with your flatbed scanner so you can save time and effort
High Auto Detection Rate saves you even more time while scanning
Crop and ensure images are straight before they get put into separate image files so you can be done and ready much quicker
No more ripping your photos to scan them in, preserving the hard copy as well as creating a soft copy
Pricing
There are 2 different versions available for you to consider:
Scan​speeder Standard Edition: At $29.95, you'll be able to scan multiple photos at once with your flatbed scanner and then crop and straighten them so they don't get skewed or crooked.
By using the Advanced Photo Enhancement feature to bring back life into old, faded photographs, you can make them look new again.
Scanspeeder Pro Edition: At $39.95, you get all of the above plus you also get the possibility of taking your old photographs and scan photo negatives in the future, which is perfect for when you get a new HDR monitor.
With their auto document feeder (ADF) and photo scanner, all of these memories can be preserved beautifully into PDFs or JPEG file formats – making them easily accessible later down the road.
4. CamScanner.
Best for mobile scanning and syncing on iOS and Android devices
CamScanner is a scanner app that lets you turn your phone or tablet into a powerful portable scanner. CamScanner's free and easy-to-use features make it possible for anyone to scan documents, save them as PDFs, JPGs, Word files, or TXTs, and share them with others.
With CamScanner, you can scan receipts, business cards, whiteboards, and other paper documents and turn them into readable text for easy storage or sharing.
Features
Scan and digitize any paper document using your mobile device – whether it's an Android or Apple. There is no need to buy a physical scanner or remember to carry it around with you at all times – your mobile phone will suffice.
Here are the key features to look out for:
Scan both photos and paper documents while you are out and about.
Get the texts out of images for later searching, editing, or sharing.
Share your family photos and documents with the right people from anywhere in the world.
Quickly digitize documents so you can access them anytime, anywhere.
Pricing
CamScanner is 100% free to use. This free version allows you to use your phone's camera to scan a document and it will automatically process the scanned image for auto OCR.
The only extra features that need payment are the Premium account and the Business account.
Premium account: At $4.99 per month, you can convert a paper form to an Excel file just by taking a photo.
You will have full access to do edits such as adjusting brightness or contrast until your document looks perfect without any hassles of transferring documents back and forth from different devices.
Business account: At $6.99 per month, you get more additional features. Group Administrators have the power to access and manage all documents in Group Folders.
For group members to be able to view scanned documents from other members, they must set up a security level with specific privileges that will allow them greater access than regular users.
Members are given much more cloud storage space so there's plenty of room for their files which grow exponentially over time.
5. Scanitto Pro.
Best for creating searchable multi-page PDF documents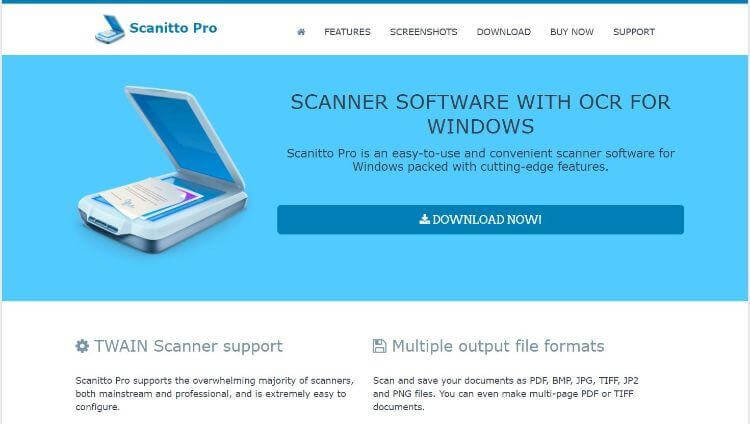 Scanitto Pro is scanner software for converting documents to PDF, BMP, JPG, TIFF, JP2, and PNG images.
This scanning software supports paper and document scanners. You can also use its optical character recognition software to convert scanned documents into searchable multi-page PDF documents.
It supports a wide range of scanner drivers and panels as well as the well-known TWAIN driver.
Features
Scan to Pro is a copying and scanning software that will help you scan documents quickly and easily.
Here are the key features to look out for:
Scanning images in large batches at a time so that you have more time to spend on other things.
Make your workload less stressful by scanning all your documents in one go.
It's easy to use for beginners, but also has plenty of features for experts.
You'll never have to worry about losing your important documents again, making Scanitto Pro one of the must-haves in anyone's office.
Pricing
There are two versions that you can consider when it comes to Scanitto Pro.
The single-user license costs $29.95 and allows you to install your version of the software on one single machine.
The site license, which costs $199.00, allows you to install this software on any number of computers that belong to one single organization.
6. BlindScanner.
Best for sharing a scanner with other users in a home or office network
BlindScanner is a scanner-sharing app that connects you to other users on your local network to remotely scan documents. With BlindScanner, you can access any scanner connected to the internet without having to be in the same location.
BlindScanner also has a simple user interface which makes it easy for any person to use and be able to scan from anywhere on the internet using any device such as desktop computer, laptop, tablet, or mobile phone.
Features
With BlindScanner, you can have access to a scanner without disturbing your colleagues.
Here are the key features to look out for:
Scan remotely on the go without any wires or connections.
Stay productive with your work while others are scanning.
Save time and money by not having to buy another scanner.
Work more efficiently with the BlindScanner software.
Pricing
BlindScanner offers full functionality for 30 days from the first installation. After that, you have some additional options depending on your needs which to choose between, as follows:
BlindScanner (Client License): $29.99
You can install the software on one remote computer with this license.
BlindScanner (Server License): $249.00
You can install the software on as many computers as you have connected to one server.
BlindScanner (Terminal Server License): $279.00
You can install the software on as many computers as you have connected to a terminal server.
After you buy any of these versions, you will also get new version updates as well as technical support, as needed.
7. ScanPapyrus.
Best for scanning pages by setting a time interval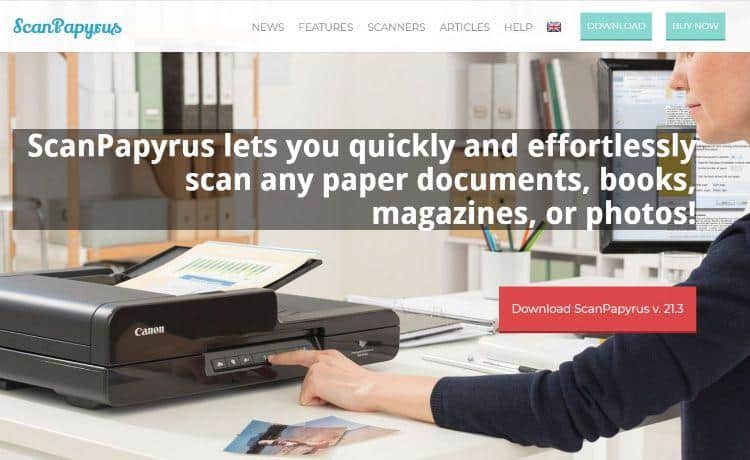 ScanPapyrus is a complete tool for remote scanning allowing you to share a scanner with other users in the same home or office network, and scan remotely from any device on that network.
This enables you to scan images from one location when the scanner is in a different place. It's perfect for people who need their scanner under Terminal Sessions or RDP sessions but don't have one available locally.
It also works well for situations where multiple people are using the same desktop machine and would like to be able to use the scanner independently of each other without having to constantly switch between users.
ScanPapyrus has an easy-to-use interface which makes it simple enough for anyone to use.
You won't even need to configure any settings as it comes with everything pre-configured out of the box, so anyone can set up their scanner without needing IT support or an instruction manual.
Features
ScanPapyrus will save you time while giving you a high-quality scan every time.
Here are the key features to look out for:
Scan 2 pages at once so that you get your work done faster.
Create high-quality digital copies of books in half the time so you can save time on scanning and get more work done in less time.
Get your old books digitized for easier access and archiving which means you can be worry-free about their storage condition.
With an easy installation and even easier use, you can be up and running in no time at all.
Pricing
With two licenses available (one for personal use and another for commercial use), you are surely able to find a solution for your individual needs.
The price for each version of ScanPapyrus is as follows:
Home License: $29.99
This allows you to install a copy of the software on multiple computers, as long as it is within a one-family context.
Commercial License: $59.99
This license allows you to use the software for commercial purposes, with a maximum number of simultaneous users not exceeding the number of licenses that you purchase.
What is digital photo scanning software?
Digital photo scanning software is the easiest and safest way to preserve your old photos.
Technically, you can use any device capable of taking a picture to scan in your old photographs, but having specialized software is best since they're often full of needed features while being much easier to use.
The best photo scanner apps will help you easily scan any photos, documents, or receipts so that you can then store them on your computer and enjoy these memories for years to come.
With traditional photo scanning software, there were quite a few challenges involved – the biggest of which was that you needed a scanner and it had to be hooked up to your computer or laptop.
This required lots of time, effort, and a bulky piece of machinery that could sometimes cost hundreds of dollars.
Luckily, things are much easier today. Now you can simply download one of the above applications (on your desktop or even mobile device) and start using it right away without any hassles.
The best photo scanning software apps are so simple to use that you can even scan a document in under a minute . That's important because none of us have much time to waste when we could be spending our time more wisely – or simply enjoying life.
Most people don't realize that scanning photos is not rocket science and is quite easy and inexpensive.
When it comes to being on the go, it's just like taking pictures with your smartphone but instead of taking pictures, you're going to use your camera on the back of your phone which works as a scanner.
Photo scanning software FAQ
What is the best software for scanning photos?
The answer is that it depends on your specific needs. However, the best photo scanning software of 2021 is one that contains the following features:
Scanning multiple images at one time
Scanning receipts, business cards, or other documents
Emailing your scans as you work on them
What do I need to scan photos on a mobile device?
To scan your photo, you'll first need a smartphone with a built-in camera. Most smartphones come equipped with front and rear cameras that can be used for scanning purposes.
The best part is that most of these cameras are already programmed to take pictures in JPEG format (it's the highest quality supported by most devices). You can even turn on the flashlight if necessary for an even better quality picture.
What is the best way to scan old photos?
While most scanners do come with an auto-feed feature, some don't, which means you'll have to put your document in one by one, making the process very time-consuming.
You might even consider downloading an app on your mobile phone, making it faster and cheaper (since you don't need to buy a scanner) to get the job done.
What is the best free photo scanning software?
The answer to this question depends on your needs. Some free photo scanning software is only available on Mac computers, while other scanning software for Windows is only available for this platform. Others are meant for both platforms.
If you have a computer or laptop running either of these two operating systems then the best free photo scanning software would be one where scanning multiple photos at once (including receipts, business cards, etc.) is easily done.
You can also try installing various free programs which offer trial periods – that way if you don't like it, you can just uninstall the program with no charge whatsoever.
However, do consider the premium version of this software if you are interested in more advanced features.
Does multiple photo scanning software exist?
Yes, it does!
You can purchase a photo scanner if you have a lot of photos that you'd like to scan.
Is photo scanning necessary for everyone?
It depends. It is very important for all of us who grow old with hundreds or even thousands of precious memories stored on a photo album page in various boxes at home.
As we age, most of us become less and less organized as time goes by, so having a digital copy of our photos is an excellent idea to prevent any wear and tear on our original images.
Also, as you already know from reading this article, technology isn't very expensive these days and you can easily accomplish what needs to get done with one of the above mentioned software.
What other types of software compliment photo scanning software?
The truth is that when it comes to scanned images, the sky's the limit with what you do with it. If you are interested in image editing, Photoshop is one of the best photo editing software and is usually the go-to app for this.
Adobe Photoshop allows multiple advanced functionalities when it comes to retouching scanned photos and recording macros for repeated processes in relation to digitizing images.
You can also look at the metadata of images after the scanning process for more advanced functionality. In this day and age, a digital image has a lot of data embedded in it, that allows editing software to take things to the next level.
This metadata can help in situations where data migration software is involved, allowing you to easily transfer the right information from the original source to the intended destination.
What are some other considerations related to photo scanning software?
Whether you have an Epson, a Canon, or any other brand scanner, one thing to consider when it comes to image quality is the DPI that the scanner can function at.
Also, some scanners have presets that you can set when it comes to multiple jobs that you do over time, allowing you to save time in the process.
Wrap Up.
In conclusion, the best photo scanning software is one that offers a combination of features, including a built-in auto feeder, the ability to scan photos and documents/receipts in high resolution and the ability to email scans to friends or family members.
Here are our choices for the Best Photo Scanning Software of 2021:
VueScan: Best for compatibility with more than 6500 models
Readiris 17: Best for optical character recognition
ScanSpeeder: Best to scan multiple photos faster, easier, and more cost-effective
CamScanner: Best for mobile scanning and syncing on multiple devices
Scanitto Pro: Best for creating searchable multi-page PDF documents
BlindScanner: Best for sharing a scanner with other users in a home or office network
ScanPapyrus: Best for scanning pages by setting a time interval
In conclusion, I hope that you have found this article useful in your decision-making process regarding the photo scanning software that will be used.
If you follow our tips and recommendations, then chances are that you'll find the right photo scanning software for your needs without wasting time both in the research phase and in the actual scanning phase.
Disclosure: I may receive affiliate compensation for some of the links below at no cost to you if you decide to purchase a paid plan. You can read our affiliate disclosure in our privacy policy. This site is not intending to provide financial advice. This is for entertainment only.