17+ Best POS Systems & Software 2023 | Small Business Reviews
Choosing the right POS systems & software is crucial if you want to keep your small business running smoothly. From an easy set up process to robust features, the best POS systems & software can help you meet your goals. In this guide, I ranked and reviewed the 17+ best POS systems & software, along with my top 5 choices, so that you can pick the best one for you.
Toast POS
Toast POS is best for restaurants in the US and helps you keep your business accounts updated and enhance customer satisfaction.
Epos Now
Epos Now is a great ePos solution for retail and hospitality businesses of all sizes. It's simple to use and can be tailored to one's specific needs.
TouchBistro
TouchBistro is a great POS system for restaurants that use iPads for sales. The software is very user-friendly and has a ton of features.
Lightspeed
Lightspeed is a great POS system for golf merchants. If your business is in this industry, Lightspeed is a great platform to consider.
---
We're reader-supported. When you buy through links on our site, we may earn an affiliate commission.
Running both an ecommerce storefront and multiple retail locations has its own unique set of challenges – including managing omnichannel inventory, handling credit card information across many platforms, and keeping your books for tax season.
There's one solution – POS systems and software.
These tools not only help you collect your hard-earned money in the right way, but also help you deal with complex issues like fraud prevention, complex recurring transactions, and your entire inventory system.
In addition, with mobile POS payments expected to reach US$2,466,606m in 2021, it pays you to have the right software in use to collect payments from customers.
Let's get started.
What Are the Best POS Systems and Software?
Here are my picks for the best POS systems and software to use this year.
Adam's Take
If customer satisfaction is your priority, I advise you to check out Toast POS. If you're looking for the best POS system for your small business, you can't go wrong with this system. It's easy to set up and use and integrates with various accounting software.
Toast POS is best for restaurants in the United States. It also helps you keep your business accounts updated and enhance customer satisfaction. Moreover, you can manage restaurant booking, product availability, and online orders altogether.
The significant advantage of using Toast POS is that it saves time and automates your point of sale software. And If you want to know more about the product, you can always go for a free demo and get familiar with all the features.
Key Features:
Restaurant Management: It allows you to streamline all the processes related to the kitchen and front house, starting from sales to customer reports.
User-friendly Interface: With an easy-to-use interface, you can allow the customers to pay bills and sign receipts and work on paperless transactions.
Multitasking Features: You can make use of multitasking ability and take the order and deal with menu items and all related tasks simultaneously.
Pricing Plans: The product offers flexible prices in options, and you can upgrade your plan as your business grows. You can also buy the bundle and hardware as a one time purchase and go through a free demo before you even start using it.
Best For:
If you have a restaurant business, then Toast POS is an excellent option. It's also affordable and helps with multitasking.
Pros:
It's a cloud-based management software
Provides loyalty points and gift card options to help you save money
Also, you can avail of a customer-facing screen to ensure transparency
Offers in-depth reports giving you insight on the most popular items in your store
You get numerous customization options based on the type of restaurant you own
Does real-time monitoring through remote access
Makes both customer Management and employee management more comfortable
Cons:
Doesn't offer any free-trial; you have to pay a flat processing fee
The customer support needs improvement
Pricing:
The installation process starts from $0, and goes up to $272 per month.
Get started with Toast POS.
Best For Scaling Businesses.
Adam's Take
I like Epos Now for those businesses that are involved in the hospitality and retail industry as it is a powerful and easy-to-use solution that can be tailored to your specific needs. With its ability to sync online and physical locations, you can provide a streamlined customer experience that is both safe and convenient.
Epos Now is a great system for businesses that want to scale their business and make sales more efficiently.
There are many features of ePos that can help your business reach its maximum potential and keep customers coming back.
The ability to set up, onboard, and train staff in minutes​ helps get your business up and running as quickly as possible.
With on-the-go stock management, you can keep track of what's selling well and adjust your stock levels accordingly.
This helps to maximize sales and minimize waste.
You can also connect to hundreds of apps including payment systems so that you can sell from your till with ease.
Key Features:
Table & kitchen management​ is no longer an issue with an epos system in place.
Real-time analytics and reports give you valuable insights into your restaurant's performance, making it easier to identify areas for improvement and manage staff effectively.
Staff management​ features let you assign tasks and set schedules, ensuring your staff is always fully trained and prepared for the demands of the job.
In addition, stock control capabilities allow you to keep track of inventory levels in real-time, helping you ensure that you never run out of essential items at key moments during the day.
And with powerful reporting features and ecommerce integrations available, it's easy to manage every aspect of your restaurant business – all from a single platform.
Best for:
If you're in the retail or hospitality business and want to scale and grow your business with greater efficiency and control, Epos Now might just be the solution.
Pros:
Gain new customers and boost your sales with the power of an epos system.
Sync your online and physical locations for a streamlined customer experience.
Connect to world-class ecommerce platforms and marketplaces.
Offer safety and convenience with contactless payments.
Cons:
The inability to identify actions taken by user name or location is something that can be problematic for some businesses.
Pricing:
You can get the complete Epos Now solution for $449.
Get started with Epos Now.
Adam's Take
I like TouchBistro as it's compatible with restraints that want to have the flexibility that an iPad POS offers. At the same time, it's got great features and is very customizable, so even if you need something specific for your business, TouchBistro can probably do it.
TouchBistro is an iPad-based point-of-sale system created especially for foodservice businesses. It allows you to manage various segments of the restaurant simultaneously, including food trucks.
Moreover, the TouchBistro team constantly upgrades for better efficiency, and the layout is very simple to handle. It also offers a quick search function and a bill preview window to find the details about the products and orders quickly.
Key Features:
Manage Various Segments: You can manage numerous functions from a single dashboard. It also allows you to transfer events from one function room to another using a few clicks.
Inventory: It provides in-built tools to help you track your warehouses, the cost of ingredients, monitor menu costs, and more.
Employee Efficiency: TouchBistro motivates the team to perform efficiently with comprehensive features. And all it takes is a few taps on the screen to complete their routine tasks within a few minutes. It also comes with an inbuilt CRM tool.
Mobile-Friendly: You can always check on your business anytime and anywhere since you get a dependable connection and cloud-based menu management.
Best For:
TouchBistro serves all types of restaurant businesses. Moreover, if you are looking for hybrid networking support with excellent reporting and analytics tools, then you might want to try out TouchBistro.
Pros:
Provides detailed analytical reporting to give you an insight into your inventory, profits, ingredient costs, and more
The product updates are free, and you can choose to have unlimited users
The hybrid networking support is unique, and you also have access to 24/7 phone and email support
You can enjoy VIP community access and free daily sales data backup
Provides a premium installation process and dedicated hardware support
Comes integrated with the remote aid that is entirely free of cost
Cons:
Setting up your point of sale software might be a bit challenging
The product is not cloud-based, only the reporting is
Pricing:
You can start with the basic plan of $69 per month. There are then various addons that you can go for when it comes to customer engagement. These include Reservations, Online Ordering, Gift Cards and Loyalty.
Get started with TouchBistro.
Adam's Take
It's not every day that golf merchants get a POS solution that's made just for them. But with Lightspeed, that's exactly what they get. This system has all the features that a golf merchant would need to run their business, and it's very easy to use. It's also a system that works for retail and hospitality businesses that want to use a POS system.
Lightspeed has over 50,000 users in the world, and it comes with a wide range of features starting from multi tender options to advanced inventory features and more.
With Lightspeed Retail, you can also work on bulk buying and selling, reporting, employee management, and so on.
Key Features:
Unique Features: The product offers customizable tags, and the user can work on bulk items and several vendors.
Ease-of-use: The product is so easy to use that you can create your purchase orders and complete them even if multiple vendors are working on it.
Discounts and Offers: Provides loyalty points and discount coupons to give your customers a reason to come back.
Third-Party Integrations: You can integrate any email marketing service provider.
Best For:
If you want to work on bulk purchases and leverage a POS tool regardless of the size of your business, then Lightspeed Retail is suitable for you.
Pros:
Provides extensive ecommerce support
Helps you with your inventory by keeping track of orders, item types, product variants, and more
It's a hybrid system that makes it easier to work on bulk orders
It comes with a 14-day trial; no credit card required
Provides real-time analytical reports
It also offers a mobile application
Cons:
If you are a beginner, you might find it challenging to deal with some features
Pricing:
The pricing is available on request.
Get started with Lightspeed.
Adam's Take
If you're after a system that can monitor your sales process from start to finish, Square POS is the perfect solution. With its easy-to-use interface, you can keep track of every aspect of your sales. With its built-in reporting tools, you can quickly see how your business is performing and make necessary changes to improve your bottom line.
Square POS makes it easy for you to set up your point of sale system and help you monitor your entire sales process. You can start with their free plan and upgrade to their premium plan that also comes with a 30-day trial.
On top of that, Square helps you manage your inventory with ease, provides fast checkout, creates customer profiles automatically, and much more.
Key Features:
Free Online Store And Purchase Management: With a free plan, you can choose to have a free online store and start selling your products immediately. You can also create and manage your purchase order.
Customer Satisfaction: It enables you to maintain a fair set of loyalty points and provide custom discount offers to the customers. Also, you can access Square loyalty points.
Simplified Process: This particular product simplifies many things related to retail POS software with an easy to use interface. The user can link the vendor to the products present in an item catalog and get all the purchase history and purchase orders on the dashboard.
Real-time Monitoring: The user can track the order status real-time and work on unlimited SKU count and bulk deals.
Virtual Terminal: The product also comes with a virtual terminal and a free online store with which you can benefit even if you want to make cardless transactions.
Best For:
If you have a small budget or are trying to figure out if you need point of sale software in the first place, then you can give Square POS a try. Square also offers an excellent restaurant POS system that integrates flawlessly with most accounting platforms.
Pros:
You have to undergo a straightforward initial setup process
Provides built-in tools for team management, customer relationship management, and inventory control
You can also have access to the app store that provides extensive third-party apps
It's a cloud-based product
The application is compatible with both Android and IOS devices
Suitable for most small and mid-sized companies
Offers in-depth reports and analytics
Provides hardware for secure payment
Is PCI compliant
Has a mobile app compatible with Apple iOS and Android devices
Cons:
The customer service process needs improvement
Payment hold might happen sometimes
Pricing:
Square POS system is entirely free to use. There's no setup or monthly fee.
Want even more proof that Square is the best option? Read my Stripe vs Square comparison post to learn more about why you should use Square as your POS and payment processor.
Shopify POS is probably one of the most popular POS systems on this list. It's also an excellent system to unify the retail and online sales. Moreover, you can use it to manage your inventory and receive in-depth analytics reports – making it easy to sell your products across any platform.
Also, you can offer refunds and store credit with any payment option feasible for the customer. It also allows you to accept EMV and NFC payments without any hassle.
Key Features:
Dealing With Payments: With this system, you can accept payments, grant refunds, add barcodes, provide customizable gift cards to your customers, and more
Sync Features: You can deal with the transactions and the detailed reporting and sync it online or offline according to your requirements.
Refund And Credit: With Shopify, you cannot only sell your products on multiple platforms but offer customers the ability to choose any payment option and offer them refund and store credit if they need it.
Choosing the Payment Option: The product integrates an inbuilt service processor, which is Shopify payments, and if you still prefer to use a different processor, you have a large set of options to consider.
Customer Support: The team provides 24/7 support with no upfront cost via phone or email or live chat.
Best For:
If you are looking for an affordable product, and if the customer support is your primary requirement in maintaining a system, we have your product here.
Pros:
The product is affordable and integrates with excellent third-party apps
You can expect reliable customer service from the team
The product syncs well with Shopify eCommerce as well
Allows you to personalize visit for every customer and build lasting loyalty towards your brand
Provides quick checkout process
Suitable for all types of small and medium-sized businesses
It's a hybrid system and has a mobile application as well
Cons:
The offline features are not as useful
Some features might be insufficient
Pricing:
Shopify POS offers three pricing plans. The Basic Plan costs $29/month, the Shopify Plan is $79/month, and the Advanced Shopify Plan costs $299/month.
Upserve is an all-in-one POS system for restaurants that helps you combine your payment process, inventory process, and other reservation systems. You can also customize the management solution according to the demands of the customers and your brand.
Moreover, the user-friendly interface allows you to deal with menu inventory and other sales processes. In simple words, you have all the control of your operations, starting from the front desk to the kitchen.
Key Features:
Easy Control: All you have to do is to learn the navigation in the dashboard. After this, you'll be able to have control over the entire operation without any hassle.
Offline Mode: You can opt for online mode and still make transactions and print receipts offline.
Analytics and Reports: The in-built reporting and analytics tool gives you details about the performance of the restaurant. You also get detailed insights into the trends that can help you enhance your business.
Split Payments: You can split the orders between card payments and cash payments. Moreover, you can rely on this computation as it's most likely to be accurate.
Best For:
If you are looking for an all-in-one POS system to have control over your entire operations, then Upserve is an excellent option. It's suitable for small and middle-sized businesses.
Pros:
It provides an all-in-one solution to deal with inventory control and reservation systems as well
The user interface is straightforward, and you can customize it accordingly
You can manage the operations of the entire business through a simple dashboard
Provides you with detailed insights into popular products, helping you enhance your business and provide great customer experience
You can also choose to work in the offline mode and accept payments without hassle
You also get access to a free demo if you want to test the product
Offers 24/7 customer support in the US
Combines inventory, POS, payment processes, reservation systems, and more
Cons:
If you're a beginner, you might find it a bit challenging to use
Third-party software integration is quite not possible
Pricing:
The Core plan costs $59, the Pro plan is $199, and the final Pro Plus plan costs $359.
8. Shopkeep.
Shopkeep is one of the best retail POS solutions, well known for its ease-of-use and efficient inventory tools. Some of its most prominent features include a matrix and the ability to track the numbers for every item. It also enables you to view all the stats in one dashboard. On top of that, you can use the Pocket app to check the sales and inventory whenever you want.
Key Features:
Inventory Features: You can manage your inventory efficiently and set reorder points and make use of the analytical reports to discuss the details of the product. The details include the quantity, vendor name, and stock availability, and so on.
Extensive Third-Party Integrations: If you have accounts on other portals like QuickBooks and MailChimp for various purposes, Shopkeep makes the integration process more comfortable.
Payment Features: The product contains an inhouse payment processor. You can also use it with any other credit card processor since it has EMV integration.
Unique Features: It provides impressive features, including an ability to create barcodes, adjust tax rates according to the policies, access to multi-storage capabilities, and more.
Customer Support: If you are a retailer, then you get access to 24/7 customer support. However, if you are looking for premium phone support, then you might have to pay a bit more.
Best For:
Shopkeep is most suitable for medium-sized businesses that require easy transaction features and 24/7 customer support.
Pros:
One of the most affordable tools
The user interface is intuitive and easy to use
It's a one-stop-shop for your business, including payment transactions, POS process, and more
Provides sales reports to help you monitor your inventory, profits, customers, and more
It's available on your iPad, so you can keep track of your POS process anytime you want
It provides 24/7 customer support, which means you can get the help whenever you require
Cons:
You might find some bugs in the software
Provides limited inventory features compared to others
Pricing:
Shopkeep doesn't offer pricing plans like other tools on this list. Instead, it provides a quote-based pricing system.
9. Vend.
Vend is one of the first-ever retail POS systems to use the cache capabilities of HTML5. The system is currently used in more than a hundred countries and by over 20,000 businesses.
One of the most significant features of the product is that it's intuitive, and has a modern, straightforward design. Moreover, it's not only a web-based system but also offers an easy-to-use iPad-based application as well.
Key Features:
Variety of Features: The system provides numerous unique features starting from, including price books, loyalty programs, and much more.
Integration Facilities: The product offers extensive third-party integration with numerous tools, including payment gateways like PayPal, Vantiv, and Square.
Customization Options: It provides plenty of customization options to align with your sales processes. It also helps you keep your information hidden and secure.
Inventory Features: It provides extensive inventory features, and lets you deal with bulk items within seconds. On top of that, you can categorize the inventory items as well.
Best For:
Vend is most suitable for middle-sized businesses looking for memorable customer experience.
Pros:
The product is user-friendly and feasible for beginners
It integrates with numerous other systems, including accounting software and ecommerce portals
Though it's a cloud-based system, it works just as efficiently in Google Chrome
Offers affordable price plans
Provides omnichannel experience with seamless sales process across all channels
Cons:
You have to pay extra for some features like tech support.
The features need further improvement
Pricing:
The pricing plans start from $99 per month. You also get a 14-day free trial to give you an idea about the product.
10. Quickbooks Point of Sale.
Quickbooks POS is one of the top-notch POS systems in the accounting app market. To make things easier and help you attract customers, it provides quick credit payment processing and attractive loyalty programs.
It's also suitable if your company requires multiple warehouses since the system can single-handedly maintain over 15,000 units with ease. On top of that, you can integrate it with your iPhone or iPad as well.
Key Features:
OS-Support: The product supports various operating systems, including Windows Server, Windows 8.1, Windows 10, and more.
Management And Inventory: The product offers powerful functionalities to manage the entire sales process and track inventory.
Simple to Use: The product has a straightforward layout and user interface, which helps even a beginner to understand the functionalities and get started quickly.
Payment Gateways & Processes: QuickBooks POS allows you to process payment transactions from various sources, including Visa, Mastercard, cash, debit cards, and more.
Best For:
QuickBooks POS is suitable for both mid-sized businesses and big enterprises. It's also an excellent option if you are looking for numerous transaction facilities.
Pros:
Enables you to handle all touchpoints of your retail business
Provides numerous payment gateways and transaction processes
Offers unique features to help you track income as well as expenses
The user interface and the layout is simple, which means even a beginner can use it
You don't have to make monthly payments since it offers a one-time purchase
The product is suitable for retail shops and Restaurant business.
Cons:
The product is a bit expensive for small size businesses
It supports only Windows systems
Pricing:
The pricing starts with a one-time purchase of $960 and ranges up to $1,520. You can also request a free trial.
11. Clover Station.
Clover Station is one of the most versatile POS systems with all-in-one functionalities. Although it's a bit expensive, it comes with plenty of attractive features and an easy-to-use layout.
Moreover, with advanced inventory features, you can work on bulk products starting from importing to sorting. You can offer a gift card to your customers to make sure they come back for more. Other than this, Clover Station provides access to an entire Clover App market, allowing you to integrate with any third-party app you might need.
Key Features:
Work Assignment: It enables you to assign a task or role to a particular team-member without any hassle. You can also ensure that no other employee has access to the assignment.
Easy Interface: The user interface is easy to navigate and enables you to control everything from a single dashboard.
Gift Card Options: You can provide the customers with gift card options, allowing them to work on their own mobile devices. With that, you can count on the customers to come back.
Access To The Market: When you buy the product, you're not only able to update the inventory process according to your requirements, but also have access to all the facilities in the entire Clover App market. You can also decide if you need any extra integrations to make it efficient.
Best For:
If you are a medium-sized enterprise and want to start selling your product right away, then Clover station is an excellent option.
Pros:
The product is easy to use and provides a straightforward user interface
You can update your inventory process whenever you want
You can provide your customers with customized gift cards, loyalty points, discount coupons, and more to enhance customer engagement
Provides access to the Clover App Market, where you can avail of numerous third-party apps
Offers multi-layered security to help protect your data
Cons:
FirstData processing might be a big deal
Pricing:
You'll have to get in touch with their sales team to learn more about the prices.
12. Revel.
Revel is well known for its incredible features, and its focus on catering to the restaurant business. However, after evolving currently, it can now focus on mid-sized retailers as well.
The product also has real-time inventory features with a style matrix. On top of that, the user interface is pretty straightforward and allows you to organize everything easily. With advanced Customer Management features, you can also set up email marketing campaigns and work on loyalty programs for the customers.
Key Features:
All-in-One System: It's an all-in-one system that helps you manage your employees, provides detailed reports for performance evaluation, helps you control disk scheduling, and more.
Hybrid System And Functionalities: The hybrid system works well for Apple hardware. It also provides self-service kiosks to help you get started on your own.
Integration Feature: The product offers an open API and myriad integration facilities. You can also integrate Shopify for ecommerce and QuickBooks for accounting purposes.
Payment Gateways: As for the payments, you can choose from numerous transaction options and payment gateways.
Best For:
If you are looking for strong integration facilities for your mid-sized business or your restaurant management, you might want to try out Revel.
Pros:
Provides a secure and extensive list of third-party integrations
Provides accurate analytical reports and real-time insights to help track and review your business
The Kiosk functionality is a big plus
Comes with affordable pricing plans
It works as a hybrid system for Apple hardware
Offers a kitchen display system to help you with all the kitchen operations
Cons:
The setup process is a bit complicated
You might face some glitches in the software
Pricing:
The pricing starts at $99 per terminal per month.
13. Miva Merchant.
Miva Merchant is more of an ecommerce platform specifically made for modern companies. It provides rich features and ensures that you get maximum value for the money.
Apart from its unique features, the product offers excellent customer support and customization options.
Key Features:
All-in-one Platform: Help you showcase, promote, and sell your product from a single dashboard.
Customizable Tool: You can customize the tool and align it with your business requirements to sell anything you want.
Search Features: The product comes with extensive search features, which makes navigation much easier.
SEO Optimization: Unlike other platforms on this list, this product will help you improve your Google search rankings if you use its SEO tools rightly.
Best For:
It's suitable for all types of businesses, including wholesale, small & mid-sized businesses, retail businesses, and more.
Pros:
It's suitable for large enterprises as well
The team provides excellent customer support
It's scalable, and the user interface is easy to navigate
Enables automatic reordering & subscriptions
Provides excellent partner and reseller support to manufacturers
Allows you to set up and run your online store easily
Cons:
It's a bit expensive
The learning curve is slim
Pricing:
Get in touch with Miva to get a custom quote from one of their experts.
14. Springboard.
Springboard Retail not only assists you with your POS process but also helps you scale up your retail business. Moreover, it provides comprehensive inventory features and custom fields to work on the item specification.
Key Features:
Custom Fields: With this option, you can work on any item specification and store transfer efficiently.
Inventory Management: You can manage the inventory regardless of the size. On top of that, it makes inventory maintenance decidedly easy.
Numerous payment options: It provides you with multiple modes of payment and unlimited transaction options in case of emergencies.
Multi-Store Management: The multi-store management feature helps large businesses to choose the product, promote & view it, and manage different inventories whenever required.
Best For:
The product is suitable for you if you're primarily looking for omnichannel marketing and multi-store management for your business.
Pros:
The product has customizable inventory options
Provides multiple reporting options to help you review your business easily
Easy to set up and navigate
Provides tools for data migration at an affordable rate
Provides multi-store management feature
Cons:
You have to pay an additional cost for customer service.
The employee time tracking feature is absent.
Pricing:
The pricing starts at $80 per month for the Plus package and $160 per month for the Professional package. You can also request more information about their Enterprise solution.
15. Erply.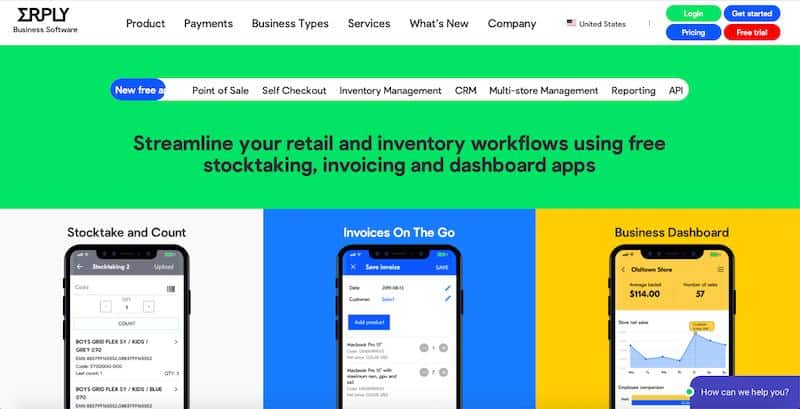 Erply is a cloud-based POS system that can work both online and offline. Even though you can locally install it, the data retrieval will be on the cloud. It comes with unique features like helping you streamline your inventory with your sales process, provides extensive integrations, secure payment options, security in the cloud, and more.
Key Features:
All Tender Payments: You can process any mode of payment and track the gift card payments without any hassle.
In-depth Analytical Reports: Provides real-time reports to track invoices, purchase order, sales cycle, and more.
Shipping Integration: You can integrate with any shipping carrier, and they will provide you real-time quotes on the shipping details.
Supplier Database: You can maintain a database of vendors for easy ordering and shipment process.
Best For:
If you are looking for an easy system for a small shop with advanced inventory management features, Erply might be the tool you need.
Pros:
The product is affordable, even for small shop owners
Provides advanced inventory management features
The product works with any hardware
Integrates with all types of payment gateways
Comes with built-in loyalty programs to help you retain customers
Cons:
You might face some glitches from time to time
The customer support is limited
Pricing:
There are 4 types of payment plans available, as follows:
Point of sale: $19 per month
Invetory for eCommerce: $39 per month
Inventory + Retail Point of sale: $69 per month
Franchise & Chain: Contact them for more information
16. Thrive POS.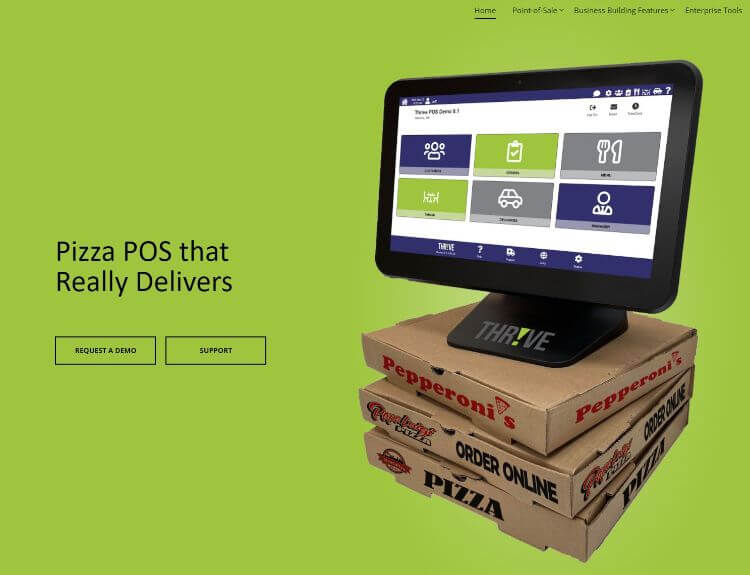 Thrive is a delivery POS system that primarily focuses on pizzerias and other small & medium-scale restaurants. It provides all the functions you might need to deliver a product – all under a single dashboard.
Key Features:
Food Delivery: Deals with all the tasks related to food delivery, including the tracking of delivery, dispatch management, order management, and more.
Gift Cards For Customers: If you want to ensure that your customers come back to your restaurant, you can offer them gift cards and loyalty points.
Trend Analysis: You can analyze the sales trends and prepare offers accordingly.
Restaurant Management: Billing and invoicing becomes easier with the built-in accounting module.
Best For:
The product is most suitable for pizzerias and small & mid-sized restaurants.
Pros:
The user interface is modern and easy to use
Handles all the delivery operations, including ordering, tracking, loyalty management, and more
Provides excellent reporting and data tools to help you manage multiple locations when it comes to delivery operations
Offers excellent customer support
Provides secure and flexible payment transaction options
Cons:
Only caters to pizzerias and small scale restaurants
Comes with a hefty price
Pricing:
Thrive POS pricing starts at $149.00 per month.
17. POS Nation.
POS Nation helps every small business owner manage their sales process and customize it as per their requirements. It also provides dedicated customer service round the clock, which helps a great deal with your business.
Key Features:
Serves Numerous Industries: POS Nation caters to a wide range of industries, including retail shops, salons, grocery stores, and more.
Customer Support: Provides excellent 24/7 customer support.
Training Services: Apart from providing troubleshooting assistance, they also give you access to training videos to help with onboarding your new employees.
Handles Entire Sales Cycle: Helps you manage your sales process from beginning to the very end.
Best For:
POS Nation is suitable for small-scale businesses, regardless of the industry.
Pros:
Suitable for numerous industries, including retail stores, restaurants, pizzerias, and more
Provides 24/7 US-based customer service
Comes with ongoing training to help you get familiar with the product
Offers a two-year warranty
You also get a free chip credit card reader with Worldpay processing
Cons:
You have to pay for tech support
Pricing:
The paid plans start from $99 per month. There is also a $999 one-time fee available. If you want more POS features, you can request a custom build POS.
18. Cybersys POS.
Cybersys POS is suitable for numerous types of businesses, be it a restaurant or jewelry store. The software is also a standard choice for many small businesses that require a functional POS within their budget.
Plus, the product comes with powerful hardware, the ability to accept credit cards, cash drawers, and many more attractive features.
Key Features:
Communication: The product enhances corporate communication.
Loyalty Programs: If you want to retain your customers, then Cybersys provides an excellent customer loyalty program to help you achieve that.
Inventory Features: It only helps you manage the inventory, but also provides alerts to keep you updated on your inventory status.
Currency And Shipment: You can monitor your shipment status and keep a record of it with every transaction.
Best For:
If you are a small business owner looking for a completely functional point of sale system within your budget, then Cybersys POS is the tool for you.
Pros:
The product is comprehensive and affordable
It supports numerous currencies
Even small business owners can get rich features with an affordable pricing plan
The product has an alert system to keep you updated on the inventory
Provides a loyalty management system to help you retain your customers
Cons:
You can use it for only one location
Large businesses might have to invest more
Pricing:
There are 3 pricing points available:
Basic: $235 every 3 months
Popular: $882 every 6 months
Premium: $1372 every year
What is a POS System?
A point of sale system, or POS, is the place where customers make a payment for products or services in your store. To put it simply, every single time a customer completes an order, they are completing a point of sale (POS) transaction.
A POS system is a central hub for any business, where things like sales, inventory, and customer data merge in one place.
How Do Point of Sale (POS) Systems Work?
POS (point of sale) is the place where your customer makes the final transaction at your store. To put it simply, every time a customer purchases at your store, they always complete a point of sale (POS) transaction.
The POS system is a combination of tools that helps you streamline and automate the entire sales process, including:
Inventory management
Shipping management
Credit card processing
Storing customer data
Collect mobile payments
Provide POS hardware
Streamline your back-office and business operations
Most companies need a reliable tool to automate simple administrative tasks like the online ordering process and payment collection. This system frees up some time for employees, allowing them to devote their time to better responsibilities. It also ultimately leads to increased productivity, given the employees will not be repeating the same task every day.
The POS system is a digital network that involves central software linked with several checkout terminals. Moreover, it integrates with different hardware features like barcode scanners, card payment terminals, and more.
Nowadays, few businesses can survive without it. Hotels, restaurants, ecommerce, automobile, telecommunications, healthcare – you name it – almost every industry uses a point of sale system.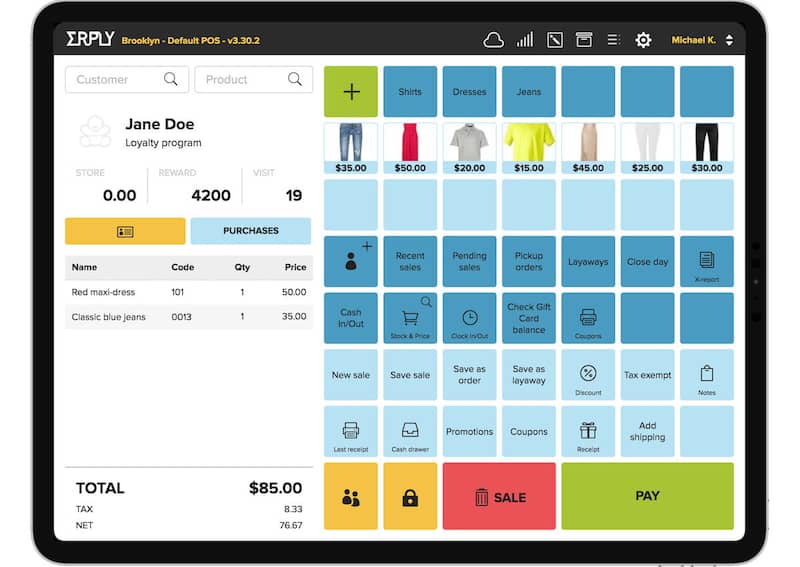 Even as recent as back in the 1980s, a POS system embodied the quintessential 'cash register.' They weren't intelligent devices and would rely on the person operating the register to provide the correct inputs to perform basic functions like addition and subtraction.
It looked something like this:
Gradually, these systems underwent radical changes to evolve to its current form.
Nowadays, all systems store a product database that's inbuilt on the server. With techniques like barcode scanning, there's no need for manual entry anymore. You just need to scan the barcode, and every detail would appear on a computer screen.
The tools of today have two distinct components – hardware and software.
The software can either be cloud-based or deployed on-site.
The hardware part also has specific components, each devoted towards a particular function, including:
Interface or device for entering the details, like a computer or a tablet
Cash drawer that tracks the daily transactions
Receipt printer
Barcode scanner
Card machine, for swiping the card details
Allied devices like routers, modems
Both the software and hardware parts merged to create the final POS solution.
What Are the Benefits of Using a POS System?
Many POS systems come with plenty of benefits for your business by facilitating immediate and direct receipt of payments.
Let's look at some of the significant benefits:
1. Ease of Use.
In contrast to the challenges of handling cash, a POS system eases the process of transactions, makes it accurate, fast, and efficient. You can take care of multiple customers and carry out simultaneous transactions easily. Being able to get paid with a variety of methods (including Apple Pay and Google Pay) make life easier for everyone involved.
2. Wide Range of Capabilities.
With a tool from this list, you're no longer limited to cash transactions. You can extend multiple options of payment to your customers, like EMV chip cards, contactless payments, mobile wallet payments, and more.
3. Accuracy.
A POS tool brings a decidedly better and more accurate sales experience to the table. You can now take advantage of a touchscreen interface to access any information you want, like sales, billing, items sold, and customers. Moreover, you don't have to manually enter information like in a cash register, reducing the reliance on human inputs.
4. Inventory Management.
These systems ensure you don't have to track metrics like sales manually, units sold, and more. You can now do all of it at the touch of your fingertips. Most POS apps provide real-time analytics reports so that you always know where you stand concerning your inventory.
5. Employee Management.
These tools reduce human errors, increases efficiency, and helps to process payments smoother. You can also track your employee productivity and the number of hours they worked. Employees also get information on areas they can improve, and it positively impacts their future performance.
6. Fast Service.
These tools are fast and ensure that you don't need to stand in queues for a long time. Cashiers also don't need to return loose change. It's in stark contrast to cash payment systems where some customers may even walk out in case they are in a rush. They allow you to pay the exact amount instantly, eliminating unnecessary activities.
What Should You Look for in Good POS Software?
Here are some of the points you might want to consider before choosing the right POS software for your business.
1. Your Requirement And Product Features.
The best systems might be pricey. Thus, it's essential to analyze what exactly you would need. There are different types of systems offering a variety of different features. To select the one that aligns the best with your requirements, create a list of priority tasks that you want to automate. Once you have the list, then purchase the software and hardware that fulfills most of your requirements.
2. Ease of Use.
Make sure that your platform is easy to navigate and the interface is user-friendly. The system should help you in automating the process and let you focus on more significant responsibilities. However, if you do not have a friendly interface, you will be investing most of your time in figuring out the functions and contacting customer support. That's why it's essential to select an easy to use POS system.
3. Your Budget.
You can be either a small business or a large enterprise – you still have a budget for any technological integration. You know that you'll be using the system for a long time, so look for yearly subscriptions to get hold of extra discounts.
Also, make sure to find the tool that offers transparency in the pricing. You might as well consider that to build trust in the product. If you find any red flags, it's better to move to another option.
4. Analytical Reporting.
The whole idea of investing in a POS system is to make the sales process easy. These apps not only allow you to make transactions, but they also help you with employee management and data management. So, if you are investing in one of these tools, make sure to look for the reporting feature to help you keep track of everything, including transaction counts, average sales value, expenses, etc.
5. Customer Support.
It's not like you have enough knowledge about every detail within your POS system. That's precisely why you need proper customer support. You might also need help with any third-party integration. Make sure to check if the system you plan to purchase provides 24/7 customer support. And it could be via call or live chat or email. Also, remember that the support usually comes at no extra cost.
Point of Sale (POS) Systems and Software FAQ.
1. What is The Best POS For Small Business?
Every business is different, so your POS system requirements need to meet your business needs. If you're looking for a boutique POS system with great inventory options, then you might want to try ShopKeep. Or if you're on the lookout for loyalty programs, then Revel Systems is an excellent option. And if your small business requires a holistic accounting tool, then QuickBooks POS is a great option.
Some of the other market leaders are:
Shopify
Square POS
Toast POS
CAKE
Cova
Upserve
2. What Modern POS System is Best for Retail?
With cut-throat competition in the market, retail is now both omnichannel and customer-centric. To provide good customer experience, the right POS system is essential for retailers.
One of the best retail POS systems and software right now is Vend.
It offers features like:
End-to-end cloud solutions
Inventory & customer management
Barcode printing
24/7 customer support
Plus, over 25,000 retailers trust Vend across the globe, and the numbers continue to grow.
Some other systems that retailers use are:
Square POS
Lightspeed
Erply
3. What is the Cheapest POS System?
If you're on a tight budget, then you might want to select a cheap POS system, albeit with decent functionalities.
Some of the cheapest yet effective ones are:
Shopify Point of Sale
Upserve
Vend
Revel
All of the tools above provide necessary features and are affordable for small and medium-sized businesses.
4. Which Free POS Software is Best?
Some POS software can have high functionality and be extremely feature-rich, despite being free.
Some of them are:
Square
Imonggo
Loyverse
Linga
They all have different strengths and weaknesses, but Square is one of the most well-rounded tools available for free.
5. What Is The Average Cost of Running a POS System?
The pricing for these tools can vary widely, depending upon your industry, business size, and requirements.
Some factors affecting the price of a POS system are:
Additional software/hardware
Add-on services
Third-party integrations
Payment processing costs
Monthly or annual payments
Usually, a standard POS costs anywhere between $60 to $100 per month.
Here are the prices of some of the market leaders:
Lightspeed starts at $69 and more per month
Square stars at $60 and more per month
Vend starts at $99 and more per month
6. What is The Best POS System For Restaurants?
A restaurant POS is essential for any modern operation and it helps with numerous tasks, including:
Order management
Order receipts
Online order integration
Some of the best POS systems for the restaurant industry are:
SlickPOS
GoFrugal
POSist
Square
Lavu
Clover
Square remains one of the tools for restaurants. It provides excellent staff management and is easily scalable, which makes it an excellent fit for restaurants of any size.
Revel is another one that's an excellent choice for large restaurants. It also provides inventory tools, online booking, and delivery.
Then there's Upserve – a highly customizable and scalable tool that can cater to restaurants of all sizes. It also provides holistic table management, menu management, and customer service.
Finally, TouchBistro POS is another restaurant POS you should look into.
7. What is The Best POS For Mobile Devices?
A mobile POS system has two prerequisites:
Must be compatible with devices like tablets and smartphones
Should be cloud-based
Different mobile POS systems have various functionalities.
Some of the most popular ones are:
Executive Summary.
You might always be on the lookout for new products to help your business do better and improve your efficiency.
Choosing the right POS system for your business can help you a great deal, especially with tasks like inventory management, delivery, reporting, and more.
Take administrative tasks, for instance. In this case, the POS software can do the trick by automating the functions, thereby letting the employees focus on more significant responsibilities like customer engagement.
Even if you have a lesser number of tasks that need automation, you can still choose an affordable POS system with only necessary functions.
Make sure to review your options carefully and make the right choice, keeping your business in mind.
Further Reading on AdamEnfroy.com: If you have an online business, check out my guides to the best ecommerce platforms, the best website builders for small businesses, and the best order fulfillment services to use this year.
Disclosure: I may receive affiliate compensation for some of the links below at no cost to you if you decide to purchase a paid plan. You can read our affiliate disclosure in our privacy policy. This site is not intending to provide financial advice. This is for entertainment only.