Power BI vs. Tableau: Which Data Visualization Tool is Best?
Business intelligence is an area of computer science that refers to the processes and technologies used to collect, store, analyze and provide access to data that can be used to improve business decisions.
Having big data tools and capabilities is one thing, but making sense of that data and using it to improve your business is another.
With business intelligence tools, such data can be interpreted to reveal trends, patterns and insights that can help decision-makers make better decisions.
Data visualization tools take this a step further, providing a visual interface for working with data. This can make it easier to spot trends and insights that might otherwise be hidden in raw data sets.
Power BI and Tableau are a couple of the most popular data visualization tools today.
Both of them offer various features and capabilities that can be used to create beautiful and insightful visualizations. But which one is the best?
In this article, I'll compare Power BI and Tableau side-by-side and see which tool comes out on top in terms of features, ease of use, price, and more.
Let's get right into it.
Power BI vs. Tableau: What are They?
Power BI and Tableau help users make sense of data by creating visualizations (also known as "dashboards").
Both tools are suitable for business users who want to create dashboards that present data in an easy-to-read way.
They can be used by anyone who wants to explore their company's data and discover new insights about how it works.
What is Microsoft Power BI?
Power BI Dashboard; Source: Power BI
Microsoft Power BI is a cloud-based data analytics and business intelligence (BI) platform.
It allows users to visualize and interact with data to gain insights into their business.
It's a unified, scalable platform that helps connect to and visualize any data, extract deeper insights, and use them to create personalized reports with your KPIs.
Power BI integrates with many other Microsoft products, including Excel, SharePoint, Dynamics 365, and Azure SQL Database.
Key features of Microsoft Power BI:
Easily connects to any data source
Creates reports personalized with your KPIs and brand
AI-powered answers to your business questions
Accurate reports and insights to make quick data-driven decisions
End-to-end data protection
Integrates easily with the Microsoft technology you already use
A growing library of 500+ free data connectors
Secured data analytics
Economic option
Improved publishing efficiency and accuracy
Unparalleled Excel interoperation
Access to real-time analytics
What is Tableau?
Tableau Dashboard; Source: Tableau
Founded by Chris Stolte, Pat Hanrahan, and Christian Chabot in 2003 as a result of a computer science project at Stanford, Tableau is a visual analytics platform that helps users transform complex data into easy-to-use insights through visualization.
It's a business intelligence and data visualization tool that allows users to connect to multiple data sources, including database software, spreadsheets, text files, and more.
The software then extracts the information from those sources and presents it visually through charts, graphs, and maps.
Key features of Tableau:
With over a million members, you'll have access to an unrivaled network to help you along your way.
Fully integrated AI/ML capabilities, governance and data management, visual storytelling, and collaboration.
Limitless data exploration with intuitive products
Artificial intelligence driven analytics and predictions
Tableau satisfies the needs of all your users, regardless of their skill set, from data scientists to business users.
The majority of options for deploying analytics and connecting to all of your data are available.
Enterprise-grade security and governance models to keep data in the right hands.
Power BI vs. Tableau: Key Features.
1. Deployment & Integration
Both Power BI and Tableau are cloud-based software, meaning you don't need to install or run them on your local computer.
You can access them from any device with an internet connection.
They both require you to register for an account and sign in to the application before you can start using it.
After that, you'll have access to all the software's features.
Let's analyze them in detail:
Power BI:
Microsoft Power BI offers several different versions, including an on-premise version and cloud services.
Desktop, Pro, Premium, and Mobile are some of the different versions available.
However, it also provides a limited cloud option – the Azure edition.
You can use the Office 365 Admin interface to connect to this edition.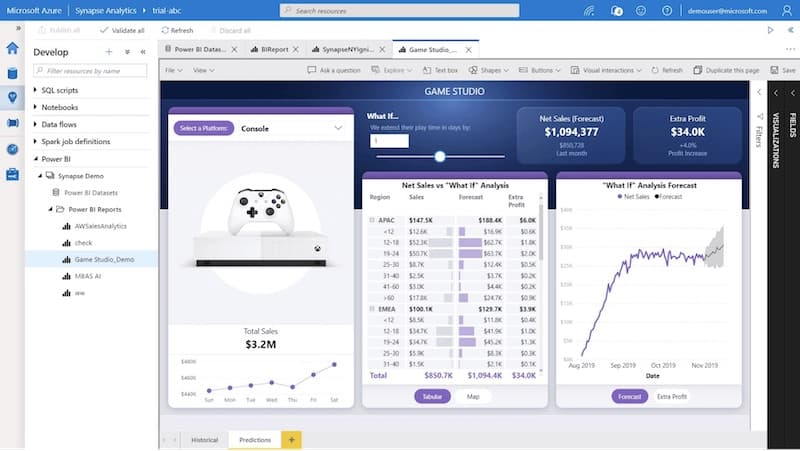 The cloud-based business intelligence suite is also easy to set up in a secure environment.
It incorporates visualizations written in Python or R, and it's simple to use; you can quickly integrate existing spreadsheets, data sources and apps using built-in connections and APIs.
Tableau:
Tableau also provides deployment flexibility with its constantly updated connections, various data integration tools, and deployment options.
It offers three deployment options, including on-premise, on the public cloud on Microsoft Azure, Amazon Web Services (AWS), or Google Cloud Platform (GCP).
In addition, you get to deploy it with Tableau Online – its own fully-managed cloud platform.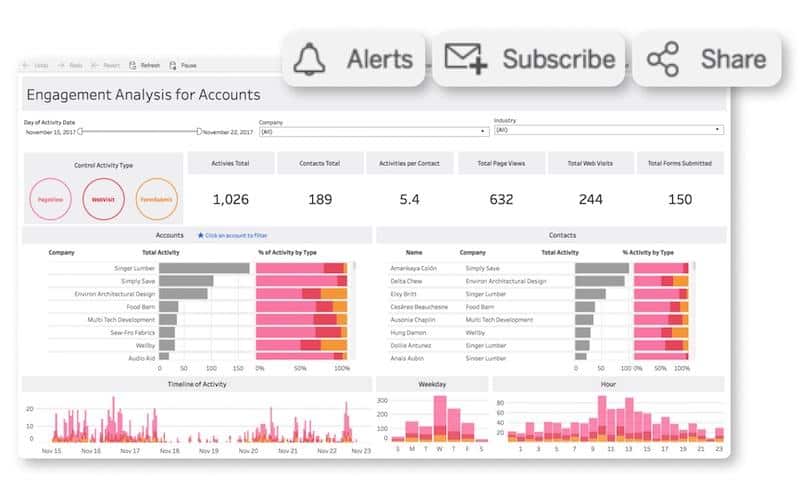 Tableau further provides over 75 native connections, ranging from databases and files to cloud apps, including live connections for real-time insights and data extraction powered by Hyper.
Both Power BI and Tableau offer easy integration of third-party data sources.
Power BI connects with Google Analytics, Azure, and Salesforce, while Tableau provides more options, such as Hadoop Databases.
Key Difference:
Power BI

Tableau

Supports many data sources but is limited compared to Tableau.

Examples: Microsoft Excel CSV/Text, MS SQL Server, Access DB, MySQL database, Oracle Database, IBM DB2, PostgreSQL database, etc.

Supports many data sources and servers, such as Excel, Google Analytics, Dropbox, Text File, JSON, PDF, statistical file, Amazon Redshift,Google Sheets, Cloudera Hadoop, Google Drive, and more.
Winner: Tableau.
Tableau has more cloud-based and on-premises options and works well with large volumes of data compared to Power BI.
2. User Interface.
Power BI:
Power BI is an excellent tool for beginners and those who want to create visually appealing dashboards quickly.
You can view your data in various ways, even if you don't know anything about data visualization or statistics.
It lets you create custom reports and dashboards without writing code.
This can be done by using a visual interface, making it easy to create reports tailored to your business needs.
You can also integrate it with Microsoft products and get real-time data access along with drag and drop features.
Real-time data also gives users the power to react to any business changes instantly.
Tableau:
Tableau's user interface takes some time to master.
However, once you do, it gives users complete control over how they view their data, which makes it possible to create customized dashboards that tell the complete story behind your data.
Here's a look at the workspace in Tableau:
It has menus, a toolbar, the Data pane, cards and shelves, and one or more sheets.
Sheets can be worksheets, dashboards, or stories.
Key Difference:
| Power BI | Tableau |
| --- | --- |
| Simple and easy to learn UI | Difficult compared to Power BI |
| Pre-designed for every product | Offers customized dashboards |
Winner: Power BI.
Microsoft Power BI offers a simpler and more intuitive user interface than Tableau.
3. Data Visualization.
Data visualization is an essential component of any BI tool.
It helps users identify trends and patterns from large amounts of data to make better decisions.
Both Power BI and Tableau provide charts and dashboards to combine multiple charts into one view so that you can compare various metrics simultaneously.
Here's their in-depth comparison:
Power BI:
Power BI is a business intelligence tool that allows users to create interactive dashboards with charts and graphs.
Visualizations in Power BI are dynamic, bringing your data to life.
It also allows you to generate reports and graphics using drag-and-drop capabilities.
You also get access to hundreds of Microsoft visuals – all tested and certified to ensure they work with Power BI to deliver helpful information.
Power BI Visuals in Microsoft App store; Source: Microsoft App Store
Tableau:
Tableau is an analytics platform that allows users to visualize data from various sources, including Excel spreadsheets, database tables, and text files.
It can help you uncover insights in real-time, convert queries into visualizations, and prompt you to ask questions, see trends, and recognize possibilities.
Plus, you don't need any prior expertise to use Tableau, owing to its built-in table computations for creating reports and dashboards.
Key Difference:
Power BI's drag-and-drop and intuitive functionality make it easier to create visuals, while Tableau helps you create customized dashboards to fit different devices.
Winner: Power BI.
Power BI wins here because of its simple-to-learn approach.
4. Data Sources.
Power BI:
Power BI supports a variety of data sources.
However, it has limited access to some databases and servers compared to Tableau.
Examples: Some examples are Microsoft Excel, Text/CSV, MS SQL Server, Access DB, IBM DB2, Oracle Database, and more.
Tableau:
Tableau can pull data from various databases, including relational and non-relational databases, data warehouses, on-premises, and on-cloud data, big data, and more.
Examples: Excel, Text File, statistical file, Amazon Redshift, Cloudera Hadoop, Google Analytics, PDF, JSON, etc.
Winner: Tableau.
Tableau wins here for its wide range of data sources offering.
5. Customer Support and Community.
Power BI:
The Power BI community provides resources for getting help with data visualization.
These include video tutorials in its resources section for various topics, which cover most of your data visualization queries.
It also comes with an online forum where you can ask questions and get answers from other users.
In addition, there's a section of the community blog where you can find tips and articles on topics such as data visualization.
You can also get in touch with support executives for any issue.
Support is included at no additional charge if you are a Power BI Pro customer.
Tableau:
Tableau also provides ample resources in its Knowledge Base. You can find assistance for more complex issues in their contact support section.
Key Difference:
Power BI

Tableau

Relatively small community and support compared to Tableau.
Limited support in the free version.
You get faster and better support with the paid plans.

Tableau has been longer in the market than Power BI.
It has a larger community to help you get to your answers.
Winner: Tableau.
6. Security.
When it comes to security, both Power BI and Tableau are good. They have their own pros and cons.
Let's take a look at the features of Tableau and Power BI that make it secure:
Power BI:
Using capabilities far beyond row- and column-level security across Power BI, Microsoft 365, and Azure, you can locate the correct insights and preserve peace of mind.
You can also use Azure technologies such as Azure Private Link, service tags, and Azure Virtual Network to prevent data from getting exposed to the public internet.
Tableau:
Tableau gives you various options for authorizing users to access data.
You can also choose to have users prompted for database credentials when they click a published view for various data sources that connect to live databases.
Tableau provides the following three options:
Database login account: When you build a data source that connects to a live database, you can choose between using Windows NT or the database's built-in security mechanism to authenticate to the database.
Authentication mode: You can select an authentication mode when publishing a data source or a worksheet with a live database connection. Your selection will determine the modes available.
User filters: Based on the Tableau Server login account, you may apply filters in a workbook or data source to manage the data users see in a published view.
Winner: It's a Draw.
Both data visualization tools provide a comparable level of security at each stage.
Power BI vs. Tableau: Pricing Plans.
Power BI Pricing:
Power BI offers three paid plans:
Power BI Pro ($13.70 per user/month) – Individual users can get modern, self-service analytics licenses to visualize data with live dashboards and reports and share insights throughout your company.
Power BI Premium ($27.50 per user/month) – Individual users can purchase licenses to leverage advanced AI to speed up insights, enable self-service data prep for big data, and simplify data management and access at a corporate scale.
Power BI Premium ($6,858.10 Per capacity/month) – It gives you access to AI-based insights, self-service data prep for big data, simplified data management, and more.
You can also sign up for free initially.
Tableau Pricing:
Tableau also offers three paid plans to fit different data needs.
Tableau Creator – $70 – user/month | billed annually
With a portfolio of technologies that support your end-to-end analytics workflow, you may discover new insights.
Tableau Explorer – $42 – user/month | billed annually
With self-service analytics, you can explore trusted data and find answers to your own queries faster.
Tableau Viewer – $15 – user/month | billed annually
The Tableau Viewer plan has features that help you view and interact with dashboards and visualizations.
Key Difference:
| Power BI | Tableau |
| --- | --- |
| Power BI is cheaper than Tableau | Tableau is more expensive |
| Provides add-ons for Power BI Premium per capacity | No such add-ons |
Winner: Power BI.
Power BI wins due to its less expensive plans and wide range of features at that price.
Power BI Products.
Power BI Products is a set of tools and services that help you understand your data and make better decisions.
It includes Power BI Server, Power BI Desktop, and more.
1. Power BI Desktop
Power BI Desktop is the desktop application that allows you to explore data, create visualizations, build reports, and publish them to the web.
You can access data from several hundred supported on-premises and cloud-based sources.
These include sources such as Salesforce, Excel, Dynamics 365, Azure SQL DBl, and SharePoint.
2. Power BI Pro.
With Power BI Pro for self-service analytics, you can share and collaborate on interactive data visualizations.
This will help you instill a data-driven culture across your company.
3. Power BI Premium.
With Power BI Premium's powerful self-service data preparation features, you can accelerate the delivery of insights and collaborate.
4. Power BI Mobile.
Use Power BI mobile apps to view dashboards on your phone or tablet.
You can also use the apps to create new reports from scratch based on data from your organization's cloud services or on-premises databases.
Here's everything else Power BI Mobile helps you achieve:
You can keep an eye on your business from your phone.
Access data stored on-premises in SQL Server or data in the cloud.
Keep track of KPIs and reports on the move with Power BI Mobile apps, which provide you a 360-degree view of your data.
You can also keep your company's data safe with Microsoft Intune's mobile device and application control features.
5. Power BI Embedded.
Power BI Embedded is a free service that allows you to embed interactive dashboards in web pages or mobile apps so users can explore data at the point of decision making.
You can stand out from the crowd by embedding reports and dashboards into your applications – without having to spend time and money generating and managing analytics yourself.
6. Power BI Report Server.
Power BI Report Server is an enterprise-grade server application that lets you publish and share reports through the Power BI service and schedule refresh intervals for those reports.
Report Server gives your users access to interactive reports and SQL Server Reporting Services' enterprise reporting features.
You can leverage this data to make better, faster decisions and identify trends.
It also helps you create pixel-perfect paginated reports for your business simultaneously.
Tableau Products.
Tableau products enable users to analyze, visualize and share information more quickly and easily.
People across an organization use it – business users, developers, and IT professionals – seeking deeper insights into their data to make better, faster business decisions.
1. Tableau Desktop.
Tableau Desktop is a desktop application for the visual analysis of large data sets. It provides all the tools you'll need to access, view, and analyze your data.
Tableau's drag-and-drop interface helps you uncover hidden insights required to make business decisions faster, even when you're offline.
You can also use the Tableau desktop as a publishing tool to create visualizations that can be shared with others.
2. Tableau Cloud.
Tableau Cloud allows you to use all Tableau features without installing software or hardware on your computer or server.
With Tableau Cloud, you can:
Access all of your data sources and dashboards in one place.
Share workbooks with teammates and clients so they can discover insights on their own.
Streamline data to enable decision-making from anywhere as a self-service ecosystem.
3. Tableau Prep.
Tableau's Prep is a data preparation tool that helps you create custom views of your data.
It enables you to manipulate, clean, and load your data quickly so you can spend more time analyzing information.
It's a new approach to data preparation that makes combining, shaping, and cleaning data for analysis in Tableau easier.
You can also receive quality data in only a few clicks by giving a transparent approach to preparing your data.
4. CRM Analytics.
CRM Analytics (previously Tableau CRM) provides actionable insights and AI-driven analytics to Salesforce CRM users in their workflow.
5. Tableau Public
Tableau Public is the world's largest data visualization resource and the treasure trove of data visualizations on just about any topic.
It allows you to explore the art of the possible with data on any topic, thanks to millions of interactive data visualizations created by over a million contributors across the world.
6. Tableau Data Management.
Tableau Data Management scales data automation and operationalization throughout the whole data and analytics lifecycle to enable trusted, self-service analytics.
7. Tableau Server Management
Tableau Server Administration streamlines management procedures by combining scalability, availability, manageability, and security capabilities.
To enable accurate self-service analytics at scale, meet your specific deployment and configuration requirements, use existing technology investments and skills, and optimize your environment.
8. Tableau Embedded Analytics
You can integrate dashboards, visualizations, and reports into your products, applications, and web portals.
This will help you improve customer experience, lower expenses, and drive revenue growth.
Wrap Up.
As you compare Tableau vs Power BI, you might be surprised to learn that the two analytics tools aren't as different as you might think.
Both are powerful visualization tools with a similar approach to data models, data science, and data analysis expressions (DAX).
The most significant difference between Power BI and Tableau is in their target audiences.
Power BI is suitable for small business users, SaaS owners, and startups who want to visualize data and use it to make decisions.
On the other hand, Tableau is more apt for data analysts and data scientists who need to perform more complex calculations on their data points.
If you're just starting out with your data analytics journey or if you're looking for a business intelligence platform that's more user-friendly than Tableau that also has a lower learning curve, Power BI may be a better fit for you.
Further reading on AdamEnfroy.com: Customer data platforms (CDP) can be used with data visualization tools to help you make decisions about your business.
The combination of a CDP and a data visualization tool can help you improve customer experience, lower expenses, and drive revenue growth.
In addition, with the right market research tools, your business can improve customer loyalty, increase sales, and reduce costs.
This ensures you not only provide customers with the solutions they're after when they come into your business but also ensure you are targeting the right markets with your products and services in the first place.
Disclosure: I may receive affiliate compensation for some of the links below at no cost to you if you decide to purchase a paid plan. You can read our affiliate disclosure in our privacy policy. This site is not intending to provide financial advice. This is for entertainment only.