11 Best Precious Metals IRA Companies of June 2023 (Ranked)
Choosing the right precious metals IRA is necessary to protect your retirement savings. From the type of IRA to the precious metals used, the best precious metals IRA companies can help you meet your goals. In this guide, I ranked and reviewed the 11 best precious metals IRA companies, along with my top 5 choices, so that you can pick the best one for you.
---
We're reader-supported. When you buy through links on our site, we may earn an affiliate commission.
Want to get right to it? The three best precious metals IRA companies are Augusta Precious Metals, Goldco, and American Hartford Gold.
If you're planning to retire soon, you face some unprecedented challenges, namely:
Not saving enough money
The risk of outliving your savings becomes real
Social security won't give you full benefits.
So what do you do?
You could hope and pray it all turns around – but that's not a very solid tactic.
Alternatively, you do a gold IRA rollover to move your funds into precious metals.
Finding a reputable silver or gold IRA company that can handle the setup, buying, storage, and shipping for you is key.
In this article, I ranked and reviewed the top companies based on reputation in the industry, security, customer service, and, most importantly, no-pressure sales tactics.
What Are the Best Precious Metals IRA Companies?
The following is the list of the best precious metals IRA companies right now.
Best ratings by the BBB and non-commissioned sales floor.
Adam's Take
Augusta is my first choice when choosing a gold IRA company to invest in. The choice of famous quarterback Joe Montana, this company is the best regarding its service and the education it gives its investors to ensure their long-term success.
Augusta Precious Metals is the right company if you're looking for a trusted direct-to-you IRA manager who will help you diversify your savings in these uncertain times.
In addition, they can give you the latest news about the economy and empower you to make the right choices regarding future investments in precious metals.
With a focus on the distinct seven advantages, you can sleep easy knowing that your investment is in qualified hands.
Key Features:
With thousands of 5-star ratings, you can trust Augusta Precious Metals with your gold and silver IRA.
You get to speak with a Harvard economist who guides you through every step.
Augusta Precious Metals' order desk puts together your gold and silver portfolio based on your specific choices.
Their team will handle the bulk of the legwork. They do as much as 95% percent of the process on their side. You only need to deal with the crucial decisions while leaving the tedious details in their hands.
They have a non-commissioned sales floor and want the best for your retirement.
Read my full review on Augusta Precious Metals for more information.
Get started today and protect your savings with Augusta Precious Metals.
Best for personalized help when opening a precious metal IRA.
Adam's Take
If you're looking for the best place to invest your savings, then Goldco Precious Metals is a company to check out. With various options, including rolling over your retirement assets into precious metals or even directly buying gold and silver, Goldco has multiple options to suit your needs.
Goldco Precious Metals offer different options when investing in precious metals.
With silver supplies decreasing over time, this precious metal's price is inversely getting higher as time goes by, which is why getting the right advice from this company is crucial.
The physicality of silver offers investors stability and protection when setting up a precious metal IRA.
With a global market and easy access to information on their website, Goldco allows you to learn everything you need before making your investment.
You may open a Precious Metals IRA on Goldco by signing an agreement to secure your purchase.
After this, a company rep will help you choose your options and guide you through the process.
Key Features:
Using Goldco, you can rest assured that your investment is safe in their depository because their storage facilities are insured and secured.
Perform the proper asset management, including rolling over any assets from your current retirement accounts to fund your Precious IRA.
You can choose which precious metals you want in your investment portfolio.
Receive personalized help from Goldco's investing specialists to help you decide which metals are best for your specific needs.
Goldco will help you manage and protect your investments with their expertise and guidance.
Want to know more about Goldco and what they can offer you? Check out this complete Goldco review.
Get started with Goldco.
Best For Customized Solutions.
Adam's Take
Want to invest in gold but not sure where to start? I like American Hartford Gold because they provide a customized solution for your needs. They are a leader in precious metal investments and have supplied customers with high-quality service for many years.
American Hartford Gold has a reputation for excellence in providing services for retirement planning, asset protection, and financial well-being.
With more than 1.5 billion in gold & silver assets delivered, American Hartford Gold is one of the premier providers.
Their team comprises knowledgeable and experienced financial advisors who believe in transferring wealth and empowering people to take their financial future into their own hands.
The company can help you with retirement planning, asset protection, and investments.
Family-owned and operated, they are committed to providing honest, transparent advice and the highest quality of customer service.
They will also work with you to find solutions that meet your needs.
Check out the full American Hartford Gold review for more information.
Key Features:
They give free silver when you buy through their company.
American Hartford Gold also offers free shipping.
Their buyback guarantee ensures you can get your money back if you sell your assets.
You can get a free physical safe on qualifying orders to keep your metals stored securely.
American Hartford Gold has a knowledgeable staff that can answer any questions about investing in precious metals and advise on the best purchases for your portfolio.
Get started with American Hartford Gold.
Best For No Fees.
Adam's Take
Not having to pay any fees (for life) is a great perk of Red Rock Secured's online services. Plus, their emphasis on security makes them one of the more trusted institutions out there.
RedRockSecured is the ideal choice for anyone looking to diversify their retirement plan.
With nearly all clients qualifying for zero-fee-for-life with qualified gold and silver purchases, no-hassle policies ensure a worry-free future.
Additionally, their price protection guarantees you'll always get the best deal: if the price drops after purchase, they pay the difference.
Expert advice also comes included when opening an account; personalized one-on-one consultations can help create a customized retirement plan tailored to each individual's needs.
With RedRockSecured, success comes easy and without hassle.
Key features:
For those with $10k or more to invest, RedRockSecured is the ideal choice. These investors get unique benefits compared to those with smaller investments.
With a low premium on IRA-eligible metals, customers can purchase with confidence.
Not only that, but RedRockSecured goes above and beyond regarding customer care.
With a buyback program for those who want to cash in their investments, the company ensures your retirement plan is secure.
Get started with Red Rock Secured.
Best for using market volatility to your advantage.
Adam's Take
If you want to ensure that your retirement fund is as safe as possible, then Birch Gold Group is my recommended company. With an excellent reputation backing them up, they also offer great prices to their customers.
Birch Gold Group believes that precious metals are one of the best investments if you want long-term longevity in your retirement.
With the ability to get a free information kit sent directly to you, you will get a deep understanding of why precious metals are valuable and how to best invest in this resource right now.
With a focus on customer education (before attempting to close any sale), Birch Gold Group is committed to providing the proper knowledge to its customers.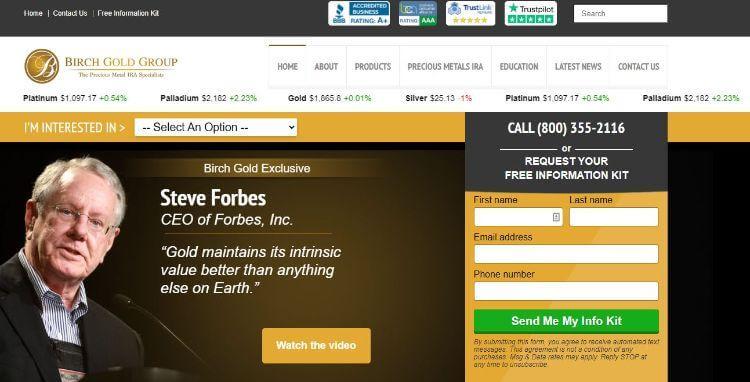 Key features:
Their blog gives you great information to stay informed and up to date with what's happening in the precious metals market.
Their 20-page free information kit answers all your questions about how metals such as silver and gold are the best way to protect yourself against inflation.
They ship any metals bought from them directly to your home. Use safe and secure delivery methods; rest assured that your investment is safe while it's on the way to you.
In addition, they have established relationships with many trustworthy refineries and dealers across the country, so you can be sure you are buying from a reliable source.
Get started with Birch Gold Group today.
Best For 3-step Investing.
Lear Capital helps you invest in just three easy steps anyone can follow.
With IRA experts ready to help, it's an excellent choice for first-time investors and those who want hand-holding through the process.
You can also get your hands on a free gold investor guide that gives you all the basics about how to get started with a gold IRA.
Whether you want to fund your IRA or transfer your existing retirement account, Lear Capital can help you every step of the way.
With 90,000+ happy customers, Lear Capital is a company you can trust.
Key Features:
The company has made more than $3 billion in transactions since 1997, giving them the experience to handle your retirement account with ease.
With a 24-hour risk-free purchase guarantee, you can rest assured that you're getting the best price on your gold and silver.
Plus, if you have any metals from another company that you want to sell or rollover, Lear Capital will give you a free evaluation to see how much your metals are worth.
With up to $15,000 in bonus metals, you can get started on funding your retirement with gold and silver.
Their specialists are knowledgeable about the market and will help you find the best solution for your retirement needs.
Get started with Lear Capital.
Best for adding precious metal coins to your portfolio.
Advantage Gold features approved IRA coins that their experts guarantee weight, purity, and authenticity.
With precious metals that include gold, silver, platinum, and palladium bullion, Advantage Gold offers the right IRA accounts that are great for anyone looking for safety and stability in the market.
With a free guide showing you how to roll over other retirement accounts and IRA options available, Advantage Gold helps its clients understand precious metal investments and walks them through the process.
Key Features:
Get your hands on approved IRA coins to store in your Precious Metals IRA.
Start a Gold IRA account with Advantage Gold and work with their investing specialists to decide which metals are best for you.
Access free guides on buying precious metals and rolling over other retirement accounts.
Safely and securely store your IRA investments with Advantage Gold.
Get access to competitive pricing and secure storage of your gold and silver investments.
Get started with Advantage Gold today.
Best for investing through the same platform celebrities and billionaires use.
Regal Assets is in the top 20 best precious metal IRA companies in the U.S. because of its vast experience and expertise.
With over ten years of experience, Regal Assets takes pride in helping its clients invest safely.
If you're considering investing in any precious metal, such as gold, silver, platinum, or palladium, Regal Assets will help you choose the most suitable one for your investment needs.
With a record increase in student loan debt across the country, big banks finding themselves in financial trouble, and rising private debt, Regal Assets makes the case that precious metals are the go-to investment for both billionaires and celebrities.
If these high-profile people are taking advantage of investing in gold, silver, and other precious metals right now, then you should too; Regal Assets makes this process easy.
Key Features:
With a wide range of metal and crypto products, Regal Assets are an IRA trust company that you can rely on.
Request a free kit to help put your precious metals IRA together with the help of Regal Assets' experts.
With a focus on products that are just right for you (as opposed to trying to push something on you that you don't need), you can trust that you will get the help you need.
They give you a clear fee and commission structure so that you can see what costs you'll incur before making a selection.
They also provide a detailed breakdown of any discounts you may receive when using their services.
Request An Investor Kit From Regal Assets To Get Started With Metals & Crypto.
9. Liberty Gold and Silver.
Best for being available 24/7 to answer your precious metals questions.
Liberty Gold and Silver offer great prices and fast shipping on anything related to investing in precious metals.
From gold and silver bars to numismatic coins, Liberty Gold and Silver are rated as one of the top 20 companies in the U.S.
This rating comes from their experience with clients who are both new to investing in precious metals and those more experienced.
They also offer the world's lowest price on Rhodium.
If you're considering investing in this precious metal, check out Liberty Gold and Silver first.
With a high-paying affiliate program – that pays up to 50% of the net profit from generated sales – you can also have true peace of mind knowing that your friends and family will be in good hands.
Key Features:
Their support is available 24/7, so you can ask questions about precious metals investing whenever you need to.
Get a finders' fee when you refer friends and family to Liberty Gold and Silver.
They have access to various silver coins, so you can invest in this metal at the time that suits you best.
They offer the world's lowest prices when investing in Rhodium, making them a great choice for people wanting to invest in this precious metal.
Liberty Gold and Silver also provides a precious metals IRA, making them an ideal choice for people who want to invest in gold and silver while protecting their portfolio from inflation.
10. Golden Eagle Coins.
Best for getting the most accurate prices of precious metals on the market.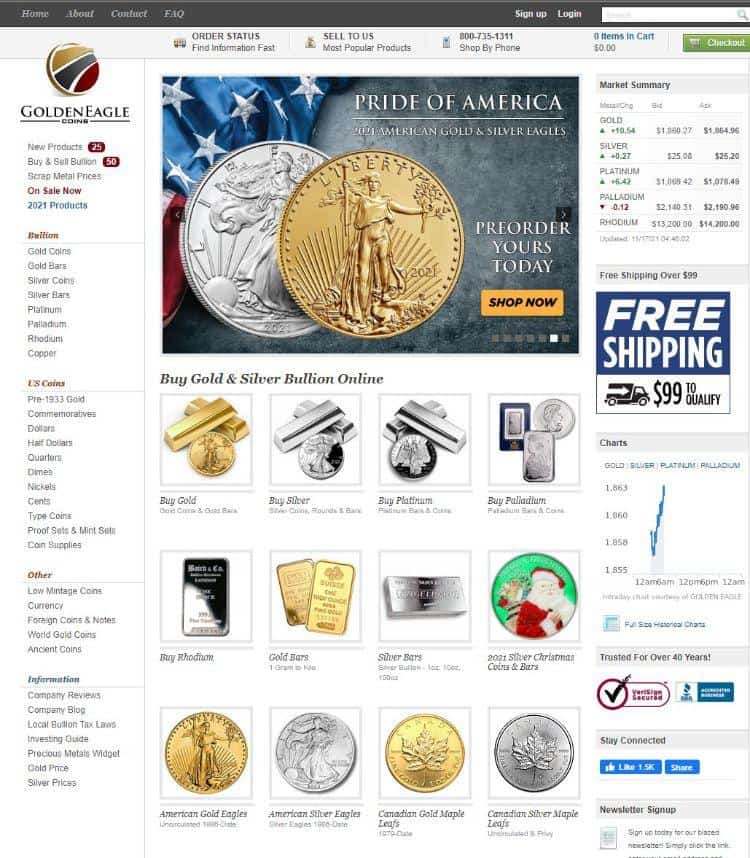 Golden Eagle Coins make it easy to buy gold and silver bullion online with their vast selection of metals.
They provide large quantities of Canadian Gold Maple Leafs, Gold Krugerrands & Gold Bars, and all American Eagle coins.
Whether you are getting started with investing or even a seasoned collector, Golden Eagle Coins has a selection of gold and silver bullion that you will find helpful.
With a market summary feature on their site, you will get the latest information about gold and silver prices.
Key Features:
Their selection of different types of gold and silver makes them an excellent choice for beginners and experienced investors looking for these types of precious metals.
They are best known for American gold and silver eagle coins, but they also have Canadian gold maple leaves, silver Chinese pandas, and many other silver coins in stock.
Get constant market updates about gold and silver prices through the site.
Golden Eagle Coins offer various payment options, and its customer service is top-notch.
They are an excellent choice for investors looking to diversify their portfolio with gold and silver.
11. Orion Metal Exchange.
Best for getting A to Z precious metals buying advice.
Orion Metal Exchange is a firm specializing in the whole process of investing in precious metals. They have five decades of expertise in the sector.
They'll be there for you every step of the way, whether you want to buy, sell, or get financial market information.
To begin investing in precious metals safely, securely, and lawfully, you can contact Orion Metal Exchange and get personalized information explaining the steps you need to follow.
Key Features:
Orion Metals Exchange is dedicated to informing customers about market trends that may impact their financial and retirement plans.
They follow policies and regulations to the letter, ensuring the protection of their customers' investments.
Their years of expertise in precious metals give them a unique place in the industry.
One can purchase several gold, silver, platinum, and palladium coins and IRAs through Orion.
They also offer storage solutions for their customers through a secure vault and insured shipping.
Other precious metals IRA companies not mentioned in this article include Rosland Capital, Noble Gold, and Patriot Gold Group.
What is a Precious Metals IRA Company?
A precious metals IRA is an individual retirement account with specific rules for the type of assets that can be held in it.
These accounts allow you to hold precious metals like gold, silver, and platinum instead of paper assets or mutual funds/stocks, making them an attractive choice for many investors.
Precious metals are becoming more popular investment choices because they can act as a hedge against economic volatility and inflation.
Products like bullion coins, bars, and numismatic collectible coins can protect your wealth through these uncertain financial times.
Precious metals IRAs are considered alternative investments because they have historically performed well during market turbulence.
In July 2020, gold prices were the highest since September 2011, hitting a high of almost $2,000 an ounce.
Different Types Of Precious Metal Coins To Invest In
Metal coins come in several denominations, fineness, and weights.
The most common ones range from 0.5 grams to 50 grams in weight.
These coins are ideal for those who want to start with a relatively small amount of money invested.
Some of the most precious metal coins are the moment are:
Gold American Eagles Coins
Australian Koala Bullion Coins
Australian Kookaburra Coins
Canadian Maple Leaf Coins
Buffalo Bullion Coins
Britannia Gold Coins
Mexican Libertad Coins
There are also coins known as proof coins which are early samples of a particular coin issue.
These collectible coins can be purchased through many of the above-mentioned companies and found at coin and bullion dealers around the U.S.
Understanding Traditional Stock Market Corrections
Precious metals investments differ from traditional stock market investments because lower correlations tend to happen compared to the stock market.
This means there is less chance of your approved precious metals investment losing value during periods of volatility or crisis in traditional markets, making them an ideal choice for you as an investor.
A drop might happen across all markets at once, but even though this could be bad news for those that invest in traditional IRAs, gold prices are predicted to continue to rise.
Meanwhile, stocks and shares will likely change based on various external factors.
Physical gold and silver coins, gold and platinum bullion, and gold bars are less likely to fluctuate in value, meaning that they are one of the safer choices for your retirement fund.
Moreover, traditional stock market investments (mutual funds, stocks, etc.) are held by an IRA custodian like Fidelity, Credit Suisse, or Charles Schwab.
These funds can ultimately deal with them as they wish, which means you have less control.
On the other hand, one cannot lend out physical gold and silver coins to other parties because they are held directly within IRA vaults.
You will know where your metals are at all times.
Factors To Look For When Buying Precious Metals IRAs
Choosing the right precious metals dealer is essential because there are many options.
Whether your goal is to invest for retirement or diversify your investment portfolio, you should consider the following factors before deciding on a company to invest with.
Self-directed IRAs
A self-directed IRA offers investors more options than those available through traditional custodians.
These companies offer the opportunity to purchase various products, including gold coins, bars, rare numismatic coins, and other precious metal-related investments.
These types of IRAs are typically simple to set up, with customers often able to start an account with a company in a short amount of time.
Many of these companies are also registered with the internal revenue service (IRS), making them more trustworthy for potential IRA customers, especially those worried about whether they can trust their precious metal dealer.
Some of these companies even offer professional advice and guidance on which metals to purchase and how much risk you should take.
This advice considers your current financial situation and potential gains or losses.
Security and storage fees options
Before purchasing precious metals from any gold IRA companies available (from one-ounce silver coins to a whole IRA), check out the company's security and storage fee options.
For example, some companies will not store any metals in their physical possession but instead use vaults held by an outside third party.
Others may keep their precious metal products on-site to handle them more quickly.
You should choose a company with secure vaults insured against damage or theft because this makes them safer as an investment.
Most importantly, you feel safe storing your precious metals with a particular company.
Since your IRA retirement account (and the quality of your life in the future) is linked to this process, there is more at stake than simply choosing a dealer who offers competitive rates.
Check out different companies' FAQs to ensure that you get accurate, to-the-point information when shortlisting the companies you're interested in working with.
Customer service and advice
Precious metal assets may seem like a safe bet at first glance, but they are not always easy to handle.
Customers who lack knowledge about the industry could easily make decisions that will affect their retirement funds negatively.
Choose your precious metal IRA company wisely if you want professional advice or personalized information to expand your investment portfolio.
For example, when purchasing gold bullion bars or other precious metals for your IRA, some companies require customers to call in (or fill out paperwork) before they finalize the precious metal purchases.
Considering how much money is involved, this extra due diligence makes sense for everyone involved.
As with any industry, there are companies out there who care more about making a sale than providing quality service.
Do your research before settling on one dealer to know which companies are trustworthy and will be there to help you when/if you encounter any problems.
Customer reviews and testimonials
Every company has some negative customer reviews from time to time, but if a particular company seems to have more than its fair share, you may want to think twice about working with them.
Some companies are easier to deal with than others, so if someone says they had a bad experience, you should not take this lightly because it might also impact your experience.
When making an informed decision about precious metal IRA dealers, check out their online customer reviews.
These will give you a better idea of how the dealer operates and what you can expect from their services in the future.
If positive feedback outweighs negative comments, then chances are that the process went smoothly for those who have previously invested.
With gold IRA scams happening to unsuspecting individuals, vet your precious metal IRA company carefully before making any final decisions.
Availability of metals
Understanding what kinds of metals are available for IRA purchase is also important.
Is there a list of all the products allowed to be purchased as part of the IRA?
Are these products only silver, or can they be made of gold, platinum, or palladium?
What kinds of coins are allowed, and how big must they be to qualify?
Investing in gold is an exciting proposition along with precious metals, so knowing your options regarding IRA-approved metals is crucial.
This information is easy to find online, but it's always best to ask potential precious metal dealers about their offerings before signing up with them.
Not every company carries the same types of precious metal bars, coins, or other items, so make inquiries beforehand to know what you need to make the most out of your IRA account.
Setup Fee
Companies charge this setup fee to open an IRA account.
Customers can pay it upfront (usually when opening the account), or it may come from their first purchase with the dealer.
Since you will pay for this, ensure that the company offers peace of mind.
Get information about other charges the dealer might levy so you know what to expect.
This information is essential if you are considering an account with a company that does not offer fixed rates because other variables will be involved in this case.
This might make it more difficult to predict the exact costs involved.
Types of IRAs
There are various investment products that you can consider investing in.
For example, a similar IRA to precious metals is known as Roth IRA, another retirement savings account that you might want to consider for your particular situation.
Fineness Requirements
One thing to consider is the minimum fineness requirements when you are looking to buy precious metals.
The refiner used to make the coins will significantly affect their final value.
A concept known as "millesimal fineness" refers to the purity or weight of precious metals.
This millesimal fineness scale measures the purity of gold and silver to determine the amount of actual precious metal in the produced item.
Crypto IRA
Some of the top precious metals IRAs also allow crypto IRA investments.
If you want to get into this, consider using a platform that gives you this possibility.
Educational Resources
It is always wise to understand your decision before investing in a precious metal IRA.
The company should provide plenty of educational resources explaining how gold and silver IRAs work and their benefits.
These materials will help you make an informed decision about which type of product best suits your needs.
Many companies also offer seminars and webinars, which can provide additional guidance.
Other Factors To Consider
Let's finally look at a few more things to keep in mind before proceeding with investing in a precious metals IRA.
Various Ways To Invest
Real estate, stocks, or mutual funds are examples of other investments that you can make.
Though these fall under the category of "alternative assets", and might be suitable for some depending on their financial needs.
Understanding your options is crucial before making any final decision and should not be a process that is taken lightly.
IRS Rules
Understanding the rules and regulations of the IRS is crucial.
Doing your research (and even asking your brokerage for guidance) will ensure that you comply with federal rules and regulations.
An IRA company has strict rules regarding preserving your retirement savings.
Making sure you do your part and follow the rules is vital to ensuring that your account is not compromised or disqualified.
Be sure to ask about the best ways to purchase within your IRA and understand the potential risks and benefits involved.
As a taxpayer, you also have to pay taxes on your IRA funds so understanding what you owe is essential.
Precious Metals IRA – FAQ
Is a Precious Metal IRA a Good Idea?
When considering investing in precious metals, the first question is whether a Precious Metal IRA is a good idea.
A Precious Metal IRA allows you to diversify your retirement portfolio and gain exposure to Gold, silver, platinum, and palladium.
Investing in precious physical metals can provide stability and protection during economic uncertainty and inflation.
Can I Keep IRA Gold at Home?
Based on IRS rules, you must hold your Gold and other precious metals in a secure, IRS-approved storage facility.
You can't store the precious metals in a personal safe or at home, as this would not meet the required criteria.
How Do I Convert My IRA to Precious Metals?
First, you must open an account with a trusted Precious Metal IRA custodian.
Once you open the account, you can transfer funds from your existing retirement account to the new one.
Then you can purchase physical gold coins or bars delivered to an approved depository for storage on behalf of your IRA account.
Can I Use My 401k to Buy Precious Metals?
While most 401(k) plans make it difficult to invest in physical Gold, Gold IRAs offer a unique avenue for retirement savings through precious metals.
Self-directed IRAs allow you to purchase physical Gold, silver, and other metals.
You can also roll over your 401(k) assets into a Precious Metal IRA.
Wrap Up.
Choosing the right precious metal IRA companies to work with is a process that involves quite a bit of research.
It is not simply a matter of convenience or picking the cheapest company because this decision has profound implications for your future.
The following is my shortlist of recommended precious metals IRA companies to consider:
Remember to follow the above tips closely and look for online customer reviews and testimonials to get an idea of how each company operates.
Finalizing a purchase might involve more steps than initially appears, so having someone who will take the time to walk you through the process step by step is crucial.
What do you think?
Have you invested in physical gold, silver, or other metals?
If so, which companies have you used, and what was your experience like?
Feel free to share your thoughts in the comments section below.
Further reading on AdamEnfroy.com: Check out the best money-making apps available now if you want to learn more about this subject.
In addition, here's all the information you'll need on the best business credit cards to consider if you're interested in establishing a business that delivers a long-term income.
Disclosure: I may receive affiliate compensation for some of the links below at no cost to you if you decide to purchase a paid plan. You can read our affiliate disclosure in our privacy policy. This site is not intending to provide financial advice. This is for entertainment only.