11 Best Presentation Software 2023: Free and Paid Alternatives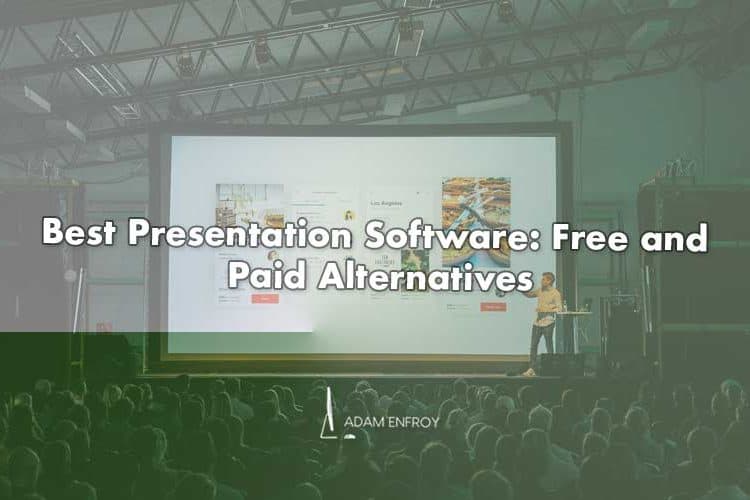 When it comes to using presentation software, Microsoft PowerPoint has been an industry standard for years now.
However, with changing technology and business requirements, several other office suites have entered the market to create unique and dynamic presentations.
Today, presentation software is an intuitive way to visualize data, create presentations and pitch decks, share your screen and present to an audience, run webinars, and more.
In this article, I ranked and reviewed the best presentation software to create excellent slides and visual stories for your audience. These reviews are based on ease-of-use, presentation features, pricing, support, integrations, and a lot more.
Let's get to the list.
Disclaimer: Please note, I receive affiliate compensation for some of the links below at no cost to you. However, these are the best tools I have tested for creating professional presentations. You can read my affiliate disclosure in my privacy policy.
What is the Best Presentation Software?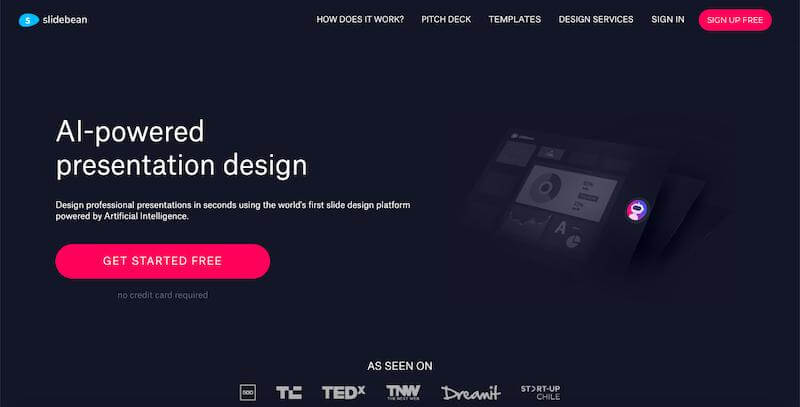 Slidebean is a web-based presentation tool that leverages the power of artificial intelligence to create stunning slides. It offers excellent ease and customization options to achieve beautiful results.
Key Features:
Automation: Slidebean's algorithm automates formatting and finds the most suitable design layout for every element present in the slide. This level of automation saves a lot of time while creating sophisticated and feature-rich presentations.
Rich Gallery: You can leverage its rich gallery of presentation outline templates for numerous purposes including classroom decks, business proposals, thesis presentations, and startup pitch decks.
Sample Decks: It offers a plethora of samples decks from big corporations including Uber and Airbnb to keep users updated about the latest trends.
Easy Integration With Websites: It can be embedded easily in websites through a simple HTML script without any additional plugins or installation. It is also compatible with all operating systems.
Pros:
Being a cloud-based application, users can use it from any location and from any machine through the Internet.
Users can easily export it into PPT or PDF format for offline usage.
It offers rich color palettes and premium fonts.
Slidebean comes with tracking functionalities and user insights to gauge the reach of content.
It is equipped with all the professional capabilities to efficiently create professional slides by including bullets, quotes, title, text, videos, images, fill, icons, charts, tables, among others.
Pricing Plans:
Slidebean offers a free trial. Its Essential and Premium subscription plans are available for $29 and $45 per month. Its Corporate plan is customizable and quote-based.
Get started with Slidebean.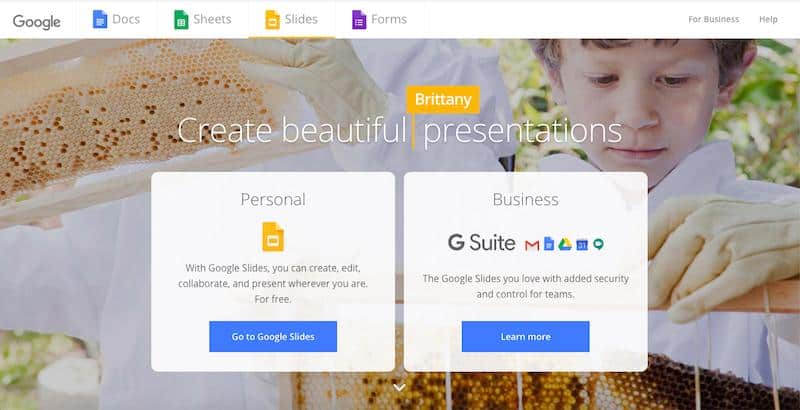 Google Slides is available for free for every user using either Gmail, G Suite, or your Google account. It offers excellent flexibility and convenience while helping users manage presentations through impressive features, including themes, fonts, embedded videos, and animations.
Key Features:
Cloud-Based: It helps to collaborate, create, and edit presentations that are auto-saved in the cloud.
No Software Required: It works as Software as a Service (SaaS). Hence you don't have to install any software on computers or mobile applications. Slides are accessible from any machine and any location in the world.
Multi-Browser Support: Slides are accessible from multiple browsers, including Firefox, Internet Explorer 11, Chrome, Microsoft Edge, and Safari (for Mac).
Google Slides Templates: Offers several free Slides templates to create engaging presentations easily.
Pros:
Multiple people can collaborate on the same presentation from different locations at the same point in time.
The majority of essential features and templates are available for free.
It offers offline editing and presenting to reduce dependency on the internet.
It allows screen sharing and beaming through AirPlay and Chromecast.
Users can download Slides presentations in PPTX format, and PowerPoint presentations can be opened in Slides.
You can download your presentation as a PDF and upload it to platforms like Slideshare.
Leverage Android or iOS devices as a remote control for controlling speaker notes.
Use Google Hangouts for presentation to the remote audience and save to Google Drive.
Provides chat, comment, and review features for real-time collaboration.
Cons:
Opening Slides in PowerPoint and vice-versa is not flawless, and users might face formatting issues at some places.
Offline editing is only available on a Chrome browser for both Windows and Mac.
Some features are missing in comparison to Microsoft PowerPoint files.
Google offers a free version of its Slides software. However, if you want full access to its premium features, then you will have to buy its paid subscription of $6 per month that comes bundled with a free trial.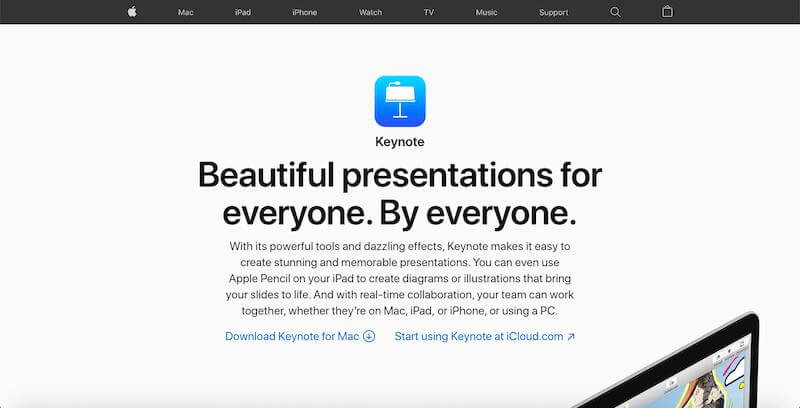 Apple offers Keynote preinstalled in its Mac and iPhone devices. It provides an intuitive user interface that enables users to create elegant yet eye-catching presentations without much effort.
Key Features:
Presenter Tools: Its presenter tools such as 'voice-over narration' help you enhance the presentation experience for both presenter and audience.
Slide Design: It offers a plethora of slide designs, including icons, animated presentations, and slide transitions.
Cloud-Based Version: It provides a cloud-based version as well that is accessible from any device and any location.
PowerPoint Support: Users can easily export Keynote presentations to PowerPoint. Users can also open, edit, and save PPT files in Keynote.
Pros:
In-built live collaboration from multiple locations through its chat feature.
Leverage its Keynote Remote feature to control your presentation through mobile devices – iPhone, iPad, or iPod touch.
Offers a presenter view that comes loaded and takes a preview of the next just like when you use PowerPoint.
Use Keynote Live to present remotely through an internet-enabled iPhone, iPad, or Mac.
Better transition and animation effects in comparison to other tools.
You can use Apple Pencil or your fingers to create drawings on the iPad.
Provides support for real-time collaborative file editing.
It offers beautiful templates and tight integration with Apple devices.
Cons:
The cloud-based version is only accessible if you have an iCloud account.
Be prepared to face glitches while converting to PPT due to different file types.
The drawing feature has not reached the maturity stage.
It comes free of cost with Apple devices, including iPhone, iPad, and Mac computers.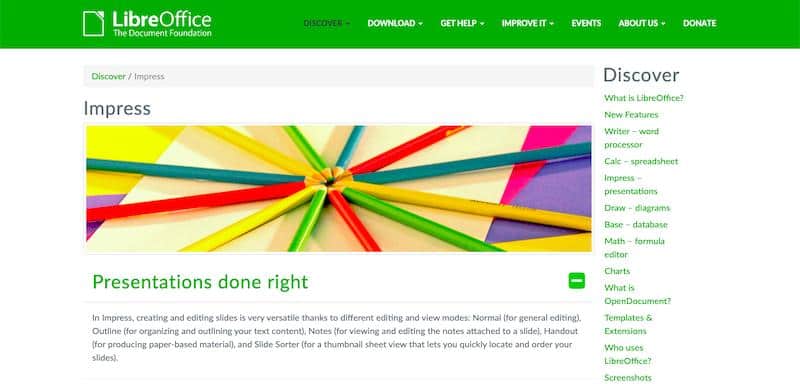 LibreOffice is a community-driven, free, and open-source suite. It is incredibly flexible and continuously updated, with new features added to it regularly. It is one of the best free office suites.
Key Features:
Dual Interface: LibreOffice offers the option of choosing from either a traditional system of icons and toolbars or NotebookBar that offers the same functionality as the ribbon used in Microsoft Office 2007.
Regular Updates: Being an open-source software with a robust community of developers, LibreOffice keeps receiving regular updates of new features.
Multi-File Format Support: It offers support to multiple file types, including DOC, DOCX, PPT, PPTX, among others for secure collaboration with users using other office suites.
Plugin Support: Users can add plugins for features including extra language packs, grammar tools, enhanced accessibility options, and mind mapping tools among others.
Pros:
Users can open, edit, and save PPT files.
Users can leverage their server version that can be installed and self-hosted on a private server to edit documents and create business presentations for sites like LinkedIn just like MS Office Online or Google Docs.
It offers the Impress Remote app on Android and iOS devices through which users can control presentations from a tablet or smartphone.
Comes loaded with a bank of slide deck templates available in its online repository.
3D model support is available for open formats including, COLLADA, KMZ, and more.
It is capable of creating interactive presentations in the 16:9 default aspect ratio for better display on modern screens.
No hidden features behind paywalls or advertising.
Cons:
Integrated cloud storage is absent.
Users can't collaborate with other users in real-time.
Need to download and install extra templates.
Pricing Plans:
It is an open-source office suite that is available free of cost.
Slides is a cloud-based presentation management offering that comes with a minimalistic user interface to create beautiful presentations easily. It offers excellent flexibility and agility to develop presentations with effortless collaboration.
Key Features:
Highly Customisable: Exported or downloaded presentations are pure CSS, HTML, and JavaScript to enable users to self-host the files and customize them with full freedom.
Easily Accessible: Being a cloud-based service, users don't need to install any software and can access Slides from any machine and location.
Efficient Collaboration: It offers a Team Account that provides features for analytics, collaborations, and shared templates. It is available as an on-premise (Intranet) installation to eliminate its dependence on the Internet.
Advanced Features: It comes with its own "Developer Mode" that empowers users to unlock its advanced features. However, you need to be well versed in HTML and CSS to leverage this feature.
Pros:
Easily imports PDFs to transform them into Slides presentations. But it is not capable of translating all the fonts and media efficiently.
It leverages two browser windows to enable features, including presentation view / remote control. One is for the audience, and the other one is for notes and upcoming slides.
Publish your presentation online to provide access to other users.
Users can broadcast their presentations live to remote audiences.
It offers the capability to live edit presentations. The changes are visible to users in real-time.
The presentation file can be downloaded as a PDF file or HTML/CSS/JS-bundle for offline presentation.
It supports any video file by converting it into an MP4 video file.
Cons:
Requires high-speed internet for smooth functioning.
PDF and PowerPoint imports and conversions are not smooth and efficient.
Slides.com's basic plan is available for $7 per month. The Pro and Team plans are available for $14 and $18, respectively. You also get a free version with limited features and a free trial of the software.
Zoho Show is a web-based office suite that enables its users to create, collaborate, broadcast, present, and publish presentations instantly from your web browser. It is highly flexible and customizable.
Key Features:
Dedicated Applications: It comes with specialized applications for Android and Apple TV to let users beam their professional presentations directly on the television.
Seamless Collaboration: Live Collaboration is highly useful to work with multiple users in real-time. Add comments, resolve, and reopen discussions whenever required.
PowerPoint Import: It is one of the rare office suites that offer seamless and flawless import of PPT files without much risk of content degradation. You can easily convert them into Zoho presentations or export them to PDF.
Dedicated Chrome Extension: The dedicated Chrome browser extension helps in enhancing the speed and working experience in comparison to other web-based editors.
Pros:
It offers direct integration of presentations with existing websites through its iframe embed code snippet. It allows users to publish presentations internally, publicly, or for the organization.
Live stream your online presentations through Android TV, Apple TV, or Chromecast.
Dedicated iOS and Android applications for creating presentations on smartphones and tablets.
Create presentation slides through pre-designed themes and stunning visuals including charts, tables, and videos.
It offers an expirable URL sharing feature to share presentations with non-Zoho users securely.
It also provides remote broadcasting. However, you can only leverage it if you have proper access to the broadcast link.
The themes, transitions, and animations are very modern, sleek, and dynamic, and nothing is boring.
Cons:
Pre-designed templates are available in a limited number
Page crash event happens due to lack of the Internet speed
Pricing Plans:
Zoho Show is available for free for personal use. The Standard and Premium Subscriptions are available for $5 and $8 per month per user.
Prezi positions itself as a more creative PowerPoint alternative. It is most suitable for users who want to give conversational presentations organically.
Key Features:
Native Desktop Apps: The web-based suite offers native desktop applications for Windows and Mac to provide online editing of a presentation. It also offers separate viewer apps for Android and iOS.
Easy To Use: A steep learning curve is not required to use all features of Prezi Next. It offers a very simple and straightforward interface that enables users to create visually appealing presentations.
Total Control: It provides complete control in terms of size, angle, images, and font size among others without worrying about logical sequencing or order of your content.
Engaging Design: Instead of typical presentation formats, Prezi encourages users to innovate and make presentations more innovative by leveraging its broad digital canvas and zoom features.
Pros:
Users can download a portable and executable version of Prezi Next presentation on both Windows and macOS to share it with other users.
Import PowerPoint presentation and transform them into Prezi presentations. The content gets imported correctly most of the time, but users need to make Zommable mind map Prezi on their own.
The presenter view is available in the desktop editor.
The viewer app for iOS can beam to Apple TV. Both Android and iOS viewers app also function as Bluetooth enabled remote for the desktop app.
This tool also offers analytics for users to analyze the performance of published presentations.
Cons:
Essential features including presenter view and portable presentation are available only with the most expensive subscription plan, i.e., the Plus package.
Desktop and web-based versions don't support Internet Explorer.
Pricing Plans:
Prezi offers a free version and free trial for users. The paid plans start from $5 and range up to $59.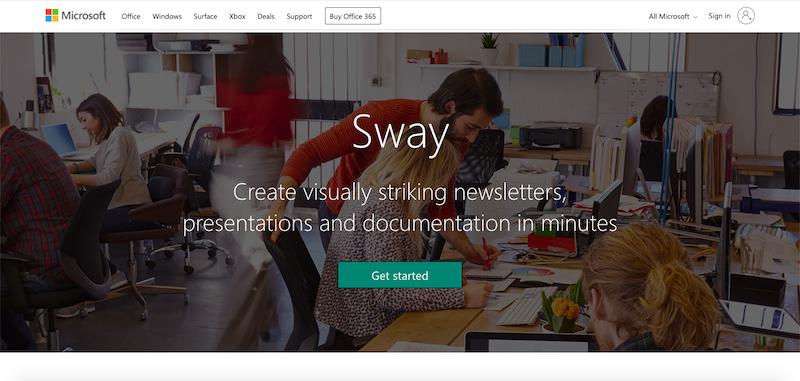 Microsoft Sway is capable of changing your presentation style instantly through its tight integration with PowerPoint's specific tools. Sway helps you stay focused as opposed to other tools where you are likely to get distracted due to plenty of features.
Key Features:
Start From a Topic: Users can press its smart feature "Start From a Topic" option to get presentation templates related to the topic. It includes areas to cover, definitions, images, uses, and suggested linked topics, among others.
Simple User Interface: Microsoft has correctly worked to reduce complexity and make the application intuitive and straightforward for users to create engaging presentations easily.
Efficient and Engaging: You can use Sway to tell stories by leveraging its narrative structure. Its design flows left to right and up and down and can be scrolled freely through a mouse scroller, unlike conventional presentations where up and down keys are used to change pages.
Card to add new content: Sway has introduced cards to add new content to the presentation. There are multiple cards, including video, text, grid, or heading, and every card is meant for uploading a specific kind of information.
Pros:
Users can scroll through Sway to review and makes changes through Storyline and design.
The layout is easily customizable through the Style option.
Users can choose whether they want to scroll Sway vertically and horizontally.
Use the Remix button to apply a random design to your Sway instantly. You can Remix multiple times until the slides start repeating.
The application is light and processes heavy themes in a flash.
It has different interaction and expression features for various topics.
Cons:
A cloud storage option is not available.
Granular layout controls are not present.
The template library has limited options.
Pricing Plans:
It comes bundled with Office 365 at a subscription plan of $6.99/month.
Haiku Deck offers one of the fastest and easiest ways to create beautiful and engaging presentations. It is simple to use and offers excellent templates and image options.
Key Features:
Huge Gallery: Its massive gallery offers 40 million-plus royalty-free images for the user to enhance the look and feel of their presentations.
Highly Customizable: Users can easily embed YouTube videos and add audio narration. Its record as a video feature helps in creating a presentation in any scenario.
Simple Layout: Its slides offer a clean and straightforward layout to enabled users to create engaging slides while staying minimalistic.
Design Friendly: It offers features that people not so good with design can leverage to create templates with stunning design tools.
Pros:
It comes loaded with thousands of professionally designed templates.
Haiku Deck is hosted on the cloud and saves files automatically.
You can download the presentations in the .pptx format for use in PowerPoint and as videos with audio narration.
It offers efficient recording of audio tracks.
Presentations created through Haiku Deck can be shared on Twitter, Facebook, and through email.
It segregates free images so that users can use royalty-free images confidently.
Graphs and charts help in creating aesthetically pleasing presentation slides.
It is available through iPads, iPhones, and other iOS devices.
Cons:
The free version offers limited features, including the creation of only one deck.
Not available for Windows or Android.
Pricing Plans:
Haiku offers a free version. Its Edu, Pro, and Volume subscription plans are available for $5, $10, and $100 per month, respectively.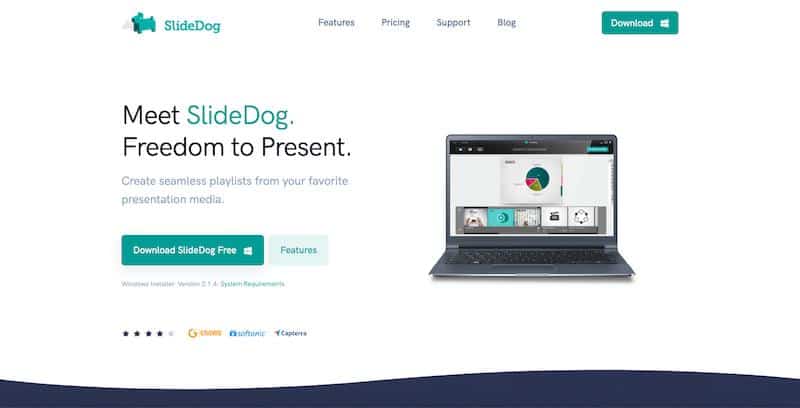 Slidedog enables its users to present all their files in a single presentation. It helps users to create dynamic presentations while keeping the layout simple and engaging.
Key Features:
Multi-File Support: It is capable of blending multiple file types including PowerPoints, Prezis, videos, PDFs, websites, and more without compelling the presenter to stop the flow of speech to present the next item on the screen.
Clean Design: It's easy to use interface offers a clean design for greater engagement while reducing the need to learn extensively about the tool.
Drag and Drop: Users can simply drag and drop various files into the presentation slides without worrying about their compatibility
Engaging: Users can make the presentation more engaging by embedding YouTube videos, pools, webpages, and live chat objects.
Pros:
Users can share Slidedog presentations with audiences in real-time. However, it comes with a capping of up to 100 users.
It also allows building a playlist with multiple file formats, including PDFs, MP3s, PNG, and JPG image files along with numerous video file formats like AVI, DIVX, MP4, FLV, 3GP, and MOV among others.
The presenter can control the flow of playlists through its Web Remote feature that you can leverage through Android and iOS mobile apps.
Viewers can leverage their chatroom to chat about the presentation in real-time.
Users can use two screens to control the slideshow through its Dual Screen Mode.
The presenter can add custom notes for references that only she/he can see during the presentation through a smartphone application.
Cons:
It is compatible with Windows operating system only.
There is no presentation design library. Users are required to upload their own media files.
Users can change or remove the background images only in the professional version.
Not available on macOS.
Pricing Plans:
Slidedog's Pro version comes at a yearly subscription price of $99 per year. It also offers a free plan.
CustomShow is a design-focused presentation builder that is built to create sales results. Sales teams and marketing teams use it to develop lively and engaging presentations.
Key Features:
Highly Engaging: It comes equipped with great editing tools that enable users to incorporate all the visual details for highly professional and branded presentations.
Controls Brand Look: It includes a combination of a full-featured slide builder along with an enterprise-level library. It enables the user to manage presentations globally and deliver the right content every time while controlling the brand messaging.
Simple UI: Its simple user interface helps in creating feature-rich and branded multimedia presentations with greater ease.
Easy Access: It enables the presenter to hold online meetings, share links through emails, and present the slides offline through personal computers and iPads.
Pros:
It allows the user to add extra media, including videos, animations, brand assets, and more.
It enables the user to track the response of the presentation by tracking it by seamless integration with SalesForce.
It can be shared with multiple people at the same time.
It offers superior customization features for better branding capabilities.
CustomShow is capable of streaming video and animated video content smoothly across the web, Mac, Windows, and iPad.
Manage and edit presentations from anywhere and at any point in time.
Cons:
The speed gets affected when you include large size images in slides.
No search function within the library.
Pricing Plans:
There is a free version available. However, to leverage all premium features, users need to take buy paid subscriptions by requesting a demo. After that, their sales executives will get in touch with you to reveal the price of the subscription.
Note: other tools not yet on this list include Powtoon, Visme, and Adobe Spark.
What is Presentation Software?
Before computers came into the picture, presenters used drawings or posters to show relevant images and graphics to audiences. Later, speakers started using slide projectors with carousels of slides to project pictures for the audience.
Today, presenters can create highly engaging virtual presentations with rich media formats. Presentation software tools are specifically developed for users to create presentations by joining different slides containing text, graphics, images, audio, and video.
What Are the Benefits of Presentation Software?
Capable presentation tools help users create visually stunning presentations that can create a long-lasting impact on viewers.
Here are a few essential benefits that presentation programs offer:
1. Flexibility.
Efficient presentation apps offer the capability to change or edit any kind of content easily to modify the presentation. Businesses can leverage the same presentation for different purposes by just tweaking relevant facts and stats to suit the requirement.
2. Engagement.
Stunning images and engaging videos can increase the engagement of viewers with your presentation. Clear bullet points and conclusive summary can help audiences understand the logic and motive behind the presentation.
Furthermore, the theatrical tonality of the presentation helps in grabbing greater attention of viewers and ensures the delivery of the message more efficiently. Additionally, some tools provide business intelligence and data reporting to understand the impact your presentation had on your viewers.
3. Consistency.
Presentation makers help users to create stunning presentations with sheer consistency in format, design, and layout in each and every slide.
Presentation enables the user to present the information in a highly structured way to ensure that you place the most critical information at a prominent place. It also helps in cutting down the cluttered information to avoid confusion and redundancy.
4. Creativity.
Presentations help enterprises use their creative thoughts to send across their message to viewers more effectively. Presenters can leverage animations, emoji, videos, and images to the viewer engaged through the end of presentations.
New presentation applications also allow viewers to take part in polls and chat in real-time about the presentation to create more user engagement.
How Does Presentation Software Work?
Different presentation makers come loaded with their unique USPs and features to meet various needs of users. However, there are some basic functionalities in presentation software that always remain the same.
You need to stay well versed with the basic functionalities of a presentation tool to make yourself ready to learn more sophisticated features.
Here is how presentation software works:
1. Select The Template.
To create a new presentation, first and foremost you need to select a relevant template that think would meet your requirements.
Think about the objective for which you are creating a presentation. You can also consider the number of images and videos you are going to add in the presentation to ensure they are properly contained in the layout of the selected template.
For instance, take these templates from Apple Keynote: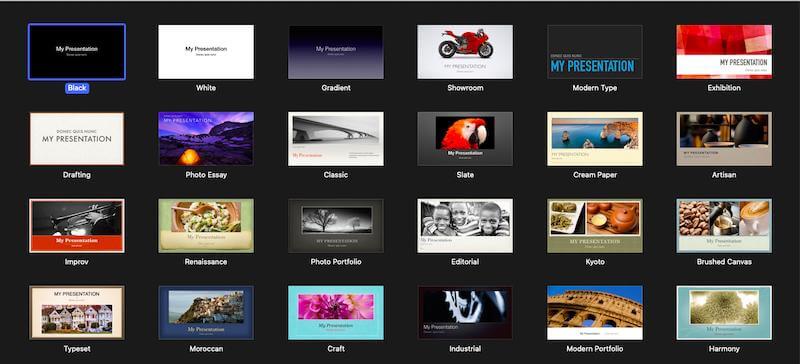 Some presentation tools also offer templates based on the theme or topic of the presentation to save users from the hassles of selecting the right template.
2. Insert Content.
The next step is to insert the content. You can add any type of content, including text, image, animation, graphic, or video, into a presentation slide.
Presentation tools offer multiple file types. You should check the name of compatible file types before uploading videos and images. Presentations software tools also allow you to add text content over pictures and videos. Users can also add multiple photos and other graphic elements in the slide, along with audio and video.
3. Edit Text.
Presentation software allows the flexibility to edit the text's font, color, font size, the distance between letters, opacity, rotation, padding, and height of lines, among other features. It allows full customization to help you insert the text as per the requirement.
4. Add Slide Templates In Multiple Formats.
Through software, presenters can add templates of multiple formats to create the presentation more engaging and intriguing.
5. Insert Graphics.
Users can insert infographics to present data in a more engaging format. Intuitive graphics can make the presentation more visually appealing.
6. Save In Different Formats.
The final version of the presentation can be saved either on the cloud or in the system memory. The final file can be processed in multiple formats, including PDF, PPT, MP4, and HTML5, among others.
Executive Summary.
From an organizational or personal perspective, it's not about choosing the best tool based on specific features alone. It's more about selecting the most suitable one that you're comfortable with and makes life easier.
Before making your final decision, here are a few questions to ask yourself:
Do you need to collaborate with multiple stakeholders from remote locations or not?
Are you looking for a presentation tool that is modern in its approach with video, animations, and advanced features?
Are you planning to pay for the software or looking for a free, open-source tool?
Do you have the IT infrastructure to install the software or would a cloud-based service work better?
By thinking over these questions, you can easily find the most suitable option from the list above to meet your requirements.
Which platform are you planning to use, and why? Comment below.
Further Reading on AdamEnfroy.com: If you're looking for other popular business software, check out my reviews of the best whiteboard animation software and best photo management software to use with your presentations.
Editorial Process:
Our reviews are made by a team of experts before being written and come from real-world experience. Read our editorial process here.
Some of the links in this article may be affiliate links, which can provide compensation to us at no cost to you if you decide to purchase a paid plan. These are products we've personally used and stand behind. This site is not intended to provide financial advice. You can read our affiliate disclosure in our privacy policy.