Printful vs. Printify: Which is the Best Print on Demand Company?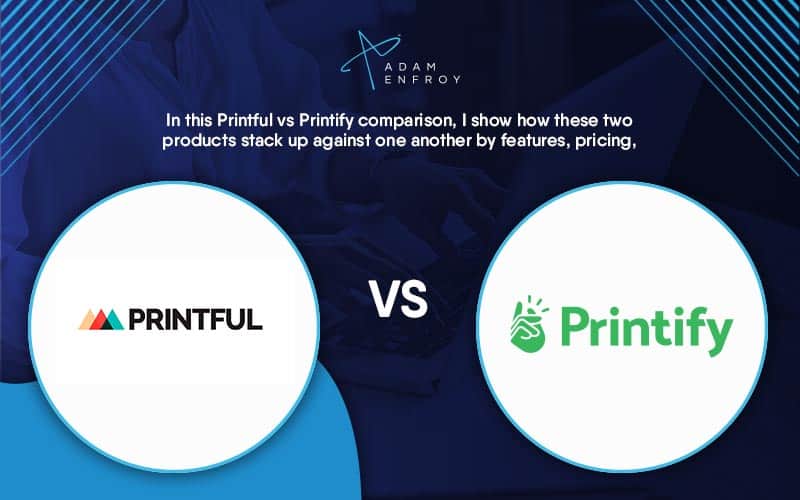 Printing on demand is a great way to make your designs and ideas available to many people across the world.
The best print on demand companies help you sell your products by printing them for you on request, which means that there will be no wasted inventory for you to try and force sell.
With printing on-demand software marketing expected to have a compound annual growth rate of 32.4% within five years (going from $1932.5 million in 2020 to $5937.4 million in 2026), there has never been a better time to get started making money online with a print on demand business.
Enter Printful and Printify – two top providers of printing on-demand services that have been earning a solid reputation in the past few years. Many people have raised the question: which one is better? Without a doubt, both companies can satisfy their customers' needs, but it's always nice to know that you're making the right choice.
In this article, I will compare Printful vs. Printify and show their main strengths and weaknesses. Keep reading to learn more as I compare the two software side by side.
Printful Vs. Printify Overview.
Printful and Printify are two of the most popular dropshipping platforms and print-on-demand companies.
Both Printful and Printify provide you with an easy way to get your own custom branded t-shirts, hats, backpacks, phone cases, mugs, pillows, blankets, and more printed and delivered straight to your customers.
Some of their common features include:
Print-on-demand services.
No subscription fees.
Entire fulfillment process.
Custom prints and branding services.
The ability to request order samples.
Custom API integration.
Here's a quick overview before we dive deep into detailed Printify vs. Printful comparison.
Printful:
Printful is an ecommerce platform that enables you to sell customizable products online. It provides complete order management, order fulfillment, inventory management, and payment processing.
It's a simple print-on-demand business solution focusing on offering clothing, phone cases, throw pillow covers, posters, calendars, mugs, magnets, stickers – and, most importantly, t-shirts.
Some of Printful's key features include custom packaging inserts, print-on-demand orders, good quality prints, great customer support, reasonable shipping costs, and more.
Printify:
Printify is a popular print-on-demand platform for T-shirts, hoodies, promo items, or even household items, such as mugs and blankets. They also help you with the shipping and fulfillment of orders.
You can choose products from their catalog to sell on your website and under your brand.
However, it outsources all services (including fulfillment, packaging, and shipment) to multiple suppliers and acts as a middleman itself.
Printful Vs. Printify Compared.
Here's an in-depth Printful vs. Printify comparison.
1. Ease of Use.
Both Printful and Printify are easy to use. You can start with nothing but your business name, sign into either platform, upload your designs, and immediately begin printing inventory for your customers.
Let's compare this in detail.
Printful:
Printful takes care of the printing, packaging, and shipping for you. This gives you an ample amount of time to design your products and grow your ecommerce business.
You'll have to create a Printful account to get started, which is free and easy to set up. You can either sign up using your name and email or with Facebook, Google, or Apple.
They also connect with tons of ecommerce platforms, allowing you to pick the one that suits you best.
Then you can sync your custom designs with Prinful's products. Their team will take care of the production, packing, and shipping when you get an order.
Printful is also convenient if you create your own products and use their shipping and warehousing services. You can send your products to store, pack, and ship to your customers with your branding on the packaging. And you can also do both.
Here's how Printful works:
Keep in mind that they'll charge you for the fulfillment after orders get confirmed. You'll also have to pay a monthly storage fee that depends on the size and quantity of items.
Once you sign up, you can start right away. The best part is that Printful breaks down the entire process into seven parts, making it smoother.
Printful has two easy to use generators:
The Mockup Generator
The Product Push Generator
You'll use the Product Push Generator when you add products to your store.
To avoid creating something from scratch, you can start with a product template.
Printful offers tons of product templates that are a combo of print files and Printful products. Pick a product, add a design, save it, and use it as you like. You can further edit the templates and push them to your store for selling.
You also get to pick from two techniques – printing or embroidery. Then you have your pick of colors, the ability to crop, upload images, videos, and more.
And if it gets confusing, you can access their video tutorials that are available every step of the way.
You are through with a significant part of your entire process. Now you can connect or create your online store to start adding products.
Printify:
It's self-explanatory, intuitive, simple, and fast to set up an online t-shirt store or other customized products with Printify.
Like Printful, Printify has a "MockUp Generator" to help you design and preview your products. It lets you create a mockup in a matter of minutes and see how your design looks on a bedsheet, a tote bag, a tank top, or hundreds of other products from Printify's catalog.
The generator has a drag and drop functionality and allows you to switch between size variants and different colors quickly.
And since Printify outsources their printing to third-party printing services, you get to choose from a list of print providers. You can compare "Print Providers" based on their location, price, available colors, sizes, and more.
Finally, you can generate designs, preview your designs, and publish your creations to your online store.
Luckily, Printify integrates with prominent ecommerce platforms, such as Shopify, Etsy, Wix, and more.
Winner: It's a Draw.
Both Printful and Printify provide easy-to-use Mockup generators and even allow you to request samples.
2. Third-party Suppliers and Print Providers.
Let's have a look at Printful and Printify suppliers to find out which business comes out on top.
Printful:
Printful does printing, packaging, storing, and even shipping in-house to make things easier for their users. You can upload your design and let Printful do the rest.
And the good news is that Printful gives you the freedom to experiment with products with no order minimums or expensive equipment. There's no need to worry about unsold inventory either.
Another great thing is that you can resolve print quality or misalignment directly with Printful since there's no third-party involved.
Printful also claims to work with the best suppliers, such as Bella+Canvas, Gildan, and more. However, you can't switch between suppliers if you don't like their print quality. That said, such complaints are far and few between.
Printify:
Printify outsources your printing, manufacturing, branding, and even order fulfillment.
This means that you can choose any printing company you like (or even multiple companies if you're doing different styles, say, for example, shirts and hats), send them your artwork, and they will print and ship your items for you.
You can pick from a diverse list of print providers in different locations like Australia, Canada, China, Czech Republic, United Kingdom, United States, and more.
They'll also recommend the most suitable suppliers based on your products. You can then pick one based on shipping prices, location, reviews, production time, and more.
This business model has both pros and cons.
You can switch suppliers anytime you want if you're not happy with the final results. You also get to choose suppliers that align with your requirements.
On the other hand, you might even end up with shoddy print quality. So, you have to review each supplier carefully before using their services.
It's always a good idea to order a sample first to make sure you like the quality of printing. If you are not happy with the quality, there are many other suppliers to turn to.
Winner: It's a Draw.
Printful does everything in-house, while Printify uses third-party service providers for printing, packaging, and shipping. Both models have their advantages and disadvantages.
3. Warehousing and Fulfillment.
Warehouse means the same thing to both retailers and manufacturers. Warehousing is the process of storing items (in this case, your merchandise) in inventory until they get sold.
Shipping fulfillment is the process of physically preparing these items for shipment so the customer can pick them up.
Warehousing and fulfilling orders can be one of the most painful parts of starting an ecommerce business. Both Printful and Printify solve this issue and give you more time to focus on what matters… your products and customers.
Let's compare them in detail.
Printful:
With Printful's warehousing and fulfillment services, you can store your products in their warehouses.
When someone places an order, they pack and ship it to your customers under your brand.
Printful has various fulfillment centers in the USA (Charlotte, NC, and Los Angeles, CA), in Canada (Toronto and Ontario), and in Europe (Riga, Latvia, or Barcelona, and Spain). They also fulfill orders in Mexico.
However, your products should meet specific warehousing requirements if you want to store them at Printful's warehouses. For example, they don't accept perishable goods, items with dimensions larger than 18″ × 18″ × 17″ (46 × 46 × 43 cm), or products worth more than $750.
Note that you'll have to pay a specific amount for both warehousing and fulfillment.
Here's a list of the processing and fulfillment fees for different locations and products:
And here's a list of the storage fees based on your location and inventory's weight:
The total storage cost depends on the inventory volume, unit count, and the location of the warehouse.
Other than this, Printful also provides a print-on-demand Drop Shipping Service.
This fulfillment option allows you to fulfill orders without keeping inventory. Instead of maintaining an inventory of products, sellers send orders to Printful's facility, and they fulfill the orders by printing and shipping them to customers under your brand name.
The Print-on-demand model poses less risk if products don't sell and makes it easy to diversify products. However, it will result in a higher cost per item and a longer fulfillment process.
If you go the print-on-demand route, they'll need some time to fulfill your order and make your custom-ordered product.
They calculate their fulfillment time in business days:
Apparel products (t-shirts, leggings, dresses, etc.): 2-7 business days.
Non-apparel products (posters, mugs, phone cases, etc.): 2-5 business days.
Here's a list relaying the average fulfillment time for different products:
However, fulfillment time or cost doesn't include shipping. Total delivery time will amount to how long an order will take to reach its destination and the estimated fulfillment time combined.
And if you choose a simple warehouse fulfillment service, Printful will fulfill and ship out your products on the same day.
Printify:
Like Printful, Printify automatically handles printing and delivery logistics.
However, unlike Printful, they don't have warehouses of their own. That's why they don't provide warehousing and fulfillment services.
Their model only includes print-on-demand fulfillment services that they outsource to third-party manufacturers and suppliers.
Since Printify outsources the fulfillment and shipment process, the total fulfillment time will vary with different Print Providers.
That said, most "Print Providers" in their directory will ship your orders within 2-7 business days from the order submission date.
You'll also be able to view each print provider's average production time from the last 30 days.
While this is not a 100% guarantee of how long it will be until you receive your order, it's helpful to base your decision on. The time can increase during holidays and high-volume seasons.
The good news is that you can check the current fulfillment status of the print provider network to ward off uncertainty.
Winner: Printful.
Both of the POD platforms take similar business days roughly to complete your order fulfillment process. However, Printful gives an exact fulfillment time and also offers warehouse facilities.
Thus, Printful is the winner here.
4. Branding and Packaging.
Packaging and branding are an essential part of running an ecommerce business and having a successful online store. You need to make your products stand out and be noticed before the customer even lays their eyes on them.
Let's compare the two print-on-demand platforms in detail.
Printful:
Printful helps you create a unique brand image and turn your site visitors into loyal customers.
It allows sellers to upload logos, slogans, or any design they can come up with (you must own all rights to the artwork you submit) and start building their online store.
There are several Printful branding tools to let you create a consistent look and feel for your brand.
For instance, you can add a custom packaging slip message relaying your store's environmental efforts to make an excellent first impression.
The packing slip also offers space for a small black and white picture, where you can get your logo or a "thank you" placed.
Besides, you can customize:
Your order tracking page.
Use Printful's return address.
Print outside or inside labels on your apparel.
Personalize your orders with packaging inserts and stock and use your own custom packaging.
For hats, you can put your design or logo on the front, back, or side.
You can also include your customized message, support number, business email on your packing slips. You can even Printful to insert flyers, coupons, business cards, branded stickers, postcards, and handwritten thank-you notes with the package.
Printify:
Printify also offers completely white-label print-on-demand services, which means that your customers won't see any trace of their brand on the product.
You can add a personalized touch by adding your own brand's labels.
However, you'll have to check which print provider offers what type of branding. For instance, some print providers offer neck label printing (both inner and outer), while some offer sleeve print options.
Here are the print providers that offer neck label printing:
Here are the print providers that offer sleeve printing:
One of the most significant downsides is that you are now compelled to choose from the above few print providers. Even if there are better manufactures in the directory, you have to stick to the ones offering branding options.
Another noteworthy disadvantage is that none of the print providers offer branding and personalization options for products other than t-shirts, such as hats.
Besides, you can get your company address and phone number printed on the shipping label. Use a custom return address to gain complete control over the shipping label.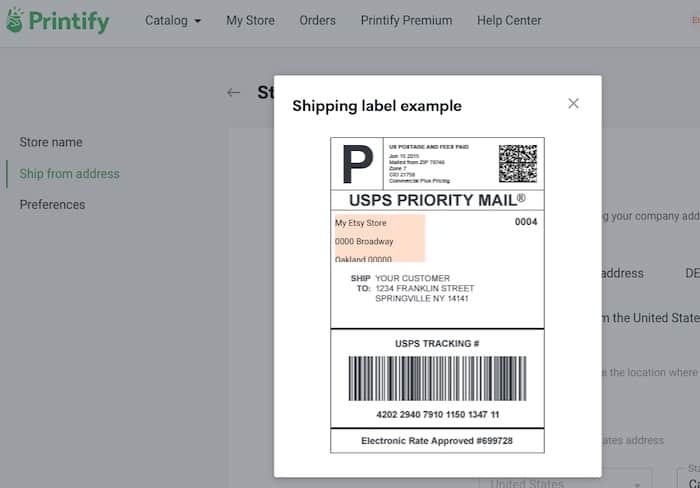 The order shipping label has your store name and the return address by default. You can use Printify's address or yours. However, using a custom return address means you'll have to handle returns as well.
But note that Printify doesn't allow you to add custom messages for your customers on the shipping or packaging label.
Winner: Printful.
Printful is the clear winner here since it provides more personalization and custom branding options.
5. Shipping Costs and Time.
Printful:
Printful's shipping process starts right after a buyer places an order. As per Printful, it can take between 2-7 business days to make apparel products. If the products are non-apparel, it can take 2-5 business days.
When it comes to shipping, it depends on the location and product availability.
For example, Printful estimates that it might take about 3-6 business days on average to ship a product in the US.
Every year, Printful ships more than 3 million orders by working with international carrier companies.
They partner with major global carrier companies like DHL, FedEx, USPS.com, and DPD.
Coming to the cost, you can use their shipping rate calculator to identify the shipping cost. The shipping cost also depends on the international shipping rates, location, type, and quantity of the product.
And while Printful ships globally, it currently does not ship to Cuba, Iran, Crimea, Syria, and North Korea because of legal or shipping carrier restrictions.
Customers may have to pay customs fees depending on the destination of the order and fulfillment location. Depending on the order value, country limits, and other factors, the prices will differ.
Customers can choose whether to calculate the shipping at checkout or include it in the retail price.
Printify:
Printify also has strong partnerships with reliable carriers to bring users the best offers. It also partners with local fulfillment companies to support drop shippers who sell products from various parts of the world. The only issue is with the higher rates on some of these solutions.
It ships internationally except few countries, including Belarus, Burundi, the Central African Republic, Cuba, Iran, Libya, North Korea, Syria, Sudan, Somalia, and Zimbabwe.
Moreover, Printify's shipping solutions take longer to deliver international orders. Both the timeframe and cost depend on the print provider, location, volume, and product type.
That said, you can request express shipping – only if you're using Shopify or WooCommerce. It's also available for those who placed their orders manually from their Printify account.
Here are Printify's Express Shipping timings:
Within the US: 2-3 business days.
International express shipping: 3-5 business days.
The express shipping option will show up only if your print provider offers it.
With Printify, you have the option to track the precise shipping time right from your dashboard after your customers place orders.
Winner: Printful.
Printful's shipping time and cost are more transparent, and you can reach out to them directly if there's any hassle. Things are more complicated with Printify in this regard.
6. Print Quality.
Print Quality is probably an essential factor in choosing a print-on-demand platform. Let's compare Printful's and Printify's print quality in detail.
Printful:
Printful handles this part of their business in-house, allowing them to address your print demands directly.
They also invested ​​$57.2 million in sophisticated printing machinery to achieve high-quality prints.
This also helps them remain an affordable apparel supplier and ensures the items they print won't lose their shape or fade.
They also source products and fabrics from popular and ethical brands and suppliers to ensure product quality. Plus, their in-house professionals cut and sew some of their products.
Another significant part about Printful is that they use different techniques and machinery to yield the best results. For example, they use a diamond tool for mechanical engraving to ensure great precision.
In addition, they claim that products go through a 3-step quality check before shipment.
Here's what their quality control process entails:
First, their automated software checks graphics, and their AI tool evaluates if the design needs realignment before printing.
The second step includes their quality check by their fulfillment specialists.
Finally, they run a quality check after the product gets customized.
Printify:
Unlike Printful, Printify hasn't invested anything in printing equipment since they outsource everything to third-party print providers. It's merely a point-of-contact between you and the manufacturer. With that said, Printify does investigate all complaints and offers various solutions in exchange.
These can include returning the customers' money, reprinting the products, and more.
On the flip side, Printful does its best to ensure that it produces high-quality prints that ensure customer satisfaction, investing in equipment that produces the desired quality. At the same time, the quality depends on the options that people choose.
If they go with the cheapest t-shirts and hoodies, they might still not be as satisfied as they initially expected.
Winner: Printful.
Printful gives particular emphasis on investing in print equipment, while Printify outsources manufacturing to third-party providers.
7. Product Catalog.
Printful:
Printful has a page dedicated to the product catalog. The main product categories include Men's clothing, Women's clothing, Kids & youth clothing, Hats, Accessories, Home & living, Collections, and Brands.
You can customize these products using their "Mockup Generator" and sell them under your own brand.
Printify:
Printify also has a page dedicated to the product catalog. The product categories include Holiday picks, Bestsellers, Men's Clothing, Women's Clothing, Kids' Clothing, Accessories, Home & Living, My Favorites, New Arrivals, AOP Clothing, and Eco-friendly.
Printify also lets you customize these products and sell them under your brand. With 700+ items found in Printify's catalogue, you will definitely find the item that you're looking for.
Winner: Printify.
8. Customer Support.
Printful:
Printful's Help Center page has a search bar that helps users find answers to all the questions. They also offer several articles and video tutorials on getting started, shipping/packaging/fulfillment, design tips/mock-ups, printing, taxes and billing, integration, and more.
Besides, Printful offers an onboarding session to new users for free. And you can contact their support team via live chat, Printful app chat, or email.
Printify:
Printify's Help Center page also has a search bar where you can search articles on different topics. You will find articles on their services, your Printify account, Getting started and connecting to a store, designing and creating products, fulfillment and shipping, and more.
However, Printify does not offer 24-hour clock live support. You can only reach them via email.
Winner: Printful.
9. Online Store Integrations.
Printful:
Printful allows native integration with 21 ecommerce stores, including Shopify, Etsy, WooCommerce, Squarespace, Webflow, Amazon, Weebly, Bigcartel, Storenvy, and more.
You can set up a custom API as well.
Printify:
Printify offers integrations with seven major ecommerce channels, including:
Shopify store
WooCommerce
Etsy
eBay
Wix
PrestaShop
BigCommerce
There's also a custom Printify API functionality. However, your integration options are limited.
If you want to sell on other platforms, then you might prefer Printful instead.
Winner: Printful.
10. Pricing Structure.
Printful:
Printful only has two plans – a freemium plan and the Pro plan.
The free plan has the following features:
Customize 304 products.
Integration with all ecommerce platforms.
Create designs in the Design Maker.
Download mockups and print files.
2400+ clipart images.
Printful Pro costs $49/month (when paid monthly) or $539 when paid annually. They charge an additional sales tax if you have a US billing address. There's also a 14-day free trial.
You'll get additional features with the Pro plan, including:
Promo Maker.
Custom Mockup Maker.
Background Removal Tool
400+ exclusive clipart images and premium images.
Embroidery files digitized for free.
Carrier-Based Shipping option.
Note that Printful charges an additional sales tax if you have a US billing address.
Printify:
Printify is free for up to five stores. There's no subscription fee, and you can design multiple products.
The free version includes all core features, including:
Unlimited product designs.
Mockup generator.
Integration with ecommerce platforms.
Manual order creation.
24/7 merchant support.
Self-serve help center.
It also has two paid plans:
Premium ($24.99 per month) – Everything in the free plan + 10 stores per account, up to 20% discount on all products, and custom order import.
Enterprise (Custom pricing) – Everything in the Premium plan + Unlimited stores, custom API integration, dedicated account manager, and branded customer support.
Printify's prices are lower when using a premium account.
While the Premium plan is for merchants with growing sales, the Enterprise plan is more suitable for merchants with 10,000+ orders per day.
Other Factors to Consider
One final factor that might be important to consider is fulfillment.
Printify has global fulfillment centers that minimize the risk of a product running out of stock.
In fact, one can reroute an order to another center in case one of them doesn't have the products they desire. This is one advantage that Printify offers and means that orders made through Printify have a higher chance of getting to their destination on time if there is limited availability.
Printful vs. Printify: Final Verdict.
When starting an online business, you look for ways to manufacture your products at low prices and with significant profit margins and little hassle.
And that's where Printful and Printify come into the picture – two biggest names in the print-on-demand industry.
In this Printify vs. Printful comparison, I compared two of the most popular shipping platforms that offer print-on-demand products and dropshipping services.
The option you pick will depend on various factors, including shipping costs, ecommerce store integrations, which print on demand business has better print quality, custom products, and more.
Pick Printful if:
You are looking for a warehousing and fulfillment company.

You want more personalization options.

You want more integration options.
Get started with Printful.
---
Pick Printify if:
You are okay with taking the time to read reviews about better print providers.
You want to be successful in a specific product niche, offering a wider product range.
You don't require warehousing facilities.
You want a cheaper option.
You don't mind dealing with middlemen for custom products.
Get started with Printify.
---
Which POD company aligns the best with your requirements? Let me know by commenting below.
Disclosure: I may receive affiliate compensation for some of the links below at no cost to you if you decide to purchase a paid plan. You can read our affiliate disclosure in our privacy policy. This site is not intending to provide financial advice. This is for entertainment only.