7+ Best PRM Software of 2023 (Partnership Tools Ranked)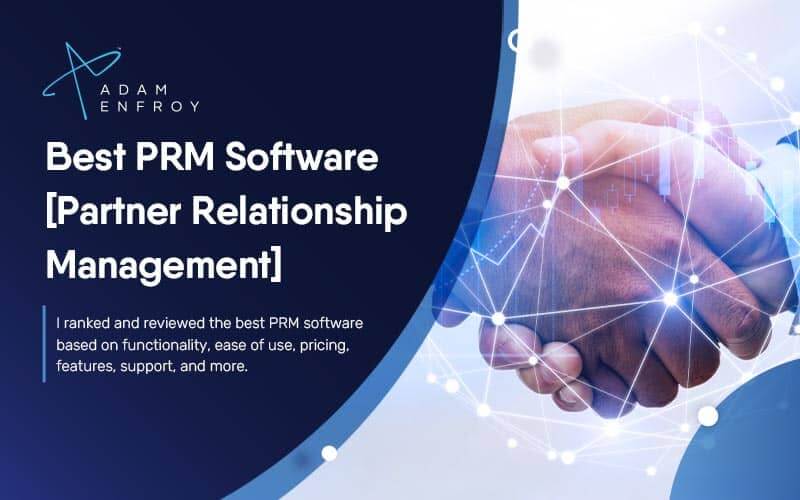 Want to jump right away to my top picks? The best PRM (Partner Relationship Management) Software is PartnerStack and Impact.
Affiliate and partnership marketing continue growing every single year.
Brands are finally starting to realize the potential of partnership and affiliate marketing and how it is one of the best marketing and sales channels that exist.
If you're a partnership manager and need to know the latest tools on the market to take your partnership program to the next level, this article is for you.
Over the past three years, I have gone into total immersion mode with affiliate marketing. From managing an affiliate program at a large SaaS company to becoming an affiliate in over 200 affiliate programs and starting this blog that earns over $200k per month.
Every other marketing channel has a huge list of software tools, like:
Partner relationship management software is the tool you need in order to manage and scale your brand's partnership marketing.
Now, let's dive into the post.
Disclaimer: This article contains affiliate links where I may receive a small commission at no cost to you if you decide to purchase a paid plan. All of these tools are ones I fully recommend. You can read my full affiliate disclosure in my privacy policy.
What is the Best PRM Software?
Here's a list of the best PRM software to use this year.
PartnerStack is an industry-leading platform that optimizes both the partner and partner management experience. It allows partners to reach more vendors and vendors more partners through an integrated marketplace.
For partner managers, it allows them to automate the management of their program to better engage with partners through automated onboarding, educational materials, and in-app communication campaigns. With almost unlimited customization, partner managers can seamlessly manage partners of all types individually.
Partners can easily manage their experience and understand their success better. With PartnerStack, they can easily communicate with managers, have accurate and reliable payouts, and easily self-educate. This all occurs on top of the ability to track custom links, leads, and deals through a customizable analytics dashboard to sell more.
PartnerStack makes the partner experience easier by leveraging automation, enablement and collaboration, all on a single platform.
Key Features:
PartnerStack Marketplace – PartnerStack helps partners find relevant programs to join, so they can sell more for themselves and for the SaaS vendors they work with.
Customizable/Flexible Rewards and Challenges – Partners are able to earn more with customized resources to complement their expertise in selling.
Customized Experiences – Partners can navigate through partner programs specifically designed for them by their managers on the PartnerStack platform
Adaptable Platforms – PartnerStack's custom API allows you to integrate data and dashboards in your preferred management platform to make selling a better, more comfortable experience.
Resource Center – Access all your partner needs with a centralized resource center that offers educational, promotional, and enablement-focused materials.
Pros:
Automatic payouts
In-app messaging
Data driven partner dashboards
Built in fraud protection
Program Discovery
Education materials
Link, lead and deal registration and tracking
G2 award-winning support team and product
Pricing Plan:
Book a demo with PartnerStack for more information and the right plan for your business.
Get started with PartnerStack today.
Best overall Partner Relationship Management software.
Impact is PRM software that helps you engage your partners, communicate with them across all digital platforms, and measure their performance. It supports all types of partnerships, including affiliates, marketers, ambassadors, sponsorships, non-profits, channel programs, etc.
The platform automates every part of the partnership lifestyle and helps you:
Discover and recruit ideal partners based on your goals.
Automate contracting and payout.
Track progress.
Nurture and engage partners.
Optimize your future decision-making process.
It starts by pinpointing the partners whose brands align with your goals and reach out to them. Once both parties agree to collaborate, the tool automatically sets up an electronic contract that pays according to each partner's contribution.
You can also share your product details, recent catalogs, offers, etc., so your partners can easily promote your brand. This information sharing also helps you remain at the top of your partners' minds. You can even set rules to display particular products to specific partners.
Key Features:
Performance Reports – Impact provides you with 40+ performance reports that give you an insight into your partner's performance. You get to sort the performance based on their geolocation, SKU, promo code, high-value customers, etc.
Protect Monitor – Detect and cut out cookies and frauds in your channel to maintain high-quality partnerships.
Partner Rewarding Program – Reward partners based on real-time data for generating profit, new customers, etc. It helps you establish an electronic reward system that allows cross-border transactions.
Pros:
Allows you to send hundreds of personal messages to engage partners.
Automated email system and partner drip campaigns.
Affiliate management and tracking.
Banner and commission management.
Settle payments in 70+ currencies.
Social promotion.
A centralized library of marketing assets
It lets you evaluate partner value and pay them suitably.
Integration with APIs allows tracking across all platforms.
Impact lets you form associations with global giants like Levi's, UBER, Lenovo, etc.
Pricing:
Contact Impact.com to book a demo
You also have to pay a one-time setup fee that depends on the technical resources you require.
The Pro plan provides features like automated payouts, cross-device tracking, live in-app support, performance reports, custom contract management, onboarding, etc.
The Enterprise plan offers all of the Pro edition features, along with triggered emails, partner CRM, fraud protection, buyer journey reporting, etc.
Get started with Impact today by requesting a demo.
Best for partner onboarding and training ($25 per month + Sales Cloud plan).
Salesforce PRM is a partner and channel management software that helps you personalize partner recruitment, sales, onboarding, and collect performance data. It has built-in quick-start tools to train and support partners to help them sell more.
The partner ecosystem also lets you recommend content to your partners and help them discover the files they need. The AI-generated information allows them to spend more time on selling rather than finding the correct information.
You can even integrate your CRM (Customer Relationship Management) tool with Salesforce PRM to monitor sales and analyze MDFs.
Salesforce also provides AI-generated personalized connections to experts or groups based on community participation, behavior, needs, etc.
Key Features:
Pre-built Campaigns – Adding content from your current content management system (CMS) also helps you create guided setups for your partners. You can customize access to the information that partners need to sell.
Easy Collaboration – For team collaboration, it provides easy access to subject experts, feature updates, etc.. The team can share or integrate records, videos, or other valuable information.
Knowledge Base – Create a knowledge base that answers most of the customer queries. Customers can solve their problems themselves or raise a ticket.
In-depth Insights – Share reports with your partners to help them track KPIs for upselling or cross-selling opportunities.
Pros:
Works as a centralized information-sharing system.
Co-develop marketing campaigns and manage MDF.
Restrict data and authorize access to specific partners.
Integration with several third-party apps.
Automated funds requests and claims processes.
Lead distribution and deal registration.
It lets you help partners build and track distributed marketing campaigns.
Pricing:
Salesforce PRM is available as an add-on with the Sales Cloud and costs $25/member/month. The tool is only available with the Enterprise and above plans.
4. Allbound PRM.
Best for providing learning tracks to guide your partners (Quote-based).
Allbound is a cloud-based PRM software that allows partners and partner managers to work together from a partner-centric portal. It provides a Customer Success Manager to help with onboarding, co-branding, deal registration, channel insights, marketing collaboration, etc.
The partner portal provides answers to all of the partners' queries, and you can customize it according to your business guidelines. You can also control and set the security actions in your partner's portal.
Here are the actions you can control in your partner's portal:
Set the session inactivity timeout.
Control maximum session length.
Set 2FA (two-factor authentication).
Create and customize single sign-on pages.
Customize the portal by incorporating your brand's color schemes, URLs, iconography, etc., to match your brand's guidelines.
A content library and search function provides access to content based on the partner's role, needs, and industry.
Additionally, pre-designed templates help you manage requests for MDFs and collect necessary information, track ROI, and more. In-built MDF templates come in handy for your partner while demanding marketing funds.
Key Features:
Educational Tracks – Build educational tracks and playbooks to guide new partners through the pre-defined, sequential learning process. You can create learning tracks based on partner type, tier, geography, and more to cater to their priorities.
Identify Engaged Partners – Use certification tests to measure partners' education and identify which organizations are invested in the relationship.
Tracking Partner Engagement – The partner planning dashboard provides insights into your partners' success. You can analyze metrics like marketing spend returns, performance, joint initiatives, referred pipeline, quiz results, etc.
Pros:
You can control your partner's portal.
Gamification features inside the portal.
Content library for self-help.
AI-generated training modules.
Localized language capabilities.
The ability to analyze content engagement.
Contact and calendar management to manage your partnership across all domains.
Integration with marketing automation tools like Hubspot, Marketo, Pardot, etc.
Centralized communication platform to sort your emails and other important documents for future consideration.
Pricing:
Allbound has three quote-based pricing plans: Standard, Growth, and Premium.
5. Impartner PRM.
Best for assigning leads to a suitable partner (Quote-based).
Impartner is a SaaS-based PRM solution that helps you optimize partner performance, drive sales through partners, and run referral programs. It lets you update and customize your portal and attract suitable partners.
Other functions include automated onboarding, managing partner performance, partner tracking, marketing, selling, deal registration, etc. The software also comes with numerous pre-made templates and triggered workflows to help you with onboarding.
You can also create multiple partner journeys and set the completion timeframe for every phase and activity within the journey. There are also options to create digital training and certification courses for your partners.
It also lets you manage the partner performance of your indirect sales channels. You even get access to all of the conversions, pipelines, etc.
Key Features:
Lead Closure – Share your leads with your partners and the sales team and select the most appropriate partner for each lead. You can also delegate leads and track closure rates and ROI.
Impartner Locator – Impartner Locator and Solutions Marketplace connects potential customers to the most suitable channel partners to meet their needs. You can also provide search filters and allow partners to self-market their abilities.
CRM Integration – Integration with your existing CRM streamlines valuable customer data with your Impartner PRM solution.
Performance Tracking – The software provides real-time insights into your partners' performance, which also helps you provide incentives.
Pros:
Single sign-on (SSO).
Automated MDF solutions.
International language support.
Integration with Salesforce.
The ability to personalize and co-brand content.
Allow customers to choose suitable channel partners based on geolocation, certification, services, etc.
Pricing:
Quote-based plans.
6. Channeltivity.
Best for large enterprises ($1399 per month).
Channeltivity is a cloud-based PRM tool that helps you with deal registration, MDF requests, management of channel leads, training, etc. It also provides native integration with HubSpot and Salesforce CRM – two of its editions.
Integration with HubSpot CRM enables smooth data flow, real-time pipeline visibility, and order management. Salesforce CRM integration also helps with data flow, lead flow automation, reducing channel conflict, deal registration, etc.
Channeltivity also lets you create a self-service knowledge base where partners can find relevant information. All your partners can access the resource library to save time.
You also get access to the MDF dashboard, which provides real-time visibility into funding activity. Partners can request funds easily, use them for further revenue generation, and track their usage.
Key Features:
Create Templates – Channeltivity allows you to create templates, profiles, and documents for every partner. Your partners can even customize these pages whenever it's in the best interest of your business.
Automated Messaging System – Channeltivity's auto-triggered messaging system helps you stay at the forefront of your partner's mind. You can set notifications for unopened deals, for deals that require action, expiring MDFs, etc.
Channel Lead Management lets you assign leads to partners, monitor their progress, and help partners nurture leads.
Pros:
Sends real-time email reminders to partners.
Joint business strategy planning with partners.
Social sharing and collaboration options.
It ensures that every partner gets the correct data at the correct time.
Restrict and control access to templates and documents.
Data analytics to track workflow, sales, performance, and more.
Allows you to manage your commissions and referrals.
Connect with Zapier to integrate with over 1000 websites.
GDPR-compliance and single sign-on.
Pricing:
Channeltivity offers three pricing plans:
Standard Edition – $1599 per month
HubSpot Edition – $1899 per month
Salesforce Edition – $1899 per month
You can also request a free demo. Some of the core features include partner portal, resource libraries, partner profiling, recruitment, deal registration, co-branded collateral, lead distribution, etc.
7. Magentrix.
Best for data sharing and collaborating with partners (Quote-based).
Magentrix provides PRM and customer portals to help you increase collaboration, productivity, and revenue. It automates numerous parts of your partner relationship lifecycle, including data entry, onboarding, leads sharing, partner recruiting, incentive management, etc.
Other automated functions include spreadsheets management, deal support, channel sales enablement, pipeline management, etc. It also helps you pursue high-value sales opportunities, collaborate in real-time, and gain access to performance data.
Additionally, a self-serve information library helps your partners gain access to correct information at the right time and focus on selling.
A gamification feature also helps you engage your partners and boost their productivity. You can assign points or cash as a form of incentive-based on their performance.
Key Features:
Self-registration – Organize a fully automated onboarding process where your partners can self-register. Magentrix also lets you control the entire process and include terms and conditions that must get accepted by the partners.
Receive Feedback – It allows your customers and partners to provide feedback, helping you analyze your business performance.
Streamlining MDF – Manage and automate Market Development Funding (MDF) to support partners with appropriate marketing funds. The tool helps with submission review, approval, managing expenses, processing payouts, etc.
Pros:
On-demand training and certification.
Organize training programs for different tiers.
Provides insights into channel management.
Built-in content management tools.
Allows you to track, measure, and optimize your partner's progress.
Allows you to organize critical data that your partners can access anytime.
Pricing:
Magentrix offers quote-based plans.
8. TUNE.
Best for advertisers who directly work with influencers ($499 per month).
TUNE is a partner management platform that helps you discover and manage new partners. It also allows you to manage all parts of the partner relationship cycle, from onboarding to payouts. TUNE comes with two editions – one for advertisers and one for networks.
The software is suitable for all types of partners, including affiliates, publishers, app makers, resellers, business development relationships, etc.
Tracking is one of its unique features. TUNE provides versatile tracking methods, including postback tracking, cookieless tracking, and clickless tracking.
The tool also provides native integration with most of the MMPs (Mobile Measurement Partners), eliminating the need for additional SDK. Integration with MMPs provides insights into in-app purchases, installs, and more.
Key Features:
Partner Discovery Tool – The software has an in-built partner discovery tool that finds you the best-suited partner for your brand. From media to technology, TUNE has a list of partners across all domains.
Consolidate and Automate Workflows – TUNE helps you automate workflows and processes like fraud prevention, payouts, performance optimization, etc.
Performance Tracking – You can track your partner's progress across different channels and optimize performance in real-time.
Pros:
SOC 2 Type II and SOC 1 Type II certified.
Built-in fraud prevention tool.
Allows you to set up event-triggered actions.
Granular reporting and intelligent dashboards.
Targeting and server-side tracking.
Automated invoicing and payouts.
Different interfaces for partners and advertisers.
Two-way API functionality for third-party integrations and real-time decisions.
Sends automated emails to your partners informing them about the latest news.
Pricing:
TUNE offers different plans for different editions.
The tool has three pricing plans for advertisers:
Bootstrap – $599 per month
Scale – $1500 per month
Contract – Quote-based
All of the plans provide a 30-day free trial. Standard features include campaign management, promo codes, advanced targeting, desktop tracking, data protection, real-time reporting, partner API, fraud prevention, etc.
There are two pricing plans for networks:
Enterprise – $799 per month
Custom – Quote-based plan
Both of the pricing plans offer a 30-day free trial. Standard features include real-time reporting, landing page optimization, complete 2-way API, performance automation, third-party payment integrations, partner API, and more.
What is PRM Software?
Partner Relationship Management (PRM) software is a tool that helps companies discover new partners and manage partner relationships. It ensures automated functioning of every aspect of the partner-management process, from onboarding to channel sales to payouts.
These systems typically include content management tools, a partner and customer contact database, and a partner portal. Partners can log into the portal and obtain stored company details like pricing, product, training content, etc.
All your partners, including dealers, distributors, VARs, etc., will be able to access this information whenever they need to fulfill a deal.
Here's everything that PRM tools can help you achieve:
Scale your partner program by recruiting suitable partners.
Gain visibility into your partner program.
Easy communication within your partner network.
Eliminate the time spent on manual tasks like onboarding, data entry, training, etc.
Marketing development funds management.
Provide training and certification for partner onboarding
Store information and maintain a smooth distribution system.
Provide adequate product information to partners.
Manage content and marketing strategies.
Track your sales and profits using reporting tools.
Additionally, an automated PRM software tool will allow your partners to optimize the sales channels and boost revenue.
What Features Do You Need in PRM Software?
Each PRM has different functions and comes at different costs. In the end, it all depends on your requirements.
However, here are some of the prominent features to look for in your PRM platform:
1. Automated Partner Onboarding.
PRM tools should provide online, automated training that your partners can complete independently. You should also be able to build learning tracks and store essential product details.
This will equip your partners with the necessary skills and knowledge required to sell your products.
2. Centralized Resource Portals.
A centralized information center will make your partners self-sufficient rather than relying on unauthorized information. They should be able to log into the portal and access documents, brochures, and other essential details required while selling.
Naturally, this centralized model of information makes the sales process fast and smooth.
3. Marketing Development Funds (MDF) Program.
MDF refers to the funds your partners might require for additional resources or to incorporate indirect sales channels. Partner management software with built-in MDF tools can help you monitor funding to your channels, reduce paperwork, and automate payouts.

You can also identify whether the funds are used for sales or getting squandered. You can also revoke the funds if and when needed.
4. Sales and Performance Tracking.
An ideal PRM software platform will be able to provide you with real-time sales analytics and enable progress tracking. You can use this data to understand future trends and implement further marketing strategies.
Additionally, analytical data can help you understand the performance of your channels and partners. This data will further help you with incentive programs.
Other standard features include fraud prevention, branding abilities, deal registration, etc. Besides, you should be able to set your partner's goals and manage incentives to keep your partners motivated and satisfied.
Executive Summary.
This was my list of some of the best PRM software platforms that you can use this year. These tools help you discover and recruit suitable partners for your brand.
They further help manage partners and track their progress, allowing you to incentivize them based on their performance. Make sure to choose a tool that fits all your requirements and caters to all of the partnerships you plan to build.
At the same time, focusing on other features like filtering, self-help knowledge-base, data sharing, personalization, and more is essential. An ideal platform should assist with all of the processes in the partnership management lifecycle.
Try these platforms if you want to discover, recruit, and manage your partnerships from a single location:
Most of these platforms are suitable for businesses of sizes and cater to all types of partners.
Which of these PRM software tools are you planning to use, and why? Let me know by commenting below.
Editorial Process:
Our reviews are made by a team of experts before being written and come from real-world experience. Read our editorial process here.
Some of the links in this article may be affiliate links, which can provide compensation to us at no cost to you if you decide to purchase a paid plan. These are products we've personally used and stand behind. This site is not intended to provide financial advice. You can read our affiliate disclosure in our privacy policy.