7 Best Product Management Software and Tools of 2023 (Ranked)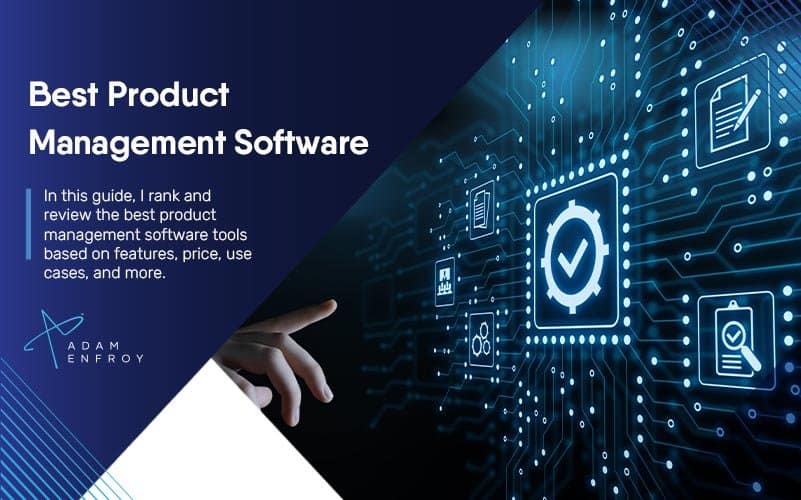 Ready to get started with the best product management software on the market? Then check out Monday.com and ClickUp.
As every product manager knows, the key to successful product development is having the appropriate product management tools and systems in place.
Thankfully, in today's day and age, there are a mind-boggling number of tools available.
Product management tools allow product teams and managers to streamline the product life cycle, from ideation and planning to development and launch.
These tools also help with aspects such as developing product roadmaps, feature analysis, and customer research. On top of that, it can also double as project management software for your department or business.
Today, I'll list the best product management software tools that you should be using for product development.
What Is The Best Product Management Software?
Here are my top picks for the best product management tools.
Best For Adaptive Product Management
Monday.com is widely used as a project management tool, but its features can be easily adapted to product management. It's an entirely cloud-based software and allows seamless tracking, managing, and development of products.
The best part about Monday.com is that it can adapt to any team size; as a result, it can develop flexible agile workflows. Monday.com also functions as an agile project management tool making it the most versatile tool on this list.
Further, it's highly customizable, which means you can manage different product types using the tool, from software development projects to electronics.
Another reason for this tool's popularity is that it lets you automate product development tasks and reduces human errors. You can also integrate with other apps such as Slack and GitHub to create your own customized product management system; it even comes with a dedicated API.
Features:
Apart from planning, tracking and managing daily product development tasks, Monday.com has provisions for creating product roadmaps. It even allows teams to define ownership clearly, and collaborate better on agile product development.
Here are some of the features of Monday.com that can help in product roadmapping and development:
Flexible visual elements for agile development
Supports Kanban and Gantt views
Intuitive user interface
Customizable templates for multi-stage product development
Flexible scrum platform (if you are using the scrum method)
Two-way syncing with over 40 tools
Highly granular access controls
Customizable task automation for product creation
Multi-level product progress tracking
Dedicated reporting and statistics features
Public as well as shared workspaces
Pricing:
When it comes to pricing plans, Monday.com offers you a lot of options and flexibility. The minimum team size that you can choose for paid plans is three seats, and the prices increase with the number of seats and the tier of the plan you're opting for.
Take a look at the pricing tiers that Monday.com has to offer:
Individual Plan at $0/month
Basic Plan at $8/seat/month
Standard Plan at $10/seat/month
Pro Plan at $16/seat/month
Enterprise Plan at custom rates
Get started with Monday.com.
Best For Multipurpose Product Management
ClickUp is yet another project management tool that doubles as a product management software. It's a multipurpose tool that increases productivity and ensures transparent communication among the product team members.
It has all of the usual project management stuff such as lists, calendars and boards. There are even features such as Scrum Points which helps businesses using that methodology for product development. You can also automate the entire task management system using custom algorithms.
The tool is ideal for product teams that work remotely, as it facilitates better collaboration through document management and goal tracking. No matter what kind of product you're building, ClickUp can allow your team to develop product strategies and execute them rapidly.
Features:
As far as the number of features is concerned, ClickUp doesn't pull any punches. Its wide range of features can be customized for managing multipurpose product development. From Agile board views to workflow automation, you'll not miss anything when using this app.
The following is a list of what ClickUp has to offer for product managers and teams:
Customized workflows to fit individual products
Multiple assignees for single tasks
Ability to add multiple task dependencies
Schedulable recurring checklists
Agile board views
Portfolio and resource management
Workload chart for easy task distribution
Automated product workflows using built-in or custom templates
Simple drag-and-drop UI
Integration with multiple third-party applications
Dedicated API for custom integrations
Easy collaboration and reporting features
Pricing: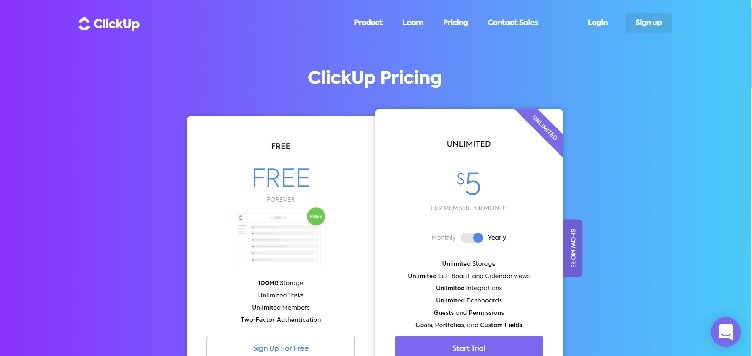 When it comes to pricing, ClickUp keeps its plans dead simple. It has just two plans: the Free Plan that's forever free and the unlimited plan that comes without any restrictions. Here's a quick breakup of each plan to help you decide better.
1. Forever Free Plan
Up to 100MB storage
Two-factor authentication
Unlimited members and tasks
2. Unlimited Plan at $5/Member/Month
Unlimited storage
Unlimited dashboards and integrations
Custom fields, portfolios and goals
Get started with ClickUp.
Best For Collaborative Product Management
Wrike is best known as a workflow management tool, but it's also an excellent software for product management and workflow prioritization. It's a versatile tool that supports all levels of product management, from enterprise to individual.
This tool allows your projects to be customized in any way you want using Gantt charts and Kanban boards. Wrike also has an AI feature known as Work Intelligence, which allows you to automate tasks and predict the risk factor involved in a product's development.
Similar to the previous two tools on our list, Wrike also seamlessly integrates with Jira, Gmail and Dropbox through the Wrike API. Such a large number of integrations makes it ideal for agile teams focusing on collaborative software development.
Features:
If you're looking for product management software that helps maximize any team's productivity, then Wrike can be your best bet. Its wide feature-set allows you to enhance the product development process significantly and improve customer experience.
Let's take a glimpse at some essential features that Wrike has to offer:
Customizable for any team size
Better collaboration through files, tasks and reports sharing
Eliminate information silos across teams and departments
Scalable for growing organizations
Intelligent automation and project risk prediction
Pre-built workflow templates
Advanced analytics and stakeholder reporting
Over 400 app integrations
Enterprise-grade security for all your projects
Dedicated help center
Pricing:
Wrike's pricing plans are divided into four tiers, with each higher-priced tier offering better features and capabilities. The plans are segmented based on the size of the organization, so you can select one that best fits your business.
Let's take a quick look at the pricing plans which Wrike has in place:
Free Plan at $0/user/month
Professional Plan at $9.80/user/month
Business Plan at $24.80/user/month
Enterprise Plan at custom rates
Get started with Wrike.
Best For Mid-Size Businesses
Celoxis is one of the top product management tools best suited for mid-sized to large businesses looking to plan and manage complex products. The tool is one of the great products for development teams looking to collaborate in a cloud-based environment.
The Celoxis suite includes comprehensive modules for tackling resource management, budgeting, expense management, time tracking, and even advanced reporting. Using it, you can plan and manage diverse real-world product portfolios.
Along with its product management features, Celoxis is also a powerful project management software with fully customizable solutions for any industry vertical. Similar to other project management tools, it also has a robust API for integration with third-party apps.
Features:
One of Celoxis's unique features is that it allows cloud-based as well as on-premise deployment, so you can select whatever suits your business needs. Apart from this, it also has advanced scheduling features that model real-world conditions.
If you're thinking of Celoxis as the right product for your business, here's a list of the features to know about:
KPI-based project request tracking
Automatic task scheduling, with multiple resources per task
Dashboard based product tracking
Advanced accounting features
Customizable, dashboard-based portfolio management
Built-in workflow apps
Custom collaboration and reporting tools
Product-wise time and expense tracking
Fully optimized for mobile
Multi-language support
Easy integration with other SaaS applications
Platform independent API
Pricing:
Celoxis's pricing plans are divided into two tiers depending on whether you opt for cloud-based or on-premise deployment. The cloud plans are billed monthly, yearly, bi-yearly or tri-yearly, with increasing discounts for each tier. The on-premise plan has a one-time billing.
Here's a quick breakup of the pricing plans that Celoxis offers:
Cloud Plan at $22.50/user/per month
On-premise Plan at $450/user
Keep in mind that when opting for any of these plans, you need to buy a subscription for a minimum of five users. Also, the company does not offer any refunds, so make sure you choose wisely.
Get started with Celoxis.
5. ProductPlan.
Best For Product Roadmapping
ProductPlan is a product roadmapping tool and can serve as a core software for any product management system. It's an easy and effective software for planning, visualizing, and communicating product strategies across departments and teams.
The software boasts over 25 customizable templates for product planning, which suit a wide range of industries and product types. There are separate templates for product launch plans, OKRs, executive-facing portfolios and much more.
Another commendable aspect of this tool is its robust security features, such as flexible permissions for different roles. It can also integrate with other apps like Jira, Slack and Trello through the dedicated API.
Features:
ProductPlan's live roadmapping feature makes building and collaborating on projects a simple enough task. The unlimited number of product roadmaps help to keep teams on the same page. And the drag-and-drop UI makes using the tool as simple as possible.
Here are some of the essential features of ProductPlan that you need to know about:
Customizable, unlimited roadmap layouts
An unlimited number of viewers
Private links for easy collaboration with external stakeholders
Easy import of spreadsheet-based backlog initiatives
REST API access and integrations
Advanced security features for hassle-free product planning
Simple collaboration tools
Pricing: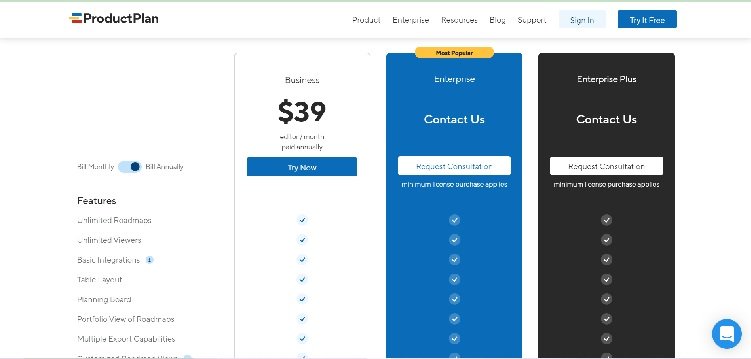 ProductPlan's three-tier pricing is simple and intuitive and works depending upon the size and requirements of your business. Billing can be done monthly and annually; I recommend the annual subscription as it allows you to save significantly.
Here's a breakup of ProductPlan's pricing:
Business Plan at $39/editor/month
Enterprise Plan at custom rates
Enterprise Plus Plan at custom rates
6. Productboard.
Best For Customer Research And Prioritization
With Productboard, you know you're in a capable company as corporate giants like Zendesk and Microsoft use it for product development. This product management solution focuses on customer research to understand and prioritize user needs.
The emphasis on customer feedback helps you create product features that are aligned with the customers' requirements. Productboard provides you with a plethora of tools that let you categorize feedback and convert it into actionable insights for product feature planning.
However, the one thing that I have to complain about is the lower number of third-party integrations, at least as compared to the other tools on this list. While you can integrate directly with the likes of Trello, Slack and Jira, custom integrations have to be made through the API.
Features:
Feature-wise, Productboard offers all of the tools you'd need to collect user feedback and incorporate the same into your product design. Further, the data-driven prioritization feature lets you decide which features you should incorporate into the next iteration of the product.
Here's a quick look into the features that Productboard offers:
Dedicated feedback repositories
Ability to categorize and prioritize feedback
Easy conversion from feedback to insights
Real-time, custom product roadmaps
Customer engagement enhancing capabilities
Value assessment system
Agile and timeline-based roadmaps
Easy syncing with product development tools
Idea management and stakeholder messaging tools
Dedicated API
Industry-grade, multi-level security
Pricing:
Productboard's pricing plans are divided into four tiers, each of which is segregated based on the size and requirements of your business. Prices are based on the number of platform users who are given the moniker "makers."
Take a look at Productboard's pricing plans and decide which one is suitable for you:
Essentials Plan at $20/maker/month
Pro Plan at $50/maker/month
Scale Plan at $100/maker/month
Enterprise Plan at custom rates
7. Aha.
Best For Traditional Product Management
Aha is one of those rare product management tools that doesn't offer many surface bells and whistles but has all of the functionality you need for superior product management. This is a tool that's best suited for organizations that prefer an old-school product management style.
Using this tool, product managers will be able to convert ideas into actionable product roadmaps that can be shared with their product teams. With Aha, you'll have an easy time shaping your product vision and rallying the team members around the same idea.
Aha lets you create product strategies, make new product decisions and even crowdsource ideas. You can then import all this feedback into a custom template and create visual roadmaps for product use cases.
You can also use this information to share details about upcoming versions of your product. Aha even provides support for multiple product development paradigms. As a result, you can quickly adapt the tool according to the development methodology used in your organization.
Features:
One of the aspects I like about Aha is that it enables you to get a bird's-eye-view of the entire range of products in your portfolio. With a few clicks, you can analyze product development, prepare detailed reports and create visual aids such as pivot tables and charts.
Here's a quick glimpse into the features that Aha provides you with:
Customizable product roadmapping templates
Success measurement using goals and KPIs
Customizable idea portal
Analysis and prioritization features
Visual, interactive product roadmaps
Centralized user behavior and feedback calculator
Multi-industry use cases
Pricing:
The pricing plans for Aha's product management suite are spread across four tiers depending upon the size of your business. You can opt for monthly and yearly plans, but I suggest going for the latter as that will let you save up to 20% on the subscription.
Let's take a look at the pricing plans offered by Aha:
Startup Pack at custom rates
Premium Pack at $59/user/month
Enterprise Plan at $99/contributor/month
Enterprise+ Plan at $149/contributor/month
What Is Product Management Software?
Product management software refers to a set of organizational software tools that allow businesses to ideate, plan and create complex products with the lowest possible overhead. Using these software tools, your business can quickly turn ideas into finished products.
Product management software has many overlaps with project management tools. But the primary difference between the two is that product management tools focus solely on allowing you to create complex products from a diverse set of ideas and feedback.
How To Select The Best Product Management Software?
Selecting the best product management software for your business can be challenging, as there are multiple aspects to factor into the process. To help you with that, here's my list of the significant factors to look into while selecting a product management tool.
1. Clean UI
First and foremost, your app should have a clean UI, which ensures that any new users can adapt to the tool fast. Also, the app should be available across all devices, and it's best if the product is cloud-based so that even distributed teams have ubiquitous access.
2. User Tracking
Any good product management tool needs to have the capability to capture, collate and draw insights from user feedback. This ensures that your product can continue to occupy premium space on the market for the longest possible duration.
3. Prototyping Features
For efficient and successful product development, prototyping is an essential aspect. Make sure the product management tool you're using has features for iterative prototyping and product development.
4. Roadmapping Templates
Product roadmapping is vital to ensure that all team members remain on the same page regarding the product. Any product development and management tool you select should have pre-defined and customizable roadmapping templates that are also easily shareable.
5. Task Management Facility
Real-time task management will ensure that your product development is being carried out optimally. Since most project management tools offer this feature, they can double as product management tools, provided they have the other requirements listed above.
6. Data Sharing Capabilities
Great products cannot be developed in isolation, which is valid for tangible and intangible products. That's why, to ensure that your entire team is on the same page, your product management tool of choice should have sufficient data sharing capabilities.
Wrap Up.
Product planning and development can be complex, but you're sure to stay ahead of the curve with the right tools. Just make sure you select one that's best aligned with the needs and goals of your organization.
If you're looking for a suitable product management software, then take a pick from here:
Monday.com: Best For Adaptive Product Management
ClickUp: Best For Multipurpose Product Management
Wrike: Best For Collaborative Product Management
Celoxis: Best For Mid-Size Businesses
ProductPlan: Best For Product Roadmapping
Productboard: Best For Customer Research And Prioritization
Aha: Best For Traditional Product Management
With the above list at your disposal, I'm sure you can get hold of the best product management software in no time.
Looking for other posts related to product management?
Disclosure: I may receive affiliate compensation for some of the links below at no cost to you if you decide to purchase a paid plan. You can read our affiliate disclosure in our privacy policy. This site is not intending to provide financial advice. This is for entertainment only.