17 Best Project Management Software and Tools (2023)
Choosing the right project management software is crucial if you want to stay on top of your projects. From successful team collaboration to effective scheduling and keeping your projects organized and on track, the best project management software can help you meet your goals. In this guide, I ranked and reviewed the 17 best project management software, along with my top 5 choices, so that you can pick the best one for you.
---
We're reader-supported. When you buy through links on our site, we may earn an affiliate commission.
Whether you run a small business or a large enterprise, managing and keeping track of your projects is always a challenge.
That's why project management software has become so prevalent in the market. In fact, 77% of high-performing projects use project management tools.
While IT service management solutions ensure processes run as smoothly as possible, knowing how to choose project management software helps you fully plan, execute, and close your projects efficiently.
These tools help you fully plan, execute, and close your projects efficiently. By using collaboration software like this, your team can manage and assign tasks, message each other in real-time, add files, track time, and more.
In a time when 35% of project managers still use Microsoft Excel to plan resources, having the right software in place will make all the difference.
Listen while you read: After our real and honest testing, here's a video with our top 3 project management tools and a preview of their features:
What is the Best Project Management Software?
Here are my top picks for the best project management software for teams this year.
Best Overall Project Management Software
Adam's Take
Monday.com is the best overall project management software I have found. From small businesses to enterprise organizations, Monday.com has the features and flexibility to meet the needs of any size team. The platform is easy to use and comes with a wide range of integrations, making it the perfect tool for managing projects of any complexity.
Monday.com is one of the most well-known project management tools on the market. It's a new version of the previously known Dapulse with a lot more features.
With a clean interface and color-coded features, this platform is pretty straightforward to use and set up great for project managers and either big or small teams. They also offer a user-friendly mobile app.
Key Features:
Offers a colored timeline and option to sync timeline with calendar
Provides a portal for external stakeholders and clients
Provides a feature called 'create a new pulse' that allows you to copy any list and paste it for full transfer
Offers undo button
Offers highly customizable workflows
Charts for timeline visualization
Offers map view for location-based projects
Offers a wide variety of templates for project managers
User Experience:
The user interface provides a very graphical and intuitive experience.
It is clear and easy to understand how to use all of the features.
Whether you want to hit various KPIs or deliverables, or want to focus on a more agile process, Monday.com provides the tools to do so.
Pricing Plans:
Monday.com offers four plans. The 'Basic,' 'Standard,' and 'Pro' plans for up to 3 users cost $24, $30, and $48 per month, respectively. The 'Enterprise' plan is quote-based.
What I Like/Dislike About Monday.com:
Like:
Unlimited users and boards
Specific plans for businesses based on the number of users
Offers a free trial period
Extensive one-on-one training offered
Provides service in multiple languages (English, German, Dutch, French, and more)
Extensive integrations (Outlook, Slack, Jira, Excel, and more)
Offers a Kanban-style visual layout
Good help desk software and customer support tools
All plans include 24/7 phone and email support
Ability to handle complex projects
Dislike:
Adding the number of users costs extra money for each plan
One of the more expensive plans in the market
The addition of sub-tasks can be difficult
Can be challenging to grasp for a novice
Product Updates:
Clapper chrome extension to display different emojis which means saying goodbye to boring unread counts and turning your workspace into a fun game.
Also, you can now supercharge your workflow with subitems. You can create items within items to better organize your work and break down complex
Get started for free with Monday.com.
Best No-Code Application to Replace Them All

Adam's Take
If you want to bring your team together, I advise you to check out ClickUp as the potential project management tool for you. With ClickUp, you can easily manage tasks, projects, and milestones while collaborating with your team in real-time. Track progress and goals to ensure everyone is always on the same page while keeping your projects organized from start to finish.
ClickUp is perfect when it comes to solving multiple problems for a business. They are known as "the one app to replace them all" with tools that help with tasks, docs, chat, timelines, reminders, and more.
Over 100,000 teams use ClickUp, including major brands like Google, Airbnb, Nike, Netflix, Uber, and Ubisoft.
It's also a highly customizable tool, with the ability to create your own custom views and task boards that include team members and projects in progress, in review, completed, etc.
And if you're looking to migrate to ClickUp from another platform, their simple automatic import all of your files and information in minutes.
ClickUp offers comprehensive time management, task management, facilitates collaboration between different business units, and offers a wide range of integrations.
It's also one of the few project management platforms to offer a freemium plan.
Key Features:
Offers a wide range of templates
Offers four different views
Drag and drop feature
You also get a wide range of integrations (Slack, GitHub, Dropbox, Google Drive, and much more)
Provides excellent contact management features
Allows goal-tracking and time-tracking
Allows automatic import of documents from other apps
Allows you to organize tasks into sub-tasks
Task tray feature allows you to avoid opening new tabs
Allows you to set priorities for your tasks
User Experience:
Whether you want to use a Gantt chart or a simple task list, ClickUp has you covered.
The user interface is very intuitive and easy to use.
You can view all your spaces on the left-hand side menu, which makes it easy to find what you're looking for.
Pricing Plans:
Apart from the Freemium plan, ClickUp offers three other paid plans. The 'Unlimited' plan costs $5 per user per month, and the 'Business' plan is $19 per user per month. Then you have an 'Enterprise' plan, which is tailor-made for larger businesses.
What I Like/Dislike About ClickUp:
Like:
Extremely customizable
Cloud-based application
Offers a freemium plan for basic services
Has a customer-centric approach
The dashboard view is very efficient
24/7 speedy customer support
Dislike:
Resources management should offer more features for a better user experience.
The default time tracking feature is pretty basic, considering that this is a key feature for project management software.
Product Updates:
Adding a Status filter to your Dashboard widget without requiring Location first so you can track the progress of tasks more easily.
Apply Filters Across Your Entire Dashboard to get an overview of your work and see how everything is progressing.
Get started with ClickUp for free.
Want to see how ClickUp compares to Monday.com? Check out my ClickUp vs Monday comparison post.
3. Teamwork.
Adam's Take
If you have a creative team that likes to brainstorm and come up with new ideas, you need to have a good system for managing them. One way to do this is to use a tool like Teamwork, which takes project management and steps it up a notch by adding features that help teams collaborate more effectively. As such, I advise you to check out this software if you want to make the most out of your team's creativity.
Teamwork is a great tool to maximize resources that are available to complete a task or project.
Enabling you to scale when you're working on something big, or to divvy up tasks so they're completed more efficiently, Teamwork allows you to add chat functionality, CRM, as well as top-notch project management software.
If you're looking for complete visibility in all aspects of your work, and want to be able to optimize and manage your team's workflow – then Teamwork is a great software to consider.
Key Features:
Teamwork spaces allow you to group projects together so you can easily find and work on them. You can also add people to each space, and give them different permissions (for example, some people might only be able to view projects, while others can edit and create them).
Project updates let you know what's happening with a project in real-time. You can see who's working on what, and how much progress has been made.
Time logging is a great way to keep track of how much time you're spending on a project.
Custom fields let you add extra information to projects, tasks, and files. This is helpful if you need to track specific data points that are important to your project.
Files and versioning let you upload and manage all the files associated with a project in one place. You can also see who has accessed each file, and when.
Tasklist templates let you create templates for tasks lists, so you can easily add them to new or existing projects.
User Experience:
If you love a listview experience, you'll be pleased with Teamwork's interface.
The left-hand side menu offers quick access to all of your projects, and you can easily drag and drop tasks into the order that you want them.
You can view multiple dashboards so you can see how your work is progressing at a glance.
Pricing Plans:
There are four pricing plans available with Teamwork:
Free Forever: $0 per month
Deliver: $10 per month
Grow: $18 per month
Scale: A custom quote is provided
You can get started for free or request a demo to see how Teamwork can help you.
What I Like/Dislike About Teamwork:
Like:
Great to enhance productiveness in the workplace as it enables users to communicate with each other efficiently in order to complete tasks.
Notify other users of the status of projects in real-time so that everyone is on the same page and knows what needs to be done.
The calendar feature is great for tracking deadlines and keeping track of progress over time.
Dislike:
It would be great if Teamwork could improve their more advanced customizability, as well as add an audio calling feature to help with communication.
Product Updates:
Drag and drop between the different boards on mobile means that you can now move tasks around more easily and keep your work organized on the go.
Teamwork Chat is a great way to stay in touch with your team and have all of your conversations in one place.
Get started with Teamwork.
Best Project Management Software for Large Teams
Adam's Take
Project management and large teams are usually not a good mix. Too many cooks in the kitchen can easily lead to disaster. This is why Wrike is a great project management tool. Its Kanban-style boards allow for easy visualization of the project's progress and keep everyone on the same page. In addition, the commenting system ensures that everyone has input into the project and can easily track changes.
Wrike is a SaaS team collaboration and project management tool that boasts of a multi-pane UI, and also aids in team collaboration and project management.
They stand out with their wide range of project management features, including team communication, tracking employee availability, and viewing at-risk projects.
With fully customizable team sprint dashboards, team members can view new, in-progress, and completed projects in one place. Teams can also schedule and share custom interactive reports to make faster decisions.
Wrike is available in multiple languages and is compatible with both iOS and Android.
Key Features:
Visualization tracking
Easy prioritization
Easy-to-use drag-and-drop editor
Offers Dynamic Request Forms (DRF) to simplify project planning
Intuitive and user-friendly interface
Integrations with a wide range of tools, including CRM apps, email marketing tools, and so forth
Advanced analytics and data insights from integration with Tableau
User Experience:
With a very logical layout, Wrike's interface is easy to use and familiar for anyone who has used other project management software before.
The tool provides easy access to some of the most commonly used features (such as spaces, shared items, recycling bin, and more) from the left-hand side menu.
Moreover, you can use projects and folders to organize your work the way that makes the most sense for you.
Pricing Plans:
Wrike provides five plans that are great for marketers, enterprise companies, and small businesses.
First is the 'Professional' plan that provides access to up to 15 users, and costs $9.80 per user per month.
The 'Business' plan provides access to a range of 5 to 200 students. It costs $24.80 per user per month. It also offers volume discounts.
The 'Marketers,' 'Professional Services,' and the 'Enterprise' plans offer access to unlimited users and can be customized according to your requirements.
All the plans offer a free trial period for up to 5 users.
What I Like/Dislike About Wrike:
Like:
Offers a single platform for all your business needs (no need to use multiple applications)
Comes with numerous in-built tools to aid and abet your project
Use of automation
Has reliable security protocols in place
24/7 support via phone, email, and live chat
Dislike:
Having a central "project updates" task would be a great way for centralized overall project-related communication.
Product Updates:
An Android Update so those who use the Wrike app can stay logged in and not have to worry about losing their progress.
Auto-Login for your convenience so you can access your account faster and get working on your projects sooner.
Adam's Take
If hitting all your deadlines is essential to you, then Asana would be my recommendation. It's a project management tool that helps keep you organized and on track. You can create tasks, to-do lists, and track deadlines. Whether it's significant tasks or daily to-dos, Asana can help keep you on track.
Named after a yoga pose, Asana is a highly popular SaaS-based project management system. It can run on Linux, Windows, Android, and iOS. Moreover, it boasts of multi-language capability, including French, German, Spanish, and Portuguese.
Key Features:
Offers more than 100 integrations (Gmail, Outlook, Google Drive, Zapier, OneLogin, and more)
Uses a RESTful API that enables you to update and access data easily
Offers a wide range of viewing options, including list view, board view, and calendar view
Comes with more than 50 templates to choose from
Custom fields to keep track of critical metrics
Offers dependency management
Offers a 'My task' list and Focus mode
Get automatic updates in emails
Provides CSV importer to upload business data into the application
User Experience:
With tasks and subtasks, Asana's interface is similar to that of other project management software.
Easily add descriptions and tag team members when creating a task.
The interface is very clean and easy to use, and you can divide your work into various projects to keep everything organized.
Pricing Plans:
Asana comes with four pricing plans.
The first one is a basic freemium plan for individuals or businesses that are just starting out.
The 'Premium' plan is $10.99 per user per month (when billed annually).
The 'Business' plan costs $24.99 per user per month (when billed annually).
And the 'Enterprise' plan is a quote-based plan, where you can customize it as per your preference.
What I Like/Dislike About Asana:
Like:
Easy facilitation of information sharing
Agile project management tools
Offers a limited-capability free plan
Allows easy prioritization and visualization of work
Get real-time updates and file sharing
User-friendly interface with easy task lists through the project lifecycle
Offers email support, tickets, and training
High customizability (allows third-party API modifications)
Dislike:
Assigning project tasks can be challenging
It doesn't provide live chat or phone support
Product Updates:
Multiple Forms per project now allow you to add as many forms as you need for your project.
Request Goals status updates from team members so you can stay on top of their progress.
Get started with Asana.
Hive is a cloud-based project management and collaboration software that lets you manage tasks, automate workflow, track progress, and more.
Your team can manage and monitor projects and tasks, just the way they want by switching between different project views.
Four project views are:
Gantt view
Kanban view
Calendar view
Table view
Hive also provides numerous types of templates to use immediately for recurring tasks or even new tasks. You can also find pre-designed templates for workflows and project roadmaps.
There's also a 'My Actions' section in your Dashboard, where you can view all your actions. After assigning the tasks, you can further break the project into different actions like 'current,' 'future,' 'completed,' 'assigned by me,' etc.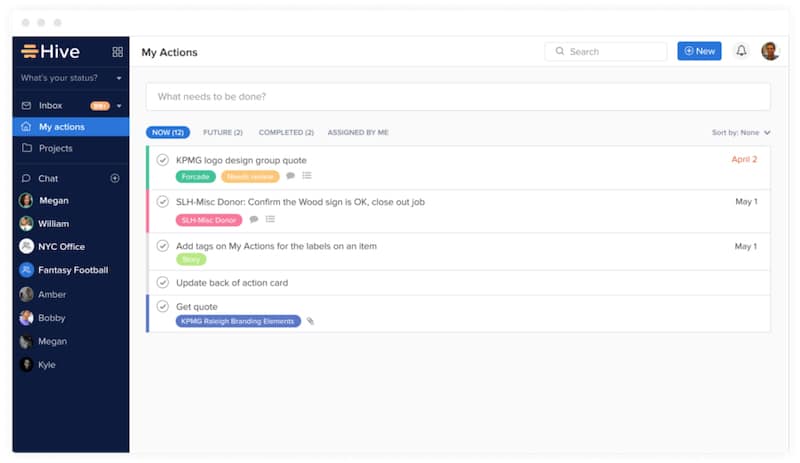 Additionally, Hive Analytics lets you monitor the progress of your team and projects. You can track metrics like project completion, work done by an individual, most productive day of the week, overdue actions, etc.
You can even automate the workflows and perform actions like moving cards, adding labels, changing assignees, etc., with a click.
The Hive Chatbox enables you to transfer files, flag any potential issue, and attach necessary documents. It also helps you chat and alert your teammates with the drag-and-drop action.
Plus, integration with Gmail or Outlook inbox allows you to see all your emails in Hive Mail itself. Not only this, but you can also attach your emails to new or existing tasks.
Besides, Hive integrates with over 1000 marketing and communication apps to avoid switching from one platform to another. Some of the famous integrations are Google Drive, Microsoft team, Slack, GitHub, Salesforce, Okta, etc.
You can also use Hive's mobile app to manage your projects from the go. Use the app to access information readily, attach files, send messages, add tasks, etc.
Key Features:
Hive helps you provide feedback and approve the projects directly from your phone.
Add comments and notes on the cards to communicate with your team.
Use track sheets to track time spent on projects.
You can invite and collaborate with clients and members from outside your organization. (5 external users allowed per account).
Enable Hive Chat or integrate your Hive dashboard with Slack for better communication.
It sends an alert whenever you pass over a task to each member.
Pros:
14-days free trial.
It offers a free demo to help you get familiar with the tool.
Hive's mobile app supports all platforms, including Windows, Android, iOS.
Security measures include single sign-on, SAML, compliance export, active directory integration, and audit logging.
Special discounts for non-profits.
You can import data from other tools like Asana, Trello, etc.
Pricing:
Hive offers two types of plans:
Base Package: $12 per user, per month.
Enterprise Package: a quote-based plan that includes all the add-ons.
The Base plan offers all the basic features like project layouts, summary views, chat, Hive Mail, etc. You can add extra features for different prices. However, the Enterprise plan comes with all the basic as well as advanced features. You don't have to pay anything extra for the add-ons.
Get started with a 14-day free trial of Hive.
7. TimeCamp.
TimeCamp is an easy-to-use, powerful time tracking software for teams and freelancers. One of the most popular free project management apps on the market streamlines daily workflow issues. It tracks time and activities in the background so that you can focus on what really matters at your job.
TimeCamp is now free for unlimited users, and the plan includes unlimited projects and tasks as well.
Key Features:
A unique project tree structure with tags streamlines client management and creates multidimensional time and project management,
Computer activities tracking – fill your timesheets automatically with daily activity,
Guests – invite your customers and show them proof of work and team's performance,
The attendance module – track leaves, holidays, and vacation days; and if you combine it with billing rates, you'll create a payroll system within Timecamp,
Custom user roles – define your user classes to adjust the user privileges to the structure of your projects,
Timesheet approvals – approve time submitted by your employees on their timesheets,
Pros:
Automatic time tracking
Custom reporting
Invoicing,
Away time,
Project transparency,
Data for daily performance improvement,
Wide range of integrations with project management, sales, marketing, HR, accounting, etc. tools,
High availability (The tool is available as a web timer as well as for desktop and mobile),
Cons:
Simple layout that some of you may find quite outdated
Plan.io is a project management software that lets you track and manage your projects. It's based on Redmine, another open-source Ruby on Rails-based project management software. Besides, it helps you with Version Control and file syncing as well.
From building a product to the final shipping – Plan.io helps you plan and manage the entire process. The software lets you change the status, category, priority, assignee, start, and due date of the projects.
Plus, you can measure metrics like the amount of work done, time spent, subtasks, and more. Ability to track issues, tasks, and bugs and creating workflows & roadmaps also come in handy in managing your projects.
Plan.io helps you work with a role-based system. This means you can give your employees detailed permissions like add/edit/delete tasks, manage subtasks, assign work, and other customized tasks.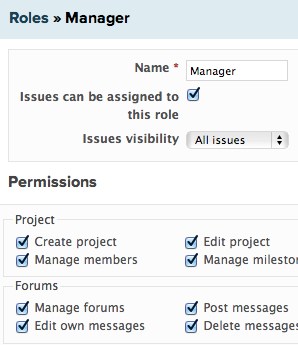 Plus, you can monitor all these things from anywhere anytime through your mobile phone.
Plan.io also claims to make sprint planning easy. For that, it provides a drag-and-drop interface to easily add or remove tasks from the backlog to your sprint. Similarly, move the tasks to the 'complete column' once you are through with it.
The tool also provides automatically generated charts to help you monitor the progress and performance of your projects and team. These charts help you track metrics like issues burndown, issues burnup, velocity, lead team, etc.
Besides, Plan.io helps with Repository management and helps you assign your repositories to each member – without any redundancies. You just have to assign initial roles, and your managers can checkout, commit, clone, push, and pull any item they want.
Additionally, you can collaborate and share ideas with your team using forums and team chat features. You can debate with them, store the files they share, assess their merits, and more.
Key Features:
Any team member can manage the tasks directly from the email, even on their phone. You can even change the status, priority, assignee, etc.
It provides auto-generated Gantt charts that give you an overview of the progress of your tasks.
Time-track your activities.
Message forums for team discussions.
The mobile app lets you work from anywhere you want and at any time.
Pros:
It provides customer support via help desk and live chat.
You get a 30-days free trial.
SSL Encryption.
You can handle over 100 projects.
It provides free daily backups.
You don't need to install the tool since it's a web-based platform.
Pricing:
Plan.io provides the following five pricing plans:
Silver: €19 per month (3 active projects)
Gold: €39 per month (7 active projects)
Diamond: €75 per month (15 active projects)
Platinum: €149 per month (40 active projects)
Enterprise: €299 per month (100+ active projects)
All the plans come with a month's free trial. You can also get in touch with their support team for customized pricing for specific features. All plans include SSL encryption, regular updates, backups & maintenance, free imports of existing data, support via e-mail and phone, etc.
GanttPRO is an online project management tool based on simplicity and Gantt charts.
Its Gantt charts provide a clear picture of tasks, team members, due dates, and priorities. There is also a grid view, board view, and portfolio view.
GanttPRO also excels with team management. Features like real-time synchronization, notifications, file attachments, comments, and mentions all keep team members in the loop on every project.
Key Features:
Project management tracking and boards
Project calendars and change histories
User settings and team member permissions
Time trackers and time log reports
Project duration and time estimations
Custom and pre-configured project templates
Three types of project budget tracking
Pros:
Excels in usability and simplicity with its excellent plan views.
Easily keep clients in the loop with fast project sharing.
Real-time collaboration easily plans priorities with clear deadlines.
Project owners provide a single source of truth and one project opener/closer.
First-rate data security with SSL, private VPN, and Microsoft Azure Cloud Infrastructure.
24/7 email support and live chat support Monday – Friday during business hours.
Pricing:
GanttPRO is $15 for one user and its pricing plans get cheaper per user as the number of team members increases.
Their tool costs $8.90 per month per user for 5 users ($44.50 per month).
$6.50 per month for 40 users ($260 per month).
$4.50 per user per month for 100 users ($450 per month).
Overall, if you're looking for an easy-to-use, Gantt chart-based project management tool with little to no training required, GanttPRO is a great option.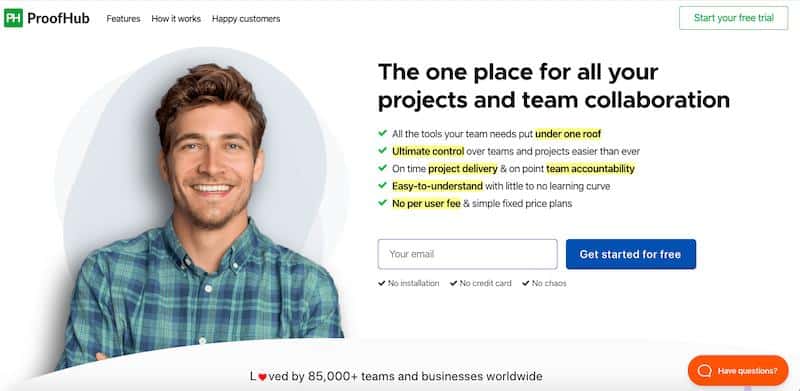 ProofHub provides all the project management tools you need, under one roof. Tools that help you control your team(s) make it easier for you to finish your projects efficiently. It also ensures on-time project delivery and on-point team accountability.
Key Features:
Entirely cloud-based
White-labelling (allows you to add your colors, logo, theme)
Gantt charts for visualization (track progress, change views, export)
Efficient security protocols in place
Available in multiple languages
Offers Kanban-style boards to visualize and self-manage
Excellent integrations (Outlook, Dropbox, Google Drive)
Offers great project templates
Comes with a built-in proofing tool that allows you to share, review, preview, and provide feedback
Both one-on-one and group chats available for better collaboration
Allows you to review multiple files simultaneously
Pros:
Provides detailed tutorials for introduction to ProofHub
Tasks and sub-tasks for easy allocation (also imports CSV files and provides file storage)
Efficient use of calendar (manage all events and milestones, and get reminders)
High customizability
30-day free trial period
Offers plenty of command shortcuts for efficient working
Cons:
Doesn't offer customer support via phone
Can be difficult to use for beginners
Several users have complained about the difficulty in using certain features
Workflows and requirements management could be improved
Pricing:
The pricing plans start at $89 per month (billed annually) and go up to $45 per month (billed annually). They also offer a 30-day free trial.
Backlog is an all-in-one project management app for teams. By combining project management with version control and bug tracking, Backlog brings together code management and project management into one tool.
Additionally, teams can be prepared to collaborate and finish projects with Kanban boards for task tracking, Burndown and Gantt charts for project tracking, and custom Wikis for documenting your team's shared knowledge.
Plus, Backlog features push notifications, comment history threads, and drag-and-drop file management to organize everything in one place.
Key Features:
Task tracking tools, bug tracking, and project version control in one tool
Visual Gantt charts and Kanban-style boards for better resource management and project planning
Built-in SVN and Git repositories
Custom statuses and workflows to suit your project
Mobile app for Android and iOS users
Pros:
Integrations with Atlassian Jira, Dropbox, Zapier, LinkedIn, etc.
Custom Wikis easily document team information in one place to understand project histories.
Tasking and sub-tasking allow easy organization within projects.
Combined bug tracking and task tracking are great for coding projects.
Works on the web, iOS, and Android devices.
Pricing: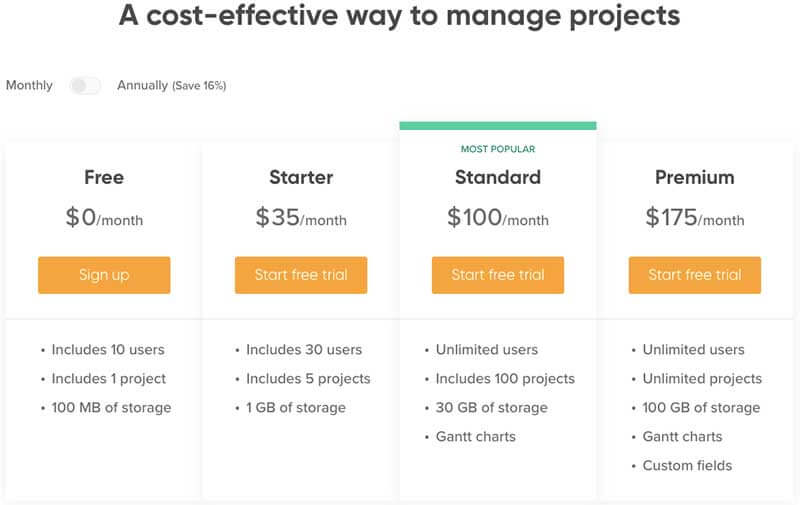 Backlog features four cost-effective plans, including a free plan:
Their free plan provides 10 users, one project, and 100 MB of storage.
Their starter plan at $35/month allows up to 30 users, five projects, and 1 GB of storage.
Its popular standard plan at $100/month provides unlimited users, up to 100 projects, 30 GB of storage, and Gantt charts.
Backlog's premium plan is $175/month and gives you unlimited users, unlimited projects, 100 GB of storage, Gantt charts, and custom fields.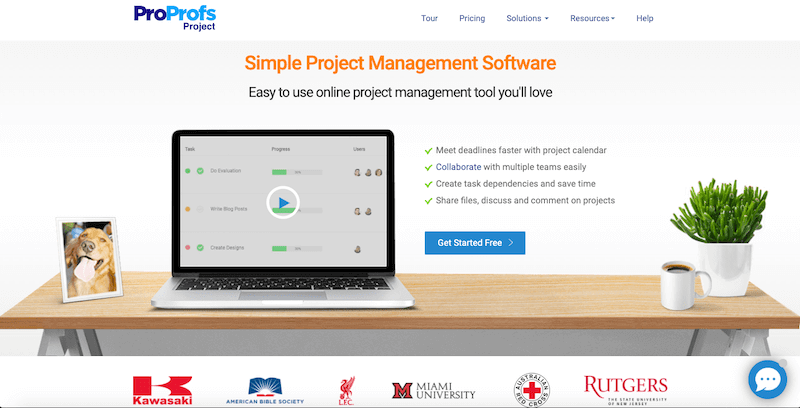 ProProfs is a simple project management tool that aims to keep every team in a company on the same page. It doesn't let you miss out on any important event, whether you're working from the office or a remote location. Moreover, it allows you to collaborate with your team members while keeping feedback, milestones, and the latest developments in the loop.
Key Features:
Use the 'Task dependency' feature to move and customize dates for hundreds of tasks and deliverables in a single click
It allows you to create recurring tasks and use various project templates to simplify your work
Easily set task completion deadlines and monitor them by setting timers. You can also track time on your phone even while traveling
Create comprehensive project completion reports for clients and summarize it by breaking down your deliverables, progress made in each task, and expected completion times
You can manage and track your resources by allocating the right people to the right tasks and optimizing processes
Perform comprehensive budget management, breakdown your budget, and manage expenditure in specific focus areas
Ensures timely invoicing and follow-up with clients and vendors
Offers Gantt charts and helps you create financial summaries
Pros:
Get secure billing for all projects
Provides easy integrations with Dropbox, Salesforce, Xero, and more
Share files in real-time
It offers a forever free plan and offers extensive customer support
You can easily prioritize tasks by assigning them color codes like red, yellow, and green
Some plans allow CSV data export, custom branding, and live training
Allows you to collaborate with intra-business and inter-business teams
Cons:
A bit challenging to use for beginners
Pricing:
It provides a freemium plan for necessary functions. After this, there are three paid plans, starting from $19 per month and going up to $199 per month. The paid plans offer a 15-day free trial period.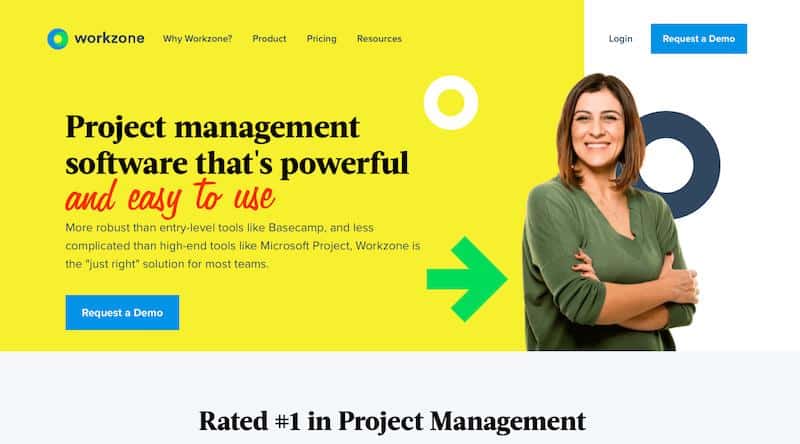 Workzone is a cloud-based project management software. One of its most prominent features is that it allows custom branding for businesses, allowing them to display their logos or signatures. Other than that, its focus is on enabling collaboration between different business units.
Key Features:
Offers excellent collaboration features
The project dashboard gives reference to all features
Offers a wide variety of templates
Comprehensive document management
Budget and expense management
All-in-one portfolio management
Real-time display of to-do list
Excellent integration with a wide range of software, including Dropbox, Tableau, Google, and more
Offers exportable pre-built or customized project reports
Pros:
24/7 support (phone and email)
Great for businesses that handle multiple clients
Allows you to create external accounts for specific business requirements
Cons:
Time management can be improved
Lacks the capacity to create a portal for clients or external users
Beginners might find it challenging to use
The pricing plan is not available on the website (must contact the company to get a quote or request a demo)
Pricing Plans:
Workzone does not display its pricing on the website. You have to get in contact with the Workzone team to request a demo and get a quote.
Trello is a cloud-based, Kanban-style list-making application. Most users claim it to be a very flexible app that provides excellent project collaboration. The best part is that it offers a basic plan free of cost for beginners.
Key Features:
Provides a limited-feature, free plan
Drag and drop feature
Provides multiple integrations with third-party apps like Zoho, Evernote, Zapier, and more
Has a voting feature, which allows the employees to vote and decide on a particular course of action in real-time
Offers unlimited personal boards, cards, and lists to segment and manage the workload accordingly
Unique 'power-up' feature that allows you to edit the content on each board and add different integrations
Offers inline editing, checklists, and attachments
Provides regular updates and alerts on deadlines
Pros:
Syncs across all devices
Very user-friendly
Mobile friendly
Supports Android and iOS
One of the cheapest project management apps in the market
Highly customizable for multiple different project teams
Easy to use Kanban boards
Collaboration tools that sync with Slack
Cons:
Trello doesn't provide a separate portal for clients
The free plan doesn't include integrations
Doesn't have phone support
Pricing:
Trello offers three plans.
The first one is a free plan, with limited features, but great for people who're just starting.
The 'Business Class' plan costs $9.99 per user month (billed annually).
The 'Enterprise' plan costs $20.83 per user per month (billed annually).
15. Podio.
Podio is a holistic, web-based, powerful, and easy-to-use project management software. It is also one of the few project management solutions that offers a free, basic plan with limited features.
Key Features:
Comes with filter and reporting options (helps automate sales pipeline and project budget tracking)
Maintains workflows based on if-this-then-that logic
Comprehensive task management features
Offers a variety of calendaring options, including personal calendar, workspace calendar, and more
Integrations with numerous third-party apps (Google Drive, Dropbox, OneDrive, and more)
Efficient communications and online meetings (Podio chat, instant messaging, audio and video, and more)
AES 256-bit encryption for storage and SSL Certified (highly secure environment)
Pros:
Intuitive and user-friendly interface
Highly customizable
Provides excellent customer support
Offers an excellent free plan for up to 5 users
One of the most affordable platforms in the market
Provides unlimited storage, even for the free version
Offers tutorial videos for easy understanding of usage
Powerful templates
Cons:
Limited tracking options
Doesn't allow archiving and use of markup tools
No phone or email customer support
Pricing Plans:
The first plan is free and allows up to 5 users. The 'Basic' plan is priced at $7.20 per month. The 'Plus' plan costs $11.20 per month and offers the option of automated workflows. The 'Premium' plan is $19.20 per user and offers a full suite of advanced features.
16. MeisterTask.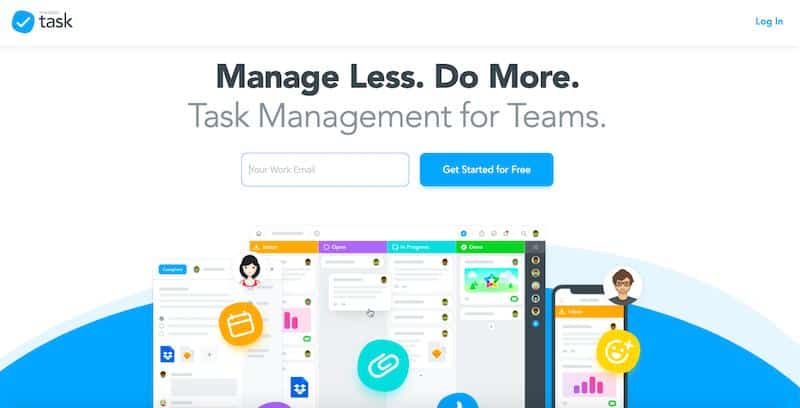 MeisterTask is a project management software that helps organize and manage tasks in a beautifully designed, customizable environment. It is entirely web-based and doesn't require any downloading or manual updating.
Key Features:
Kanban-style boards help in task management
Mobile friendly and is compatible with both Android and iOS
Make use of multiple checklists that allows you to break up long lists into manageable sub-lists
In-built time tracker feature
Easy project portfolio management
Offers extensive integration with a wide range of applications (Gmail, Dropbox, Zendesk, GitHub, and more)
Excellent security protocols in place
Provides direct import option from a variety of apps like Trello, Asana, and Wunderlist
You get a personal URL to subscribe to your tasks, schedules, and more
Pros:
User-friendly and intuitive interface
Predefined workflow helps in efficient team collaboration
Very efficient automation (offers 'section actions')
Allows you to set up recurring tasks
Excellent collection of tutorial videos to guide you
Allows high customizability
Cons:
Subtasks are not visible right away
Doesn't provide a native reminder feature
Isn't compatible with Linux
Phone support is offered only for the 'Business' plan
Pricing Plans: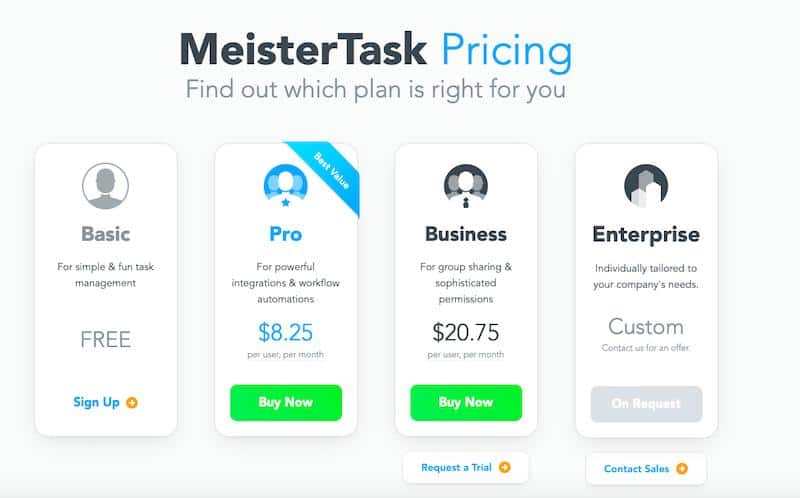 You get a free plan for basic requirements. The paid plans start from $8.25 per user per month and go up to $20.75 per user per month. They also offer one 'Enterprise' plan that can be tailored for each individual.
17. BaseCamp.
BaseCamp is a cloud-based online project management tool. It organizes everything in one place and eliminates the need for additional software.
Moreover, it helps segment projects into small parts, which increases the focus on each part.
Key Features:
Provides message boards to post announcements and pitch ideas
To-do list (make a list of what to do)
Efficient scheduling
You can share docs, files, spreadsheets
Excellent group and individual chat
Project-based calendar system
Offers a wide range of project templates
Provides a client/third-party portal
Allows you to set-up and schedule notifications
Offers in-built file management for each project
Extensive integrations available (Zapier, TaskClone, Pleexy, and more)
The "Klipfolio" features help you visualize all your business metrics on a single dashboard
Pros:
Allows high level of customization
Doesn't charge based on the number of users
Promotes and facilitates collaboration between business units
Offers an excellent free plan (limited features)
Offers a 30-day free trial plan for the paid plan
Compatible with Android, Mac, Windows, iOS
Extensive tutorials for in-depth learning about BaseCamp
Cons:
Entirely based on cloud thus may not be used by businesses who prefer in-house project management
Doesn't offer customer support via phone call
Pricing Plans:
The paid plan costs $99 per month. You also get a freemium plan with regular features. However, you won't get the VIP customer support that is exclusive to the paid plan.
A few tools not yet listed include Zoho Projects, Microsoft Projects, LiquidPlanner, and Mavenlink.
What is Project Management Software?
Project management is the science or art of mobilizing a company's resources towards the completion of a specific project or goal. It may be a one-time activity or a long-term work order. Project management software is either an on-premise or SaaS collaboration tool that allows teams to manage tasks, share deliverables, and work on projects to completion.
Naturally, the software tools that help companies perform project management are called project management software (or PM software for short).
Whether working on a software development project or a simple document, this collaboration software allows teams to work together faster, and save the company both time and money.
Ever since the first PMS was developed in 1896, called the harmonogram, the software has seen profound changes.
These days we have numerous types of project management software apps, including:
Desktop-based or web-based
Mobile apps
Single-user
Collaborative
Visual
Project management is prevalent in science, engineering, information technology, military, and construction industries.
The best part is that project management software has brought about considerable automation and resourcefulness, which is a distinct advantage over traditional manual project management techniques.
A project management software app can help you perform the following tasks:
Planning
Time-management & scheduling
Resource allocation
Communication & collaboration
Documentation
How Do You Use Project Management Software?
With intense competition all over the business world, merely registering for a project management platform is not enough.
You have got to be able to use it correctly and reap all the benefits in all its capacity.
After all, your competitors are going to be using such platforms as well, so efficiency and proper use can be the key to getting a competitive advantage.
Here are some of the steps you can use to maximize your results:
1. Analyze The Project.
The first step is identifying the parts of the project you need help with and your desired outcome.
You need to identify things like:
Whether your requirement is internal or external
Do you need to collaborate with your clients or any other third-parties
If remote working is possible and what kind of remote working tools would you require
What's your budget
If you don't run a thorough analysis, you might end up overlooking the project management features that could have helped most.
2. Choose The Right Plan.
After you've selected the online project management software to use, you need to choose the right plan for your business.
You could make a decision based on several factors, like the number of users you have, your budget, or other company-specific variables.
The good news is most PM tools provide several different pricing plans, along with a quote-based plan that can be customized based on your requirements.
3. Get Comfortable With The Navigation Panel.
With any platform, you need to get comfortable with the navigation panel. This panel contains all the tools that you'll need to rely on.
Some of the components that a typical navigation panel provide are:
Inbox
Dashboard
Stream feeds
Folders/projects/tasks (sub-tasks)
Calendars (helps in tracking and following daily work)
Here's what a typical navigation panel looks like:
4. Create a New Folder.
You can start by creating a folder and keeping all your team members in the loop.
Creating a new folder is easy in any PMS, and can be done from the navigation window itself.
The folder usually contains all the details of a particular project.
Source: Flowdocs.built.io
5. Start a Project.
After creating a new folder, start a new project, or add an existing project to the folder.
You just need to follow a few simple steps that are usually go something like this:
Naming —> Setting a start date and an end date —> Choosing your preferred view
6. Add Team Members.
The next step is adding the team members for the project. Adding the members is easy, and it allows all your team members to keep track of the progress of the project and other details they are working on.
7. Add Tasks and Sub-tasks
After the creation of the project, you can start to add tasks and assign them to different people in your team.
Take Trello, for instance:
You can follow each task and see the progress each team member has made over a period of time.
The best part is that you can give each task a name, which helps you prevent overlapping between various tasks. It also helps you to easily locate the task/project when in need.
8. Task & Sub-task Detailing.
After the creation of tasks, it's now time to add the various details.
Some of them include:
Sub-tasks
Assigned team members
Due dates
As you work through the project, you can keep on updating the tasks as well as the sub-tasks.
Sub-tasks are critical additions to the "tasks."
And just like the tasks, sub-tasks also need detailing, such as:
Key information
Assigned team members
Due dates
Additional details (if any)
The benefit of most project management software apps is that the entire team can view all the tasks and sub-tasks (despite not being kept in the loop). This helps the whole team maintain the flow, which results in better transparency and flexibility.
9. Set a Priority Level.
A hallmark of using a project management tool is setting the priority levels.
Usually, the priority levels can be of three types:
High importance
Moderate importance
Low importance
This option is mandatory in some, while optional in the others.
However, setting a priority level can help you keep track of the tasks that you need to do urgently and ensure you complete all the projects in time.
10. Reports and Dashboard.
It is something you will get the hang of once you start working on your PMS.
Usually, with reports and analytics on your dashboard, you can track and follow the progress of everyone in your team.
Dashboards usually help in filtering the list of tasks. Specific widgets can be created that help users see tasks and sub-tasks within a particular folder. Anyone can access the dashboard and keep abreast of things.
11. Visualize and Collaborate.
Make maximum use of the various visualization techniques available in your project management tool.
Most of such platforms today offer Gantt charts for efficient visualization that help in easy facilitation of tasks, and a high level of team collaboration.
Source: Proofhub.com
All in all, project management applications aim to streamline the following work management steps:
Initiation
Planning
Execution
Monitoring & control
Closure
Executive Summary.
When it comes to choosing the perfect project management platform, there isn't any best or worst. It all comes down to the requirements of your small business, what metrics you use, your budget, among other things.
To choose the perfect software tool that aligns the best with your business, you could start with the following questions:
Do you need your team to work remotely?
Do you need a customized plan?
Do you need a plan that doesn't charge on the number of heads?
Would a Gantt chart help in organizing things better?
Do you want to have an external stakeholder/client portal?
What kind of third party integrations do you need?
Keeping the above questions and your budget in mind, you can easily find the best project management software tool that's right up your alley.
Further Reading on AdamEnfroy.com:
Marketing project management tools are a subdivision of project management software that are designed to help with marketing campaigns.
If you run a marketing team, you may need a marketing project management tool to help with task automation, budgeting, and more.
Here are the best marketing project management software to consider if you're looking for a tool to help with your marketing campaigns.
Want more business guides?
Check out my reviews of the best OKR software, the best BPM software, and the best ERP systems to use this year.
Disclosure: I may receive affiliate compensation for some of the links below at no cost to you if you decide to purchase a paid plan. You can read our affiliate disclosure in our privacy policy. This site is not intending to provide financial advice. This is for entertainment only.