The Ultimate List of Project Management Statistics for 2023
In a work environment where things don't always go to plan, project management is a discipline that is needed now more than ever.
As new technologies and methodologies emerge, the project management institute (PMI) and other experts continuously update and revise their standards and certification exams.
Scrum is one of the most utilized project management methodologies around. The Scrum project management is a subset of the Agile Practice Guide, which uses time-boxed iterations, called sprints.
Work is performed incrementally and completed within each sprint to create a working product called the increment.
The use of project management software and tools helps organizations manage projects by providing a central location for all project documents, facilitating collaboration among team members, and tracking the progress of each project.
In this article, I have compiled the most recent statistics on the project management industry.
My aim is to provide you with key project management stats that can help you better understand how the industry has evolved and where it's headed.
Let's get right into it.
Project Management (PM) Productivity
1. As a practice, PM is 28 times more productive in organizations that employ it than those that don't.
(CIO)
Organizations that employ PM techniques are 28% more likely to meet their target business objectives.
This highlights the need for project managers to implement the necessary measures to increase project productivity.
2. Poor project management planning leads to 11.4% of company resources being wasted.
(PMI)
It's not enough to have project management executed as an afterthought.
Project managers need to plan for every possible outcome to optimize resource management and reduce costs.
The right plan leads to a more organized and efficient working method, allowing project managers to avoid unnecessary losses.
3. The top three crucial factors for PM software success are ease of integration, use, and reliability. With that said, current solutions are not yet suitable to satisfy these factors, according to 73% of businesses.
(Hive)
Many understand that PM software can increase efficiency in specific project management tasks.
Integrations, ease of use, and reliability are highlighted as the three crucial factors for PM software to be successful.
Unfortunately, current solutions don't meet these requirements for 73% of businesses.
In other words, there is still lots of room for growth within the PM software space.
Project Management Priorities
4. A culture that puts project management at the top is crucial only to 46% of surveyed organizations.
(PMI)
There are many priorities in business, and PM is not yet one of the top ones.
Only 46% of organizations surveyed state that having a culture that puts the PM at the top is crucial.
Organizational structure, leadership, and business strategy are among the few other variables that come before project management for these businesses.
Image Credit: Workamajig.com
5. 23% – the number of organizations that use software meant for project management.
(Wellingtone)
It's worrying that only 23% of organizations use software meant for project management.
This begs the question, "how many companies realize the benefits of having good PM software and use the right software"?
6. As much as 67% of companies that say PM is not essential fail.
(PMI)
This is an interesting statistic that observes the long-term effect of those that do not embrace project management.
According to recent surveys, as much as 67% of all companies that say that project management is not needed end up failing.
Need for Project Management
7. 52% – survey respondents that are somewhat unhappy with their current project management arrangements in their company.
(Wellingtone)
Those involved in the day-to-day management of software projects can face different challenges.
According to the latest survey results, 52% of survey respondents are somewhat unhappy with the current project management arrangements in their company.
Many employees understand the benefits of applying project management techniques, but various hurdles prevent them from doing so.
8. As much as 33% of project management professionals didn't have their organization's (complete) blessing to invest in project management software.
(Hive)
Project managers themselves find it challenging to decide which tools to use, especially when there are concerns over project budget.
According to the results of a recent survey, as much as 33% of project management professionals were faced with various objections when they first decided to invest in project management software.
Trying to do your job without the right tools is tough, but this is exactly what a third of all project managers are going through.
9. Having the proper project management portfolio management is key to influencing key decision-makers, according to 80% of project managers.
(Axelos)
A PM portfolio is one of the most critical aspects influencing key decision-makers.
80% of those surveyed state that having a project management portfolio is key to influencing the people that matter.
PM professionals must have a clear and understandable display of their work and the results obtained.
This makes it easier for the upper management to make better decisions regarding the PM and what giving the green light to certain projects can achieve.
Project Management Market
10. As much as 44% of managers are not believers in project management software.
(Hive)
When it comes to the benefits that PM brings to the table, not everyone is a believer.
In fact, according to a survey conducted by Hive, as much as 44% of managers do not think that PM software is needed.
This lack of belief can prevent a company from adopting a project management system and prevent them from realizing its benefits.
11. 35% of project managers still use Microsoft Excel when planning the resources.
(Wellingtone)
The popular spreadsheet software Microsoft Excel is still being used as a project management tool.
According to the results of a recent survey, as much as 35% of project managers still use Microsoft Excel to plan the resources they might need for their tasks.
While not a bad tool to use, it's not built with project management in mind and is usually not enough to handle all the project manager's needs.
This is especially so when it comes to more significant projects.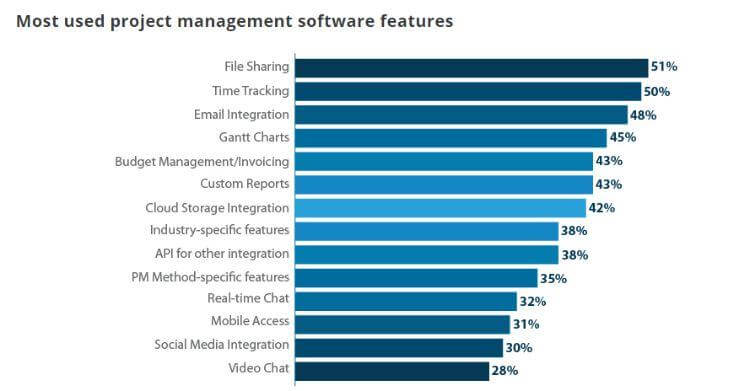 Image Credit: Workamajig.com
Project Management As A Career
12. There are 1,279,290 project managers in the United States.
(US Bureau of Labor Statistics)
More than a million people work as project managers in the United States.
This means there is a significant demand for project management professionals, which is a good incentive to have if you're considering pursuing this career path.
13. A project manager earned slightly more than $66,000 per year in January 2021.
(Glassdoor)
The average salary for a project manager in January 2021 was around 66,000 dollars.
Different people have different opinions about whether the salary is too much, too little or just right.
Some say that that is a lot of money for a job that sometimes does not even require having a bachelor's or master's degree.
On the other hand, others say that the PM salary is too low compared to the amount of work they have to do.
This figure can vary depending on where you live, how big your company is and what industry you're in.
14. Out of all the organizations that employ project managers, 61% provide a career roadmap, with 47% of these having a clearly defined and straightforward way to progress.
(PMI)
Career progression is essential for all workers, and project managers are no different.
PMI has recently conducted a survey and found out that 61% of organizations that employ project managers provide a career roadmap for their PMs, with 47% of them offering a clear way to move forward in the said roadmap.
This is good news as it shows that there is a potential for growth within this job position.
15. Professionals with project management certifications earn 22% more than those without.
(PMI)
Being a PMP (project management professional) is essential if you want to succeed within the field.
According to PMI, professionals with project management certifications earn 22% more than those that don't have any qualifications.
The right professional will typically bring a lot of value to the organization and will be able to handle more significant projects while achieving better results.
16. When comparing 2020 to 2019, 6% more organizations had project managers as employees.
(Wellingtone)
An increase of 6% in the number of project managers employed over a year is quite an interesting figure.
This means that more and more companies are starting to value their PMs and see the benefits of having one within the organization.
What Does A Project Manager Do?
The job duties of a project manager include the following.
Making Sure That Nothing Falls Apart During Project Implementation
The project manager is responsible for planning and managing a particular stage or task.
Their responsibilities also include ensuring that employees get what they need to do their jobs, resolve issues between team members, and make adjustments to plans when necessary.
In addition, they need to make sure that the company's values are upheld throughout the project's implementation.
Various project management tools ensure help with ensuring that such projects run smoothly.
Making Sure That Their Project Team Functions As A Coherent Unit.
Project managers are responsible for planning and managing certain stages or tasks assigned to them within a project.
In addition, they need to make sure that the business's values are upheld during the implementation process for this particular task or stage of the job.
Teamwork is one of the best ways to ensure that the above gets accomplished.
Communicating With Team Members, Stakeholders, And Clients
Project performance is dependent on real-time communication between team members, stakeholders, and clients.
It is a project manager's responsibility to ensure that this communication runs smoothly so as not to confuse or misinform anyone.
A lack of communication is one of the leading causes of project failure, and a good PM can make sure that nothing like this ever happens.
In addition, the PM has to deal with issues of conflict between workers and other parties on a job site.
Ensuring Quality Standards Applicable To His Team's Work Are Met
Bad project management is one where standards set for quality are not met or anything else that may affect the final work product goes wrong.
A PM needs to ensure that team members adhere to the proper quality control measures.
The project manager must ensure that conditions allowing this unacceptable behavior are removed when they do not.
Planning projects in advance
Project management practices are closely tied to project planning.
A project manager needs to make sure that his project is planned out in advance according to the list of requirements set forth by a client or other parties involved and make sure it meets all quality standards while being completed within a specific timeframe.
Project management training focuses on planning as one of the critical components.
Project management training also emphasizes planning as the key to ensuring a successful outcome.
The project plan consists of the steps necessary to complete the task or stage that he is in charge of and should include any documentation used during this process.
This includes documentation related to team members' resumes, quality control records, cost analysis reports, and timetables for different stages.
Keeping Track Of Resources
The project manager needs to make sure that resources necessary for completing a job or project are available and in sufficient supply to complete the task at hand within a specific time frame.
He needs to keep track of resources and update his team on such information when it changes.
This is all part of what's considered to be resources that are to be shared within a team.
Adhering To Deadlines
The project management software market is full of tools that help a project manager adhere to deadlines and other markers on the timeline of a given project.
These tools help PM meet their specific project goals and those set forth by clients, co-workers, and other stakeholders.
On top of that, they help him stay organized and have complete control over resources necessary to complete a project or a particular stage of a project.
Attending All Kinds Of Meetings That Are Related To Project Management
A project manager also focuses on meeting with various groups related to the project to ensure that everything goes according to plan, keeping everyone in the loop.
He needs to make sure that all parties involved are happy with a given stage or process and that they are perfectly comfortable with his and his team's project management techniques.
Managing Risk Management
Risk management is one of the more complex aspects of project management.
It is also where many rookie mistakes are made in terms of project implementation.
A great deal of effort and attention to detail is required to prevent such problems from occurring.
Risk management is often the most challenging aspect of any project and almost always requires time and effort from everyone involved.
Using the right project management software helps manage risks at any implementation stage.
Various Project Management Methodologies
Four of the most popular project management methodologies are:
Waterfall methodology
Agile methodology.
Scrum methodology.
Kanban methodology.
Let's run through a quick overview of each.
Waterfall Methodology
As one of the original project management forms, the waterfall methodology still benefits today's working environment.
A PM using the waterfall method coordinates with various teams to ensure that they are all working towards a common goal.
One step is completed before another begins, and this process continues until the final stage of the project is complete.
Agile Methodology
The agile methodology is a highly flexible approach to project management. It allows a team to work together and make changes to improve a given aspect of a project.
Agile is a software development method that uses incremental development to create projects.
It was initially intended as an alternative to the waterfall project management methodology, which is still used by many businesses today.
The agile project management methodology focuses on collaboration and self-organization to complete tasks and goals more efficiently and effectively than other implementation methods.
Various agile project management tools help with all aspects of implementing the methodologies.
Scrum Methodology
Scrum project management is a widely used agile methodology and also takes its name from rugby, which is the sport that inspired its creation.
Scrum project management focuses on doing things right by emphasizing high-quality products created over a set timeframe.
One of the critical features of the scrum project methodology is its focus on maximizing productivity by creating a team environment that allows for open discussions and the exchange of ideas among all involved.
Kanban Methodology
The Kanban project management approach focuses on visualizing tasks to ensure that everything runs smoothly and can be adjusted as necessary to accommodate changes in a project.
It requires less planning ahead of time because it is supposed to be adaptive, meaning that the Kanban method will change depending on how a given aspect of a project progresses.
Project Management Certifications
Various project management certifications are available to those looking to enhance their resume.
The most common certification is the Project Management Professional Certification or PMP. The Project Management Institute (PMI) offers it and can be earned through experience or training.
In addition, the Project Management Office (PMO) is a group of entities that aim to standardize processes within an organization.
While not a certification, it's a good department to have – if resources allow it.
The State Of Project Management Worldwide
Project management has become an integral part of many businesses, with PMs being in high demand across various sectors.
Some of the best management positions are for those who have earned project management certifications or degrees with the technical skills to ensure profitability and a high project success rate.
When it comes to keeping one's finger on the pulse of the profession, understanding what causes project objectives to succeed or fail is a crucial aspect.
Various organizations report that project management is an everyday part of their business, while others use it infrequently for specific initiatives.
Artificial intelligence is also making waves in the project management industry, with processes being developed to ensure high-performing AI tools are successfully implemented.
Project management technology has also seen significant improvement, with many tools being created to help make businesses more efficient.
The Downside Of Project Management
Projects fail sometimes, with some causing significant damage to an organization.
When projects fail, it can reflect poorly on project managers, which can cause them to lose their jobs.
Image Credit: Financesonline.com
A failure rate in areas involving IT projects (amongst others) is often considered unacceptable, especially if key KPIs set by project managers are not met.
Most industries consider having cost overruns, project failures, or delays unacceptable, which is why having the proper project management in place from the beginning is key to long-term success.
Wrap Up.
Project management is an area of expertise used in various industries, which can be enhanced through training and certification.
While there are both project management success statistics and project management failure statistics, it usually comes down to companies making the right decision when recruiting.
A qualified person who understands how successful project management works is critical.
With major organizations (such as PWC, Wrike, Capterra, Gartner, KPMG, Mckinsey, and more) studying project management's effect on multiple industries, the demand for skilled project managers is expected to increase over the next few years.
A well-trained project manager who can adhere to the proper protocols will make all the difference in a project's success.
With that said, project failure statistics can often be attributed to a lack of understanding and can be avoided with the help of a professional project manager.
Have you ever used an agile project management methodology in your workplace?
Did any of the above statistics stand out?
Please leave a comment below and let me know what you think.
Disclosure: I may receive affiliate compensation for some of the links below at no cost to you if you decide to purchase a paid plan. You can read our affiliate disclosure in our privacy policy. This site is not intending to provide financial advice. This is for entertainment only.