7 Best Reputation Management Software of 2023 (Ranked)
In the digital world, your reputation is everything.
85% of consumers trust online reviews just as much as personal recommendations.
But there's a problem.
Many brands don't know how to manage their online reputation effectively. They don't build a strong website, claim their local listings, respond to Google reviews, or monitor their brand mentions.
This is where reputation management software is extremely helpful.
Whether you want to build a personal brand or improve your company's online presence, these tools come in handy.
In this guide, I ranked and reviewed the best reputation management software based on pricing, ease of use, features, support, and more.
Let's get started.
What is the Best Reputation Management Software?
Here's a list of some of the best reputation management platforms.
Best overall reputation management software (Quote-based).
Birdeye is a reputation and review management software that helps you collect reviews, communicate with customers, and convert more leads.
It provides you with a messaging platform that lets your team connect with your leads. Besides, you can communicate via text messages, live chat, SMS, and mass messaging.
The platform helps you manage your reputation by offering different services for different business goals.
It supports numerous business goals to hone your business reputation, including:
Increases customer interaction with your business
Be found online
Increase customer reviews
Get customer referrals
Capture more leads
And to fulfill these goals, you get services like video chat, online surveys, ticketing, customer insights, webchat, mass texting, business listings, etc.
Now, you can get reviews from your customers directly on your website, conduct surveys, and ask for feedback in real-time.
Also, with its direct integration with Google, all the reviews get registered on Google right away. Not only this, but Birdeye directs your customers to top review websites to share their feedback about your services or products. Plus, you can access all the customer reviews directly from one place through their dashboard.
Birdeye also creates referral links for your customers so that they can share on social media with their family and friends. The all-in-one dashboard also helps you monitor reviews, referrals, shares, leads, and clicks.
Additionally, you can check all the conversations and respond to messages from Webchat, emails, Facebook Messenger – all of it from a single dashboard.
Here are some of the messaging and communication services you get:
Receptionist Feature – It lets you answer calls without picking up the phone. The Receptionist feature converts call voicemails into a text form that helps you deal faster with your customers.
Mass Texting – Text customers in mass numbers in the way they prefer. You can also create custom templates for different types of customers.
Chatbot – Birdeye comes with a built-in chatbot named Robin that identifies and answers repeated questions automatically.
Video Chat – Start video calls with your customers in just a click with features like screen share, call recording, HD quality, and more.
Pricing:
Birdeye offers three quote-based plans, namely, Standard, Professional, and Premium.
Best for local businesses targeting a niche audience (Quote-based).
Reputation.com provides solutions to help you manage your reputation by getting found, chosen, and endorsed. It takes control of your brand's reputation, manages every customer touch-point, and uses customer feedback to improve your website's ranking.
Customer feedback also helps you interact with your customers and improve your service and products.
Other services include:
Control your business listings on Facebook, Google, etc.
Engage with local directories and manage & update location data in real-time.


Request, manage, and monitor all your reviews on Google, Facebook, and various other review sites – from a single dashboard.
Monitor and handle conversations happening about your brand on social platforms.
Conduct surveys and ask for feedback.
All in all, Reputation.com integrates with your CRM software, review system, social sites, search directory, PMS, and more. They also claim to improve clicks and visits by 70% on your website.
Pricing:
There's no mention of pricing plans on the site – you have to get in touch with the sales team for customizable pricing.
Best for monitoring how your customers interact with your brand ($4 per week).
Yext is a New York-based reputation management software that helps you with online brand management. It also offers brand updates with its cloud-based network of apps, search engines, and more.
The platform also syncs your business information across 150+ directories like Apple Siri, Google Map, Yelp, Yahoo, and more. It also helps you monitor and control all the information regarding your business across the web.
Yext offers a Knowledge Graph feature that helps you list your business and display all the facts about your brand. This feature lets you provide answers to all the customer queries, including product offering, store location, job opening, professional credentials, etc.
Plus, it keeps track of your business' location-related information and automatically syncs this information on every website. The platform also allows you to sync information like phone number, address, business name, coupons, mobile wallet content, etc.
Other primary solutions include:
Yext Pages – It puts your marketing team in control of your brand's landing pages and provides consistent answers related to your business.
Review Monitoring – Monitor all your customer feedback and engage with them to improve their experience.
Industry Benchmarking – This feature lets you monitor how your product is performing in different locations.
Yext Analytics – It lets you monitor where and how your customers interact with your brand. You can also monitor metrics like total brand impressions, clicks, and conversions.
Additionally, Yext helps you generate more leads by providing the best information related to your business to your customers.
You can also integrate your Yext dashboard with other business tools you need – Tableau, Domo, HubSpot, Zendesk, etc. This functionality also helps you streamline all your business tasks in a single place.
Pricing:
Yext offers four pricing plans, including:
Emerging: $4 per week
Essential: $9 per week
Complete: $10 per week
Premium: $19 per week
If you're buying for more than one location, then get in touch with their sales team for a quote on Enterprise plans.
Best for social media monitoring ($49 per month).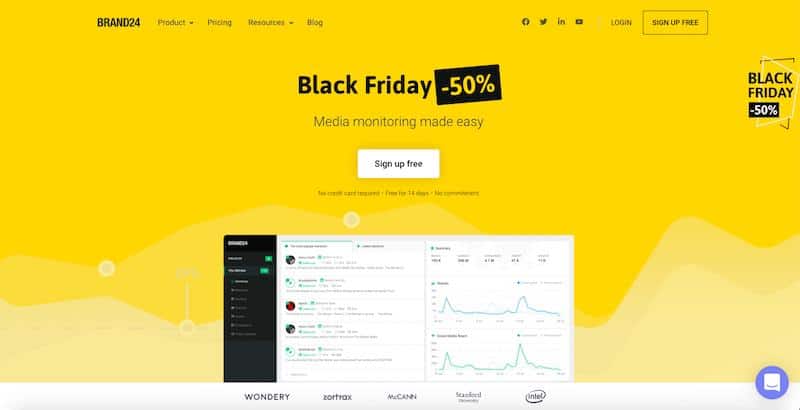 Brand24 is a reputation management platform that helps you track your competition, perform social media monitoring, and improve your online reputation.
It offers a unique automated sentiment analysis feature that detects and segments positive, negative, and neutral mentions related to your business. Plus, you get instant notifications every time there's a negative mention about your business or product. This helps you respond to all the dissatisfied customers right away.
Besides, it lets you track and engage all the online reviews, blogs, social media mentions, message boards, news sites, etc. Not only this, engage with online mentions to grow your customer satisfaction and improve communication.
Plus, you can measure your PR/marketing efforts by tracking the number of mentions and social media metrics like share, likes, comments, etc. You also get automated daily or weekly reports that you can also export into PDF and Excel formats.
There's also a built-in Hashtag tracker that lets you track various hashtags regarding your business used online on different platforms. You can also identify the effectiveness of a social media campaign by measuring its reach and the number of times the hashtag gets mentioned online.
The tool also provides integration with Instagram, Facebook, Slack, and more.
Pricing:
Brand24 offers three pricing plans:
Plus: $49 per month (tracks up to 5k mentions per month)
Premium: $99 per month (tracks up to 100k mentions per month)
Max: $199 per month (tracks up to 250k mentions per month)
All the plans offer podcast monitoring, social media monitoring, sentiment analysis, newsletter monitoring, Slack integration, mobile app, etc.
Best for mid-sized and large enterprises (Quote-based).
Brandwatch is a digital consumer intelligence platform that helps you with reputation and project management.
It helps you track all the customer trends, talks about your brand or products, and even your competitors. It leverages AI-based features to discover all the posts, comments, and conversations related to your brand or products. Plus, the reputation management tool categorizes all these conversations into classifications like complaints, feedback, opinions, etc.
Additionally, it provides alerts and live reports with all the customer insights that you can share across your organization. This helps you promptly respond to all the negative comments and protect your brand reputation before it's too late.
Aside from text-based mentions, Brandwatch also analyzes all the images related to your brand by uncovering objects, scenes, actions, and logos in every image.
You can also analyze data with the help of live surveys, online behavior, and more. What's more, Brandwatch creates detailed reports based on different metrics that you can share via Excel, PPT, PDF, or via the Brandwatch API.
Pricing:
Get in touch with the vendor for custom pricing details.
Best for monitoring and managing social media mentions ($25 per month).
Mention is a monitoring and social media management tool that helps you monitor the web, listen to your audience, and manage social media.
It lets you monitor various sources online, like press articles, blogs, forums, review websites, and more. You can analyze data from social media sites like Instagram, Facebook, and Twitter and see what your customers are saying about you.
Mention lets you conduct an advanced keyword search that helps you reach all your brand-related mentions easily. You can narrow down the search by source, country, and language and eliminate noise by blocking specific sources and web pages.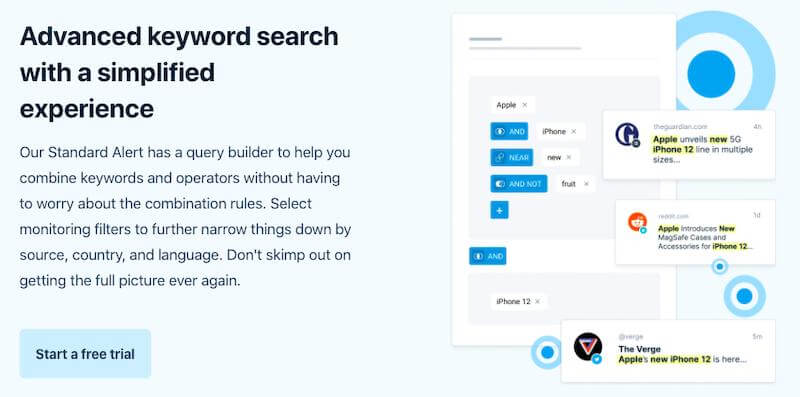 It also provides a daily recap with all the key details related to your brand mentions and Pulse emails in case of peak mentions. For better organization, you can categorize mentions based on 'priority,' 'unread,' 'archive,' or 'favorites.'
You also get detailed dashboards and reports that help you understand all the trends and data using data visualization. Plus, you can share all the relevant reports with your team or grant access to whoever you want. There's also an option to schedule reports and receive them directly in your mailbox.
Other than monitoring, Mention also helps you draft, schedule, and publish content on multiple platforms from one place. Moreover, you can organize and preview content for various platforms with a multi-channel editorial calendar.
And not just your own brand, Mention even lets you analyze your competitors' mentions on forums, social media, etc.
Pricing:
Mention provides four plans:
Solo: $25 per month
Pro: $83 per month
ProPlus: $167 per month
Company: $450+ per month
Freemium: Free for up to 3 social accounts, 1000 Mentions, and one user
The Company plan provides up to 10 advanced alerts, 100,00+ mentions, unlimited social accounts, etc. All the plans come with a 14-days free trial.
Best for monitoring and analyzing online reviews ($25 per seat per month).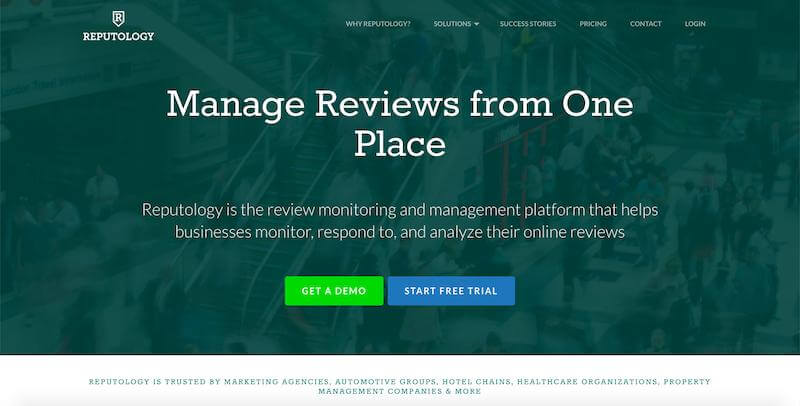 Reputology is a review monitoring and management software that helps you analyze and respond to online reviews related to your brand. It lets you monitor sites like Facebook, Google, numerous review websites, app directories, etc.
It also performs 24/7 tracking of all the reviews written related to your location, products, and services – from a single dashboard.
What's more, Reputology provides automatic email notification as soon as a customer leaves a review or question. You can reply directly from the Reputology interface, which helps you address your customers on time.
Additionally, Reputology comes with a built-in semantic analysis technology that curates and analyzes details from reviews and converts them into actionable data. You can also conduct surveys to get feedback from your customers and monitor analytics using graphs, scorecards, charts, etc.
Pricing:
Reputology offers three pricing plans:
Partner: $25 per seat per month
Agency: $40 per seat per month
Professional: $60 per seat per month
All plans provide access to unlimited review sites, 100 email review requests per seat, floating review carousel, white-label, etc. There's also a 14-day free trial with all the plans.
What is Reputation Management Software?
Reputation management software helps individuals and brands monitor and improve their brand perception online.
Building and maintaining a good reputation helps businesses increase sales, gain new customers, and grow at a faster pace. Thus, you need to protect your online presence and reputation if you want to create a strong brand. However, it's cumbersome to keep track of every word said about your business since customers give feedback on different online channels.
This is where online reputation management tools come into play.
You can also leverage them to collect new reviews via email and online ads. Plus, most of these tools help you gauge the online reputation of your business and build a strategy around it.
A capable reputation management platform also provides social media monitoring solutions to help you track social media posts and discussions. Reputation management tools can use all this information to create actionable insights and help marketing teams make data-driven decisions. They can also help businesses act proactively on bad reviews as part of their digital marketing strategy.
In a nutshell, reputation management software helps businesses protect their brand and ensures the delivery of a better customer experience.
What Features Do You Need in a Reputation Management Software?
Here are a few essential features that you should look for in your online reputation management software:
1. Real-Time Monitoring.
It's essential to respond to negative reviews or customer queries right away before it's too late to appease them. Thus, choose a tool that is capable of monitoring online reviews, social media comments, and discussions on forums in real-time. It's best to start damage control at the earliest.
2. Data Analytics.
Ideally, a reputation management tool should able to measure metrics like the number of mentions, your engagement level, outreach, etc. Plus, you should also be able to track your brand's reputation based on your location, demographics, and keywords.
It should also churn out competitive data to gauge the performance of your competitors and provide actionable insights in the form of custom reports by collating heaps of feedback available online.
3. Review Tracking.
You should be able to track all the reviews left by your customers on numerous business-critical review websites. Also, check out how long does the reputation management tool takes to crawl all the reviews on your dashboard from third-party portals. It shouldn't take too long in case you miss out on vital feedback or a negative review that requires quick redressal.
4. Sentiment Analysis.
It's challenging to track every comment made on social media related to your brand. Sentiment analysis of customers on social media platforms can help you get a broad idea of how customers are feeling about your products and services. That's why make sure that your reputation management tool offers this feature.
5. User-friendly Dashboard.
Your reputation management tool should offer a user-friendly dashboard to help you access all the required information from one place. You should also be able to generate reports, track online reviews or comments, create projects, etc., directly from the dashboard.
6. Multi-Response System.
Responding to multiple messages through different platforms can become cumbersome. Thus, look for a tool that can help you respond to multiple messages through various means, including email and web-based messages.
How Do You Use a Reputation Management Software?
Here, I'm using Brand24 to demonstrate the basic features of an average reputation management tool.
Step 1. Create The Project.
After signing up for your account, enter your brand name, and set up the keywords you want to track. You can also add links to your social media profile like Instagram and Twitter. Also, try adding names of all your products, search terms, relevant hashtags, and everything else related to your brand.
Finally, select your language and click on the "Create Project" option.
Step 2. Track Your Reputation.
To track what matters the most, you can use data selection filters. You can also study the data by filtering out additional keywords, sentiment scores, and author or domain filters. Besides, it also lets you group all the relevant data into a single report.
You'll find all these filter options on the rightmost side of your panel.

Step 3. Track Potential Customers.
Track down the search queries related to your product or service to understand your brand's potential in the market. You can track key phrases like "who will recommend," "where to buy," "product name," and more.
You can do so by simply entering the keyword in your dashboard's search bar.
You'll get plenty of results like this:

Step 4. Generate Reports.
Data collected from all public platforms can be too much information to consume. To make sense of all the relevant data, you need proper reporting. Luckily, you can use filters and projects to sift out relevant data.
Brand24 offers three types of report options – PDF reports, Email reports, and Infographics. You can see these options on the leftmost side of your dashboard.
Here's what you'll get after clicking on the 'PDF Reports' option:
Finally, click on the 'Generate report' option, and your report will get downloaded automatically.
Step 5. Competitor Data Analysis.
Similarly, track the companies that you think are your competitors. It will help you find out all the details about their marketing activities and customer feedback about different brands.
These were some of the few steps that can help you use an average reputation management platform. These steps will also help you create marketing reports easily.
Executive Summary.
These were some of the best reputation management tools available that you can try out.
Attracting customers today has more to do with providing customer support than the actual product. It's essential for brands to excel at customer service and staying abreast of customer reviews for satisfied and happy customers.
In fact, statistics suggest that 91% of millennials trust online reviews as much as friends and family.
Thus, it's important to receive positive reviews and immediately address negative reviews.
Luckily, these reputation management tools will help you manage every aspect of your brand's online reputation – including customer reviews.
Go for Reputation.com, Mention, or Brand24 if you specifically want to monitor and handle social media conversations related to your brand. On the other hand, Reputology is a good option for tracking reviews all across the web.
Birdeye is an all-in-one reputation management platform that provides all the services you'd need, including reviews monitoring, referrals, listings, custom business pages, etc.
Review all the platforms carefully and choose the one that aligns the best with your requirements.
Which one of these reputation management tools are you planning to use, and why? Let me know by commenting below.
Further reading on AdamEnfroy.com: Want to know more about reputation and branding?
For example, did you know that a brand only has .05 milliseconds to leave an impression on its potential clients? Every second counts when it comes to your brand and its reputation.
Disclosure: I may receive affiliate compensation for some of the links below at no cost to you if you decide to purchase a paid plan. You can read our affiliate disclosure in our privacy policy. This site is not intending to provide financial advice. This is for entertainment only.