7+ Best Resource Management Software of 2023 (Ranked)
Growing businesses always have a ton of moving pieces involved.
From managing schedules, people, or projects to ensuring expense reporting happens correctly, it can be challenging to manage all of this in one place.
Enter stage left…
Resource management software.
The simplest way to look at resource management software is that it is one tool to manage all of your business resources and ongoing projects.
Instead of having a bunch of tools in their own silos, it is one tool that can manage them all.
Resource management software has a lot of similarities with project management software and workflow management software but when you are looking for resource management software you need something a bit more than a standard kanban style to-do list tool.
Now let's get right into the best resource management software options on the market.
What is The Best Resource Management Software?
Here are my top picks for the best resource management platforms.
Best overall resource management software (Free – $16/month).
Monday.com is a cloud-based resource management software that helps you set up and manage your team's time and projects from anywhere. It lets you manage your company's workflow, projects, and contacts, all in one place, so you can focus on what's important.
One of the key selling points about the platform is that they tailor the interface based on your goals and preferences. You'll get prompted to pick a template as soon as you sign up with them.
Some categories include marketing, venture capital, freelancer, construction, HR, marketing, software development, and more. This also shows that the platform is suitable for big organizations as well as an individual.
Here's an example of the "Customers Request" template from the "Freelancers" category:
It helps you manage all incoming customer support requests in one place and optimize your customer satisfaction. Similarly, you can choose from hundreds of templates based on your industry and requirements.
You can start by organizing your work by grouping items together. A group can be a project phase, a time frame, deal stage, or anything you define.
There will be tons of in-app tips and a quick video that will help you automate the workflow and get your hands around the interface.
Next, start planning deadlines, give project ownership, and manage any project in minutes. You can also switch to the Kanban view to obtain a Bird's-eye view of outstanding projects, resource availability, and projected timelines.
Monday.com has one of the best Kanban views that exist which is why it also made the top spot on my list for the best Kanban software.
The ability to create automated pipelines is also a noteworthy feature. These funnels allow you to trigger tasks based on specific actions.
Keeping track of your team members and projects is also simple since everything gets streamlined. From synced calendars to video chats and aligned work progress, all of these functions ensure your team meets crucial deadlines.
Key Features:
Quick Setup – Get hundreds of customizable templates to start quickly or build your interface from scratch.
Extensive Integration – Monday.com offers over 40 integrations with apps like Dropbox, GitHub, Salesforce, Google Calendar, Gmail, Google Drive, Slack, Excel, Jira, Trello, and more.
Visualize Teamwork – Keep track of the workload with a map view, Gantt view, timetable view, timeline view, kanban view, and more.
Streamlining Teamwork – Get insight into your team's work capacity and modify project schedules or ownership appropriately – regardless of where you are. All of your work, projects, and teams get organized on a single dashboard.
Pricing Plans:
Monday.com offers five pricing plans:
Individual (Free) – Unlimited boards, up to two seats, 200+ templates, over 20 column types.
Basic ($8 per month) – Includes Individual, plus: unlimited viewers, unlimited items, 5 GB file support.
Standard ($10 per month) – Includes Basic, plus: timeline and Gantt views, calendar view, guest access, automation with 250 actions/mo, etc.
Pro ($16 per month) – Includes Standard, plus: private boards, chart view, time tracking, automation with 25,000 actions/mo, etc.
Enterprise (quote-based) – Includes Pro, plus: advanced reporting and analytics, tailored onboarding, multi-level permissions, etc.
Get started with Monday.com.
Best for collaborating with your team in real-time (Free – $5 per month).
ClickUp is a resource management and productivity platform that keeps all your work organized in one place. It streamlines assets and project management into a single dashboard to help you track existing resources and allocate more resources.
It also helps you with resource planning, resource allocation, performance management, and even project portfolio management. Project management and communication on documents with colleagues get executed in collaboration with the team in real-time.
The admin area comes with tools for communication and collaboration, tasks and status, notifications, and a toolbar. Users may assign comments and tasks to specific team members or group members.
For the most part, ClickUp can replace your dedicated task management software completely.
ClickUp also allows time tracking and goal tracking. You can set goals, add comments, collaborate with the team, add estimates, and build reports – all in real-time.
Any member can mark comments and tasks as resolved or progressing (or create custom statuses), giving a project's overview to the entire team. Users also get notified when another team member mentions or tags them in a discussion or board.
Members can also view or organize projects via an agile dashboard. The activity stream shows when the tasks get created and when they are finished.
Native integration with multiple third-party apps also helps you streamline tasks. Some prominent integrations include HubSpot, Vimeo, MailChimp, Google Drive, Gmail, Google Sheets, and more.
Key Features:
Team Communication – Add comments and notes or tag your team member on any task or board. You can also assign tasks, chat in real-time, take screenshots, record your screen, and share attachments with your team members.
Task Management – Monitor changes, set reminders, organize tasks, and manage teams.
Time management – Create schedules, capacity management calendar, and track time required for a specific task.
Create Custom Views – See work items and data from different perspectives to understand and track them better. Choose to-dos lists, workflow boards, spreadsheets, timelines, calendar view, mind maps, table view, dashboard box views, or Gantt views.
Customizable Interface – The software is customizable, allowing you to adjust your workspace, describe your working status, colors, themes, etc.
Pricing Plans:
ClickUp offers two plans:
Free (Forever free plan, no credit card required) – 100 MB storage, unlimited tasks, unlimited members.
Unlimited ($5 per member per month) – Includes Free, plus: unlimited storage, unlimited lists, boards, calendar views, unlimited dashboards, custom fields, etc.
They also offer a 100% satisfaction guarantee. You can ask for a refund within 30 days of purchase.
Best For Those Looking To Master Their Team.
Resource Guru is a resource management software that is blissfully simple to use. With all the customizable features the software is one of the best asset management software there is for small businesses.
If you want to know what everyone is doing at all times, this is one of the best software to use. If you are looking for good task management software, you are getting it with Resource Guru.
When you have too many things going on at once, this is an excellent choice that can help you keep track of everything that is going on in your business. There are many great features included, but the real standout is the tool that allows you to have your own views just the way you want them.
Whether you want to drag, drop, book, change or delete, it's all possible in Resource Guru. If you are sick of having your employees out of the loop on what is happening in the office, then this is one software that will be able to help with that. There are so many things that can be done when it comes to streamlining your business.
With automation, you can easily manage your employees, their time and attendance. You can also manage the customer's projects so you know what is happening at all times.
Key Features:
Gather knowledge and boost revenue by giving more visibility to all your projects
Have a single pool of resources that are shared by all your projects
Improve resource planning and optimization for upcoming projects
Manage customer relationships, budgets and tasks to gain better visibility into project status
Manage your calendar, projects and tasks from one place
Easily organize resources by skill set, availability or expertise
Pricing: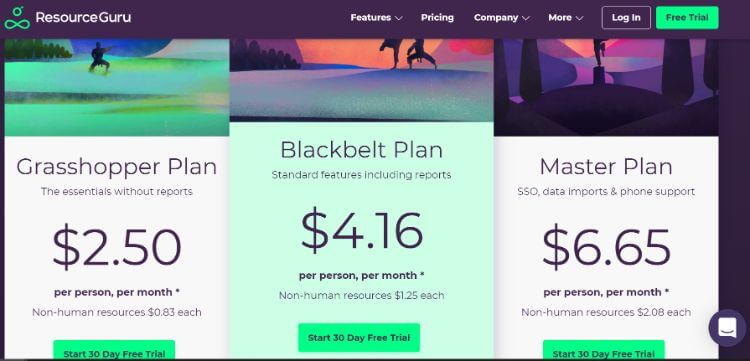 There are three different plans available:
Grasshopper: $2.50 per person, per month
Blackbelt: $4.16 per person, per month
Master: $6.65 per person, per month
Get started with Resource Guru.
Best for scheduling, assigning, and monitoring projects ($6/mo – $10/mo).

Float is a resource management solution that lets you manage employees' daily tasks, workloads, and projects. You can see all your resources, their abilities, and cost in one floating interface.
For example, if a developer is building the IT solution for you, you can quickly see how much time they have till the deadline and how many hours they already used.
The platform lets you create and allocate new tasks to your team within seconds. There's a "Schedule View" that provides you with an overview of your team's availability and capabilities. You can even further narrow down your search using Float's search and filter feature.
You can also tag your team members and projects on custom tags, such as location and talents. You can also set a schedule to inform others when you work from home or are on leave. This way, everyone stays in the loop with each other's schedules.
In addition, Float provides several integrations to import data from business apps you use currently.
Sync and plan your projects for Asana, Jira, Teamwork, or Trello and integrate your Google or Outlook Calendar events straight to your Float schedule. Keep updated through email, Slack, or push notifications on your mobile device.
Key Features:
Task Scheduling and Updating in Real-time – Create and assign tasks in a matter of seconds. You can also leverage built-in editing shortcuts and tools to make changes quickly.
Create Project Timelines and Assign Resources – Include phases and milestones in your projects. It also lets you link tasks to group projects, modify timelines and allocate resources to particular team members.
Automate Team Management – Keep track of your team by scheduling time off, creating custom work hours, and importing public holidays. You can also sync it with your existing calendar tools. This one feature alone can replace your entire scheduling software system.
Real-time Reporting – Real-time reporting helps you manage the use of your resources, monitor project budgets, and forecast the capacity of your team. Enable time tracking in pre-filled timesheets and compare your team's time to the actual working hours.
Pricing Plans:
Float offers two paid plans:
Resource Planning ($6 per month) – Resource scheduling, capacity reporting, unlimited projects.
Resource Planning + Time Tracking ($10 per month) – Includes Resource Planning, Time tracking, comparing your estimates vs. actuals, log hours with their mobile app.
5. Forecast.app.
Best for resource allocation and monitoring time utilization (€27 per seat/month).
Forecast.app is a resource and project management software that helps you manage and track projects, resources, timesheets, and invoicing. It helps you visualize and track time, tasks, and projects in a single place.
With Forecast.app, you can get a quick overview of your team's workload and the capacity of all your resources. And that too, in real-time.
The dashboard is built in a way so that you always know which team member is working on which project. It also helps you assign specific working hours and track each member's time to finish particular tasks.
What's more, you can set tags and custom fields like "time off" or "on vacation" to mark team members who are currently not working. It's a convenient way of keeping the entire team in the loop, which results in a smoother task allocation process.
And not just that, you can even dig deeper to see whether hours allocated to team members are getting utilized fully or not. The platform leverages native AI technology to automatically calculate over allocation, under allocation, and how members are spending their team.
And true to its name, Forecast.app learns from your team's previous work and time utilization and predicts the number of hours required to finish a specific task.
You also get access to visual reports and timesheets, along with the ability to track project progress and budgets. These reports include vital metrics, such as real-time utilization, comparison between actual and planned utilization, profitability, etc.
The auto-scheduling functionality also eliminates the need to assign resources to tasks manually.
Forecast.app also automates the process of:
Assigning projects or particular tasks.
Workload estimation.
Resource allocation.
Managing resources using visual heat maps (provides a visual representation of everyone's capacity and time utilization).
Key Features:
Searchable Database – The searchable database helps you identify team members with the right abilities and those who are most likely to be available for any unassigned task.
Appropriate Resource Allocation – Supervise projects and teams and ensure that everyone receives work based on their capacity. Streamline your daily tasks and stay ahead of the project's deadline.
Real-time Performance Analyzation – Gain complete operational and financial insight throughout your portfolio and develop a growth strategy for the business. Also, analyze everyone's performance in real-time.
Pricing Plans:
Forecast.app comes with three paid plans:
Lite (€27 per seat/month) – AI work automation, resource management, project management, team collaboration, time management, lite integrations.
Pro (€46 per seat/month) – Everything in Lite + Financial portfolio reporting, Retainer management, project budgets, expense management, pro integrations.
Plus (Custom plan) – Everything in Pro + Project baseline, time locking and approvals, audit logging, data migration & system integration, plus integrations.
All paid plans come with a 14-day free trial period.
6. 10,000ft by Smartsheet.
Best for large businesses and SaaS companies ($14 per month).
10,000ft is a resource management tool for project managers that helps teams manage tasks, conversations, and deadlines.
The software offers an online portal to manage projects using visual timeline views and communication tools to help everyone on a given project stay updated. For instance, it uses real-time reporting to track time and forecast business requirements.
What's more, they help you curate team members in one place and create their profiles based on their capacity, skills, etc. You can simultaneously look at entire projects and track multiple members.
This makes it even easier to schedule projects, assign tasks based on your team's capacity, and forecast the project pipeline.
In addition, you can also switch between Gantt chart view, card view, and calendar view to manage and view your resources more visually. Other features include mobile time monitoring, timesheet integration, and cost tracking.
Key Features:
Advanced Project Reports – Project reports give insights into metrics like actual vs. planned time utilization, expenditures, budget tracking, historical data, etc.
Pre-filled Timesheets – Pre-filled timesheets make it easy for your team to set their hours. They also help with effective time tracking.
Maintain Project Timelines – 10,000ft helps you assign the right work to suitable contenders, maintain project timelines, and keep the budget in line by predicting company demands.
Extensive Integration – 10,000ft features API and Zapier integration that further enables integration with operational solutions for CRM, analytics, project management, communications, and finance.
Pricing Plans:
10,000ft offers three paid plans:
Individual ($14 per month) – Up to 10 sheets, one dashboard, up to five reports, automated workflows, Gantt Chart, Card View, Calendar View, forms.
Business ($25 per month) – Everything in the Individual plan + up to 100 sheets per license, unlimited dashboard, unlimited reports, custom branding.
Enterprise (Quote-based) – Everything in the Business plan + unlimited sheets.
There's also a free trial, and the charges depend on the number of subscribers.
7. Hub Planner.
Best for resource schedule and time tracking ($7 per resource/month).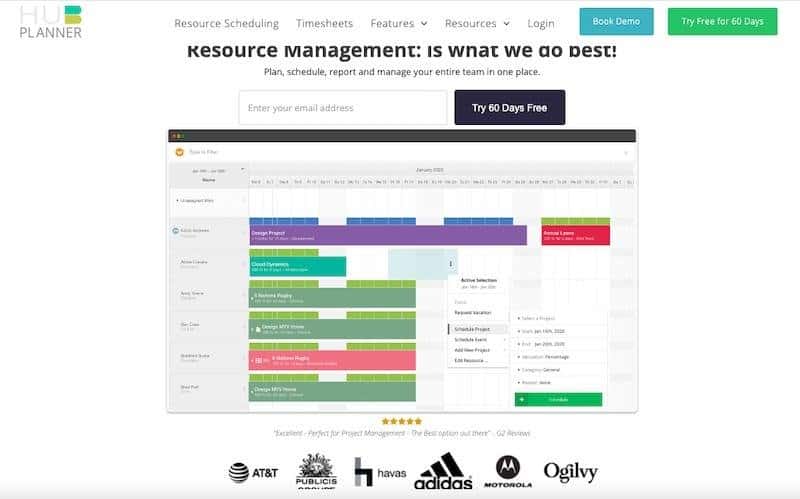 Hub Planner is a project management tool that keeps all your projects in one centralized place. It lets you manage tasks, timesheets, schedules, deadlines, expenses, and assignments while collaborating with clients and teams.
The tool performs three primary functions for smooth resource management:
Resource Scheduler – It gives you a birds' eye view of your projects and team. Users can simply drag and drop elements and resources to plan and schedule projects.
Timesheets – They help you track and ensure that the scheduled time specified by the resource scheduler is in sync with the time produced from the timesheets. This ensures that all team members are on track and not falling behind the deadlines.
Reporting – You get access to real-time reports with insights into your projects, utilization, resources, spend, and budget.
Hub Planner also offers dynamic heat maps that help you visualize your team's utilization even more visually. You can leverage them to identify potential gaps in your resource allocation and scheduling.
The ability to plan work using automated pipelines is one of its key selling points.
Other standard features include the ability to manage and set vacations and off days, requesting vacation time, skills and location matching, billing rates, and budget management. In addition, users can customize alerts and reminders on their schedules.
Key Features:
Advanced Reporting – Download and view real-time analytics for all your projects and resources. You can generate detailed and visual reports using over 70 pre-formatted templates.
Unassigned Work Feature – The unassigned work feature helps you plan and schedule work against unassigned projects. You can also create a "demand" category where team members can place the work that requires scheduling.
Integrated Time Tracking and Approval – Track and create timesheets in collaboration with your team. This feature also includes measuring the difference between actual time reported on timesheets and projected time using the resource scheduler.
Pricing Plans:
Hub Planner offers three paid plans:
Plug & Play ($7 per resource/month) – Scheduler, full reports, unlimited projects, pay per extension.
Premium ($18 per resource/month) – Everything in Plug & Play + Personal Hub Planner contact, personalized one-hour training session.
Enterprise (Quote-based) – Everything in Premium + Dedicated point of contact, custom branding option, service level agreement.
Hub Planner offers an extensive 60-day free trial that includes scheduling, reporting, timesheets, etc. They also have a comprehensive knowledge base with video tutorials and excellent client assistance.
8. Saviom.
Best for enterprise-level resource management (Quote-based).
Saviom is an enterprise-level resource management software platform that helps you make decisions based on real-time BI (Business Intelligence). It helps you plan, schedule, forecast, maximize utilization, reduce project costs, and more.
The BI dashboards provide real-time insight into corporate operations, while the Gantt chart view helps you predict scheduling conflicts and mismanaged resources. You also get enterprise-wide visibility into resource allocations for projects and even non-project activities.
The Gantt-chart style resource planner also gives you a multi-dimensional viewing experience. You can view and track the performance of resource managers, line managers, project managers, and more.
The platform also offers project portfolio management, enterprise resource planning, and workforce planning tools.
They also have a "Resource Forecasting" feature that predicts vacancies, over/underutilization, etc. It also helps you with capacity planning using real-time, multi-dimensional analytics.
Key Features:
Capacity Planning – You can forecast and measure future demand against your resource supply. This feature helps you avoid bottlenecks and detect resource conflicts immediately.
Enhance Project Delivery – Conduct frequent benchmarking and monitoring of business KPIs to enhance project delivery.
Resource Forecasting – Get insights into critical finance-based metrics like cost, revenue, profit margin, etc.
Gap Identification – Forecast resource utilization (both strategic and billable) ahead of time. You can also identify differences between actual resource utilization and predicted utilization.
Pricing Plans:
Saviom offers three quote-based pricing plans. It also provides complete assistance and a free trial with all paid plans. Once you sign up, you'll receive a call from their representative, who will then assist you with the entire setup.
What is Resource Management Software?
A resource management software is a web-based application that helps small and medium businesses (SMBs) manage and track their resources like employees, time, and material.
A typical resource management platform enables you to make informed decisions regarding project planning, team capacity, resource allocation, budgeting, team use, and real-time recruitment requirements.
They can also handle all aspects of resource management, including procurement, forecasting, capacity planning, and production scheduling.
Here's how organizations can benefit from a resource management tool:
Get all of the information about their available resources.
Find the right resource for their requirement.
Schedule and manage resources' time management.
Maintain the desired stock.
Allocate tasks and project resources to team members.
Track time utilized by each member to complete tasks.
And more.
They also help you match tasks with the right human resources based on their talents, different disciplines, and availability.
What Do You Need in Resource Management Software?
Here are some of the features to consider before you pick a resource management tool:
User-friendly – Usually, these types of platforms contain multiple features under a central source. This shouldn't lead to confusion while using the platform. Instead, the platform should be easy to navigate and use, even for a beginner.
Enterprise-wide Visibility – The solution should enable enterprises to cope with changes in business conditions and analyze the company's day-to-day activities. You should also be able to get a complete 360-degree view of your resources.
Capacity Management – The concept of a capacity plan is to anticipate future needs without getting into tremendous cost and effort.
Different Viewing Experiences – You should be able to switch to different dashboard styles, such as Kanban view, Gantt-chart view, timesheets, etc.
Time Tracking – Time Tracking is an essential feature of any Resource Management Software. It allows the management to keep a tab on time spent by an employee on various assignments and projects they are working on.
In addition, you might also want to consider features like task scheduling, project dependencies, vacation or leave management, personal dashboards' customization, and more.
Executive Summary.
This list will help you in your research of available resource management and resource scheduling software on the market.
All of the tools mentioned here can help you manage your company's resources and plan projects by streamlining all processes and tasks. It also results in better work management, monitoring, and reporting.
If you want to track and manage your company's resources and track your team's progress, check out these tools:
Monday.com – Best overall resource management tool.
ClickUp – Best for real-time team collaboration.
Float – Best for scheduling, assigning, and tracking projects.
Forecast.app – Best for resource allocation and time tracking.
10,000ft by Smartsheet – Best for large businesses and SaaS enterprises.
Hub Planner –
Saviom – Best for enterprise resource management.
Which of these resource management tools are you planning to use? Let me know by commenting below.
Looking for other posts related to resource management software?
Disclosure: I may receive affiliate compensation for some of the links below at no cost to you if you decide to purchase a paid plan. You can read our affiliate disclosure in our privacy policy. This site is not intending to provide financial advice. This is for entertainment only.