7 Best Restaurant POS Systems of 2023 (Ranked for Small Business)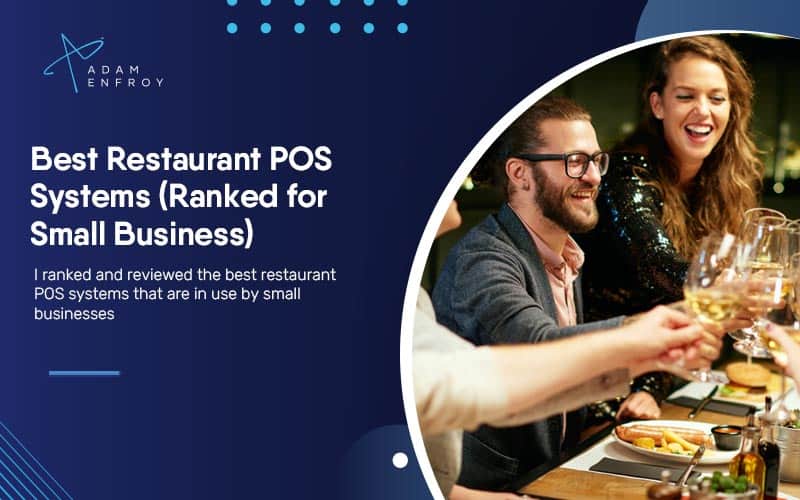 Want to learn what the Best POS system for a restaurant is? My choices are Square and Toast.
In a country where people spend more than 12% of their income on food, running a restaurant can be very rewarding, but it is also one of the most difficult ventures to get into. The initial stages of opening a new restaurant are like jumping through hoops and making sure you have everything prepared to be successful.
Finding the right POS systems for restaurants can seem like a major task, but once you know where to look, it isn't as difficult as you think. POS systems in the restaurant industry have been around for a while, and they are becoming more advanced with time.
In this article, I will be going over the 7 best restaurant POS systems to help increase your sales and streamline your restaurant business.
Let's dive right in.
Disclosure: I may receive affiliate compensation for some of the links below at no cost to you if you decide to purchase a paid plan. You can read our affiliate disclosure in our privacy policy.
What are the Best Restaurant POS Systems?
The following are the best restaurant POS systems right now.
Best for connecting all operations in one interface
Using Square you'll be able to connect your operations, from the kitchen to the neighborhood. Square POS is known for its ease of use that can help you streamline your daily tasks. It has features where it shows all the customers' details, including their past orders so you know who your regulars are.
With an integrated point of sale system, Kitchen Display System, and internet ordering capabilities, you may serve your customers from anywhere. This is an all-in-one system that can connect to your point of sale devices, kitchen display systems, and enable you to take online orders.
Reach more consumers online through your website or mobile application. You'll also get real-time notifications when an order comes through the app, making customer management an easy process.
If you want a more in-depth look at Square and how it comes with one of its major competitors, check out my Stripe vs Square review for more information.
Key Features:
Set up a completely free custom website for online purchases.
QR codes may be used for online ordering capabilities, making restaurant reservations, and collecting or delivering meals.
Connect your entire company to save time with solutions that link all parts of your operation together.
Take payments, schedule deliveries, and prepare orders so that you may serve more customers.
Pricing
At its basic level, Square for restaurants starts at $0 per month for its point of sale restaurant software. When it comes to the Square Terminal, it costs $299 or you can also choose to pay $27 per month for 12 months.
On the other hand, when it comes to payments, Square will charge 2.6% + 10c for every transaction made.
The system allows you to make use of a variety of options when it comes to how you want to get paid.
Get started with Square.
Best for getting your team to work together.
Toast believes that POS is just the starting step of running a restaurant. What comes after is as important. With complete and customizable sales, inventory, and control tools that help streamline your business needs, Toast puts you in front of all your customers with options that go beyond payment.
Let's say you're running a restaurant and it seems like your team isn't working together to provide the best full-service restaurant. Toast helps solve that problem by unifying your entire business on one system, so everyone is at ease with what they need to do.
With 24/7 customer support, top-tier dependability, and full offline mode, things keep moving forward in your restaurant. With Toast, you'll get access to restaurant-quality hardware that is three times quicker than what competitors are using.
Key Features:
With Toast Multi-Location Management, you can optimize your operations by managing multiple stores.
Payroll and team management options make it easy to train your staff on how to run a restaurant just the way you want it.
The cost-effective and cloud-based Toast POS Reporting and Analytics solution gives you the practical information you need to run your restaurant effectively.
Make decisions based on data that are directly in front of you so that you can offer more to your customers and increase profits.
Pricing
With three payment options available, Toast even has a pay-as-you-go plan that grows as your restaurant does.
These are the available plans:
Pay as You Go: $0 per month (also offers flexible payment options)
Essentials: From $165 per month
Growth: From $272 per month
Get started with Toast.
Best for having multiple restaurant revenue streams.
Revel POS is a complete platform that will help scale your business and provide excellent returns on investment.
Keeping it simple, you can integrate Revel with any tablet. It is also compatible with most major credit cards and will provide your business with many types of pricing options. Revel POS has grown quickly by making sure its software can be used across the board in different restaurants.
Created for quick deals, security, stability, and an all-around operational event management software, Revel's simple-to-use point of sale will allow you to take your business to the next level.
Maintaining a safe and secure online environment for your customers is not only important, but it's critical. It frees you up to focus on more important things while also lowering the cost of managing your infrastructure.
Every visitor is treated to a completely branded, highly customized experience which means when your patrons come to you, they don't have to adapt to your brand, you can adapt to them.
For fast, easy employee training, you can utilize the familiar design of the iPad, ensuring your employees will always find what they need at the click of a button.
Key Features:
With an on-screen division of station-specific prep activities, you can tighten your restaurant processes so that nothing falls through the cracks.
Revel's report functionality is excellent for letting you keep track of where your money comes from and what areas need to be improved.
Accurate insight into your staff, inventory, and peak business hours will help you save money and reduce waste.
With Revel's main restaurant management system, you may keep track of one or many establishments from any computer, anywhere in the world.
Pricing
There are three pricing stages listed on their website:
Initial POS Software Fee: $99 per month per terminal
Processing Fee: Flat Fee
Implementation Fee: Onboarding that starts from $674
You can always get a quote directly from Revel to ensure that you are choosing the right fit for your business needs.
Best for giving your customers a stellar experience.
With Lightspeed Restaurant, customers will be able to order using a QR code instead of waiting for a menu, which will allow them to take control of their dine-in experience.
Making it easier than ever to place an order, this sleek POS system also integrates with your social media accounts so that you can interact with customers where they are most active.
Offer your guests a secure way to dine at your establishment using digital menus and contactless payment right from their table—no terminals required. To keep your data safe, there is end-to-end encryption and multi-level security protocols.
With just a few employees required, you can increase sales and efficiency by allowing clients to place orders and pay for them through their phones. Lightspeed works with your restaurant to ensure that your clients are happy without being neglected or rushed through their meals.
Lightspeed opens up the possibilities of new hospitality essentials with contactless tableside ordering and payments, delivery services and even gives you the possibility of integrating with your eCommerce platform.
Key Features:
Take control of your menu items with customizable options, making it easy to give customers what they want.
On the spot, you'll be able to accommodate last-minute reservations as well as special permissions and requests so that your waitlist never has to be unmanageable.
Customize the distribution of tips for your staff and ensure that they are being rewarded fairly.
Advanced reporting, including optional analysis, is available if you want to go even deeper into your revenue and performance.
Pricing
Starting at $59 per month (billed annually), you can also add as many registers as needed for a monthly fee of $34.
You also have the option to add other functionality as follows:
Add-ons: $12/month
Premium Add-ons: $39/month
These will allow you to use more features as your restaurant (and the features you need) grows.
Get started with Lightspeed Restaurant.
Best for restaurants that use technology to their advantage.
TouchBistro is a comprehensive point of sale (POS) system that allows you to run your business more efficiently, increase revenues, and satisfy consumers. TouchBistro POS was created especially for restaurants and includes everything you need to automate operations and increase revenue.
If you want more features, you can select from a selection of add-on services to expand your core abilities and get a comprehensive all-in-one POS solution that allows you to do more.
This allows you to sell more items and save money by reducing waste, increasing revenue, and providing your customers with the best customer service possible.
TouchBistro POS allows you to control the finer, important details such as tracking who's on the clock so you can plan your staffing more efficiently, or even send order updates to adjust ingredients properly directly to the kitchen.
When all of your critical restaurant technology is integrated into one system, you may operate your company more smoothly and that is what TouchBistro allows you to do.
Key Features:
Easy-to-use tools and reporting let you monitor costs, reduce food waste, improve FOH-to-BOH communication, enhance employee performance, and more.
The TouchBistro Loyalty is a sophisticated loyalty program with features designed for independent restaurants that want to increase customer retention.
You can track your entire operation, manage orders and make adjustments thanks to an integrated view of your POS, kitchen, and bar.
The TouchBistro Loyalty functionality gives your restaurant a leg up on maintaining control of customer interactions and money.
Pricing
Starting at $69 per month, TouchBistro comes with the needed management features to run your restaurant. If you need more than the basic features, there are options to add functionality, including:
Reservations: $229 per month
Online ordering: $50 per month
Gift cards: $25 per month
Loyalty schemes: $99 per month
Self-self kiosk: $69 per month
Digital Menu Board: $20 per month
Get started with TouchBistro.
6. Epos Now.
Best for operating your restaurant from any location.
Epos Now allows you to change, attract new consumers, and increase profit while also being forward-thinking.
Setting up Epos Now is easy to do, even for someone who knows nothing about computer systems. In minutes, you can set up, onboard, and train your employees which means that you can concentrate your efforts on training your staff instead of dealing with software issues.
Epos Now integrates with the biggest names in the restaurant industry so you can trust that it has already dealt with the big problems – and came out on top.
You can access business insights from any gadget, no matter where you are so that you can see what is working and what isn't.
Epos Now also gives you multiple payment options, including secure contactless options that are easy to implement.
Operating in the cloud means that Epos Now is scalable to your business, which means you can grow without having to make huge changes.
Key Features:
Real-time staff, client information, sales projections, profits margin, and more can all be accessed so that you can make fast and straightforward decisions.
Epos Now is scalable so that you can grow without having to completely change how your business operates.
Connect to various apps, including payment systems, accounting software, and much more alone or in tandem.
With mobile ordering, collection, website integration, and delivery, you can increase your sales and move your business forward.
Pricing
With 3 pricing models (lifetime payment available on some plans), Epos Now has an interesting way of offering its products. They are as follows:
Handheld System: $0 upfront + $44 per month OR $189 upfront + $24 per month
Complete System: $449 or $39 per month
Tablet System: $599
7. Clover.
Best for managing a restaurant from one device.
With Clover, you can create a seamless customer journey that builds client loyalty and goodwill. Clover is connected to your POS system, which means that you can keep track of all of the activity in your store.
Whether you own a take out restaurant, a set of coffee shops, or even a full-blown high-class restaurant, your customers will be safe and secure with Clover.
Allow customers to make purchases, track orders, and pay bills using the Clover POS system. Use it as a stand-alone device or add it to your existing Clover system to streamline your day-to-day business operations.
With Clover, the same low rates apply to all cards, including AMEX and rewards cards. This means that you don't have to pay extra fees or keep track of different rates for different cards, which makes client ordering more straightforward.
Key Features:
The Clover Point-of-Sale (POS) system makes running your company a pleasure. Easily take orders, track payments, and manage inventory with the sleek all-in-one system.
Organize your products while nurturing your client base. Get feedback and adjust to allow your business to keep moving forward
To get real-time insights into the trends and data that are driving your business, use Clover's sophisticated analytics tools to analyze key metrics like revenue and sales.
Credit cards, debit cards, gift cards, and contactless payments all work with your Clover system. It may be used as a whole POS or a stand-alone payment solution.
Pricing
You'll have to get in touch with Clover's sales team to find the price of their different products.
What is a Restaurant POS System?
A restaurant POS system allows restaurants to take orders, manage the kitchen by getting orders out quickly and handle payments efficiently. Quick service restaurants in particular need to be able to take and serve orders efficiently, manage customer data and preferences, and help clients build good feelings about the business.
Restaurant POS systems are an important part of any successful foodservice business since they allow restaurateurs to keep track of all operations in real-time. Restaurant owners can know what's selling, what's not, how much inventory is available, and more.
Let's look into the advantages of using the right restaurant POS system in your business.
Advantages of using the right restaurant POS system
With so many options available on the market right now, knowing the advantages (and special features) to look out for can be a key data point when making a final decision on the POS system of your choice.
Easier inventory management.
With inventory management, you can know the number of ingredients and food you have available and thus be better able to manage it, order food as needed to avoid running out, and set sales projections for future periods. The better inventory management you have, the better decisions you can make.
In addition, you can optimize the number of meals you prepare and thus decrease waste and. You can also easily track what's selling and what's not, for example, by viewing real-time sales reports on your mobile device or computer using a restaurant POS system that is connected to the internet.
You may even be able to adjust your inventory before it sells out if you see that something is extremely popular with your customers.
Payment processing made easy
Automated payment processors remove the need for manual effort but still give you more precise data on how much is being processed. Plus, it's safer to make payments through a card reader than it is to have wads of cash running around in your cash drawer.
With that said, you'll want to find a POS system provider with fair card transaction rates so that you don't end up footing more of the cost of accepting credit cards than necessary. Many restaurant POS systems will make sure you get competitive rates and only pass along whatever fees they pay with just a small percentage when it comes to their commission.
Better customer service
Today's technology makes it easier than ever to automate tasks, including services that are designed to improve your customers' experiences with you. You can use POS systems to make special offers and give discounts even while customers are waiting in line to get served.
You'll get more customers through your doors if you provide them with excellent service and helpful features that are only available through your restaurant POS system.
Hassle-free menu management and updates
As your cuisine evolves or changes to keep up with trends in the culinary world, you want to make sure that your menu stays current for your customers.
Otherwise, they may get frustrated when they don't see their favorite foods listed. A good restaurant POS system allows you to manage all of these changes easily without any hassles or headaches that result from time-consuming manual processes.
And since most systems are cloud-based, it's easy to change one thing in your restaurant POS system and have that update replicated to every other POS terminal in the blink of an eye. This allows you to keep your kitchen staff, back of house staff, servers, and managers all on the same page – which we'll discuss in the next point.
Better employee management and communication
Today's restaurant POS systems let you manage your business more effectively than ever before.
This means no more passing along important tasks to employees that they forget or treat as second-rate because they don't think it matters. You'll be able to assign them tasks right from the system and ensure that everything gets done according to plan.
Better employee management means happier employees and better business. Plus, you'll be able to monitor processes in real-time when you use a restaurant POS system that functions well.
This allows you to easily spot any areas where things are going wrong or need some tweaking so that you can take the appropriate action right away without wasting too much time to get it taken care of.
As your needs change, your restaurant POS system should grow with them. When you choose the right provider, the service won't stop working when you've reached a certain number of transactions per month. It's all about flexibility to make sure that your business isn't held back by technology.
Table management
Today, restaurant point of sale systems are designed to make table management easier for your staff. Since you can manage reservations, seating arrangements, and customer information all from your system, it makes sense that the management tools are there to ensure that everyone's working on the same page at all times.
A table service restaurant plan can be drawn up and carried out without any hassle or confusion. You don't want your workforce running around like chickens with their heads cut off, trying to remember the floor plan, every time a new customer shows up or wants something special added or removed from their order.
You want them to be able to focus on providing exceptional service. With the right restaurant POS system, you'll know that everyone is working as a team at all times and can save valuable time by not having to pass along information orally or in hastily scrawled notes.
With today's powerful restaurant mobile POS systems, employees are given more freedom when it comes to taking orders because they don't have to go back to register every single time someone wants something added or removed from their order.
Instead, they just enter what needs to be updated into the system via an iPad or Android app – while making small talk with customers.
You also won't have to worry about servers forgetting things for their customers because they're distracted by something else. The latest software ensures that servers can focus on one thing at a time when it matters most, so you can deliver better service than ever before.
Disadvantages of using the wrong restaurant POS system
A poorly designed restaurant POS system could lead to problems with your business as a whole. Let's have a look at the effects that the wrong restaurant POS software can cause.
Inability to properly scale
You might think that a basic POS system should be enough to help you manage growth instead of forcing you to make pricey upgrades. The truth is, it's going to take more than extra space and POS hardware for restaurant businesses to keep up with demand as it continues to grow.
You will need a restaurant POS system that can go above and beyond the call of duty so everyone involved gets all the information they need without any fuss or bother.
If your current system is clumsy or just not able to handle changes from week one, then there's no way any good results are going to pop up down the line either. If you want a system that can deal with anything, including catering for large numbers of staff and customers, then you'll need something that's incredibly flexible right from the get-go.
Poor customer service
Restaurant POS software that doesn't have the power to keep up with your needs will certainly show its face when it comes to things like support. If you're not getting real-time answers, how are you supposed to react in time? What if there are issues during peak hours? It could take ages to get everything back on track.
With a system that can handle your needs from both a hardware and software perspective, you won't have to worry about such issues as time will be on your side. It is possible to receive assistance any time of the day or night so problems can be resolved within moments instead of hours or days.
Difficulties with paying staff
If employees aren't getting paid what they deserve for their work and efforts at all times, you're going to run into some problems sooner than later.
For example, they might not feel motivated enough to turn up every single day because their pay isn't cutting it or maybe there's too much downtime between shifts due to poor communication with customers that leads to long queues and slow service.
Also, if you have a restaurant POS system that isn't able to handle staff scheduling issues, payment problems are likely to crop up within no time. If you can't even get the basics right with your software, there's no way it will be able to handle complicated tasks like making pay decisions and handling any discrepancies.
No support for multiple branches
A lot of restaurants and cafes expand over time and start new locations in different areas or countries. You might find yourself with a solid brand reputation with your first location but realize you are struggling when it comes to managing multiple branches at once.
For example, if you're not able to link all of your outlets together using mobile devices such as tablets or smartphones, then you'll face regular difficulties when it comes to aspects like inventory management.
If you want to be able to see your inventory levels across your entire business empire in real-time, then it's clear that you need a restaurant POS system that is capable of dealing with everything at once.
The system you choose should have CMMS Software features in that it should be able to tell you all you need to know about inventory at the press of a button.
It should be able to work between all of your branches no matter where they are located or how many there are.
That way, you never have to worry about the quality of service decreasing as employees struggle with updating information for stock and ordering products appropriately.
Risking customer credit card details
Making sure your restaurant hardware options are encrypted and that you're only using trusted software will go a long way towards safeguarding customers' personal information at all times.
However, you should also know that keeping track of your customer base and their purchasing habits through customer loyalty programs and discount cards will help out with this too. When people feel like they're getting something special from you, they don't mind sharing their credit card details with your staff.
Long training time for staff
One of the best things about running establishments that use restaurant iPad POS systems is that you can get up and running almost immediately.
For this reason, if you want your employees to be able to handle everything without even needing to read a user manual, then it's clear that you need something user-friendly with greater control and more options available at all times.
You might choose a custom-developed solution as opposed to an off-the-shelf solution when the scope of your business means you'll require multiple devices. This will help with training and involve devices such as barcode scanners and receipt printers.
Difficulty accepting card payments
If you're currently having trouble using EFTPOS or other credit card processing in your business, then it's clear that this is something you should address sooner rather than later. Customers have very few reasons to choose one restaurant over another these days so it can be tempting to just give up on doing business when the first transaction doesn't go through.
However, the only way that small businesses can compete with large corporations is by presenting customers with different payment options. You might not think it matters too much if you accept cash only but people who do will find an outlet that has multiple payment options.
Wrap Up.
In conclusion, you should avoid the cheapest possible options as much as you can since these will end up costing you more money in terms of repairs, feature updates, and replacements within a few months.
When you're looking for the best restaurant POS system, make sure that it's feature-packed enough to replace everything else you might use and contains all the bells and whistles necessary for making your customers happy no matter what they want.
To summarize, the following are the best restaurant POS systems right now:
Square: Best for those that want to be at the forefront in shaping the restaurant industry
Toast: Best for those that want to make their restaurant a more productive environment.
Revel POS : Best for having more than one revenue stream from your restaurant.
By following the above advice, you'll make sure that you don't need to worry about the quality and consistency of your POS system anymore. Simply choose the right system and rest assured that your restaurant will run smoothly day in day out.
Which POS system are you inclined to use and why? Let me know in the comments below!
If you're about to start a restaurant and are considering which is the right credit card for your needs, check out this post on the best business credit cards for your business.
Disclosure: I may receive affiliate compensation for some of the links below at no cost to you if you decide to purchase a paid plan. You can read our affiliate disclosure in our privacy policy. This site is not intending to provide financial advice. This is for entertainment only.