RingCentral vs Zoom: Which is Best in 2023?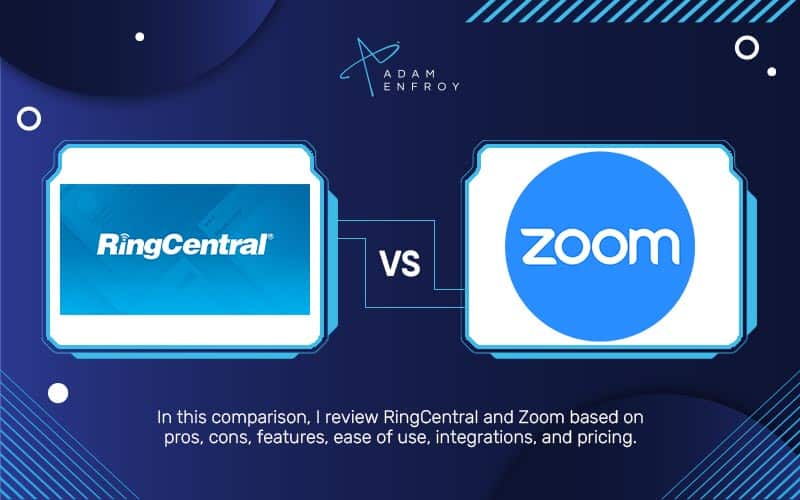 It's pretty tough to imagine the modern workplace without video conferencing calls, online meetings, and remote conferences.
My business literally relies on these types of tools to function on a day-to-day basis. From one on one meetings to screen share recordings, video-based tools dominate my toolkit.
No wonder so many software tools exist capturing market share. The top two video conferencing software tools are Zoom and RingCentral.
But which of them takes the top spot?
That's what I'm going to explore in this post today. Along the way, I'll also give you a detailed comparison of the significant features of each tool and how it might apply to your business.
Let's get started with this detailed comparison of RingCentral vs Zoom.
Disclosure: I receive affiliate compensation for some of the links below at no cost to you if you decide to purchase a paid plan. However, these are the two best tools that I have used when conducting video conferences. You can read our full affiliate disclosure in our privacy policy.
RingCentral vs. Zoom: Overview
Before jumping into the comparison of RingCentral vs. Zoom, let's take some time to understand each company and product.
When it comes to long-distance communication and video conferencing, RingCentral is one of the market leaders. The company offers cloud-based communication and messaging solutions for businesses, ranging from video conferencing to screen sharing tools.
RingCentral was started in 1999 by Vlad Vendrow and Vlad Shmunis and has emerged as an expert in this space. The company offers services such as VoIP, Fax, and PBX systems for large and small businesses.
Although I'll be talking primarily about the brand's video conferencing solutions, it offers much more than that. There are several products under the RingCentral brand, such as RingCentral Meetings, RingCentral Office, and their latest acquisition: Glip.
Some Key Features Of RingCentral's Video Communications Solutions Include:
Multiple Participants: RingCentral's video solutions allow you to invite up to 200 participants
Superb Clarity: Let's you experience fully HD audio and video
Comprehensive Security: Password protected meetings that prevent unauthorized access
Ease of Use: Simple and intuitive meeting setup
Global Coverage: Presence in more than 80 countries all over the world
What is Zoom?
Zoom needs very little introduction in today's world, where web conferencing has become part and parcel of work. It's a cloud-based team communication tool used by small and medium businesses as well as large corporations.
Apart from video calling, the company has launched Zoom Phone, Zoom Rooms, and Zoom Video Webinars. It's also popular throughout the world for holding online classes and real-time training and onboarding.
As a platform, Zoom is very easy to use and flexible. You can use it to start business communications within seconds. It also has a number of other features such as file sharing, remote access, and real-time editing features.
Some Key Features That Zoom Offers Include:
Global Coverage: Audio and video calls all over the world
Detailed Analytics: Reports and after-meetings analytics that reveals essential insights
Multiple Integrations: Easily integrates with crucial apps such as Slack and Gmail
Recording Features: Screen capture as well as session recording
High Clarity: Extremely clear audio and video reception
In a nutshell, both apps are great for video meetings, but I've found that their focus is slightly different.
While RingCentral focuses on providing unified communications solutions based on its VoIP ecosystem, Zoom is more concerned with quick video and audio meetings.
Another difference is that to use Zoom, all participants need to download and install the Zoom app. In the case of RingCentral, only the host needs to download the app, and the other attendees can join via any browser such as Chrome.
If you have a feeling that RingCentral or Zoom aren't quite the right tools for you, check out my Zoom alternatives post.
RingCentral vs. Zoom: Pros and Cons
When you're looking for the best HD video tool, then there are a lot of complementary and conflicting features that you have to consider. After all, each platform has so many features that it can get somewhat mind-boggling.
To help you overcome this confusion, here's a quick breakup of the pros and cons of each.
RingCentral Pros And Cons.
Pros:
High video quality
Easy and intuitive interface
Easily make switches between mobile and desktop
Excellent messaging features, including GIFs, emojis, and memes
Easily scalable
Multiple invitation channels
Integration with apps like Google Workspace, Microsoft Office 365, and Microsoft Teams
Single-click group chats
Fully customizable dark mode
Cons:
Too many updates
Multiple products can get confusing
Zoom Pros And Cons.
Pros:
High-quality video
On-site as well as cloud recording of calls
Easy group video call and conferencing features
Single-click meeting creation
Dedicated Zoom Meetings hardware in the form of Zoom Rooms
Dedicated customer support
Extreme ease of use
Support for a large number of participants
Smooth integration with third-party apps such as Google Calendar
Cons:
A large number of subscriptions and add-ons
The need to download and install the app
RingCentral vs. Zoom: Comparison
Now that you know the basics about RingCentral and Zoom and have a clear idea of each platform, let's compare each according to its significant features. I'll cover the essential aspects of both platforms here.
Before starting the comparison, let's make one thing clear: both Zoom and RingCentral have multiple products for facilitating team communication. To keep the comparison at par, I've decided to compare Zoom Meetings with RingCentral Meetings and Glip.
Another reason for focusing on Glip is that when comparing Zoom with RingCentral Meetings or RingCentral Office, it's really an apples to oranges comparison. Glip and Zoom Meetings, on the other hand, are both dedicated to video meetings and can be compared.
1. Video Conferencing Call Quality
RingCentral boasts of a near 100% uptime, and you'll seldom find the service glitching. With HD video calls at 30fps and dynamic resolutions, you'll be able to get that face-to-face feeling that comes with an actual meeting.
Along with the above, RingCentral allows you to test the live stream before actually starting the meeting. This helps to ensure that your connection is stable, and you don't have to struggle with maintaining communications.
Another aspect of the RingCentral app that I like is that it offers multiple screen views such as draggable and adjustable screens, active speaker, and gallery. It even provides you with tools for reducing background noise for enhancing the audio experience.
Similar to the RingCentral video app, Zoom also offers high-quality 30fps video and multiple screen views. However, the one respect where Zoom has an advantage over RingCentral is that it can show up to 49 active screens, whereas RingCentral supports just 16.
The Zoom app lets you apply multiple video filters that enhance your appearance on video. You can even adjust the video quality based on the ambient lighting. Both Zoom and RingCentral let you use virtual backgrounds such as a company logo or custom wallpaper.
Winner: Zoom
While both apps offer similar capabilities, Zoom has the edge over RingCentral in that it provides a greater number of simultaneous meeting screens. It's also more customizable as it provides video filters and ambient lighting modifications.
2. Scheduled Meetings
Zoom and RingCentral are again comparable when it comes to scheduling meetings. Both services let you switch easily from chat messages to video conferencing. For Zoom, you can use either the iOS or Android mobile app or the web app.
In case you've integrated Zoom with Google Calendar or Outlook, then scheduling of meetings can be done from these apps as well. It all depends on the plan you're subscribed to and the permission level that you have in the app ecosystem.
After you've scheduled the Zoom meeting, you can protect it using a password. You can also name and topically categorize the meeting and then generate a meeting ID to share with other participants.
Using Zoom, you can set up meetings to be one-time affairs or even recurring ones. For alerting participants, you get to use email or push notifications.
If you're using RingCentral Glip, the functionalities are similar in that it also lets you schedule meetings from the app and other calendar integrations. Glip even incorporates a dedicated calendar that you can use to keep track of meetings.
Winner: RingCentral
When it comes to scheduling, RingCentral's Glip has the edge over Zoom with its native calendar. It lets you create teamwise events, automatically link to every participant's calendar, and even color-code the meetings.
3. Collaboration During Video Meetings
RingCentral and Zoom are both team collaboration solutions, and each app provides several features to facilitate smooth team communication.
A. Zoom Collaboration Features
Zoom has an integrated team chatting tool that lets you send direct as well as team-wide messages.
Zoom lets you use social media features such as mentions and tags. You can also share screen captures, use emojis and upload files, all from the comfort of your chatbox. From presentations to spreadsheets, Zoom supports it all.
If you're using the Zoom smartphone app on multiple devices, then your chats are automatically synced across all of them. You can also search your chat histories and mark important channels and contacts for quickly locating them.
Users also get a presence indicator that lets them know the exact status of all team members. You can share ideas using the virtual whiteboard, and use unique features such as remote access and pass presenter. All this makes Zoom ideal for webinars and training.
Finally, the one aspect where Zoom exceeds the competition is its screen-sharing features. Participants in a Zoom meeting can share a view of individual windows or the entire desktop. Screens can be shared side-by-side, along with detailed annotations.
Overall, Zoom takes every measure to ensure that you and your team members are on the same page every step of the way.
B. RingCentral Collaboration Features
RingCentral's Office package offers messaging and video calls as well as a phone system. Glip, as it's dedicated to video calls and meetings, provides screen sharing and remote access functionality.
Its chat tool is similar to Zoom's in terms of usability and supports private and public messages. You can also create message threads and search past messages for retrospective communication.
RingCentral Glip makes team creation possible both before and during video calls. It also lets you share and store files through a Google Drive integration. As a result, you can access all essential project documents from a single interface.
The RingCentral app offers a note-taking tool, which I feel is immensely useful, especially for longer meetings. The tool lets users see past messages and shared notes and even share notes from their accounts with others.
Another aspect where RingCentral's Glip has the edge over Zoom is its built-in task management feature. Using it, you can create, assign and track tasks for your team members. It even provides a simple checklist to keep track of all completed tasks.
Winner: RingCentral
Zoom and RingCentral both offer similar features when it comes to the core functionalities. I feel the Glip interface is more user-friendly and intuitive. Add to that the task management and note-taking features, and you've got a standout collaboration tool.
The only thing which the RingCentral app lacks is a whiteboard tool. However, you can overcome this limitation using third-party integrations.
4. Recording Features (Including Screen Sharing)
Recording live meetings is an essential requirement for posterity and reference, and both RingCentral and Zoom allow recording. However, the length of the recordings and the storage provided vary with each tool and plan.
Zoom provides local recording features with its free plan, while the paid plans give you a choice between local and cloud storage. It's important to remember that only hosts can initiate the recording: participants merely get a notification to let them know about it.
Along with recording meetings, Zoom automatically stores a meeting log. Meetings can be recorded both on iOS as well as Android devices. You also get features such as auto-transcription of audio, the ability to record audio-only, and even auto-deletion capability.
RingCentral lets you record audio and video similar to Zoom, but if you're using Glip, you'll be able to record a maximum of 100 hours of video in the cloud. Also, all meetings are auto-deleted one year after being recorded.
Both apps have the option of sending out meeting recordings and snippets to the team members. This way, participants can glean valuable information from the meetings and even share them with upper management if needed.
If you want to skip recording certain parts of the meeting, then there's the option to pause and resume. This helps to preserve privacy and provides the scope for indulging in informal conversation.
Winner: Zoom
Although RingCentral is the easier-to-use of the two, Zoom's recording and sharing features are superior. Also, the fact that Zoom has the provision for auto-transcription of meetings gives it the upper hand.
5. Number of Integrations
Let's talk about the Glip app here first; naturally, it integrates with many apps such as Office 365 and G-suite. But to be able to use these integrations, you'd have to upgrade to a paid plan.
Here's a list of some apps that Glip can integrate with:
Microsoft Teams
Slack
Asana
Zendesk
Salesforce
Zapier
Mailchimp
Social media apps (think Instagram, Facebook,Twitter etc.)
In contrast, Zoom's free plan allows you to integrate with multiple apps and provides a greater number of integrations than Glip. It even has a dedicated Zoom marketplace from where you can find apps for integrating with Zoom.
Here's a list of some apps that integrate with Zoom:
Salesforce
Skype
Google Drive and G-Suite
Facebook
Dropbox
Zapier
Office 365
Glip
Winner: Zoom
When it comes to integrations, Zoom is the clear winner. It provides dedicated APIs for enabling such integrations even on the free plan. In contrast, RingCentral often has to face a lot of flak from users due to integration problems.
6. Compatibility
Zoom and RingCentral both started as desktop apps, and it's no wonder that the desktop versions have greater functionality. The services are available on Mac as well as Windows, not to mention iOS and Android.
As you can probably tell, mobile apps are a bit limited when compared to desktop apps. For instance, the Zoom mobile app lets you see a maximum of four video screens at a time, apart from screenshots and chat features.
However, most users have complained that the chat features are cumbersome to use on a small screen. You can also send and receive files, share screens, and co-annotate documents along with the above.
Glip's mobile app is better designed than Zoom's and provides all of the features that the Zoom app has to offer. Also, since it lets you seamlessly switch back-and-forth between desktop and mobile meetings, I'd say it's the more versatile of the two.
Winner: RingCentral
The RingCentral Glip app is more user-friendly and intuitive, and since it allows switching between mobile and desktop, it's decidedly the winner in this category. User reviews also testify to the same.
7. Analytics Features
Two of the biggest problems with virtual meetings are the lack of attendance and engagement. Thankfully, both RingCentral and Zoom offer analytics and reporting features to help keep track of these metrics.
RingCentral provides you with detailed data on attendance, participant duration, and actions taken during a meeting. This data can help to devise strategies for enhancing meeting efficacy and participation.
Zoom offers a greater level of granularity in that it not only tells you who attended a meeting but also for how long and from which device. It even lets you know about the top ten participants based on the interaction level, time spent, and geographic location.
Winner: Zoom
When it comes to analytics, Zoom takes the upper hand due to its more detailed data points. Also, Zoom offers decent analytics even on the free plan; in contrast, RingCentral only provides analytics features with paid options.
8. User Experience
In terms of user experience, both apps have their pros and cons, as we saw above. While RingCentral Glip and Office provide smooth video using a centralized UCaaS framework, Zoom is easier to set up and use.
In recent times, however, Zoom has had some severe complaints about security lapses. This means in case you're a security-minded person, or if your meetings involve the exchange of confidential data, Zoom might not be the ideal option.
Winner: Zoom And RingCentral
The winner in this category depends on the use case. If you're looking for a fast and easy way to set up online collaboration, go with Zoom. If security is the primary concern during a meeting, RingCentral is better suited for that.
9. Pricing Plans
RingCentral Glip and Zoom both follow the freemium model, while RingCentral Office is a fully paid option. In the following sections, I'm going to break down the pricing plans for each service.
Pricing Plans For RingCentral Office: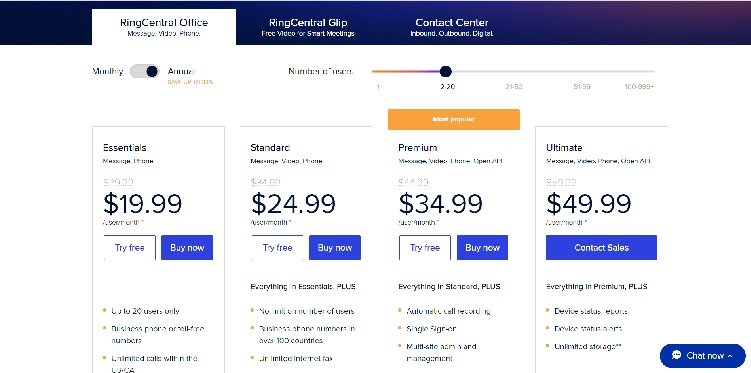 Essentials Plan for $19.99/user/month
Standard Plan for $24.99/user/month
Premium Plan for $34.99/user/month
Ultimate Plan for $49.99/user/month
Pricing Plans For RingCentral Glip:
Glip Pro plan for $0/month
Glip Pro+ Plan for $11.99/user/month (upto 99 users)
Glip Pro+ Plan for $10.99/user/month (over 100 users)
Pricing Plans For Zoom Meetings:
Basic Plan for $0
Pro Plan for $149.90/year/license
Business Plan for $199.90/year/license
United Business Plan at $300/year/license
Enterprise Plan at $240/year/license
All prices mentioned are for annual payment cycles; you can get discounts if you're buying for large numbers of participants.
Winner: RingCentral And Zoom
Price-wise, both RingCentral and Zoom offer multiple plans which users can choose from as per their requirements. Personally, I think Zoom provides a greater variety, while Glip is the more affordable of the two.
If you want to see how Zoom stacks up against other video conferencing and webinar tools check out my review of Zoom vs three other competitors.
Who's The Overall Winner: RingCentral or Zoom?
Now that we've come to the end of this comparison it's pretty obvious that both Zoom and RingCentral offer top tier products.
In general, if you're a large enterprise looking for fast and easy video meetings, Zoom is ideal.
RingCentral Office is a better contender in terms of security.
Bottom line is that you should make the final choice based on your requirements, and any preferences you might have.
Disclosure: I may receive affiliate compensation for some of the links below at no cost to you if you decide to purchase a paid plan. You can read our affiliate disclosure in our privacy policy. This site is not intending to provide financial advice. This is for entertainment only.