7 Best Roadmap Software of 2023 (Project Management Tools)
Choosing the right roadmap software is crucial if you want to ensure your business' success. From planning and execution to tracking progress, the best roadmap software can help you meet your goals. In this guide, I ranked and reviewed the 7 best roadmap software, so that you can pick the best one for you.
---
We're reader-supported. When you buy through links on our site, we may earn an affiliate commission.
Want to jump straight to the top roadmap software? My #1 choice is Monday.com.
Roadmapping is a vital task that every agile project manager and product team must perform.
Appropriate roadmapping is essential for planning projects, progress tracking, coordinating team activities, and utilizing customer feedback.
There are more than a few roadmapping software available on the market, and most of them can integrate with the best project management tools and agile project management tools.
I've compared each roadmapping tool based on the essential features and even included a glimpse into their pricing plans.
What is the Best Roadmap Software?
Here are my top picks for the best roadmap software.
Best For Creating The Ultimate Roadmap Template.
Adam's Take
Monday.com is the best overall roadmap software because it's easy to use and ensures that your project stays on track. If you value simplicity and collaboration, Monday.com is the tool for you.
Monday.com is a great way to create a custom roadmap for your project.
If you want to plan and visualize your project with great detail, Monday.com is an excellent tool for your business.
The interface is easy to use, and you can create beautiful roadmaps that will help you track your progress.
In addition, having a single source of truth that includes your entire team is a great way to maximize efficiency and keep everyone on track.
With various options to view data, including the choice of using a Gantt chart for a high-level view, Monday.com is an excellent choice for businesses of all sizes.
Key Features:
Timelines Features/vision allows you to add a Start and End Date, priority, % Complete, and more
Stay on top of your time-bound objectives so that your goals are always achievable
Execute your strategy with a step-by-step plan
Customizable roadmaps to reflect your brand
Use these roadmaps to communicate with stakeholders and keep everyone in the loop when changes occur
Pricing: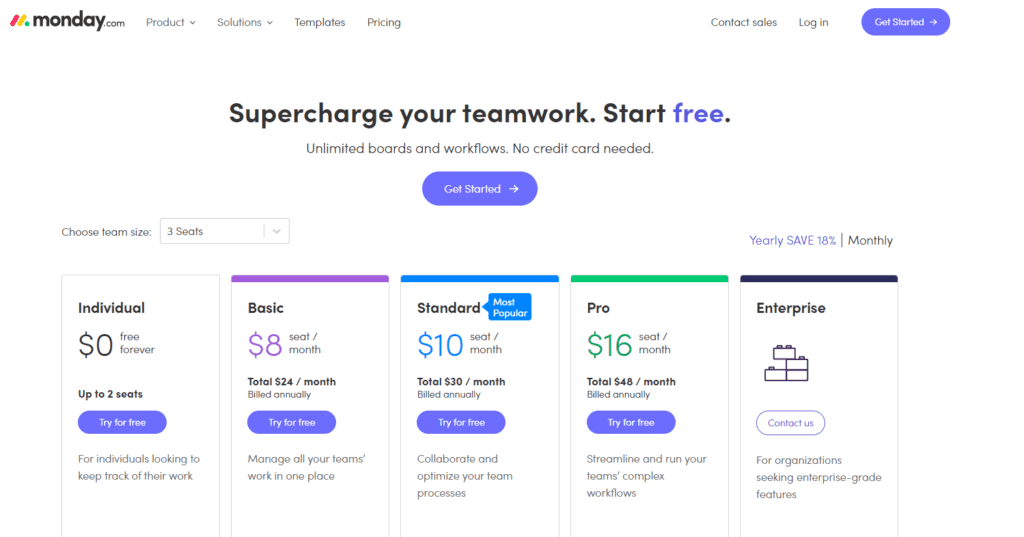 There is a free fourteen-day trial that you can use to test out Monday.com
After that, you will require a minimum of three seats for one of the paid plans. These are the prices:
Individual: $0 free forever
Basic: $24 / month
Standard: $30 / month
Pro: $48 / month
Enterprise: Get in touch with their Sales team.
Get started with
Monday.com
Best for Kanban-style Roadmaps
Adam's Take
If you're a Kanban and Gantt charts fan, then Wrike may be the right roadmap software for you. With Wrike, you can visualize your roadmap in either view. This is excellent news if you're working with a team familiar with both methods and want to use the one that makes the most sense for each project.
Wrike lets you visualize and create roadmaps in Kanban view, doubling as Kanban software, as well as Gantt Chart visualizations. Like project management tools such as Trello and Asana, Wrike can adapt to any industry and development team.
It's also an excellent tool for collaborating teams spread across geographically disparate locations. As a result, required members from different teams can access the task board at various times.
However, roadmaps using Wrike can't be as visually appealing and detailed as with ProductPlan. Also, so many features packed into a single interface can feel a bit overwhelming at first.
Features:
Wrike lets you boost performance and enhance growth with its world-class toolset that you can customize for any team. Personalized dashboards, workflows, and a collaboration tool allowing you and your product team to achieve a better product roadmap.
Here's a quick overview of Wrike's most significant features:
Enables silo elimination with 360-degree visibility
Scalable software toolset
AI-based automation
Document processing, voice commands, and smart replies
Roadmap templates
Pre-built workflow and prioritization templates
Shared team calendars
Advanced analytics with real-time insights
Over 400 app integrations
Pricing:
Wrike has pricing plans for every department and team billed annually on a per-user basis. Plans are distributed across four tiers: Free, Professional, Business and Enterprise. Here's a quick breakup of each plan and its core features.
1. Free Plan at $0/user/month
Up to five users
Core feature-set for small teams
Up to 2GB storage space
2. Professional Plan at $9.80/user/month
Up to 15 users
Complete project planning and collaboration tools
5GB of storage space and above
3. Business Plan at $24.80/user/month
Up to 200 users
Complete work management with customization and reporting
50GB of storage space and above
4. Enterprise Plan at Custom Rates
Complete project management solution with advanced security controls
Unlimited number of users
100GB of storage space and above
Get started with Wrike for free.
Best for Cross-domain Planning and Collaboration

Adam's Take
Have multiple sources of information that need to be integrated? Roadmap Planner can handle it. It's flexible enough to work with data from popular project management tools, ensuring everyone is on the same page.
Roadmap Planner is a product roadmap software with a focus on planning and collaboration that helps businesses from multiple domains. Using this product roadmap tool, you can create product teams, add members and assign each team member tasks precisely as you need to.
Apart from team control, the app's intuitive interface lets you create instant roadmaps. You can indicate all processes necessary for a particular project using these roadmaps. It has multiple views such as the Gantt view and Outline view that make navigation easier.
Mapping out ideas and creating strategies is simple using its drag-and-drop interface. The collaboration tool helps solve decision-making problems that may arise in different scenarios. Overall, it's one of the better tools for use in any business setting, no matter your role in the organization.
Features:
Roadmap Planner provides users with complete team control and product roadmap tools. Thankfully, that's not all; it also lets you handle unlimited projects, delivers stunning presentations, and much more.
The following is a list of some significant features that Roadmap Planner offers:
URL based roadmap sharing
Advanced data export and synchronization features
Online and offline workability
Simple WYSIWYG interface
Backlog management
Predefined roadmap templates
Multi-language support
Task dependency compliance
Dedicated presentation mode for projectors
Flexible and parallel timeline maker
Fully protected storage
Pricing: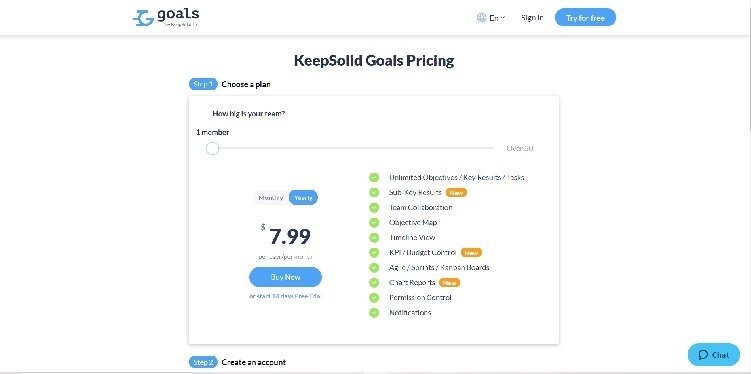 Roadmap Planner has recently merged with Goals, a project management tool from its parent company KeepSolid Inc. KeepSolid Goals has a pricing plan that starts from $7.99/user/month for one member. Prices increase with the number of members.
4. ProductPlan
Best for Visually Attractive Shareable Roadmaps
Adam's Take
If you're looking for a visual representation of your roadmap, ProductPlan is an excellent choice. It's simple to use and has various features that allow you to create detailed and sophisticated roadmaps for your projects.
ProductPlan is best suited for product and project management professionals who prefer a visual layout of their projects. Using this roadmapping tool, managers can create robust and visually attractive roadmaps with ease.
It also lets you create and manage estimates related to various projects. The simple drag-and-drop user interface allows you to add color-coded items, create connections between them, and incorporate suitable milestones to add to your product vision.
Each roadmap you create can have multiple granularization levels, such as high-level roadmaps for upper management and more detailed versions for team members. You can also group roadmaps into master plans.
Features:
ProductPlan is an entirely web-based product roadmap tool and has so many features that you might get a bit overwhelmed at first. It can also integrate with the most popular project management tools such as Jira and Asana.
Following is a list of features that ProductPlan has to offer:
Simple drag-and-drop interface
Fully customizable layouts
Collaborate on and share unlimited roadmaps
Easy integration with popular project and product management software
Easy import and export
Advanced data encryption with SOC-2 certification
Custom roadmap views
Communication and collaboration management
Pricing:
ProductPlan pricing starts at $39 (annual billing) and gives you access to the primary product roadmap features that most product managers require. In case you're looking for dedicated support and advanced training capabilities, you'll have to upgrade.
Here's a breakup of ProductPlan's pricing structure:
Business Plan at $39/editor/month annually
Enterprise Plan at custom pricing on consultation
Enterprise Plus Plan at custom pricing on consultation
5. Airfocus
Best for Faster Roadmapping
Adam's Take
Airfocus is a great software for that that want to be able to create faster, high-level overviews of their product roadmap. I advise you to check out this software if you are looking for a tool to make the most out of your product roadmap, while ensuring that it is still concise and understandable for your stakeholders.
Airfocus's product roadmap software focuses on fast and easy roadmapping to enable rapid product development. It can integrate with popular apps such as Jira, Github, and Trello, which lets you create professional roadmaps within a matter of minutes.
It uses a drag-and-drop interface and lets you switch between multiple views such as Kanban Board and Gantt Charts. Airfocus also contains provisions for creating multidimensional charts that allow you to prioritize better.
The software lets you create and share roadmaps with unlimited viewers. It allows custom weighting and scoring of ideas and feature options, making the product development process more streamlined.
Features:
The one feature that sets Airfocus apart from other roadmapping tools is the Priority Poker feature. Using this feature, all product strategy stakeholders can prioritize features collaboratively and interactively.
That apart, Airfocus also offers the following advantages and features:
Prioritization platform that helps you make the right decisions
Fully customizable frameworks and formulas
Kanban and timeline templates
Collaboration with multiple team members
Flexible sharing with unlimited viewers
Easy integrations with project management apps
Completely customizable roadmap templates
24/7 customer support
Pricing: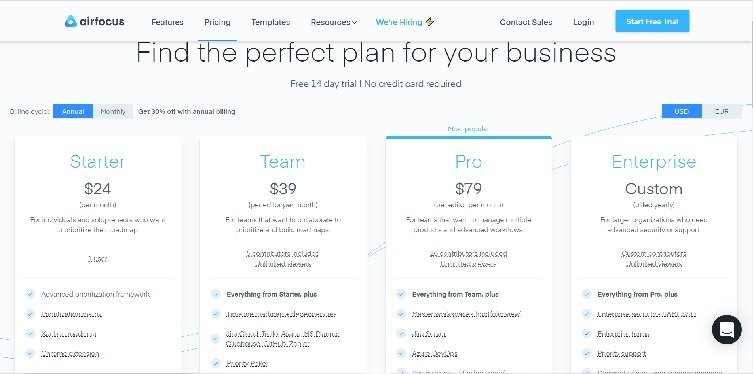 Airfocus pricing plans span four tiers: Starter, Team, Pro, and Enterprise. Here's a brief breakup of each plan, along with the most significant features of each. All prices mentioned are for yearly payments.
1. Starter Plan at $35/month
Single user plan for solopreneurs
Advanced prioritization framework and matrix
Kanban-based roadmapping
2. Team Plan at $59/editor/month
Up to five contributors with unlimited viewers
Integration with Trello, Jira, and Asana
Priority Poker
3. Pro Plan at $119/editor/month
Up to 20 contributors with unlimited viewers
Master workplaces
Azure DevOps
4. Enterprise Plan at Custom Pricing
Custom number of contributors
Enterprise level security with SAML SSO
Dedicated training
6. Roadmunk
Best for Completely Customizable Roadmaps
The Roadmunk product roadmap software lets you create fully customizable roadmaps that suit any requirements you might have. Roadmunk contains three types of roadmaps: Timeline, Swimlane, and Master.
The Timeline view is the conventional product roadmap, while the Swimlane view provides scrum and agile teams with a streamlined, Kanban Board presentation. The Master view lets you combine multiple product roadmap styles to get a complete overview of the product's features.
The three customization levels allow different teams to create roadmaps, which managers can then combine for detailed assessment. This makes the process of product creation and software development more streamlined.
Features:
One of the unique features Roadmunk offers is the ability to create multiple views of roadmaps and share them with stakeholders. You can control the level of detail in the view and even distribute them for customer feedback.
Apart from the above, Roadmunk enables you with the following product features:
Dedicated focus on roadmapping
Customer feedback capture
Built-in product management for systematic prioritization
Roadmunk API for integration with external apps such as Jira
Pre-built roadmap templates
Roadmunk learning center, product management resources, and ebooks
Pricing: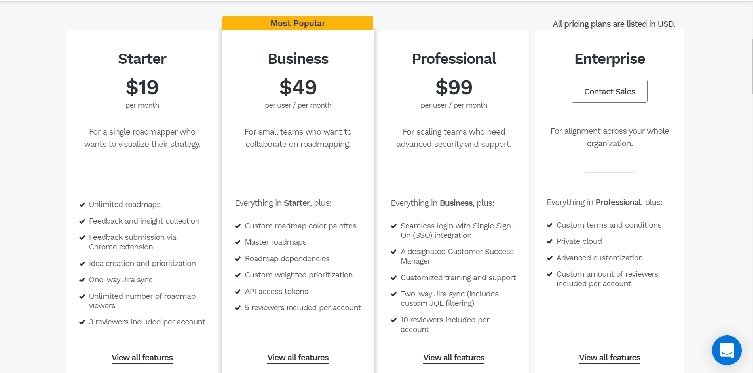 Roadmunk's pricing plans are distributed across four tiers: Starter, Business, Professional, and Enterprise. Each higher-level plan contains all features of the lower-level plans, along with plan-specific features and capabilities.
1. Starter Plan at $19/month
Unlimited number of roadmaps
Feedback submission and collection
Suitable for a single roadmapper
2. Business Plan at $49/user/month
Master roadmaps included
Custom weighted prioritization
Best for small team collaboration
3. Professional Plan at $99/user/month
Secure login with SSO integration
Custom training and support
Suitable for rapidly scaling teams and startups
4. Enterprise Plan at Custom Rates
Tailored terms and conditions
Private cloud with advanced customization
Suitable for large enterprises
7. Aha
Best for Enhanced Roadmapping
If you're looking for product roadmap software that lets you do more than just roadmapping, then Aha is the one for you. It's used by over 400,000 product teams worldwide and is considered one of the top product roadmap tools.
Aha's drag-and-drop feature lets you create roadmaps using up to six templates. It gives you the control to add features, initiatives, and goals to your roadmaps and then share it as a PDF, image, or web link.
Aha also has a user story mapping tool with features for collecting customer feedback and insights. You can incorporate customer feedback into user stories for the roadmap. In short, it's got everything a product team might need for successful roadmapping.
Features:
Aha doesn't skimp when it comes to features; this can often be overwhelming for newcomers who are just starting with roadmapping. It's best to invest some time into understanding the ropes before you can get hands-on with this tool.
The following is a list of Aha's significant features:
Strategic roadmap creation
Idea management solution with ideas portal
Organization and prioritization templates
Drag-and-drop user interface
Idea crowdsourcing (some other crowdsourcing platforms you can use)
Story maps
Multiple roadmap types
Detailed, custom reports
Powerpoint-style presentations
Dedicated training and certification programs
Pricing: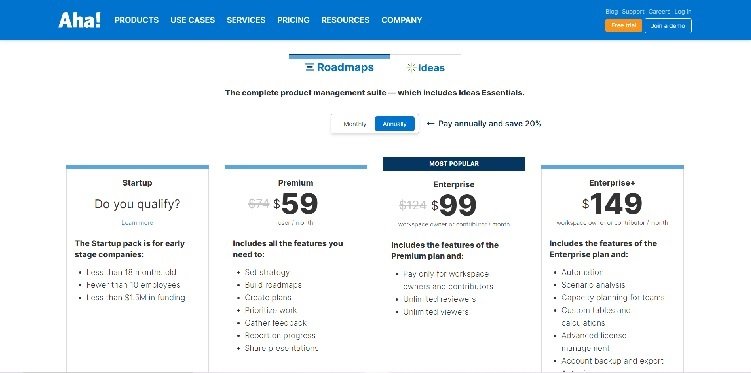 Aha Roadmaps is a complete product management tool that includes Idea Essentials (a companion product). Pricing is distributed across four tiers based on the level of business maturity. I've mentioned prices for the annual plans, which let you save up to 20%.
1. Startup Plan at Custom Pricing
Suitable for early-stage businesses
Heavily discounted plans
40-minutes best practices session
2. Premium Plan at $59/user/month
Build strategy and roadmaps
Create plans and prioritize work
Easy reporting and sharing
3. Enterprise Plan at $99/contributor/month
All features of the Premium plan
Unlimited reviewers and viewers
Pay only for workspace owners and contributors
4. Enterprise+ Plan at $149/contributor/month
All features of the Enterprise plan
Advanced automation and scenario analysis
Anti-virus scanning and IP-address access control
What is Roadmap Software?
Roadmap software refers to computer-based tools that help project and product managers plan, prioritize and create product strategies that align with a firm's goals. Usually, most roadmapping software works as a SaaS product that you can access via any browser.
Individuals and teams can use these tools to create great products that align with customer needs. Using roadmapping software, every team member can see where and how they can contribute to the product life-cycle.
How Do You Create A Product Roadmap?
1. Define The Product Strategy
The first step to create a product roadmap is to define the product strategy. This step aims to define details such as the product vision and goal. You'll also need to answer crucial questions such as who your target customers are and determine the product functionality.
While defining the product strategy, it's essential to ensure that you have carefully considered all differentiators that make your product unique. This will help ensure that your offering has a competitive advantage and also aligns with all organizational goals.
2. Gain a Clear Idea of the Requirements
Here, you'll need to gather the necessary information to give you a clear idea of the product requirements. For this, you can tap into three levels of intelligence: sales and support teams, the user community, and also your product knowledge.
Once you've gathered all required feedback, you should score these ideas based on metrics that align with your strategy. Scoring will allow you to get an objective view of which requirements to consider and which to ignore.
3. Assign Broad Timeframes
An essential function of your product roadmap is to provide the product development team with guidance. However, if you include specific dates and deadlines within the roadmap, you're compromising flexibility and not leaving room for agile responsiveness.
For this reason, many product managers prefer to omit dates and instead assign broad timeframes. You can also choose to plot initiatives quarterly or monthly. By doing this, you're not making promises that you might not be able to keep due to real-world constraints.
4. Customize the View
For the success of any product, you must get the support of all internal teams. To ensure this, you'll need to ensure that all stakeholders are on the same page with the product development team.
However, different levels of stakeholders will require different views of the product roadmap. Thankfully, this doesn't mean that you need to create separate roadmaps for different stakeholder levels. Product roadmapping tools provide you with the ability to create multiple views.
5. Share the Roadmap
Finally, all that's left to do is share the product roadmap(s) with your team and other associated stakeholders. Such sharing establishes accountability among team members and helps keep everyone on the same page regarding project progress.
Frequently Asked Questions
1. Is There Any Difference Between Roadmapping and BPM Software?
Any business has several processes such as onboarding, accounts management, and project management. Business Process Management (BPM) software helps automate and manage workflows and create efficiencies in all business processes.
Roadmapping software is simply a tool that helps you create a structure of the plan that you'd need to follow for developing a product. There are dedicated roadmapping software on the market, but some BPM tools also include roadmapping features.
2. What Are the Different Types of Roadmaps?
Roadmapping software lets product managers capture and communicate plans on a product roadmap. Your target audience will determine the kind of roadmap you need to present them with.
Here are the most common types of product roadmaps:
Strategy roadmaps
Features roadmaps
Portfolio roadmaps
Releases roadmaps
3. Can You Use Spreadsheet Software to Create Roadmaps?
You can create roadmaps with basic spreadsheet tools, but using specialized software makes the roadmapping process easier. It also helps to keep sensitive product information secure and makes sharing simple.
Wrap Up
Creating new products can be complicated, but you can streamline the process with the right roadmap software. Beautiful product roadmaps make your pitch more acceptable to upper management of companies.
If you're looking for a dedicated roadmapping tool, then take your pick from the following list:
Monday.com: Best For Creating The Ultimate Roadmap Template.
Wrike: Best for Kanban-style Roadmaps
Roadmap Planner: Best for Cross-domain Planning and Collaboration
I hope you'll be able to find the best-fit tool for your business from among the above selection.
Editorial Process:
Our reviews are made by a team of experts before being written and come from real-world experience. Read our editorial process here.
Some of the links in this article may be affiliate links, which can provide compensation to us at no cost to you if you decide to purchase a paid plan. These are products we've personally used and stand behind. This site is not intended to provide financial advice. You can read our affiliate disclosure in our privacy policy.