7+ Best Sales Management Software Systems of 2023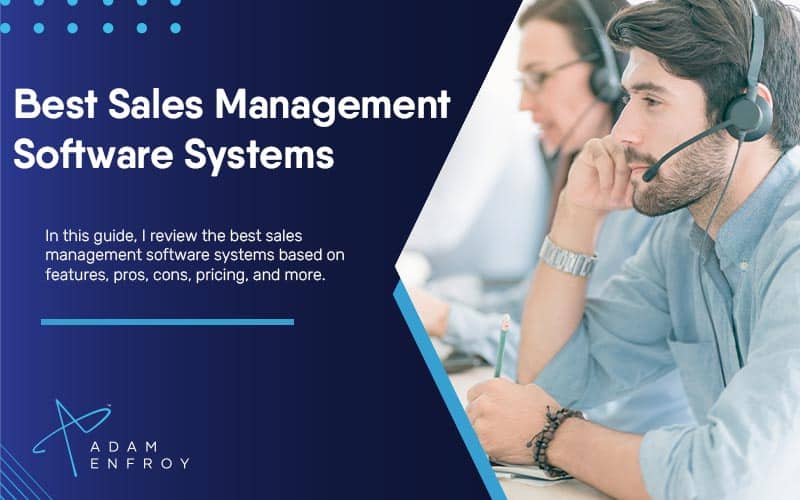 Selling is the most vital part of any business, and sales management software can help you streamline that process.
Salespeople usually have to spend hours entering data into computer systems each day.
This is valuable time that you can use to build connections and generate sales.
Sales management software helps to enhance the sales process through automation, allowing your sales teams to get more done in less time.
Companies can also use AI sales software to make the most of their sales opportunities, closing more businesses than ever before.
Whether it's SaaS sales or on-premise solutions, there are a number of options available to companies looking to improve their sales management processes.
With as much as 79% of survey respondents saying that artificial intelligence helps them when closing sales and automation software helping 58% of marketers to upsell more goods, it pays to know which software to consider.
That's why today, I'm here with a list of the best sales management software that you can try out.
These tools will help you boost teamwork, automate the boring stuff and reach sales goals in real-time.
What is the Best Sales Management Software?
Here are the best sales management software tools on the market today.
Best for Sales and Project Management
Most people know Monday.com as a project management tool, but it can be customized to work as a sales management software. The tool can integrate with third-party software and email clients to form a sufficiently robust sales management solution.
Using Monday.com, you get to make your sales management workflow simpler and less time-consuming. At the same time, all your company sales data gets centralized, allowing better organization for your sales management system.
Features:
Apart from helping you manage leads and maintain better customer relationships, Monday.com provides several tools to simplify the entire sales process. From sales order tracking to support for Gantt charts and Kanban boards, this tool supports it all.
Here's a list of the significant sales management features that Monday.com offers:
Straightforward visual representation of sales processes
Ability to divide sales meetings into different topics
Advanced security features such as 2FA and Google Authentication
Multiple views such as Calendar, Kanban, and Maps
Integration with apps such as Slack, Microsoft Teams, and Dropbox
Automation of repeatable tasks
Customizable dashboards
Task as well as deadline tracking
Pricing:
Like most other SaaS providers, Monday.com has also divided its pricing plans into multiple tiers. All plans are billable yearly or monthly; as usual, by opting for the annual plans, you get to save about 18% compared to the monthly plans.
Here's a quick break up of Monday.com's pricing plans:
Individual Plan at $0
Basic Plan at $8/seat/month
Standard Plan at $10/seat/month
Pro Plan at $16/seat/month
Enterprise Plan at custom rates
Get started with Monday.com.
Best for Ease-of-Use and Simplicity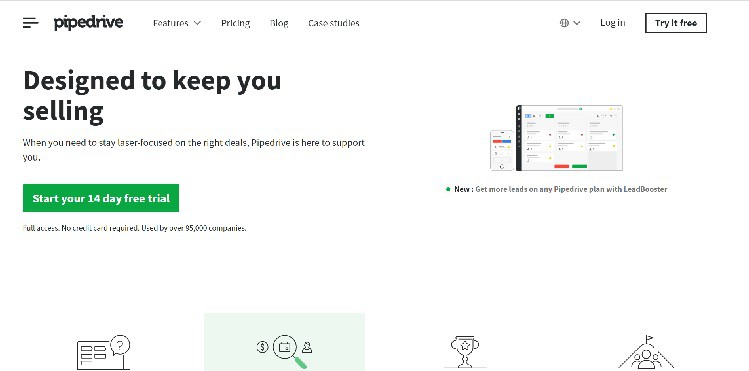 The Pipedrive Sales CRM is built with a focus on usability and simplicity. It's a highly affordable tool and is suitable for smaller businesses that work with a limited number of members.
When using this tool, you'll be able to get a complete, bird's-eye view of the entire sales pipeline. It will allow sales managers to track performance, evaluate metrics, and follow-up promising leads better.
It also offers AI-based chatbots that help you tackle user queries around the clock. Constant customer service means you're able to build better customer relationships and drive more traffic to your business.
Features:
Using Pipedrive, you can track meetings and emails, monitor team-wide conversations, and easily integrate with other sales apps. It even provides dedicated mobile apps that allow you to stay on top of your business on the go.
Here's a list of the significant features that Pipedrive has to offer:
Can integrate with over 200 apps such as Trello and Slack
Live chat feature that lets customers connect with the sales reps easily
Seamless tracking of emails and contact history
Custom chatbots and webforms for leads and deals management
AI-based sales automation of administrative tasks and data entry
Detailed metrics and reports
Complete privacy and security of business data
Ability to view deals in a visual sales pipeline
Pricing: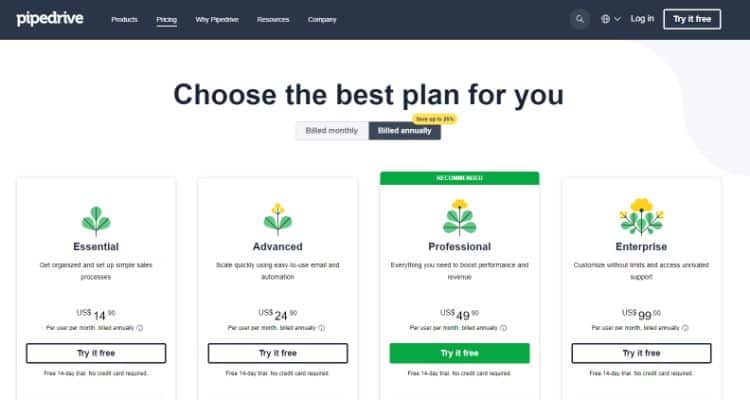 Pipedrive's pricing plans are distributed across four tiers, similar to that of Salesforce Sales Cloud. All plans have annual and monthly billing, though I suggest you go for the yearly billing cycle and save some money.
The following is a breakup of Pipedrive's Pricing Plans:
Essential Plan at $14.90/user/month
Advanced Plan at $24.90/user/month
Professional Plan at $49.90/user/month
Enterprise Plan at $99/user/month
Get started with Pipedrive.
Best for Complete Sales Management
When it comes to sales management and CRM, Salesforce needs no introduction. Widely known as the world's number one CRM tool, it offers multiple products that can help enhance your sales workflow.
From marketing automation with Pardot to lead management using Sales Cloud, the Salesforce ecosystem covers every aspect of the sales pipeline. With its broad functionality and multiple tools for collaboration and contact management, Salesforce leads the way.
Features:
Salesforce Sales Cloud is a well-rounded CRM software with collaboration and marketing tools built-in. You can glean practical insights from customizable dashboards and reports, perform sales forecasting, and create and track orders.
Here's a list of the features that Salesforce Sales Cloud provides:
Complete customer and sales management
Real-time sales forecasting and adjustments
Automated admin tasks
AI-based sales probability predictions
Customizable reports
Integration with email apps such as MS Outlook and Gmail
Multi-device syncing, sharing, and support
Pricing:
Salesforce Sales Cloud pricing plans are divided across four tiers: Essentials, Professional, Enterprise, and Unlimited. Each plan has progressively greater capabilities, though all provide account, contact, lead, and opportunity management options.
Here's a breakdown of the Salesforce Sales Cloud Pricing Plans:
Essentials Plan at $25/user/month
Professional Plan at $75/user/month
Enterprise Plan at $150/user/month
Unlimited Plan at $300/user/month
All plans are billed annually and include add-ons such as Pardot and Sales Cloud Einstein.
Get started with Salesforce.
Best for Tracking The Customer Lifecycle
Salesmate allows you to grow your relationships with customers. It's an app that organizes your contacts and manages your communications with them.
It also tracks essential data so that you can identify all the critical information about your customers.
The app is beneficial for sales reps because it uses CRM technology to organize all the contacts you need.
You can keep track of your product knowledge and see which customers are active, inactive, or infrequent buyers.
With prospect & lead engagement, you can take advantage of cold calls or emails and use the data that Salesmate provides to get in touch with anyone.
Features:
Bulk Emails & Texts allow you to send personalized, pre-written emails and text messages to your customers.
Salesmate also adds tasks for you at the right time so that you can complete them to lead or opportunity just before closing it.
Email Campaigns allow you to create, send and track emails for all your contacts.
Calling & Power Dialer lets you use Salesmate's dialer to make phone calls to your customers.
Voicemail Drop allows users to record an audio message to deliver to their customer's voicemail.
360 View of Customer gives you a bird's eye view of all your customer interactions.
Pricing:
There are four pricing plans available. The following are the annual plans, allowing you to save 20% when compared to monthly prices:
Starter: $12 per user/ month
Growth: $24 per user/ month
Boost: $40 per user/ month
Enterprise: Custom Pricing
There is also a free 15-day trial to get started.
Get started with Salesmate.
Best for Advanced Sales Management
Keap is a sales CRM known for helping sales leaders track tasks, streamline customer communications and perform advanced-level sales management. The software is ideal for pulling a greater number of leads through the sales cycle.
The drag-and-drop lead management system is user-friendly and helps make marketing campaigns more streamlined. It also has a campaign builder for launching successful marketing campaigns.
Features:
Keap has several features that make it suitable for sales management. Its sales and marketing tools allow you to automate follow-up processes and close more sales. It also integrates with over 2000 apps using the Zapier API.
Here's a list of the essential features that Keap offers:
Lead capture, sales nurture, and appointment reminder automation
Complete client management system for small businesses and startups
Easily scales with your business
Visual sales pipeline
Single-click invoice generation
Detailed reporting and analytics
Dedicated mobile app
Pricing:
Keap's pricing plans are divided into three tiers and based upon the number of contacts you have. Every plan starts with a minimum of 500 contacts and increases in price along with the number of contacts.
Here's a quick pricing breakdown for 500 contacts:
Lite Plan at $79/month
Pro Plan at $149/month
Max Plan at $199/month
All plans require Expert Coaching, which comes for a one-time payment of $499.
Get started with Keap.
Best for Sales Performance Management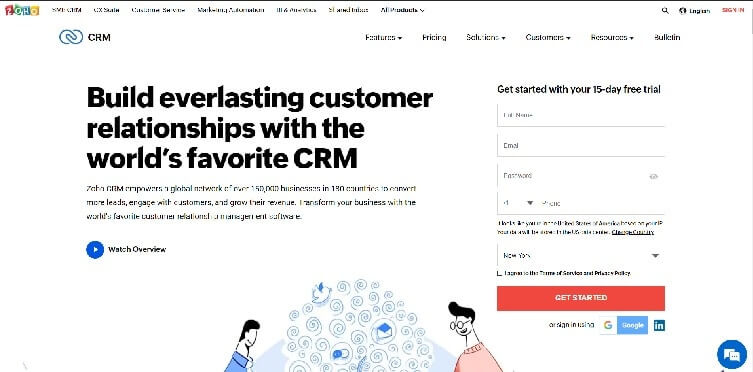 Zoho CRM is an integrated CRM platform focused on helping sales team members convert more leads to sales. The software is backed by a stellar customer support team and is considered one of the best sales software solutions out there.
The CRM offers a host of tools such as integrated calendars, forecasting tools, and workflow conversion. It even lets you implement custom rules for your CRM, automate sales operations and hold real-time conversations with customers and prospects.
Features:
Zoho lets you make phone calls and send emails right from the comfort of the platform itself. You can also track social media interactions and get a better idea of how prospects react to your social media presence.
Here's a brief list of the essential features that Zoho CRM has to offer:
Detailed customer relationship management features
Ability to implement customizations as per your business needs
Social media interaction tracking
Artificial intelligence-based automation of routine sales functions
Command Center for creating personalized customer journeys
Generating invoices and quotations from within the CRM
Mobile app support for iOS as well as Android
AI-assistant (Zia) for predicting sales based on customer data
Sales Process Builder for integrating offline sales into the CRM
Pricing:
Zoho CRM offers flexible pricing plans for all levels of users. You can opt for the free CRM with limited capabilities or choose any paid plans that include advanced features. All plan prices mentioned are for yearly billing cycles.
Here's a breakup of the pricing plans for Zoho CRM:
Standard Plan for $14/user/month
Professional Plan for $23/user/month
Enterprise Plan at $40/user/month
Ultimate Plan at $52/user/month
7. HubSpot.
Best for Full Stack Sales and Marketing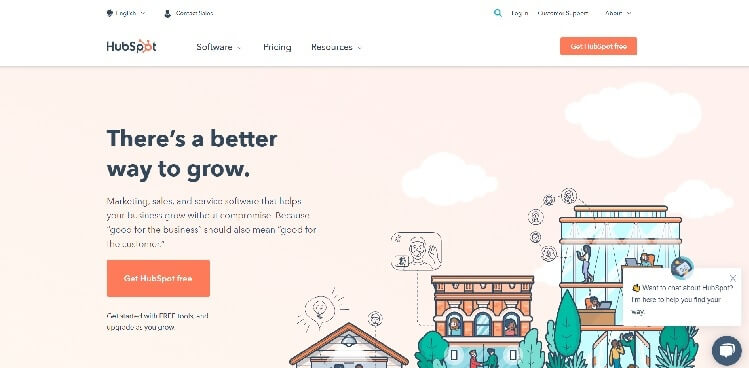 If you're looking for a complete marketing tool that takes care of every aspect of your business's sales pipeline, then HubSpot is the way to go. The service offers a free HubSpot CRM, along with a Sales Hub, Marketing Hub, and Service Hub.
Although the software is rather heavy and primarily designed for larger corporations, even a small business can benefit from using the tools on offer. Using HubSpot, you can keep track of all facets of sales, from customer interactions to reports on profits and more.
Check out my comparison on HubSpot vs Salesforce to see how it stacks up against the competition.
Features:
HubSpot's visual dashboard provides you with a clean and clear view of your entire sales pipeline. You'll find detailed reports on individual performance, productivity, and sales activities, along with company insights and deal tracking.
Here's a list of the features that HubSpot has to offer:
Forever free CRM
Multiple add-ons for Sales, Marketing, Service, and Operations
Complete customer support and sales pipeline management
Easy integration between all HubSpot tools
Productivity tools such as meeting scheduler and deal tracker
Document management features
Call tracking and recording ability
Real-time access to insights directly from the dashboard
Pricing: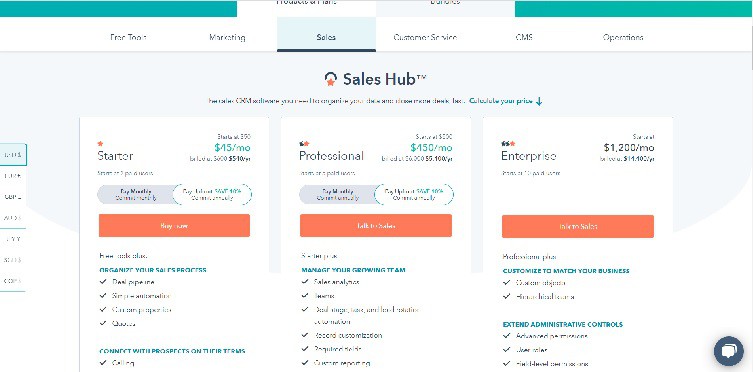 HubSpot has multiple tools and pricing plans on offer, so I'm going to focus on the pricing for the HubSpot Sales Hub. Its pricing is spread across three tiers, namely Starter, Professional, and Enterprise. All plans support monthly as well as yearly billing.
The following is a list of HubSpot Sales Hub Pricing Plans:
Starter Plan from $45/month
Professional Plan at $450/month
Enterprise Plan at $1200/month
You can also choose a custom plan based on the number of users you need onboard.
Get started with HubSpot CRM for free.
8. Nutshell.
Best for Collaborative Sales Management
Easy-to-use and extremely powerful, the Nutshell sales automation CRM is built for sales teams that collaborate to increase conversion rates. It also has email marketing capabilities that make it an all-in-one tool for growth marketing.
The platform is entirely customizable and can help in lead generation and lead scoring. It supports sales automation, email sequencing and integrates well with third-party applications such as Gmail and Outlook.
Features:
Nutshell offers multiple pipeline management views and is suitable for inbound as well as outbound sales teams. It also provides live customer support for free, unlimited data storage capabilities, and detailed analytics.
Here's a bird's-eye-view of Nutshell's most essential features:
Complete sales process automation
Visual pipeline management
Customizable performance reports
Centralized contact management
Email templates and automated sequences
Team collaboration and marketing tools
Live support from real humans
Mobile app support for Android as well as iOS
Pricing:
Nutshell's pricing plans are as simple as the app's name. It offers just two plans, and the pricing varies based upon the number of users. Plans are billable on monthly as well as yearly cycles.
Here's a quick break up of Nutshell's pricing plans:
Starter Plan at $19/user/month
Pro Plan at $35/user/month
What is Sales Management Software?
Sales Management Software refers to (usually online) software platforms that allow sales teams to fulfill their goals. Using these tools, Sales Managers can track and manage tasks, follow leads through the sales pipeline, and much more.
Wrap Up.
Without amping up sales, no business can hope to succeed and grow. And this is precisely where sales management software helps. By streamlining the entire sales process, these tools ensure that you stay on top of your sales pipeline.
If you're looking for sales management software that's suitable for your business, then take a pick from these options:
Monday.com : Best for Sales and Project Management
Pipedrive: Best for Ease-of-Use and Simplicity
Salesforce : Best for Complete Sales Management
Choosing from among the above software tools will ensure that you end up with the best sales management software.
Further reading on AdamEnfroy.com: Finding a work-from-home sales job that's right for you starts with having the right knowledge and tools – here's everything you need to get started in a remote sales job.
Disclosure: I may receive affiliate compensation for some of the links below at no cost to you if you decide to purchase a paid plan. You can read our affiliate disclosure in our privacy policy. This site is not intending to provide financial advice. This is for entertainment only.