Salesforce CRM Review & Ratings in 2023
Salesforce is a popular CRM software that helps businesses track customer data and manage relationships.
As one of the best sales management software systems, Salesforce has many features and can help sales teams track their customer data and pipeline.
In this Salesforce review, I explore this product's features, pricing, and more.
I'll also give you my thoughts on the businesses that can benefit the most from using Salesforce CRM.
What is Salesforce CRM?
With a community of over 150,000 customers, Salesforce is a B2B SaaS company specializing in CRM (Customer Relationship Management) software.
To streamline and improve the sales process, Salesforce allows salespeople to track customer data, manage their pipeline, and automate repetitive tasks.
As a salesperson, this feature is excellent for tracking ongoing customer conversations, ensuring no leads slip through the cracks, and understanding how to follow up with each prospect properly.
The software is also known for its scalability—it can easily be customized and adjusted as a business grows.
With various customization options, a wide range of integrations, and features like Einstein AI (now known as Tableau CRM – more on this later), Salesforce has become one of the most popular CRM systems for small and enterprise companies.
In addition, minimal setup is required when getting started, ensuring the software is up and running quickly.
With automation features, a customizable interface, and integrations with popular business software, Salesforce is one of the best CRM software that can be tailored to your business needs.
Let's now get into the different features Salesforce has to offer.
Salesforce Customer 360
One of Salesforce's key features is Customer 360, which gives businesses a complete view of their customers.
With Customer 360 and its 8,700+ mission-critical partner apps and services, businesses can efficiently perform the correct processes in terms of contact management, connecting all their customer data in one place.
This ability gives them a 360-degree view of each customer, which helps sales teams better understand their needs and provide more personalized service.
Whether you want to store data locally or in the cloud, Customer 360 has you covered.
With hyper-secure customer data storage, businesses can also trust their customer data is safe and secure.
There's also a focus on hyper-scalability and hyper-compatibility so businesses can easily connect their data no matter what and grow in confidence in their day-to-day operations.
Here are the various products found within Customer 360.
Marketing Cloud
From unlocking customer value with real-time data to personalizing the customer journey, Marketing Cloud allows businesses to turn one-to-one interactions into long-lasting relationships.
With powerful engagement features and automation capabilities, businesses can easily create and manage personalized marketing campaigns that drive results.
Marketing Cloud has many integrations, allowing businesses to connect their data and workflows more efficiently.
Businesses can also automate engagement across channels, making it easier to connect with customers on the media they prefer.
Sales Cloud
Salesforce Sales Cloud gives sales reps the tools to stay organized and focused on their tasks to sell more effectively.
With features like opportunity management, sales and marketing automation, forecast management, territory planning, and more, reps can manage their entire sales pipeline from one place.
They can also access real-time data and create reports and analytics to help them make the best possible decisions.
Sales Cloud is also mobile-friendly.
Reps can access their data and workflows outside the office.
Commerce Cloud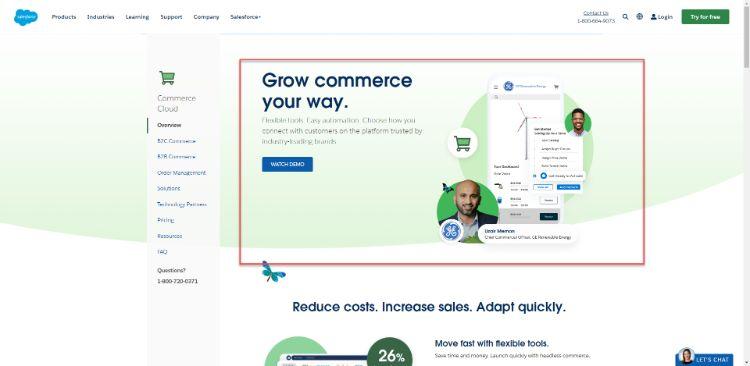 Want to reduce costs and increase your ecommerce conversion rates?
Commerce Cloud is here to help.
With tools that can help you launch and grow your ecommerce business, Commerce Cloud gives businesses the power to sell more effectively online.
You can also win long-term customer loyalty with a customer experience tailored to each person's needs.
Commerce Cloud uses artificial intelligence to build customer relationships and recommend products they might be interested in.
Service Cloud
Finally, you can connect all the dots for your customers with Service Cloud.
With this module, businesses can quickly provide world-class customer service and support.
As a business owner, you can resolve customer issues faster with features catering to client management, including case management, live agent chat, knowledge management, and more.
With connected channels that allow for personalizing and seamless customer service experiences, businesses can easily create long-lasting relationships with their customers.
Scaling is also easy with Service Cloud, so businesses can quickly grow their customer service operation without any headaches.
From case management to digital engagement, field service, and analytics, Service Cloud has everything businesses need to provide world-class customer service.
Salesforce Tableau Integration
Tableau is a powerful data visualization tool that helps users see and understand data in new ways.
Salesforce announced a strategic partnership with Tableau in 2019, which has resulted in tighter integration between the two platforms.
Users can now easily connect their Salesforce data to Tableau and create beautiful visualizations that help them see and understand their data in new ways.
The partnership has also resulted in new features and capabilities, such as directly connecting to Salesforce data sources and visualizing Salesforce data in Tableau.
Whether you want to spot trends you can't see in Salesforce data or understand your customers better, Tableau is a powerful tool that can help.
You can also jump straight into your insights using Salesforce data that's already been cleansed and ready for analysis in Tableau.
In addition, with data storytelling, you have a powerful way to communicate such insights with others, helping them understand data in new ways.
Whether you're looking for a way to understand business intelligence better or want to communicate your findings to others, data storytelling is a powerful tool that can help.
If you're a Salesforce user, you should check out Tableau and see how it can help you see and understand your data in new ways.
For more information about Tableau and comparison with one of its main competitors, check out this Power BI vs. Tableau article.
Salesforce CRM Integrations and Add-Ons
Salesforce offers a variety of integrations and add-ons that can help businesses get the most out of their CRM platform.
For example, there are integrations for popular productivity tools like G Suite, Slack, Mailchimp, Quickbooks, and more.
There are also a variety of add-ons that can help businesses automate their sales and marketing processes.
These integrations are helpful for businesses of all sizes but are accommodating for small businesses that might not have the resources to build their integrations.
The Salesforce AppExchange store is a great place to find integrations and add-ons for your business.
With categories sorted according to finance, human resources, sales, customer service, and more, finding the proper integration or add-on for your business is easy.
Ease Of Use
The Salesforce platform is straightforward and intuitive, even for users unfamiliar with CRM software.
The user interface is clean and uncluttered, and users can easily find the needed features and tools.
Salesforce also offers a variety of helpful resources, such as online training videos and community forums, to help users get the most out of this CRM vendor.
The option to log in from multiple devices, including a mobile app, makes it even more accessible.
It's also easy to move from one module to another and customize the Salesforce interface to fit your individual needs.
Salesforce is also pretty user-friendly regarding collaboration, with features that allow users to share data and work together on projects quickly.
Salesforce Workflows Automation
The ability to create workflows and automate processes is one of the most powerful features of Salesforce.
Workflow automation can save businesses a lot of time and money and help improve the efficiency of one's sales and marketing departments.
One can automate single or multiple tasks depending on the business needs.
Salesforce offers a variety of workflow automation options, including pre-built workflow templates, so you can quickly get started.
From customer service team members that want to automate their support processes to a sales team that wants to automate its lead management, workflow automation can help businesses of all sizes improve their efficiency.
In addition, lead scoring allows you to categorize subscribers in your email marketing list or social media followers into groups based on their behavior or interactions.
You can use lead-scoring rules to trigger automation workflows that nurture your leads and help you close more deals.
Salesforce's Productivity Tools
With Salesforce's AppExchange and app integrations, tools, and add-ons, businesses can extend the functionality of their CRM.
While the list of productivity tools could go on for a long time, the two main tools seem to be big hits with many of Salesforce's customers.
Salesforce Chatter is a tool that allows businesses to improve communication and collaboration within their organization.
Then, through the Experience Cloud, you can transform your business communication.
Whether using Salesforce's dashboard to help onboard new customers or get verified leads in real time, the Experience Cloud can help businesses improve their communication and overall productivity.
Salesforce Customer Support
As one of the best customer relationship management software providers, this sales CRM has an excellent customer support team to provide its users with the right help.
There are three main ways to contact the support team if you need help with your account management:
Open a support ticket online
Get phone support
Use the online chat features
Depending on your pricing plan, you can access different support services.
Salesforce Pricing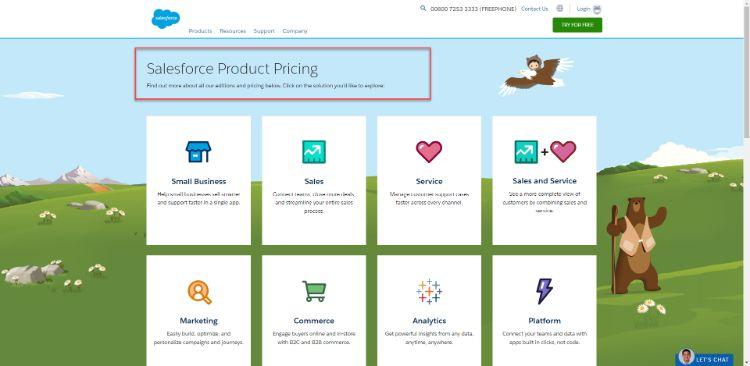 The price for Salesforce depends on the edition you choose and the features and add-ons you need.
From small businesses that want to use essential CRM tools to sales and service powerhouses that require more, Salesforce has an edition and the right price point for any business.
When it comes to small businesses, these are the pricing plans on offer:
Essentials: $25 per month
Sales Professional: $75 per month
Service Professional: $75 per month
Marketing Cloud Account Engagement: $1250 per month
While there is no free CRM software plan, you can try any of the first three plans on a 14-day trial.
Salesforce Trailblazer Community
The Salesforce Trailblazer Community is an excellent resource for learning how to use Salesforce. It's an online platform that provides access to free resources, courses, and events.
One can use it to ask questions, connect with peers, collaborate on projects, and take advantage of exclusive discounts and giveaways.
With the Trailblazer Community, you can learn from experienced Salesforce users and earn certifications to become a Salesforce Certified Administrator.
Whether you're just starting or are already an expert in the field, the Trailblazer Community is an invaluable source of knowledge to help you succeed.
With its vast resources and supportive community, the Trailblazer Community offers something for everyone.
How Small Businesses Can Use Salesforce
Salesforce CRM will continue to be one of small businesses' most popular customer relationship management (CRM) platforms.
It provides an easy-to-use interface and many features to help your business manage customer relationships.
Here are some tips on how small businesses can get the most out of Salesforce.
Utilize Automation Features – One of the critical advantages of using Salesforce CRM is its ability to automate tasks, such as lead generation and sales forecasting. Automating these processes can save you time and money, leading to improved efficiency and profitability.
Use Advanced Analytics – With Salesforce, you can access powerful analytics tools to gain insights into customer behavior and areas of opportunity. Advanced analytics allow businesses to make better decisions regarding customers, pricing strategy, and marketing campaigns.
Integrate with Other Applications – Salesforce CRM allows businesses to easily integrate customer data with other applications, such as marketing automation platforms or e-commerce solutions. All customer information can be easily accessed from one central system.
Leverage Machine Learning Capabilities – With Salesforce's Einstein AI technology, small businesses can leverage machine learning capabilities for predictive analysis and more accurate forecasting. They can identify potential business opportunities and problems before they become an issue.
By following the above tips, small businesses can take full advantage of the many features and capabilities of Salesforce CRM.
Salesforce CRM Review – FAQ
Which Businesses Are Considered To Be The Main Salesforce Competitors?
Salesforce competitors include Hubspot, Zendesk, and Zoho CRM.
Is Salesforce A Platform Or CRM?
Salesforce is a CRM software.
Many also consider it a platform because it has an app store called AppExchange, with many apps that extend the functionality of Salesforce.
Wrap Up.
Salesforce.com is a comprehensive CRM solution offering many features and tools to help businesses manage customer relationships.
For businesses of various sizes, Salesforce provides an easy-to-use interface, robust workflow automation, and helpful productivity tools.
Salesforce also offers a variety of integration and add-on options to extend the functionality of its CRM.
The bottom line is that if you're looking for one of the best CRM solutions to help you manage your customer relationships more effectively, Salesforce is worth considering.
Get started with Salesforce.
Further reading on AdamEnfroy.com: Want to see how Salesforce compares to other competitors?
Check out this HubSpot vs. Salesforce review for an in-depth look at two of the most popular CRMs.
In addition, feel free to check out this post on the best AI sales software to help you close more sales deals.
Alternatively, if you're just getting started in this industry, here are the top remote sales jobs that pay over six figures in salary in the current market.
Disclosure: I may receive affiliate compensation for some of the links below at no cost to you if you decide to purchase a paid plan. You can read our affiliate disclosure in our privacy policy. This site is not intending to provide financial advice. This is for entertainment only.