7 Best Slack Alternatives for Team Communication (2023)
Can't wait to get together with your team and start working? Then the best Slack alternatives that you can use are Chanty and Mattermost.
We cannot imagine the modern workplace without online team collaboration and real-time communication tools. These tools provide essential features such as screen sharing, video calls, and video conferencing. That's why more than 90% of businesses use them.
And when it comes to team communication software, Slack is usually the top choice, with over 65% of users opting for it. However, ever since it has gone public, the software's focus has shifted to enterprise-level customers.
Thankfully, there are multiple alternatives to Slack that can help you get the job done. Here is my list of some of the best collaboration tools you can use as Slack alternatives. I'll give a brief overview of their functionality, feature-set, and even pricing plans.
What Are The Best Slack Alternatives?
Here are my picks for the best Slack alternatives for team communication.
Best For Real-time Collaboration And Communication
Chanty is a fast-growing startup that focuses on helping small businesses take care of their communication needs. It's a real-time collaboration and group chat tool, but it offers many features other than messaging.
You can use this Slack alternative to create tasks, assign them to team members, and also use it for video conferencing. I like the clean interface that it provides; using the software is easy as well as intuitive.
Overall, Chanty is best suited for small teams that need to focus on short tasks. It helps to organize lists and chat channels based on functions, teams, and other searchable parameters. This focus on tasks enables you to get more done in less time.
Features:
Feature-wise, Chanty is pretty power-packed. It has channels for public conversations but also supports private messages and audio as well as video calls. You can also share screens using the tool on a one-on-one basis.
Here's a list of the standout features Chanty offers:
Artificial Intelligence-based search
Team-wise as well as member-wise to-do lists
Task management in the form of task assignment, monitoring, and adjustment
Team chat facility
Kanban boards
Conversation archives
Video chatting and conferencing
Easy integration with apps such as Trello, Asana, and Google Drive
Pricing: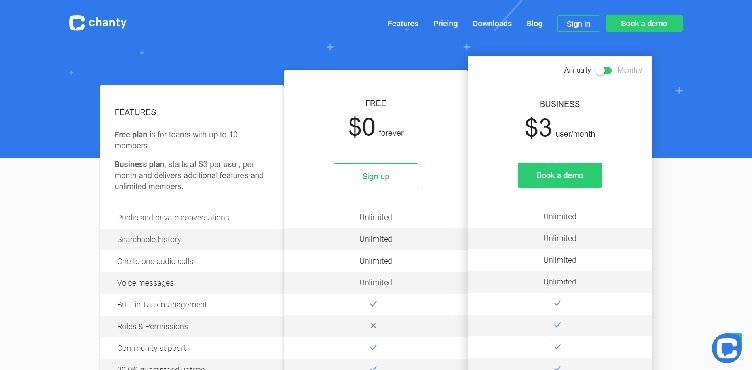 As far as pricing is concerned, Chanty keeps it simple. It has just two plans: a Forever Free Plan that costs $0 and a Business Plan that costs $3/user/month. The free plan is limited to ten users, while the business plan can have unlimited users, along with all features.
Best For DevOps Teams
If you're a developer looking for an open-source instant messaging solution that's also high on security, then Mattermost is the best Slack alternative. This secure collaboration platform is used by large corporations (think Intel) and even by the United States government agencies.
Mattermost helps developers create a customized platform for team communication. The software is best suited with DevOps workflows and uses dedicated channels for ensuring software bugs detection and breach resolution.
It also lets users collaborate on coding and bug-testing in real-time. You can visit the notifications hub to ensure that you're working in sync with other team members. It can even integrate with tools such as JIRA for task creation, assignment, and tracking.
Features:
One of the striking aspects of Mattermost is that its UI is almost similar to Slack, so if you're transitioning, you aren't going to face much trouble. Apart from the above, it also has options for assigning role-based permissions, sending private messages, and video calls.
Here's a list of the other essential features of Mattermost:
Task-based priority assignment
Automatic notifications and reminders
An unlimited number of integrations
Customized branding options
Image, link, and file sharing
Multiple language support
Screen sharing (through integrations)
Scheduling meetings and reminders
Unlimited number of slash commands
Guest accounts and user mentions
Searchable messages
Supports multiple platforms (Windows/Mac/Android/iOS)
Pricing:
Mattermost offers cloud-based SaaS that the company itself hosts. Or, you can also opt for the self-hosted option that has a free plan. Whichever hosting option you choose, you get ample scope for customizations.
Here's a list of Mattermost's Pricing Plans:
Self-managed Enterprise E0 at $0/user/month
Self-managed Enterprise E10 at $3.25/user/month
Self-managed Enterprise E20 at $8.50/user/month
Cloud Professional Plan at $10/user/month
Cloud Enterprise Plan at custom pricing
Each higher-level plan includes all of the features of the lower-level plans. While the cloud plans are best suited for distributed teams, the self-managed plans are suitable as Slack alternatives for privacy-minded teams of all sizes.
Best For Project Management
Fleep is a team communication tool and collaboration app that also includes project management software in the mix. From assignable tasks and pinboards to file and team management, Fleep has you covered with all forms of team communication.
This Slack alternative has an interface that categorizes tasks into to-do lists; this helps eliminate the possibility of overlooking any job. However, I've noticed that the dashboard can feel a bit cluttered with too many tasks at hand.
One of the unique features of Fleep's project management app is that it is not limited to being used to communicate with team members inside the company. You can even invite external participants for a team chat, who need to connect on Fleep using their email addresses.
Features:
Instead of categorizing conversations according to topics or channels (as in Slack), Fleep categorizes them according to the people. You can access all conversations with a person from a single place only; this helps keep things organized and trackable.
Here's a list of Fleep's Essential Features:
Dedicated pinboards for highlighting important information
Taskboard for assigning and monitoring tasks
Group conversations and one-to-one conversations
Teams and task management
File sharing, audio and video calls
Support across the web, desktop, and mobile devices
Writing indicators and read receipts
Status and presence updates
Easy integrations with Slack, Trello, JIRA, Zapier, Dropbox, and more
Searchable conversation histories
Pricing:
Fleep's pricing plans are divided across three tiers, and the website pricing page lists the prices in terms of euros. But I'm going to give you the dollar rates that I've found out, along with a bit about the features you'd get with each tier.
1. Basic Plan at $0/user/month
Suitable for communities, friends, and students
Up to one gigabytes of storage
Support for native apps
2. Business Plan at $5/user/month (billed annually)
Suitable for medium and small businesses
Everything in Basic Plan
Team-based customization
3. Enterprise Plan at Custom Rates
Suitable for larger businesses and corporations
Everything in Business Plan
Volume discount
4. Flock.
Best For Productivity Tools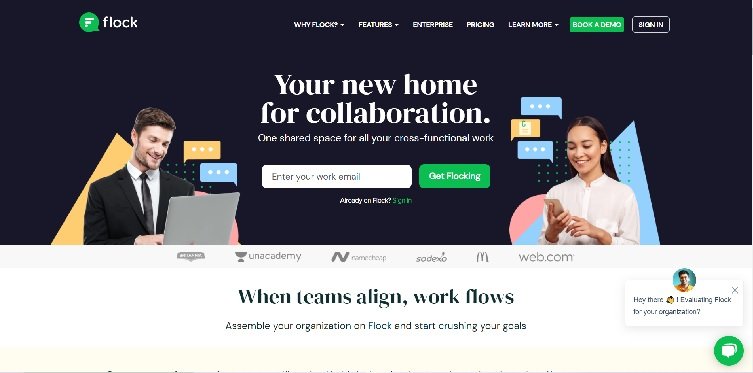 Flock is an online collaboration platform that offers real-time direct messaging, audio, and video conferencing along with a suite of productivity tools. The app's design works to eliminate workplace distractions by providing a single interface for all your communication channels.
Along with team communication, Flock's interface gathers all your team collaboration and task management requirements and presents them in a unified manner. Despite doing so much, the interface itself is rather minimalistic and focuses on open chats.
It also includes productivity tools such as to-do lists, team polls, and project updates. You can directly create tasks from messages, helping you cut down on time required to allocate work to team members.
Features:
The one unique feature of this app that I found helpful is the reminder tool, which allows you to set up reminders for yourself and other team members. You can create reminders for any time of the day or even reminders that activate after specific time intervals.
Some additional features that Flock offers are as follows:
Smart channels with pre-defined criteria
In-app note sharing
Code snippets and file sharing
Single-click video calls and video chat
Voice notes and to-dos
Admin controls, authentication, and data retention
One-way announcements
Chat searching and bookmarks for direct messages
Dark mode for enhanced visual experiences
A large number of integrations
Pricing: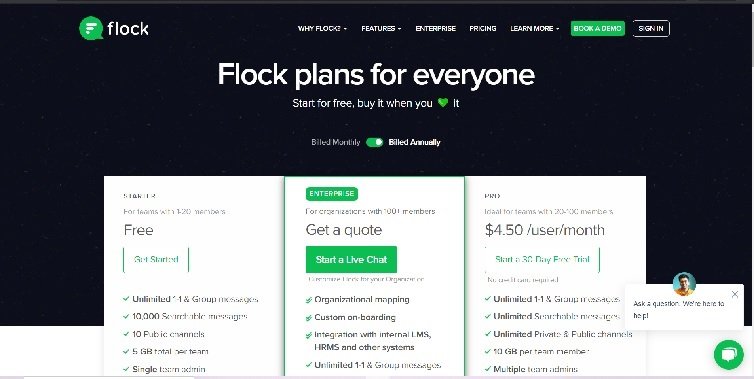 Similar to Fleep, Flock's pricing plans are also divided across three tiers: Starter, Pro, and Enterprise. Billing can be done monthly or annually, though you get a 25% discount with annual billing.
1. Starter Plan at $0/month
Unlimited one-on-one and group messages
Up to ten public channels
Up to five gigabytes of storage per team
2. Pro Plan at $4.50/user/month
Unlimited messages and searches
Unlimited private and public channels
Ten gigabytes storage per team member
3. Enterprise Plan at custom rates
Everything in the Pro plan
Organizational mapping
Integration with intra-business systems such as LMS and HRMS
Apart from the above pricing plans, Flock also provides special rates to non-profit organizations based on the area of work and geography.
5. Microsoft Teams.
Best For Office 365 Users
For businesses that work with Microsoft Office 365, there's no better alternative to team collaboration tools than Microsoft Teams. It offers a comparable range of capabilities and integrates seamlessly with Office 365 and the rest of the Microsoft 365 suite.
As a result, you can easily share and collaborate on live files using this tool. It has a user interface that should be familiar to Slack users, the only significant difference being that Teams segregates different communication types into separate tabs.
Features:
One of the advantages of using Microsoft Teams is that you don't have to use any third-party apps. At the same time, it offers dedicated, built-in project management features. All this ensures that you can manage your entire team from within the comfort of this single app.
Here's feature-list for Microsoft Teams:
Up to 10,000 attendees and 24-hour meetings
Custom backgrounds and screen sharing
Live recording of meetings
Up to 500,000 chat participants
Unlimited chats and file uploads
Real-time integration with Microsoft 365
Includes Microsoft Task app for managing projects
Video calling and video chat
Available across Windows, iOS, and Android
Guest access and screen sharing
Pricing: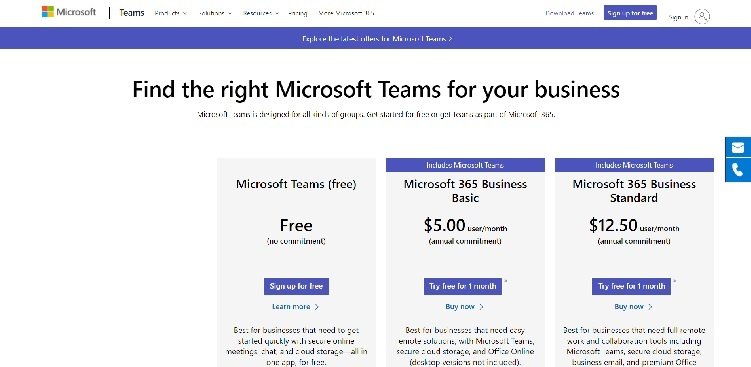 Microsoft Teams pricing plans have three tiers. The first tier provides you with just the Microsoft Teams software for free. You can sign up without any commitment and start using the app.
For a complete Office 365 solution that includes Teams, you can opt for any of the following paid plans:
Microsoft 365 Business Basic at $5/user/month (paid annually)
Microsoft 365 Business Standard at $12.50/user/month (paid annually)
Office 365 E3 at $20/user/month (paid annually)
6. Rocket.Chat.
Best For Social Media Integration
Rocket.Chat is a one-of-a-kind service in that it can integrate multiple chat software into a single interface. Using this team chat app, you can easily access all your chats from social media channels such as WhatsApp, Facebook, Telegram, and similar tools.
The app itself is entirely open source, and you can customize it as per your needs. You can clone Rocket.Chat from its GitHub repository, or deploy it on your own cloud server. But you'd be wrong to think it's just another team messaging app.
Instead, it plays the part of an advanced tool for facilitating teamwork. It can integrate with an unlimited number of apps through APIs and enables you with complete control over the workspace. Rocket.Chat is one of the top Slack alternatives for social media integration.
Features:
Since Rocket.Chat is an open-source tool you can completely customize it for all your docs and direct messages. It even provides you with video conferencing, screen sharing, and trustable end-to-end encryption.
Here's a list of Rocket.Chat's essential features:
Individual as well as group messaging
Public and private channels
It can be used as a SaaS or self-managed solution
Easy chatbot integration
Available on all platforms, including Linux
Audio/video and screen sharing
File storage and sharing
Searchable message history
CRM and SMS integration
Creating online tickets and chat tags
Support for emojis
Pricing:
Rocket.Chat's pricing plans are distributed across its Self-Managed and SaaS offerings. You can start with the self-managed, completely free Community plan. In case you think the free version isn't enough, opt for any of the paid plans.
Self-Managed Plans:
Pro plan at $3/user/month
Enterprise plan at custom pricing
SaaS Plans:
Bronze plan at $2/user/month
Silver plan at $4/user/month
Gold plan at custom pricing
7. Glip.
Best For Task Management
RingCentral acquired Glip in 2015 and merged it with the rest of its software suite. It's essentially a team collaboration tool with dedicated task management features. Using it, you can help your employees stay on top of tasks and get them done within deadlines.
The app itself is pretty intuitive, and if you've ever used any team chat app such as Google Hangouts, Google Chat, or Ryver, you'll feel right at home with this app.
The layout of the interface and the chat features are almost the same as with any other team collaboration and chat software like with group chats, instant messaging, voice, and video calls.
However, Glip distinguishes itself as a Slack alternative with features such as unlimited one-on-one and group meetings. It lets you join meetings with a single click from the browser and doesn't require you to download any software.
Features:
One of the unique features of Glip is that it allows you to switch live meetings between devices. As a result, you can stay connected on-the-go and from any device of your choice, anywhere.
Here's a list of Glip's standout features:
Unlimited meeting lengths
Single-click group chat creation
Enterprise-grade encryption and password protection
No software downloads needed
Share files and screen sharing
Complete control at the host's end
HD meetings and cloud-based recording and storage
Easy integration with G-suite calendar
Task management and team collaboration features
Complete file storage solution
Pricing:
Glip offers both monthly as well as yearly plans, though I recommend going with the yearly one so that you can save up to 33%. Plans are divided into two parts: the Glip Pro and Glip Pro+.
Here's a breakdown of the plans as per the number of users:
Glip Pro Plan at $0
Glip Pro+ Plan at $11.99/user/month up to 99 users
Glip Pro+ Plan at $10.99/user/month for more than 100 users
Frequently Asked Questions.
1. Are These The Only Options Available As Alternatives to Slack?
Not at all. These are only the best alternatives to Slack; you can always choose from other apps such as Discord (which you can stream from), Flowdock, and Bitrix24.
2. Do These Messaging Platforms Come In The Form Of Mobile Apps?
Most of these messaging platforms have equivalent mobile apps for communication on-the-go.
3. What are free alternatives to Slack?
Chanty and Mattermost both have free plans. Fleep, Flock, Microsoft Teams, Rocket.Chat, and Glip also have free plans ideal for small teams and start ups.
Wrap Up.
In the era of work-from-home and remote employment, team communication tools are a must-have. If your organization works with a geographically distributed team, it can benefit significantly from online communication and project management tools.
If you're looking to transition beyond Gmail for team communication, then take your pick from the options below:
I'm sure you'll find a suitable option for your team from among the above.
Disclosure: I may receive affiliate compensation for some of the links below at no cost to you if you decide to purchase a paid plan. You can read our affiliate disclosure in our privacy policy. This site is not intending to provide financial advice. This is for entertainment only.