Stripe vs Square: Which is Better For Your Business? (2023)
Comparing Stripe vs Square is not an easy job. Both of them are very successful companies and they have found their place in the market when it comes to payment gateways.
Although Stripe has better usage coverage in more website categories, both Stripe and Square provide payment solutions for those that sell items online, but what type of customers each company can serve better?
There are some discrepancies between the services that each one provides, not to mention that there are some other useful things one does better than the other.
In this article we compare Stripe vs Square, focusing on the customer type each one can accommodate better and the differences between the two.
If you want to know which one of these is more useful for your online eCommerce store, then read on. You're about to find out.
Disclosure: I may receive affiliate compensation for some of the links below at no cost to you if you decide to purchase a paid plan. You can read our affiliate disclosure in our privacy policy.
What is an online payment processor?
An online payment processor is a company that provides software for online businesses to accept online payments from their clients.
In most cases an online payment processing service will automatically update a business's cash flow with the money received by its customers, making it a very useful service.
Moreover, the time required to process a transaction with this type of service is very short, and since the process is done almost instantly, the user isn't affected by any waiting time.
These services come in handy especially when there is a need to receive payment without human intervention on behalf of the customer.
One of the main objectives that such solutions seek to accomplish is eliminating credit card fraud. They also help in increasing conversion rates by accepting multiple currencies from different countries.
In addition, they provide reports that show valuable information regarding your company's earnings or transactions. It is always good to know whether your customers are satisfied with the services you provide.
In addition, one of the main advantages is that they provide online shopping carts, discount coupons, and even analytics for one's site.
Currently, there are more than 200 payment processors available on the market, however, not all of them can satisfy all business needs. For this reason, it is important to find the one that best serves your needs to make sure you don't lose potential customers due to certain limitations.
Stripe and Square are two of the most successful and well-known companies in the payment processing industry. Both of them provide a great variety of services and can probably accommodate your business needs better than other competitors.
Stripe vs Square: Battle of the Payment Process
Let's have a look at the different functions that these two processors have and compare them side by side.
Stripe vs Square: Setup and ease of use
Square's entire business is based on the idea that simplicity should always come first. They focus on providing a smooth and easy process for the end-user to enjoy their service.
Square is known as an extremely fast and efficient company, offering payments that work on smartphones through a mobile app that works on both Android and iOS.
Stripe also offers ease of use but they tend to be more flexible than Square with additional customizations such as adding business logos and changing colors.
Setting up with Stripe is a fast and easy process and they always provide excellent customer care, even for those who don't have much experience in handling similar services. They also have their own mobile app that can show you crucial information about your account status.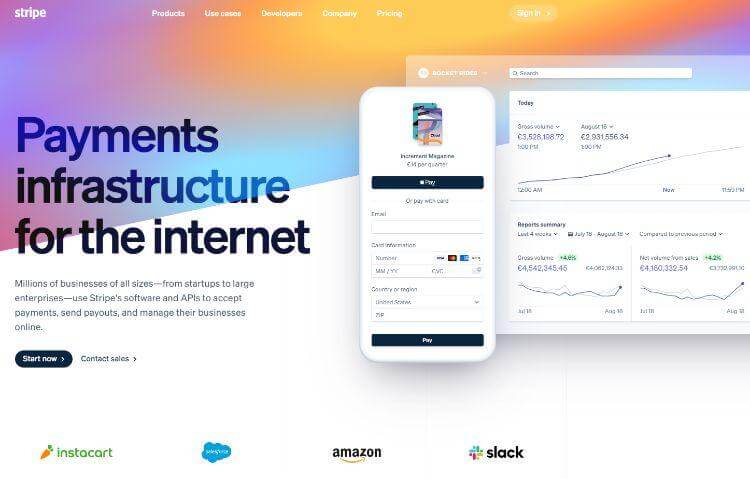 There are also tons of tutorials online when it comes to setting up a Square online account or even a Stripe account.
Stripe vs Square: Pricing
One of the main reasons many businesses will choose one payment processor over another is their pricing structure. Both Stripe and Square use different types of pricing structures depending on the type of business. The one that better serves your needs is the one you should go with.
There are four different plans that a user might decide to go with:
Free: $0
Professional: $12 per month, billed annually
Performance: $26 per month, billed annually
Premium: $72 per month, billed annually
The amount of transaction processing fees depend on the plan the user is one:
Free: 2.9% + 30c per transaction
Professional: 2.9% + 30c per transaction
Performance: 2.9% + 30c per transaction
Premium: 2.6% + 30c per transaction
Stripe offers two types of packages:
Integrated: 2.9% + 30c per successful card charge – this includes no setup fees, monthly fees or hidden charges
Customized – a customized package depending on your specific business.
Stripe vs Square: Accept more currencies
One of the most important features any payment processing service can offer is allowing your company to accept different types of currencies while doing international business.
Stripe and Square both offer this service as it is extremely important to gain as many clients as possible.
Stripe supports 135+ currencies at the moment. Some credit cards do not support specific currency types.
With Square, things are a bit more complicated. You cannot charge your customers in different currencies other than the one that you originally opened your account with. Also, you must be in the country where you opened your account in order to successfully process credit card transactions.
Stripe vs Square: Chargeback protection
Another important aspect that makes Stripe stand out from its competitors is its excellent customer care service along with its 24/7 chargeback protection.
If a customer files a fraudulent chargeback against you, Stripe covers the disputed amount and removes the fees involved. This service will cost you 0.4% per transaction and no evidence is needed in order to get this handled.
A chargeback happens when a cardholder contacts their bank to cancel the transaction they made from your business due to several reasons such as the product not arriving or being unsatisfied with it. It's important to use the best order fulfillment services in order to ensure that your disputes and chargebacks are kept to a minimum.
Image Credit: http://impactplus.com
While you get information on your Square account page about what chargebacks are and why they happen, they do not seem to provide the coverage that Stripe does when it comes to this particular area of business.
On top of that Square has been known to ignore certain disputes as well so if you're having a lot of chargebacks, using Square might not be the right solution for you.
Stripe vs Square: Customizing your presence
One of Stripe's strong points is that it allows businesses to customize their checkout and control all aspects of the way it looks and operates.
Many payment processors are limited in this regard but Stripe offers almost several possibilities when it comes to personalizing your business which makes them stand out from the competition.
Square does offer customizations but they are mostly limited to changing colors of certain elements such as your receipts and invoices. They don't allow for much else which is why many users choose to use third-party apps or plugins with Square to fully customize their business.
Stripe vs Square: Other features
Here are a few more features that Stripe and Square offer which can be very beneficial for your business:
Mobile payments
You can process credit card transactions from a mobile device using either Stripe or Square depending on the service provider. Stripe has been known to have better integrations compared to Square so they may provide you with a wider range of devices as well as an easier time using them.
Square also have their own app marketplace that allows you to sync all your apps with Square in order to ensure that no loss of data (and business as a result happens).
Many popular apps such as Wix, GoDaddy, Mailchimp, WooCommerce, etc are all available and can be integrated with Square as a payment processor.
ACH Payments
Both of these services make it easy to process ACH payments. For some businesses, this is a piece of great news since these types of transactions are the bread and butter of their operation. This is also an important factor to keep in mind when making your decision.
Stripe vs Square: Other considerations before choosing a payment process
At this point, it looks like you can't go wrong with either service but it's important to remember that certain factors have more weight when it comes to determining your final choice.
For example, as I mentioned, if charging cards directly from your phone is important then you could choose either service but, on the other hand, if customizing your online store and having access to different types of currencies is important to you, then you should choose Stripe.
Other considerations to take before choosing a payment process
The following are additional factors that you should take into consideration before making your final decision.
Consider monthly fees with the service
Monthly fees are not all created equal since they depend on numerous factors such as the number of transactions you process, your payment plan, the volume discount you receive, etc.
Plus there may be extra charges for other services which some service providers offer free of charge while others will charge additional fees for them.
Look into transaction fees
Transaction fees are what you pay every time a payment is processed through your merchant account and can get quite expensive if you're starting to sell online at high-volume.
If that's the case then using monthly payment plans or even changing to a company bank account might become necessary to save money.
This way instead of paying per transaction, you'll simply have one flat monthly fee which works out cheaper in some cases.
How your website is hosted
If you use one of the best website builders such as WordPress, Weebly or Wix, then using a third-party plugin might be the best way to go since it will allow you to process credit cards directly from your website without having to bother with complicated business rules or payment systems that some payment processors enforce.
With that said, it seems as if Stripe has recently improved their API which provides more functionality for developers and they now offer single-click add-ons with many eCommerce platforms and eCommerce businesses including those that run on Shopify.
Ready-to-go, white-labeled solutions
If you're looking for a service that provides numerous integrations and other features such as tax calculations, invoicing software, and budgeting then using a ready-to-go, white-labeled solution might be the best way to go. The downside of using such payment services is that they typically come with monthly fees whereas services such as Stripe need you to pay every month – but rather per transaction.
In the end, both services are very good and will get the job done but only you can make a decision as to which one is more suitable for your business. It simply comes down to what features are most important for your current needs and use cases.
Stripe vs Square – FAQ
Is Square or Stripe better?
Both of these payment platforms are great services that will help you grow your online business.
The only reason why they might not be the best fit for some is because of either monthly fees (which can get quite expensive once when you are just starting out) or a lack of functionality that you specifically need to run your business
If this is not the case with you then using either service should be on your radar since they both offer very helpful functionality to manage money, keep track of inventory and even process customer payments through a highly optimized system.
Such a system even takes care of all security issues so that you don't have to worry about them. Both systems have great customer support (including phone support) that is available in case you have any questions or need clarifications.
Another benefit of Square is that it also has a restaurant POS system product that sets it apart from Stripe. If you are an online based business Stripe is a better option but Square gives more options for local brick and mortar businesses.
What's the difference between Stripe and Square?
Both provide different services and can enhance your business if you decide to use them.
The first thing that needs to be said is that there are no major differences between the two companies, they just do things differently.
They both have an easy-to-use API that's suited for developers which makes it very user-friendly for third-party businesses and startups to integrate their services into their systems.
They're mostly used by everyday businesses that require the ability to process transactions from customers. This means that if your business falls is of such a type, they have probably seen any issues that you are facing and can help you with finding the right solution.
What is a payment gateway?
A payment gateway is an e-commerce service that allows you to safely and securely process credit cards through your website. It provides all of the tools that you'll need to create powerful buying experiences for your customers, whether they're individuals or businesses.
They also allow you to accept alternative forms of payments such as PayPal since some countries still don't support credit card payments or even direct debit services offered by their banks.
They can also help speed up online transactions by pre-filling fields with data stored on file so that customers don't have to manually enter it again every time they make a purchase.
Can Stripe or Square accept in-person payments?
Yes, Stripe payments and Square payments are accepted in person by using their respective mobile payment credit card processing apps.
They allow you to use a card reader that they provide at the point of sale, so you can charge people on the spot and they get charged instantly through their account.
Using a Square POS or a Stripe POS system is ideal when doing in-person transactions because transactions go directly into your account within seconds. POS software will allow customers to use their debit cards and credit cards to pay in person without needing to carry paper money around.
Does Stripe compete with Square?
Yes, they do and that's why they're direct competitors since they both provide similar services and compete for the same market.
Since Stripe and Square are both very reputable companies, they both have a solid user base, are being used by millions of businesses around the world, and their services are widely known.
You should consider some of the important things mentioned earlier in this article when deciding which service provider would be right for you since there are quite a lot of similarities when it comes to the services offered.
In the end, they both work great and will help you run your business.
Do Stripe and Square support contactless paying including Apple Pay?
Both Stripe and Square offer the possibility to make mobile payments through contactless payment.
Both of these providers supports Apple Pay,so if you're used to Apple products,it's worth checking both of them.
What is PCI compliance and why is it important?
PCI stands for Payment Card Industry and it's a set of rules and regulations that every company should follow when processing credit cards online. The main reason why these exist is to ensure that consumer financial data is handled in a safe manner and nobody can take advantage of it.
The good news about using Stripe or Square is that they are both PCI compliant so you won't have to worry about this. They will do everything in their power to ensure your transactions are safe and secure for you and your customers.
Can I use Stripe or Square if I have a high-risk business?
There are some businesses that Stripe and Square do not work with. This means that you should research which company would be the best fit for your business.
However, most businesses can use Stripe or Square to process transactions with no problems at all. Just keep in mind that if you have a high-risk business such as selling firearms, ammunition, alcohol, etc., then it's likely that one of these companies will not work for you.
Do these payment providers have loyalty programs?
Both Stripe and Square have loyalty programs that you can use to keep your customers coming back for more.
These programs also allow you to offer discounts, gift cards and free products as a way of saying thanks for their continued patronage.
This means that your customers will be able to get more value from their cards and you can see your brand's reputation grow since they'll then become loyal customers. Sharing such giveaways on social media is also a great way to share the news about your business.
Do Stripe and Square support recurring billing?
Top online payment processors such as Stripe and Square provide a wide selection of gateways that will allow you to take online payments from your customers.
They also offer things such as recurring billing which is excellent news for service providers since it means that many businesses can now use these services to bill their customers on a monthly or yearly basis without having to put much effort into the whole process.
This helps with customer satisfaction since they get billed automatically every month on the day of their choosing (although it can be changed) and they don't need to go through all of the stress that's associated with having to pay bills manually.
The system will also remember when their next payment is due and there are no human errors involved here.
Wrap Up.
In this article, we have provided a thorough comparison between the ever-popular Square credit card processing system and Stripe, one of its leading competitors.
By going through all of the features comprehensively, we've been able to determine that while they both possess a variety of pros and cons, they are both great options for a given business.
At the end of the day, it all comes down to what you're looking for. If you just want simple payment methods involving a quick and easy credit card processor – that you can get up and running quickly – Square's free plan is the way to go.
If you want a larger variety of payment options or more customization options, Stripe is for you. Both systems are remarkably easy to use and will make your life easier as a small business owner!
Take a look at their respective websites and see which one resonates with you!
Further reading on AdamEnfroy.com: If you're still on the edge when choosing your payment processor, check out my other comparison article, where I compare Square vs. Paypal.
Disclosure: I may receive affiliate compensation for some of the links below at no cost to you if you decide to purchase a paid plan. You can read our affiliate disclosure in our privacy policy. This site is not intending to provide financial advice. This is for entertainment only.