7 Best Subscription Management Software of 2023 (For Ecommerce Payments)
The idea of having recurring income coming in month after month is a dream for many businesses. In fact, this type of business model has grown more than 300% over the last seven years.
However, most businesses give up on this idea as soon as they realize that setting things up can be a logistical nightmare.
A quick search on Google shows that there are hundreds of subscription management software providers on the market. However, only a few fully deliver on what they promise.
With this in mind, choosing the right subscription management system is key to your subscription business success – both when setting up as well as in the day-to-day running of your business.
You need to find the tool that will help you manage subscriptions and boost customer retention rates.
With that in mind, I researched different software tools and wrote this post based on my findings.
By the end of this post, you will learn everything you need to know – from what subscription features are essential when using business planning software tools, to which subscription management tools have the right integrations with tools you're currently using.
If you're curious about what features are essential in subscription management software and ultimately which tool is the right fit for your needs, read on.
What is the Best Subscription Management Software?
Here are my top picks for the best subscription management software.
Best for selling subscriptions while avoiding all the typical frustrations.
Skio addresses one big problem: selling subscriptions can be a frustrating process, especially when you want to offer different plans and rates to your customers.
As such, Skio is a subscription management software made for those who need to set up complicated pricing structures – easily. Plus, they make it easy for their clients to manage subscriptions from anywhere – be on their mobile, tablet, or desktop.
Skio is a subscription eCommerce platform built from the ground up and created especially for Shopify stores. You no longer have to spend hours editing subscriptions or manually managing customer tickets.
Stop wasting time on your subscriptions and start getting back to running your business.
Key Features
No payment problems or card changes are required when migrating from another payment provider so that you can keep your customers happy.
Offer loyalty programs and send vouchers with post-paid invoices.
Invite customers to log in to view their account information at any time.
Save money with a ready-to-go headless customer portal so that you can support virtually as many clients as you want.
Pricing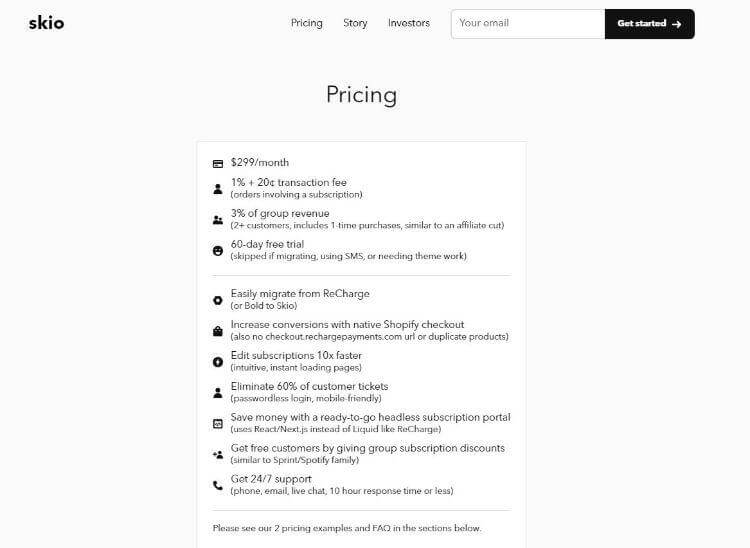 Pricing at Skio starts at $299 per month. You will then pay transaction fees based on the number of transactions that happen (paid at 1% + 20c transaction fee). There is also a different rate based on group revenue.
A 60-day free trial is offered on all new accounts except those that do not qualify due to a few conditions mentioned on their website.
Best for turning repeated transactions into better customer relationships.
ReCharge is an essential tool for those who want to increase their sales, attract more customers, and build a better relationship with their existing clients.
They're connecting the world through their subscriptions, serving over 35 million subscribers in more than 180 countries. With ReCharge's intuitive interface, you can easily set up secure payment pages for billing subscriptions.
Recharge is a subscription commerce platform that helps brands power their customer retention and loyalty programs.
The company provides a suite of subscription management tools to help subscription businesses measure their performance and optimize their business while empowering them to scale quickly across the globe.
Key Features
Subscription management becomes simpler with an automated system that handles everything from order processing and fulfillment to recurring billing.
You can reach more customers in every corner of the world with a powerful international payments platform.
Quickly enable subscription offers so that your businesses can take advantage of this growing sector.
Measure customer lifetime value & customer engagement so that you can optimize your profits.
Pricing
There are currently 2 pricing plans on offer at Recharge:
Standard: No monthly fees, then pay 1% + 10c per transaction
Pro: $300 per month, then pay 1% + 19c per transaction.
Pro gives you some great insights when it comes to reporting, metrics, and analytics which can help you grow your business and increase your revenue.
Best for those businesses that want to go beyond just billing their customers.
Chargebee is a powerful subscription billing software and revenue management platform that gives you total control over your business. Not only does Chargebee let you manage every aspect of your customer subscriptions, but it also provides insights to help you grow.
By using Chargebee's powerful tools you can easily increase conversions by upselling new products, drive churn-driven revenue growth by cross-selling your products to existing customers, and create personalized subscription plans for every customer.
Key Features
Make it simple to upsell, cross-sell, and bundle items during checkout while generating proposals with product selections tailored to each customer so they know what you have in store for them before they place an order.
Deliver on your promises by managing subscriptions and recurring revenue commitments, with an ability to solve issues fast when they arise.
Promise secure subscription experiences so that your customers can have peace of mind with a secure, reliable billing solution.
Reduce the risk of non-payment and improve your cash flow by associating customer payments with real customers so that you can capture payment upfront and reduce disputes.
Pricing
With both annual and monthly payment options possible, Chargebee offers 4 different plans to allow you to find the plan that's just right for you.
The annual plans are as follows:
Launch (3 users): $0 per month for the first 100K in revenue
Rise (10 users): $249 per month
Scale (25 users): $549 per month
Enterprise: Get a custom quote based on your requirements
4. Zuora.
Best for businesses that want to deliver the ultimate subscriber experience.
Zuora is a great subscription management solution, providing a holistic approach to managing your customers and subscribers across all channels, from billing to analytics.
As one of the only companies that have been delivering subscriptions for over a decade, they know how to bring together the best features and integrations with other leading software service providers.
With real-time insights across subscription, billing, finance, and customer data, marketers can make smarter decisions on product offers and marketing campaigns to increase engagement and maximize revenue.
Key Features
With the world's best billing platform, you can establish new billing models, unify revenue sources, and power your ongoing subscriber connections.
Automate every intricate revenue procedure and have your books ready to go at a moment's notice.
Zuora has the largest dataset and demonstrated experience in the business to maximize subscription income, increase first-time payment success, and minimize churn rate.
Leverage the world's top subscription platform's speed, accuracy, and intelligence to scale into any type of business application with an SDK and APIs that may be used in any sector.
Pricing
No prices are mentioned on Zuora's website. Instead, users are encouraged to sign up to watch a demo in order to understand how Zuora can help business teams, finance teams, and IT teams use their services when it comes to subscriptions.
5. Stripe.
Best for businesses that want to use a platform with a proven infrastructure.
Stripe is a powerful tool that provides a one-stop solution to all billing, payment, and subscriptions needs. Stripe's API can be integrated into any mobile (iOS or Android) or web platform and works perfectly with most shopping carts and merchant accounts.
This allows businesses to handle credit card processing and automatic subscription billing.
With millions of companies that use Stripe, Stripe can handle any type of payment and billing needs. Their API is made up of a powerful set of tools that can handle everything from simple credit card payments to recurring billing and invoicing.
Key Features
Payments and finance are being revolutionized by a technology-first mentality so that businesses can easily accept payments and manage subscriptions.
With Stripe, businesses can run their entire operations from start to finish without having to rely on an actual person or gatekeeper.
Stripe's powerful API gives you access to tools that take care of everything from capturing customer information and creating invoices to getting paid and processing refunds for your products.
A fully integrated payment solution is available so that businesses can easily accept credit card payments and recurring billings without needing additional assistance from a 3rd party.
Pricing
With 2 different plans available, you'll always know what you're paying for ahead of time.
Their integrated solution gives you access to a complete payment platform where you pay as you go. For each transaction, you pay 2.9% + a 30c fee.
On the other hand, they also have a customized package. If you're interested in this, you can get in touch with them directly to discuss it.
Looking to see how Stripe stacks up against another payment processor?
Read my in-depth Stripe vs Square comparison post.
6. 2Checkout.
Best for making global digital sales easier than ever before.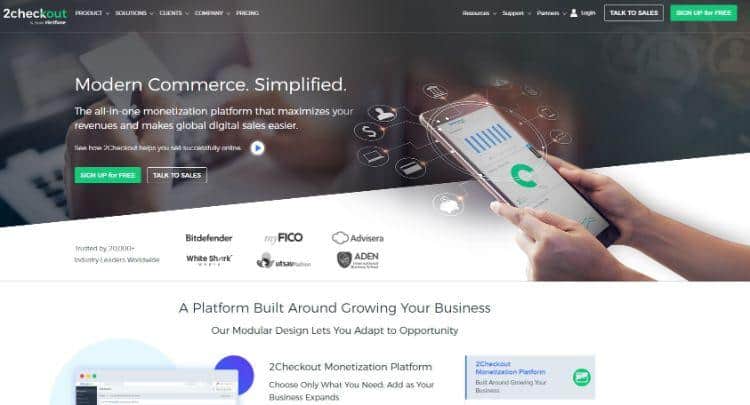 2Checkout is the all-in-one monetization platform that helps businesses grow their sales globally.
2Checkout provides a suite of products including payment processing, fraud prevention, reporting and analytics, as well as marketing automation to help you maximize your revenue.
They take care of everything from checkout to accounting so you can focus on what matters most – growing your business.
If you want to invest in the future of commerce with a company built around growing yours, then 2Checkout might be the right choice for you.
Key Features
Use affiliates and reseller partners to expand your business's reach across the world so that you can reach more buyers and do so faster than ever before.
Capture customer information and operate recurring billing with a single bill for all products and services with 2Checkout's integration capabilities. This means that your business is always ready to accept subscriptions from new customers.
It's simple to shift to subscriptions or develop your subscription business with them (from scratch) which means that you'll be able to do more with less invested resources.
With 2Checkout's subscription billing service, you can easily grow your recurring revenue with mid-market and enterprise companies so that you can develop new sources of revenue and capture the full potential of digital channels.
Pricing
With 3 different pricing models, 2Checkout allows you to compare plans and find the one that works for you.
2Sell: 3.5% + 35c per successful sale
2Subscribe: 4.5% + 45c per successful sale
2Monetize: 6.0% + 60c per successful sale
All packages (apart from the initial one) include all of the features of the previous packages, plus other features that are intended to save you time and improve the efficiency of your business.
7. Chargify.
Best for B2B SaaS businesses looking for a specialized billing solution.
Chargify is a SaaS company that provides event-based billing solutions.
The company's goal is to simplify and streamline how businesses manage their recurring revenue streams by providing automated invoicing and credit card payment processing – among other features.
Chargify has experienced success with its customers in the past because of the reduction in man-hours it takes to bill clients, cleaner accounting on its SaaS revenue, and more accurate current client lists.
Key Features
Use the right functionality to understand and analyze your revenue, product, and customer trends. Investigate the real-time data you'll need across all levels of the company to succeed.
You can use the appropriate data in whichever system you need so that you don't have to worry about having duplicate data across various systems.
Charge for your products automatically without the need to build your billing system.
You can maximize efficiency by cutting down on any manual labor that might be required to process payments manually.
Use their systems and automation to improve your client retention, satisfaction, and development from sign-up to everything else.
Pricing
Chargify aims to tackle billing headaches for you. This seems to be one of the reasons why there are several upgrades available in the different available plans.
The plans are as follows:
Essential: $599 per month + 0.9% of revenue on overages
Standard: $1499 per month + 0.7% of revenue on overages
Specialized: $3499 per month + 0.5% of revenue on overages
Custom: Pricing based on your specific needs
What is Subscription Management Software?
Subscription management software is a billing system that allows you to successfully manage your subscription services. A recurring revenue business model can be difficult to configure and most entrepreneurs lack the knowledge necessary to maximize their earnings.
That's why having subscription software is important; it helps you minimize your expenses while maximizing your profits, reaching more buyers around the world, and offering them high-quality services.
Plus, what entrepreneur wouldn't want access to automated customer data storage which helps them understand how their customer base is continually changing to offer better services in the future?
In addition, billing management software allows you to track all of your subscriptions in one place. It also provides different payment methods, payment automation, access to user data (such as purchase history), and allows you to monitor the health of your subscription model.
Setting Up Recurring Billing Software
Subscription billing or recurring billing is a part of subscription management software that allows you to keep track of all transactions for your recurring services.
This includes automatically charging users on their card who are subscribed to your service before their subscription expires so that they will continue receiving services without interruption even if they forget about it.
Users can update their information quickly and easily with online portals through self-service capabilities, and eventually cancel services themselves when the time comes.
You can easily set up automated payment processing with an API or software that is compatible with your business model. You can also receive notifications when orders are made, changes to the status of an order happen, and set discounts at the right time.
Plus, subscription billing services typically offer more than just recurring billing; most offer website-building capabilities, mobile apps for customers to use, and much more so you can focus on expanding your business without distraction.
Top features required in a Subscription Management Software
The following are some of the most important features you should look for when choosing the right subscription management software for your business.
1. Easy payment management
An easy payment management system is key because it saves time and lowers the chance of human error.
You can focus more on expanding your business and growing your customer base (with fast activation time) without worrying about missed payments from customers that you'd have to follow up on manually – if you weren't using the right tool.
2. Flexible billing cycles
As we mentioned earlier, subscription management software allows you to track multiple types of recurring billing such as monthly fees, yearly dues, bi-monthly invoices, etc.
You can also set automatic subscription renewals with proration dates if they're trying to downgrade their service(s) but don't want to lose out on any billing cycles they've already paid for.
3. Customizable subscription templates
A customizable subscription template allows you to easily set up service dates, payment schedules, and other important details so you can get started with your recurring subscription revenue business model quickly and easily.
There is often more than one type of recurring billing which means you can customize such add-ons for different types of services by simply clicking a few buttons in the accounting portion of your software.
Even though you might choose to have separate business accounting software in place, having the ability to integrate everything in one solution is definitely helpful.
This offers more flexibility when it comes to scaling your business because you're not stuck choosing between different plans that don't cater to your specific needs or wasting time creating products that aren't necessary for that particular industry or market segment.
4. Mobile friendly
While this is currently less important since many businesses rely on desktops, laptops, or even tablets when it comes to managing finances or connecting with customers, mobile convenience is becoming more of a necessity as time passes.
This is also the case when it comes to managing a business.
People are switching to handheld devices more often and are refusing to carry bulky laptops to manage their business. By having everything stored in one place, you can access your business anytime from anywhere.
5. Powerful analytics
As businesses begin spending more time on marketing their services or products, having powerful analytic tools at your disposal is crucial for determining which strategies work best so you cut down on wasted ad dollars while maximizing your return on investment.
You can use this data to better understand customer preferences and what content resonates with them so you create more enticing offers over time, but also get an idea of how often people look at your website and who your biggest customers are.
The right analytics can also help when choosing the best ERP software (Enterprise Resource Planning) for your needs since businesses will be able to make better decisions with the available data.
6. Customer support
Customer support is a necessity because people expect more from companies today than they did in past years. Responsiveness comes from having a dedicated support desk that's easily accessible via phone or email.
This is going to be invaluable for quickly resolving problems and keeping customers satisfied – all while determining which issues need your immediate attention versus those that can wait until later.
This also makes it easier for you to offer self-service options so you don't have to pay expensive additional fees associated with hiring a call center specifically for customer service needs.
7. Customizable invoicing
The best invoicing software offers customizable invoicing so you can create professional-looking invoices for every type of subscription service you provide.
Having this ability when creating subscriptions is important because it establishes your business as legitimate and trustworthy, factors which can have a significant influence on whether or not future customers choose to do business with you versus another company.
Subscription Management Software – FAQ
How does Subscription Management Software help with free and paid trials?
Subscription and recurring billing software allow you to control the subscription settings of your customers. This includes adding new subscriptions at any time, removing current ones, and editing customer payment information.
In addition, you can also limit the number (or duration) of free trials that a customer has before they must start paying for service or end their membership altogether. This all reduces your exposure to risk over time.
What happens when failed payments happen?
If a customer fails to make timely payments, you can set up the software so that their subscription automatically cancels or they need to contact your company personally for immediate assistance.
When this happens, it's important to know how many times this has occurred to identify any patterns and figure out what needs to change moving forward.
Dunning management is a process that kicks in when a payment fails after several retries and takes care of the subsequent steps that need to happen at this point.
What are my options for deploying subscription management software?
There are several different types of delivery models when it comes to a subscription management platform.
The two main categories include software-only vs. software + SaaS (software as a service) which simply means that you can either use the software from a web interface or that you would need to download it onto a PC for local use.
When you choose a model, you'll also need to determine if your business needs a cloud-based solution to easily scale with rapidly changing customer preferences and service requirements.
What are payment gateways?
When you're starting a subscription business and need to accept recurring billing payments for products or services, it's becoming increasingly common to use multiple payment gateways.
This is because they offer the highest level of security and fraud prevention which has become crucial as more people try to steal credit card information from unsuspecting subscribers.
These gateways work so you don't have to worry about your customers submitting their credit card information directly to you.
Instead, the payment gateway verifies all billing and personal information so you can process paid subscriptions without any downtime or interruptions to the service you offer.
Why are recurring billing rates important?
When it comes to charging recurring fees for a service that spans over many months or years, you can't simply pick a random number, charge it to the customer, and hope for the best.
Instead, you have to find out what your competition is charging before settling on a price. This means understanding other companies in the same space as you so you can see if a subscription service is right for your business.
A flexible billing process and transparent rates help you to retain customers and avoid rates that do not make sense which can ultimately cause people to switch to a competitor.
What is the best type of Subscription Management Software for my business?
There are many different types of recurring billing software to choose from which means it isn't as simple as choosing the one with the lowest price tag (although this should be a consideration).
Innovative digital subscription management means that you need to consider the various attributes involved – such as ease of use and compatibility with existing software. Both of these can be used to improve your workflow.
If you pick a solution that requires too many manual processes or doesn't integrate well with other applications or share data with external systems, it's going to be much harder for you to manage subscriptions effectively.
Can subscription management software accept multiple currencies?
People are no longer primarily using US dollars to pay for subscription services which means that you need the ability to process payments in other currencies (such as Euros, British pounds, and other forms of money).
In addition, others will also use gateways such as Paypal and Amazon Pay in order to accept credit card information from customers so you need a solution that can work with multiple payment gateways.
Being able to accept all of the above is important when it comes to streamlining the customer lifecycle. All of this affects the experience one has when dealing with your business.
Speaking of the customer experience, most subscription management software can also be integrated with the right CRM software (such as Salesforce) to create a more personalized experience for each customer that you interact with.
Wrap Up.
In conclusion, there is a treasure trove of information that you can get from your Subscription Management Software.
You'll need to collect relevant financial data to know how much money you're owed and where your business stands. These data points allow you to improve your process in the future.
This could mean setting up automated subscription payments or making adjustments to your billing cycle.
There are a wide variety of solutions for you to choose from, but the single most important thing is that you need to do your research and pick one that fits best with the needs of your business.
To summarize, here are my top choices for the best subscription management software:
Skio: Best for selling subscriptions while avoiding all the typical frustrations.
Recharge: Best for turning repeated transactions into better customer relationships.
Chargebee: Best for those businesses that want to go beyond just billing their customers.
Zuora: Best for businesses that want to deliver the ultimate subscriber experience.
Stripe: Best for businesses that want to use a platform with a proven infrastructure.
2Checkout: Best for making global digital sales easier than ever before.
Chargify: Best for B2B SaaS companies looking for a specialized billing solution.
I hope that the above list has helped you to zone in on the features that will make your business work better and as a result, will provide an improved customer experience for everyone involved.
Further reading on AdamEnfroy.com: While many subscription software will automatically integrate with various payment processors, it still pays to know what capabilities these processors have.
Here's an in-depth comparison between Square vs. Paypal so that you can choose the right one for you
Disclosure: I may receive affiliate compensation for some of the links below at no cost to you if you decide to purchase a paid plan. You can read our affiliate disclosure in our privacy policy. This site is not intending to provide financial advice. This is for entertainment only.