7 Best Supply Chain Management Software of 2023 (Compared)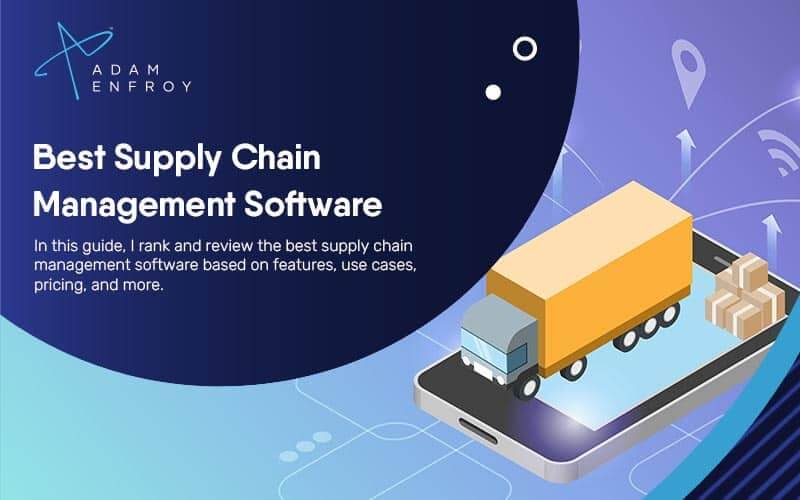 Supply chain management is vital for businesses to ensure the efficient flow of stock and maintain favorable terms with suppliers. It establishes a smooth journey of your products/ services from the warehouse to the customers.
From manufacturing, quality review, storage, and shipment- all of these steps form a retail supply chain. Hence, for optimizing and growing your business, opting for the best supply chain management software is a must.
Supply chain management software doesn't necessarily have to replace your logistics software or your inventory management system but can work hand in hand with them.
Especially in today's fast-paced world of instant gratification, customers do not want to wait, even if the seller provides a valid reason.
In this post, I've compiled a list of the top supply chain management software solutions. I've mentioned what each software is best for, its features, pricing, and more.
What is the Best Supply Chain Management Software?
Here are my top picks for the best supply chain management software.
Best for Customer-centric Production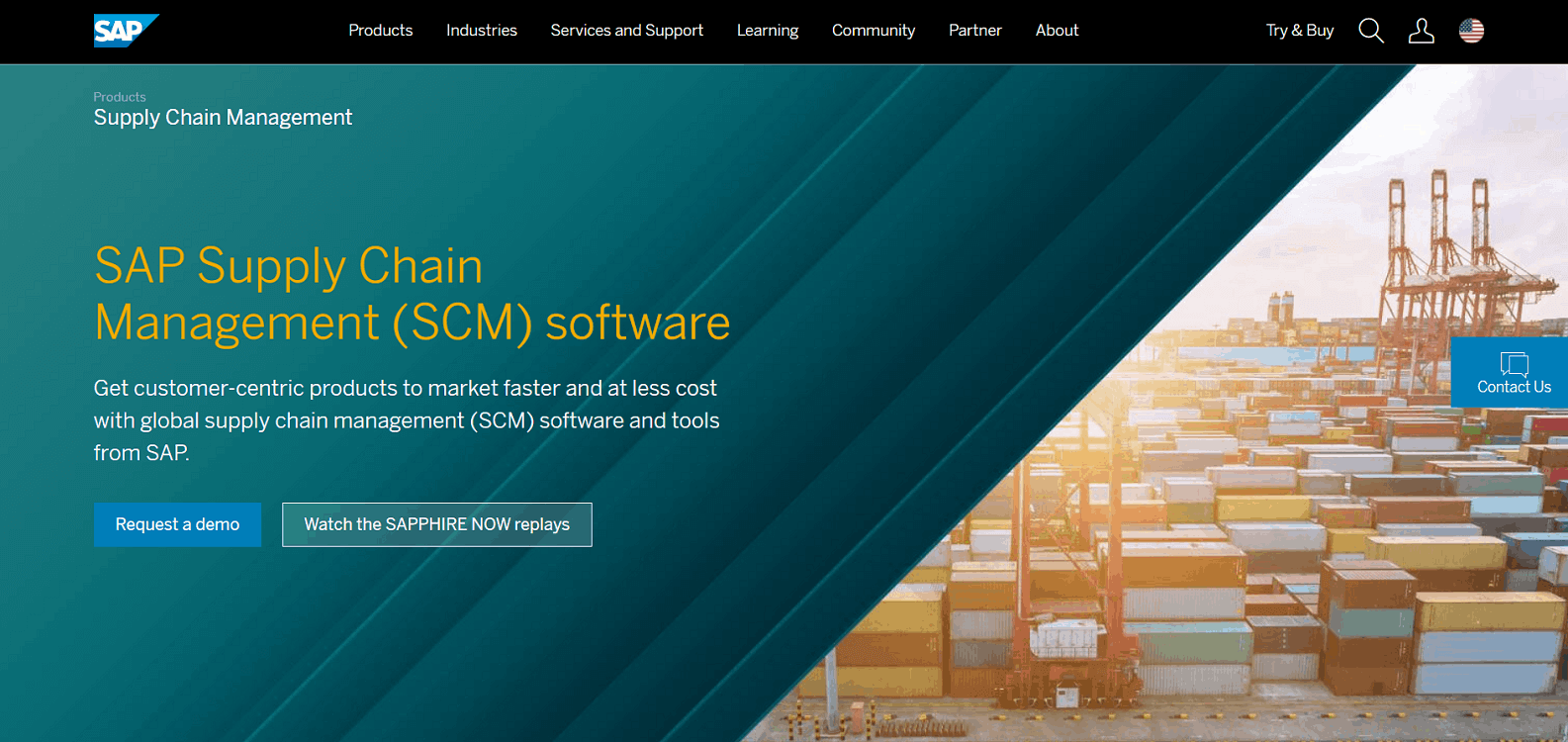 SAP SCM prompts digital maturity in businesses by using IoT (Internet of Things) and AI for faster and efficient supply management. Using this software, companies can stay in tune with technological advancements through its agile end-to-end digital thread.
It is one of the only supply chain management solutions that allow you to design recyclable products and services, and deliver them through sustainable practices.
Flaunting big name brands like Microsoft and Unilever among their list of 11M+ customers, SAP supply chain solutions have reduced 75% of their paperwork. Commenced in 1972, this Germany-based company has successfully established itself as a household name.
Features:
SAP SCM is the one-stop solution for sales forecasting, supply and financial planning, inventory optimization, and asset management. This software is especially beneficial for multinational businesses with its real-time supply and demand monitoring, delivery tracking, and more.
Some of the notable features of SAP SCM are as follows:
Partner and supplier collaboration
Sales and operations planning (S and OP)
Integrated business planning
Predictive analytics, AI, and machine learning
Transport management
Track and trace transport
Warehouse and yard management
Dashboards for status monitoring
Industrial Internet of Things (IIoT) solutions
Project portfolio management
Asset management, collaboration, prediction, and optimization
Product costing
Production management and optimization
Ethical sourcing, manufacturing, transport
Product quality compliance
Pricing:
SAP SCM does not disclose the pricing for its supply chain management solutions. You can check their "Try and Buy" page for SAP product demos and free trials of SAP Innovation Management, SAP Enterprise Product Development, and other business optimization tools.
Best for Warehouse Management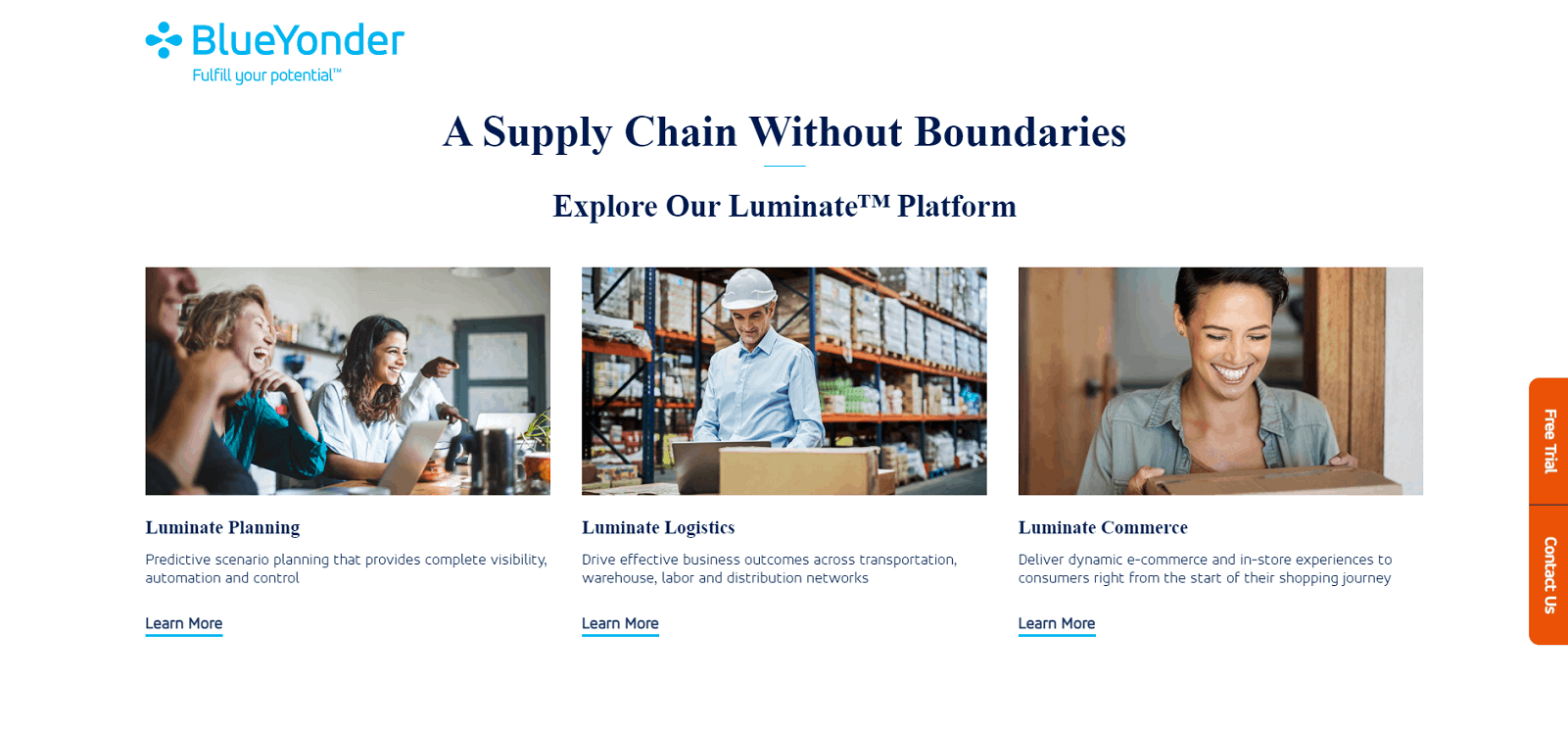 Blue Yonder (formerly known as JDA SCM) offers its leading customer-driven supply chain solution, i.e., Luminate™ Planning for scaling businesses. It allows users to predict and plan demand, funds, products, and everything in between for better visibility and control.
The Sales and Operations Execution feature promises a 60% increase in planning efficiency, a 30% reduction in expenses, and a 10% improvement in customer service. You can also offer optimum speed and service to customers via inventory optimization.
BlueYonder provides boundary-less planning and cognitive planning for better predictions and prescriptions. This, in turn, allows businesses to prevail over differences between timings, organization silos, supply and demand, and the volatile supply chain.
Features:
Similar to its predecessor on the list, Blue Yonder is packed with supply chain management tools for businesses of all sizes. Its 3PL (third-party logistics) further simplifies financial management with omnichannel fulfillment and inventory planning.
Here are some impressive features offered by Blue Yonder:
Sales and operations execution
Cognitive supply planning
Workflow-driven Luminate user experience
Service disruption prediction
Automate common resolutions
Transparent planning process
Dynamic master planning
Root cause and what-if analysis
Inventory optimization
End-to-end network design and modeling
Dynamic KPI reporting
Smooth adaptation to demand and supply chain
Changeover reduction
Multi-echelon optimization
Pricing:
BlueYonder does not offer upfront pricing plans to its customers. You will have to drop your contact details on their website to get in touch with one of their representatives and discuss the prices.
Best for Cloud Planning And Management
Oracle SCM uses cloud-based applications for improved resilience and successful sales, even with the ever-changing customer demands. This supply chain management software protects users from deviations, analyzes suitable alternatives, and re-plans projects in real-time.
With its blockchain and IoT features, Oracle SCM optimizes and automates the business supply chain for efficient maintenance and management. I also like the advanced analytics products that use AI and ML to make smarter predictions for fool-proof planning and decision-making.
The order management product is another beneficial tool for enhanced teamwork and transparency. You can check the team progress, order execution, and customer experience all at one screen.
Features:
Oracle SCM offers an assortment of business and productivity features to plan, produce, supply, and fulfill orders intelligently. The supply chain planning cloud not only reduces disruptions and deviations but also minimizes costs and unnecessary effort.
Here are some features that make Oracle SCM one of the top SaaS platforms:
Demand management
Sales, supply, and operations planning
Transportation management
Warehouse management
Materials and cost management
Financial and supply chain orchestration
Service logistics
Global trade management
Product development
Quality management
Supplier management
Business network
Track and trace
Oracle Autonomous Warehouse
Asset management
Work order costing
Spare parts inventory management and procurement
Smart machine integration
Oracle Fusion Analytics
Preventive and predictive maintenance
Omnichannel order management
Channel revenue management
Pricing management
Global order promising
Discrete, process, contract, project-driven, and mixed-mode manufacturing
Pricing:
Oracle SCM products are available on a subscription basis. However, the price is not mentioned upfront. You can refer to the tour videos on the official website or request a live demo from one of the supply chain planning experts.
4. Infor SCM.
Best for Real-time Supply Chain Insights
Infor SCM provides end-to-end supply chain solutions by bringing the best of supply chain planning, real-time visibility, and finance. Its supply chain orchestration encourages data-driven decisions, which, in turn, results in improved customer service.
According to statistics from their website, using Infor SCM has allowed businesses to reduce wastage costs and warehouse operational expenses by 40% and 8-12%, respectively. This is followed by an 8-15% increase in the overall productivity of the company.
Thanks to its cloud-based solutions, the software is ever-evolving, negating the need for timely updates. Along with visibility and control, users can build better buyer-supplier relationships through invoice automation, payment certainty, cash flow visibility, and more.
Features:
Overall, Infor SCM is the ideal platform for enterprises to sense demand with its supply chain analytics and insights. Its procure-to-pay automation is one of the top features as it allows transparency and collaboration across ERPs.
Given below is a list of some significant features offered by Infor SCM:
Supply chain visibility and control
Multi-party business networking
Real-time demand and supply tracker
Smart alert for real and potential deviations, opportunities, etc.
Intelligent decision support
Labor management
3D Visualization
Voice-enablement
Supplier compliance
Liquidity optimization
Payment digitization
Process automation
3PL billing
Cloud scalability
Built-in data series modeling and analytics
Multi-mode shipping
Global shipment optimization
Freight tracking
PLM for product planning, design, and supplier collaboration
ERP, CRM, and LIMS integrations
Pricing: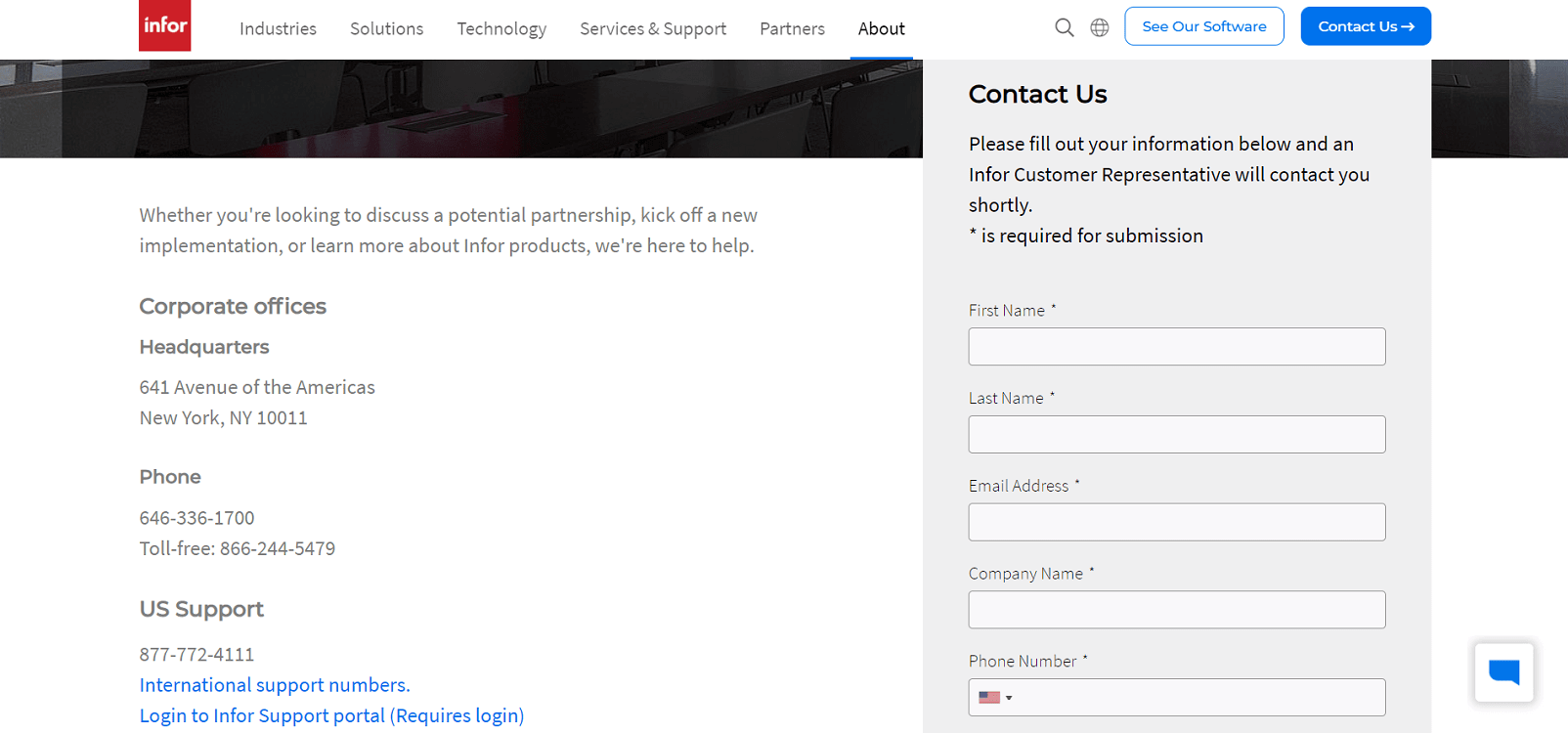 You can fill the "Contact Us" form on the official website to understand its supply chain management products and their respective prices. The brand offers a free trial, too, so make sure to take advantage of it before purchasing the subscription plan.
5. Manhattan Associates.
Best for Carrier Management
Manhattan Associates streamlines the complex and siloed business processes with real-time data forecasting. With over ten thousand APIs, the software allows scaling without requiring any updates. Note that this SCM software solution upgrades itself in regular intervals of 90 days.
This micro-service software offers warehouse management, labor management, transportation management, and more.
Besides offering adaptability to dynamic business processes, the software allows businesses to optimize load assignments, reduce transportation, and lower costs. Overall, by opting for Manhattan Associates, users can enjoy maximum control, visibility, and collaboration.
Features:
One of its most notable tools is the Manhattan Active Omni, which monitors omnichannel retail operations. With improved inventory visibility, companies can follow better accuracy in demand planning and fulfill orders precisely, gaining optimum customer satisfaction.
Below are some essential features to look out for in Manhattan Associates:
Labor management
Warehouse management system (WMS)
Transportation management system
Slotting optimization
Interactive inventory
Enterprise promotions
Adaptive network fulfillment
Available to Commerce
Point of Sale
Digital self-service
Real-time insights on customer engagement
Demand forecasting
Customer-centric inventory optimization (CCIO)
Financial and promotional planning
Store clustering and planning
Pricing: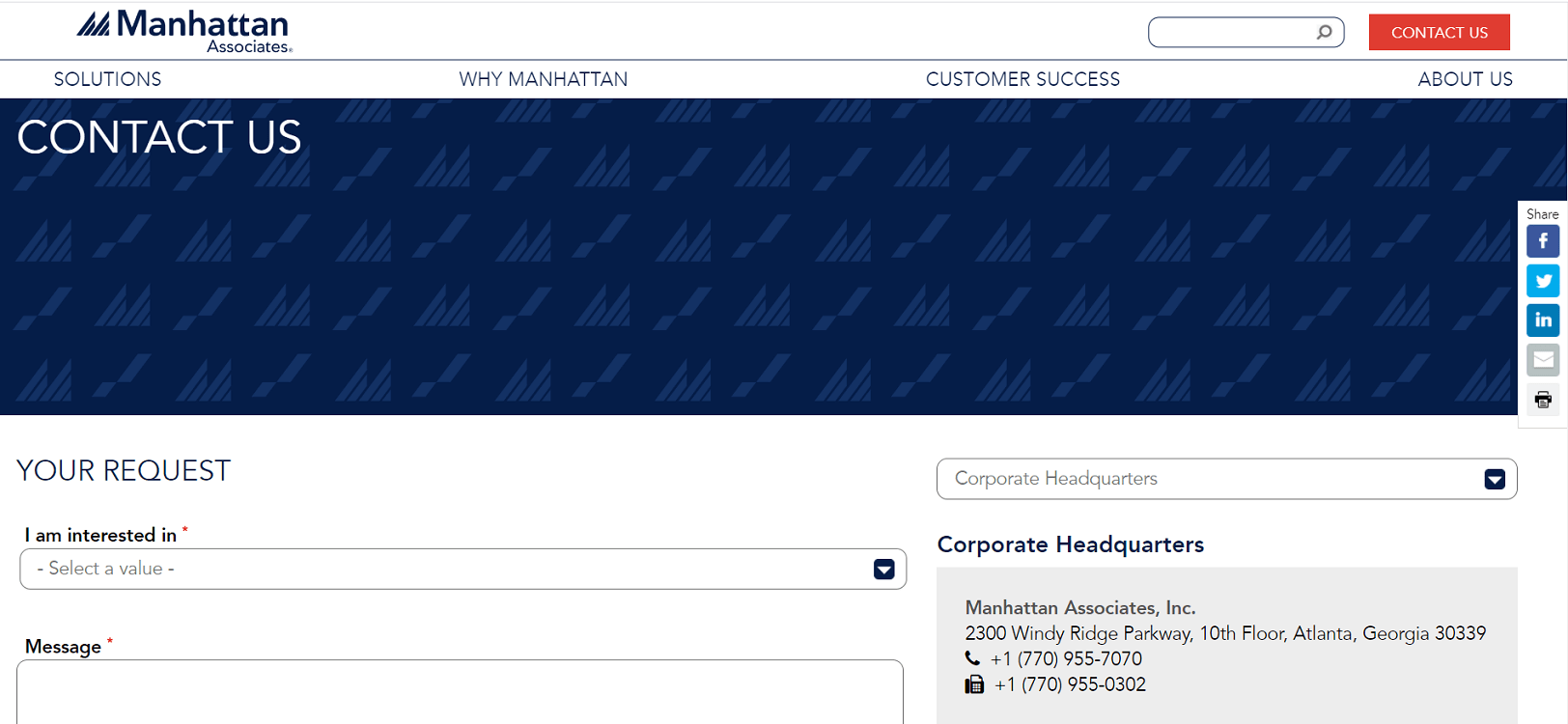 Like all of the supply chain management systems mentioned above, Manhattan Associates is no different when it comes to its exclusive pricing plans. You can contact their customer representatives via call or leave your details on the "Contact Us" page for more details.
6. Descartes SCM.
Best for Transportation Management
Descartes SCM enhances functionality and productivity with features like B2B connectivity, customs compliance, global trade intelligence, and so on. It uses artificial intelligence (AI) and business intelligence to transform your business into its own "smarter," digitized version.
Besides being a cloud-based platform, Descartes SCM offers modular and wireless logistics that streamline business processes across various mediums. With its advanced global intelligence, brands can get inventory and assets as and when required.
It is interesting to note that its e-commerce shipping and fulfillment solutions integrate and transform the taxing process of warehousing, shipping, and delivery. The data collected is also helpful in visualizing logistics without solely relying on the IT team and data scientists.
Features:
Descartes SCM offers a wide range of business management solutions which are grouped into seven categories, including customs and regulatory compliance, transportation management, B2B connectivity, and many more.
Let's glance over some of the useful features of Descartes SCM:
Logistics messaging
Commercial and B2B messaging
Customs messaging
Security filings
Industry programs
Data analytics
Shipment portal
Duty and tariff data
Dock scheduling and yard management
Product classification
Trade research
Proof-of-Delivery (POD)
Warehousing and PO management
Lead generation
E-commerce connectivity
Freight broker TMS
Retail distribution
Denied, sanctioned, and restricted party screening
Pricing:
If you want to incorporate supply chain logistics to enhance productivity and customer service, I suggest investing in the subscription package for Descartes SCM. You can contact the brand via call, email, or chat for pricing details.
7. Logility.
Best for Inventory Optimization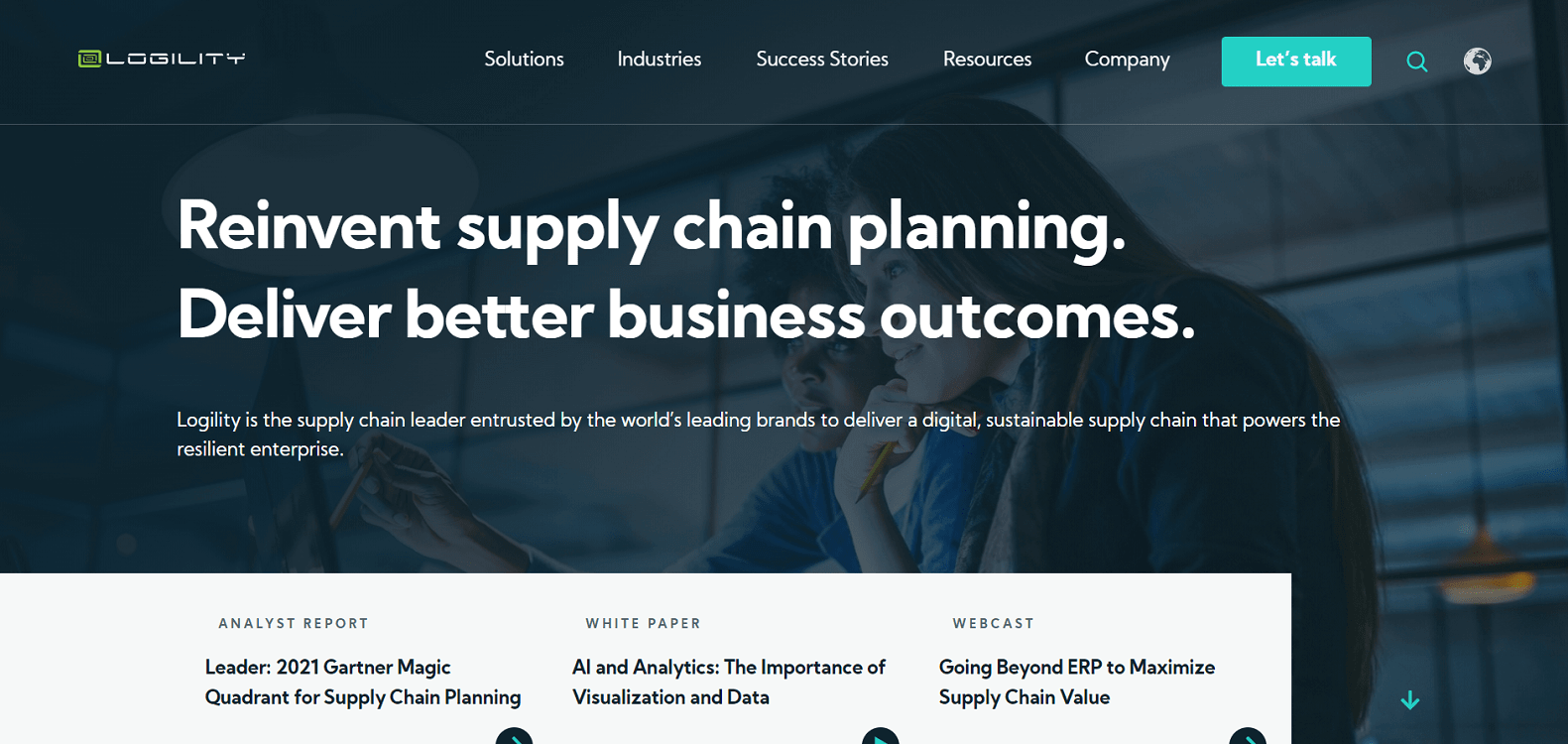 Logility is yet another SCM software that delivers a sustainable supply chain for enhanced business functionality and profitability. With 45 years of successful supply chain processes, this software has served some of the world's leading brands like Starbucks and Pandora.
This AI-based tool collaborates analytics from different aspects to meet business needs and effectively plan for actual and potential challenges. Its SPO solution allows companies to optimize raw materials, evaluate SCM sourcing, leverage automation, and so on.
Logility's supply solutions include supply planning and optimization (SP and O), manufacturing planning, retailers and supplier management, sourcing management, and more. Its solutions adapt to various industries, making the software suitable for any type and size of business.
Features:
You can optimize the entire supply chain of your business with Logility's strategic and dynamic set of tools. Besides, its wide range of tutorial videos and education offerings (like personnel training, core team training, etc.) make it an ideal SCM software for beginners.
Here are some significant features of Logility:
Supply planning and optimization
Replenishment strategies automation
Inventory optimization
Leverage order policies
Production planning and optimization
Increased ROI
Forecast consumption management
Real-time collaboration
Cost management
User-friendly vendor management
On-site quality management
Cloud-based accuracy and transparency
Multi-lingual and offline support
Inline inspections and audit controls
Comprehensive vendor profiles
Transparent onboarding of new vendors
Product sourcing and scheduling optimization
Improve order fulfillment rates
Pricing:
For Logility, too, you will have to contact the company for subscription prices. I suggest small and medium businesses check the free trial period before purchasing the SCM tools.
What is Supply Chain Management Software?
Before knowing what the software does, it is important to understand the concept of supply chain management.
Every business indulges in selling goods and services. To be able to meet its customers' demands, business owners must ensure efficient procurement of raw materials, manufacturing, processing, budgeting, delivery, and so on.
Supply chain management (SCM) streamlines the processes involved in making the goods and services ready and suitable for the market. A supply chain oversees inventory, transportation, costs, suppliers and distributors, etc., to ensure that every stage increases profitability.
In addition, a supply chain manager combines the logistics of the initial plan, the source of raw materials, manufacturing of products, delivery, and returns/ refunds (if any). It is the manager's job to cut shortcomings, delays, and costs and make recommendations for improvement.
With the right SCM software solution, e-commerce businesses can identify otherwise unseen opportunities and improve their supply chain. From working with local retailers to outsourcing 3PL providers– changes in these steps can reduce waste and ensure customer satisfaction.
Why Should You Switch to SCM Software?
Supply chain planning and management can either make or break a business. If left unoptimized, your company will not be ready to face the obstacles of a volatile market, resulting in delays, discrepancies, and losses.
Here's how supply chain management software can help e-commerce businesses:
1. Inventory Management
SCM solutions allow demand forecasting of products and services, and businesses maintain enough stock accordingly. Without a safety stock, your company can face delays caused by backorders. This increases the waiting time for customers, who may eventually lose interest.
On the other hand, maintaining too much unnecessary inventory can increase warehousing fees.
2. Decreasing Order Fulfillment Costs
Adding to the previous point, other factors that increase order fulfillment costs include inefficient labor, high shipping rates, and much more. This is where SCM tools can help brands running on eCommerce platforms strike a balance between costs and revenue, such as to ensure more profitability.
3. Reducing Lag Time
An adequate supply chain includes supplier management, strategic sourcing, and inventory optimization. Each of these aspects should work efficiently to reduce delays and achieve targets for profits and customer satisfaction.
What are the Steps to Form an Effective Supply Chain?
Since physical businesses are different from e-commerce businesses, I'll be talking about the latter in detail. Here are the steps to create an e-commerce supply chain:
1. Finding Manufacturers
Depending on the type of business, owners require suppliers that can manufacture their products in the most efficient manner. This includes efficiency in terms of costs, time, and work ethics.
While choosing a supplier/ retailer, business owners must analyze various factors like sourcing, shipping, cost reduction, risk management, reorder schedules, and so on.
2. Purchase Orders Through Demand Planning
Demand planning allows businesses to be prepared with the right amount of inventory, both for serving customers and for maintaining safety stock. Changes in demand should be considered to avoid falling short of inventory in times of need while ensuring minimum expenditure.
3. Transport Management
Businesses must collaborate with their suppliers for efficient transportation of raw materials and products. A warehouse management system is another requirement, especially in the case of multiple warehouses as each should be stocked with sufficient inventory.
For international shipping, freight shipment is another aspect that comes under supply chains.
4. Storage Optimization
Proper storage in SKUs is essential to ensure that the raw materials and products remain in good condition. Note that the storage spot should be organized enough for effortless retrieval and delivery.
5. Fast Fulfillment
The final and the most crucial step is the packaging and shipment process. It involves picking the order from the warehouse, packing it securely (in a poly mailer or box), and delivering it to the customer.
Naturally, faster shipment impresses customers and gives your brand an edge over others on the market.
Frequently Asked Questions.
1. What are the Three Types of Flows in Supply Chain Management?
SCM consists of three types of flows, namely, the product flow, the information flow, and the finance flow.
As the names suggest, the product flow describes the movement of goods between different agents in a supply chain. This also involves returned items and services offered after the product is sold.
The information flow deals with passing details regarding orders and updating the workflow status. Additionally, the financial flow includes payments, credits, ownership arrangements, and more.
2. How Much Do SCM Software Solutions Cost?
Since none of the software programs mention upfront pricing, I can only give you a rough estimate. A supply chain software may cost anywhere between $30,000-100,000. This includes ownership fees, cost of maintenance, support, and more.
The total cost may also vary according to the size of your company. Like ERP and other business applications, SCM also requires a high budget, so I recommend small businesses to consider this factor carefully and set aside a suitable budget beforehand.
Wrap Up.
Here are the best supply chain management software solutions at a glance:
SAP SCM: Best For Customer-centric Production
Blue Yonder (JDA): Best For Warehouse Management
Oracle SCM: Best For Cloud Planning And Management
Infor SCM: Best For Fast And Real-time Supply Chain Insights
Manhattan Associates: Best For Carrier Management
Descartes SCM: Best For Transportation Management
Logility: Best For Inventory Optimization
One of these SCM tools will definitely help scale your business without you worrying about inaccuracies, delays, and losses.
Disclosure: I may receive affiliate compensation for some of the links below at no cost to you if you decide to purchase a paid plan. You can read our affiliate disclosure in our privacy policy. This site is not intending to provide financial advice. This is for entertainment only.