7 Best SVOD Platform Options: Ranked & Reviewed (Aug 2023)
Choosing the right SVOD platform is vitally important to your business. From ensuring high-quality video playback to enabling social features and integrating with other platforms, the best SVOD platforms can help you meet your goals. In this guide, I ranked and reviewed the 7 best SVOD platforms, so that you can pick the best one for you.
---
We're reader-supported. When you buy through links on our site, we may earn an affiliate commission.
Let's take a quick trip down memory lane.
Can you remember the time before Netflix?
Going down to the local movie store and browsing the shelves for a movie to watch seems like a very distant memory for me.
Now, we can scroll through an endless selection of movies and TV shows with the click of a button.
Netflix has changed how we consume media, and it's not slowing down anytime soon.
Research shows that Netflix now has over 223 million subscribers worldwide, willing to pay a monthly subscription fee.
The model behind Netflix is SVOD or "subscription video on demand," and it's quickly gaining popularity.
With VOD streaming being one of the most popular methods of watching content, it's no surprise that these subscriptions are on the rise.
In this article, I'll review the best SVOD platforms that, as a business, you can use to provide the right content to your audience.
Let's get right into it.
What Are The Best SVOD Platform Options?
The following are the best SVOD platforms to consider.
Best Overall SVOD Platform.
VPlayed is a great SVOD platform for those wanting to monetize their content while reaching a worldwide audience.
Providing a competitive edge for content providers, VPlayed allows you to offer your content in multiple languages while also helping you set up pay-per-view or subscription options.
Whether you want to stream premium content to paying customers or use your platform to generate leads, VPlayed has the features you need.
Finally, you can set goals and analyze content outcomes to know what's working and what isn't.
Key Features:
They offer some of the best audio streaming around, which helps improve content quality.
The platform provides a great live-streaming feature that lets users connect with their audience in real time.
The encoding and transcoding features are helpful and allow you to deliver content in multiple formats.
The all-device player makes it easy for any audience to access various content on any device.
User Experience: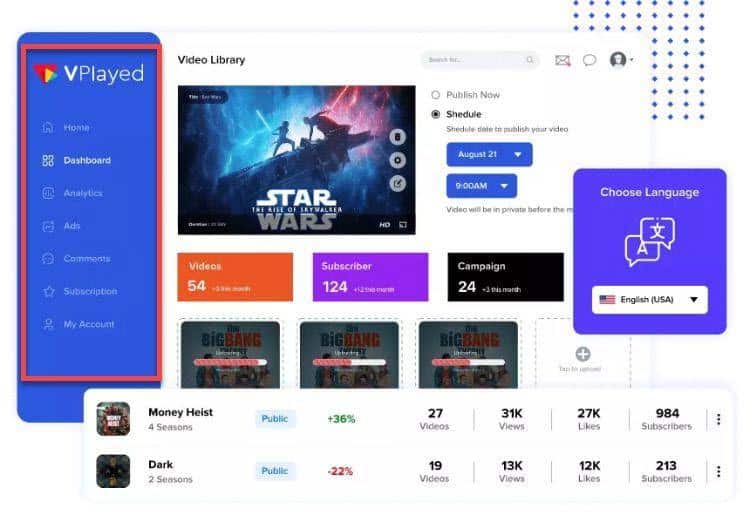 Being able to control your video library through a dashboard that not only looks great but is also user-friendly is essential, and the Vplayed platform definitely hits the mark on this.
Pricing:
VPlayed offers a product demo.
However, you'll have to contact the company for pricing information.
What I Like/Dislike About VPlayed:
Like:
There are no glitches or worries regarding the video quality of Vplayed content playback.
The company uses the latest technology to provide a secure and scalable solution to build your video content strategy.
Dislike:
It doesn't offer a free trial to its users to check out the services before committing to them.
Product Updates:
You can now build a corporate identity by adding various touches representing your business on the platform.
Get started with VPlayed.
Best For Selling Video Content.
Uscreen provides a platform that makes it easy to sell and deliver video content online.
Uscreen allows you to customize your site with the right logos, branding, and colors to present your content in the best possible light.
If you're looking to build a video membership website that looks professional and is easy to navigate, Uscreen is an excellent option.
Whether you want to run professional-looking live streams or need a platform that can handle extensive video files, Uscreen has you covered.
With various ways to sell your video content, including pay-per-view, subscriptions, and rentals, Uscreen makes it easy to monetize your content.
Key Features:
This subscription video platform offers a seamless video content management system, making it easy to track your content.
The smooth video playback experience is excellent and allows users to watch videos without any issues.
Intelligent marketing tools help promote your videos and reach a larger audience.
Turn-key video monetization is helpful and allows you to easily make money from your content.
User Experience:
Video management can quickly be done using drag-and-drop features to rearrange your content as you please.
You can also organize your content using categories, collections, authors, or custom filters you create yourself.
Pricing:
Uscreen offers these pricing plans:
Basic: $79/mo +$0.50 per subscriber/mo
Growth: $159/mo +$0.50 per subscriber/mo
Uscreen plus: contact their sales team
What I Like/Dislike About Uscreen:
Like:
No canned messages are given when getting support. This is fantastic because you know they are actually reading your issue and not just giving you a generic answer.
Also, the new features focused on business growth are beneficial.
Dislike:
More integrations and even a mobile app would make this an even better product.
Product Updates:
The Uscreen Fitness Tracker for Apple Watch has been released and is available to all Uscreen users.
Get started with Uscreen.
Best For Offering Customized Plans.
Muvi One helps you offer variable plans to build up your video streaming business.
Whether you want to offer monthly, quarterly, or yearly plans (or a mix of all three), Muvi One has you covered.
There are also options regarding the content you want to offer on the above memberships.
For example, you can show your entire video and audio library or decide only to give access to part of it.
With an auto-renewal feature, you won't have to worry about notifying subscribers when their membership is about to expire.
The system also offers integration with multiple payment gateways, so your audience can choose their preferred payment method.
Key Features:
They allow you to use your domain, which is excellent for those who want to brand their business.
The Chromecast support is beneficial because users can watch your content on TV.
Metadata management is helpful because it allows you to track your content easily.
Multi-currency support is ideal for those who have an international audience.
Multiple payment gateway support is valuable because it allows users to choose their preferred payment method.
User Experience:
A simple three-step process helps you configure your home dashboard by type, content, or template.
Along with information about your servers, storage, and CDN, you'll be able to see an overview of your content, users, and transactions.
Pricing:
Muvi offers a 14-day free trial. Afterward, you can pay for the following plans.
Standard: $399/month
Professional: $1499/month
Enterprise: $3900/month
Ultimate: Contact Muvi for more information about specific pricing.
What I Like/Dislike About Muvi:
Like:
Their team handles requests very well and is always willing to help.
Muvi has some out-of-the-box features that traditional video platforms don't have.
Dislike:
Sometimes it takes a while to load the website, which can be frustrating.
Product Updates:
You can create custom plans for your audience, which is helpful if you want to offer a unique experience.
Get started with Muvi.
4. IBM Video Streaming.
Best For Scaling Businesses.
IBM Video Streaming is a cloud-based, scalable video streaming platform.
With the ability to go with an easy or complex setup – based on your specific needs – IBM Video Streaming is an option that gets the job done for businesses of all sizes.
You can also use this platform for employee communications, allowing you to create internal channels and easily share content with them.
No matter what type of events you run, IBM has the tools and features you need to make them a success.
With security and privacy options, you can rest assured that your content is safe and secure.
Key Features:
I like their HD live broadcasting feature because no matter what type of audience you have, they will be able to watch your content in high definition.
The recording of broadcasts is beneficial because you can easily share your content with those unable to attend live events.
The mobile-compatible player allows your audience to watch your content on mobile devices without hiccups.
The video distribution and workflow feature allows you to easily manage and distribute your content.
The live chat and Q&A feature is really helpful because it allows you to interact with your audience in real-time.
User Experience:
A user interface that enables you to set the status of your videos, update the titles and descriptions, add thumbnails, trim, add captions, and more, makes it easy to manage your content.
A complete video manager interface allows you to easily see your content and the analytics associated with each video.
Pricing:
IBM Video Streaming offers these plans:
Silver: $129.00
Gold: $649.00
Platinum: $1,299.00
Custom: Contact their team for a quote
What I Like/Dislike About IBM Video Streaming:
Like:
The platform can support a large audience, which is excellent if you have a lot of employees or customers.
I also like that you can see the actual information of how many people are watching and from where.
Dislike:
If they had to develop more products that tie into the streaming services, the experience would be much better.
Product Updates:
Live playlists for simulated live events have been updated, providing a better, immersive experience for viewers.
5. Dacast.
Best For Multiple Monetization Options.
Dacast provides users with a professional platform that can help stream live events of all types.
The end-to-end live streaming solution ensures you have everything you need to stream your event successfully.
Then, various monetization options help you generate revenue from your event.
Using top-quality CDNs, you can have peace of mind that your content will be delivered quickly and securely.
Any real-time coverage you want to share with your audience can be done using low latency and high-quality streaming.
Key Features:
They offer 24/7 customer support which is excellent for those that need assistance with their platform.
The HTML5 video player is great because it allows you to play your content on any device.
You can showcase your video content and use it to generate revenue from your events.
One can also interact with their audience in real-time through the platform.
User Experience:
With various apps you can use based on your device, the interface is clean and well-defined, helping users to maneuver their way around easily.
Pricing:
Dacast has these plans on offer:
Starter: $39/month
Event: $63/month
Scale: $165 /month
Custom: Contact them if you have high-volume needs
What I Like/Dislike About Dacast:
Like:
A wide array of features under one roof ensure you have everything you need to stream your live event successfully.
The extensions add to the ease of use that the platform offers.
Dislike:
Their API only provides limited post-event analytics, which could be improved.
Product Updates:
They are currently developing a WebRTC solution that will offer streaming with real-time latency.
6. Brightcove.
Best For Streaming Live Events.
Brightcove uses industry-leading reliability to help you successfully stream live events.
Covering the whole SVOD funnel process – from awareness to retention – they can help you maximize your event's potential.
You can also use this platform with your employees, using features that can engage your workforce and strengthen your culture.
Finally, note that Brightcove can support every channel and device you currently use.
Key Features:
Ensuring you hit your video-related KPIs using the analytics provided by this platform.
The ability to automatically update video data is beneficial because it allows you to improve searchability and boost SEO overall.
Their way of reaching your audience (whether on social media platforms, websites, apps, etc.) is great because you have a higher chance of meeting them where they're at.
Pricing:
Get in touch with their team to get a quote for their services.
7. Kaltura.
Best For White Labeling Businesses.
Kaltura helps launch, operate, and manage various subscription-type events.
With top monetization options that can help you make the most of any video-related content, Kaltura can help your business succeed.
Then, with white-label apps you can use on mobile, web, tablet, smart TV, and more, you can reach your audience wherever they are.
The platform is always ready-to-play, so you won't have to stay figuring out how to best get set up when something goes live.
As many as 50 partner integrations, 13 adapter types, and 400 APIs also help you get the most out of your events.
Finally, with the campaign management systems and available payment gateways, you can ensure everything is taken care of.
Key Features:
Their end-to-end media preparation feature is outstanding, and I like how it helps users set up their events.
When using their player, high performance is always ensured.
Their user and device management tools allow users to track everyone attending their event.
Their analytics and reporting are also top-notch, so you'll always be able to see how your event is doing.
Pricing:
Choose the right plan to make the most of Kaltura's solutions, or contact them to create a custom solution that covers all your video needs.
What Are SVOD Platform Options?
SVOD platforms offer an excellent way for businesses to offer subscription video content.
With the right video streaming service, you can offer your customers a great selection of content at a price that fits your budget.
There are several things to consider when choosing the right SVOD platform for your business, including the type of content you want to offer, the price point, and the transmission quality.
SVOD platforms also offer several features that can help you grow your business, such as the ability to provide gift cards and coupons and track customer behavior.
Business Benefits Of An SVOD
The following are some benefits businesses can experience when using an SVOD platform.
A More Comprehensive Global Reach For Your Content
Whether you want to produce and distribute your TV shows or movies, or offer a subscription-based video streaming service delivering online courses, an SVOD platform can help you reach a wider global audience.
With an SVOD platform, businesses can efficiently distribute their content to multiple countries and regions worldwide.
This can help businesses expand their reach and build a stronger brand identity.
Increased Engagement With Your Audience
An SVOD platform can also help businesses increase their engagement with their audience.
Platforms like Amazon Prime Video, Roku, Apple TV, Disney+, HBO, Hulu, and iTunes all offer a way for businesses to provide their content to a broad audience.
Using the right platform will give you the same benefits as those spending a lot of money to be on these platforms.
In turn, this can help engage your audience and attract new viewers and followers.
Build A Stronger Brand Identity
An SVOD platform can also help businesses build a stronger brand identity.
From creating an easily recognizable logo to developing a brand voice, an SVOD platform can help businesses build a stronger identity that resonates with their target audience.
Generate New Revenue Streams
If your current business model is based on advertising, you can use an SVOD platform to offer a subscription-based video streaming service.
This will help you diversify your revenue streams and insulate your business from any potential declines in ad spending.
In addition, businesses can use an SVOD platform to offer pay-per-view content or even sell digital downloads of their content.
This can help businesses tap into new revenue streams, and further grow their business.
Features Of A Great SVOD
Here are some features to look for when choosing the right video subscription platform for your business.
Clean And User-Friendly Interface
The right video website should have a clean and user-friendly interface.
As a business owner, setting up your content on a subscription platform should be a breeze.
The last thing you want is a platform that's difficult to navigate or requires a lot of technical know-how.
It also means that when your customers are trying to access your content, they shouldn't be bombarded with many ads or have to search through many different menus.
The interface should be intuitive and allow them to find what they're looking for quickly and efficiently.
DRM Considerations
Digital rights management (DRM) is an essential consideration for businesses that offer digital content.
DRM solutions help businesses protect their content from unauthorized copying and distribution.
There are several DRM solutions available, and the best one for your business will depend on the type of content you offer and your budget.
The Ability To Support Multiple Devices
Supporting multiple devices is essential for businesses that want to offer their content to a broad audience.
An SVOD platform should be able to support multiple devices, including smartphones, tablets, laptops, desktops, and TV streaming devices.
The Pricing Should Be Affordable
As far as business models go, the subscription-based SVOD model is one of the most popular.
Under this model, businesses charge a monthly or yearly subscription fee to access their content.
The key to success with these subscription services is to keep the pricing model affordable.
While the top platforms offer various options to choose from, the end-user should not have to pay an arm and a leg to access your content, nor should they become confused when trying to understand your pricing structure.
Responsive And Helpful Customer Support
Whether dealing with OTT platforms or a video-on-demand service, businesses must ensure that their customer support is responsive and helpful.
Customers should be able to find answers to their questions in the FAQ section easily.
In addition, customer support should be able to help users with any issues they have with the platform.
Available Free Trial
A free trial that allows all access or even puts some features behind a paywall is an excellent way to get users to experience what it's like using the platform and eventually sign up for the service.
Various OTT apps use this model to generate revenue, and SVOD platforms are no different.
By offering a free trial, businesses can quickly increase their user base and improve their chances of long-term success.
No Ads Or Commercials
When it comes to video subscription services, one of the most important things to consider is whether or not there are ads or commercials.
Some platforms include commercials as part of their business model, while others do not.
If you want to offer a commercial-free experience to your users, make sure to choose a platform that does not include ads.
Money-Back Guarantee
When it comes to choosing an SVOD service, one of the things you should look for is a money-back guarantee.
This type of guarantee ensures you can get your money back if unsatisfied with the service.
This is not standard for all SVOD service providers, so doing your research ahead of time is essential.
SVOD Platform – FAQ
What Is The Best Monetization Model For A Subscription Video-On-Demand Platform?
The video subscription website of your choosing typically has a few different ways that it can monetize its service.
For example, many provide unlimited access to their users, allowing them streaming video abilities to watch as much content as they want for a monthly fee.
Others offer free trials that help sell longer-term video subscriptions to users by letting them experience the service before committing financially.
Then again, others might use advertising video models that show short commercials before or during movies and shows to generate revenue.
Does Video Hosting Come As Part Of An SVOD Platform?
Like a VOD platform, this is usually part and parcel of such a subscription service.
Many SVOD providers will have their networks of servers upon which they host all the videos in their library.
This allows for quick and easy streaming by users with minimal buffering or loading issues.
What Similar Models To SVOD Exist On The Market?
From AVOD (ad-based video on demand) platforms like YouTube to TVOD (transactional video on demand) services like iTunes, there are many different ways that people can watch videos online.
However, SVOD remains one of the most popular methods due to its low monthly price point and vast content selection.
Wrap Up.
Choosing the right SVOD platform is essential for businesses that offer digital content.
The platform you choose should be able to host your current content and offer you the ability to scale as your content library grows.
The above platforms can all offer you a great SVOD experience, but the one that is right for you will depend on your specific business needs.
Have you ever used an SVOD platform in your business?
Which one did you go for?
Let me know in the comments below.
Further reading on AdamEnfroy.com: OTT (Over the top) platforms can help you reach a larger audience with your video content.
Here are the best OTT platforms, ranked and reviewed, for your business.
In addition, you can learn more about OTT devices, which are the hardware platforms you need to deliver content to your viewers.
Editorial Process:
Our reviews are made by a team of experts before being written and come from real-world experience. Read our editorial process here.
Some of the links in this article may be affiliate links, which can provide compensation to us at no cost to you if you decide to purchase a paid plan. These are products we've personally used and stand behind. This site is not intended to provide financial advice. You can read our affiliate disclosure in our privacy policy.