TD Ameritrade vs. Robinhood: Which is Better in 2023? (Comparison)
Online trading platforms are investment apps that allow you to buy and sell stocks, ETFs, and other securities. They have become increasingly popular in recent years as they provide a simple and convenient way to trade with no to little commission fees.
From forex trading platforms to crypto trading platforms, there are a lot of choices out there.
In this article, I will compare two of the most popular online trading platforms: TD Ameritrade and Robinhood.
Let's get right to it.
What Are TD Ameritrade And Robinhood?
One of the most prominent players in the trading space is Robinhood, which has made a name for itself by offering commission-free trading.
TD Ameritrade is another well-known online brokerage that has been around since 1975 and offers a more traditional approach to investing based on reliability and stability. They also offer commission-free trading, which matches Robinood's offering.
So, which one is better in terms of fees, features, and customer service?
Let's take a closer look at TD Ameritrade vs. Robinhood so you have all the critical pieces of information before starting your trading journey.
Platforms Introduction
Let's start with a quick introduction to the two platforms.
Robinhood
Robinhood is a great platform for those just starting out in investing.
In addition, one of Robinhood's typical users is the person that prefers to use a mobile phone (more than a desktop) when it comes to trading.
The platform has a user-friendly app constantly rated as one of the best in customer service.
In addition, with individual taxable brokerage accounts, you can trade commission-free on various transactions while also getting competitive rates with margin accounts.
TD Ameritrade
This platform is best for investors who want more traditional customer service and a human touch.
TD Ameritrade also provides more in-depth research and analysis tools than Robinhood.
This is also great for the more advanced user that wants to trade complex financial products.
TD Ameritrade also focuses on investor education and provides the right advice regarding fund investors.
These features can be somewhat overwhelming for a beginner but provide a great foundation to scale and grow from.
Robinhood vs. TD Ameritrade: Signing Up
Starting an account with Robinhood is easy, irrespective of whether you want to do it using their app or the website.
No account minimums are required when creating your brokerage account, which is excellent for those just starting out.
All you need to do is provide your personal information and social security number to fund your account.
On the flipside, comparing TD Ameritrade with Robinhood, creating a new account is a bit more complicated because many more options exist.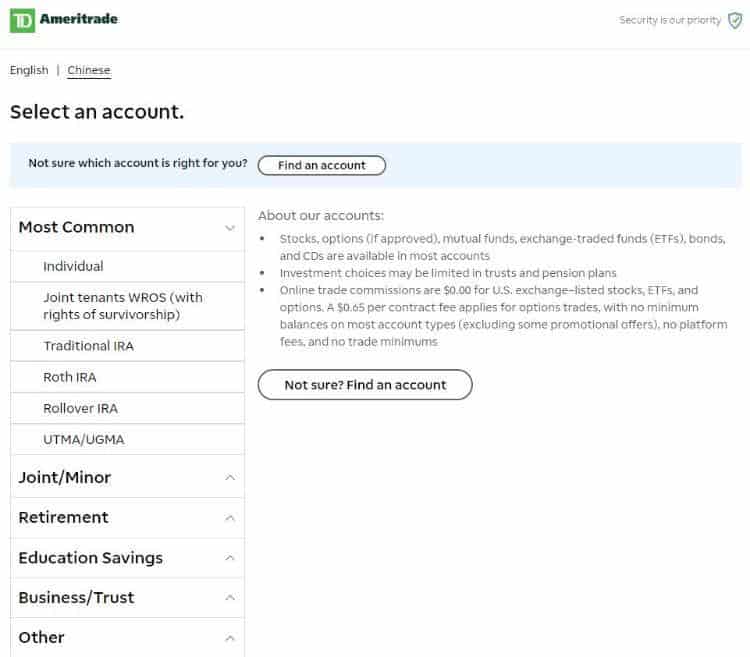 While this is great for those with more experience, it may present some challenges when it comes to beginners.
It's also good to note that while you don't have to have a minimum amount to open an account, you will need to invest and deposit at least $2,000 to use margin trading on your account on both TD Ameritrade and Robinhood.
Robinhood vs. TD Ameritrade: Usability
When it comes to using the website, Robinhood presents an easier-to-navigate platform that, in a way, results from the fewer functions this provider offers.
This is not necessarily bad, as beginners may find the TDA (TD Ameritrade) site to be a bit overwhelming.
When using the Robinhood mobile app, you will notice many similarities compared to the web interface.
That said, the problem with the website and the app is that the lack of customizability may cause some users to want more, especially indicators or analytical tools.
It's good to note that Robinhood Gold has recently been introduced.
Offering a suite of additional and more advanced features to take your investing to the next level, it may be worth considering for more experienced investors.
You also get professional research tools from Morningstar and more extensive instant deposits.
Get started with Robinhood.
When it comes to TD Ameritrade, the website is a bit more challenging to navigate but offers more customization options and analytical tools.
If you're prepared for a short learning curve and can understand how to navigate TD Ameritrade's website, you'll find all the information you need on this platform.
This includes articles, webinars, and even specific educational content on various topics.
If you are looking for streaming quotes when trading, it's good to know that TD Ameritrade provides this with a delay, so there is a chance that you will miss some vital information unless you change this.
While this is done on purpose by default, there is an option to enable quotes that happen in real time if this information is essential for you.
To summarize this section, note that when using the platforms to buy and sell assets, Robinhood makes it very easy to get started.
It's much easier to buy assets than actually learning how things work correctly in the first place.
While this might be a great feature that's appealing to many new investors, it's up to the user to do due diligence and get up to speed with what could happen when investments occur.
Robinhood vs. TD Ameritrade: Customer Support
An area in which the two platforms differ is customer support.
Robinhood is a platform that regards itself as a tech company specializing in finance.
In general, customer support is quite limited as there is only a frequently asked questions section and email address where you can contact the team if you run into any issues.
While this may work for more advanced users, Robin Hood's target audience is more beginners, so there might be a mismatch in this case.
When it comes to TD Ameritrade, they provide much better customer service with multiple channels where you can reach out and get the help you need.
From telephone help, physical branches, and even email support, TD Ameritrade provides everything you need to get the right answers.
Robinhood vs. TD Ameritrade: The Trading Experience
Continuing on a similar trend to the one above, the platforms offer different things when considering the trading experience.
With Robinhood, you can buy and sell assets quickly, but there is a lack of analytical tools, which can be quite limiting for some users.
While you can use charts, you can't customize anything, including stage orders.
As such, the entry process for any order is a bit more complicated than it should be.
In addition, there have been a few outages where trade restrictions now apply, so this is good to know before you go ahead with this platform.
On the other hand, TDA offers a more reliable solution for those who want to trade more consistently.
From casual traders to those that want to day trade as a full-time job, TD Ameritrade can provide the tools and experience needed to be successful.
The web trading interface is much better organized than Robin Hood's and is packed with features that include charts, newsfeeds, heatmaps, and more.
TDA also has a flexible platform called Thinkorswim, which provides a great trading experience in a modern-looking interface.
This platform has been created for those that want to execute more complicated trading strategies and need the tools to manage them properly.
TDA also offers a simulator where you can create a paper trading account and practice until you're confident when it comes to using real money.
This is a great way to learn the ropes and get a feel for things before risking any real capital.
TD Ameritrade vs. Robinhood: Other Services Offered
One aspect in favor of Robinhood is that they recently introduced a feature called Robinhood Crypto.
This allows users to buy and sell cryptocurrencies on the Robinhood platform, including Bitcoin, Ethereum, and more.
While this is an excellent addition for those that want to invest in digital currencies, it's still quite limited.
When performing crypto trading, investors can only pull up an individual page to see the basic trading information for a particular crypto asset.
No additional data or contacts are available to help make decisions easier for investors.
Again, this is done on purpose, as the platform wants to focus on simplicity and getting users up and running as quickly as possible, no matter what kind of investment they need to make.
While this is not a bad thing, it just might not be enough for some users that want to get more involved in the world of cryptocurrencies.
TDA offers services that include mutual funds, equities, currencies, futures bonds, and more.
That said, the platform does not support investing in cryptocurrencies, so if you're interested in this investing, Robinhood is the platform of choice between the two.
When it comes to analytical tools, TDA gives you a whole stack of features that can be used to make more informed decisions.
This includes brokerage services where investors can get advice on potential investments and help with asset allocation.
This service is unavailable on the Robinhood platform, so it's something to consider if you need more hand-holding when making investment decisions.
Robo-advising is one of the ways this advice is delivered, so if you're interested in quick and easy portfolio management, TDA could be a good option.
Human investment advisors are also available for those who want to talk to someone directly.
This all comes at an extra cost, so if you're looking to get the job done as cheaply as possible, investing in Robinhood is the better solution.
TD Ameritrade vs. Robinhood: Mobile Trading Apps
When it comes to mobile platforms, simplicity also underlines the usage of the Robinhood platform while on the go.
The app is available on Apple iOS and Android and has a very user-friendly interface.
It's great for those who want to do some quick trading without worrying about too many bells and whistles.
While there are no advanced features typically associated with more powerful platforms out there, the available features work well.
To make informed decisions, you can see real-time streaming quotes and charts for various asset classes.
The TDA platform also has an on-to-go solution, providing two different versions of its mobile app.
There is a newbie-friendly version as well as a Thinkorswim mobile version for more advanced traders.
The user is free to choose which app works best for their needs.
TD Ameritrade vs. Robinhood: Trading Technology
When it comes to trading technology, payment for order flow (PFOF) numbers are usually the industry standards for trading statistics.
Unfortunately, Robinhood doesn't use or publish such stats, so it's hard to rank them in this metric.
Robinhood uses a per-dollar basis to send orders to stock market makers.
From what we know about their order routing practices, they seem to align with the average industry numbers.
Regarding TDA, the main aim of this platform is price improvement and fast execution.
To this extent, and according to statistics, the platform's majority of marketable orders is just over 2 cents per share.
TD Ameritrade vs. Robinhood: Costs
This is important as trading costs can quickly add up and eat into any profits investors come across.
When it comes to commissions, Robinhood does not charge any trading fees or even transaction fees, which is excellent news for those who want to keep their costs low.
That said, there is a 65c contract option fee for actual costs, while there is a $2.25 fee for futures.
There is also no inactivity fee if you don't log in for a while or if you don't often trade on either of the platforms.
All this means that the costs on each platform are minimal for those who do stock trading and ETF trades.
TD Ameritrade vs. Robinhood: Analysis Tools
When using the Robinhood platform, you can get insights into gains and losses, buying power, dividend history, portfolio value, and a few more items.
This is not as much data as one would hope for if the person is an advanced trader, but for beginners, it's a great starting point.
When it comes to TDA, the Thinkorswim platform has some potent analysis tools in place.
This includes the internal rate of return, unrealized and realized gains, and more advanced features.
You can also view charts and see how your portfolio performs over time so you can understand the trend you're on.
TD Ameritrade vs. Robinhood: Education
When reading the articles found on the Robinhood website, you will be able to quickly understand their essence as they are written in simple terms.
Their focus is to introduce beginners to investing as a stock broker.
There aren't any videos, webinars, or even any other type of content that goes into more detail regarding this industry.
While they do 15-minute podcasts that discuss various topics, they are more about entertainment than education.
On the other hand, TD Ameritrade offers a lot regarding education.
The content is well organized, ranging from live trading events that happen every year to videos and webinars that are advanced in nature.
You can also find plenty of articles on the website that cover a wide range of topics such as market analysis, technical analysis, and more.
TD Ameritrade vs. Robinhood: Security
TD Ameritrade uses biometric information when users log into the app.
This includes fingerprint or face recognition, which means you are protected if an unauthorized user tries to access your account from another device.
Advanced insurance is also associated with this platform, mainly in the form of excess Securities Investor Protection Corporation (SIPC).
This provides up to $149.5 million worth of protection for securities and up to $2 million protection for cash.
When using Robinhood, the security factor is also present but not as intense, as the platform uses a standard SIPC insurance.
Important Features When Choosing A Trading Platform
So what are the features that you should be aware of when choosing a trading platform?
While I've gone into many of these above, the following are the ones that I believe are crucial and must be present in any trading platform.
Screeners
Trading platforms that offer stock screeners make it easy to find stocks that match your investment criteria and, as such, should be an available feature when investing.
Futures Trading
Futures trading is becoming increasingly popular, especially among active traders. Some trading platforms offer futures trading and other asset classes such as stocks and options.
Calculators
A good trading platform will offer a variety of calculators to help you plan and track your trades. These can include profit and loss calculators, risk management calculators, and more. Whether using mobile apps to trade on the go, or stock trading apps found on a desktop computer or through the company's website, make sure the platform you choose offers the appropriate type of calculators.
Charts And News
Most trading platforms offer charts and news as part of their package. However, the quality of these tools can vary considerably. Active traders should look for a platform that provides high-quality real-time data and robust charting tools.
Watchlists
Watchlists are a great way to keep track of the stocks you're interested in and monitor their performance. Many trading platforms offer watchlists as a standard feature.
Forex Trading Options
Active traders interested in forex trading should look for a platform that offers advanced charting, order types and tight spreads. Some platforms also provide forex trading along with other asset classes such as stocks and options.
TD Ameritrade vs. Robinhood – FAQ
What Are Options Trading And Options Contracts?
An options contract is an agreement between two parties to buy or sell an asset at a specified price within a certain timeframe.
Options contracts are commonly used in commodities, securities, and real estate transactions.
What Do You Need To Trade Stocks Effectively?
To trade stocks effectively, you will need access to a brokerage account and a working knowledge of how stock prices are determined.
You will also need to understand the different orders one can place with a broker, such as a limit or a market order.
What Are Some Other Platforms To Consider?
There are many other online brokers available besides TD Ameritrade and Robinhood.
Some other popular platforms include E*TRADE, Finra, Charles Schwab, Webull, and Fidelity. Each platform offers unique features and benefits, so it's essential to compare them side-by-side before deciding.
What Is An ADRS?
An ADR is short for American Depositary Receipt.
It is a certificate representing shares of a foreign stock that trade on U.S. exchanges.
ADRs are denominated in U.S. dollars and can be traded like any other stock.
What Are Fractional Shares?
Fractional shares refer to less than one total share of stock.
For example, if you only have $200 to invest but want to buy an Apple stock that costs more, you could purchase fractional shares for a total of $200.
Fractional shares are becoming more popular with online brokerages, allowing investors to get started with very little money.
How Much Impact Do CNBC And Social Media Have On Trading?
CNBC is a popular business news channel that covers the stock market extensively.
A social media platform such as Twitter is also popular among traders, as it can provide real-time information and insights about the markets.
While these platforms can be helpful, it's important to remember that they shouldn't be the only sources of information you rely on.
Wrap Up.
So, which of these two brokerage firms is better?
This all depends on what you are looking for and your experience level.
When it comes to TD Ameritrade, this trading platform is ideal for those that have at least some experience when it comes to trading and want a full-service solution.
This is because more advanced features and tools are available, geared toward those with more expertise.
For those new to online trading and personal finance, a Robinhood account may be the better option as it is very user-friendly and has a much simpler design.
This means it will not be as overwhelming for those new to the trading world.
In terms of costs, both platforms are very similar in that they are both low-cost.
As a final disclaimer, always remember to do your research regardless of which platform you choose.
Get started with Robinhood.
What do you think about trading platforms?
Have you used either of these platforms before?
Let me know your thoughts in the comments below.
Further reading on AdamEnfroy.com: IRA Retirement accounts provide many benefits to those that want to invest for their future.
Choosing the best IRA retirement account will come down to finding the best mix of fees, flexibility, and customer service.
Whether it's a gold IRA or precious metals IRA, each has its own set of pros and cons that you should consider.
Disclosure: I may receive affiliate compensation for some of the links below at no cost to you if you decide to purchase a paid plan. You can read our affiliate disclosure in our privacy policy. This site is not intending to provide financial advice. This is for entertainment only.