7 Best Time Tracking Software and Apps of 2023 (Ranked)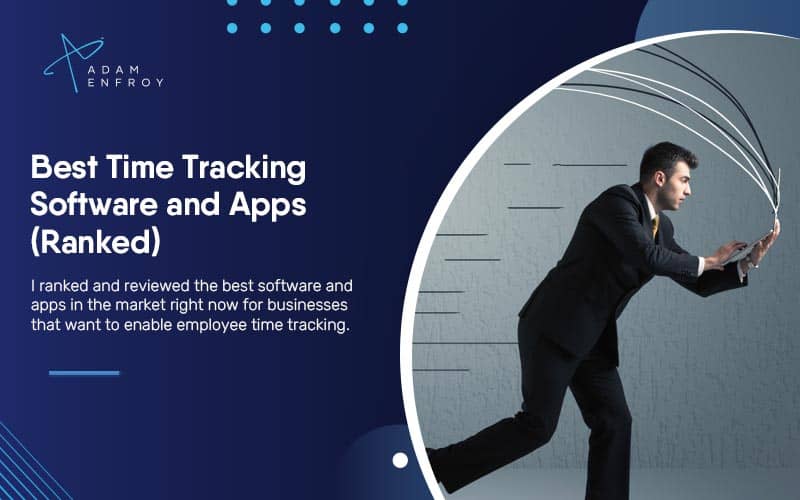 Want to jump straight to my top picks? The best time tracking software is Monday and Wrike.
Using the right time tracking software is very important if you want your business to stay on budget while maintaining accurate records of how resources are being used.
It's quite worrying that more than 34% of employees spend up to five hours per week on meetings that do not get anything done. This is a problem that time tracking can help deal with.
Time tracking also plays an important role when using payroll software to ensure that employees are getting paid fairly for the work they do.
The problem with time tracking is that finding the software for your business (whether you are a freelancer or a business with multiple employees) can be expensive and time-consuming.
Many of the software packages out there are either too complicated or too basic to fulfill your needs. If you haven't used any kind of time tracking software before, it can be hard to know where to start looking.
To help with this, I have reviewed the 7 best time tracking software options available in the market right now so you don't have to. Let's get right into exploring which solution is best for your needs.
Disclosure: I may receive affiliate compensation for some of the links below at no cost to you if you decide to purchase a paid plan. You can read our affiliate disclosure in our privacy policy.
What are the Best Time Tracking Software and Apps?
The following are the best time tracking software and apps right now.
Best for setting up workflows on one platform.
Monday.com works a treat if you're looking to manage all your time tracking processes (and more) from one single dashboard.
By organizing your workflows through this time tracking app, you can see what's happening at a glance within your team and easily switch between different projects.
By setting up workflows with Monday, you can create tasks for each of your employees so that everyone is on the same page.
In addition, these tasks are automatically added to everyone's calendars, so everyone knows exactly when and where they need to be to get things done.
Using Monday's productivity features when it comes to task management software makes it a powerful time tracker that will give you the best of both worlds: an intuitive app for your team members and complete control over all processes within the company.
You're also able to integrate Monday with your currently existing tools so that time is tracked along with other important details. This can be useful if you're looking to streamline your workflows into something that works perfectly for the company as a whole.
Features:
Customer support available at all times during the day ensures that you get the help you need whenever you feel like you might be overwhelmed.
Monday's focus on workflows makes it easier to manage employees' time – even right from their mobile device.
Using custom views you'll be able to track how your time is spent and what employees (and yourself) need to work on.
Use automation to save time and streamline processes. This helps to ensure that everything is reported correctly, no matter which platform the team member is on (desktop or mobile).
Pricing
There is a 14-day free trial to help you understand if Monday.com is the right software for you. No credit card is needed to set up this trial.
After the trial, you have 5 plans to choose from:
Individual: $0 (free forever)
Basic: $8 per seat per month
Standard: $10 per seat per month
Pro: $16 per seat per month
Enterprise: Contact them for a custom quote
The above prices are based on a team size of 3 seats. The prices will change based on the number of seats required. You also save 18% if you pay yearly as opposed to monthly.
Get started with Monday.com.
Best for seamlessly managing time tracking.
Wrike allows you to streamline your workflows and seamlessly manage all your projects from within the same intuitive platform.
Wrike prides itself on being a cloud-based tool that can be used to manage everything from small tasks to large projects, so it's ideal for those who want an all-in-one solution.
By using its custom workflows (that are easy to implement and use), your team will be able to track time quickly without needing to worry about wasting time trying to get everyone on the same page.
This app also has an intuitive interface, which allows team members to quickly learn how everything works without much of a learning curve. This makes it ideal for small business owners (or managers) who want their employees to be able to use Wrike with ease.
On top of this, Wrike features a complete set of timeline views that will allow you to see how workflows develop over time. This allows you to keep an eye on projects and tasks, so nothing ever gets overlooked.
Features:
Create interactive Gantt charts that allow you to see how tasks will play out over time.
Maintain clarity with reports that show what's going on and where specific work fits into the big picture. This allows managers to ensure everything is done on time and as expected
Focus on what's important in your work to make it easier for you and your team to understand tasks that need to be dealt with immediately.
See what's happened in the past, what's happening now, and predict what will happen in the future in any project – and at any point along the way
Pricing
With 4 different price plans, Wrike can help with time management strategies for any kind of team. The following plans are available:
Free (ideal for teams that are just starting): $0 per user per month
Professional (for teams that are scaling): $9.80 per user per month
Business (for a business that has many teams within it): $24.80 per user per month
Enterprise (for large-sized businesses): Contact Wrike for a custom quote
Get started with Wrike.
Best for creating a more productive workforce.
Timedoctor is one of the best time tracking options for several reasons. Employees appreciate being given a way to track their time that isn't complicated to use – and that is exactly what Timedoctor provides.
Time tracking is automated for the previously set up projects in this software, allowing you to see where the team excels and where it needs assistance. As a result of this, personal and team development may improve significantly
You'll be able to have more engaged employees on each project by tracking and analyzing how your staff is spending its time. This means that you'll also be able to accurately bill clients and, at the same time, rest assured that you aren't paying for unproductive or free time.
Features:
Using Timedoctor, you'll see how long your employees are spending on each project and task, which is perfect to harvest data that your business can use for accurate billing.
Managers receive regular and weekly reports that include hours spent, websites visited, application usage, task and client breakdowns, etc.
Encourage work-life balance and avoid burnout by avoiding excessive stress.
You can keep track of how much time you spend using particular programs or apps, as well as the amount of time spent on different sites.
Pricing
Pricing depends on the number of users in your organization. On the lower end of the scale (1 user), prices are as follows:
Basic: $7 per month
Standard: $10 per month
Premium: $20 per month
There is also a free 14-day trial included with all plans. With any chosen plan, there are no contracts and you can cancel at any time.
4. Hubstaff.
Best for spending less time tracking.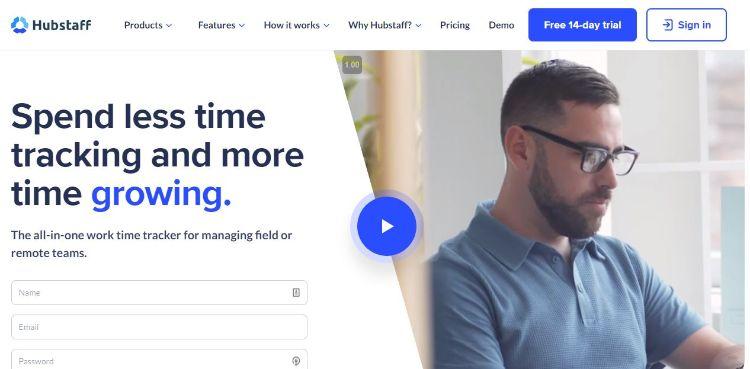 Hubstaff provides a clean, lightweight app for multiple devices.
Whether you use it for desktop, Chrome, mobile, or web app (whether you're on Windows, Linux, or Mac), you'll be able to create unlimited projects, set timers, do advanced timekeeping, and get reports all in one place.
Hubstaff is great for startups looking for an intuitive interface that makes time tracking easy so they can focus more on the business side of things. It's also great for larger organizations that have a distributed workforce.
Organizations of any size will be able to track time and receive reports with Hubstaff, allowing for accurate billing and project management.
Automating team management and billing will save you money and time, and Hubstaff is the best package for that.
Focusing on profitability in your business doesn't have to be complicated when it comes to time tracking – with Hubstaff you simply just click, track time, and let the software do the rest.
Features:
Hubstaff is used by a wide range of companies in more than 100 industries which means that it provides a variety of features to meet your needs.
Set weekly budgets or time limits for teams and receive alerts when projects exceed their budget or deadline.
Work with peace of mind that everyone knows what they need to work on as a priority and when it's time to switch tasks.
Track multiple projects by client and see exactly how your team spends their time without needing to add new timers for each project.
Use tracking data from veteran employees and combine this with onboarding software to ensure that new recruits have an ever-evolving smooth start within your company.
Pricing
With both annual (you get two months for free with this option) and monthly payment plans available, there are 3 major plans for you to choose from based on your company's needs. These are:
Hubstaff Time
Hubstaff Desk
Hubstaff Field
When it comes to Hubstaff Desk (best for team management and time tracking for those working behind a desk), the pricing plans are as follows.
Desk Free: Free for one user only
Desk Starter: $5.83 per user per month
Desk Pro: $8.33 per user per month
Enterprise: Speak with Hubstaff to get a customized plan to suit your needs
5. Paymo.
Best for keeping your team aligned and engaged.
Paymo allows you to create and manage tasks for your team, all while making it easy to see who is doing what so nothing falls through the cracks.
It's also ideal for tracking time on various projects since it allows you to easily map out the amount of time spent per task, as well as understand how much work is being done by a specific person or a certain group of people.
The app features many ways for you to see what's going on, including the ability to organize tasks into projects, sub-tasks, and milestones.
This allows you to easily focus on what's most important, keeping everything running smoothly without any hiccups or delays, while the ability to create custom reports ensures everyone is on the same page.
Features:
A desktop app and mobile apps for iOS and Android enable you to track work time while at the office or on the road.
You can also quickly identify whether someone is available for work, and see anyone that's overbooked (or even underbooked) so you can make room for any changes needed.
View a detailed list of tasks and subtasks to make sure nothing is missed, while you can also view all projects at a glance in one convenient place.
Keep your customers informed on the project's development through live and static reports.
Pricing
With 3 plans available, you have the option of paying annually or monthly.
The Paymo plans available are as follows:
Free: $0 per user per month
Small Office: $9.95 per user per month (no user limit)
Business: $15.79 per user per month (no user limit)
There is a 15-day unlimited free trial for the paid plans above.
6. Clockify.
Best for a solution that works across multiple devices.
Clockify allows you to understand your team's productivity and provides you with detailed reports about who is working on what task along with various tags and project filters.
Clockify features a simple interface that makes it easy for both managers and employees to get up and running right away. This allows your team to stay productive without wasting time fiddling with complicated features.
With the ability to set tags and labels on specific tasks Clockify allows you to stay focused on what's truly important, instead of becoming distracted by extra features that can cause confusion and delays.
Features:
Time tracking and analysis of daily tasks can be used to detect areas for improvement, determine how much time employees spend on ad-hoc requests, and give automatic time allocation to the right employees.
Invite your staff to track time spent on tasks, identify who is working on what, manage workload, and provide attendance data to payroll and accounting.
Make sure your clients know how long you've worked on their projects, how much time you spent on each task, and what percentage of the job you completed.
Create accurate invoices to send to clients based on the generated reports.
Pricing
Clockify comes with 4 standard plans for you to choose from. All of the plans (apart from the Enterprise) can be tried for free to help you understand how the app works. Here are Clockify's 4 standard plans:
Basic: $3.99 per user per month (billed annually)
Standard: $5.49 per user per month (billed annually)
Pro: $7.99 per user per month (billed annually)
Enterprise: $11.99 per user per month (billed annually)
If billed on a monthly basis, the cost of each package increases slightly.
7. Toggl track.
Best for those that want a simple time-tracking process.
Toggl Track can be used no matter the size of your company or even the working location. Whether you have one employee or a hundred, working either in the office or remotely, Toggl Track can provide the right solution for your business.
It provides all of the information about how your team spends their time through its simple interface, while also helping you stay organized by tracking specific tasks on different projects.
This is a tool that gives you valuable data regarding how long it takes to complete projects. It's perfect for teamwork because it allows managers to see how time was spent and helps with forecasting future projects based on such data.
Staying accountable inside and outside your team is a snap with Toggl Track's convenient reports. This is one of the software's best features, which is just another reason why Toggl is considered a great time tracking software.
Features:
Set up Toggl Track to suggest time entry ideas based on the program you're using (for those that are more forgetful).
Toggl Track's Calendar view includes a calendar event's date and time, allowing you to add or start time entries based on scheduled events.
With one of Toggl Track's main functions, you may automatically track every application or website you use for more than 10 seconds, then transform that data into time entries.
Send team time tracking reminders to the right people to ensure that time tracking is being done as needed.
Pricing
There is a 30 day free trial of all premium plans and well as a 10% discount when you pay annually.
There are 4 packages included with Toggl Track, as follows:
Free: $0 for up to 5 users
Starter: $9 per user per month
Premium: $18 per user per month
Enterprise: Custom pricing for unlimited users
What Is Time Tracking Software?
Time tracking software is a tool used to track the amount of time spent on specific tasks at work.
When you spend hours working on something, it may be hard to determine how much time has been dedicated to that specific project – especially if multiple people are involved in certain tasks.
This can cause people to have different views about the status of the task or even lead to arguments among co-workers about who should complete a group of tasks based on who started them or how much time has been dedicated to working on these tasks.
This is where time tracking software comes in – employees will be able to accurately track their hours while employers can easily access this information to use when making important business decisions.
Time Tracking Software – Must-Have Features
The following are the features that the time tracking software that you use should have.
Web Desktop and Mobile Tracking
The right time tracking tool should be able to track the time you spend on different tasks regardless of what device you're using.
No matter which device employees log in from, whether it's a personal computer, their mobile device, or a work laptop, they should be able to easily access the time tracking information.
This will help employers not only get more accurate data but also provide employees with more accessibility when it comes to their working situation.
Customizable Interface
The user interface needs to be easy for your whole organization to use by allowing users to personalize their account's theme, views, and displayed values – all based on whichever interface makes the most sense.
Being able to customize the interface will make using the software much easier and more efficient. Time tracking tools that give the option to customize their interface are useful when it comes to high-volume teams and could also allow for easy add-on integration with your company's branding.
Flexible Time Offsets and Shift Schedules
Since people work in different time zones and some even help out across borders, the software you use should be able to automatically adjust any schedules to local time zones and not create confusion between employees who may, for example, be finishing up a task at the end of their day.
For work schedules that aren't considered flexible, this shouldn't be much of an issue but it's always better to have features that you don't use, rather than need features that you don't have.
Customizable Work Hours
Since project management software and features are important to a lot of workplace stakeholders, the best time tracking tools will allow you to customize your workday and workweek based on your specific needs.
Depending on whether you need to track working hours for tax purposes or just want to have better insight into how much time is being spent on different tasks, being able to customize these aspects will help improve your workflow.
Overtime Tracking
Since not everyone works the same amount of time each day, some projects may require more hours than what was originally allocated (based on an estimated completion date).
Time tracking apps should make it easy for employees and employers to track and record any overtime hours worked on a task or project – this also helps with expense tracking software to ensure that nothing goes to waste.
The best time tracking software will also allow you to do this based on work week vs calendar week or month, depending on your company's preferred method of keeping track of working hours.
Calculation of Billable Hours vs Non-Billable Time
Some people may be worried about using time tracking software because they think it will show employees how much time is being spent on different tasks – even if the hours are non-billable.
The good news is, the right time tracking tool allows you to distinguish which time is billable and which is non-billable.
This means that time tracking software tools can give you a more accurate insight into what employees are spending their time on and help improve the allocation of work between different projects for more efficient operations.
Export Data to a Spreadsheet, CSV, or Other Software Programs
Time tracking features in different software and apps should allow you to export your data in a format that allows for easy integration with any other programs or services you use.
Although there may be some exceptions, the best time tracking tools will have an API so developers can create integrations with other software without needing access to your company's backend servers.
This is useful if your company uses a lot of different software for document management, email marketing, and even project management tools.
If your time tracking tool doesn't allow you to export data in a format that can be easily imported into other programs or services, you may run the risk of losing all this information and wasting valuable time trying to find an alternative solution.
GPS tracking might also be something to consider when it comes to exporting data. This enables you to easily see which team members are working from a remote office, as opposed to an office facility that has been assigned to them.
Dashboard, Reporting, and Email Notifications for All Users in the Organization
Time tracking solutions should allow all employees to view their work hours and productivity in real-time.
This will help managers (and the employees themselves) see where online time is being spent within an organization so they can better allocate projects between different teams or departments.
The best apps for employee monitoring working hours will also include reporting features that give managers at every level access to task updates, progress reports, and status updates for all their team members.
Another reason why the right time tracking apps should provide email notifications is that they will help managers keep track of updates within different teams and projects without having to constantly check upon them.
Some apps also send screenshots attached with the emails to ensure that employees are not being distracted by third-party websites.
Team Leaders Can View Reports of Their Subordinates
The right time tracking software will allow managers to see how much time employees are spending on different tasks and projects, depending on their current stage of completion.
By allowing managers to look at their employees' timesheets, this will enable team leaders to better allocate work and give more specific instructions so they can get a more accurate idea of what employees are currently working on and where their strengths and weaknesses lie.
It also means that managers can be more rigorous when it comes to setting milestones for tasks and deadlines, while still having the ability to monitor progress.
Integrates with Other Software or Services You Use
Project managers can use time tracking systems to get a better feel for the workload of their team members, but this will be less effective if they have to switch from software to software to get the required data.
Time tracking apps should allow you to integrate with other services and programs that your company may already use and save time by not forcing employees to do extra data entry.
Almost all of the best (and simple to use) time tracking software and apps also offer integration with popular platforms like OneDrive, Dropbox, Google Drive, or Slack in order to provide timely data backups.
This enables you to easily (and automatically) upload files for access by all team members without having to switch between different applications every time.
Ability to Assign Tasks to Employees in Specific Projects or Teams
Finally, the best time tracking apps will also give managers the ability to assign tasks and projects to different team members from a central interface.
This way, they can easily monitor their progress and make adjustments where necessary without having to constantly contact them for updates.
Being able to understand when employees clock in and what work they're able to handle is important to ensure that no one suffers from burnout.
Other Notable Mentions When It Comes To Time Tracking Software
While the above list is quite comprehensive, other tools can help with tracking time.
While some of the following software and apps are not technically time tracking software, they do have simple time tracking features that might suffice for those that are looking for a quick, simple solution to getting stuff done.
This type of software includes:
Asana
Trello
Quickbooks
Basecamp
Jira
Google Calendar
Microsoft Teams
As I said, while the above are not ideal in the long run, having the right templates when working with the above software can help at the very beginning.
Keep in mind that many of the above-listed time clock software also have a free plan that you can use to decide if the solution is right for your company's needs.
Wrap Up.
All of the best time tracking apps are designed to work seamlessly with other programs and services that you already use in your company.
Time tracking apps can provide detailed reports, analytics, and frequent update notifications for managers at every level while still offering basic functionality like user signups, project setup, and task assignment at no extra cost.
To summarize, the best Time Tracking Software and Apps are:
Monday: Best for setting up workflows that work beautifully on one platform.
Wrike: Best for seamlessly managing time tracking within multiple projects.
Timedoctor: Best for creating a more productive workforce in seconds.
Hubstaff: Best for spending less time tracking and more time growing.
Paymo: Best for keeping your team aligned and engaged.
Clockify: Best for a time tracking solution that works well across multiple devices.
Toggl track: Best for those that want to turn time tracking into a simple process.
By keeping the above-mentioned features in mind when choosing a time tracking app, you will be able to pick the perfect software and start monitoring your team's working hours and productivity like never before.
Which time tracker do you use for your company? Let me know in the comment section below.
Disclosure: I may receive affiliate compensation for some of the links below at no cost to you if you decide to purchase a paid plan. You can read our affiliate disclosure in our privacy policy. This site is not intending to provide financial advice. This is for entertainment only.