7 Best Translation Software of 2023 (Ranked for Business)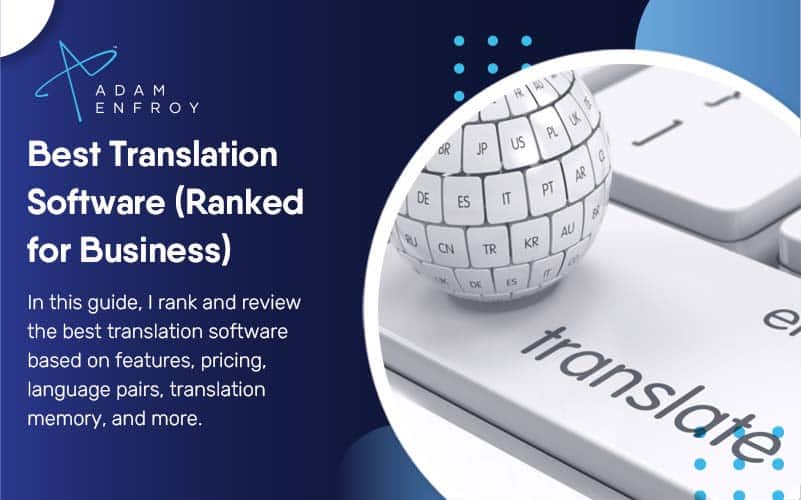 In such a connected global economy, businesses cannot afford not to communicate across various languages.
As a business, there are many ways to get your message across.
These range from OCR software that can read and translate physical documents, to mobile apps that can interpret real-time conversations, as well as closed captioning services for live events and webinars.
Translation software provides a cost-effective and affordable solution in all these cases.
With DeepL and Google Translate being two of the most popular options, many people have bridged the language divide using these online translation tools.
However, for businesses, there is a lot more at stake than just getting the message across – accuracy and precision are paramount in order to avoid costly misunderstandings.
This is where translation software really comes into its own, with many of the best options offering human support to ensure that your translations are accurate.
In this article, I'm going to review what I believe are the best translation software solutions for businesses right now, solutions that allow businesses of all sizes to quickly and easily translate their content.
Let's dive deep into this topic.
What Are The Best Translation Software?
The following are some of the best translation software programs on the market today.
1. Weglot.
Best Overall For Translations.
Weglot is great for those that want to make their website multilingual.
It also needs little to no technical knowledge to get started.
Compatible with all significant CMSs (including WordPress), Weglot offers easy integrations and takes minutes to get started.
With the functionality to automatically detect and translate old and new content, you can set it and forget it – making Weglot an excellent solution for busy business owners.
You can even set it to allow your site to be displayed under various language subdomains to avoid any potential Google penalties for duplicate content.
You'll simply need to manage one version of your site, and Weglot can easily do the rest.
Key Features:
Multilingual SEO allows you to rank for multiple keywords in different languages so that you can reach a wider audience.
Editing translations is simple and easy to do with Weglot, even if you're not a technical user.
Translated website displaying is hassle-free – your translated site will look just like your original one.
Visual translation editing lets you see what your translated site will look like before it goes live, so you can make changes if needed.
Weglot uses machine translation to translate your content quickly and accurately.
Automatic translation workflow means that once you've set up Weglot, it will automatically detect and translate new and old content on your site.
No code install required – Weglot can be set up in minutes without any coding knowledge.
User Experience:
If you want to enter your source text and have it automatically translated into another language, Weglot is an excellent option.
The visual translation editor is also helpful if you want to see what your translated site will look like before it goes live.
Pricing:
There are various pricing plans to consider with Weglot:
Starter: €99
Business: €190
Pro: €490
Advanced: €1990
Extended: €4990
These are all paid every year and cater to a set number of words.
There's also an enterprise solution, starting from €9990.
What I Like/Dislike About Weglot:
Like:
The Weglot team is incredibly efficient when it comes to customer service and support.
Their translation product is straightforward to set up and use, making the learning curve practically non-existent.
Dislike:
It would be great to have more languages as time goes on to cater to a broader audience.
Product Updates:
The activity log now shows all actions done on the Weglot account, from translation creation to language changes.
The new translation list filters make it easier to manage your translations by allowing you to filter them by status, type, and language.
2. Translated.
Best For Expertise Industries.
Translated combines the power of machine learning and expert humans to provide high-quality translations for businesses of all sizes.
With more than 190 languages included in their services, Translated can handle translations for any global business.
The great news is that the software also works in as many as 40 expertise areas, which means that you can get highly-specialized translations for your specific industry.
Plus, with the help of their managed services team, you can get one-on-one support for all your translation needs – ensuring that nothing falls through the cracks.
With an API that makes integrations a breeze, Translated is an excellent solution for businesses that need to get up and running quickly.
Key Features:
Custom localization solutions mean that you can get your site or app translated and localized for any market – no matter how niche.
You can ensure that all your legal documents are translated accurately and officially recognized with official translations.
Multilingual DTP ensures that your marketing materials are translated and designed correctly for global audiences.
Video subtitling means that you can reach new audiences by subtitling your videos in multiple languages.
Software localization ensures that your software is translated and works correctly in global markets.
Google Ads translation means that you can run ads in multiple languages and reach new customers.
Whole website localization means that your website will be translated and optimized for global search engines.
User Experience:
Using the MyMemory app, Translated has created a translation memory that provides context for translations – making them more accurate.
This is especially helpful if you're translating complex technical terminology but want the system to remember what was done before.
Their managed services team is also very responsive and can help with any issues you may have.
Pricing: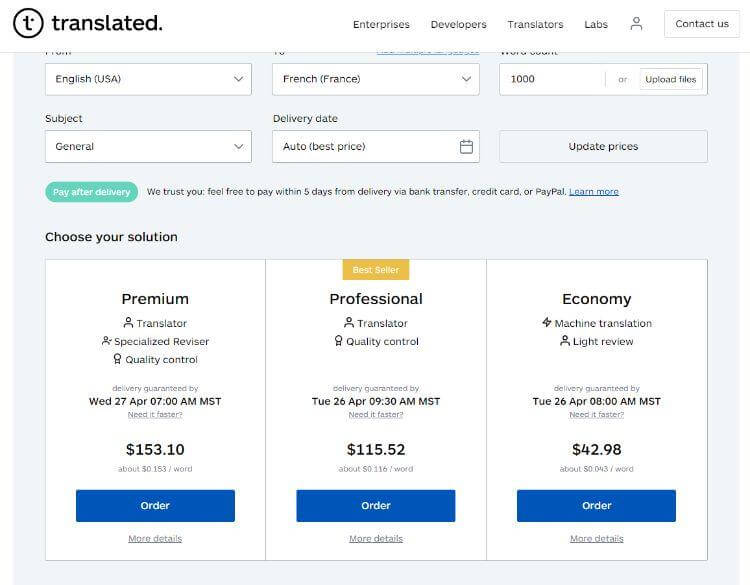 You can get an instant quote for your specific project on the Translated website.
What I Like/Dislike About Translated:
Like:
Solid background in various industries means getting high-quality, specialized translations.
Deadlines are always met, so you can ensure that your project will be completed on time.
Dislike:
Unstable pricing system due to the ever-changing nature of the translation industry.
Product Updates:
To invest back the profits made from Translated's site, they've created Pi Campus, a nonprofit foundation. This allows the platform to give back to the language community.
3. Crowdin.
Best For Agile Localization.
Crowdin is a cloud-based software that lets you organize your localization efforts more efficiently.
It's the ideal location to manage all of your multilingual content since it uses an intuitive interface and a project management system that one can tailor to your company's needs.
Providing an Agile localization for multiple firms, Crowdin is an excellent tool for streamlining your translation processes.
If you want to get the best out of content, tech, and people, while streamlining your localization processes, Crowdin is one of the best software to consider.
Key Features:
View progress in real-time and get detailed reports to know precisely how your localization project is going.
Flexible workflow with integrated tools means that you can customize your process to fit your needs.
Edit text copy without coding so you can make changes without having to hire a developer.
Use a specific agency or your translators so you can work with who you want.
Bring all your content together in one place so you can manage everything in one software.
User Experience:
With a user management dashboard that makes it easy to see who is working on what, Crowdin is an excellent software for managing your localization projects.
You can use the left-hand side menu to access all of the software's features, making it easy to navigate.
Pricing:
There are three plans to choose from:
Free: Great to test out the software
Pro: from $40 per month
Team: from $140 per month
What I Like/Dislike About Crowdin:
Like:
It does not require any heavy installations on your computer, so you don't need to have the latest computer to use it.
The prompt responses to queries are also a big plus since you don't need to wait around for customer service.
Dislike:
It would be beneficial to have more support videos that show how to use the software.
Product Updates:
The ability to search TM records across all TMs means that you can find the information you need more quickly.
They also added new languages to Watson IBM, meaning that you can translate your content into more languages.
4. SDL Trados Studio.
Best For Their CAT Expertise.
Any translation expert understands that ensuring accuracy and speed when delivering translations and content localization is a must, and this is where SDL Trados Studio comes in.
This software is designed to meet the needs of freelance translators, language service providers, and large organizations that need to translate documents or content quickly, accurately, and efficiently.
Using the power of Computer Assisted Translation (CAT tool) to increase productivity, SDL Trados Studio also includes features such as automatic quality checks, translation memory, and terminology management to ensure the highest quality translations.
With more than a quarter of a million users, SDL Trados Studio is one of the most popular and trusted translation software.
There is also quality assurance built into the system, allowing you to be confident in the accuracy of your translations.
Key Features:
High-quality neural machine translation allows you to translate more quickly and accurately.
Enhance your translation quality with terminology management so no matter which target language you're translating to, you can be confident in the accuracy of your translations.
The complete translation environment for Freelance Translators gives you everything you need to get the job done quickly and accurately.
User Experience:
With handy features such as batch tasks that let you automate your workflows, SDL Trados Studio is a great software choice for those who need to translate documents quickly and accurately.
With a set editor window, you can see all the text involved and easily make changes as needed.
Pricing:
You can try the Studio app free for 30 days to decide if it's the right fit for you.
You can then purchase Trados Studio Freelance Edition for $629 or Trados Studio Freelance Plus Edition for $765.
What I Like/Dislike About SDL Trados Studio:
Like:
File conversion into different formats allows you to work with various files and easily share your work with others.
Sharing a single file to get it translated is a great feature that allows you to collaborate with others on your translation projects.
Dislike:
Little tricky for a new person in the industry since not much guidance is provided.
Product Updates:
Enhanced Translation Quality Assessment (TQA) interface ensures that you can quickly assess your translations' quality.
The Advanced Display Filter upgrade makes finding the information you need when searching through files more accessible.
5. Text United.
Best For Quality Assurance.
Using the power of both professional human translators and technology, Text United is an excellent tool for teams who need to translate content quickly, accurately, and efficiently.
For those brands that want to localize their content, Text United is an excellent solution.
Whether you want to bring your website, communication, or marketing collateral into new markets, Text United can help.
Text United also offers a full range of services, from content management to quality assurance, so you can be confident that your localization project is in good hands.
If you want to take your customer relationships global, Text United can help you bridge the gap with accurate translations.
Key Features:
eLearning & Education translations help you to understand the local language and culture.
Software localization is helpful for developers to understand the code.
Capture multilingual feedback that helps you improve your product or services.
The ability to reuse translations saves your time and money.
User Experience:
Having various apps depending on whether you are on a desktop, mobile, or tablet helps manage the workflows.
In addition, the user experience is straightforward on all platforms, with responsive devices that allow you to get the job done.
Pricing:
There is no risk involved when trying Text United to see if it's the right fit for your business with a fourteen-day trial.
You can also request a demo to see the software in action and learn more about how it can help you achieve your localization goals.
What I Like/Dislike About Text United:
Like:
In real-time, you can see the percentage of text that has been translated as part of the follow-up process, which is ideal when it comes to knowing how your project is progressing.
Because of automated pre-translation, the translator's work is made much more accessible.
Dislike:
The tool's method of splitting the text into little clauses impedes more general comprehension.
Product Updates:
Terminology Manager is integrated with machine translation engines to get accurate translations of your technical terms.
6. LingoHub.
Best For Collaboration.
If you want to bring collaboration into your localization process, LingoHub is an excellent option.
This tool makes it easy for teams to work together on translation projects so that you can get the job done quickly and accurately.
LingoHub also offers a full range of features, from machine translation to quality assurance, to be confident in the accuracy of your translations.
You can also automate the tasks that you need to do to save time, such as creating new language versions of your content.
There's also localization available for software developers so that you can ensure your software is ready for a global market.
Whether you create games, apps, or software, LingoHub can help you reach new markets.
Key Features:
The translation history feature allows you to track the progress of your translations so that you can see how well your team is doing.
Translation Memory helps you save time by reusing previously translated content.
Mobile SDK with OTA allows you to update your app's language without resubmitting it to the app store.
A translation management tool for editors & translators gives you everything you need to get the job done quickly and accurately.
Localize your Android & iOS apps for the world with LingoHub so that you can reach new markets.
Continuous translation management helps you to keep your content up-to-date.
Pricing:
The following are the pricing plans to consider:
Starter Plan: €24 / month
Basic Plan: €49 / month
Professional Plan: €99 / month
Enterprise Plan: Get a custom quote
All of these are billed annually.
7. Pairaphrase.
Best For Enterprises.

Pairaphrase is a web-based business translation management system that helps streamline enterprise translation processes and improve translation quality and consistency.
Pairaphrase also offers businesses a full range of features, bringing premium language translation technologies to your fingertips, documents, and web content.
With a web-based system (TMS) that improves human translation processes, you can manage your projects more efficiently.
There's also a big focus on security to ensure that your company data is always protected.
With the ability to translate as many as 24 file formats on their cloud-based platform, you can work with any content required.
Key Features:
10,000 language pairs mean that you can work with any language, no matter how rare or niche.
The cloud-based file translator means that you can work with files of any size without worrying about file transfer limits.
Automatic output file formatting ensures that your translated files are correctly formatted and easy to read.
A translation wizard is included so you can follow a quick and easy process to get your translations done in a simple step-by-step process.
Pricing:
There are four pricing plans available to choose from:
Tokyo: $3,399
Paris: $5,988
Hong Kong: $10,999
New York: $19,999
All of these have a set number of words (per year) that you can get translated.
What Are Translation Software?
While the traditional translation process can be time-consuming and expensive, translation software provides businesses with a more efficient and cost-effective solution.
Various types of machine translation software technology is used to automatically translate your content into multiple languages.
This can save you a lot of time and money, as you won't have to hire professional translators to do the job for you.
In addition, the right translation software tool can also help you improve the quality of your translations, as it can provide you with accurate and up-to-date translations that are already industry-dependent.
Factors To Consider When Choosing A Translation Software
When selecting the best translation software for your business, keep a few things in mind.
1. The Type Of Translation Required.
The right translation tool will depend on the type of content you need to translate.
For example, if you need to translate technical documents, you'll need a tool to handle this type of content.
2. The Language Pairs Supported.
The top translation software tools usually support a range of language pairs.
This is defined as the languages that the tool can translate between.
Ensure that the tool you're considering supports the language pairs you need.
3. The File Formats Supported.
Most translation software tools can handle standard file formats such as DOC, PDF, and TXT.
However, some tools may also support less common file formats such as HTML, XML, and SGML.
Based on your specific needs, these formats might come in handy.
4. The Price.
The best translation software tools can be expensive.
However, there are also some high-quality options available that also offer free trials that you can test out.
When considering the price, be sure to consider the tool's features and quality.
While translation costs can be a major factor to consider, remember that the quality of your translations is also important.
5. The Features Offered.
If you want to translate multiple files at once or if you need to collaborate with others on your translations, then you'll need a tool that offers these features.
Some tools also provide features such as automated translation memory, saving you time and improving translation quality.
6. Translation Memories
Your translation project will likely include a lot of repetition.
Translation memory can save you time by storing your previously translated content and allowing you to re-use it for future projects.
7. The User Interface.
The user interface is how you interact with the software.
Make sure that the tool you choose has a user-friendly interface that is easy to use – without a huge learning curve involved.
8. Technical Support.
If you run into any problems using the software, then you'll need to be able to contact technical support for help.
Check if the company offers email, phone, or chat support before purchasing the tool.
9. Proofreading
Some systems also provide human proofreading features, which can be helpful if you're not confident in your translations.
This can help to ensure that your translations are accurate and free of errors.
Some even give you specific notifications as soon as a translation is completed, so you can know right away when the content is ready to be moved to the next step.
Wrap Up.
Professional translation services will always be necessary for certain types of content.
However, modern translation software provides a more efficient and cost-effective solution for most businesses.
When choosing the best translation software tool for your business, keep in mind the various available features and options.
To recape, the best translation software right now are:
Weglot: Best Overall For Translations.
Translated: Best For Expertise Industries.
Crowdin: Best For Agile Localization.
Choosing good translation software for your business is essential to save time and money while ensuring that your customers receive accurate and up-to-date translations.
Have you ever used translation services before?
What features did you like most about them?
Let me know in the comments below.
Further reading on AdamEnfroy.com: Want to help your customers make the most out of the content you produce?
Check out this list of the best transcription software that can help you turn your audio and video content into text.
Or, if you're looking for ways to improve your grammar and writing, check out this list of the best grammar checker tools.
Disclosure: I may receive affiliate compensation for some of the links below at no cost to you if you decide to purchase a paid plan. You can read our affiliate disclosure in our privacy policy. This site is not intending to provide financial advice. This is for entertainment only.