Trello vs. Monday: Which is Best in 2023? (Detailed Breakdown)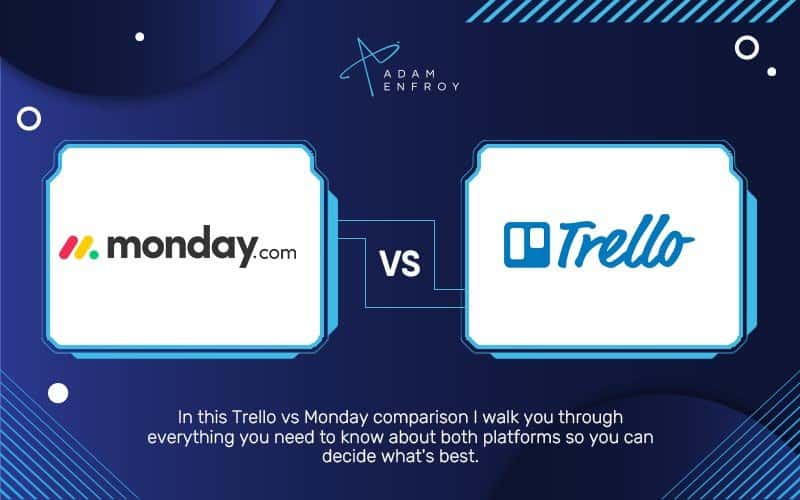 Project management tools are the backbone of so many businesses both online and off.
Each year an insane amount of project management software solutions hit the market making claims to make your business run easier and more efficient by a massive amount.
The reality is that it comes down to choosing the right one for your business and that is what matters more than anything.
So in this Trello Vs Monday comparison I am going to make show you everything that you need to know in order to decide if one of these tools is the right one for you.
Looking to compare some other project management software tools?
Trello Vs. Monday: Project Management Software Overview.
Both Trello and Monday are well-known project management tools for project managers. They help you organize your projects, stay ahead of deadlines, and improve your efficiency as a team.
Trello:
Trello is a project management and collaboration tool that lets you organize your projects into boards. It's a useful web and mobile application that makes collaboration and productivity simpler.
Each board features a set of lists on the left side. You can add different cards to different lists and additional information such as checklists, due dates, and labels to them.
Trello is also a Kanban board tool that is part of the Atlassian suite. If you're not familiar with Kanban boards, it's a workflow methodology to keep your content organized.
Each project can consist of several boards. You can see all board members in columns – and move the cards from one column to another after a task gets finished. Trello's free plan that is sufficient for a small business is also a bonus.
Monday.com is a project management and team collaboration software and a Trello alternative with tools to keep your projects moving. It comes with features like checklists, time-tracking, timesheet navigation, notifications, timeline view, and more to help you get stuff done.
It brings all your work into a single space, organized around the people and projects that matter most to you.
While Trello specifically focuses on Kanban-style boards, Monday gives you access to different layouts. With Monday.com, you'll get access to the Kanban layout, Gantt view, Timeline view, Table view, Chart view, Calendar view, and more.
Other core features include customizable workflow templates, automation to eliminate repetitive manual work, automated reminders and notifications, messaging, and more.
Trello Vs. Monday: Detailed Comparison.
1. User Interface.
Most companies use project management software to aid in the organization of their employees' tasks. An excellent user interface, which includes intuitiveness, can be an essential success factor.
Trello:
On the surface, Trello might look like a simple jumble of colorful sticky notes… but it can be much more when you need it.
Trello is a web-based Kanban project management application. It offers a visual interface where you can drag and place cards (containing project details) from one list to another.
Using Trello, you can organize your current tasks into lists, add notes and details to each task, label each task with its current status, assign a due date or deadline to a task, and more.
Plus, you can move each task from one list to another as it progresses through various steps in your workflow. And all of these actions are decidedly easy to perform since you just have to drag and drop the cards from one column to another.
The overall Trello board is a visual Kanban-style board and represents an overview of projects, tasks, and other information. That said, you can also view key timelines, assignments, data, and more directly from your Trello board with Trello Premium.
You can also organize and access all your boards in one location, called Workspace. Your Workspace will be a group of boards and people that you can use to manage side hustle, your team, or projects.
The next step would be to create "Boards" – that's where you'll add cards ordered on lists. The board will help you manage projects, track information, or organize anything.
You can either start from scratch or pick from hundreds of templates from the Trello community. They have multiple templates for different requirements and industries.
For instance, here's the "Remote Team Hub" workflow template from the category "Remote Work."
The lists and cards are already set up for you, although you can still customize them the way you want.
Overall, it's an excellent tool for managing workflow and prioritizing tasks.
The user interface also makes your work process more transparent and easy to follow, even if you work as a team. The cards based interface makes it easy to understand how your work is organized and who's involved in completing an individual task.
In addition to the online application, everyone can access Trello from any device as long as they have an internet connection.
Monday:
Monday has a visual interface that allows everyone on the team to see what's due, when it's due, what's getting done, and who's responsible. This way, you can eliminate unnecessary meetings and improve team communication.
This nifty task management tool (to-do lists & more) is straightforward and pleasing to the eye. You can also configure everything based on different color schemes, including setting upcoming and overdue dates at a glance to stay on top of your work.
A ton of in-app onboarding guides, tutorial videos, and self-help articles also help you get the hang of the product. Adding projects, creating tasks, and more is simple, and getting familiar with the user interface wouldn't take more than a few minutes.
The drag-and-drop layout also contributes to its ease of use. The drag-and-drop function makes the tool easier to use and better for visualizing reports of your projects or just about anything else.
You'll have a "Workspace" – that is a way to organize your boards by team or project in one place.
Next, you'll have to add a board (add as many boards as you want) and members to the workspace.
You can either build a board from scratch or choose from multiple templates offered by Monday.
You can browse from different categories, including Marketing, Content Production, Project Management, and more. You can pick one and even customize the template further to align with your requirements.
Picking a template means the dashboard comes all set up – with the entire workflow ready for you so that you can start anytime you want. And you can still customize it the way you want.
For example, the "Recruitment and Onboarding" workflow template comes with three ready-to-use boards, namely the Recruitment pipeline, Employee onboarding checklist, and Employee directory.
This template helps you with everything, from applying to onboarding. You can use it to manage the entire recruitment and onboarding process – all from one centralized location. And there are over 100 such templates to choose from based entirely on your industry and requirements.
Final Verdict: It's a Draw.
Both Monday and Trello have a drag and drop and attractive user interface, contributing to their ease of use. However, you might find Trello slightly easier to use since it doesn't have as many layout options and features as Monday.com has.
2. Project Management and Task Management.
Project management and task management help you organize your projects and prioritize your work.
Let's see how Trello and Monday perform in this department.
Trello:
Trello is a simple project management tool that will help you to focus better, plan, and track your work.
When you open Trello for the first time, you see a completely empty board. It's waiting for you to click the + button and start adding boards, lists, and cards. You can add a title and a description to your cards, start adding tasks and due dates, set priorities, and attach documents.
The system of boards and cards lets you replace email and spreadsheets while offering the benefits of both.
The Trello board consists of many lists, columns, and even more cards. Lists contain cards that contain information: you can use them for planning and collaboration, among other things.
You can use all these elements to create a workflow for project management and task management.
Luckily, Trello offers a built-in project management template that is already set up for you.
You can start by adding your team members, adding tasks, and assigning them to your team. You can do so using cards in your columns, called lists.
The cards let you perform multiple actions to keep track of your projects and tasks assigned to members. They also help you manage the flow of the work and tasks by arranging them with proper hierarchy and using color-coded labels.
You can start by adding the project description, comments to relay the task and even attachments for better understanding. What's more, you can add the due date, the task's status and assign it to anyone you want.
Other options include adding a cover image, location, a checklist, power-ups (third-party integrations), and more.
The ability to add colored labels to cards is also a great functionality to sort tasks and projects. For instance, you can add a red-colored label to mark urgent projects.
You can also enable color-blind-friendly modes and create custom labels with colors of your choice.
Collaborating with your team using Trello is also simple. You and your team can easily comment and mention someone using @ in the card – and the person mentioned will also get notified via email.
You can also add emojis and link another card or even board directly in the comments.
Another helpful feature is the ability to add a Loom video. You can comment with a video of your camera, screen, or both using Loom. It's faster than typing or meeting live.
You can also run some functions on autopilot using Trello's automated actions. It can automate actions like removing the card, moving the card, adding labels after specific actions, and more.
For instance, you can get Trello to add the urgent label on a task after it surpasses the due date.
All in all, it's convenient how you can see everything at once and streamline your tasks and workflow.
Monday:
Monday, a project management and task management app that's available for both Android and iOS devices is an excellent solution for streamlining your to-do list.
It helps you engage the whole team, so everyone has a clear picture of what everyone is working on and why they're working on it.
One of its key selling points is that it.com offers both high-level visualization for overall projects as well as detailed task management to help you organize your tasks.
Just like Trello, Monday.com also comes with ready-to-use project management templates. And not just one, you get access to five templates for different scenarios.
Five built-in project management templates include:
Work calendar
Single project
Advanced single project
Advanced project management
Project requests and approvals
Each template is effective for different requirements and activities.
For instance, the Project requests and approvals template helps you handle incoming project requests in a central place. It also notifies you and your team in real-time to keep everyone updated with project status, sudden changes, and more.
There are even different types of layouts that you can switch to depending on the nature of your work.
For instance, if you want a quick glance at your project timelines and see how long it would take to complete a task or project, you can switch to the Timeline view.
Other layouts include the calendar view, chart view, table view, form layout, kanban layout, workload, Gantt charts, etc. Multiple views and layout options are some of its key selling points.
You can also set milestones and due dates, add labels like "Stuck," "Working on it," and more.
Monday also lets you keep your files and conversations in a single place, update your team about your progress, and notify team members when you mention them.
You can also add additional columns to perform extra functions.
Some prominent columns include:
Checkbox
Item ID
World Clock
Location
Status
Subitems
Color picker (to manage design system using a color palette)
Time tracker
The only downside is that its way of communicating across the team isn't as streamlined as Trello. A new section will open up if you want to discuss something with your team. That said, you can access it directly from the board.
Aside from this, Monday also enables resource management to monitor the resources required for a project. You can also add different widgets to your personal dashboard, including a battery, a to-do list, quote of the day, etc.
The battery widget is especially convenient since it helps you monitor the completion status of your projects.
All in all, Monday.com is an advanced project management platform suitable for both small businesses and large enterprises. And its advanced features don't take from its ease of navigation either.
Final Verdict: Monday.com.
Monday.com is the winner since it offers features like budgeting options, time tracking, the ability to add widgets, resource management, and more.
Trello is also a great and simpler alternative, especially if you're an individual or a small startup.
3. Workflow Automation.
Workflow automation can make your team more productive, organized, and better at what they do every day.
Both Monday and Trello offer automated actions and workflows. Let's see how they compare.
Trello:
Trello is an excellent tool for managing your team's workflow and covers all of the basics in scheduling, task management, and collaboration.
It has an intuitive drag-and-drop UI that allows you to build up a visual representation of your day or project ahead of time and then drag and slot everything into place.
And there's a nice side called "Trello automation" so that you can spend less time managing boards and more time executing upcoming tasks.
Here's everything you can do with Trello's automation feature:
Rules – Create rules that automatically respond to triggers, actions, schedules, or due dates. For example, when someone moves a card to the "Done" list, mark it as complete and remove all members from the card.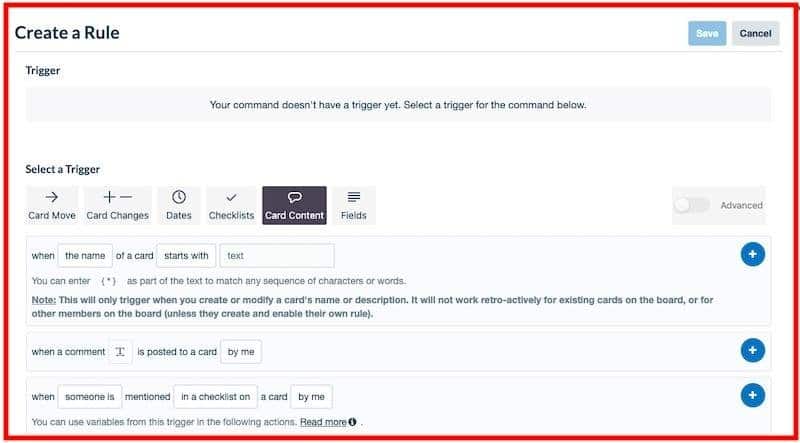 Buttons – Create buttons to perform actions you do actions most often.
Email Reports – Set up email reports, such as the weekly summary of all cards due within seven days.
These "automation" are simple to set up and can save you time and headache when used on your project boards.
Monday:
Monday.com allows you to create multiple automated workflows for your boards and emails. One of the best features is its ability to create automated scenarios for completing everyday tasks like saving information, scheduling events and reminders, and creating task lists.
For example, if you do a lot of replying or scheduling of your prospective clients to call or answer you back, you can automate the whole thing. You can also automate tasks like email notifications, status change, and more.
Monday provides multiple categories to help you automate your routine tasks.
You get access to other automation categories like:
Recurring tasks
Status change
Item creation
Due dates
Move item
Subitems
Dependencies
Here are some of the pre-built automation workflows under the "Item Creation" category:
You don't have to set it up yourself. Simply click on the "Add to Board" option, and Monday will do everything for you.
However, it allows you to create custom automation if you don't find what you need in these categories.
You can also check all your automation activity afterward to monitor all actions related to your projects and team.
Final Verdict: Monday.com.
Monday is the winner owing to its variety of pre-built workflow automations and advanced automation features.
4. Tracking Your Projects and Team.
Trello:
Trello's Kanban-style boards give you a complete overview of what each team member is working on.
And while there's no built-in activity and time tracker like Monday, you can integrate power-ups provided by Trello.
In addition, Trello gives access to visual reports and timelines, assignments, data, and more. However, these functions are only available with Trello's Premium plan and above (starting at $10 per month).
Monday:
Monday.com breaks down projects into steps and adds a way to track the progress of every day's activities. You can manage your workflow and visualize what else you and your team need to accomplish.
It even has a specific resource management template that helps you plan the use and allocation of your resource.
This way, you can manage everything – from employees to brand assets.
Other than this, there's also a workload view that gives you a clear picture of your entire team's tasks and workload.
You'll also be able to see who is working on assignments more and less than their capacity and assign future work accordingly. It's a convenient way to keep track of your tasks and team members.
Final Verdict: Monday.com.
Monday is the winner here due to its advanced features like resource management and the ability to depict workload visually.
5. Third-Party Integrations.
Integrations (or apps) allow you to connect external tools with your existing account. This means you can access them directly within the app itself, saving you time, effort, and potentially even money.
Both Trello and Monday provide tons of native integrations.
Trello:
Trello offers hundreds of integrations, or power-ups as they call them. From reporting to time tracking to custom fields, the Kanban tool allows native integration with almost every tool you are using or intend to use.
Some popular power-ups include Evernote, Confluence, Wrike, Slack, MailChimp, OneDrive, Dropbox, Google Drive, Bitbucket, and more.
Monday:
Monday.com offers various integrations with other products and services to help you get the most out of the platform.
Some of its most popular integrations include Outlook, Microsoft Teams, Dropbox, Slack, Zoom, Google Calendar, Google Drive, Excel, Gmail, LinkedIn, Jira, Salesforce, Zapier, Adobe Creative Cloud, etc.
Setting up integrations is also a one-click process using Monday's recipes.
Aside from these add-ons, Monday integrates with many other prominent project management software, CRM platforms, marketing apps, and software development solutions.
6. Monday.com vs Trello: Pricing Plans.
Trello Pricing:
Trello's pricing plans consist of a free basic plan and three paid plans.
Pricing plans include:
Free (free forever plan) – This pricing plan offers unlimited cards, unlimited members, up to ten boards per workspace, unlimited power-ups, 250 automated command runs, unlimited activity logs, assignee and due dates, and more.
Standard ($5 per month) – Everything in the Free plan + unlimited boards, advanced checklists, custom fields, 1000 automated command runs, single-board guests, etc.
Premium ($10 per month) – Everything in the Standard plan + Dashboard view, Timeline view, the Map view, Calendar view, the unlimited automated command runs, and more.
Enterprise Plan ($17.5 per month) – Everything in the Premium plan + organization-wide permission, public board management, multi-board guests, etc.
Monday.com Pricing:
Monday offers four pricing plans, including a freemium plan that lets you create unlimited boards and documents.
The plans include:
Individual (Free plan) – The plan comes with unlimited boards, 200+ templates, 20+ column types, up to two seats, unlimited documents, etc.
Basic ($8 per month) – All features in the Individual plan + unlimited free viewers, unlimited items, priority support, etc.
Standard ($10 per month) – All features in the Basic plan + timeline and Gantt views, calendar view, up to 250 automation actions per month, the ability to combine up to five boards, etc.
Pro ($16 per month) – All features in the Standard plan + time tracking, chart view, up to 25,000 automation actions per month, can combine up to ten boards, etc.
Enterprise Plan (Quote-based) – All features in the Pro plan + advanced reporting and analytics, multi-level permissions, tailored onboarding, premium customer support, two-factor authentication, can combine up to 50 boards, etc.
Note that the cost will increase with the number of seats.
Executive Summary.
As a business owner, you have to manage your business, customers, team, and tasks. You might be thinking about whether it's time for a project management tool like Trello, Asana, Clickup, Monday, etc.
Trello and Monday are the two of the best project management software. Both software solutions come with benefits like the ability to track your goals, monitor progress, and create tasks, a mobile app, a user-friendly interface, quick customization, a free version, and more.
They also have a knowledge base consisting of self-help articles and video tutorials, making it easier to use the platforms.
But you have to pick one based on key features and your business size and requirements.
Use Trello if:
You are a freelancer or a small or mid-sized business.
You like to work with Kanban boards specifically.
You want to use color-coded labels.
You are looking for an easy-to-navigate platform.
Use Monday if:
You need advanced automation features.
You want an agile platform.
You prefer color-coded blocks.
You need to track your resources and workload.
You are a medium or large size business.
This sums up my Trello vs Monday.com guide.
Which project management platform are you planning to use? Let me know by commenting below.
Further reading on AdamEnfroy.com: Here are some direct comparisons to check out:
Editorial Process:
Our reviews are made by a team of experts before being written and come from real-world experience. Read our editorial process here.
Some of the links in this article may be affiliate links, which can provide compensation to us at no cost to you if you decide to purchase a paid plan. These are products we've personally used and stand behind. This site is not intended to provide financial advice. You can read our affiliate disclosure in our privacy policy.