7+ Best Online Video Platforms of 2022 (Ranked & Reviewed)
Choosing the right online video platforms is vitally important to the success of your video content strategy. From high-quality video delivery to powerful tools for managing and monetizing your video content, the best online video platforms can help you meet your goals. In this guide, I ranked and reviewed the 7+ best online video platforms, so you can pick the best one for you.
---
We're reader-supported. When you buy through links on our site, we may earn an affiliate commission.
Video content is slowly becoming the king of online information. More than 85% of internet users prefer video over other content types.
No wonder then that online video hosting platform YouTube is currently the second largest search engine.
The live video streaming industry is also projected to have a valuation of $184.27 billion by 2027.
With that said, when it comes to video marketing businesses, free online video hosting platforms like YouTube fall short.
That's where professional Online Video Platforms (OVPs) come into the scene. These video solutions offer businesses multiple benefits, from live streaming and monetization models to video marketing support.
I'm going to discuss some of the most popular online video platforms you can try out this year based on who it's best for, its significant features, and pricing.
I'll also try and answer some common queries that you might have regarding any kind of OVP.
What Are the Best Online Video Platforms?
Here is the list of my favorite online video platforms:
Best Overall Online Video Platform.
Setplex has consistently led the IPTV/OTT panel software market with tons of expertise in the ever-changing streaming industry. To develop a solution that works, they continue to spend heavily in R&D, giving customers a competitive advantage.
They aim to be a market leader in terms of software development, with the best user experience and exceptional customer service and support. They can take care of all of your needs, from hardware to software. They provide everything you'll need for a complete IPTV solution, whether on-premises or in the cloud.
With a library of optimized and consistently updated features, their solutions allow you to monetize and deliver the best user experience possible.
Features:
With decades of expertise, the system is designed to get your platform up and running in just 24 hours.
It offers a user-friendly management interface that is designed to be simple and straightforward to use.
The software is highly scalable on-demand due to using microservices architecture with docker containers.
Their middleware enables you to directly edit the user interfaces of your applications.
Pricing:
You'll need to get in touch with Setplex in order to get a quote for your specific business.
Get started with Setplex.
Best For Multiple Features.
If you're looking for an online video platform that offers a comprehensive set of features, Loom is a great option.
It offers users the ability to record their screen, webcam, or both simultaneously. It also has a built-in video editor so you can trim your videos down to size and add annotations.
For any distributed team, these are all great features to have and can be a great way to give feedback or provide training without everyone needing to be in the same place at the same time.
Whether it's for team alignment, sales, engineering, design, marketing, or any other kind of business, Loom can help you get your point across more effectively.
Features:
Engagement insights provide you with information on how your videos are performing. This includes how many people have viewed them.
You can also embed links in your videos. This is great for if you want to share a video with someone while pointing them to an external link.
Password-protected videos ensure that only those who have the password can view the video. This is useful for sensitive or confidential information.
SSO (SAML) and SCIM (Okta) provide secure authentication and Single Sign-On for enterprise users.
Advanced content privacy gives you granular control over who can see your videos and for how long.
Custom branding allows you to add your own logo and colors to the Loom platform. This is a great way to make it feel like your own.
Pricing:
With a free version that allows up to five-minute recordings per video, this offers a great way for users to see if Loom is the right fit for them.
After that, there's the Business plan, which at $8 per month, supports unlimited videos, unlimited recording length, unlimited creators, and more.
There's also the Enterprise plan, which offers advanced admin and security for those companies that really want to lock things down. This is a custom plan, so you'll need to contact Loom for a quote.
Get started with Loom.
Best For Monetizing Videos
Uscreen is an all-in-one online video platform that offers a complete set of features for monetizing videos. Uscreen's OVP provides functionalities for live streaming as well as video-on-demand (VOD). Using this video solution, you can completely control all your uploads and successfully monetize them.
The platform makes customization a cinch for marketers through multiple themes, the ability to add subtitles and captions, and even overlay GIFs. You can also adjust the playback speed, include autoplay options, and process global payments from a single dashboard.
The one significant aspect where Uscreen differs from YouTube is that it doesn't depend on video ads for monetization. Instead, it lets you create your own VOD service that operates on a subscription model. You can even sell individual videos on a pay-per-view basis.
Features:
Unlike many online course-creation platforms, Uscreen isn't for just educational courses. You can create videos in any niche that you like, and Uscreen will deliver the content to your target audience.
The following are some of the features that Uscreen has to offer:
On-demand video streaming
Subscription-based and pay-per-view monetization model
Entirely web-based interface
Available on mobile platforms
24/7 customer support
Dedicated training resources
Bulk uploading facility
Direct social media sharing
Detailed analytics and reports
Pricing: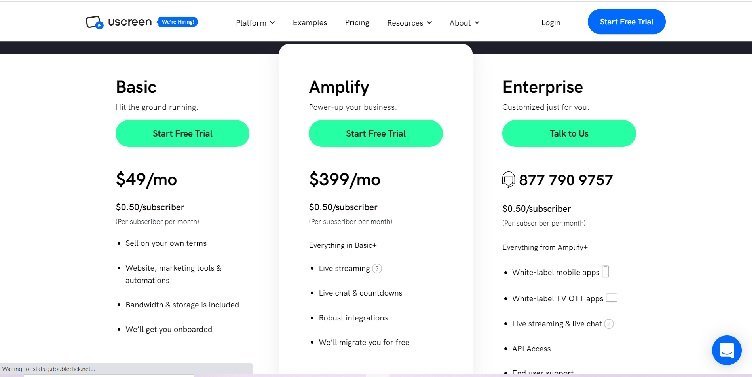 Uscreen has a simple three-tier pricing plan that scales according to your needs. Also, the free trial ensures you can get a feel of the platform before investing.
Here's a breakup of Uscreen's pricing plans:
Basic Plan at $49/month
Amplify Plan at $399/month
Enterprise Plan at custom rates
All prices mentioned above are for the yearly billing cycle. In case you're still on the fence, you can go with the monthly plans as well.
See how Uscreen could be a game changer for your business.
Best For Digital Marketing
Wistia is an online video platform that primarily focuses on digital marketing. Their expertise lies in providing a television-grade video experience that allows your business to grow its audience base.
Wistia's uniqueness lies in the fact that it helps online marketers use video to increase leads and subscribers. Using Wistia, you can create videos for remarketing purposes, target specific audience segments, and much more.
This OVP is excellent for providing personalized video experiences to customers in multiple niches. The only downside to it is that it doesn't offer the capability for live streaming. Also, it is a bit expensive, and might not be suitable for very small businesses.
Features:
All of Wistia's features allow your business to make meaningful (and profitable) connections with the audience. As a video hosting platform, it offers complete control for uploading and managing videos.
The following is a brief list of some of the platform's major features:
Fast and high-quality playback experience
Fully customizable video player
Interactive video marketing tools
Entirely ad-free experience
Dedicated channels and autoplay
Smooth integrations with platforms such as Marketo and HubSpot
Unlimited viewers and bandwidth
Ability to deliver global content
Automatic SEO
Audience tracking and A/B testing
Completely mobile-friendly
Advanced analytics
Pricing:
Wistia is one of the few platforms that offer a completely free plan for users. The free plan lets you tinker around the platform and understand whether it's suitable for your needs. Then, you can easily upgrade to one of the paid plans listed below.
1. Free Plan at $0/Month
Up to three videos or podcast episodes
Up to 250 channel subscribers
A/B testing feature
2. Pro Plan at $99/month
Up to ten free videos or podcast episodes
Up to 250 channel subscribers with email notifications
Customized video player branding
3. Advanced Plan at Custom Prices
Up to 100 free videos or podcast episodes
Multiple video and podcast channels
Over 250 subscribers with email notifications
The advanced plan also comes with third-party integration abilities, priority customer support, and custom branding. You can add extra files as you need for a mere 25 cents for the paid plans.
5. Vimeo.
Best For Professional Content Creators
Vimeo differs from social media-based video platforms such as YouTube and Dailymotion because it's more directed towards professionals. This OVP started operations in 2004 and currently has more than 90 million professionals using its services.
The one advantage that Vimeo has over other online video platforms is its flexibility. Vimeo accepts videos of multiple bitrates, resolutions, and encodings. The platform is entirely ad-free, which makes for a much better viewing experience.
Vimeo also allows you to embed videos from the platform onto your website. Bundle that with unlimited bandwidth, the ability to download videos, and fully customizable settings, and you've got a complete platform for hosting your videos.
Features:
Apart from being an excellent tool for professional content creators, Vimeo is also a good enough platform for anyone looking to reach audiences through live streaming. Its collection of simple yet powerful tools allow you to manage and share videos with a few clicks.
Here's a list of the features that Vimeo has to offer:
Live streaming and screen recording capabilities
Predefined video templates
Ads-free viewing experience
Fully private video hosting
Stock footage
Customizable HTML5 video player
Advanced analytics
Clutterless collaboration tools
The service also has the option of hiring a professional video creator for your project. Even if you're not a video expert, you can easily hire the services of one directly from the platform.
Pricing:
Since Vimeo is entirely ad-free, it's natural that it has a subscription-based revenue model. However, its pricing plans are staggered across five tiers, and you can choose the one that best suits your needs.
1. Basic Plan at $0/month
Forever free plan
Limited storage
Limited support
2. Plus Plan at $7/month
Single user plan
Up to 250 GB uploads every year
Unlimited bandwidth
3. Pro Plan at $20/month
Three users
Up to one TB of uploads per year
Unlimited Bandwidth
4. Business Plan at $50/month
Ten users
Total five TB storage
No weekly limits
5. Premium Plan at $75/month
Unlimited live viewers
Unlimited live streams
Total seven TB storage
All plans are billed annually, and every paid plan comes with a 30-day free trial. The trial ensures that you don't have to pay anything before you're satisfied with the service.
6. Dacast.
Best For Small and Medium Businesses
Dacast is a video streaming platform that provides hosting options for on-demand as well as live video. This OVP is entirely cloud-based and provides solutions for live streaming. It also has provisions for OTT streaming across mobile devices.
Using Dacast, your business can reach out to viewers all over the world through the world's top-most CDNs. The service is suitable for small and medium businesses that want to leverage video and grow their customer base.
Dacast's powerful HTML5-based video player works across multiple devices and website technologies. You simply need to embed the player on your website, and it'll work on any device without asking the user to install any plugin.
Features:
Dacast allows you to monetize your videos and supports an unlimited number of live channels and viewers. You can add live captions and subtitles, along with geo-restricting content according to viewer location.
The following is a list of Dacast's essential features:
Completely ad-free experience
API access for 3rd party player integration
Advanced video encryption features
Real-time video analytics
Low-latency streaming
Real-time messaging protocol support
Compatible with most popular mobile platforms
A large number of tools for monetizing videos
Pricing: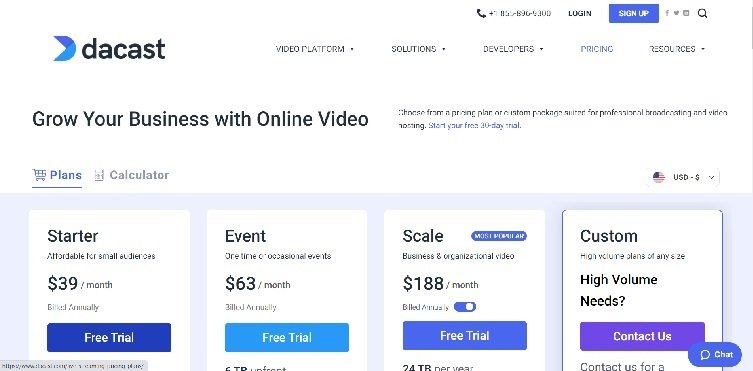 Dacast offers flexible pricing plans that are suitable for businesses of all sizes. The pricing is divided across four tiers and scales according to your needs. The following is a breakup of each plan, along with pricing. All prices mentioned are for yearly billing cycles.
1. Starter Plan at $39/month
Suitable for very small audiences
50GB storage
1080p broadcasting
2. Event Plan at $63/month
Suitable for occasions
50GB storage
Real-time analytics
3. Scale Plan at $188/month
Suitable for growing businesses
One TB storage
Advanced library management
4. Custom Plans
Includes everything in the Scale plan
Suitable for large scale events that demand high volumes
Provides additional customer support
7. Brightcove.
Best For Large Businesses
The Brightcove OVP helps large businesses and media companies provide HD, on-demand, and live videos to their audiences. This enterprise video platform includes support for over-the-top (OTT) video, dynamic ads, and even advanced analytics.
One of the best things about this enterprise video solution is that your business retains its video content's full ownership rights, unlike YouTube. This ensures that your videos don't suffer due to copyright infringement.
Brightcove's focus lies on large-scale external video distribution. The platform easily integrates with other tools such as Marketo and Google Ads Manager. Such integrations enable it to support multiple forms of marketing and deliver higher returns.
Features:
Similar to Dacast, Brightcove uses the HTML5 standard for its media player. The use of open-source standards ensures that it can work on all proprietary as well as open-source platforms. It also offers comprehensive video analytics and REST APIs.
Here's a list of the essential features of the platform:
Cloud-based transcoding
Customized video portals
Dynamic ad insertion
24/7 support
Adaptive bitrates
Supports streaming on all devices
Easy integration with marketing and social media tools
No limits on file size and video length
Compatible with multiple file formats
Pricing: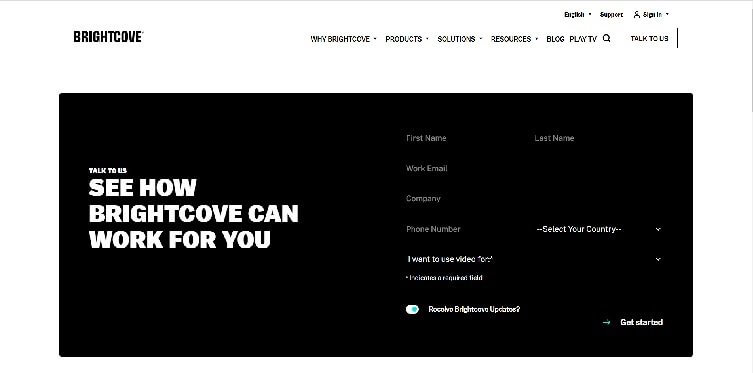 As far as pricing is concerned, Brightcove doesn't publish its pricing plans. You need to contact them directly for customized quotations for each pricing level. Their pricing plans include the following.
1. Starter Plan
Up to 200 videos
Up to 100,000 plays
Maximum of five users
2. Professional Plan
Unlimited videos
Over 100,000 plays
Over ten users
3. Enterprise Plan
Unlimited videos
Over 100,000 plays
User analytics
8. Vidyard.
Best For Lead Generation
Vidyard focuses on lead generation and helps your business integrate videos in its marketing strategy. It includes all essential features and tools for video marketing solutions that enhance viewership and audience reach.
The platform focuses on helping businesses increase their outreach. It has all of the video hosting and video publishing tools to make the process easy, from video creation to video management. It also includes options for social sharing.
Another aspect of Vidyard that I like is that the platform is backed by robust video analytics and provides valuable metrics that marketing teams can utilize. It can even integrate with other business tools such as Gmail, Marketo, and Salesforce.
Features:
In terms of features, Vidyard can help small, medium, and large-scale enterprises increase viewership. You can easily create videos using the platform from the comfort of your iPhone. It even includes a screen recording feature that might come in handy.
The following is a list of some significant features of Vidyard:
Personalized videos
Video playlists
Fast and effective video uploads and editing
Animated previews
Completely ad-free online video hosting
Easy video uploader widget
SSO and password protection
Easy video sharing and optimization
Automatic transcripts
CRM integrations
Individual-level analytics
Pricing:
Vidyard's pricing plans have four tiers: Free, Pro, Teams, and Business. Of these, the first two plans are aimed at individual creators, while the remaining two are for larger teams and businesses. The following is a breakup of each plan and its cost.
1. Free Plan at $0/month
Unlimited recording and uploads
Easy sharing via email and social channels
No credit card required
2. Pro Plan at $15/month
Password protection
Ability to reply to video comments
CTA creation ability
3. Teams Plan at $300/month
Three or more users
Customized branding
Detailed analytics
4. Business Plan at $1250/month
Five or more users
Customizable CTAs
MAP/CRM integration
9. JW Player.
Best For Adaptive Live Streaming
JW Player's forte is its adaptive streaming capabilities based on open-source technologies. It uses an HTML5 media player for streaming VOD content. The online video platform offers a full-service live streaming provider in the form of JW Live.
The platform initially started operations as a standalone video player. But its popularity propelled it to expand into video hosting. It supports advanced features such as DRM, which means you don't have to worry about copyright infringement on your content.
JW player provides video hosting solutions for businesses as well as individuals. Its primary focus is on advertising, monetizing, and streaming the best video content. It also includes support for OTT services and lets you access advanced analytics.
Features:
Apart from live streaming, this platform supports multi-bitrate transcoding and simulcasting to Facebook live. I particularly like its advertising features, which allow you to monetize your video files with ease.
Here's a list of its significant features:
VOD and Live streaming
Entirely Cloud-based operations
Customized video galleries
API integration with third-party platforms
Effortless Workflow integration
Advertising-based monetization
Allow users to watch videos in full HD
Automation-based recommendation engine
Global video outreach
Pricing:
The creators of JW Player have kept pricing plans as simple as possible. They offer a completely free 30-day trial period during which you can try out all product features. You also get 75GB streaming and 25GB hosting thrown in.
Once you're sure you can use the service for your benefit, you can opt for a paid plan:
Starter Plan at $10/month
Enterprise Plan at custom pricing
What are Online Video Platforms?
Online video platforms are internet-based services that allow you to upload, host, and distribute live as well as recorded video content. These platforms also offer businesses the opportunity to monetize their video content and use it for marketing purposes.
OVPs usually have embeddable video players that allow you to add any number of videos to your website. Since they are essentially cloud-based, you can access them from anywhere. OVPs cater to a wide range of industries, from education to entertainment.
Why Shouldn't You Just Use YouTube?
That's the obvious question that should be going through your mind, and I'll attempt to answer it here. YouTube is undoubtedly the service that started the video movement and is still one of the industry's most prominent players. But as we've seen, there are tons of Youtube alternatives.
Many services such as Kaltura, Sproutvideo, and those listed here have entered the online video market. Each of these tools caters to different sections of consumers and businesses. They also offer unique toolsets for bettering the video creation process.
The services mentioned above offer businesses and individual creators many advantages as streaming platforms. While YouTube is more focused on the generic consumer, paid OVPs allow you to target specific audiences for better traction.
Another advantage that OVPs have over YouTube is that the monetization model is not based on ads alone. Using these platforms, you can offer subscription-based or pay-per-view payment models to your consumers.
In case you're a business that needs to create videos for internal training and communication, then privacy becomes a significant factor. You can't just upload videos containing confidential business information to YouTube.
OVPs offer much better security and privacy features in this respect. Also, when you're uploading to these platforms, you retain full rights over your videos. There's no question of losing creative rights to your work.
All of these factors come together to make OVPs enticing options for businesses to leverage the power of video. But in case you're still in doubt, the following section should clear them.
Frequently Asked Questions
1. Can OVPs Integrate With Social Media Channels?
Most OVPs can integrate with popular social media channels such as Facebook, LinkedIn, and Instagram. Some services can also interface with other business tools such as Marketo and Salesforce.
2. Do OVPs Offer Video Analytics?
They do. Most popular OVPs provide insights into viewership data in the form of analytics. Some platforms even allow greater levels of granularity and segmentation when it comes to understanding video viewership.
3. Is It Better To Opt for a Paid Plan?
OVPs usually offer free trials during which you can try out the service. Some providers even offer free plans for primary use, but these options will be severely limited in terms of capabilities. It's best to opt for a paid plan to get the full benefits and results of any platform.
Wrap Up
Almost 85% of businesses prefer to use video as a marketing channel today. As a result, the demand for OVPs is only going to increase.
If you plan to make your business better by leveraging video, then choose from the following list:
SetPlex: Best Overall Video Platform.
Loom: Best For Multiple Features.
Uscreen: Best For Monetizing Videos
Whatever your video needs, I'm sure you'll be able to fulfill them from among the services mentioned above.
Disclosure: I may receive affiliate compensation for some of the links below at no cost to you if you decide to purchase a paid plan. You can read our affiliate disclosure in our privacy policy. This site is not intending to provide financial advice. This is for entertainment only.