7 Best Workflow Management Software of 2023 (Ranked)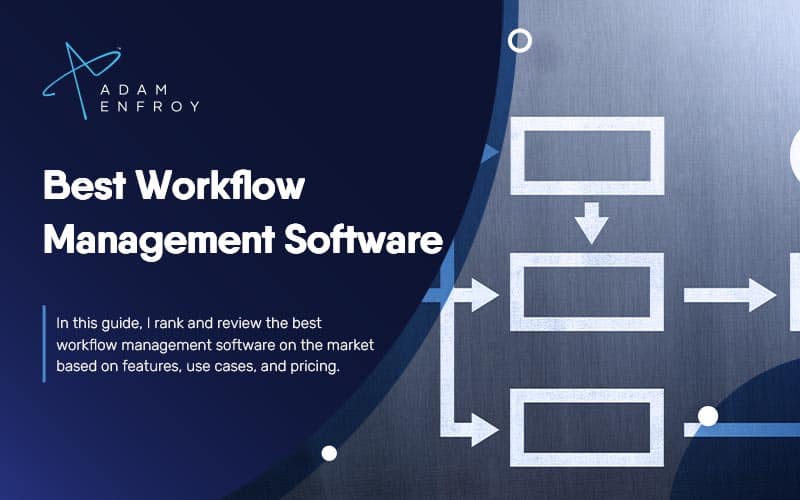 Managing workflows can get tedious if done manually, regardless of the size of your company.
And with the rise of "work-from-home," it's no surprise that the "power of the cloud" is taking over businesses in the form of project management software, BPM tools, and more.
Workflow management solutions allow users to automate workflows while following business rules, track progress and pending tasks, manage documents, and a lot more.
Making them slightly different than project or roadmap software.
Although there are different workflow management platforms out there, I believe an ideal workflow should be linear and visually fuss-free.
Today, I'll share some top-notch software that you can use to manage and optimize your workflow management processes.
Let's get into the list.
Disclaimer: This article contains affiliate links that I receive a small commission for at no cost to you. You can read my full affiliate disclosure in my privacy policy.
What is the Best Workflow Management Software?
Here are my picks for the best workflow management software on the market.
Best For Customized Visual Management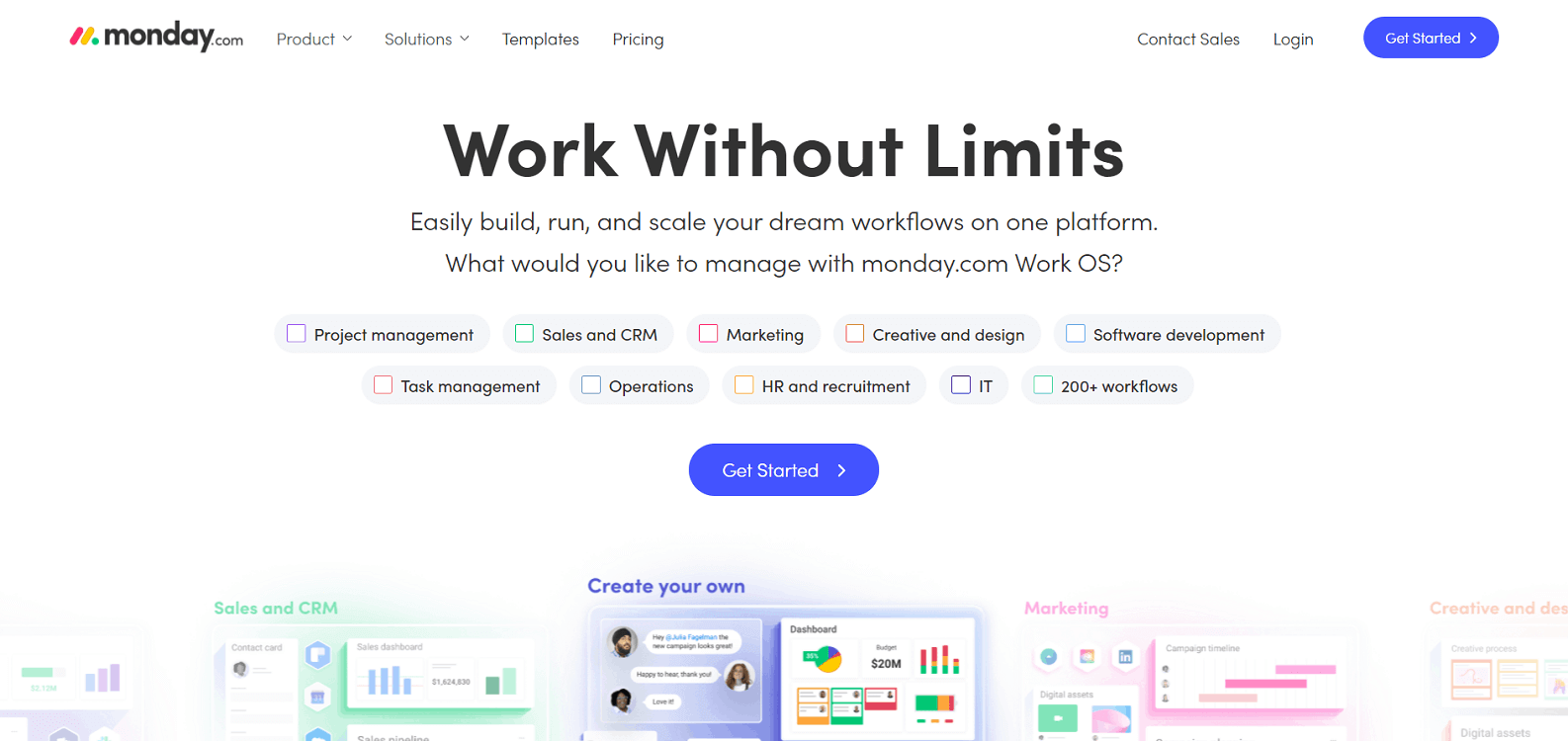 If you're still using spreadsheets to track your team activity and progress, then shifting to Monday.com will be no big deal with its customizable visual templates. Alternatively, you can create your own workflow management interface, too.
Convenience is the priority with this automation tool that lets you schedule recurring tasks. Also, there are zero chances of human errors, so you can rest assured that the result will always be flawless. This gives you more time to focus on other aspects of the business.
Overall, monday.com is so easy and visually pleasing that you don't need any training to get started. With a few drags and drops, you will be able to streamline workflow, achieve targets, and track progress, all at the same time.
Features:
With 200+ customizable templates, monday.com lets you plan, organize, and reach your business goals with ease.
Here are some notable features you should check out:
Drag-and-drop customization
Real-time updates and feedback
Multiple data visualization modes
Shareable data
Automate recurring tasks
40+ integrations
Fast search engine
Daily webinars
24/7 customer service
GDPR and HIPAA compliant
Custom access control
Pricing:
The pricing policies of monday.com are divided into five groups, each of which offers a free trial (except the Enterprise plan).
1. Individual Plan for $0/Month
Unlimited boards
Compatible with iOS and Android devices
200+ templates and 20 column types
2. Basic Plan for $8/Month
Unlimited items (tasks, projects, customers)
Dedicated customer care team
Five GB storage
3. Standard Plan for $10/Month
Guest access for team collaborations
Gantt, calendar, and timeline view
250 integrations and automation per month
4. Pro Plan for $16/Month
Private boards
Timesheet tracking
25,000 integrations and automation per month
5. Enterprise Plan
Multi-level access
Enterprise-grade management and security
250,000 integrations and automation per month
Out of the pricing policies mentioned above, the Standard plan is the most popular.
Get started with Monday.com.
Looking to compare other project management software tools?
Best For Scaling Organizations
Wrike is a game-changer for large-scale businesses that want to achieve targets with punctuality and cost-efficiency. With this workflow management solution, your team members will perform at the task level with lesser confusion and a 90% reduction in emails.
You can use Kanban boards, Gantt charts, or customize the visual dashboard to get things done your way. From task progress to project analytics- you get everything in one workspace without the hodge-podge. Even high-level project planning is visually streamlined and easy to assess.
I highly recommend Wrike for larger organizations since it prioritizes delegation of tasks, allocation of resources, and security. Plus, these aspects are taken care of with its in-house tools like Wrike Analyze, Wrike Lock, and more.
Features:
Offering 400+ integrations, it is no surprise that Wrike is trusted by 20,000+ companies. And it doesn't skimp on the number of features either.
Here are some features that help this software boast its whopping number of customers:
CRM via Salesforce
Connect via Slack (no more bulk emails)
Adobe CC integrations
Custom calendars and dashboards
Insightful analytics with Wrike Analyze
Mention/tag for comments and approvals
Custom access roles
Request forms
Doc history and version manager
Write Lock protects sensitive data
Shareable custom reports
User audit reports
Pricing:
Wrike offers four pricing plans for startups, fast-growing teams, organizational teams, and large enterprises.
1. Free Plan at $0/Month
Unlimited users
Compatible with all devices
Two GB storage
2. Professional Plan at $9.80/Month
Gantt charts
Integrations with MS Excel, RSS, etc.
Shareable dashboards
3. Business Plan at $24.80/Month
Custom fields and workflows
Branded interface
Automate workflows
4. Enterprise Plan
SSO for Wrike and integrated apps
Ten GB storage
Higher security with 2FA and password policies
Further, you can check out the personalized plans for marketing teams and services teams. Rest assured that you can try each of these during the 2-week free period.
Best For Document-driven Workflow Automation
Let's take a look at Process Street, a simple and quick process-driven tool that manages workflows, tracks progress, and facilitates collaborations. Since its free plan has no limitation on the number of team members, it's a popular pick among startups.
Process Street divides workflow management into three sections- document management, trigger-based workflows, and scheduled tasks. You can handle all of these sections with the easy drag-and-drop task manager.
While it may not contain as many features as other workflow management solutions on the list, its user-friendly interface and streamlined process make it worth a try. Additionally, its 1000+ integrations with productivity tools like Zapier and Formstack offer optimum versatility.
Features:
Process Street uses conditional logic that adapts to any type of workflow and allows transparency with its audit trail feature.
Here's a list of the standout features that Process Street offers:
Simple user interface
Intuitive keyboard shortcuts
Drag-and-drop task management
Activity feed and audit trail
Single instance, multi-stage or sequential approvals
1000+ integrations
Rich media library
Task automation
Team management
Reporting API and ETL
Process documentation
Pricing:
The pricing plans of Process Street are staggered across three tiers, each of which starts with a 14-day trial period.
1. Basic Plan at $12.50/Month
Unlimited workflows
Email and chat support
Self-guided onboarding
2. Standard Plan at $25/Month
Conditional logic
Priority support
Role assignments
3. Custom Plan
Personalized training and onboarding
SAML-based sign-on
API access
Note that these prices are for the yearly billing cycle that allows 17% savings overall. However, if you wish to test the software for a few months, you get the option to pay monthly as well.
4. Automate.io.
Best For Connecting Cloud Applications
Automate.io allows faster integrations with cloud applications, resulting in seamless sales, payments, and more. With this project management tool, you can handle simple automation and complex business processes without a hitch.
This software uses the modern iPaaS platform, which allows non-technical users to make the best of workflow automation. It does so by providing a simple and intuitive interface that shows multiple tasks, app integrations, and more at a glance.
Thanks to its drag-and-drop feature and pre-built templates, even a user with zero IT knowledge can be in control. Further, you can be productive with your entire team by sharing folders and collaborating while keeping privacy intact with personal login credentials.
Features:
Despite being extremely user-friendly, Automate.io is power-packed with essential features that help build multi-action automation:
Integrations with premium apps
Multi-action bots
Auto-retry
Single screen authorization
Drag-and-drop interface
1000+ pre-designed templates
Conditional logics
Data formatting
Time tracking
Sentiment analysis
Rest API Connector
Share folders for collaborations
Personal login credentials
HTTPS encryption
User activity and audit tracker
Pricing:
Including the free plan, Automate.io offers six pricing policies to suit every size of business and organization.
1. Free Plan at $0/Month
300 actions per month
Single action bots
5-minute data check interval
2. Personal Plan at $9.99/Month
600 actions per month
One premium app integration
Multi-action bots
3. Professional Plan at $19/Month
2,000 actions per month
Multiple integrations with premium apps
Increased bots
4. Startup Plan at $39/Month
10,000 actions per month
Auto retry feature
2-minute data check interval
5. Growth Plan at $79/Month
30,000 actions per month
Excess actions
File sharing
6. Business Plan at $169/Month
100,000 actions per month
Data controls
1-minute data check interval
The prices mentioned above follow the yearly plan which is offered at a discount of 20%. If you don't plan to commit to Automate.io, you can take advantage of the free plan or try out the paid plans for a few months.
5. Kissflow.
Best For Large Enterprises
Kissflow is your one-stop solution for workflows that require "less drama and more ease." Their tagline aptly describes the simple and unified digital interface for workflow management, project management, case management, and productive collaborations.
Boasting of 10,000+ customers that include brands like Pepsi, Flipkart, Casio, and more, Kissflow requires no coding knowledge and shows real-time custom metrics. It's surprising how the easy-to-use interface handles complex automation and boosts productivity.
Additionally, you can either add more layers to an existing app or make one from a clean slate. Since it is an intuitive platform, you need little to no effort in creating dynamic workflows and delegating work across the team.
Features:
Kissflow is a highly configurable software with advanced features, minus the hassle on your part:
Real-time updates
Custom workflow reports
Process optimization
Digital and printable process audit
Ad hoc/dynamic assignment
Code-free forms
Workflow process metrics
Automated assignments and notifications
SLA Manager
Fast integrations
Extensive APIs
Manage and share documents
"Relevant" notifications only
Pricing:
Kissflow offers three flexible pricing plans for different types of businesses.
1. Basic Plan at $16/Month
SLA configuration
Unlimited workflow and form designing
Standard form field types
2. Advanced Plan at $22/Month
SLA escalations and reminders
HIPAA compliance
Advanced form field types
3. Fully Loaded Plan at $30/Month
Dedicated success manager and on-demand onsite workshop
Two-factor authentication
All form field types
Except for the Fully Loaded plan, you can opt to pay monthly for all other tiers.
6. Zapier.
Best For Bosses On The Go
With Zapier, you can connect with apps and be productive by zapping distractions and errors. It simplifies the process of delegating and automating tasks and the movement of data across multiple web pages. Subsequently, you achieve a streamlined and result-oriented workflow.
An interesting feature is its do-it-yourself editor that allows you to set up triggers and actions without a developer's help. If that sounds overwhelming too, you can check out their informative blogs, webinars, tutorials, or even ask questions in the Zapier community.
In fact, I use Zapier for selling my course Blog Growth Engine and integrate it with my email marketing software, online course platform, and my webinar software of choice. Zapier really does do a lot and is really easy to implement.
Lastly, I appreciate how flexible this platform is with its pre-made templates that can be customized within seconds. You can create simple Zaps or complex commands according to your team's requirements. Plus, with instant notifications, you will always be up-to-date.
Features:
Zapier is a simple software with powerful features baked in. Here are some that you must check out:
Instant customized notifications
3,000+ integrations
Thousands of custom templates
Helpful support team
Certified experts for complex automation
GDPR, HIPAA, CCPA compliant
SAML integration
Two-factor authentication
Audit logging
AWS GuardDuty threat detection
In-house apps
Conditional logic
Pricing: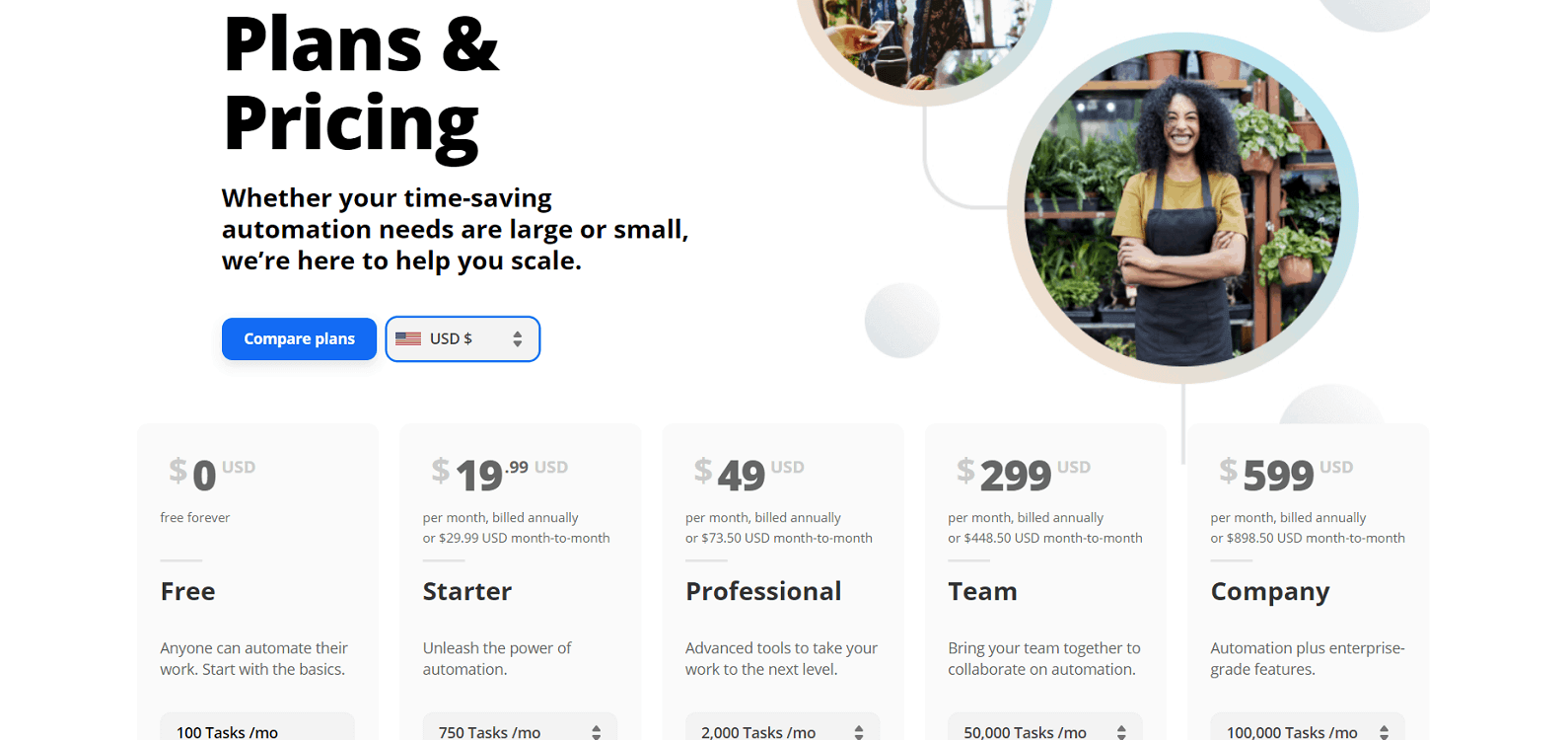 Zapier offers five pricing plans, including a free plan with core features for those who want to start from square one.
1. Free Plan at $0/Month
Single-step Zaps
Update time: 15 minutes
Number of members: Two
2. Starter Plan at $19.99/Month
Multi-step Zaps
Integrations with three premium apps
Webhook integration
3. Professional Plan at $49/Month
Unlimited Zaps
Update time: two minutes
Branching logic
4. Team Plan at $299/Month
Unlimited premium apps
Update time: one minute
Dedicated support team
5. Company Plan at $599/Month
Unlimited users
Access control
Customized history retention
7. Nintex.
Best For Flexible Pricing Plans
Nintex is a workflow and project management software that offers tailor-made plans according to your business type, size, and goals. It aims to start a low-code automation movement with its ease of use, powerful tools, and platform. This way you save time, money, and effort.
Like most of the tools mentioned above, Nintex also offers a drag-and-drop design that simplifies complex workflows and an "intelligent" automation process that reduces bottlenecks. Right from conceptualizing to generating high returns, you can do it all with clicks, not codes.
Moreover, using its integrations with popular productivity tools, you can easily collaborate with team members or other businesses, right from your office seat or living room couch. And if that's too much work, you can delegate the task to RPA bots that work like humans but better.
Features:
Let's peep into some of the workflow optimization tools offered by Nintex:
Business process mapping
Custom dashboards
Navigation and process ownership tools
Real-time updates and feedback
Stakeholder email notifications
Embed control points
Optimization tags (#Waste, #OFI, #LEAN)
Real-time process summary
Team engagement and progress stats
Third-party consultants
Virtual forms
RPA bots
DocGen® and Nintex Sign®
CRM and ERP integrations
Customize and toggle connectors/ integrations
Pricing: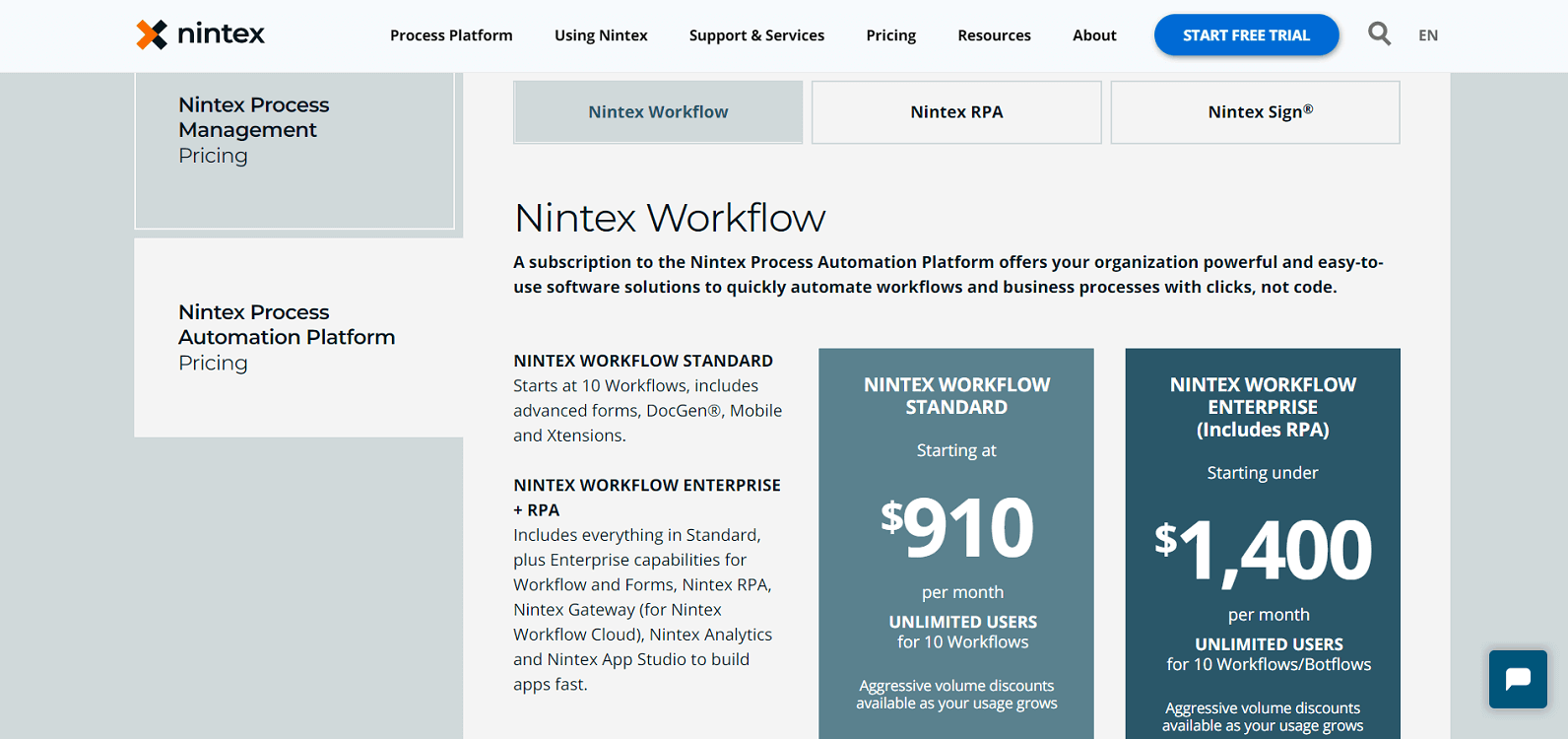 Nintex provides two broad pricing categories, which are further divided into two plans each. Also, you can contact the team to customize your plan and get a quote accordingly.
Nintex Process Management Pricing
1. Standard Plan at $955/Month
Standard support
Custom dashboards
Business process management
2. Enterprise Plan at $1,405/Month
Premium support
Risk management
Training subscription
Nintex Process Automation Platform Pricing
1. Standard Plan at $910/Month
Standard support
Mobile app
Nintex DocGen® subscription
2. Enterprise Plan at $1,400/Month
Premium support
RPA central
Nintex Analytics subscription
Keep in mind that the prices may vary if you opt for a subscription to Nintex RPA and Nintex Sign®.
What Is Workflow Management Software?
Workflow management is the process of coordinating various tasks and teams to achieve an organizational goal. Similar to a "business process," the word "workflow" literally means a series of bite-sized tasks delegated to various team members to complete a larger task.
However, it's not that easy. Workflow management involves choosing the right people, assigning them suitable tasks, checking the availability of resources, sharing data while ensuring its security, and much more. If done manually, this process can take ages to complete and perfect.
This is when businesses turn to digital workflow management, which uses intuitive triggers to perform unique tasks and automate repetitive processes. Using business management software programs allows more transparency and better communication among teams.
Further, most workflow management systems offer integrations with various apps for better flow of data and coordination. This process helps conduct actions from one platform to the other. More integrations also help businesses use a variety of productivity tools- all on one screen.
Why Should You Switch To Workflow Management Software?
To err is human, and manual workflows call for labor-intensive hours in the workspace. With more effort and pressure, your team members are bound to make more mistakes, leading to delayed completion of tasks.
This problem leads to the following scenarios:
1. Sharing Long Emails And Spreadsheets
Manually performed business processes involve countless emails and spreadsheets. Besides being an eyesore, these files offer low efficiency and functionality. After all, no one has the time to go through chains of emails and long spreadsheets just to stay in the loop.
Although emails help us share information across the team, most of us waste way too much time formatting an email to sound more formal. And more often than not, important work files and information get drowned in unnecessarily long email threads.
Similarly, with spreadsheets, it is difficult to identify the latest versions and the approval hierarchy. Workflow software solutions save time and effort through integrations with the best productivity apps like Slack, Google Drive, Adobe CC, Microsoft Office, and more.
2. Lack Of Motivation And Poor Performance
With difficult tasks piling up due to delays caused by repetitive errors, employees lose motivation and fail to perform optimally. This issue is further worsened with the technical aspect of business processes which often requires sound IT knowledge and experience.
This is when you need an easy yet efficient management software to streamline custom workflows and track progress. Since most software solutions include a visual dashboard, you can check the performance and productivity level at a glance and act accordingly.
3. No Control Over Privacy And Audit
With the rapid digitization of the workspace, users' privacy and business audits are always at stake. But, with a secure management software, businesses can identify even the minutest changes and the culprit(s) behind any malicious act.
Most of the options listed above offer two-factor authentication, audit trails, strong password policies, and custom access tools.
Frequently Asked Questions.
1. How Are Workflows Different From Checklists?
The sequential nature of workflows may resemble checklists, but both these functions are quite different. Workflows are pre-set tasks that involve the creation of checklists. You can choose to automate a workflow or embed conditional triggers.
Checklists include insights about each task and creates accountability among team members. While workflows can be altered or reversed at an earlier stage, checklists do not have that option.
2. Do Free Plans Offer Sufficient Tools?
Some workflow management software solutions provide free plans that include core features. However, I recommend investing in paid plans if you want to grow your business.
Wrap Up.
Choose the best workflow management software solutions from the list below:
monday.com: Best For Customized Visual Management
Wrike: Best For Scaling Organizations
Process Street: Best For Document-driven Workflows
Automate.io: Best For Connecting Cloud Applications
Kissflow: Best For Large Enterprises
Zapier: Best For Bosses On The Go
Nintex: Best For Flexible Pricing Plans
I'm sure one of these workflow automation tools will help your team achieve its goals by working smarter, not just harder.
Disclosure: I may receive affiliate compensation for some of the links below at no cost to you if you decide to purchase a paid plan. You can read our affiliate disclosure in our privacy policy. This site is not intending to provide financial advice. This is for entertainment only.