27 Best Fitness Affiliate Programs (High Commission for 2023)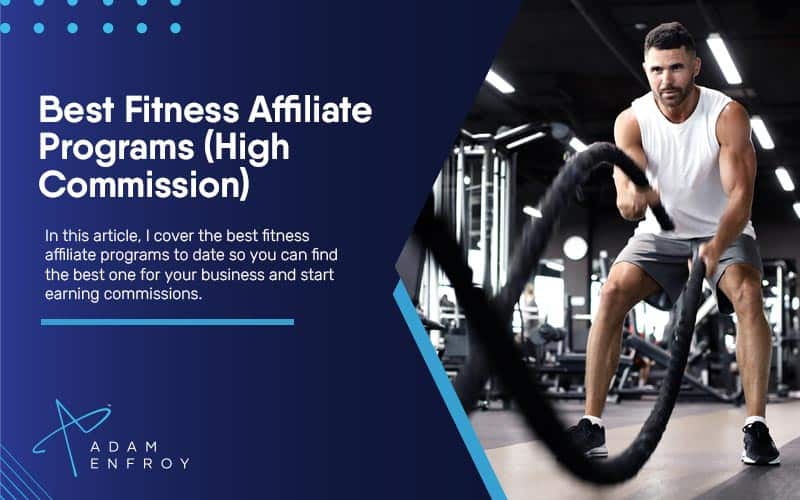 The fitness industry has come up with tons of devices that claim to help people achieve their fitness goals.
From home gym equipment to wearable technology or even supplements, there are plenty of high-paying affiliate programs for those looking to take their workouts to the next level.
Many questionable products also promise results but don't always stand up to scrutiny.
That's why finding a reputable brand is essential when choosing affiliate products.
Partnering with the right fitness companies can be a great business opportunity for those looking to promote products or services related to physical activities.
Whether starting your blog to promote products or using a YouTube channel to drive affiliate sales, there are plenty of fitness affiliate programs.
In this article, I cover the best fitness affiliate programs to date so you can find the best one for you and start earning commissions.
What Are The Best Fitness Affiliate Programs?
Here are the top fitness affiliate programs to consider.
1. NordicTrack.
NordicTrack provides an extensive range of exercise equipment designed to suit every fitness goal and budget.
Elliptical trainers, treadmills, exercise bikes, rowing machines, and free weights are some high-quality offerings to help your audience stay fit and healthy.
NordicTrack offers its customers an exciting opportunity – if you share your link with friends and family who make a purchase, you can earn 7% of their spending.
2. TRX Training.
TRX equipment allows people to stay in shape without a gym membership.
The innovative and flexible program allows users to use their body weight along with specially designed straps and handles for resistance.
By participating in the TRX fitness affiliate program, anyone can earn a 5% commission on every purchase made through the correct affiliate link.
With an average order value of $200, this is a great way to make money while supporting a fantastic product.
3. ACE Fitness.
The ACE Fitness Affiliate Program provides an excellent opportunity for people to help others lead healthier lifestyles.
Affiliates can earn a 7% commission by referring fitness coaches to the program.
For each successful referral, affiliates generally may make over $100.
With the right approach and enthusiasm, affiliates can use their influence and energy to drive healthy changes among individuals and entire communities.
4. Net2Fitness.
Shopping for fitness apparel can be daunting, especially when looking for quality products that will withstand regular use.
Enter Net2Fitness: the one-stop shop for activewear, bodybuilding, yoga supplies, and all things related to fitness apparel.
They also offer a wide range of items, including barbells and other fitness equipment, all in one convenient location.
Prices generally range from just under $20 to almost $4,000.
With the Net2Fitness affiliate program offering an 8% commission rate on sales within their 30-day cookie window, this online store presents an enticing opportunity to make money while promoting products that make sense as part of your traffic.
5. Reebok.
Reebok is a well-known company that has produced sports shoes and clothing since 1958.
It has also made an affiliate program that helps its affiliates receive 7% of every sale they bring in.
The average Reebok affiliate program order value is $80, which could be a hefty payment when you add it all up!
6. Nike.
As an affiliate with Nike, you can tap into the sports giant's expansive product range and access some of its powerful marketing resources.
With everything from apparel to shoes and accessories on offer, it's easy to find something your target audience will be interested in.
Plus, if accepted into Nike's affiliate program, you could earn up to 11% commission when customers purchase products after clicking your unique link.
7. Myprotein Influencer.
Myprotein has been an industry leader in sports nutrition for over ten years.
They offer a wide selection of protein powder options, vitamins, and minerals tailored to those looking to stay active or begin a fitness journey.
Joining the Myprotein Influencer Program provides unique advantages for those with the qualities and enthusiasm of an influencer.
As part of the program, one will receive an 8% commission on all sales referrals and exclusive access promotions made just for affiliates.
In addition, Myprotein provides affiliates with excellent customer support through their experienced team that can provide help and advice with marketing strategies.
8. Argos.
Argos Ireland has something for everyone in the fitness industry.
Their affiliate program lets customers get 3% of their friends' purchases through their unique link.
There is no cost to sign up and earn money; create a profile and begin using your referral link to promote Argos products immediately!
9. National Academy of Sports Medicine.
The National Academy of Sports Medicine (NASM) provides fitness professionals an opportunity to receive comprehensive and evidence-based certifications and specializations, helping them to inspire their clients to live healthier lives.
And when fitness experts join the NASM affiliate program, they are rewarded with unique dynamic banners.
Every sale can earn them a $25 commission and a 30-day cookie duration.
All these features created by NASM make it easier for fitness professionals to increase their revenue while doing something they love.
10. Diamondback Fitness.
Since 1997, Diamondback Fitness has been producing top-notch exercise equipment that's reliable, durable, and comfortable.
They've earned numerous awards in the industry for their craftsmanship and commitment to excellence.
As a bonus, you can join their affiliate program free of charge.
You'll make 10% off anything purchased within 365 days after clicking your link.
With Diamondback Fitness, you get to enjoy great products and benefit financially.
11. All Volleyball.
All Volleyball is the go-to online store for all your volleyball needs.
This one-stop shop carries a wide selection of equipment, clothing, and accessories to take your game to the next level.
All Volleyball also comes with an exciting fitness affiliate program.
One can earn 5% of each sale (up to a maximum of $250) and $30 per transaction.
On average, around 10% of those you refer will purchase something out of the 22,000 products on All Volleyball's website.
12. ProForm.
ProForm has revolutionized home fitness with its innovative equipment.
Offering everything a workout enthusiast needs to stay motivated and tone their bodies, ProForm specializes in the premium segment of the home fitness market.
With an average order value of over $1,000 per purchase, their affiliate program makes it easy for influencers to cash in on the transformative power of exercise without lifting a finger.
As an affiliate partner, you will receive a 7% commission from every sale made within 30 days – so don't delay and join ProForm's fitness affiliate program today!
13. Bowflex.
Bowflex is the ideal choice for anyone looking to get into shape while staying home.
They offer a vast selection of equipment, from bikes to treadmills to their signature Max Trainer, with a hefty price tag of more than $ 3,500.
Fortunately, the company offers an impressive fitness affiliate program that provides potential affiliates with a 3% commission rate.
While this is lower than most, it is still incredibly lucrative, considering the prices of Bowflex's products.
On top of that, they also reward high-performing partners with private commissions, encouraging their success with every transaction.
14. Jump Sport.
JumpSport has been making safety enclosures for trampolines since 1995, but in 2008 they also branched out into fitness trampolines.
Those who have tried these products have consistently shared glowing reviews about them.
It's no surprise that people want to sell JumpSport products since anyone selling them will make a 4% commission on whatever customers spend.
15. Monkii.
Monkii is excellent for those looking to get a workout in without the hassle of a traditional gym.
The TRX system is small and portable, so it can fit easily into any bag or backpack and be taken anywhere.
Thanks to Monkii, you can now get in a workout no matter where you are.
Plus, the company offers a generous 15% commission on every referral sale with an average payout per referral of around $21.10.
16. Titan Fitness.
Titan Fitness is an outstanding company that caters to those who love weightlifting, boxing, and other fitness activities.
Not only are their products highly priced relatively, making sure no one pays too much or too little, but they also provide a generous referral program.
By selling their products, you can make 5% on Titan Fitness branded product sales and 4% on sales of other products while benefiting from unlimited referrals over 30 days.
17. GNC.
GNC is a haven for anyone looking to take charge of their health and wellness, providing access to a range of products.
These include fitness and protein supplements, vitamins, and weight loss supplements.
While the range is extensive, products at GNC come with a high price tag.
To help spread the word, GNC offers a fitness affiliate program with some features worth considering.
While the commission rate is lower than other retailers at just 4%, it has a relatively lengthy seven-day cookie window.
On the plus side, GNC provides an excellent variety of affiliate resources (visual and text) that one can use in marketing campaigns or promotions.
18. Garmin.
Garmin is the perfect choice for those looking to stay on track and not lose their way as they exercise.
With GPS-enabled smartwatches and wearables, Garmin provides peace of mind when navigating unfamiliar streets or trails.
But Garmin isn't just for helping people get from point A to point B.
It also offers fitness trackers that provide helpful information about workouts, steps taken, and calories burned.
Many turn to Garmin because of its affordability compared to similar services from brands such as Fitbit.
Joining their program is made convenient with options like CJ Affiliate and FlexOffers.
19. Wahoo.
The Wahoo Fitness Affiliate Program provides an excellent opportunity to make extra money with minimal effort.
Generating commissions is simple.
Promote the products or services, and if someone purchases via a credit card and the order is worth at least $100, you get paid.
It is that easy, with two different commission rates of 10% or 7%, based on what the customer buys.
20. Jillian Michaels.
Jillian Michaels is a personal trainer and life coach who is renowned all over the world for her successful fitness program.
She has worked tirelessly to support millions of people as they reach their fitness goals.
Her comprehensive program features a staggering 550 different exercises with HD-quality video tutorials.
Considering how popular her program has become, the affiliate offer Jillian Michaels promotes through ShareASale's platform is quite lucrative; if you help her advertise her program, she will reward you with 20% of what she earns.
21. Under Armor.
Under Armour is a world-renowned sportswear company that produces apparel designed to help athletes stay dry and comfortable during physical activity.
In addition to this, the company also provides quality footwear, accessories, sleepwear, and fitness gear.
Most of their products are of the highest caliber and retail for around $100 each.
22. Brute Force.
Brute Force has been making quality training gear for military and law enforcement personnel since 2009.
The company is committed to providing rigorous workouts for all its customers and rewarding those who refer its products.
Their referral program offers an opportunity to earn a 10-20% commission on every sale.
Those wishing to join can expect a streamlined process that makes it easy to start earning immediately.
23. Gene Food.
Gene Food is revolutionizing the way people manage their diet and health.
By tapping into your genetic information from companies such as 23andme, Gene Food helps create a personalized plan tailored specifically to you.
Gene Food ensures that you get the best nutrition plans that are both scientifically backed and tailored to your individual needs.
This help better develop your overall well-being.
It also gives you the option to make some extra money.
Linking your blog or website to Gene Food's page enables you to earn $20 for every person who purchases a nutrition plan from your referral.
24. Natalie Jill.
Natalie Jill helps many women reach their weight loss goals through her books, podcasts, and coaching programs.
She has also created the Natalie Jill Fitness Affiliate Program, offering a fantastic chance to anyone who wants to make a secondary income by promoting her products.
The affiliate program is hassle-free: affiliates get paid 50% for every sale, plus a lifetime cookie window.
25. Rogue Fitness.
Joining the Rogue Fitness affiliate program is a great way to start earning a commission.
It's free to sign up, and you even get a bonus gift just for doing so.
With this excellent opportunity, affiliates can earn 5% of the sales they generate from their customers.
All affiliates must have an active PayPal account to join.
They also need to have a minimum of $100 in their affiliate balance to be eligible to withdraw their earnings.
26. Body Gym.
Body Gym has a great program that helps people benefit financially through selling their products.
Sellers get 10% off any sale, which is entirely doable with a cookie length of 30 days.
With plenty of Body Gym affiliate resources, affiliates get help to accomplish their goals.
27. Aaptiv.
Aaptiv is a fantastic company that helps people stay fit and healthy.
Through their fitness app, activities such as running and fitness classes are only a few taps away.
Members can earn up to $25 per sale by participating in the fitness affiliate program.
What Are Fitness Affiliate Programs?
Fitness affiliate programs are one of the most popular ways to monetize a fitness-related blog or website.
They allow you to promote products related to health and fitness, such as workout clothes, supplements, gym memberships, exercise equipment, meal plans, and more.
You earn a commission whenever a visitor clicks on an advertisement or link from your site and buys something.
This type of affiliate marketing is highly advantageous for the vendor and publisher.
It gives vendors access to more potential customers, while publishers can profit from their websites without selling products themselves.
It's also relatively easy to set up, making it an attractive option for those looking to monetize their fitness-related content.
Key Features Of An Excellent Fitness Affiliate Program
Here are the main features when choosing a fitness affiliate program.
Comprehensive Tracking And Reporting System
The right affiliate program offers comprehensive tracking and reporting capabilities that allow affiliates to measure their performance in real time.
From knowing your conversion rates to analyzing the success of individual campaigns, accurate tracking systems make all the difference.
The best affiliate programs allow affiliates to access detailed reporting through an intuitive user interface.
As fitness products become increasingly popular, these features become crucial for affiliates.
Some other fitness affiliate programs are also starting to offer AI-powered insights, which can help maximize performance by providing personalized recommendations on where promotions need to be fine-tuned or optimized.
High Commission Rate And Flexible Payment Structure
Affiliate commission is among the most critical factors when selecting an affiliate program.
In affiliate marketing, the program offering the highest commission rate often wins out.
With fitness enthusiasts who will only settle for quality products, the affiliates promoting them should receive a fair reward.
As such, the fitness niche is a highly competitive industry where high commissions often make all the difference between success and failure.
Joining an affiliate network with access to various vendors and their product offerings allows you to take advantage of varying commission rates from different sources and optimize your income accordingly.
Wide Range Of Promotional Materials And Tools
An affiliate marketing program should help its affiliates by providing them with a wealth of promotional materials and tools to get the job done.
For beginners and more advanced users, having a comprehensive toolkit will make it much easier to set up campaigns, track results, and analyze success.
A dedicated affiliate support team that can quickly answer questions directly is crucial when running your affiliate empire.
This support allows you to optimize your performance instead of wasting time on administrative tasks.
Those with a fitness blog or fitness brands who want to promote products via their website usually look for highly visual content such as videos, demos, and tutorials to increase conversions.
Regular Communication With Affiliates
An affiliate manager that regularly checks in with affiliates, provides helpful resources, and ensures regular communication as part of the affiliate program can help keep affiliates motivated and engaged.
Building a global brand within the fitness industry means connecting with an international audience of affiliates.
Whether you're joining a bodybuilding or a yoga affiliate program, ensure that you have a point of contact for questions and concerns.
Incentive And Reward Programs To Keep Affiliates Motivated
Offering incentives such as bonuses or rewards based on performance can be a great way to motivate affiliates and keep them coming back.
Whether it's stay-at-home mums or personal trainers promoting a company's product, having an incentive program will encourage them to push their limits when creating content.
Having a brand name as a vendor often means offering attractive incentive packages to help affiliates maximize their earnings.
What Do You Need To Know About Fitness Before You Become An Affiliate?
While you don't need to be the most knowledgeable person in the industry, you need to have a basic understanding of exercise, nutrition, and lifestyle guidelines for health and fitness goals.
Here are some key topics you should familiarize yourself with before getting started.
Different Types Of Exercises And Workouts That Are Popular
For bloggers that help people get into or stay in shape, it is essential to know the prevalent practices in the current fitness industry.
Whether it's life fitness or HIIT (High-Intensity Interval Training), knowing what type of exercise is trending can help you create more compelling blog posts that have the potential to generate more affiliate sales.
Proper Nutrition And Diet Guidelines For Health And Fitness Goals
People want to know what to eat and how to keep a balanced diet to achieve their desired results.
Understanding proper nutritional guidelines is essential for becoming an effective affiliate marketer in this field.
Tips On How To Stay Motivated
Whether you speak about doing cardio on ellipticals or CrossFit in specific gyms, it is essential to emphasize the importance of staying motivated throughout your fitness journey.
You can model what various manufacturers do and offer tips on staying motivated while working towards one's health and fitness goals.
Promoting specific products is then a natural byproduct of your advice.
Understanding The Psychology Behind Different Marketing Methods
It is also essential to know how people respond to specific marketing messages.
Knowing what type of language resonates with audiences can help you create more effective ads with higher conversion rates.
For example, if you are looking to promote a fitness product that helps people lose weight quickly, emphasizing the "quick" nature of the results in your ads can attract more customers and generate more sales.
Awareness Of The Keywords And Phrases Used In Fitness Advertising
Good SEO knowledge and understanding of how to use relevant keywords for your blog posts are essential.
This knowledge can help you create content that will rank higher on search engine results pages, allowing more potential customers to find your blog and click through to purchase the products you are promoting.
Wrap Up.
Fitness affiliate programs are a great way to build an additional passive income stream and diversify your portfolio.
From selling suspension training systems to workout equipment, there is no shortage of opportunities to find the right product for your audience.
By leveraging the power of affiliate marketing, you can drastically increase your profits while providing valuable products and services to your customers.
Further reading on AdamEnfroy.com: Being creative with your affiliate promotions can be the difference between success and failure.
Check out these newer ways of promoting affiliate links to maximize success.
Editorial Process:
Our reviews are made by a team of experts before being written and come from real-world experience. Read our editorial process here.
Some of the links in this article may be affiliate links, which can provide compensation to us at no cost to you if you decide to purchase a paid plan. These are products we've personally used and stand behind. This site is not intended to provide financial advice. You can read our affiliate disclosure in our privacy policy.
---
Last Updated on October 12, 2023 by Adam Enfroy