How to Make Money Blogging in 2023 ($200k Per Month)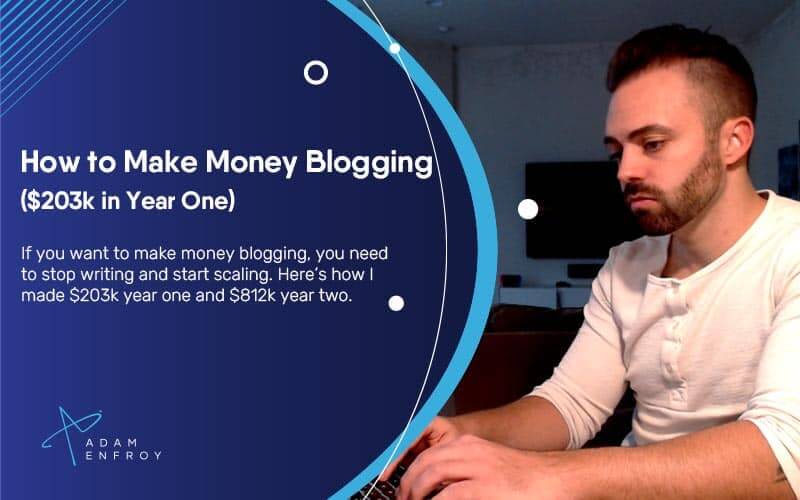 In a world dominated by videos and podcasts, you're probably asking yourself the question:
Can you still make money blogging in 2023?
The short answer is: yes.
The long(er) answer is: yes, but you need to ditch the cookie-cutter advice you'll find on lots of other blogs.
"Expert" bloggers give you generic advice about your passions, staying consistent, forming good writing habits, and creating great content.
Because of the work you've done, a few years from now, you'll finally have enough website traffic to monetize your blog with affiliate programs, Google AdSense, online courses, and selling digital products.
To make life-changing money from your blog as fast as possible, this post will show you how to think like a CEO and treat your blog like a business, not a hobby.
I started this blog in January 2019 to track my progress as a brand-new blogger using everything I learned in the startup world.
Now, I make over $200,000 monthly from this blog.
I hope this guide gives you some fresh ideas and updates on your tactics for 2023 and beyond.
How Much Money Can You Make Blogging?
I have what you might call a unique insight into how much money you can earn as a blogger.
Why?
Well, not only do I run a blog that earns $150,000 to $200,00 a month. I also run an entire program where we coach people how to make money blogging called Blog Growth Engine.
So many of our students go on to earn $10,000+ in their first few months.
Take Eddy, for example.
He's got an entire review of his experience in BGE on his blog here. But, here's the takeaway you care about most:
Don't worry, I'm not trying to sell you on my course right now. There should be enough information in this post for you to make money blogging without ever signing up!
I just want to show you that, yes, it's still possible to earn money as a blogger. I see it every day. In all kinds of niches, covering all kinds of weird and wonderful topics.
If you can blog about it, you can earn from it.
Let's look closer at how…
How to Make Money Blogging.
Before anything else, the first step is starting a blog by purchasing a web hosting account.
Here's my favorite beginner setup at the lowest cost with the best features (based on my 10+ years of experience):
Click here to go to Bluehost.com (<- that link gets you a discount) and click Get Started Now.
Choose the Choice Plus Plan.
Enter the domain name you want to use (for example: adamenfroy.com).
Enter your account information.
Under Package Information, choose an account plan based on how long you want to pay. (And remember, all plans have a 30-day money-back guarantee, so there is no risk!)
Uncheck the Package Extras (you don't need them.)
Complete your purchase, choose your password, and log in to your Bluehost account.
Answer or skip the onboarding questions, but choose "blog" when prompted.
Click "skip" when it comes to choosing your WordPress themes. (We'll get that sorted out later.)
From the Bluehost dashboard, click the WordPress button on the top right, and you'll end up on WordPress.
Congrats! You now have a self-hosted WordPress blog!
Now, let's scale your new blog like a startup and make money blogging.
Getting Set Up As An LLC.
One fundamental way to make money blogging is to treat your blog like a business.
You can create your blog as an LLC (Limited Liability Company).
Setting this up will protect you from personal liability if your blog ever faces legal trouble.
To set up your LLC, some of the things you'll need to do are:
File articles of organization with your state.
Choose a registered agent.
Create an operating agreement.
Obtain an EIN from the IRS.
When choosing the best LLC service for your business, I recommend Tailor Brands.
In addition, to taking care of the legalities of setting up your LLC, Tailor Brands will also help you with things like getting your brand to work for you, not the other way around.
You can use features such as their AI logo maker to help you create a unique and recognizable brand.
They can also help you design your website, using their builder to create a professional and modern website for your blog business.
Finally, their SEO (search engine optimization) services can also help you get traffic to your site.
In other words, they provide a one-stop shop for everything you need to get your blogging business up and running.
Form your LLC with Tailor Brands.
Build Your Brand
If you prefer to custom-make your logos and other brand elements, HubSpot's Brand Kit Generator can help.
It's free, so you won't incur any costs here.
With the free logo design templates, you can easily craft beautiful logos for your blog by typing your business name, slogan, and industry in the free logo generator.
After that, choose a logo and tweak it until it matches your brand identity.
Your blog's logo will be the face of your business, so you need to spend some time thinking of how to make it stand out.
For example, HubSpot's logo looks like part of a circuit, a sprocket, or a cogwheel.
The first thing that comes to mind when people see it is associating the icon with a tech company.
But remember that developing a brand identity will require more than creating a logo.
Although the logo is the face of your business, it's not the entirety of your brand.
Making the logo is one small step toward building a solid brand identity.
And with millions of blogs trying to make a name for themselves, a strong brand identity will help you differentiate yourself.
Market Factors Are More Important Than Passions.
There's a reason that 95% of bloggers fail, and it's not why you think.
The current myth is that bloggers fail because they aren't "passionate enough."
"Push through failure to succeed," they say.
Google "why bloggers fail," and you get the same answer from the #1 result: bloggers fail because they aren't passionate enough.
I officially reject this notion.
The Real Reason Bloggers Fail…
The real reason bloggers fail is they run a business that's not profitable.
Take my passions, for example.
I'm passionate about drumming, flying airplanes, traveling, astronomy, distance running, personal development, Detroit-style pizza, etc.
However, if I wrote endless blog posts about one of these topics without making any money, I'd burn out 100% of the time.
Additionally, some bloggers claim, "I'm not in it for the money" or, "It's just a hobby."
Hobby bloggers are just new bloggers that don't know how to make money yet. There are beginners and experts in any creative digital field – design, web development, photography, copywriting, or video editing.

Source: Google.com
Plus, blogging advice is outdated, written only to rank on Google, and encourages a generalized approach to appeal to the broadest possible audience.
Bloggers don't fail because of a lack of passion (they have that in spades).
Bloggers fail because they can't transition from blogger to business owner.
So they choose a non-lucrative blogging niche targeting a low-value audience.
New bloggers forget to leverage networking and connections to their strategic advantage.
As one blogging quote goes, "You can work quite hard, in particular online… but if you really want to grow, you need points of leverage, and most of them come from knowing people." – Yaro Starak.
Leverage is key.
Before launching your blog, it's crucial to choose your niche based not on passions but on three business factors: audience budget potential, professional leverage, and market demand.
Check out my guide to launching a blogging business for more blogging articles.
1. Audience Budget Potential.
To offer a valuable product on your blog, you need to solve a pain point for your audience. That's obvious.
As a blogger, you should deeply understand your audience's challenges to offer the most in-demand solution. Check.
Start by looking at niches where you're a member of the target audience yourself. This way, your domain expertise shines through faster.
But don't think that after you've gotten that far, you should open up a generic list of 100 niches and narrow it down that way. Watercolors? K-Pop? Travel? Good luck with that.
What is the #1 most important factor when choosing your blog's niche?
How much is your audience willing to spend?
It's that simple.
Let's break it down.
Determining How Much Your Audience Wants To Spend
So in this example, let's say you plan to start a blog in the home design niche.
Your blog topics may pull in different readers. Visitors could include professional interior designers, college design students, and even stay-at-home moms who want the latest home decor inspiration.
To monetize this niche, you would create a new blog and move your readers down the sales funnel:
First, you'd create content to attract an audience.
Then you'd build a home design "freebie" to get email opt-ins.
Finally, you would offer your email subscribers a $300 online course (with a money-back guarantee) about 10 Expert Interior Design Tips for the Perfect Home.
Nothing is wrong with this approach – this tends to be what most bloggers do, and it can earn some passive income after a couple of years of building your audience.
But is it a lucrative audience?
Stay-at-home moms, college students, and a few professionals with an average salary?
Here's the secret…
Changing just one word in your niche can increase your blog's income potential by 200x.
All you do is change "home design" to "retail design."
Let me explain.
Adding a B2B component shifted your audience from individuals to businesses and increased your blog's income potential by 200x.
Think about it this way.
If you sell to large businesses instead of individuals, you make more money for two reasons. The first is that they have more funds available. Second, it's not coming out of their pocket.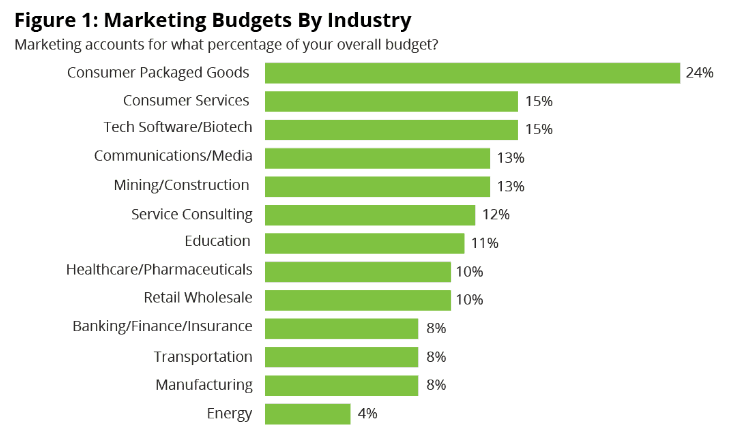 Source: imab2b.com
The beautiful thing about this approach is that your blog launch, content strategy, and sales funnel are almost the same for B2C "home design" and B2B "retail design" niches.
Here's the good part: while the B2C "home design" monetization stopped at a $300 course, the B2B "retail design" niche doesn't just stop there.
After you build your professional brand, you become known as a B2B design expert.
This influence allows your price to jump from a $20 affiliate commission or a $300 course – to a $5,000/month recurring consulting service.
Understanding your audience's pain points isn't enough.
To 200x your revenue potential, your audience needs to be in a lucrative B2B niche and pay on a monthly recurring basis.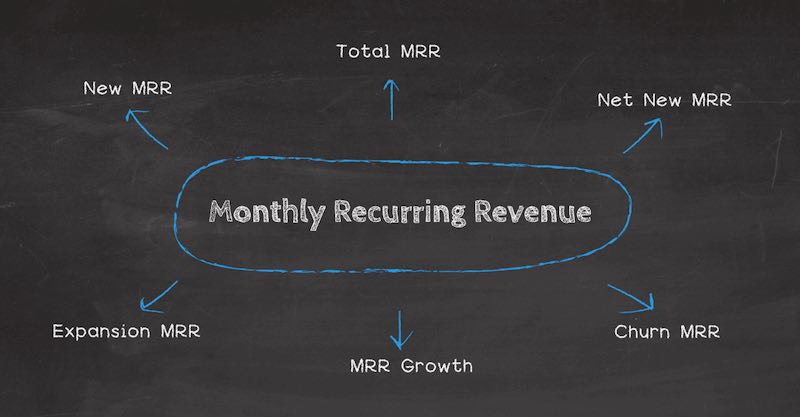 Source: Datapine.com
To recap, when choosing your niche, rather than worrying about your passions and getting thousands of passive, low-value site visitors, focus on closing 2-3 high-value clients.
With this approach, I hope you're beginning to understand why I truly believe you can make $10,000/month in 90 days with a new blog.
2. Use Your Professional Leverage to Choose Your Blog's Niche.
After uncovering a lucrative audience to provide value to, the next step is to discover your strategic advantages over others.
Ask yourself:
What is my current level of professional experience?
What connections do I have in my industry?
Can I leverage this experience into a profitable blog?
If I could pitch any website to contribute a guest post, who would take me seriously from the start?
To build a truly successful blog, you first need to build influence.
And to build authority, you need to step outside your comfort zone and leverage your connections, professional experience, and everything at your disposal like never before.
You will also be performing a lot of outreach to make new connections.
Outreach includes building relationships so you can guest post on authoritative sites in your niche.
These posts give you relevant, high Domain Authority (DA) backlinks for SEO, which is still one of the best ways to increase Google search rankings.
And according to Broadband Search's recent Internet statistics from 2019, Google processes 3.5 billion searches per day – or over 40,000 every second. There's plenty of traffic to go around.
And when you're just starting, you may not have many connections or published content.
You might say: "Why would anyone feature me?"
Leveraging your background helps tremendously.
For example, if you're a photographer, you might have a base of clients, contacts from local meet-up groups, and even know photography influencers you met in the past.
If you can leverage these contacts in the future, you can accelerate your blog's growth.
3. Your Niche Needs Market Demand.
Before you start, you need to research and see if people search for the topics you want to write about – and if they are monetizable.
The two main types of monetizable keywords are "best" list posts and "how-to" guides.
These two main types of keywords have the most affiliate marketing revenue potential.
For example, in the case of the "best" list posts:
In travel, this could be "best travel insurance" or "best travel backpack."
In finance, it could be "best savings accounts" or "best Roth IRA."
In tech, it could be "best VR headset" or "best PS5 exclusives."
When people search for the "best" something, they look for long-form guides recommending products that bloggers write.
Most of these will have good affiliate programs to join and promote.
In the case of "how-to" guides, these could be:
In marketing, how to make a website.
In lifestyle, how to decorate your kitchen.
In health, how to get rid of acne.
These how-to guides are long-form tutorials packed with high-quality content. These are also good for adding affiliate links.
According to 77% of bloggers interviewed in a survey, the most popular blog format is 'How-to' articles.
Once you understand your leverage and passions, take your chosen niche and come up with the top 10 keywords to target.
Next, enter your keywords using a keyword research tool like GrowthBar, Google Keyword Planner, SEMRush, or Ahrefs.
With GrowthBar, you can do your keyword research while searching on Google.
Keyword Research Strategies…
Here are some strategies to keep in mind regarding keyword research.
If your top 5 keywords have search volumes of at least 5,000, this shows interest in these topics. Here's an example of my target keyword in this blog post: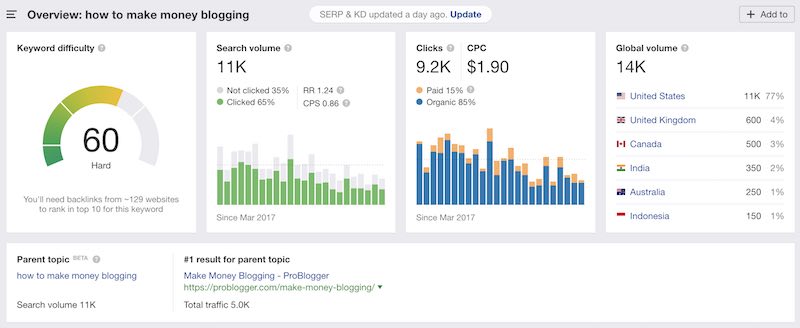 After that, look at the keyword difficulty score (a number from 0 to 100 on how difficult it will be to rank for the keyword).
If your keywords have difficulty scores of 80 or higher, the competition may be too fierce for you to make an impact.
Shoot for target keywords with over 2,000 monthly searches and under a 50 difficulty score to get more traffic with less competition.
Another way to view competition is to use an SEO tool like Ahrefs to see search engine results page (SERP) data.
Specifically, look for the first page results' Domain Rating (DR) and the SERP position history.
If the top 10 results all have a DR over 70, your new blog with a DR of 0 will not get on page one, thus getting no traffic.
However, if you see a website with a DR under 50 on page one, that's a good indication that you can outrank them over time with quality content.
Lastly, if the SERP position history hasn't budged over the last six months, positions #1 – 5 have stayed in the same spot. In these cases, the competition may be too intense for that keyword.
To recap, when researching your blog's market demand, shoot for topics that have keywords with:
2,000+ monthly searches
A keyword difficulty score under 50
The first page of Google has at least one site with a DR under 50
A SERP position history that has changed recently.
In Short…
Focus less on writing and more on keyword research – every single blog post needs to target one keyword.
Choose your niche based on audience budget potential, professional leverage, and market demand.
Find an audience you're a part of and understand their challenges personally.
Up-level that audience to make sure there's a B2B component to 200x your revenue potential.
Leverage your network, job experience, and everything else at your disposal.
And make sure your niche has market demand.
Because in the end, passion doesn't create money; money creates passion.
Ready to get started? Try Bluehost for $2.95/month (63% off).
Scale Your Content Creation and Stop Writing So Much.
What if I told you that your blog's first 90 days have nothing to do with your blog, and you won't write a single word?
That the secret to scaling and making money blogging doesn't include blogging?
And everything taught about growing a new blog has limited your growth?
Remember: you're a business owner, not just a blogger.
From days 0 to 90, you shouldn't focus your energy on writing first drafts.
I won't give the same old, outdated advice.
I refuse to talk about how to write about your passions, follow an editorial calendar, writing habits, and writing consistency (or anything about writing, for that matter).
Instead, we'll scale your blog like a startup and build credibility in your niche faster.
One big way to do that is to get writing help.
Instead of writing every first draft yourself, you can use a service like Fiverr to find freelance writers.
Plenty of writers provide blog post writing services so that you can spend your time editing, publishing, and link building.
Overall, there are five main components to this process:
Outreach
Guest Post
Outsource
Backlinks
Repeat indefinitely
If you're a blogger that wants to focus on writing, consistency, passion, and habits, you can stop reading here.
But if you're one of the like-minded people serious about growing your blog like a CEO (and not a hobby blogger), let's start monetizing.
1. Relationships Are Your Foundation.
You must understand one central theme before building relationships with other bloggers and influencers in your niche.
You have to provide value to others.
Don't go into the process of building a relationship. Just thinking about what you'll get out of the deal.
First, you need to focus on the benefits you'll give others.
Ask yourself: what value are you providing in the relationship?
Could you provide content because your expertise matches their audience's interests?
Is their blog currently in need of content to fill their editorial calendar?
Can you leverage link-building for them in other guest posts you're writing?
Is there a topic you're well versed in that doesn't exist on their blog?
The first step in pitching is understanding your value and what you can do to help. This information will be vital in your initial email outreach strategy.
First Steps…
First, create a targeted list of sites.
Once you understand the value you can provide, it's time to start building your blog outreach list.
This list should be a simple spreadsheet with five columns: Website, Name, Email Address, Status, etc.
To begin populating your spreadsheet, look up the target blog's monthly site visitors and Domain Authority (DA) by plugging their URL into an SEO tool like Ahrefs.
Aim for blogs with a Domain Authority of 50+.
Remember, the higher the DA, the stronger the partnership potential, and the more SEO impact you'll receive from the relationship.
To save time during your search, find an article with top blogs and websites accepting guest posts with Domain Authority scores.
Once you've pared down your list of blogs based on the criteria above, It's time to find the right person to contact.
After you find 2-3 potential contacts, connect with them on LinkedIn.
2nd degree LinkedIn connections are better than 3rd – and if you have a mutual contact, even better.
Don't spend too much time on your connection message either; often, your text gets buried or comes off as spammy.
Once you've reached out on LinkedIn, use an email tool like Hunter.io to scan the blog for email addresses.
Even if you can't find the contact's exact email address, Hunter.io shows your email structure, such as firstname@blog.com or firstname.lastname@blog.com.
Add this contact information to your spreadsheet.
2. Start Relationships & Pitch Guest Posts at the Same Time.
Valuable blogging relationships provide content and links.
Once you have a list of 50-100 potential contacts and have reached out on LinkedIn, it's time to start your email outreach.
You can scale your guest blogging strategy by using an email template to start the relationship while asking to guest post simultaneously.
Here's a sample template that I've used:
Hey (First Name),

My name's Adam and I'm the (Title) at (Blog).

I'm reaching out because I love (Target Blog) and am interested in collaborating on content with you.

I was curious if:
1) You'd like to participate in link building. I write (X-X) guest posts per month and would be happy to link to your site in my content.
2) You allow guest posts on your blog.

I'd love to contribute to your (awesome? informative? useful?) blog and can pitch some topic ideas that I think your audience will enjoy. Here are some recent samples from me:
(Sample 1 URL)
(Sample 2 URL)
(Sample 3 URL)

Please let me know if you're interested and I look forward to hearing back from you soon!

Thanks,

Adam
That's it.
By using a guest post email template and knowing how to start an email greeting, you save time and scale your process by creating a relationship and pitching a guest post simultaneously.
Once your contact responds to your email and says they are interested in a guest post, you must pitch the perfect topic.
There are four main criteria for the perfect guest blogging topic pitch:
Your content doesn't exist on their site yet. When you have a topic idea, go to Google and search "site:blog.com topic" to scan their blog to check if it already exists.
Your topic and target keywords have SEO value. Go back to Ahrefs and input the blog's URL. View which organic keywords are driving the most traffic to see if you can find gaps in their content that you can fill.
The topic matches your expertise. You should be able to write intelligently about the subject and use the guest blog to build more influence in your niche.
The topic matches the audience's interests. Check their editorial guidelines, look into how they write their blog posts, and try to match their blog's style.
Once your topic is accepted, you can move on to the heart of your guest blogging strategy.
3. The Importance of Guest Blogging.
In January 2019, I conducted a guest blogging experiment.
I aimed to contribute as many guest posts as possible within 15 days to measure their impact on my site's SEO metrics and traffic.
Here are the results after 15 days:
Eight guest posts were published on websites with DAs of 81, 73, 60, 66, 71, 61, 94, and 84
32 new referring domains
247 new backlinks
268 new organic keywords ranking in the top 100
372% increase in organic traffic
+12 to Ahrefs Domain Authority
Alexa Rank improved by 600,000
The results were precise – guest posting on high DA sites still significantly impacts a new blog's SEO.
With 65% of marketers saying link building is the most challenging SEO tactic to master, it can also be the most rewarding.
I recommend launching a blog with 5 "pillar posts" – long-form, SEO-optimized articles built for inbound links. Add statistics, infographics, and case studies to make linking easier.
Update 2020: In 2019, I published over 80 guest posts, increased my Domain Rating to 74, and now (as of May 2020) get over 400,000 visitors/month to my blog.
Update 2021: I continued publishing guest posts, increased my Domain Rating to 78, and grew my blog to over 500,000 monthly visitors.
How to Monetize Your Blog the Right Way.
There are many options for making money blogging – affiliate marketing, ads, online courses, one-on-one coaching, consulting, sponsored posts, selling physical products, etc.
Some of these income streams require more traffic than others.
That's why it's essential to plan your future revenue-driving strategy with the proper forms of monetization at the right points in your blog's lifecycle.
1. Plan Your Future Blog Monetization Timeline
For example, putting ads all over your site doesn't make sense if you just created a new travel blog.
Those tactics require hundreds of thousands of monthly visitors to make good money.
Similarly, you shouldn't start affiliate marketing and cram a bunch of links everywhere at the beginning, either.
Generating affiliate marketing revenue can also require thousands of visitors to make a single sale.
Yes, you can eventually get a place where you're generating "passive income" with affiliate marketing courses, ad revenue, and digital products, but that can take years.
What if you want to start making money from your blog to quit your job in 3 months?
The good news?
The most lucrative form of blog monetization can be used from Day 1 and doesn't require much traffic.
Your perfect blog monetization timeline will focus on maximizing revenue in each stage of your blog's growth.
There are four distinct areas of focus:
1-90 days: High-end consulting (0-1,000 monthly site visitors)
90-180 days: Affiliate marketing (1,000-2,500 monthly site visitors)
180-365 days: Your first online course (5,000+ monthly site visitors)
365 days and beyond: Course memberships (10,000+ monthly site visitors)
It may seem counter-intuitive to start with consulting if you're a brand-new blog without much traffic.
However, you can land high-end clients from day one because you build relationships and treat your blog like a business.
This post will focus on days 1-90 and how to perfect your high-end sales funnel to make money blogging from the start.
Ready to get started? Try Bluehost with my link for $2.95/month (63% off).
2. Master Your Blog's Sales Funnel
Your sales funnel will comprise five primary areas leading users to your end goal of a high-end $3,000+ consulting offer.
You can focus on lower-priced offers like online courses, affiliate products, sponsored posts, and digital downloads as you increase traffic.
However, an expensive offer is the most lucrative way to monetize a new blog.
It's a simple balancing revenue act as you grow your traffic.
The newer your blog and the less traffic you have, the higher your price needs to be to compensate:
Low Traffic x High Price = High Traffic x Low Price
Here are the five steps to get prospects down your sales funnel:
A user reads your high-quality blog content related to your high-end offer
They opt-in for your email list for a one-page "freebie" offer
Optional: Add a lower-priced offer of around $50-200 to build trust (we will add this down the line)
Your automated welcome email series tells a story and take them down a path to set a meeting with you
Finally, your ideal B2B clients set a meeting with you and pay for your high-end consulting offer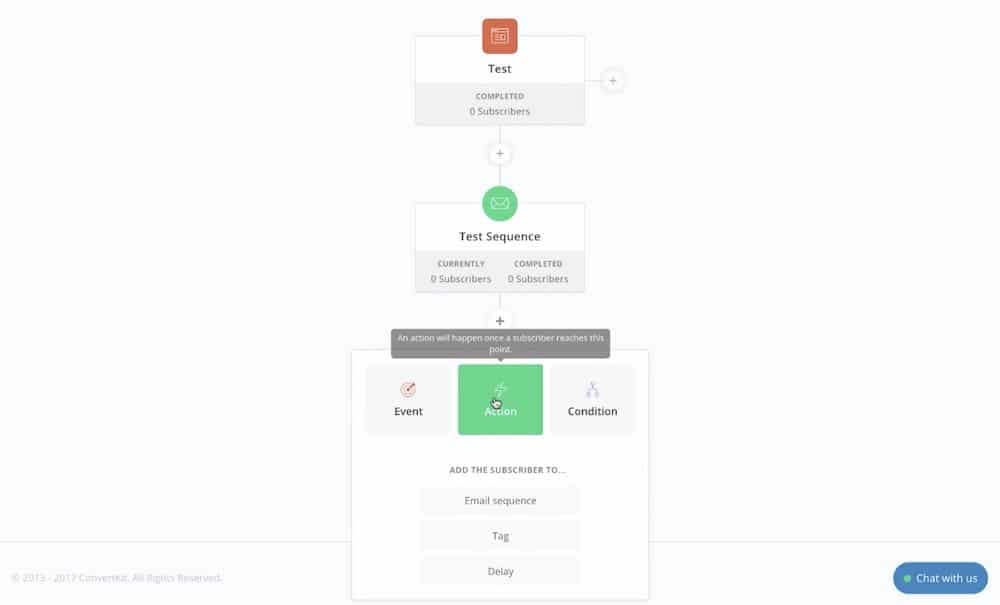 All you need for a brand new blog is your first five posts, a one-page opt-in "freebie," an email platform and list, and a consulting page.
I'll repeat: you're a business owner, not a blogger.
Think about all those local business websites looking like they were created in 1996 – auto mechanics, financial services, real estate sites, etc.
They might be lucky to get a few hundred visits per month.
But their website is bringing in revenue because they're filling a need in the market and providing a solution with high-end services.
Your blog must have a service that fills a need in the market from day one.
The early focus of your new blog isn't to write a bunch of blog posts that no one will find.
Instead, focus on having five high-quality pillar posts, a consulting page, and a dialed-in sales funnel.
Your sales outreach will do the rest.
3. Master Your High-End Consulting Offer
As we discussed, when choosing your niche, you need a dialed-in sales process to funnel and convert $3,000+ in sales to business clients.
From day one, your goal to make money blogging should be driving traffic to your consulting page.
This page must be in your top-level navigation and include keyword research around the terms your high-end business clients type into Google.
Ensure the page has a professional picture of you and easy ways to contact you.
Your Home page, Start Here page, About page, and blog posts should strategically link to your Consulting page.
Also, you should add a link to this page in your guest author bio when contributing guest posts. Here's what mine looks like, with links in bold:
Adam Enfroy is a content marketing consultant and blogger. He lives in Austin, TX, and writes about how to blog like a startup at adamenfroy.com.
4. Use The Magic Email Opt-In Formula
When building your sales funnel, you must use email marketing software and an on-site email opt-in tool to generate the most email subscribers.
What's the magic formula?
ConvertKit is the best email marketing tool for bloggers.
It's great for a few main reasons:
You can create advanced email sequences based on different site actions. Note: 59% of customers say that personalization influences their shopping decision
Next, you can create drip campaigns and link sequences together based on actions inside of emails.
Finally, it's perfect for bloggers because their text emails look professional and don't have annoying brandings like MailChimp and other platforms.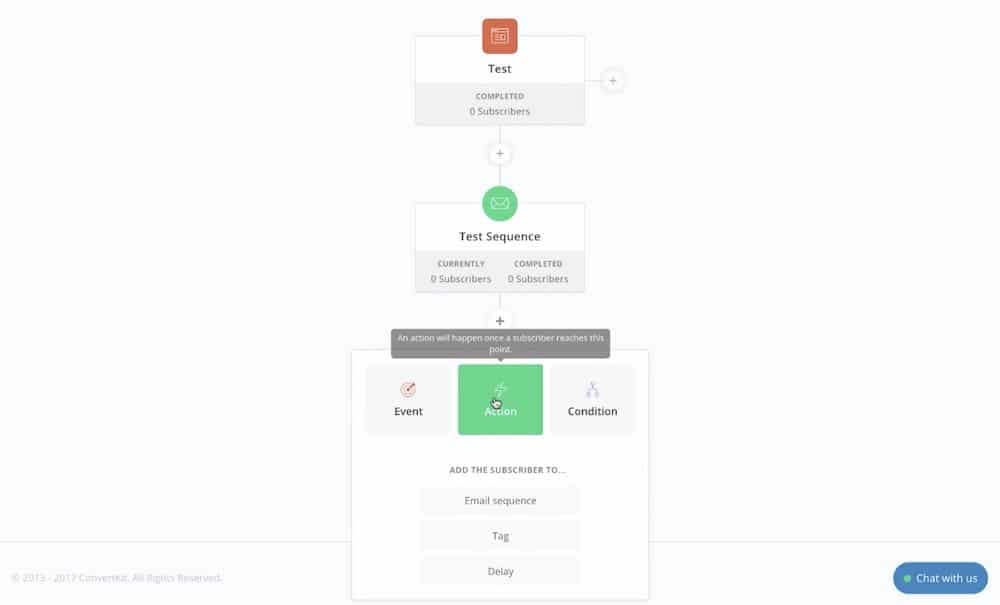 Remember, simple text emails will generate the most revenue for your blog.
Don't worry about fancy design features, adding your logo, or images.
Think about it.
If a sales professional was trying to close a $3,000 deal, what kind of email would they send?
It would be a text-based email based on a healthy relationship, not an impersonal, image-heavy marketing email.
OptinMonster is the best email opt-in tool when used in unison with the email platform,
It's a WordPress plugin you can easily integrate with your blog (and ConvertKit) to generate more email subscribers.
With OptinMonster, you create different types of opt-ins, including exit-intent pop-ups, sidebar opt-ins, and even forms within your blog posts.
I have one exit-intent pop-up, one sidebar opt-in, one on specific pages, and one at the end of blog posts.
With these email opt-in types on your blog, you are maximizing the number of potential visitors entering your email funnel and converting your visitors into customers.
5. Aggressively Focus on Affiliate Marketing
Affiliate marketing is my absolute favorite form of blog monetization.
Looking at all the most profitable blogs, they are great at affiliate marketing.
And to be a successful affiliate, you need to rank for keywords on Google and mediate purchase decisions.
It looks something like this:
Google => Your Blog => Purchase.
Confused? Let's look at a few examples.
NerdWallet is a massive affiliate in the finance niche. When you Google "best credit cards," you always see them at or near the top of the SERPs: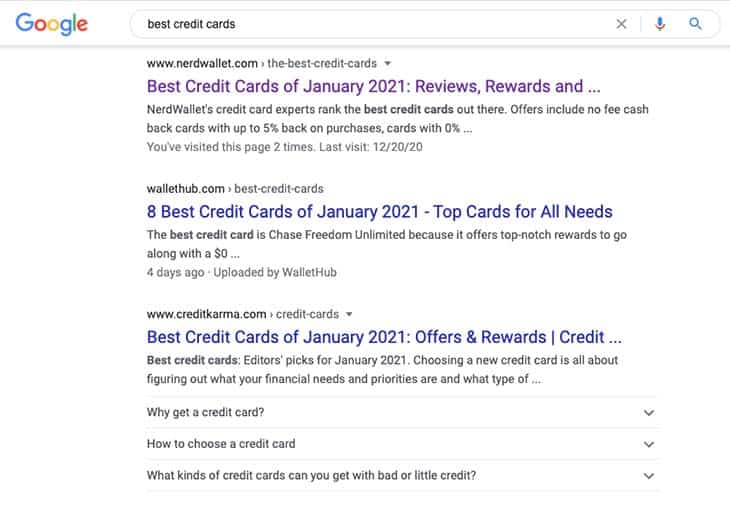 When you click their link and visit their site, they provide a list of the best options, with affiliate links to purchase the cards:
There are 41 options laid out on the page, with a block of optimized content underneath to maximize their SEO.
When a user decides to click on one of the "Apply Now" affiliate links, they are redirected to the company's offer page, and NerdWallet gets a commission on each sale.
As "best credit cards" is searched 182,000 times monthly, this page is a money-printing passive income machine.
More Examples Of Affiliate Marketing In Action
Let's look at another example.
What if I search for "best laptops."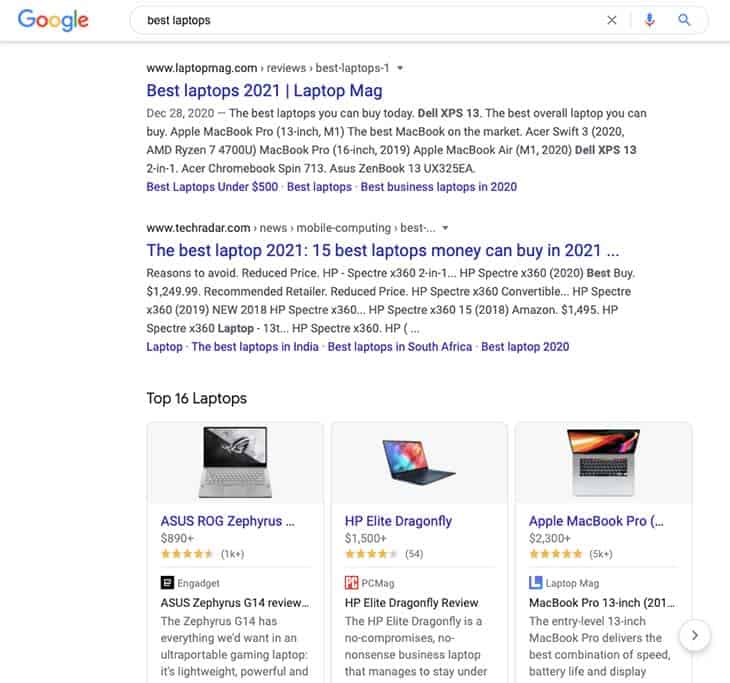 Laptop Mag and TechRadar are in both affiliate blogs' first and second positions.
When we click on Laptop Mag, what do we see?
Another list post recommending products with affiliate links: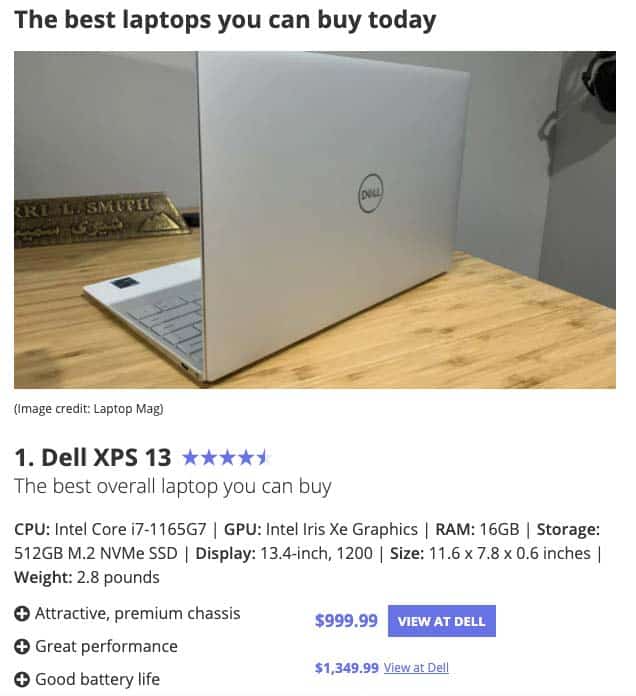 Again, if readers click the "View at Dell" button, they are redirected to the product page on Dell.com via an affiliate link, giving Laptop Mag a commission on every sale.
As "best laptops" is searched 112,000 times monthly, this post is another passive income machine.
Did you notice something interesting when we made these Google searches?
There wasn't a single company selling the products ranking for these terms.
No Capital One or Discover ranking on page one – just affiliate blogs.
There was also no Dell, Best Buy, or HP ranking for "best laptop" – it was all blogs.
Why is that?
Searches looking for "best" products want comprehensive review posts, not product pages.
They're not ready to buy yet.
They want to read a long-form review comparing the different options.
This is how blogs make money.
They are searching for intent mediators.
They bring traffic via search engines, provide advice, and get people to click affiliate links.
It's that simple.
So how do you get started?
You need to start writing transactional blog posts.
Remember, your blog is a mediator.
You must assemble content that can make you money and drive purchases, not aimless informational articles that can't be monetized.
How to Make Money Blogging FAQ.
Can you make a living blogging?
Yes, you can make a living blogging, which can be very lucrative. However, the harsh truth is that most bloggers do not make enough money to support themselves. I launched this blog in 2019, and as you can see in my Blog Income Report, I make over $80,000 per month from this blog.
How do beginner bloggers make money?
If you're starting, accumulating an income can take a little time. During the early days, bloggers should offer to consult and coaching services to earn a higher income in exchange for their time. Since traffic levels are low initially, turning those visitors into customers with a higher-priced offer makes the most sense.

After your steady consulting income and traffic levels increase, bloggers can add affiliate links, digital products, and ads to their blogs.
How much money do bloggers make?
The amount of money that bloggers make varies widely. According to a ProBlogger Report, earnings per month are broken down as follows:
1. Almost 38% of bloggers make less than $10.
2. 10% of bloggers earn between $10 and $99.
3. 17% of bloggers earn between $100 and $499.
4. 7% earn between $500 and $999.
5. 9% earn between $1,000 and $9,999.
6. 4% earn $10,000 or higher.
Do bloggers pay taxes?
Yes, bloggers must pay taxes on their income, regardless if they're an LLC, S Corp, or sole proprietorship. Different income streams require various tax liabilities.

For example, if you sell products on your blog, you must collect sales taxes only if your customer lives within your tax nexus (in the US, this is typically the state you reside in).
Most ecommerce platforms take care of these calculations for you.

If you generate income from affiliate programs, the companies you promote treat you as a 1099 independent contractor.
Do I need an LLC for my blog?
The short answer is no; you don't need an LLC to run a blog.

You can start as a sole proprietor and include your income with your taxes.

However, once you start making a sizeable income, there are tax advantages to creating an LLC or S Corp.
Who is the wealthiest blogger?
Arianna Huffington of the Huffington Post is the world's richest blogger.

She founded her company in 2005 and now makes over $2 million monthly from her news website.

Another wealthy blogger is Michael Arrington, the founder of TechCrunch. He brings in around $800,000 per month from his technology blog.
What's the difference between blogging and YouTube?
There are a few key differences in the blogging vs. YouTube channel debate.

YouTube channels are primarily used for sharing videos and multimedia content, while blogging focuses on writing and other textual content.

YouTube videos often have the potential to reach larger audiences than blog posts do.

However, blogs typically have a longer shelf life as they can be shared and read over again at any time.

Blogging also allows you to provide more detailed and in-depth information than a YouTube video, such as research, product reviews, and interviews.
Can an online store benefit from SEO?
Yes, every profitable niche website needs a unique content strategy.

That means identifying the topics your target audience is interested in and creating valuable content.

You can use keyword research tools to help you identify popular topics related to your niche and create content around trending news stories or questions people are asking online.
Summary.
Selecting a profitable blog niche based on market factors and B2B components means you 200x your blog's revenue potential.
By scaling your content strategy, conducting ongoing SEO site audits, and outsourcing aspects of your writing process, you 200x your backlink acquisition and Domain Authority (DA).
Finally, by choosing the right high-end blog monetization strategies from Day 1, you can make life-changing money as a blogger within 90 days, not five years.
Using these tactics in the first year of my new blog, I started making $35k/month by month 9, got 7.1k backlinks from 1,000 new referring domains, increased my Domain Rating from 0 to 73, and my traffic from 0 to 250,000+ readers/month.
I hope this article helped you learn how to make money blogging. Join my email list for my full 2019 blog income report, highlighting how I made $203k in my blog's first year and $812k in my second year.
Recommended Resources on AdamEnfroy.com: If you're interested in learning more about blogging, check out my ultimate guide to starting a blog and the best web hosting companies, and deeply dive into my guest blogging and outreach strategies.
Editorial Process:
Our reviews are made by a team of experts before being written and come from real-world experience. Read our editorial process here.
Some of the links in this article may be affiliate links, which can provide compensation to us at no cost to you if you decide to purchase a paid plan. These are products we've personally used and stand behind. This site is not intended to provide financial advice. You can read our affiliate disclosure in our privacy policy.